MOTOCROSS ACTION MID-WEEK REPORT
TWO-STROKE SPOTLIGHT | GARY PHILLIPS 2011 YAMAHA YZ144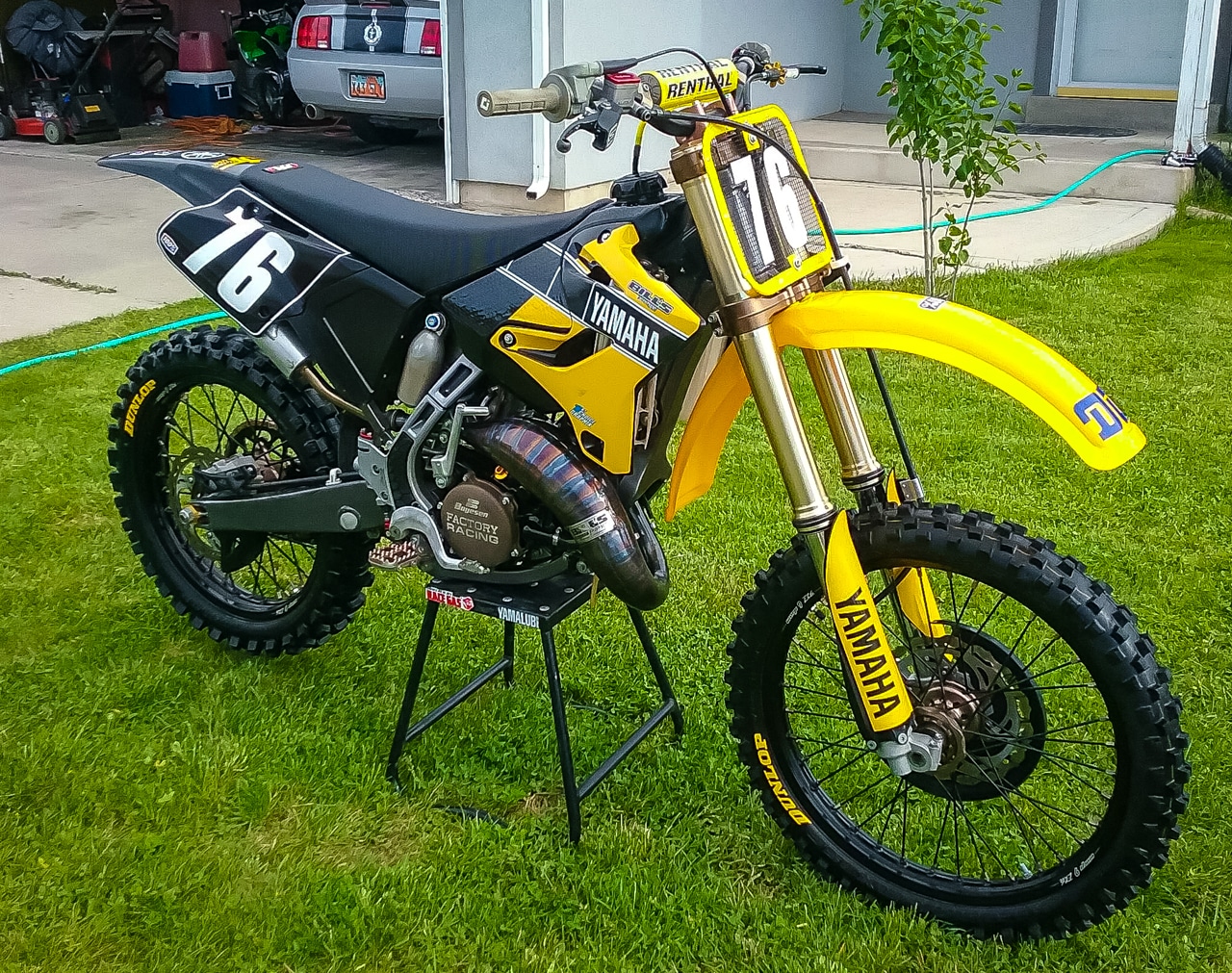 "This is my 2011 YZ144. I has an updated feels with a retro touch. A restyled kit was used but I made the front fender, graphics and front number plate based off a 1984 YZ125. I striped the bike to the frame and replaced and rebuilt every seal, bearing, gasket to wheels." –Gary Phillips.
Check out the retro number plate.  
EDITORS NOTE: Please keep those submissions coming. If you would like your bike to be featured in the "Two-Stroke or Four-Stroke Spotlight," please email me at [email protected]. All I ask is that you give a breakdown of your bike and a detailed description of the build. Please also send a few photos of your steed. By submitting your bike, you agree to release all ownership rights to the images and copy to MXA. Please don't email me spam or try selling me Taylor Swift concert tickets or email me spam. I already celebrate T-Swizzle's entire collective, and there will be "bad blood" if you send me junk mail. See what I did there? Happy submitting your smoker.
#WHIPITWEDNESDAY
Rider: Josh Mosiman
Photographer: Trevor Nelson
Lens: 70-200mm
Focal length: 188mm
F Stop: f/4
ISO: 200
Shutter speed: 1/4000
O'NEAL | 50 YEARS FASTER
LOST BUT NOT FORGOTTEN | JEREMY MCGRATH'S 1992 TEAM PEAK/PRO CIRCUIT/HONDA CR125
DON'T MISS OUT ON THE MXA JULY ISSUE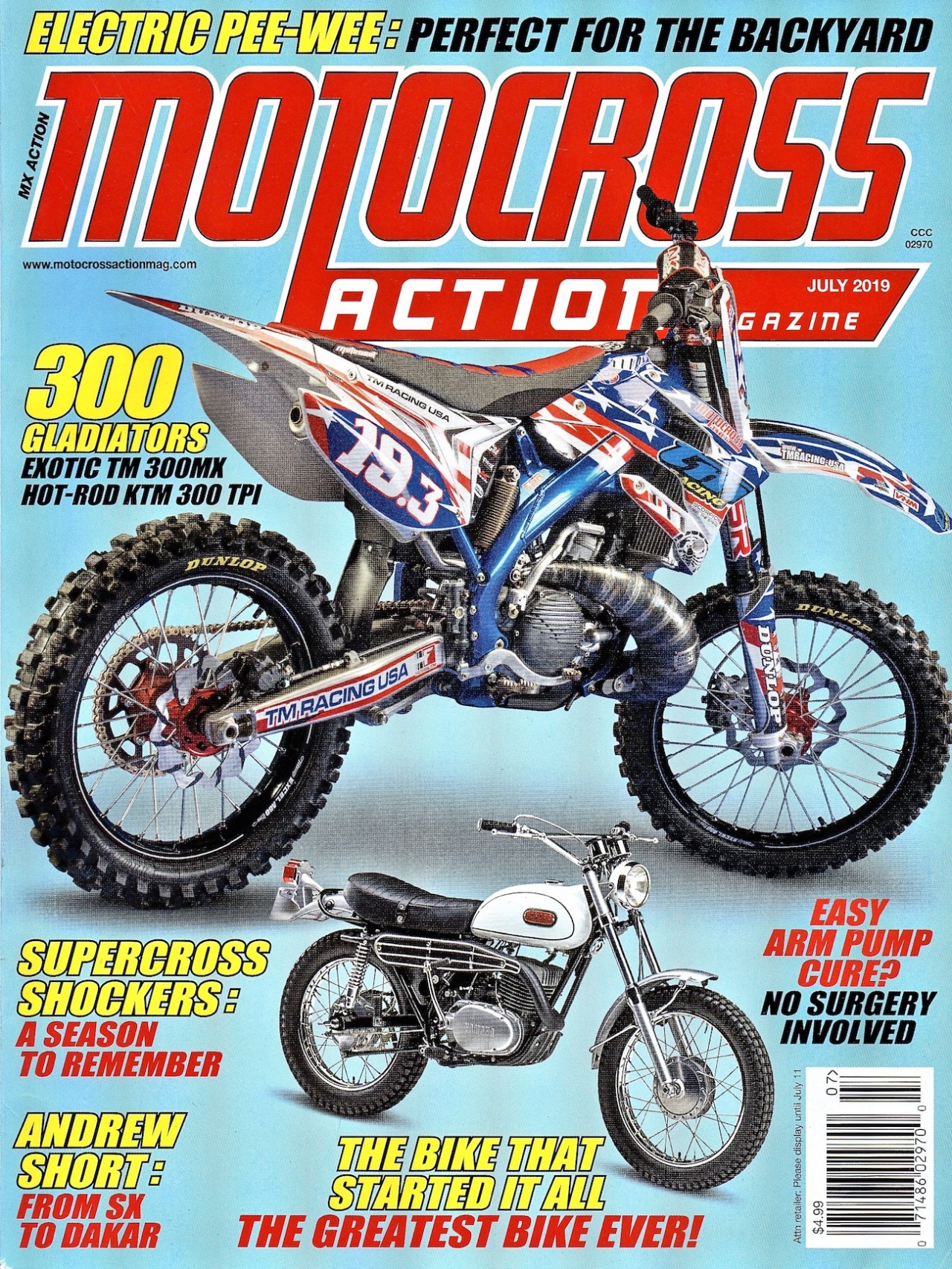 The July 2019 issue is on the newstands now and if you are a subscriber it should already be in your throne room.
If you subscribe to MXA you can get the mag on your iPhone, iPad, Kindle or Android by going to the Apple Store, Amazon or Google Play or in a digital version. Even better you can subscribe to Motocross Action and get a $25 Chaparral gift card to spend on whatever motorcycle parts or products you need. And the awesome print edition will be delivered to your house by a uniformed employee of the U.S. Government. You can call (800) 767-0345 or CLICK HERE or click on the box at the bottom of this page.
WHAT THE MXA WRECKING CREW IS UP TO 
Pro Circuit built us a fire breathing 2019 RM-Z250 to test. It produces much of its power down low making the riders have to short shift to stay in its sweet spot. Pro Circuit gained six horsepower and three foot pounds of torque from stock. Check out the full test in a future issue of MXA.
Josh Mosiman lays the PC RM-Z250 over at Glen Helen on the Fourth of July.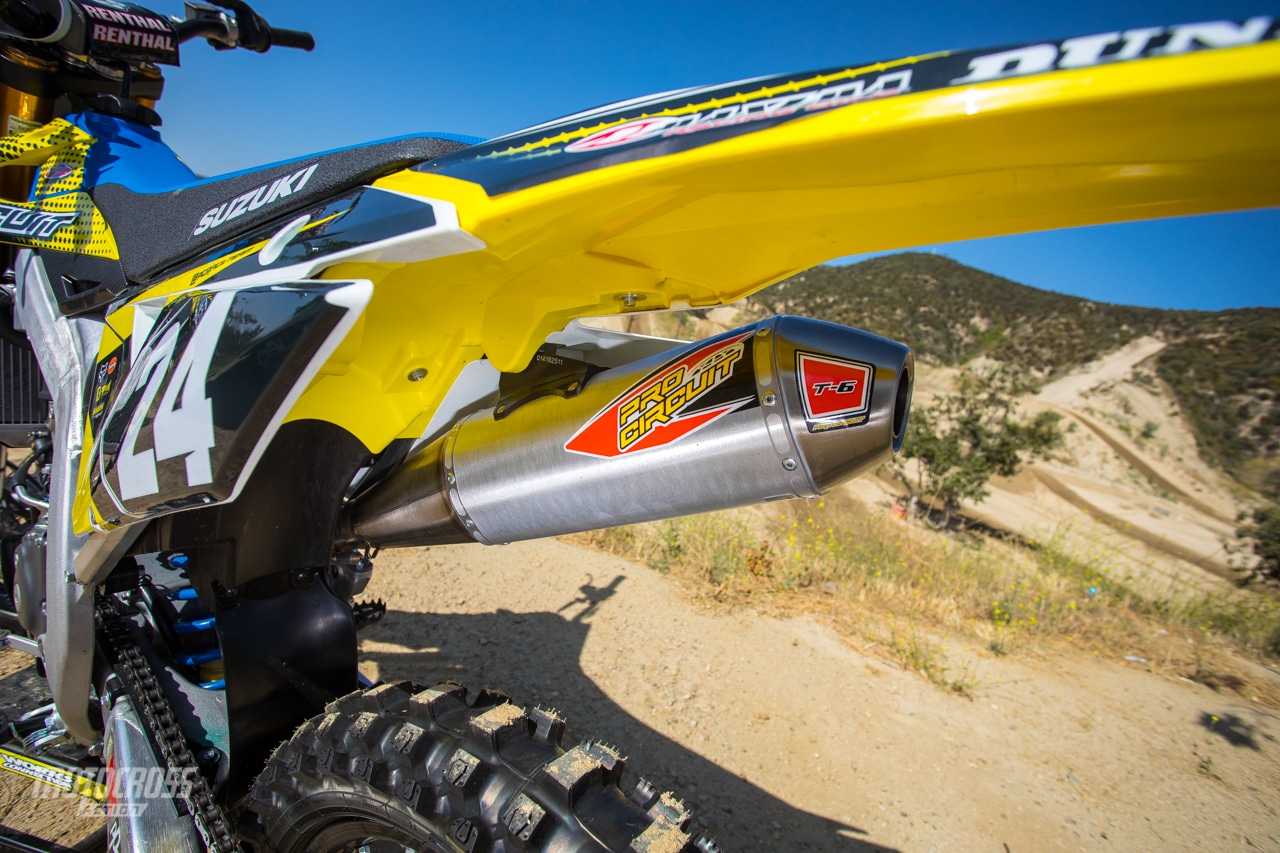 Some Pro Circuit power. 
After three hours into our 2020 Husqvarna FC250 test the WP rear shock blew out. We had the same issue happen on last year's KTM 250SX WP shock with minimal time. Last year WP said debris got in the shock somehow. We imagine the same thing happened on our FC250. Still waiting on the results back from WP. When the shock gave out it about sent MXA Managing Editor Daryl Ecklund over the bars coming down Glen Helen's Mt. Saint Helens when he hit a braking bump. When a shock blows out it loses all its rebound and feels like a pogo stick. 
ALPINESTARS 2020 MOTOCROSS COLLECTION

FOR SALE! RACETOWN, ADELANTO, SUNRISE & 395 — ALL  ROLLED INTO ONE FOR $795,000

The current Sunrise Cycle Park has been known by many different and it has changed hands several times. Now the 37 acres is for sale again.
MXA MOTO | TRIVIA 
Who are the two riders and what year was it taken?
MILLENNIUM TECHNOLOGIES M-SPEC ENGINE BUILD CONTEST 
 Press Release: Millennium Technologies is giving away a complete M-Spec Engine Build with parts and services from Wiseco, JE Pistons, Cometic Gaskets, Xceldyne, and ProX. The contest starts July 1st 2019 and the grand prize winner will be chosen on October 1, 2019. Each month a separate winner will receive a $250 gift certificate. No purchase required.
The grand prize of a complete M-Spec Performance Engine Build is available to owners of select motocross and off-road motorcycles and UTV/ATV's. A complete list of all eligible vehicles is listed on the contest page. The grand prize winner will receive the following:
-M-Spec 4-Stroke Cylinder Kit with JE Piston Kit and Cometic Gaskets.
-M-Spec M-Spec CNC Porting Package with CNC Valve Job and Xceldyne X2 Ti Valves.
-M-Spec 2-Stroke Service Kit with all Cylinder Services, Head Mods, Power Valve Mods, M-Spec Porting, —-Wiseco Piston Kit and Cometic Gasket Kit.
-Wiseco Garage Buddy Kit.
-M-Spec Crank Service
-M-Spec Engine Assembly Service.
Don't have a vehicle on the eligible vehicle list? No problem! The grand prize winner will also have choice of getting a $1500 service credit for ANY service we offer to use for a complete calendar year!
WHICH SOUNDS BETTER…KTM 250SX TWO-STROKE OR $2,000,0000 HELICOPTER?
MXA YOUTUBE CHANNEL | HIT THAT SUBSCRIBE BUTTON


The MXA wrecking crew is everything moto related. Check out our MXA YouTube channel for bike reviews, Supercross coverage, rider interviews and much more. And don't forgot to hit that subscribe button.
MXA CLASSIC PHOTO
Jeff Emig back in 1999.  
---
Moto Trivia answer: Mark Barnett (2) and Alan King (10) back in 1984.