MOTOCROSS ACTION MID-WEEK REPORT
#WHIPITWEDNESDAY


Rider: Josh Mosiman
Photographer: Daryl Ecklund
Lens: Fixed f/4 300mm
F-Stop: f/6.3
ISO: 250
Shutter speed: 1/1600
TWO-STROKE SPOTLIGHT | JOE KULEWICZ'S 1997 SUZUKI RM250
The before photo of the neglected RM250.
Hey MXA,
Just wanted to submit my build story for Two-Stroke Tuesday. Thanks for taking the time to read it, I'll try to keep it as brief as possible.
My son and I were driving home from a road trip to West Virginia and decided to take a detour and show him the mecca of MX, Unadilla. Much to my surprise there was a race happening on that day, MX Rewind 2015. That day literally changed me forever. After not being on a bike in 15 years, it was time to come back.
I wanted a bike just to be able to race that event in 2016. I found a near-basket case 1997 RM250 from someone I work with. I tore it down totally. I planned on it being a racer, so a simple cleaning of the frame and Vapor blasting of the subframe, airbox, swingarm, linkage, and some engine parts. I tore the engine down and rebuilt it to OEM specs, including the cylinder, and an entire new crank. Every seal and gasket was replaced, a new carb, and OEM plastics. Suspension was totally refreshed with new springs and Race Tech Gold Valves, a necessity at 230 lbs.
The transformation.
There are three parts of this build that kind of stick out.
When I bought the bike I wanted to make sure it wasn't stolen before I sank my savings into it, so I asked a friend at DMV to check it. She told me that it was last registered to me in 1997. This was my exact bike 18 years ago! I still had a box of new OEM parts. I've been collecting hard-to-find-parts from around the world since I bought the bike.
Joe unexpectedly bought the bike he once owned 18 years earlier. 
The build took longer than expected (shocking I know). So my first time riding the bike, other than heat cycles, was at Unadilla for Rewind 2016. After not riding/racing for 18 years, in less than a minute I dropped into Gravity Cavity ahead of 100 other Vintage Bike racers, in practice. #Bucketlist
I rebuilt myself. At 45 years old I made the commitment to ride and race again. At 375 pounds, that wasn't reasonable. So I lost 145 pounds with diet and exercise. Eliminated my diabetes and high blood pressure and am more fit now that I have ever been. Moto literally motivated me and saved me. I now race weekly on both my RM250 and RM-Z450.
Thanks for taking the time. Best wishes,
Joe Kulewicz
TM300 TWO-STROKE PROJECT BIKE
LOST BUT NOT FORGOTTEN | 2004 HUSQVARNA TC450
NEKEN SFS TRIPLE CLAMP MAINTENANCE OR REBUILD AT CALIFORNIA LOCATION
If you have the Neken SFS triple clamps and they need servicing contact Bud Racing in California to get it done. 
Bud Racing, located in Lake Elsinore, California is now the official U.S  Neken SFS triple clamp service center. Any  maintenance or problems with your Neken SFS components Bud Racing will have the solution.
Address:
Bud Racing USA, 
31889 Corydon street , Unit 150, Lake 
Elsinore
,  CA 92530 
USA
Contact: John Soriano,  951-245-2660
MXA INTERVIEW | MITCHELL OLDENBURG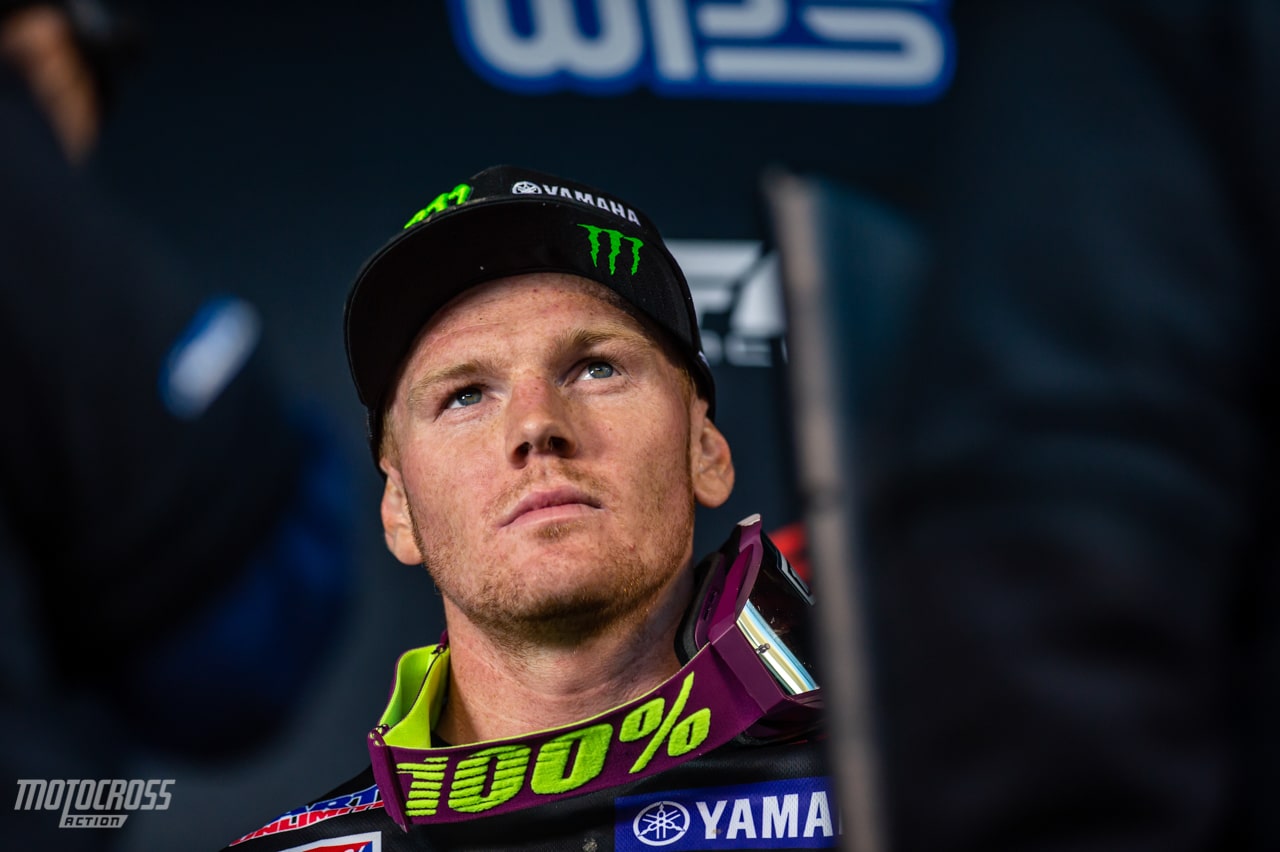 As a member of the imposing Monster Energy/Yamalube/Star Racing Yamaha squad, 2019 has been a difficult year for Mitchell Oldenburg. Beset by injury the past two seasons, it almost is as if Oldenburg has had a dark cloud hanging over him. Still, the rider known as "Freckle" has taken it all in stride and allows his faith to guide his path. Returning to racing at the High Point round of outdoors after a damaging Las Vegas Supercross crash, Mitchell has a plan, and like many, I believe in him. I'm hoping Oldenburg can find both his racing groove, and a ride for 2020 in the remaining outdoor rounds.
BY JIM KIMBALL
MITCHELL, LET'S BEGIN WITH THIS YEAR, ITS BEEN PRETTY UP AND DOWN RIGHT? Yes, but coming into Supercross I felt really good. It has been a long time coming these last two years with injures, so I was just trying to get my feet wet again, and getting my head straight as far as not trying to kill myself by trying to go too fast. I got some good results towards the end and got a second in New York. Then in Las Vegas I was fastest qualifier, and unfortunately was just trying too hard and riding, I would not say out of control, but extra fast. I just made two small mistakes that night and ended up being knocked out and trapped under my bike. I got a bad burn on my side or hip area that was unfortunate, and a much longer recovery than anyone really expected it to be. I expected to be on the bike as soon as I got cleared for my head and went and saw a burn specialist. Long story short, they had me in the hospital for eight days and did a skin graft, so I had to take a month off the bike. Coming into outdoors, I had about a week on the bike before High Point. I knew I was not in shape, but it has been three years since I have been to any of these tracks so, I figure let's just go racing, get better as we go, and race myself into shape. It has been a struggle to say the least. I think my speed has been really good, but my fitness just is not quite there yet. I am looking forward to having the weekend off to really build and get stronger for Millville.
RETURNING TO THAT LAS VEGAS SUPERCROSS CRASH, WAS IT PRETTY BRUTAL. It really did not seem like that big of a deal because it was a 3rd degree burn. I did not feel it, my whole side was numb where I was burned, so I did not think anything of it. I went down to San Diego to see a burn specialist the Thursday after, they were just going to clean me up, send me on their way. They ended up admitting me. I had to do the whole skin graft, was there for eight days and bedridden for four of those days. They would not let me get out of bed because the skin graft was so fragile that they did not want to  rip it apart, and have to redo it, so it really sucked. None of us even thought anything of it and it was especially bad having to watch Hangtown from a hospital bed, so live and learn, but we are here now and just looking to get better.
YOU RETURNED TO RACING AT ROUND FOUR  AT HIGH POINT, HOW HAS YOUR RETURN  GONE? Right now, I have been right around 8th at the beginning of the motos and, at the end of the motos, I fade back a little bit. It has been tough. I did a lot of prep leading up to Hangtown. I had many 35-minute motos in before Hangtown and then to sit in bed for a whole week and not be able to do anything for two weeks was very difficult. I basically started from zero coming into the outdoors, so it has been tough. I knew coming in that I was not ready, so that has been the hard part. I feel like I am getting stronger and fitter every week. It is just a matter of time and I really wanted to just get through this first half, then use the weekend off to really grind it out, suffer, and really put in some long motos and be ready for Millville, Washougal and then the next weekend off be at 100% and come out swinging the last three rounds.
YOUR CONTRACT IS UP AT THE END OF THIS YEAR. IT HAS TO BE STRESSFUL. It has been pretty stressful, but at the same time it has been kind of nice because I ride and train with Colt Nichols, and Justin Cooper)every single day, and you know they have been getting killer results. Justin has been on the podium almost every weekend, so I know where I can be, and I know what I have to do to get there. It is just a matter of time, being patient, plugging away, putting the work in and the results will come. It is always stressful because the most we will get is probably a two-year deal, so it is not much comfort. Those two years fly by, but for now, it is all about getting the results, and that is all I am focused on. And to get better every weekend.
YOU ARE A PRIME EXAMPLE OF HOW TOUGH THIS SPORT CAN BE. Yes, it is unbelievable. A lot of people do not really understand the mental side of it. Coming back from an injury is the easy part and getting healthy again is the easy part. It is getting your head straight, getting back to where you want to be and where you think you should be. And with set back after set back, it does not get any easier. I am lucky enough to have a great support system with me with my wife and my family back home. They have been by my side this whole time,. It takes a lot of faith too. I am a true believer in God, and I believe that everything happens for a reason, and I am exactly where I am supposed to be in life, so it is hard not to stress too much about. But at the same time, I need to keep plugging away and whatever happens, happens.
CAN YOU COME BACK AT THE LAST COUPLE ROUNDS AND BE A CONTENDER? Yes. As long as I stick to the plan, it will come. It is really hard to make progress when you are racing every weekend because we are only home for three days, so that is the hard part. So, when we go home, we have to make these weekends off count, be ready and really just suffer. Hopefully, the last three rounds are really where I plan on peaking and get in the results that I feel I am capable of.
TEAM OWNER BOBBY REGAN IS A TOUGH MANAGER, BUT MY IMPRESSION WAS THAT HE REALLY THOUGHT WELL OF YOU. Bobby has been awesome. He has believed in me this whole time and he knows what I am capable of, and I feel like he is very realistic too. Coming off the injuries, he is not expecting me to light the world on fire, but he also expects me to do my job and give it everything I have and build off the results we are getting. He has been awesome through Supercross. I had a couple of tough races and really was bummed out with myself. I felt I had let the team down, but he told us to put our work boots back on an come out swinging the next weekend. The whole team has been awesome. We meet every Monday and go over the weekend and figure out a game plan together on where we can be better off the bike, where we can be better on the bike and how we can make the bike better.  It is a group effort all around and I am super excited to be a part of this group.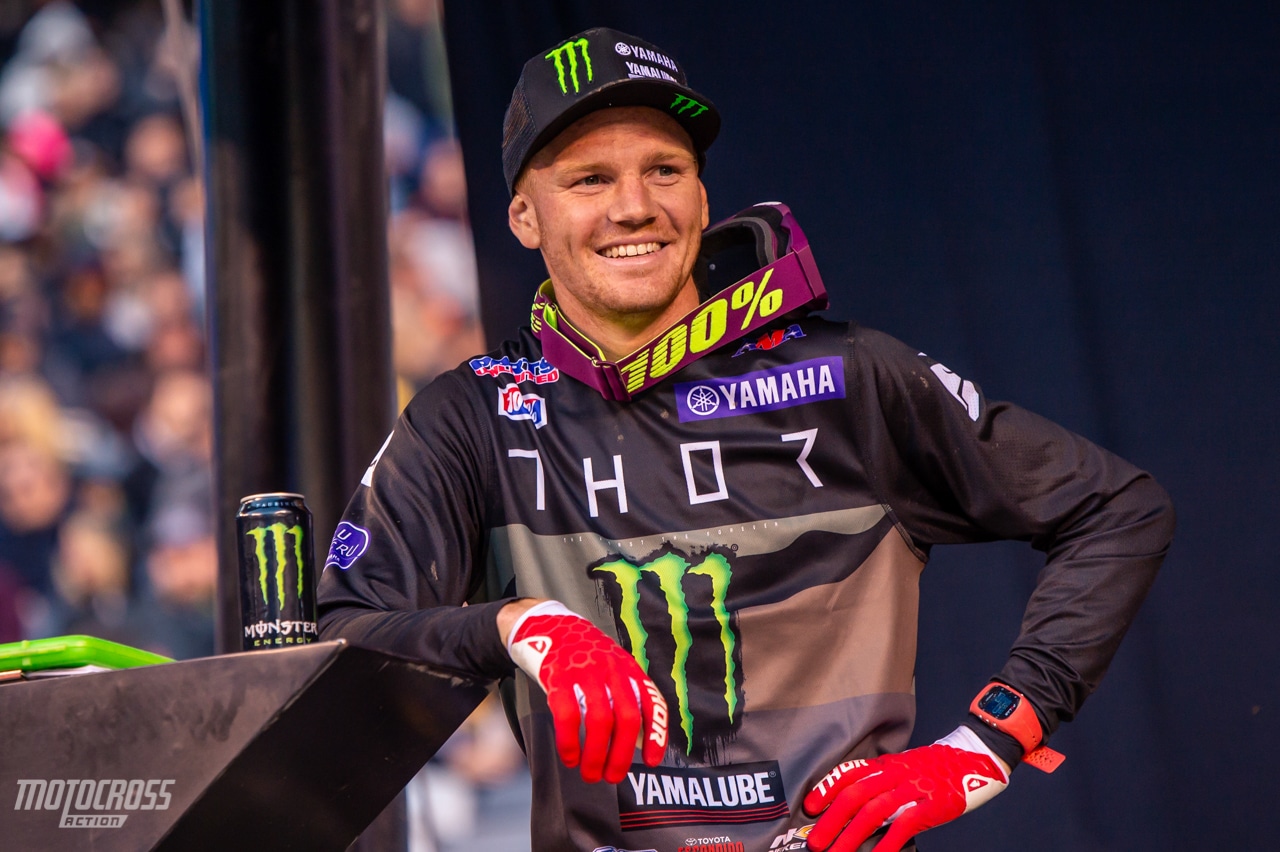 MANY 250 TEAMS BRING IN YOUNG PROMISING AMATEURS THAT DON'T  LIVE UP TO EXPECTATIONS, WHAT ARE YOUR THOUGHTS? I have seen that a lot recently.When I came in as a rookie, I was caught way off guard. I felt like I was almost thrown into the deep end of the pool. I just had zero guidance and did not know anything. What these teams are doing is awesome for the rookies. They are giving them an opportunity to show what they are capable of. But, here is the thing; the outdoors are brutal,. You just have to be mentally tough to be good at it. I know everyone grows up racing outdoors and riding outdoors and stuff like that, but to do the 35-minute motos with an hour break every single weekend is pretty difficult. People don't understand how gnarly it actually is.
MXA MOTO | TRIVIA
Who is this rider and what year was it taken. Answer at the bottom of the page.
MXA YOUTUBE CHANNEL | HIT THAT SUBSCRIBE BUTTON

The MXA wrecking crew is everything moto related. Check out our MXA YouTube channel for bike reviews, Supercross coverage, rider interviews and much more. And don't forgot to hit that subscribe button.
WHAT THE MXA WRECKING CREW IS UP TO
Last week the MXA crew went up North to Buellton for the 2020 KX250 intro. This was the first up close and personal look that we have had of the bike. 
The intro was held at a beautiful winery. From the dinner spot to the meeting area there were three of Kawasaki's championship winning KX250s through the years. 
The biggest change to the KX250 for 2020 is the head. 
For day two of the 2020 KX250 intro Kawasaki rented out the famous Castillo Ranch where we got to take beauty shots of the bike as well as get a full day of testing in. 
MXA's Josh Mosiman was the first to jump on. The Kawi techs set up the bike for him before he hit the track. 
Josh got comfortable on the bike very quickly. The change from Showa to Kayaba suspension components and a more powerful engine really improved the riding characteristics of the KX250. 
Another photo of Josh tearing up the track. 
MXA's Managing Editor, Daryl Ecklund spent a lot of time on the bike as well. Look out for a future video on MXA's YouTube channel and a full test in the mag. 
From Buellton, Josh and Daryl made their way up North to SIM Raceway in Sonoma County to test drive KTM X-Bow track cars. They stopped in Morgan Hill for some rest. Daryl had to capture the dedication Josh takes to testing gear.  
If you haven't been to Simraceway it is a must see. 
A sneak peak into the Simraceway garage. Most of these cars are owned by celebrities or Pro drivers. They pay a fee for Simraceway to store them and take care of them for their owners. However, this Turn 1 Club is not just for people of status, anyone can join. 
However, this is what we came here for. Simraceway's KTM X-Bow driving experience.
Our chief instructor was Professional driver Matt Bell. Since this was our first race car experience, we were put into Stage 1 of the driving experience. Here Matt went through the basics of driving a race car. Line selection, trail braking, and much more.
The cockpit of the KTM X-Bow sports car.
We lined up Josh Mosiman on a 2020 KTM 450SXF up against the KTM X-Bow on a drag strip. Guess which was faster?
DARYL SPINS OUT IN THE KTM X-BOW ON THE SKID PAD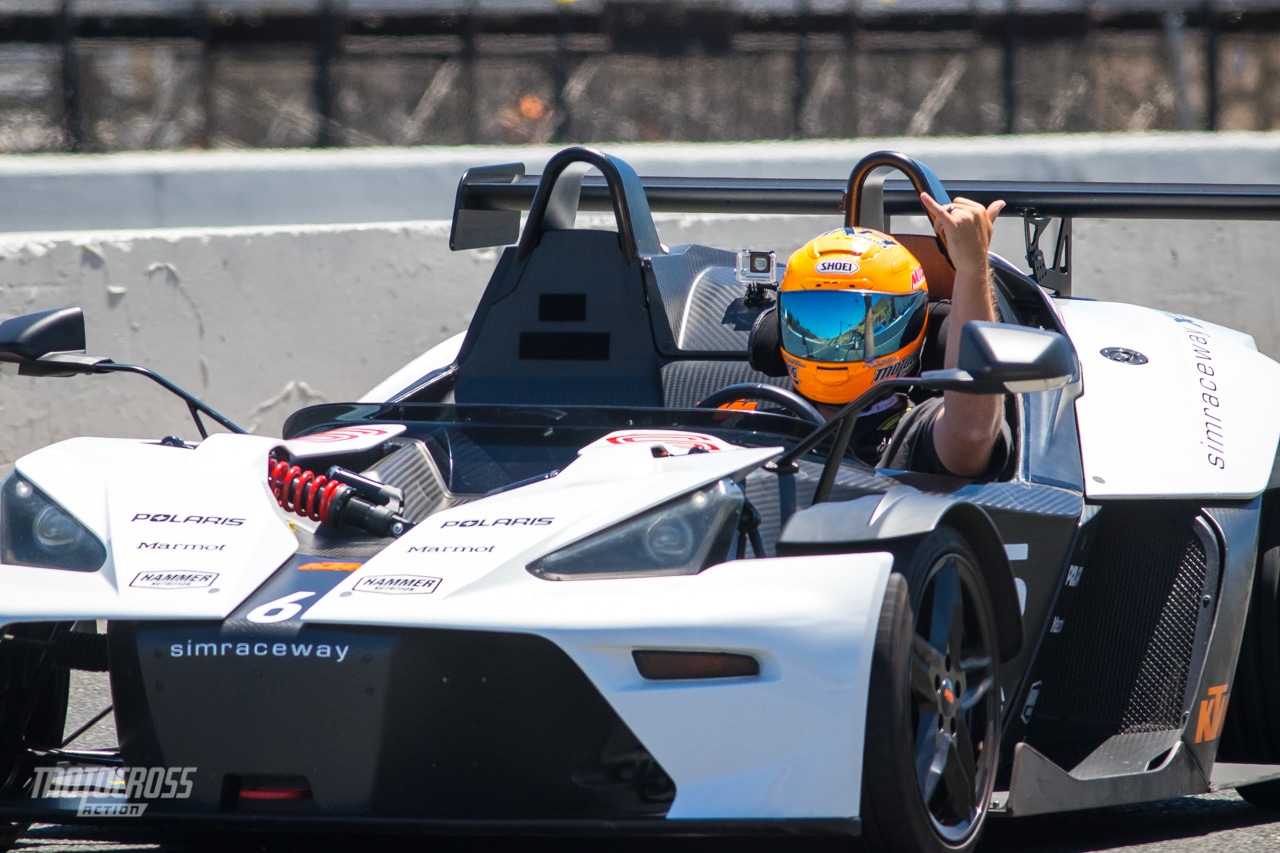 Here is Daryl Ecklund cruising at a cool 100 mph. 
Daryl pacing Matt on the full Sonoma track. 
FIRST RIDE 2020 HUSQVARNA FC350
MXA CLASSIC PHOTO
Ryan Dungey back in 2010 practicing at Racetown 395.
---
Moto Trivia answer: Blake Wharton back in 2010.