MOTOCROSS ACTION MID-WEEK REPORT
#WHIPITWEDNESDAY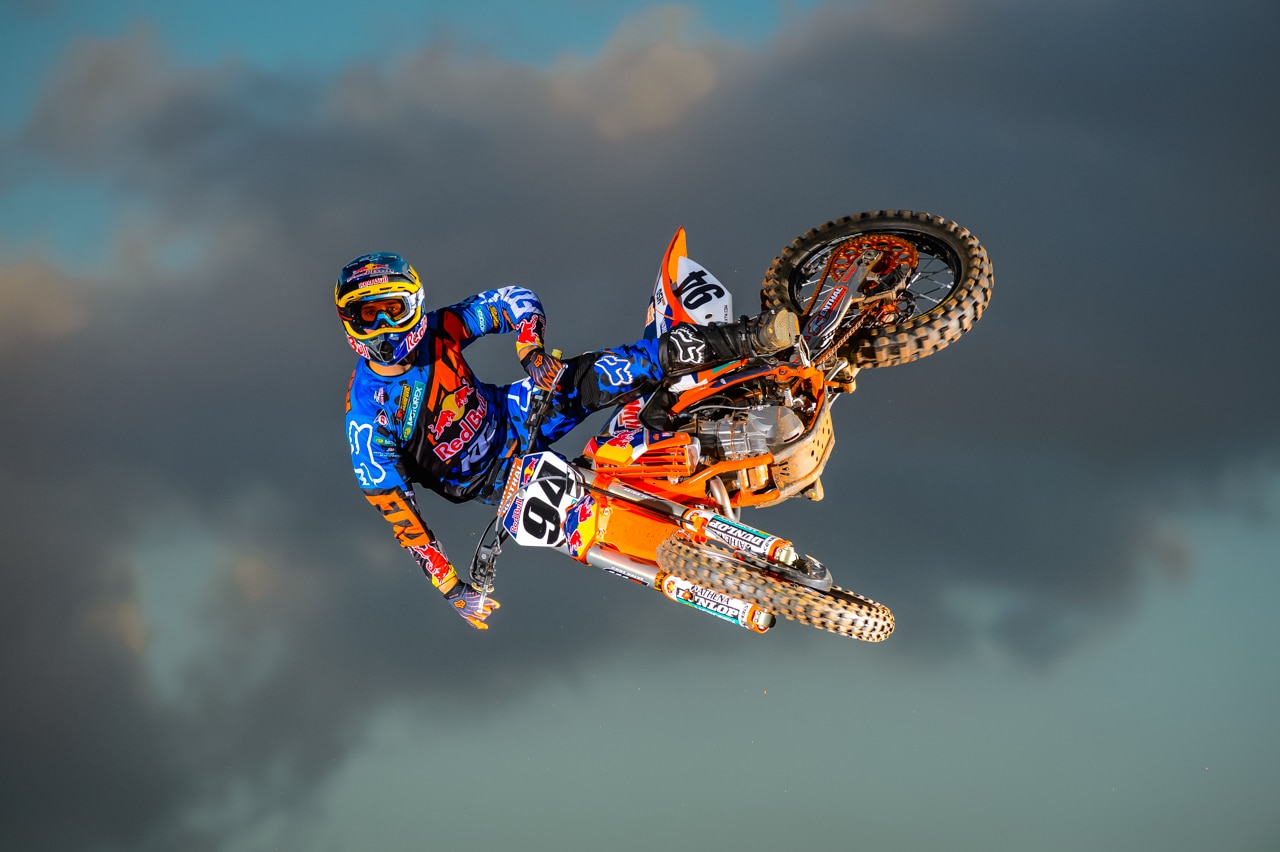 Rider: Ken Roczen
Bike: 2014 KTM 450SXF
TWO-STROKE SPOTLIGHT: BRYAN ABRAMS 2000 YAMAHA YZ125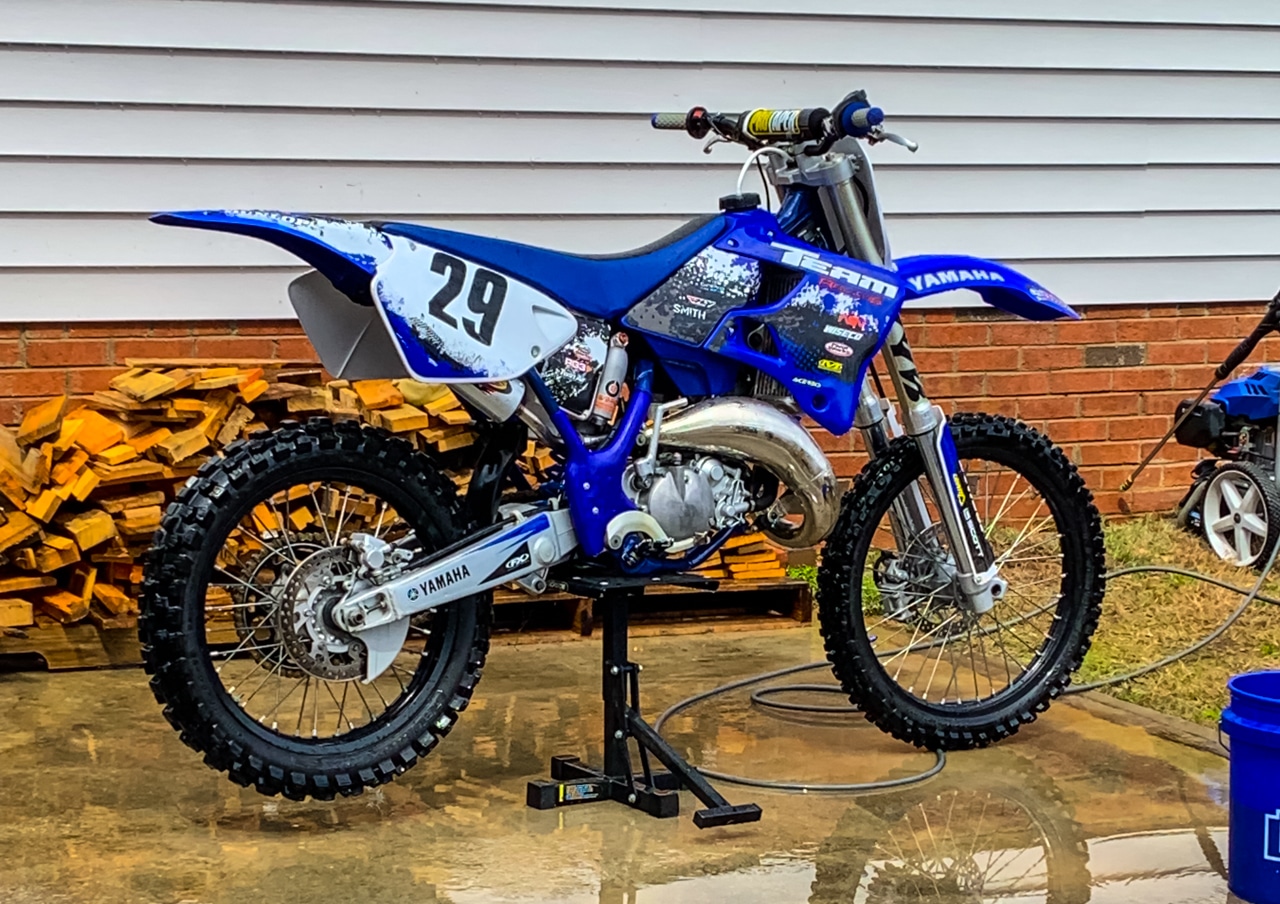 "So the bike I rebuild is a 2000 Yamaha YZ125. When I bought this bike it was destroyed. I mean really bad. Pretty much tore the bike down to nothing and rebuilt it from the ground up. Had the engine built by VPE Racing, ported and polished also. The suspension was sent out and redone by KYB. The went with an FMF pipe with shorty silencer and had it jetted for where I live in North Carolina. All the linkage and bearings were replaced. My dad is a head painter for a shop here and had him paint the frame. I used Pro Taper bars and Vforce reeds. I feel the bike came out great and for a 2000. The bike just runs mean and is very crisp. The suspension was set up a 160 pounds. I actually had the rear shock rebuilt by VPE racing also and they did great. All in all I think the bike just looks mint and rides great. I just wanted to see if I could get it in the spotlight with you guys. I think that'd be pretty cool." –Bryan Abrams
EDITORS NOTE: Please keep those submissions coming. If you would like your bike to be featured in the "Two-Stroke or Four-Stroke Spotlight," please email me at [email protected]. All I ask is that you give a breakdown of your bike and a detailed description of the build. Please also send a few photos of your steed. By submitting your bike, you agree to release all ownership rights to the images and copy to MXA. Please don't email me spam or try selling me Taylor Swift concert tickets or email me spam. I already celebrate T-Swizzle's entire collective, and there will be "bad blood" if you send me junk mail. See what I did there? Happy submitting your smoker.
MXA | MOTO | TRIVIA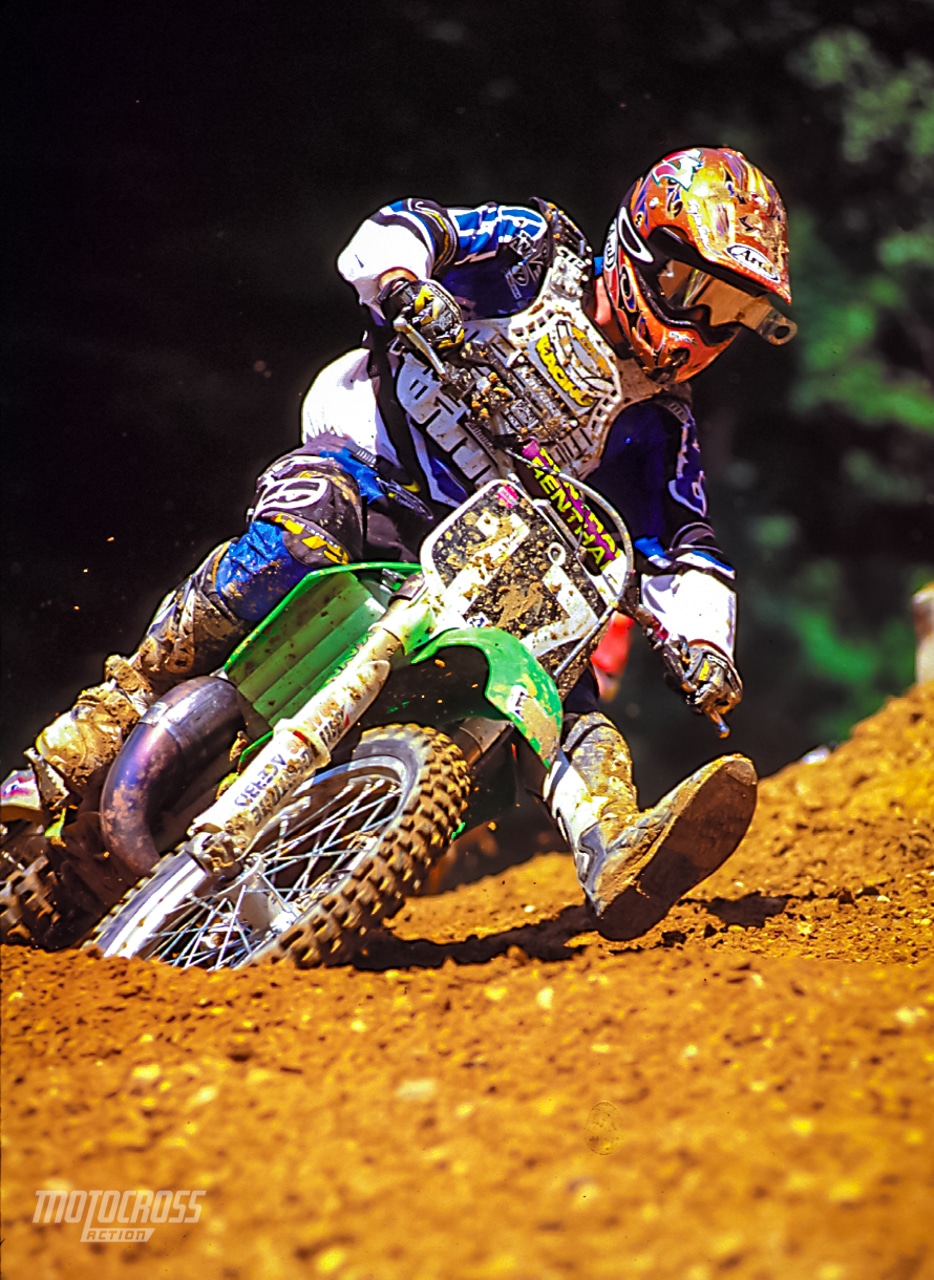 Who is this rider? Answer at the bottom of the page.
2020 FLY RACING SUMMER CAMP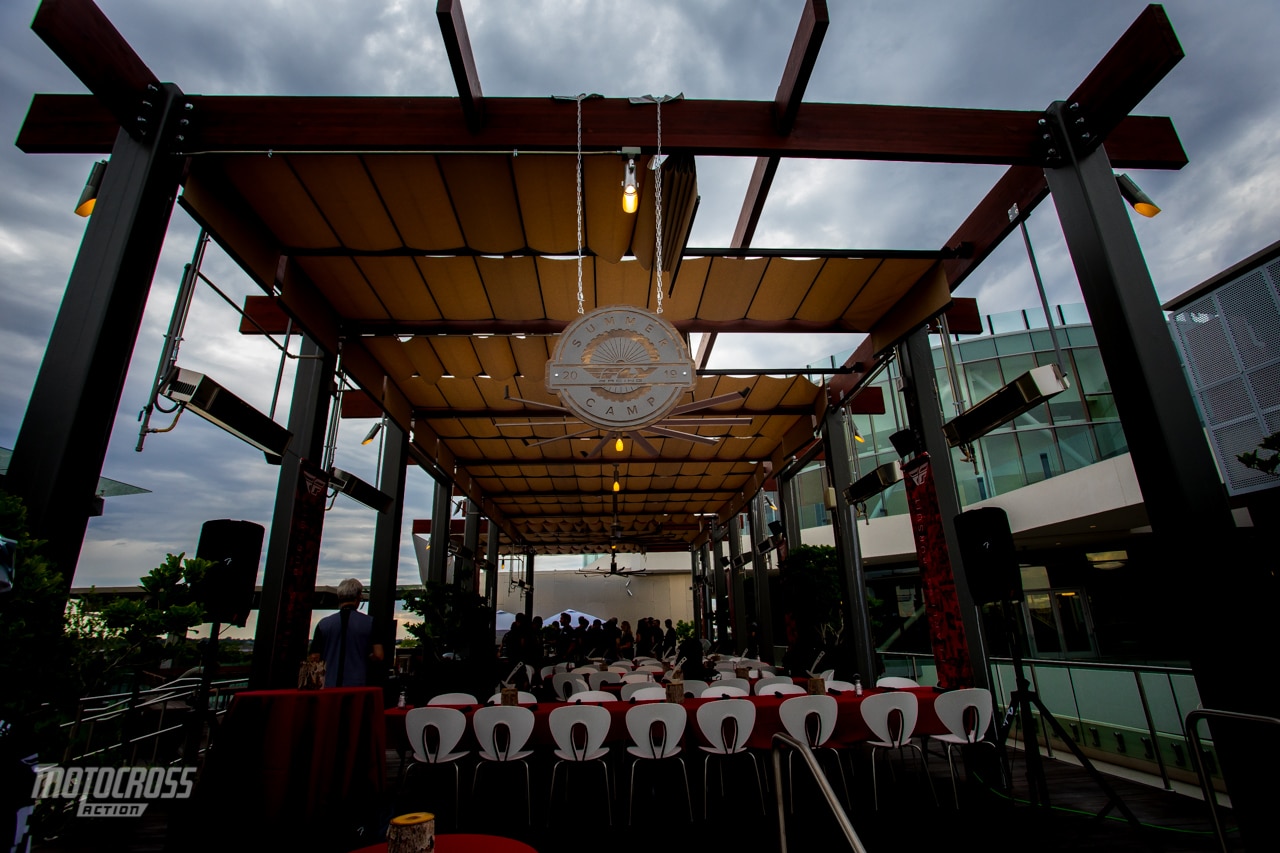 This is the third year in a row that Fly Racing has put on the Summer Camp event for the media in Boise, Idaho. 
Instead of having an embargo until the Washougal National like Fly usually does, they allowed us to post about the 2020 gear the day of the event.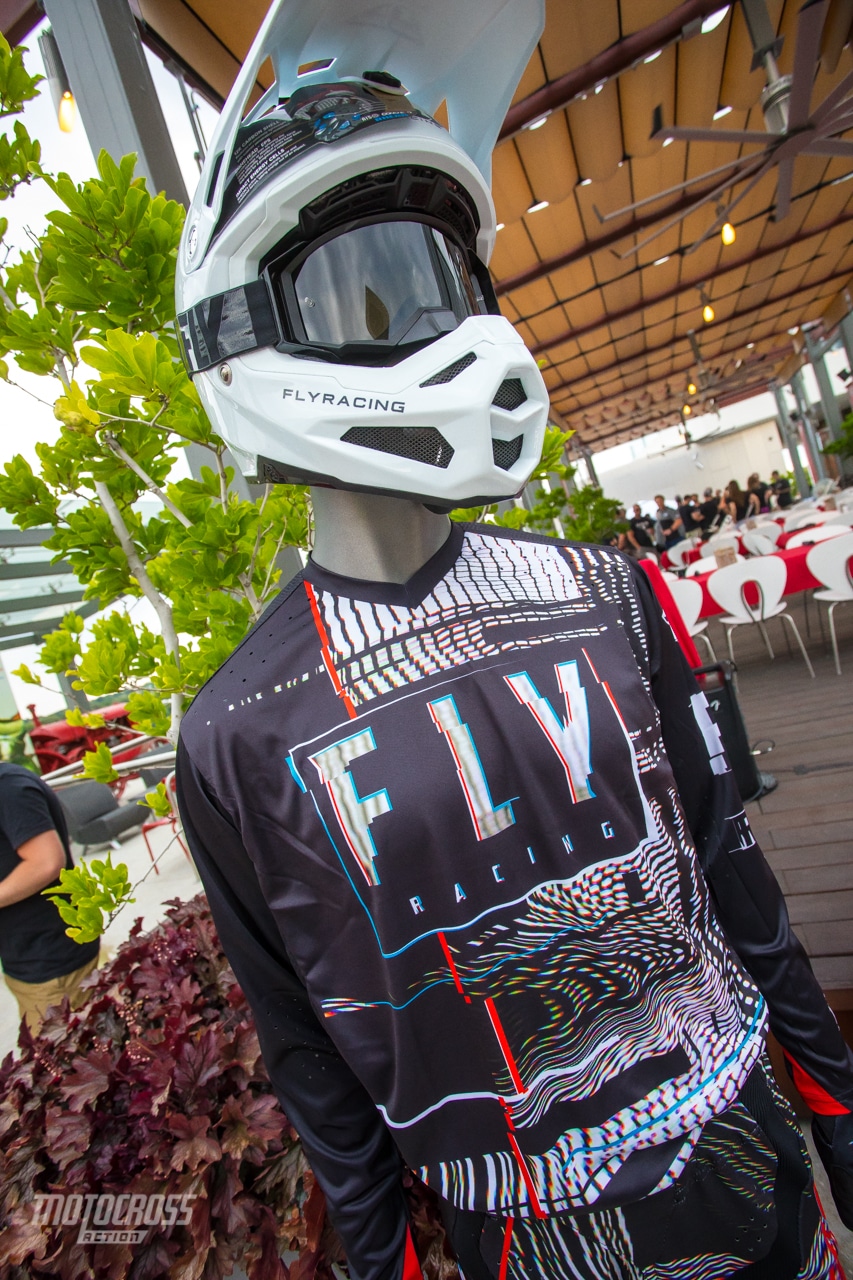 Fly came up with some cool new graphics and colors.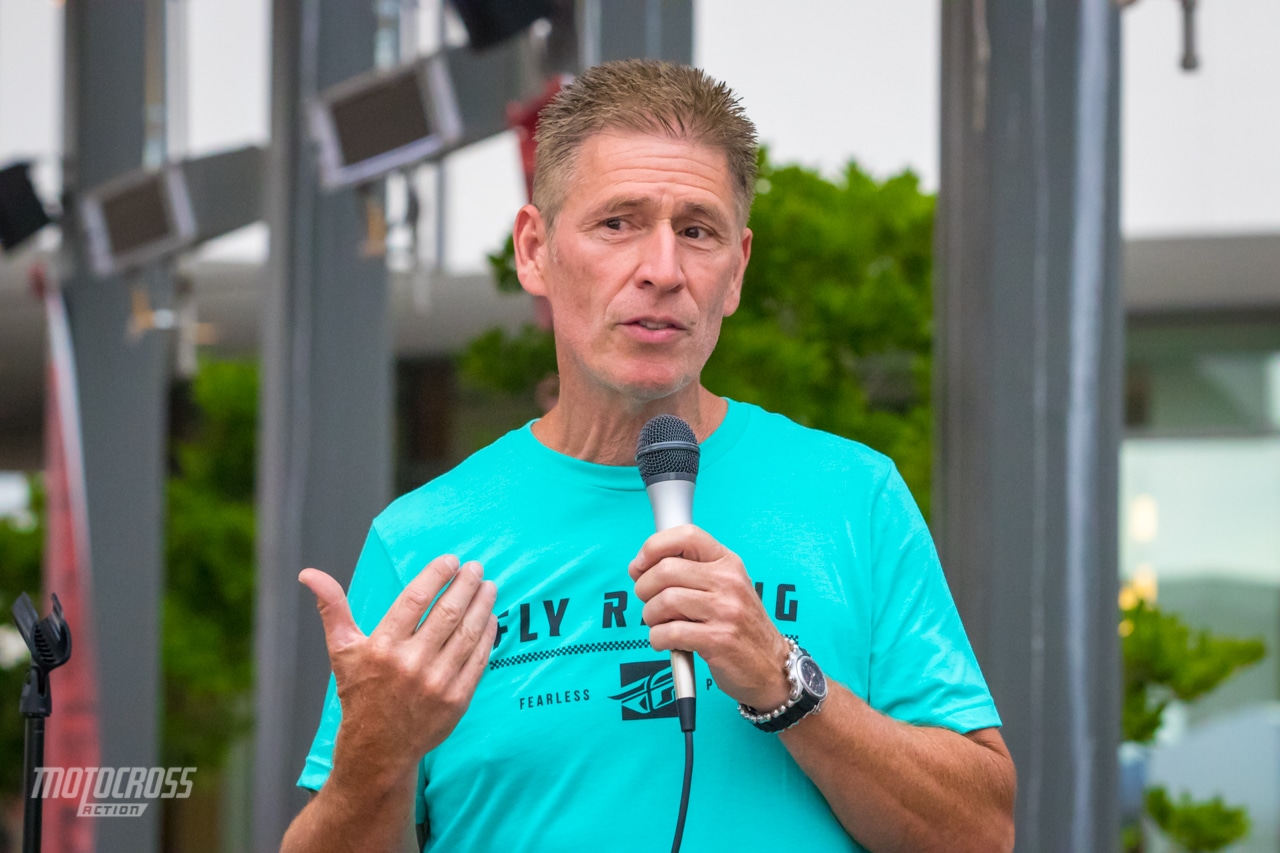 Owner of WPS and Fly Racing, Craig Shoemakertalked in front of the media to fill us in on what they have come up with for 2020.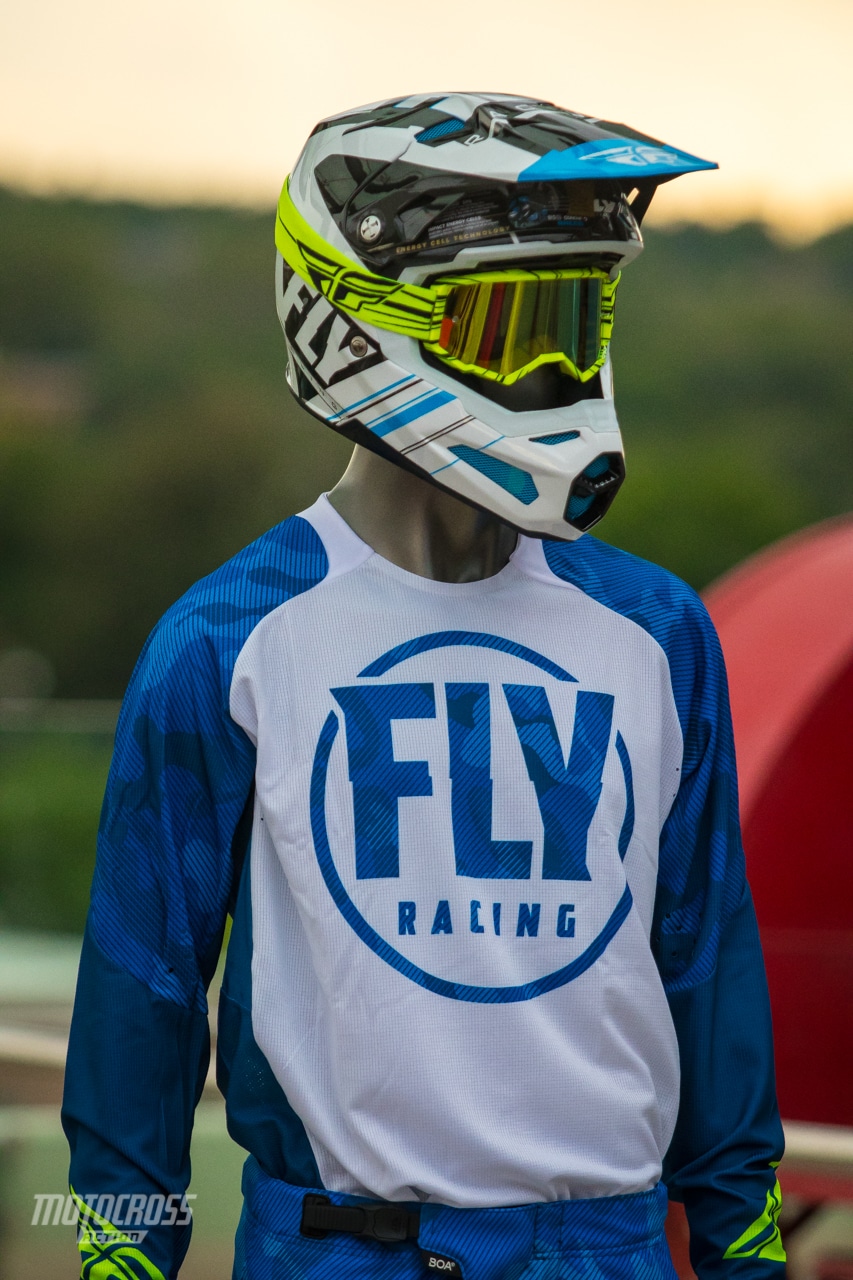 Another color option for 2020.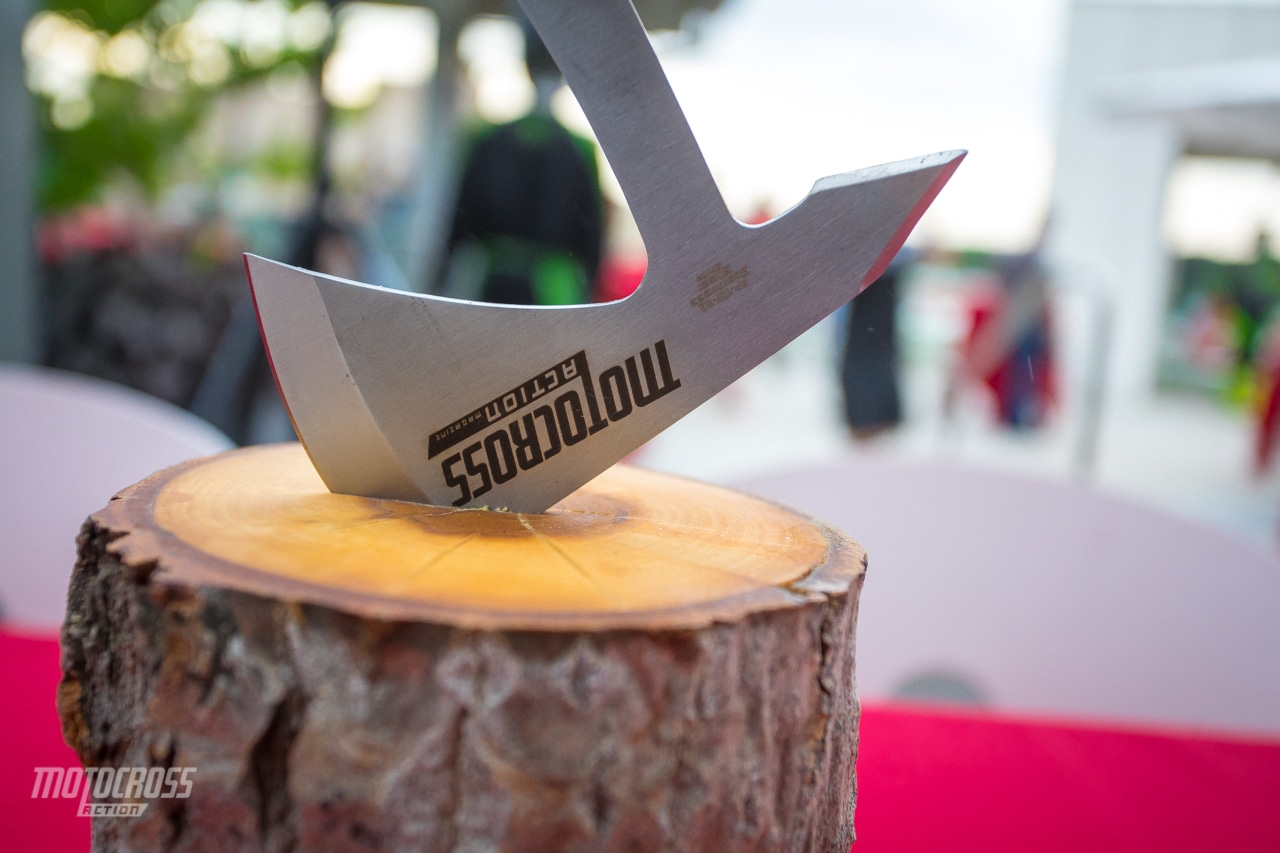 They always make the MXA crew feel right at home. 
They always feed us well. Ever heard of candied bacon? 
Weston Peick with bacon in hand. 
Fly brought us to what we would call an adult playground. 
Every year the Fly Racing crew out does themselves. It is not just about releasing new gear, it is also an experience. Here is MXA's Josh Mosiman speeding down the adult size slide.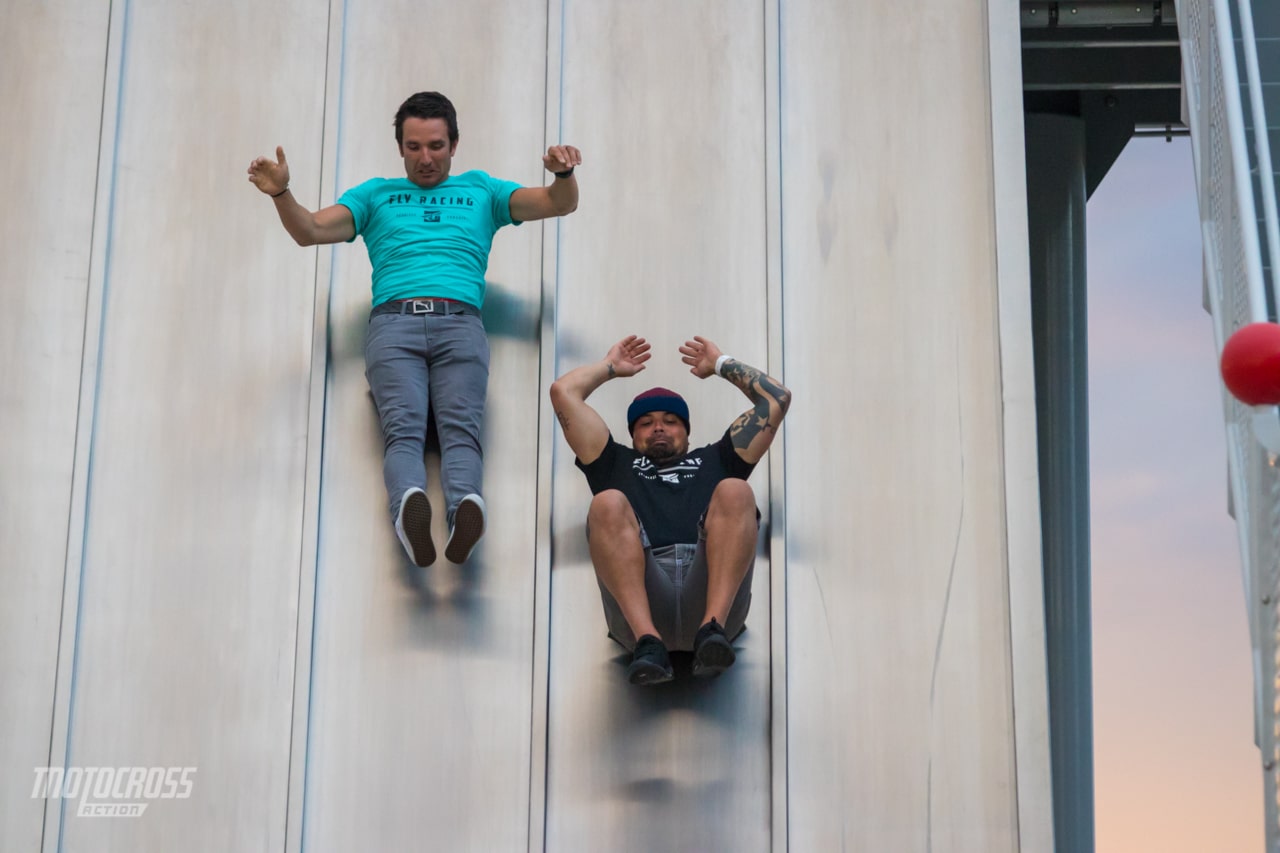 Fly Racing's Kyle Gills and Paul Davis racing down the slide.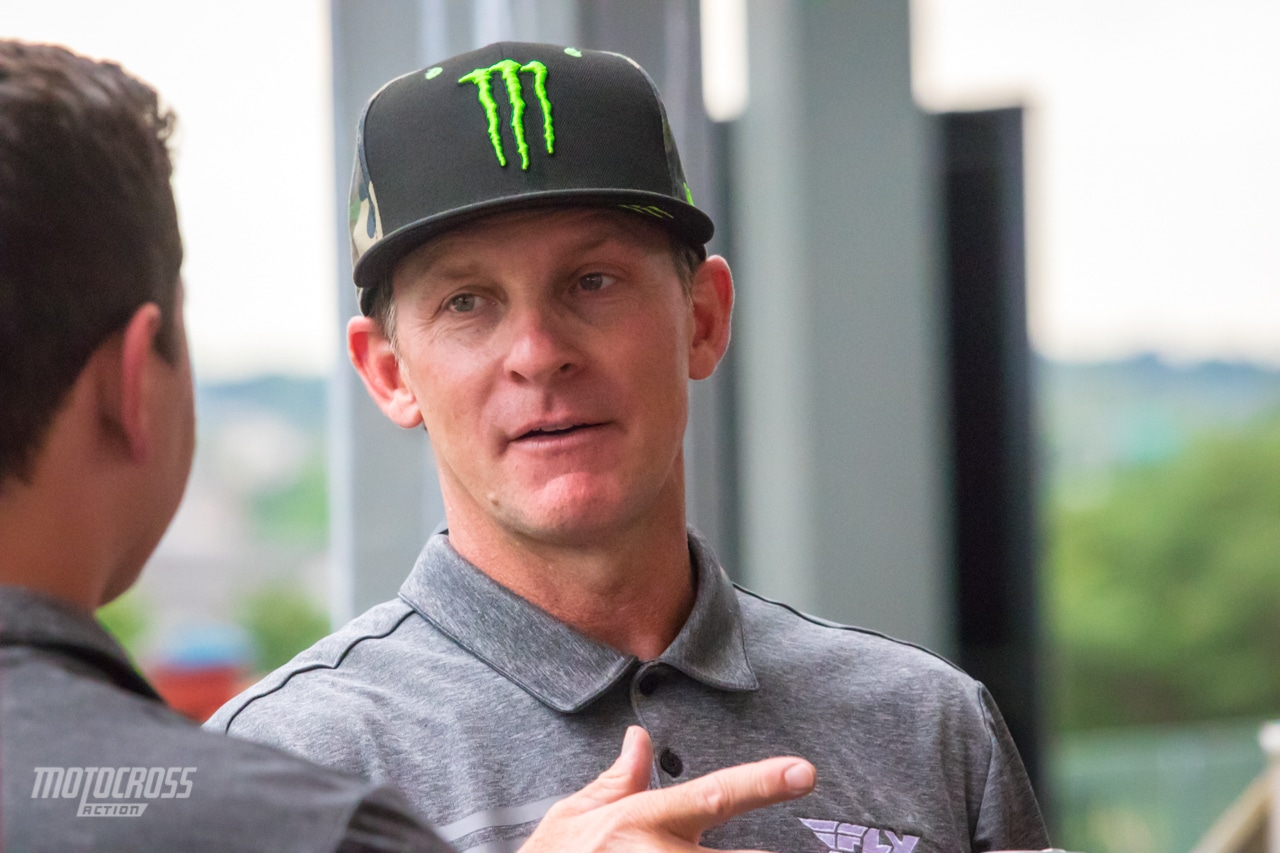 The man, the myth, the legend, Damon Bradshaw made his way to the Fly Summer Camp. 
What do think about when you think of Idaho. Tractors and potatoes?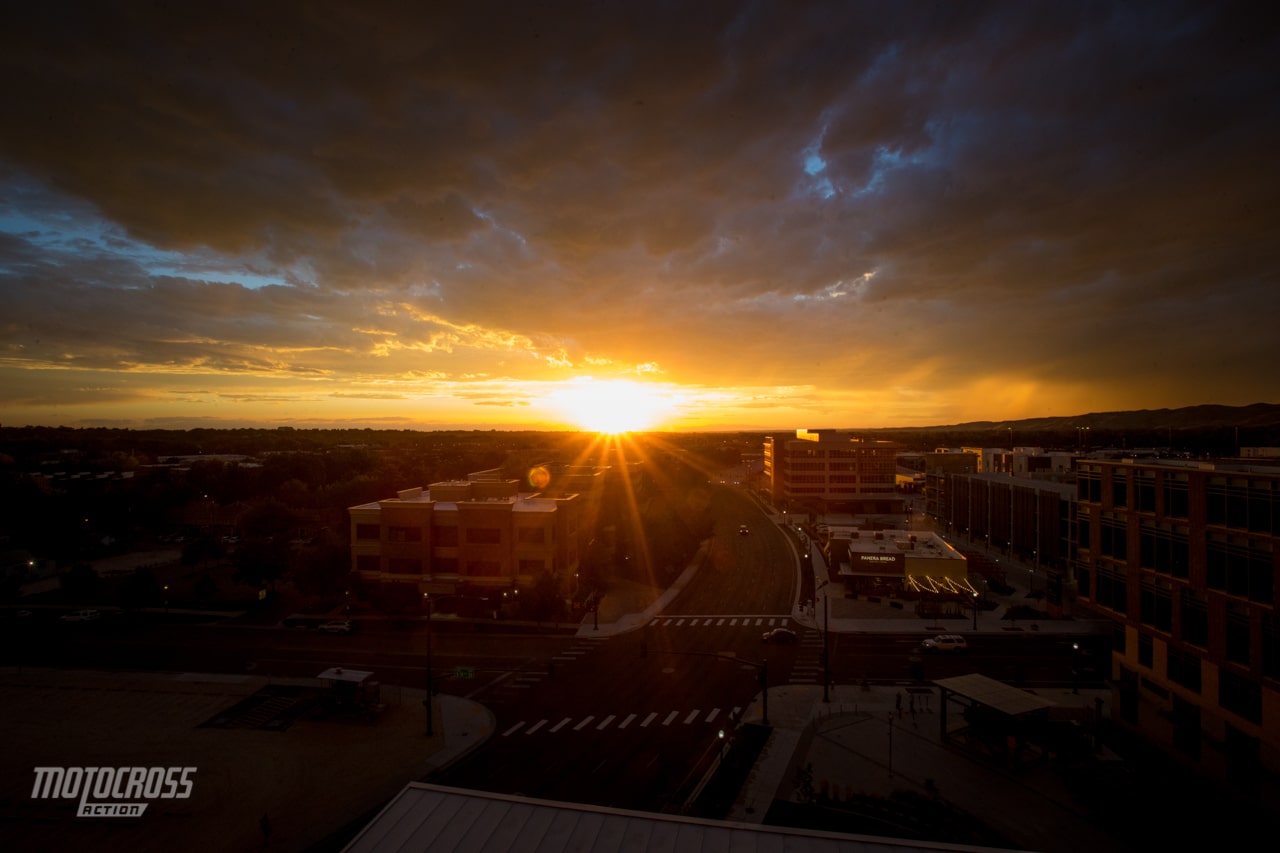 Idaho always has some awesome sunsets. We have two more fun filled days ahead. Tomorrow we get to ride in the 2020 Fly gear, then the day after that they are taking MXA white water rafting. 
WHAT THE MXA WRECKING CREW IS UP TO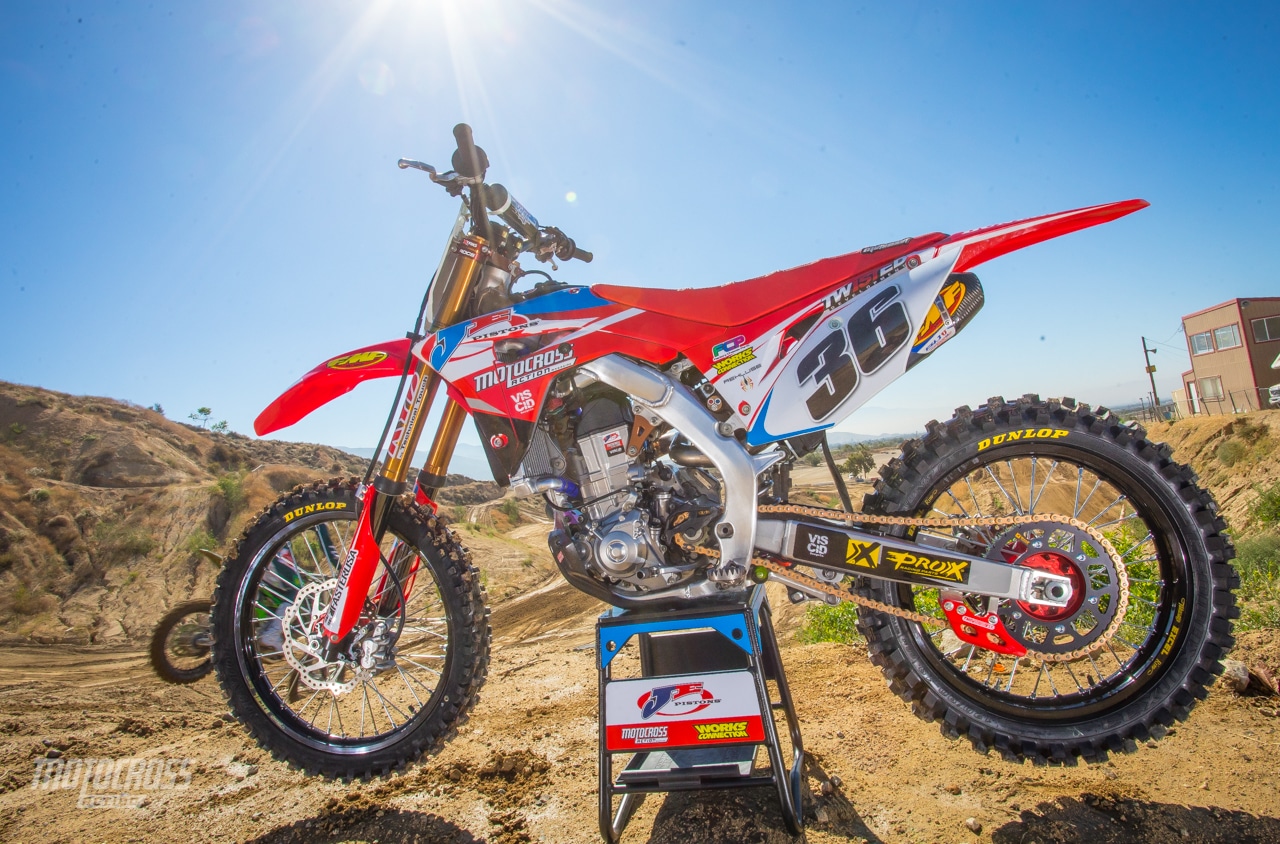 MXA's Dennis Stapleton built up our 2019 Honda CRF450 into an overall better bike. We are in the middle of putting the bike through the paces. 
A look from the other side.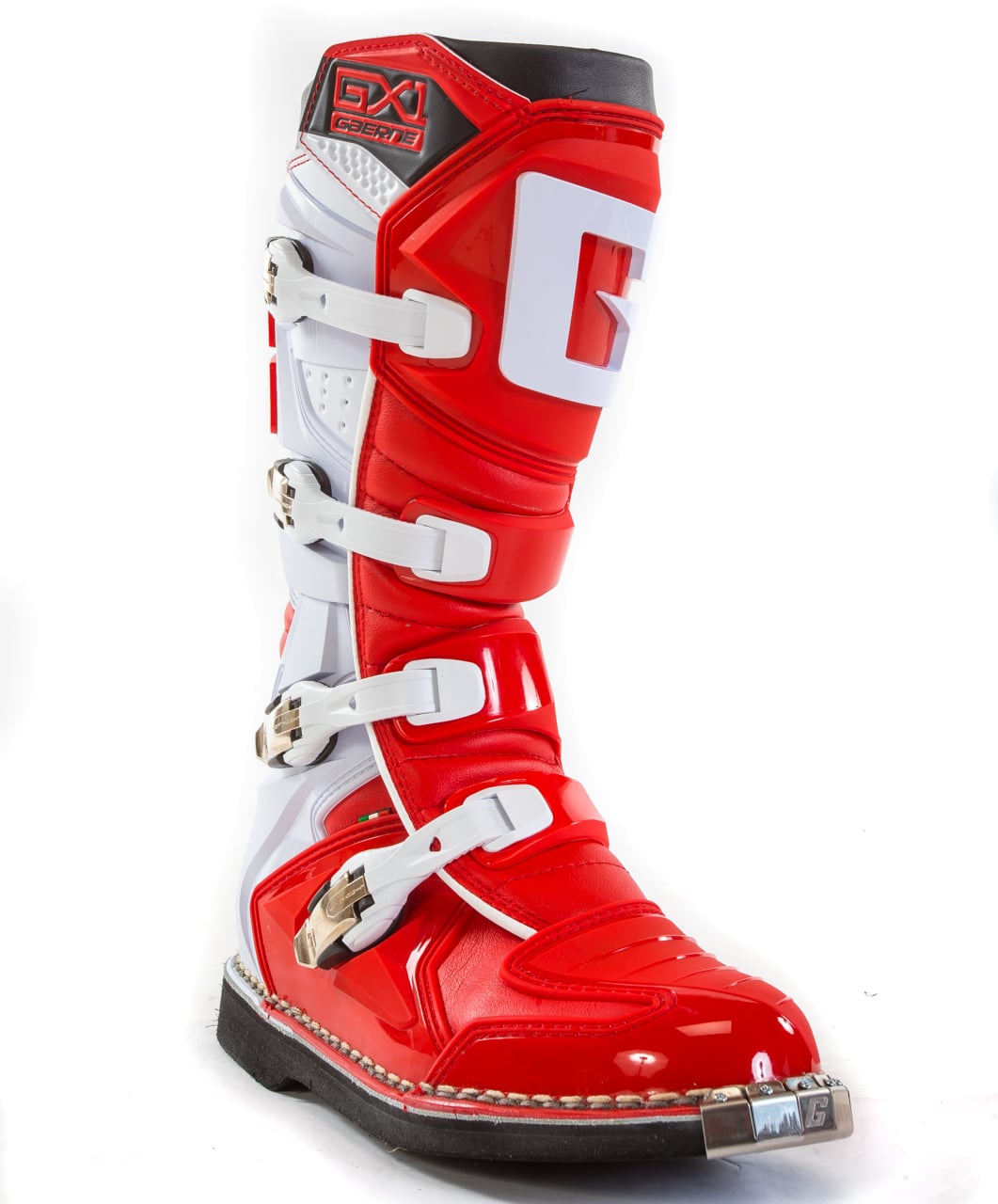 We got a special delivery from Bob Rathkamp, the Gaerne GX1. We have been putting some time on the boot. It is a boot that is very easy to break in.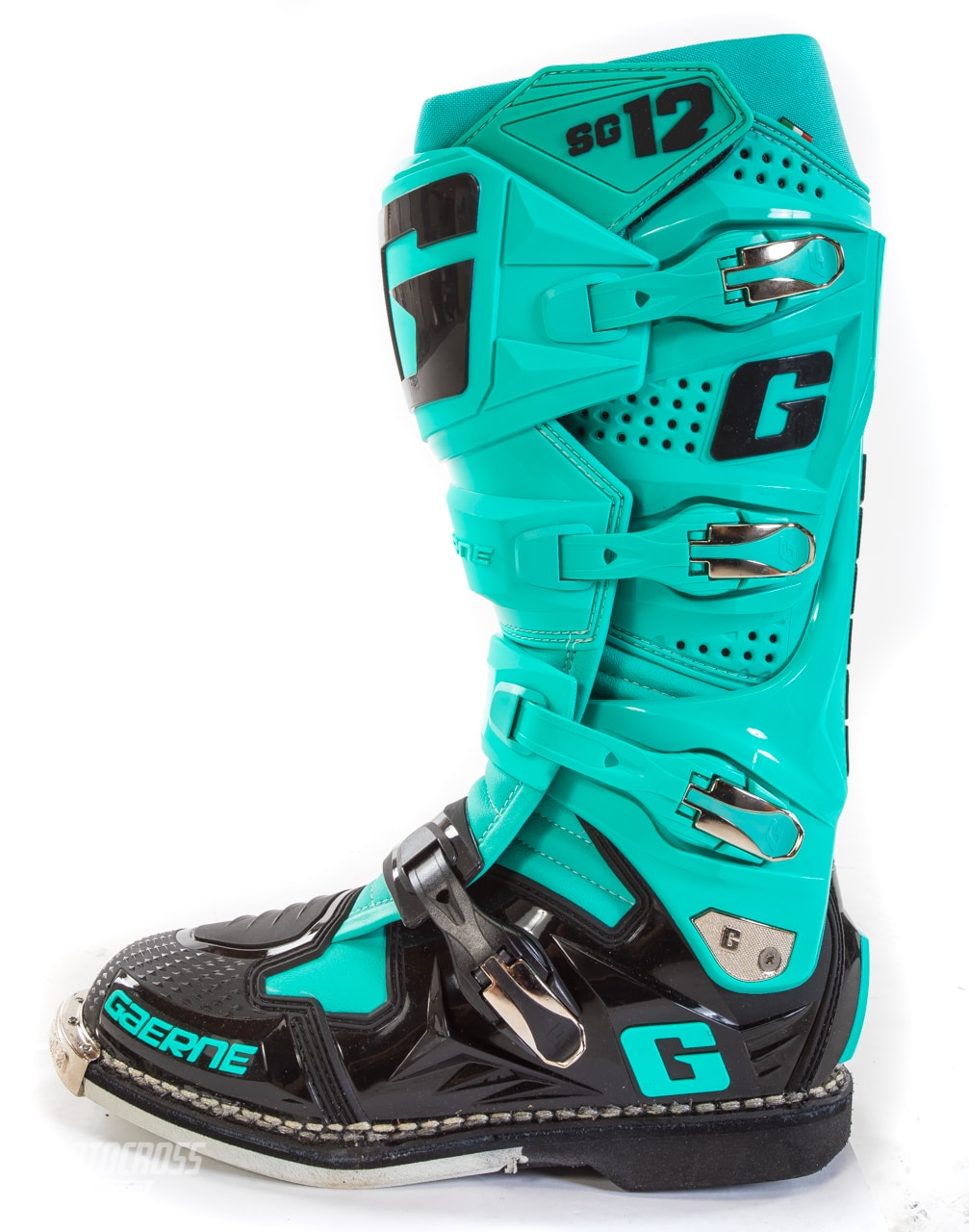 Bob also brought us by this cool color combination of the SG12. Check out www.gaerneusa.com for more information. 
A sneak peak inside the MXA studio getting shots of the 2020 KTM 450SXF.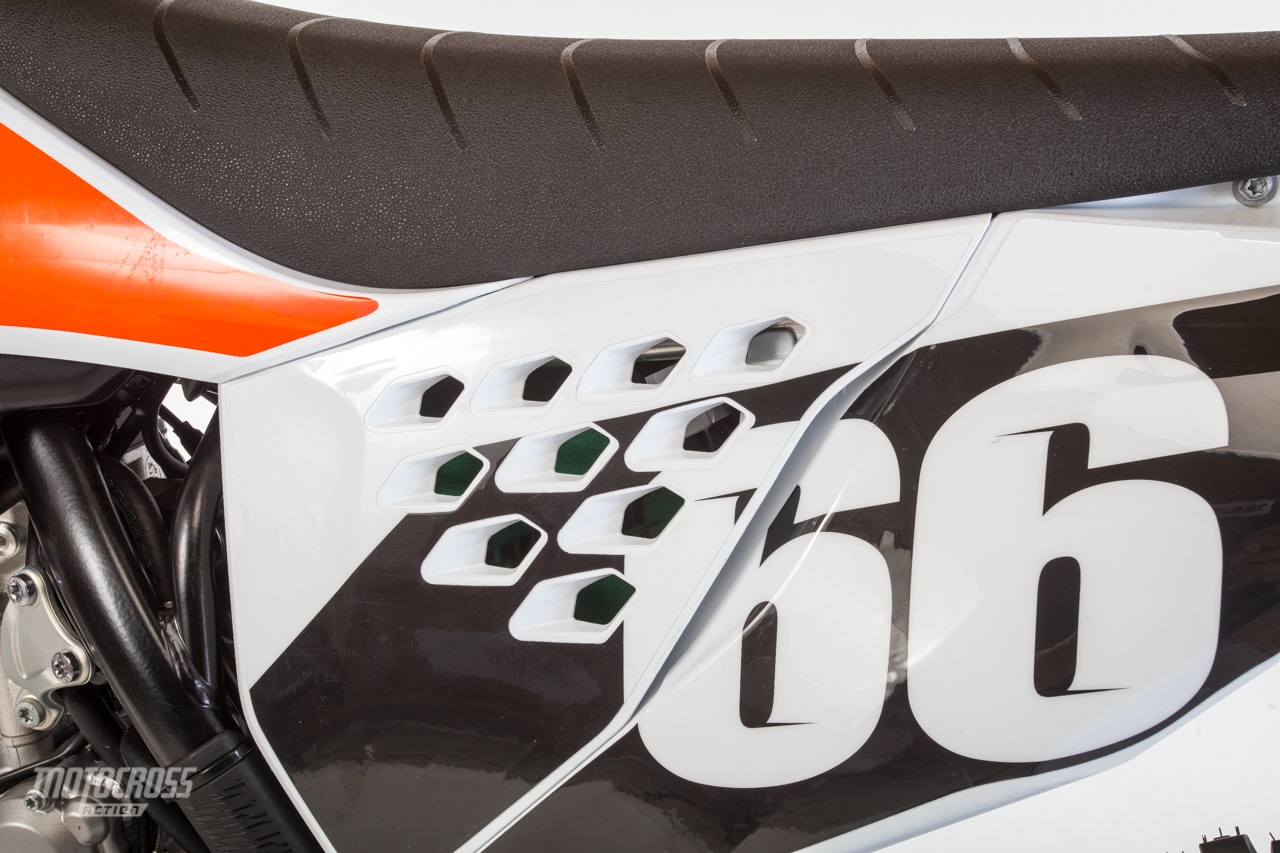 An up close look at the optional 2020 KTM 250SXF's ented side panel. 
MXA TEAM TESTED: FCP RACING 2018-2019 YZ450F ENGINE MOUNTS
If you are a proud owner of a 2018-2019 Yamaha YZ450F and just quite aren't sold on the handling of your blue machine then this is exactly what the FCP Racing engine mounts were made for. The manufacturer puts in countless hours of testing into different materials, thickness and shapes of engine mounts because these little pieces of metal play a key role in the way your motorcycle feels and handles. That does not mean they always get it right and FCP Racing believes this. They believe their combination of titanium front mounts and aluminum top mounts creates the flex characteristics that eliminate any possible issues you have with the stock setup. Before this type of technology was only used by factory teams or anyone crazy enough to make their own and try it but now FCP Racing is delivering factory level technology to the average consumer.
You will need the stock bolts from your stock engine mounts, a 12mm and 14mm T-handle or socket with a rachet, a mallet or hammer to push the bolt through the front of the engine. The removal process is fairly straight forward, just loosen the bolts and remove the stock top and front engine mounts. There's eight  total 12mm bolts to the frame and four 14mm bolts to the engine itself. Once you've removed those you can now replace them directly with the FCP Racing mounts. Simply repeat the process to put the bolts back where they came from and tighten them to the recommended torque specs in your owner's manual. You might not believe this is important but it does make a difference in the handling with different torque specs.
You might have noticed that although your 2019 YZ450F has improved front end traction over the previous years it still isn't quite enough. The FCP Racing Kit improves front end traction and makes the front and rear work together and follow one another. This eliminates any wallow you may feel under high speed sections and square edge bumps that put a lot of stress on the chassis. The titanium front mounts stiffened up the chassis for added precise feeling and tracking into rutted corners. Which gave us overall more confidence putting the front wheel where we wanted instead of where we needed to at times because the rear wouldn't follow the front before. They also helped with leaning the bike over and standing the bike back up on the exit of turns. A surprise we came across was the titanium front mounts helped with softening the harsh hits when going over square edge bumps. Even though they are "stiffer" in rigidity it delivers a plusher feel overall in those situations. We found the bike shined the most in deep rutted tracks over hardpacked ones but still an improvement overall
(3) Cool Factor. FCP Racing did a good job choosing the colors for the kit. The finish gives them that "factory" look that everyone drools over in the pits. Allows your bike to really standout and easy to spot.
DIGITS? $429.00 —  www.fcpracing.com or email [email protected].
MXA RATING: You might not be totally satisfied with your new YZ450F and FCP Racing has a fix for it. Most will overlook engine mounts and blame suspension for handling flaws but engine mounts play a much bigger role than you may think. For around the same price it would cost you to have suspension done you could throw these on your bike yourself, fix your YZ450F flaws and have the "factory" look.
LOST BUT NOT FORGOTTEN | 1998 HONDA XR400
STI ALL-NEW TECH 2 PRO D TIRES
Press Release: STI announces the all-new Tech 2 PRO D tires. These high-performance off-road tires were tested and developed in the grueling conditions of Baja with the help of Team SLR Honda racers. Designed with the same race-winning mindset behind the Tech 2 PRO motocross tires, the off-road focused PRO D models feature a stronger and stiffer carcass, wider tread blocks, and tighter tread-block spacing. The result is exceptional off-road handling, improved performance on hardpack terrain and better high-speed stability.
The tire size offerings in the Tech 2 PRO D line fit the needs of today's performance-minded off-road, desert racing, and dual-sport enthusiasts. Thousands of miles of off-road and desert testing proved the DOT-marked Tech 2 PRO D tires are durable high-performance products designed for tough conditions. Retail prices range from $70 to $104.
About STI
STI designs and manufactures tires, wheels and tubes for owners of off-road motorcycles, UTVs and ATVs. STI is lead by powersports industry veterans with a deep understanding of the needs of off-road enthusiasts. The company is focused on delivering excellent products backed by industry-leading customer service.
MXA FIRST RIDE | 2020 KAWASAKI KX250
$40,000 RAISED AT 6TH ANNUAL MOTODOFFO EVENT BENEFITING THE KURT CASELLI FOUNDATION
Press Release: Family-owned and operated Doffo Winery in Temecula, California hosted the 6th Annual MotoDoffo event, An Evening with the Kurt Caselli Foundation, on a beautiful summer evening where 700 people attended and nearly $40,000 was raised to fulfill our mission of Protecting & Supporting the Lives of Off-Road Riders.
The doors opened at 4:00 pm and the event was kicked off with live music from the Working Man Band. Followed by a trials show performance by Red Bull's Geoff Aaron, which is always one of the most popular parts of the evening. The Kurt Caselli Foundation team took to the stage to speak about what the Foundation is and will continue to do in regards of safety projects in the off-road motorcycle community. Rescue 3 joined the KCF on stage to accept a check and together, the KCF & Rescue 3, announced the partnership to support Rescue 3's mission and safety team. The three-year partnership will grant $16,600.00 each year to the Rescue 3 in support of their in-field safety efforts. There was also a segment to present the Fall 2019 Scholarship winners Kourtney Heald, Kobee Knight and Ricky Hemme (not able to be present) with three-$2,500 Scholarship checks —the funds are directly applied to school in which they are enrolled. The last part on the presentation was to giveaway a custom KC66 Intense Tazer electric mountain bike donated by sponsor Intense Cycles. The winner, Carol Van Leeuwen (ticket #2119) of Temecula, California, had entered to win while at the event and was ecstatic that she won. The live broadcast of the giveaway can be found on The Kurt Caselli Foundation Facebook page by clicking here.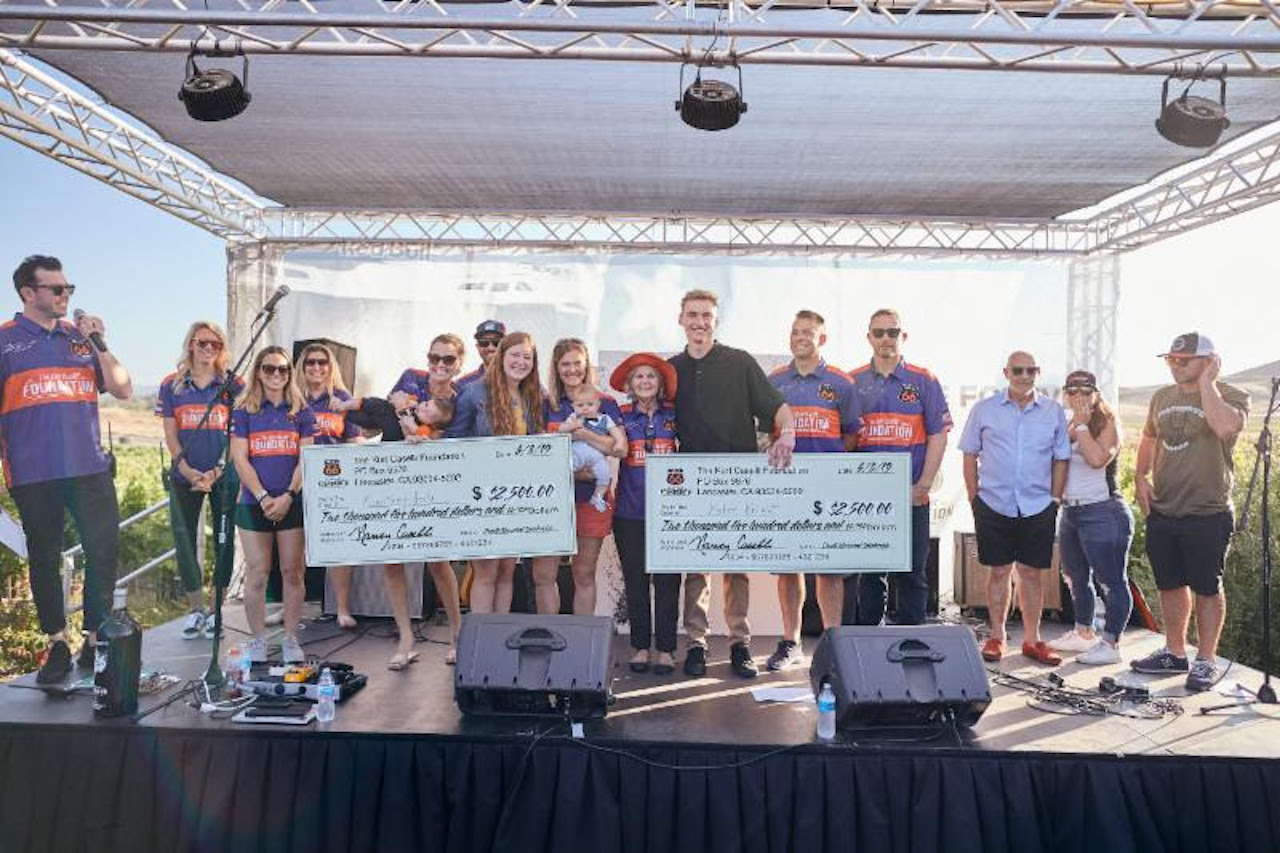 After the presentation, the live auction was hosted by Christopher Aslanian who generously donated one of the very special auction items —a framed Kurt Caselli jersey signed by Kurt himself. Many attendees took home one-of-a-kind experiences and treasures including a VIP trip to Monster Energy Cup in Las Vegas with hotel and flights, a ChampSchool track day experience with motorcycle rental & gear, and one lucky winner scored the large painting by artist Makoto Endo in which the 2019 Caselli Doffo wine label was created from. There was also a silent auction and a raffle with over 25 items. We can't thank the attendees, sponsors & supporters of the Foundation enough for the help to fund our mission of Protecting & Supporting the Lives of Off-Road Riders. The Working Man Band played into the night while the scent of flatbread pizza from Red Oven and tacos by Tito's Taco filled the air. The crowd stayed cool with cold beer from Backstreet Brewery, caffeinated with delicious coffee drinks from Greyscale Roasters and Doffo wine filled wine glasses throughout the evening.
The Foundation has an established budget to be utilized in 3 different safety areas in 2019: Race Course and Safety, Rider Safety during events, and Injury Management. Projects include: supporting the off-road community with Riders 1st Responders First Aid/CPR Certification events, sending our Race Course Safety Advisor to help promoters to provide safe, consistent races, partnering with select series to provide a KCF Safety vehicle with medical service devices, supplying major off-road race series with hundreds of KCF Caution Flags and high visibility KCF Safety Bibs to youth riders and much more. Learn more about the established safety and scholarship budget and projects on our website. View photos and videos at www.KurtCaselli.com.
An Evening with the Kurt Caselli Foundation Sponsors: Doffo Winery, KTM North America, FMF Racing, Intense Cycles, K&N Filters, Ringo Financial & Torco USA.
Bottles of the Kurt Caselli Tribute wine can be purchased at www.DoffoWines.com. Check out www.kurtcaselli.com for more info
MXA FIRST RIDE | 2020 KTM 250SXF
CLASSIC PHOTO
Jeff Ward racing an indy car back in 1997.
---
Moto Trivia answer: Damon Huffman.