MOTOCROSS ACTION MID-WEEK REPORT
#WHIPITWEDNESDAY
Rider: Justin Barcia
Bike: 2019 Factory Yamaha YZ450F
Photographer: Daryl Ecklund
Lens: 17-40
Range: 17mm
F Stop: f/7.1
ISO: 640
Shutter speed: 1/1600
TWO-STROKE SPOTLIGHT: DAVE WATERS 2001 YAMAHA YZ250
"Hey MXA, This my 2001 YZ250 that became my son's bike while waiting on parts for his YZ125. I wish I had better pictures of the final finished project but it's still pretty sweet. Teaching YamaPro & Dyno at MMI for a few years and being a Yamaha guy in general (it's said that my blood is Deep Purplish Metallic Blue) I knew of some things I could do to make it a bit better. The cylinder has had some serious massaging to broaden the power, reconfigured squish, Boyesen Rad Valve, the photo has an FMF Gnarly but the final is an SST. Custom shorty silencer, Wiseco Clutch Basket, polished main and counter shaft, polished shift drum, ProX rod, I trued the crank to .005″ (it wouldn't get any better than that), Universal Triple Clamps, 2006 Kayaba SSS suspension front and Rear (2006 shock is not on yet in this photo), with Race Tech Valving, Talon Hubs with Excel rims.  I hope you guys like it!" –All the Best Dave Waters. 

EDITORS NOTE: Please keep those submissions coming. If you would like your bike to be featured in the "Two-Stroke or Four-Stroke Spotlight," please email me at [email protected]. All I ask is that you give a breakdown of your bike and a detailed description of the build. Please also send a few photos of your steed. By submitting your bike, you agree to release all ownership rights to the images and copy to MXA. Please don't email me spam or try selling me Taylor Swift concert tickets or email me spam. I already celebrate T-Swizzle's entire collective, and there will be "bad blood" if you send me junk mail. See what I did there? Happy submitting your smoker.
MXA | MOTO | TRIVIA
Who is this rider and what year was it taken? Answer at the bottom of the page.
LOST BUT NOT FORGOTTEN | 2005 PRO CIRCUIT 60 HORSEPOWER CRF450
KAWASAKI KX250F – STAGE 1 & 2 CAMSHAFTS – HOT CAMS
Press Release: Hot Cams, Inc., is the industry leader in innovation, design and development of high-performance aftermarket camshafts for dirt bikes and ATV's. Designed with industry leading valvetrain software and dyno proven in-house, they provide the most reliable, economical and easy to install camshafts that add up to 10% power gain to your engine. Hot Cams camshafts for the 2017-2019 Kawasaki KX 250F are manufactured to the highest engineering standards. Find yours today at your local dealer, or call 515-402-8000 for any questions!
STAGE 1 INTAKE
Priced At $179.95
Good power increase from 4,000 RPM to the redline. Designed with Improved Throttle Response technology. Uses stock valve springs. Dual-cam engine, intake and exhaust cams sold separately. http://hotcamsinc.com/ProductInfo.aspx?item_id=11944
STAGE 2 INTAKE
Priced At $179.95
Excellent mid-range and top-end increase over 8,000 RPM. No loss on the bottom-end. Designed with Improved Throttle Response technology. Uses stock valve springs. Dual-cam engine, intake and exhaust cams sold separately. http://hotcamsinc.com/ProductInfo.aspx?item_id=11946
STAGE 1&2 EXHAUST
Priced At $199.95
For use with both the Stage 1 and Stage 2 intake cams. Designed with Improved Throttle Response technology. Uses stock valve springs. Dual-cam engine, intake and exhaust cams sold separately. Uses stock auto-decompression mechanism. http://hotcamsinc.com/ProductInfo.aspx?item_id=11362
WHAT THE MXA WRECKING CREW IS UP TO
Josh Mosiman and Daryl Ecklund went to Boise, Idaho, for the Fly Racing Summer camp last week to check out and wear the 2020 Fly Racing gear. Here is Josh Mosiman modeling the new threads. 

Fly Racing surprised us with Pitster Pro pit bikes for the media to race against each other. 
That is Daryl Ecklund on the far left lining up for the first Pro mini heat race.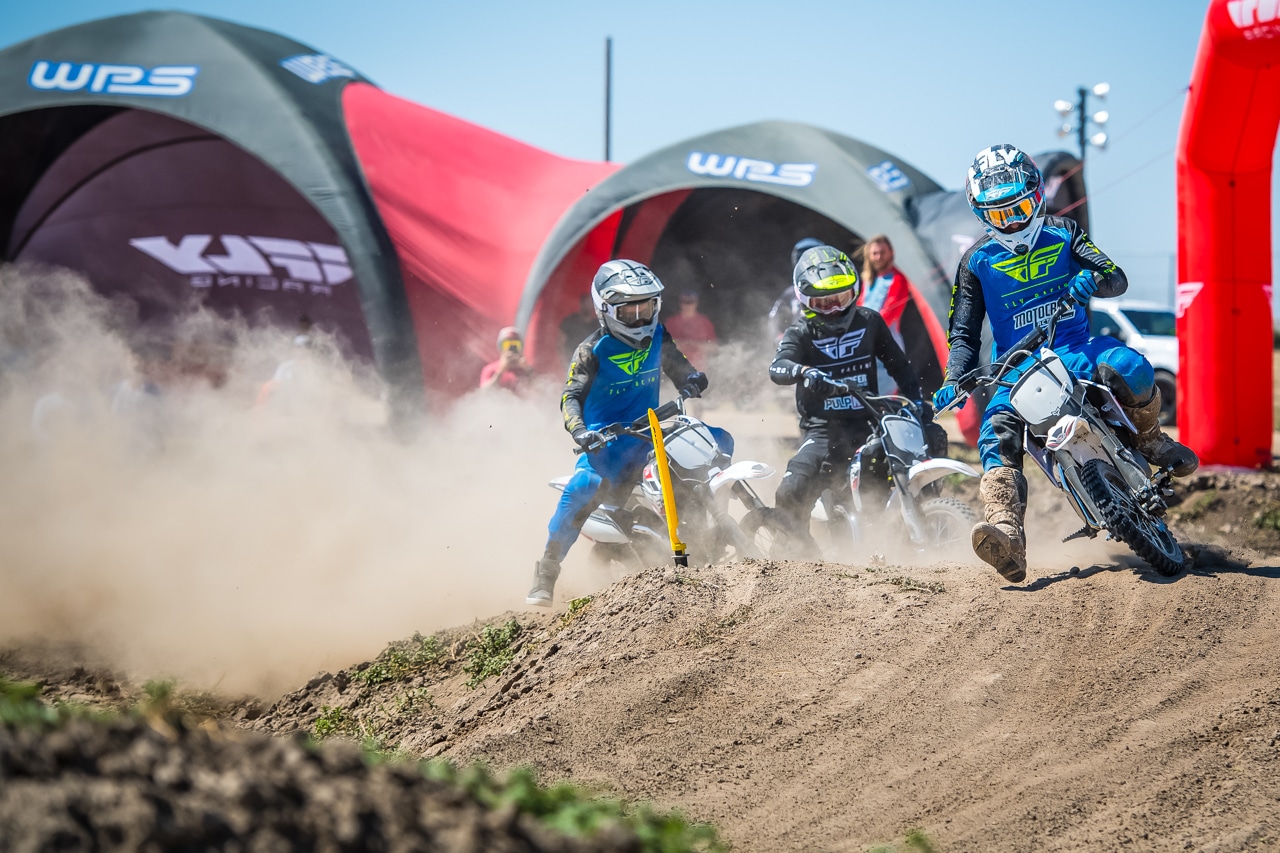 Josh Mosiman leading the Pro heat number 2. He went on to win his heat.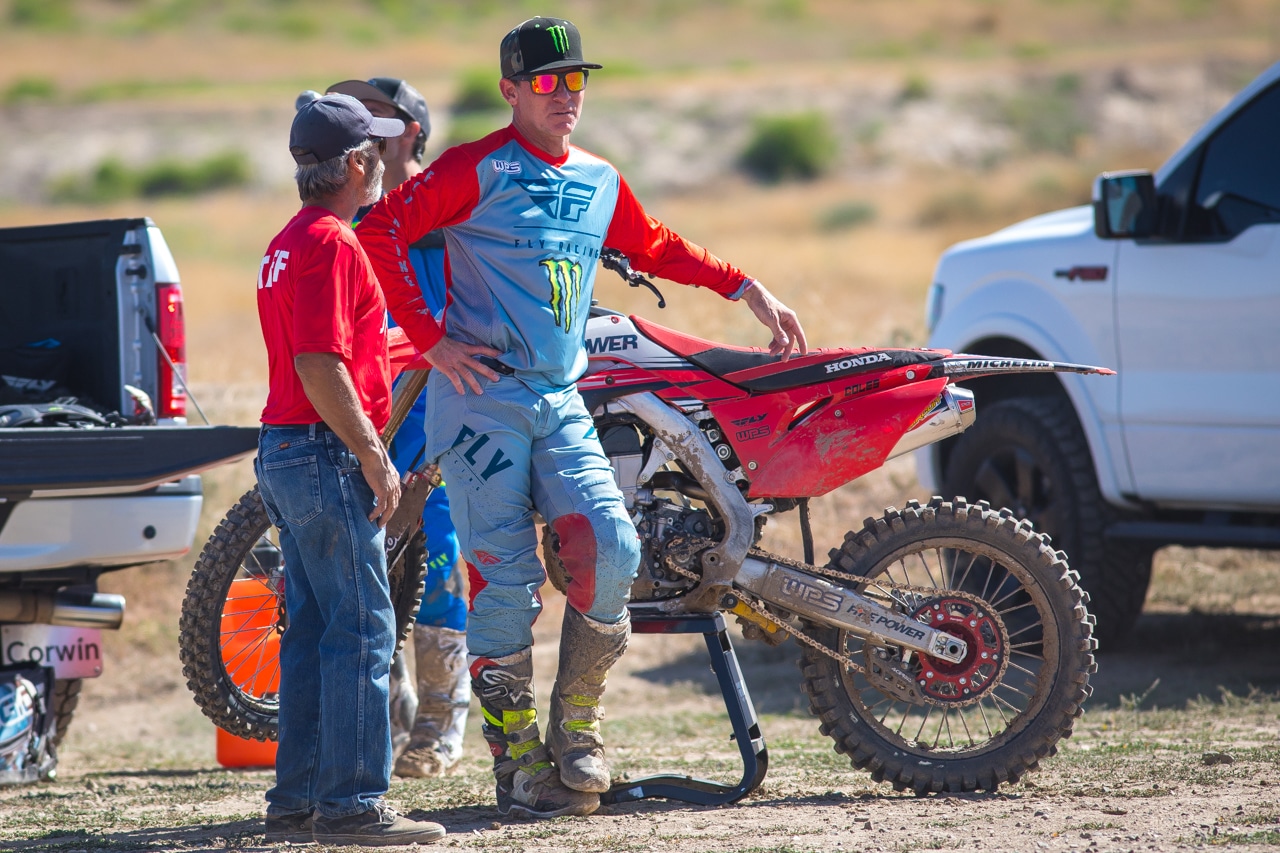 The legend, Damon Bradshaw, was ripping at the Fly Racing Summer Camp ride day. 
Weston Peick was in attendance and riding. He was on the gas in the 2020 Fly Racing gear.

Ex-Pro rider and now Fly Racing Sales Manager Cole Siebler was jumping some huge jumps. 
MXA's video guy Travis Fant got a chance to get some riding in as well. 
While Josh and Daryl were in Idaho, Dennis Stapleton made his way to Loretta Lynn's dude ranch in Hurricane Mills, Tennessee, for the MX Sports National Amateur Championship.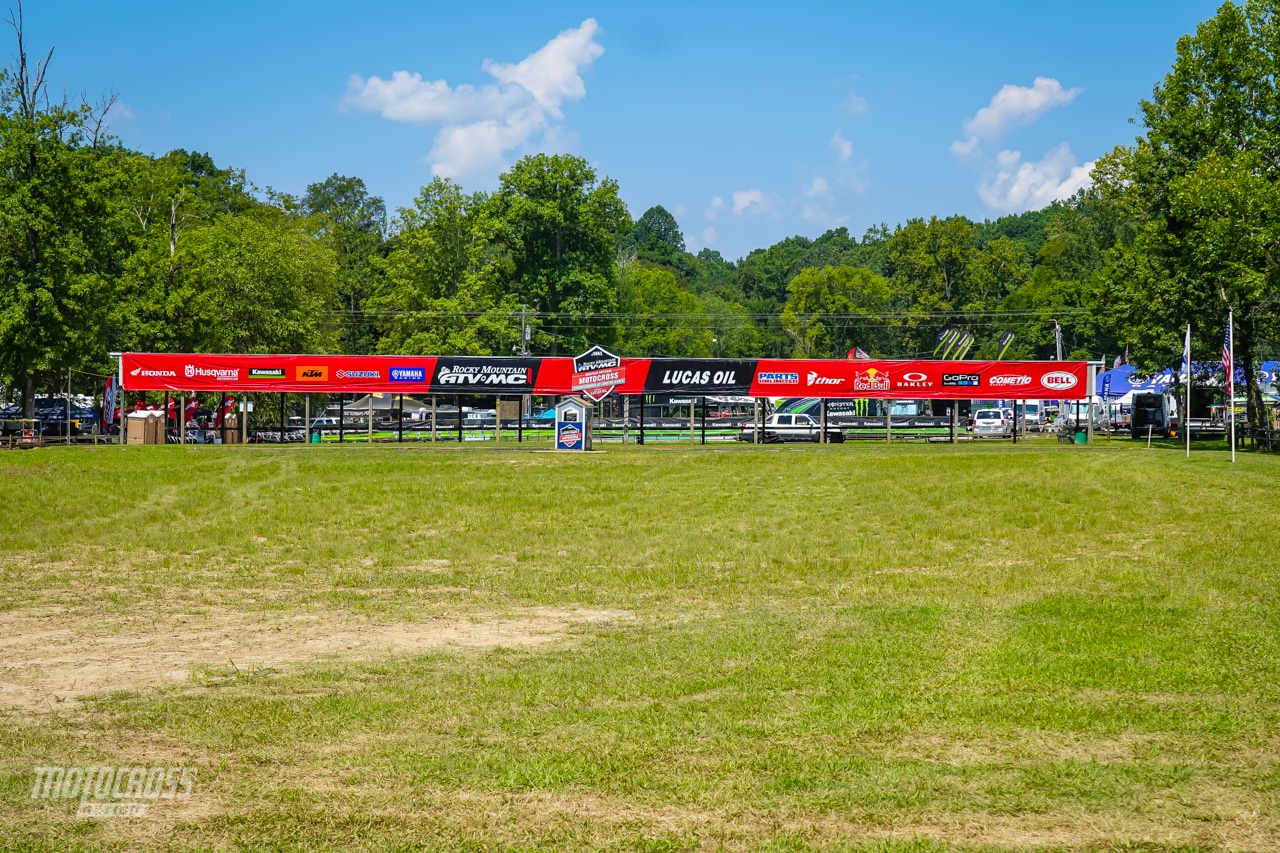 This place is awesome as it is only holds races once or twice a year. You can see by the overgrown grass field which is the start. 
Up at Washougal we couldn't help but notice how good the Star Racing YZ250F bikes were at getting up front at the start. Four Star Racing riders were at the front of the pack each moto. 
All the while you had Adam Cianciarulo hanging off the rear of the bike all day long to do everything he could to hang with the Star Racing YZ250Fs. 
The Washougal crowd was incredible. 
It was sad to hear the news about Christian Craig being suspended after Washougal until March 9th, 2020. He will be appealing the FIM's decision.
We got the 2020 Yamaha YZ250 smoker in the house. We will be causing some mayhem on this old war house soon.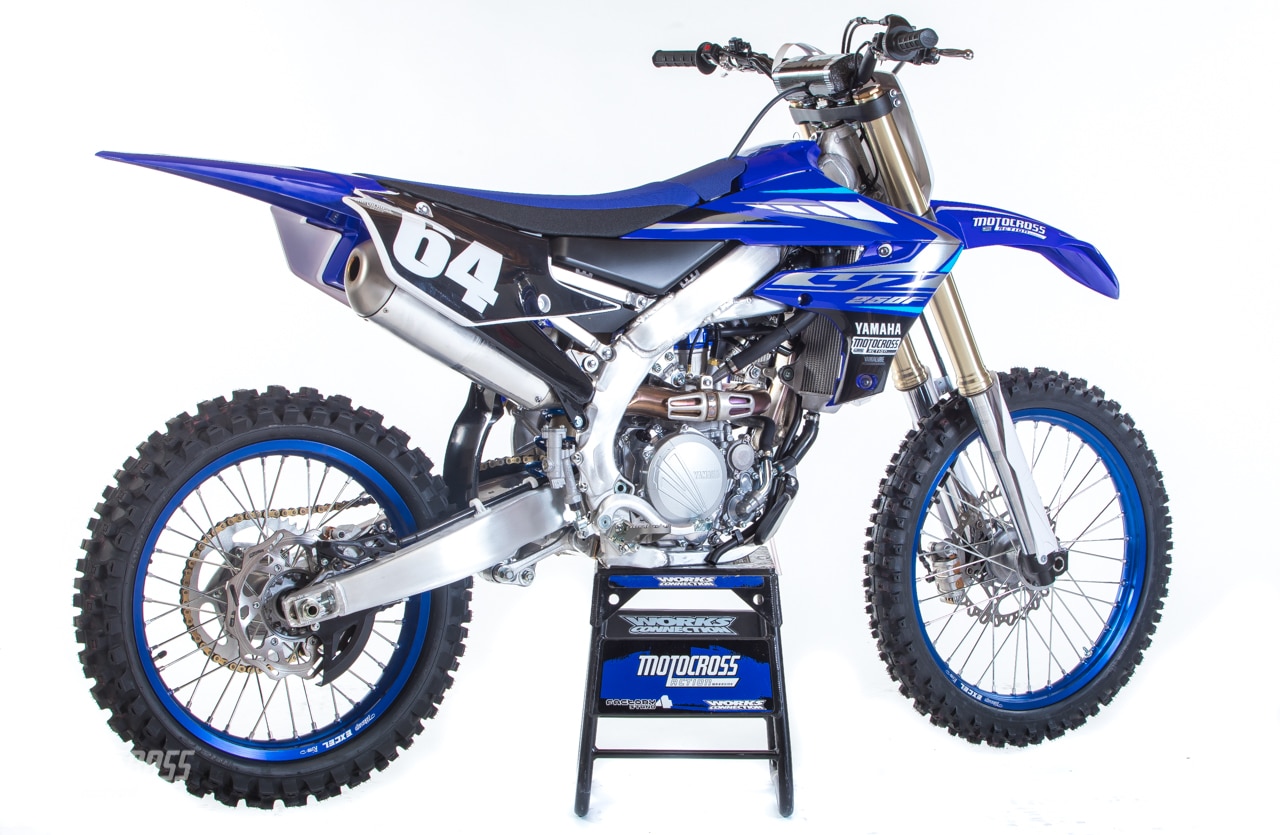 We will be doing initial testing on the 2020 Yamaha YZ250F this Thursday at Glen Helen. 
YOU DO THE MATH! SUBSCRIBE TO MXA & GET A $25 CHAPARRAL GIFT CARD
If you subscribed to Motocross Action,  you could have memorized the August 2019 issue and lent it to three of your cheap friends.
If you subscribe to MXA you can get the mag on your iPhone, iPad, Kindle or Android by going to the Apple Store, Amazon or Google Play or in a digital version. Even better you can subscribe to Motocross Action and get a $25 Chaparral gift card to spend on whatever motorcycle parts or products you need. And the awesome print edition will be delivered to your house by a uniformed employee of the U.S. Government. You can call (800) 767-0345 or CLICK HERE or click on the box at the bottom of this page.
THEY SAID IT | 2019 WASHOUGAL NATIONAL

Dylan Ferrandis: "The track is always slippery at Washougal, but today it was a bit worst due to the bit of rain we got all morning. I still had a lot of fun riding today. I got two very good starts and was really happy with myself. I had good battle with AC [Adam Cianciarulo] in the second moto. We made a good show for the fans, I hope they liked it and I look forward to watching it later myself. I'm pretty pumped about winning both motos today. It's a good bounce back after my bad weekend in Millville. I look forward to racing again in two weeks at Unadilla."
Justin Cooper: "The bike was really good this weekend! A couple mistakes in the motos, but nothing we can't recover from. The conditions were really good with it misting in the morning, the track was moist all day and pretty rough. It was difficult to be consistent with the slick lines out there and that cost me a couple of times especially in the first moto when I lost the lead. It was good day overall, though. I'm still looking to get back to the top, but I feel we are headed in the right direction."
Adam Cianciarulo: "You're always conscious of the points, but now after winning this year, I crave to win and kind of expect it of myself. Most of the time I've been happy with second because it's been on an off day, but today I felt like I was the fastest out there and really wanted it. I just couldn't get by and had a few mistakes here and there in that first moto that cost me. Overall, I had a lot of fun, the bike is working great and I feel like we're in a really good spot heading to Unadilla."
Eli Tomac: "On the bike [today] it was like perfection, other than the starts. The second moto was pretty much mistake free. Everything was in the right place, at the right time. It's pretty cool when that happens. That was just a good day on a dirt bike."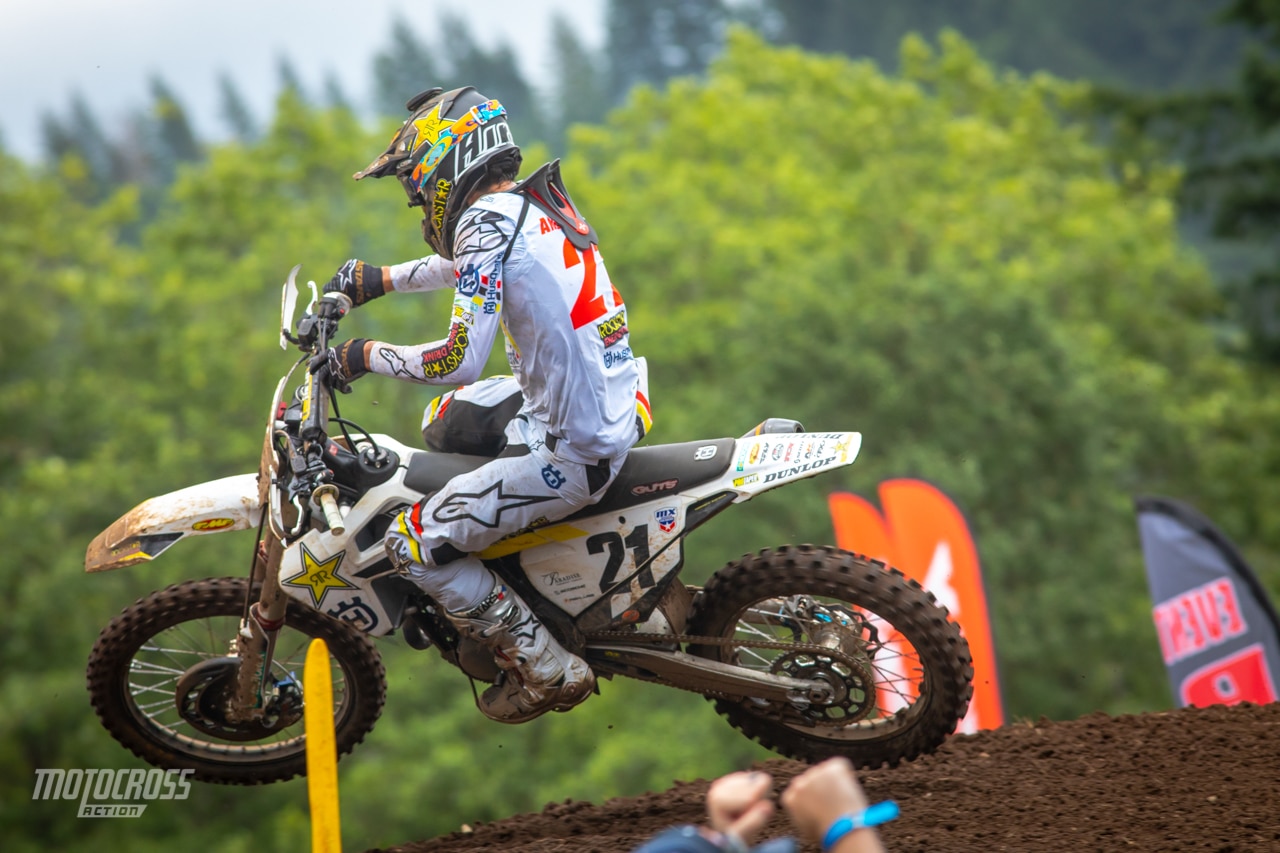 Jason Anderson: "My day went pretty decent. In the first moto, I got up to third and then I fell and ended up fourth. In the second moto, I got up to fourth and tried to make a charge and ended up getting passed for fifth. I went 4-5 for the day but I got docked two positions, so I ended up fifth overall, which isn't too bad."
Zach Osborne: "It was just a really 'off' day until the second moto, where I was able to turn things around. I think I've just been a little bit off the normal regimen with my shoulder but going into an off-weekend, I feel like I can make a lot of improvement with it and keep moving forward."
Dean Wilson: "Today was definitely an improvement but I'm still trying to catch up on my fitness. The second moto, I had a really good start and those guys passed me but to be honest I was really struggling with cramping in my legs. It's a little disappointing as a 7-8 was looking doable but we'll just keep working at it."
Michael Mosiman: "It's good to be here, I'm really fond of this track and this area. And I think this track suits my style – I'm really able to get into a flow. I'm stoked to get on the podium. I love the fans up here!"
Alex Martin: "Washougal is a tricky track for me, so I'm happy to just be moving on from this race healthy. In the first moto I had a good pace going while running in seventh position. Then I swapped out coming into a left-hand corner and went over the bars. I spun badly out of the gate in the second moto and was buried in the pack, but I made aggressive passes right away to finish seventh. My riding was decent. I just need better starts."
Freddie Noren: "I was really looking forward to Washougal. It was nice to ride press day and get a flow with the track. I cannot believe how comfortable I am on the Suzuki RM-Z450 after not much time at all. I expect my results to continue improving. Washougal was a race I can build off of."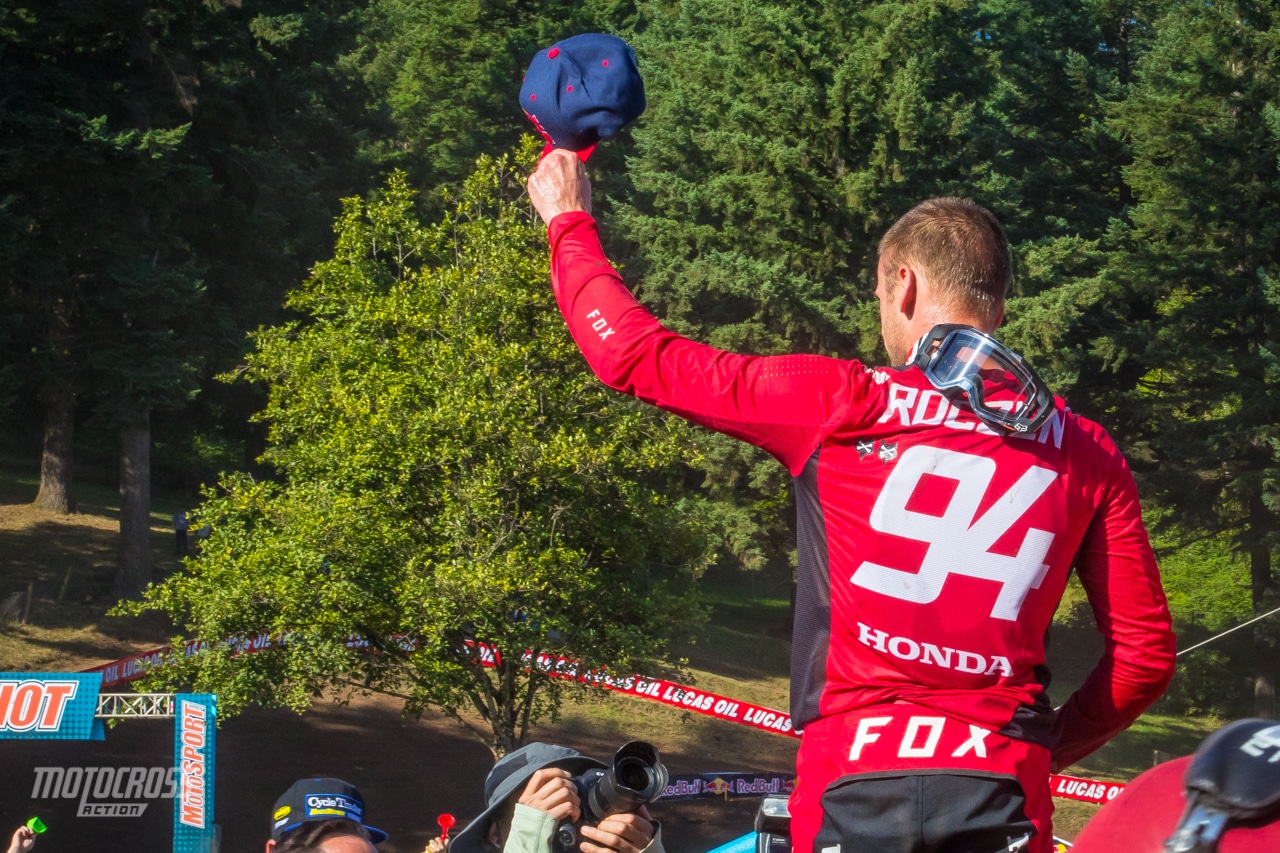 Ken Roczen: "I can't really complain today. If you've seen my last few weekends, today was actually really good for me. I'm pretty happy to be back on the podium and to have an overall better day than in past weeks. In both races my starts weren't that great, but I was able to make passes and find the front of the pack pretty quick, which was nice. I was trying to be aggressive until the end and give it my all but Eli [Tomac] was on it all day and I just wasn't able to hold him off. I'm looking forward to this weekend off and to getting back to racing at Unadilla."
MXA YOUTUBE CHANNEL | HIT THAT SUBSCRIBE BUTTON


The MXA wrecking crew is everything moto related. Check out our MXA YouTube channel for bike reviews, Supercross coverage, rider interviews and much more. And don't forgot to hit that subscribe button.
CLASSIC MXA PHOTO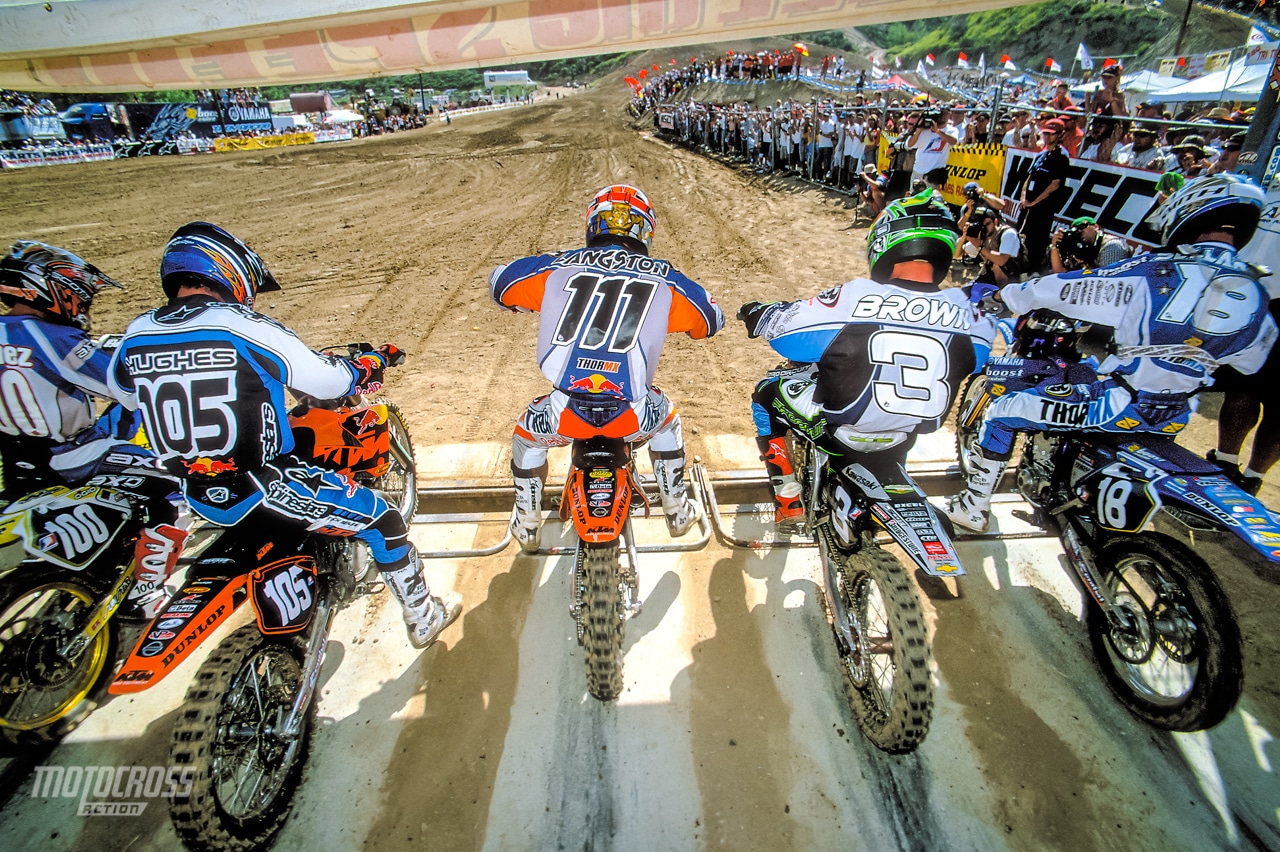 Grant Langston getting the jump on the start at the 2003 Glen Helen outdoor National.
---
Moto Trivia answer: Donnie Schmit back in 1993.