MOTOCROSS ACTION MID WEEK REPORT
#WHIPITWEDNESDAY
Rider: Josh Mosiman
Photographer: Daryl Ecklund
Lens: Fixed f/4 300mm
F Stop: f/5
ISO: 160
Shutter speed: 1/1600
TWO-STROKE SPOTLIGHT: 1995 KAWASAKI KX125, BEFORE AND AFTER
The before photo of Matt's 1995 KX125.
"It has been awhile since I have shared any of my project bikes with MXA. Here is my most recent build, a 1995 KX125 built after one of my childhood hero's–Robbie Reynard. As you can see the original platform was in pretty good shape which made things easy. I started by sending the frame out to Curry Custom Coatings for a fresh coat of Kawasaki Green powder.
"The engine came in a box, the cases and cylinder were sent to Eric Gorr Racing to get the cylinder repaired, as well as a Team Green spec port job and case matching. The engine was assembled with all new bearings, seals and gaskets from Hot Rods, Winderosa, and a Vertex piston.
The after photo of the 1995 KX125 beauty. 
"The engine cases, swing arm, frame guards, brake calipers and master cylinders were sent to KE3 Restoration to be Vapor blasted, to bring back that show room finish. The clutch cover and housing were also sent to Curry Custom Coatings to be Cerakoted for the factory magnesium look. I also sent all of the OEM hardware out to be re-zinc plated.
"When everything was back in my possession, I began assembling the chassis where I used All Balls Racing bearing and seals, the forks and shock were rebuilt by Dan Elings at Race Pace Performance where he also used All Balls components as well as Race Tech Gold Valves. The stock hubs were Powder Coated to resemble the factory look and were laced using Pro Wheel Racing spokes and hoops.
The engine side. 
"I was able to source an original Braking 270 oversized from brake rotor and coupled with a Tusk Racing Honda style stainless brake hose to insure that it stops on a dime.
"This build would not have been possible without the help from the following."
All Balls Racing
Curry Custom Coatings
KE3 Restoration
Pro Circuit
Pro Wheel Racing
Race Pace Performance
Rocky Mountain MC
Tusk Racing
Renthal
UFO Plastic USA
Vertex Pistons
Editors Note: Please keep those submissions coming. If you would like your bike to be featured in the "Two-Stroke Spotlight," please email me at [email protected]. All I ask is that you give a breakdown of your bike and a detailed description of the build. Please also send a few photos of your steed. By submitting your bike for the "Two-Stroke Spotlight," you agree to release all ownership rights to the images and copy to MXA. Please don't email me spam or try selling me Taylor Swift concert tickets or email me spam. I already celebrate T-Swizzle's entire collective, and there will be "bad blood" if you send me junk mail. See what I did there? Happy submitting your smoker.
MOTO | TRIVIA 
Who is this rider and what year was it taken. Answer at the bottom of the page.
MOTONATION'S JASON KILROY WITH SOME NEW SIDI COLOR WAYS
Jason Kilroy meet us at Glen Helen a few weeks ago to bring us out a few new Sidi color ways that will be coming out soon. 
The black and red color way looks great. 

Anyone who owns a KTM these black/white/orange Sidi Crossfire boots will match great. 
2020 FIRST RIDE CRF250
NITRO WORLD GAMES DELIVERS HIGH ADRENALINE COMPETITIONS TO THOUSANDS IN UTAH
Press Release: Fans gathered to watch the action at Nitro World Games unfold as 10 of the world's best FMX athletes lined up to take on FMX Best Trick. Launching off a 15-foot ramp, riders had one goal, to throw the biggest and best trick possible. The competition ramped up quickly as Davi Johnson pulled out a world's first trick, an FMX Decade, a trick that is typically seen in BMX, bumped him into the first-place position. Josh Sheehan was up next and threw a flawless No Handed Double Backflip which took the first-place spot from Johnson. Last, but certainly not least in the 10-rider line-up was the 2018 FMX Best Trick Champion Pat Bowden. Bowden had his eyes on the prize and threw an unbelievable Christ Air Front Flip earning him the top spot for the second year in a row.
Shortly after FMX Best Trick one of the most anticipated events of the year was up. Nitro World Games Moto Quarterpipe, a gigantic mechanical quarterpipe that stands 32 feet high and launches riders over 70 feet from the ground. The field started with six riders but was whittled down to three notable athletes. The 2018 Moto Quarterpipe Champion Colby Raha, Australia's Corey Creed, and fan favorite Tyler Bereman. Bereman definitely held his own making it into the final three, but Raha and Creed were sending it to the moon both aiming to set a new world record. In the end Corey Creedwas victorious launching 45 feet 7 inches off the deck in the final round.
In Nitro Rallycross the championship round was set with six drivers on the grid. Patrik Sandell, Kevin Hansen, Travis Pastrana, Timmy Hansen, Ken Block, and Tanner Foust were all hungry for the win. Coming out of the first turn the drivers were packed up and three took the 120' jump while the other three took the table creating a picture-perfect moment. After six laps of trading paint, massive airs, and necessary joker laps Kevin Hansencrossed the finish line first with Patrik Sandell and brother Timmy Hansen close behind.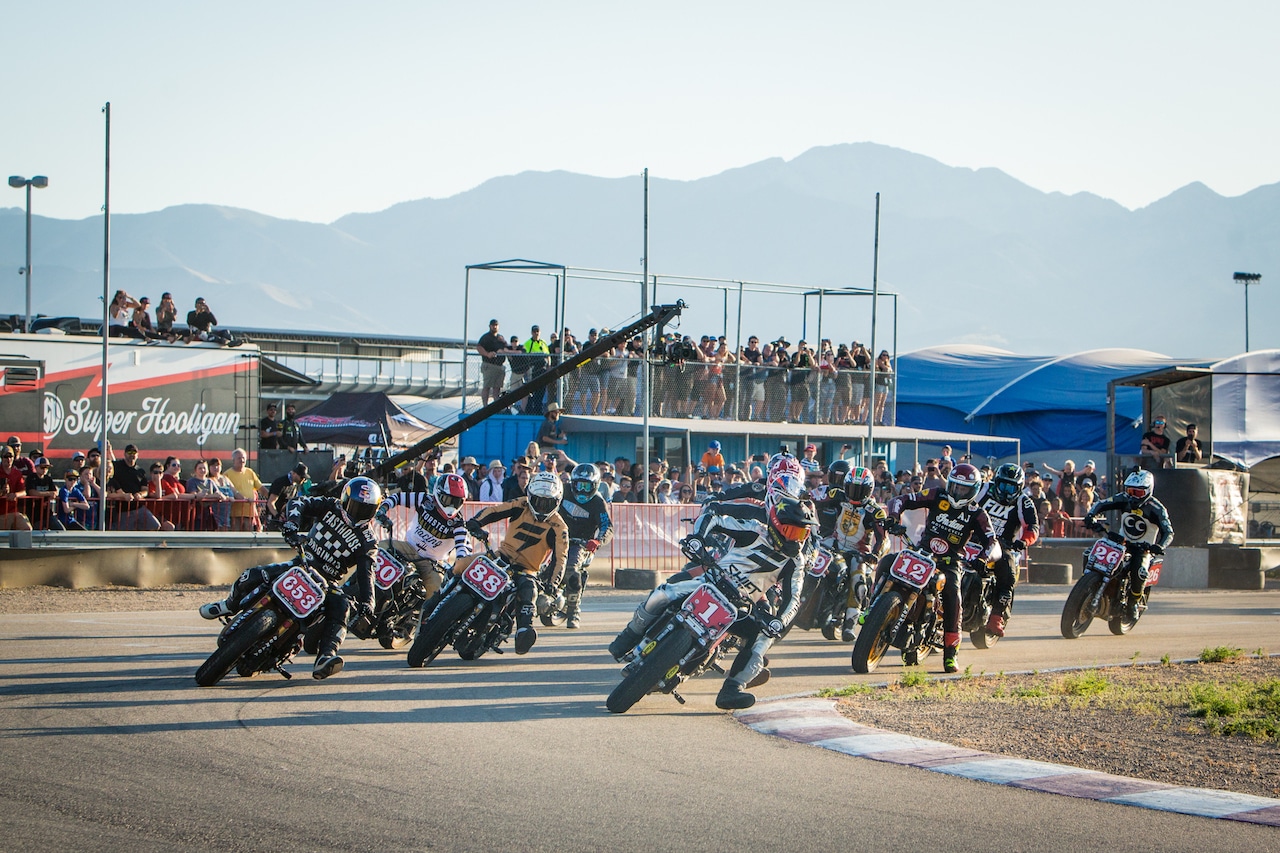 The final event of the day was the Super Hooligan National Championship. High powered motorcycles racing around a flat cement track is always fun and is exceptionally entertaining. 2018 Super Hooligan National Championship Andy DiBrino walked away with the win and bragging rights for the first Super Hooligan win at Nitro World Games.
LOST BUT NOT FORGOTTEN | LARRY WARD'S 1999 FACTORY SUZUKI RM250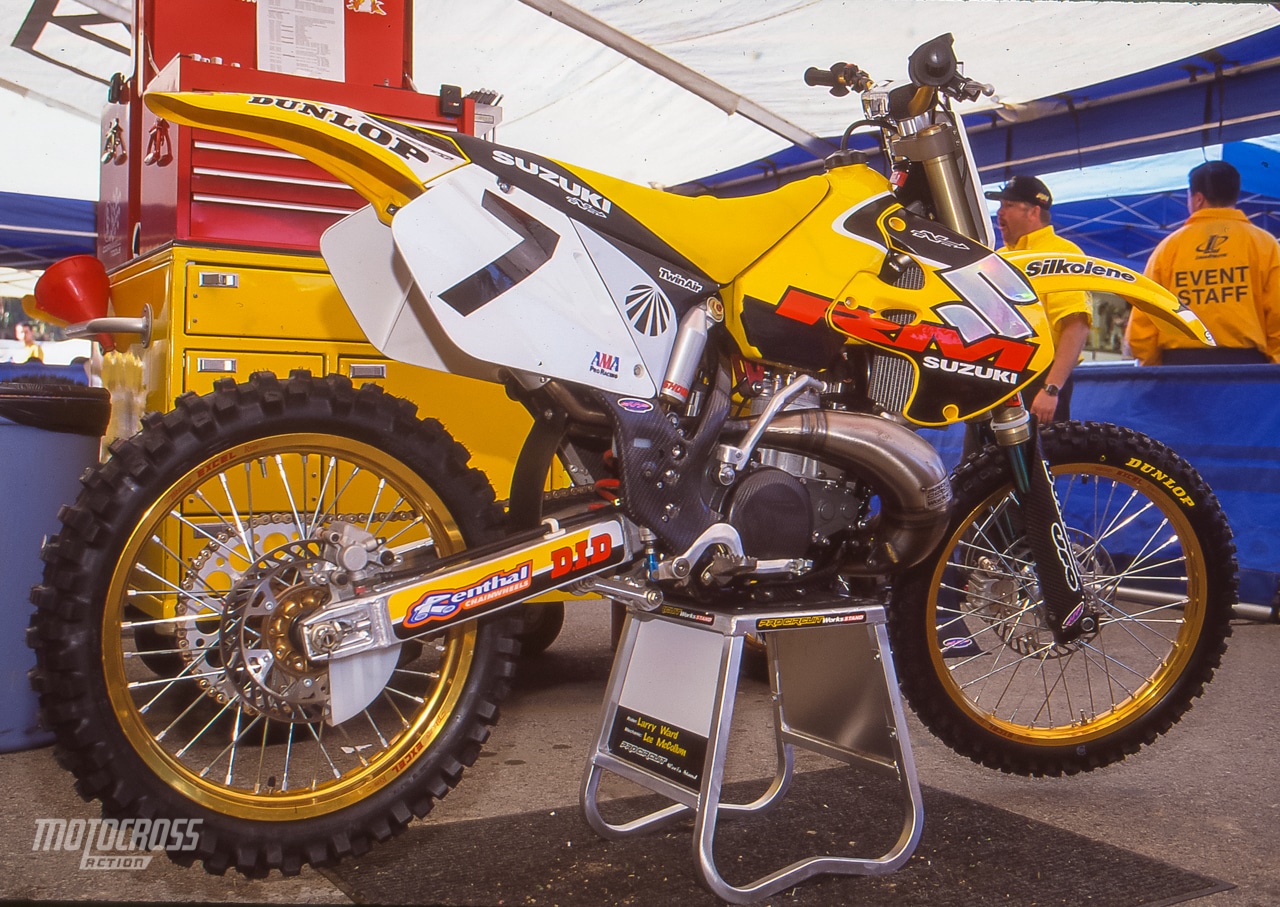 YOU DO THE MATH! SUBSCRIBE TO MXA & GET A $25 CHAPARRAL GIFT CARD
If you subscribed to Motocross Action,  you could have memorized the September 2019 issue and lent it to three of your cheap friends.
If you subscribe to MXA you can get the mag on your iPhone, iPad, Kindle or Android by going to the Apple Store, Amazon or Google Play or in a digital version. Even better you can subscribe to Motocross Action and get a $25 Chaparral gift card to spend on whatever motorcycle parts or products you need. And the awesome print edition will be delivered to your house by a uniformed employee of the U.S. Government. You can call (800) 767-0345 or CLICK HERE or click on the box at the bottom of this page.
RAW VIDEO OF MXA RIDING TRAVIS PASTRANA'S MXDN RM250 RACE BIKE
2020 HONDA CRF250 INTRO AT FOX RACEWAY
MXA's Josh Mosiman talking to Travis Fant's camera about the updated 2020 CRF250. The bike may look the same for 2020, however there are many updates to the suspension, engine and chassis. Make sure to watch the MXA video of Josh walking you through the updates and what we learned about the bike.
Honda's media coordinator Jason Abbott was the guy that went over the bike with us. 
Josh says this is one of the easier bikes to throw around in the air for him. 
The bike has improved stability, however shorter and lighter riders still managed to get some head shake. 
Each year since Honda came out with their all-new high revving CRF250 in 2018 they have been adding more low to mid range power back in. 
MXA YOUTUBE CHANNEL | HIT THAT SUBSCRIBE BUTTON

The MXA wrecking crew is everything moto related. Check out our MXA YouTube channel for bike reviews, Supercross coverage, rider interviews and much more. And don't forgot to hit that subscribe button.
BBR HONDA CRF150F
This is a full custom BBR built CRF150F. Supercross racer, Carson Brown and his dad built this bike from scratch. We will get this bike on the dirt later this week. Look for a full test of the bike in a future issue of MXA. Make sure to stop by BBR Motorsport's to see all the cool things they are up to. 
CLASSIC PHOTO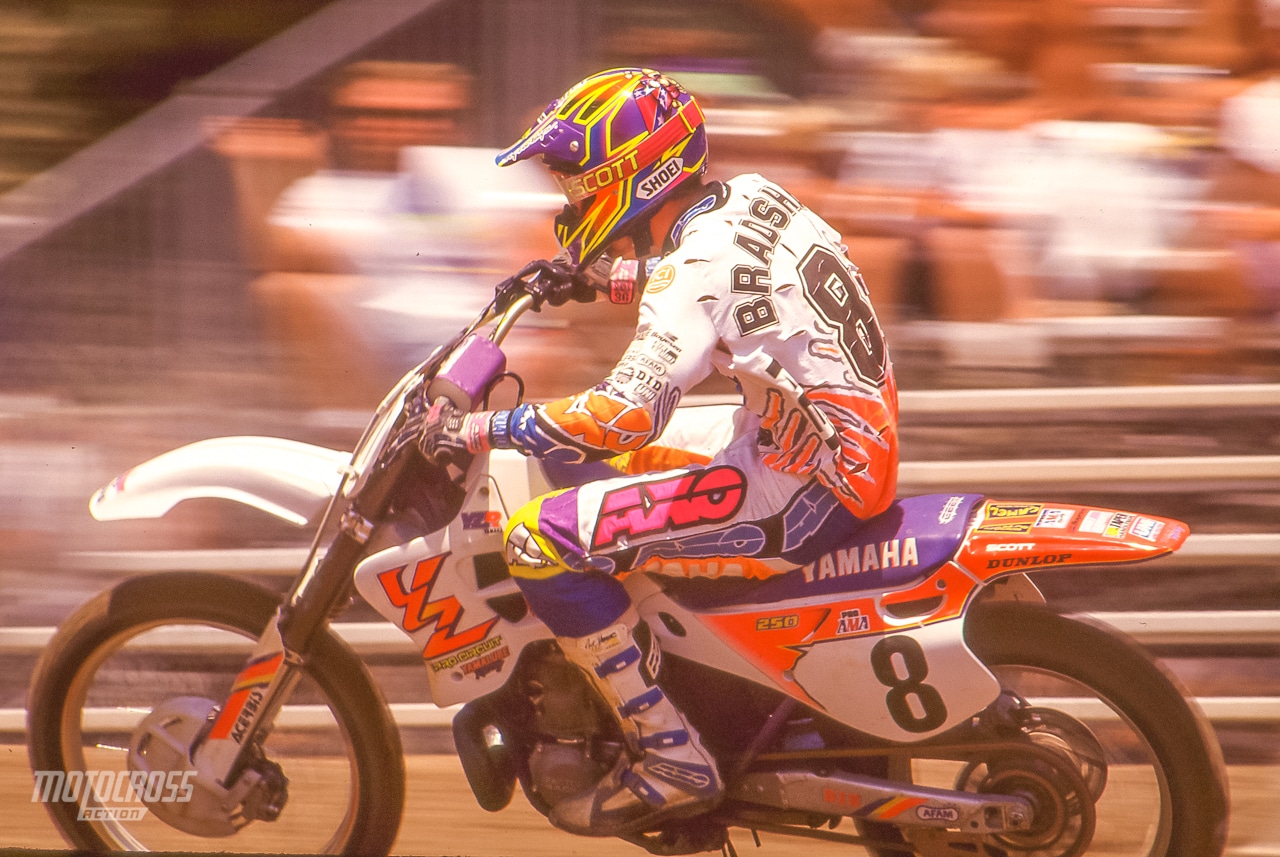 Damon Bradshaw back in 1994 racing his factory Yamaha YZ250.
---
Moto Trivia answer: Doug Henry back in 1991.