MOTOCROSS ACTION MID-WEEK REPORT
#WHIPITWEDNESDAY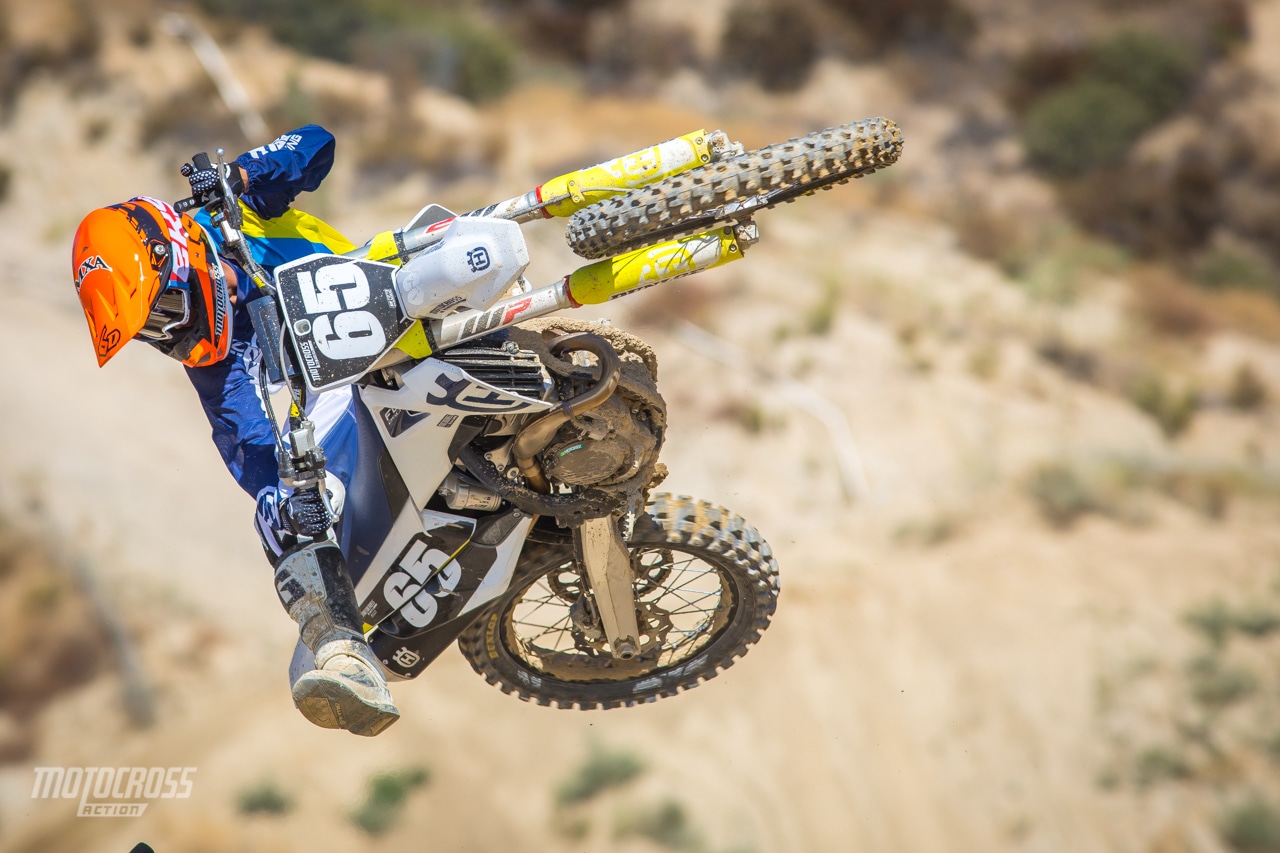 Rider: Jake Alvarez
Photographer: Daryl Ecklund
Lens: Fixed f/4 300mm
F Stop: f/5.6
ISO: 160
Shutter speed: 1/1600
TWO-STROKE SPOTLIGHT | KAWASAKI KX150AF
Photos by Michaela Lundvall.
"This is the "2nd edition KX 125AF" built on a 2015 KX250F chassis I built. It got a fully built race engine. Here is a list of what I didi to it:
-Ported cases with a VHM modified high enertia crank
-Cylinder is bored to 58mm and ported by Per Berg at PBR Racing
-Running KTM 58mm Big bore Vertex piston
-VHM cylinder head with 3 different inserts, 13.20cc, 13.40cc and 13.60cc designed by PBR racing
-Kehin PWK38 airstryker carburator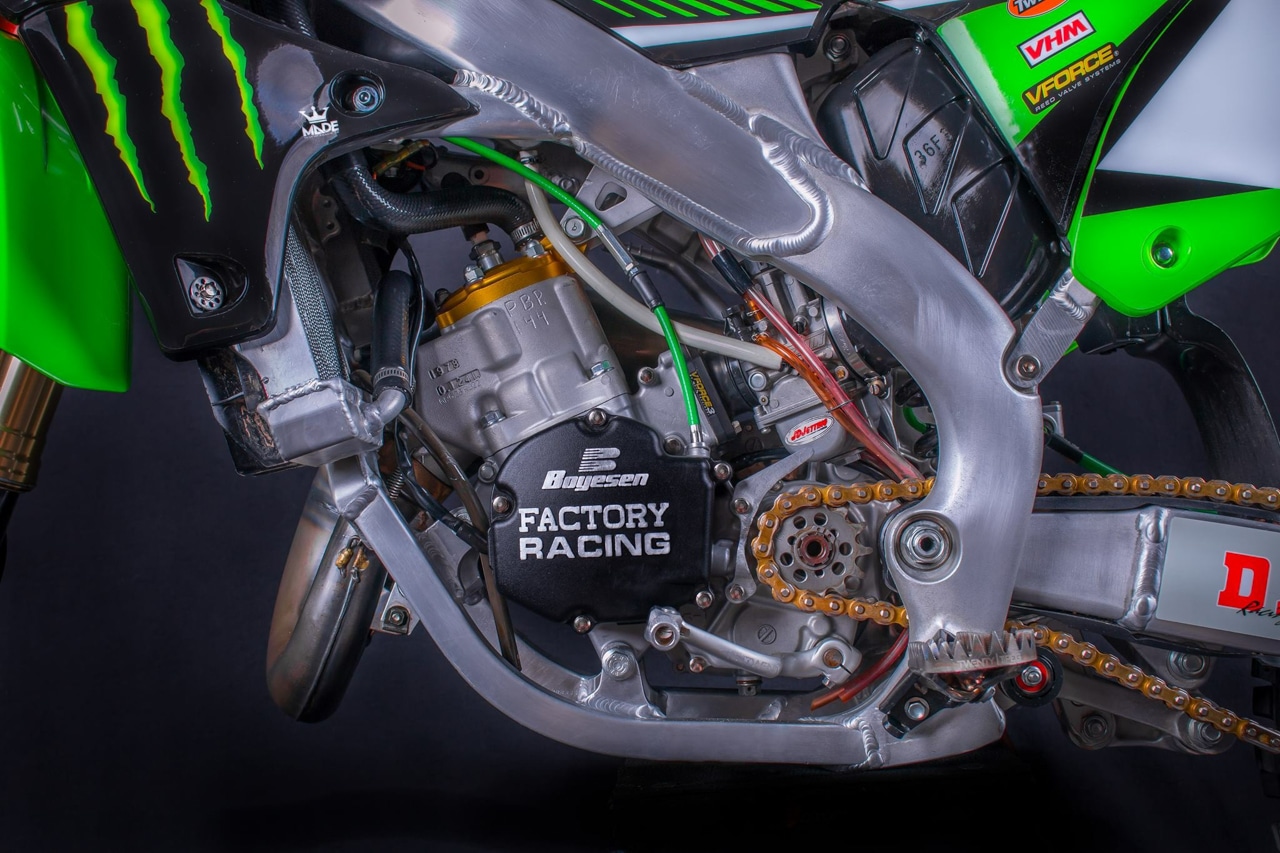 -Vforce 3 intake
-HGS 144cc exhaust
-2 different HPI CDI boxes, on for pump gas and one for 102 octane pump gas. Both got 2 curves to choose from via handlebar switch
-Clutch is complete Hinson but with a Prox innerhub
-Showa front fork, rebuilt by Kumlins suspension (http://kumlinsmotor.se)
-Fox Podium RC3 shock, rebuilt by Kumlins suspension
-Xtrig 21-23mm offset tripleclamps with PHDS bar mount
-Renthal Twinwall 998 handlebars

-G2 trottle
-Moose racing DC8 levers
-Renthal kevlar grips
-Titanium footpegs
-Graphics are made by "Made" (http://www.made.se/sv/)
-Enjoy ribbed seatcover (Not pictured)
-Pirelli MX32 tires
"The bike weight 93.5kg (206 pounds)  with all the fluids, dry tank. Runs really well." –Jimmy Oberg.
Editors Note: Please keep those submissions coming. If you would like your bike to be featured on the MXA website, please email the Managing Editor Daryl Ecklund at  [email protected]. All we ask is that you give a breakdown of your bike and a detailed description of the build. Please also send a few photos of your steed. By submitting your bike for the "Two-Stroke Spotlight," you agree to release all ownership rights to the images and copy to MXA. Please don't email me spam or try selling me Taylor Swift concert tickets or email me spam. Happy submitting your smoker.
LOST BUT NOT FORGOTTEN | 1998 HUSQVARNA CR125
WHAT MAKES A GOOD RACER, WITH MITCH PAYTON
MXA YOUTUBE CHANNEL | HIT THAT SUBSCRIBE BUTTON


The MXA wrecking crew is everything moto related. Check out our MXA YouTube channel for bike reviews, Supercross coverage, rider interviews and much more. And don't forgot to hit that subscribe button.
2019 AMA PRO NATIONAL RECAP BY BROC BRIDGES 

450MX SEASON STATISTICAL RECAP
Eli Tomac.

-Eli Tomac becomes first Kawasaki rider to win 3 straight 450MX titles
-Tomac joins Gary Jones, Tony DiStefano and Ricky Carmichael to win 3 consecutive titles. Gary Jones actually has four in a row, but the first one was from being first American in the Inter-AM series —before the AMA held a National Championship series.
-Carmichael won seven straight titles from 2000-2006. Prior to that the last rider to win at least 3
was Tony DiStefano from 1975-1977.

Ricky Carmichael.
-Tomac now has 23 450MX wins which is fourth on the all-time list
-Kawasaki's 123 450MX wins are second to only Honda's 137
-Kawasaki now has 14 450MX titles, which is the most of any brand
-There were four different winners in 2019 (Tomac, Musquin, Webb, and Roczen)
-Tomac is now Kawasaki's all-time 450MX wins leader with 20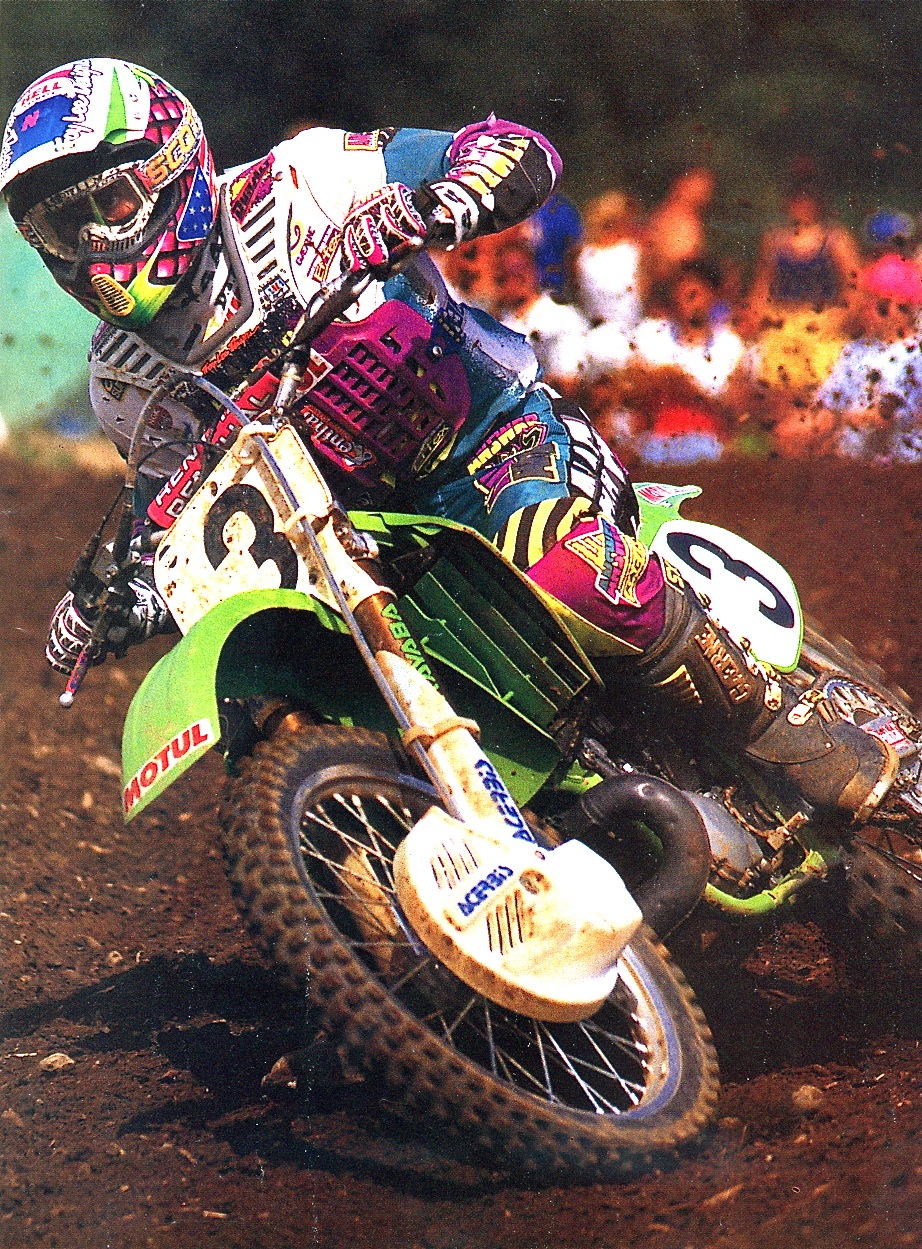 Mike Kiedrowski.

-Tomac now has four total MX titles, tying him with Ryan Dungey and Mike Kiedrowski
-Tomac also has 35 total MX wins which ties him with Broc Glover for sixth all-time
-Ken Roczen finished top three in points for the fifth time in his six 450MX seasons
250MX SEASON STATISTICAL RECAP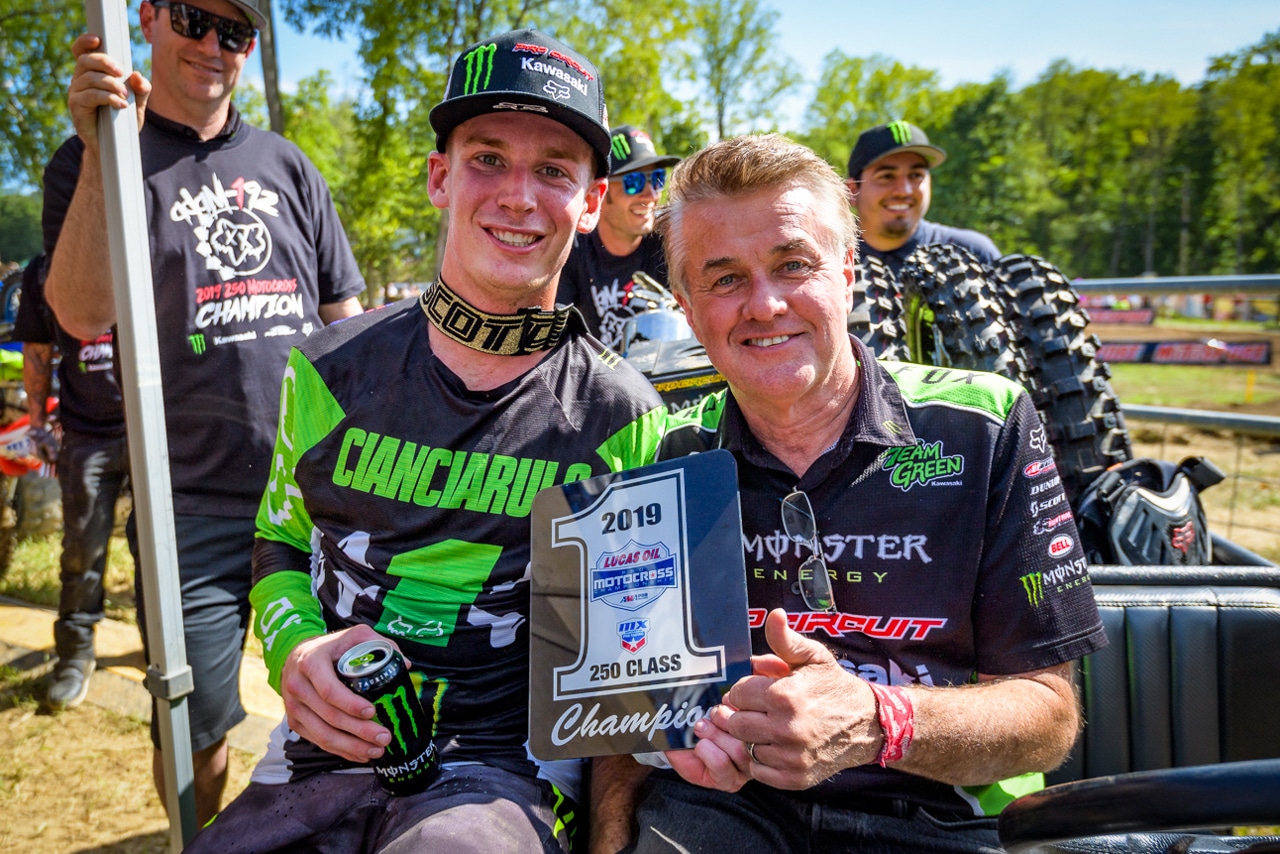 Adam Cianciarulo and Mitch Payton. 
-Adam Cianciarulo won his first-ever MX title
-Kawasaki now has 15 250MX titles and the first since Blake Baggett in 2012
Blake Baggett.
-250MX Class had four different winners (Cooper, Cianciarulo, Ferrandis, and McElrath)
-With five wins on the season Yamaha was able to reach 100 all-time 250MX wins. They are
third behind Kawasaki's 157 and Honda's 112.
-Cianciarulo now has seven career 250MX wins
-It was the fifth time Kawasaki swept both classes
PRO CIRCUIT 2020 KX250 EXHAUSTS NOW AVAILABLE

2020 KTM 350SXF MXA FIRST IMPRESSION
MOTO | TRIVIA

Who is this rider and what year was it taken. Answer at the bottom of the page.
YOU DO THE MATH! SUBSCRIBE TO MXA & GET A $25 CHAPARRAL GIFT CARD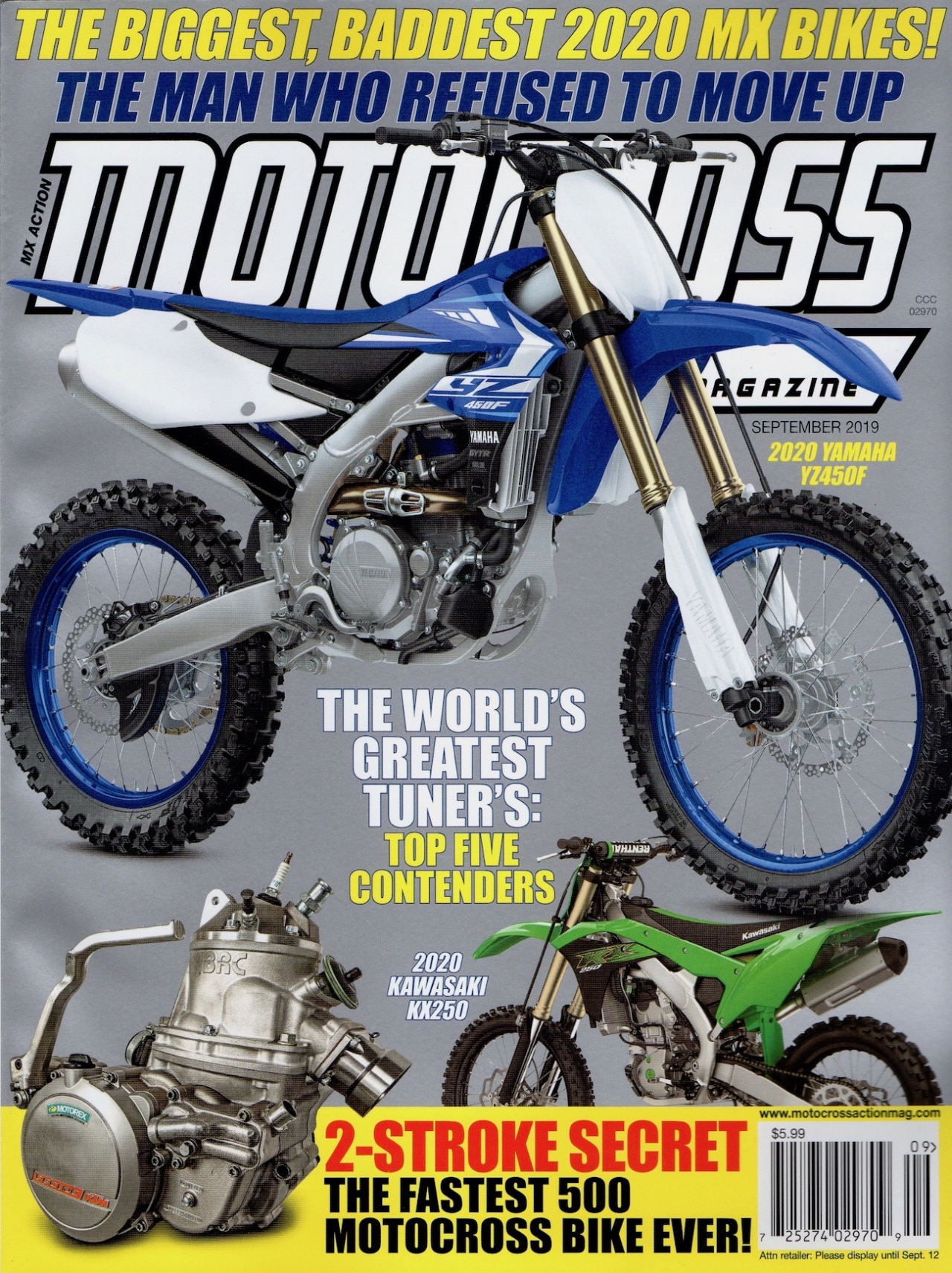 If you subscribed to Motocross Action,  you could have memorized the September 2019 issue and lent it to three of your cheap friends.
If you subscribe to MXA you can get the mag on your iPhone, iPad, Kindle or Android by going to the Apple Store, Amazon or Google Play or in a digital version. Even better you can subscribe to Motocross Action and get a $25 Chaparral gift card to spend on whatever motorcycle parts or products you need. And the awesome print edition will be delivered to your house by a uniformed employee of the U.S. Government. You can call (800) 767-0345 or CLICK HERE or click on the box at the bottom of this page.
OSET INSPIRING TOMORROW'S RACERS AT THE BRITISH MOTOGP
PRESS RELEASE: After last year's wash out, the MotoGP, Silverstone was transformed as the blue-ribbon event was bathed in glorious bank holiday sunshine. The racing didn't disappoint and neither did OSET Bikes. Determined to come back bigger and better in 2019 the electric bike manufacturer welcomed track stars, trials heroes, TV crews, photographers, the army and families to the OSET Village.
With two inflatable have-a-go tracks, it meant nearly 1,000 free rides for kids aged 4 – 12 over the four-days. While the have -a-go bikes were speed, power and response limited to ensure no accidents, right next door the demo team had the throttle and power turned up to tackle the two dozen obstacles that included a banked wall, upturned maxi-skips, see-saw and sharks teeth, designed to develop back-wheel riding skills.
In addition to trials riding, OSET's electric motocross bike was on show too. As well as the opportunity for kids to try it out, the demo riders participated in hare and hounds style races to show some of the MX-10's capabilities.
Ian Smith, founder and CEO of OSET Bikes, said: "It was incredible this year! We had a team of 52 to set up, manage the have goes, mind the demo riders and speak to the public about OSET Bikes. We believe OSET Bikes is the easiest way to introduce kids to two-wheels. They're easier than riding a bike as you don't even need to pedal – just twist and go – as demonstrated by the hundreds of kids that had never ridden a motorbike before and simply got on and could ride an OSET.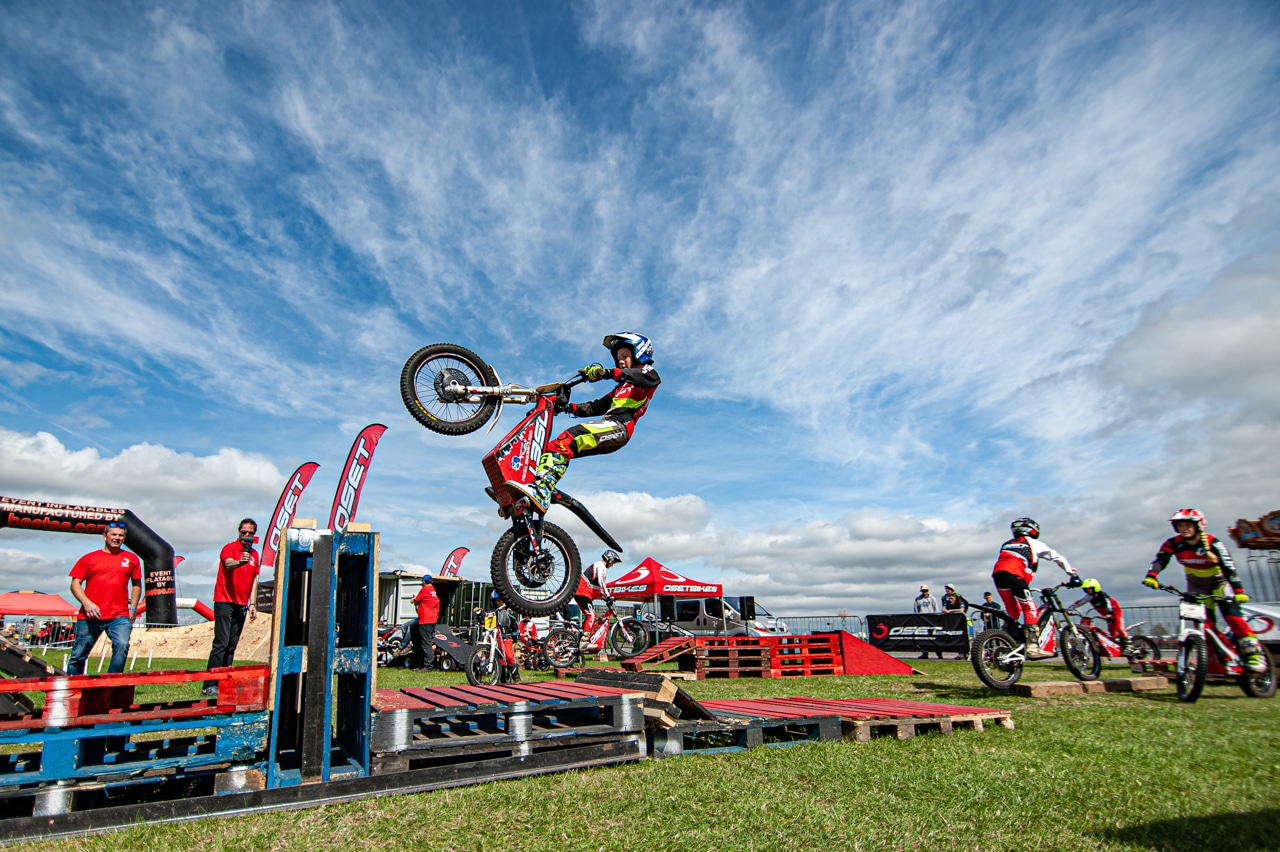 "What makes them so fun, is that you can simply be a back-garden rider or you can join an OSET Cup or your local club and learn a whole heap of new skills and make a load of friends all year round.
"And what we've found with the MX-10 is that as the power is linear, the very youngest motocross riders often ride quicker as there's no scary power band and they can increase the speed at a rate they feel comfortable."
Trials legend and 12 times World Champion Dougie Lampkin headed over to spend time with the demo kids on the Day of Champions while Can Oncu, the youngest ever winner of a world championship race (Moto3), Tom Luthi (Moto2), Marcel Schrotter (Moto2) and British favourite John McPhee (Moto3) all enjoyed time away from the track, but still on two-wheels on the OSET off-road demo course. And the team even welcomed army representatives, who headed over after hours to have play on the bikes.
Oliver Smith, whose dad Ian made the first OSET Bike when he was just three (he's now 18), provided instruction to Luthi and Schrotter on the OSET 24.0, said: "What these guys can do on track is immense. To be able to share some of what I do on two wheels and for all of us to have a load of fun during a really busy weekend for them was a real privilege. We'd love more of the paddock to come and take a break with OSET and look forward to welcoming them next year!"
With a demo team ranging from aged 5 – 18 there was an opportunity across the weekend to spend time in the MotoGP paddock with many riders being lucky enough to spend time in Cal Crutchlow's garage and meet their heroes including Marc Marquez, Alex Rins and Andrea Dovizioso.
Simon Armstrong, who managed the event for OSET Bikes, said: "The whole weekend was brilliant. The aim is to get kids on two wheels while showing the skills they will be able to develop very quickly. Trials riding is about learning technical bike skills that provide an essential foundation for whatever form of bike sport you go on to enjoy. Some of the world's best enduro out downhill mountain bikers learnt the technical skills they need by starting out with trials riding.
"I'd also like to say a huge thank you to all of the people who volunteered to help provide an incredible experience for hundreds of children. You never know, one of them might be the next Marquez!"
OSET Bikes plans to return for the 2020 MotoGP which is scheduled for 30th August.
For more info on OSET Bikes please visit www.osetbikes.com
KEN ROCZEN TO RACE JEREMY MCGRATH'S FACTORY CR250 AT RED BULL STRAIGHT RHYTHM
CLASSIC PHOTO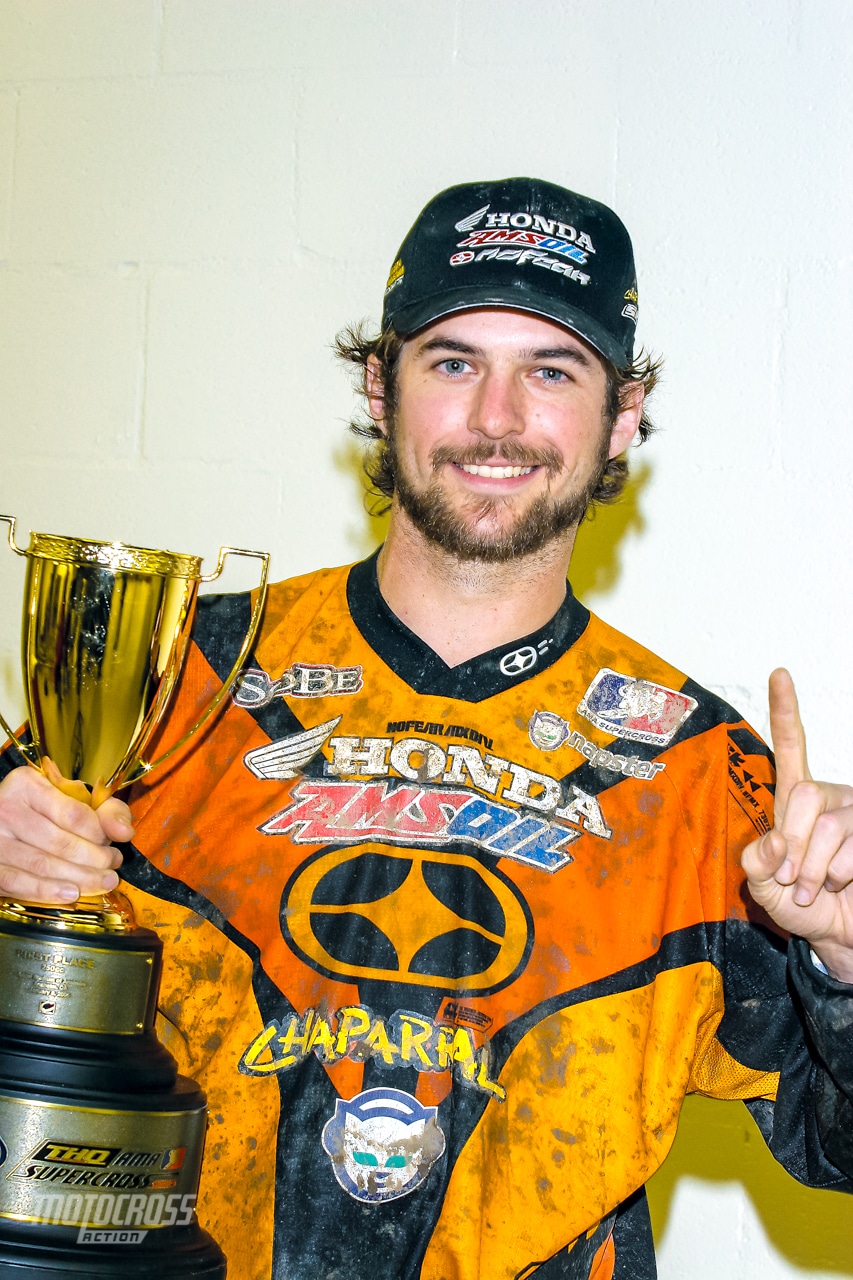 Kevin Windham after winning the 2005 Anaheim 1 Supercross mud race.
---
Moto Trivia answer: Jeff Leisk back in 1989. Below he is on the cover of the September 1989 issue of MXA.