MOTOCROSS ACTION MID-WEEK REPORT
#WHIPITWEDNESDAY
Rider: Wil Hahn
Year: 2016
Bike: Factory Kawasaki KX450F
TWO-STROKE SPOTLIGHT | PETER DIXON'S 2002 KAWASAKI KX250
The 2002 KX250 looked great before Peter went on to rebuild the bike. 
"I'm not sure if my 2 stroke qualifies for your magazine given some of the insane builds you feature in the mag but a mate of mine has encouraged me to get in touch.
"This is my 2002 Kawasaki KX 250 L4 which I have had since new. The bike remained completely stock (piston and all) until 2016 when a small tear in the seat prompted a rebuild.
The KX250 after it was rebuilt. 
"Cheers and thanks for keeping the 2 stroke dream alive." –Peter Dixon.
Editor's note: Please keep those submissions coming. If you would like your bike to be featured in the "Two-Stroke Spotlight," please email me at [email protected]. All I ask is that you give a breakdown of your bike and a detailed description of the build. Please also send a few photos of your steed. By submitting your bike for the "Two-Stroke Spotlight," you agree to release all ownership rights to the images and copy to MXA. Please don't email me spam or try selling me Taylor Swift concert tickets or email me spam. I already celebrate T-Swizzle's entire collective, and there will be "bad blood" if you send me junk mail. See what I did there? Happy submitting your smoker.
LOST BUT NOT FORGOTTEN | RICKY CARMICHAEL'S 1996 PRO CIRCUIT KX125
MXA'S 2020 250 FOUR-STROKE SHOOTOUT VIDEO
THE 2020 250 FOUR-STROKE SHOOTOUT LINEUP 
The six machines that went head-to-head in this years MXA 250 four-stroke shootout. 
2020 Kawasaki KX250. 
2020 Suzuki RM-Z250. 
2020 Honda CRF250. 
2020 Yamaha YZ250F. 

2020 Husqvarna FC250.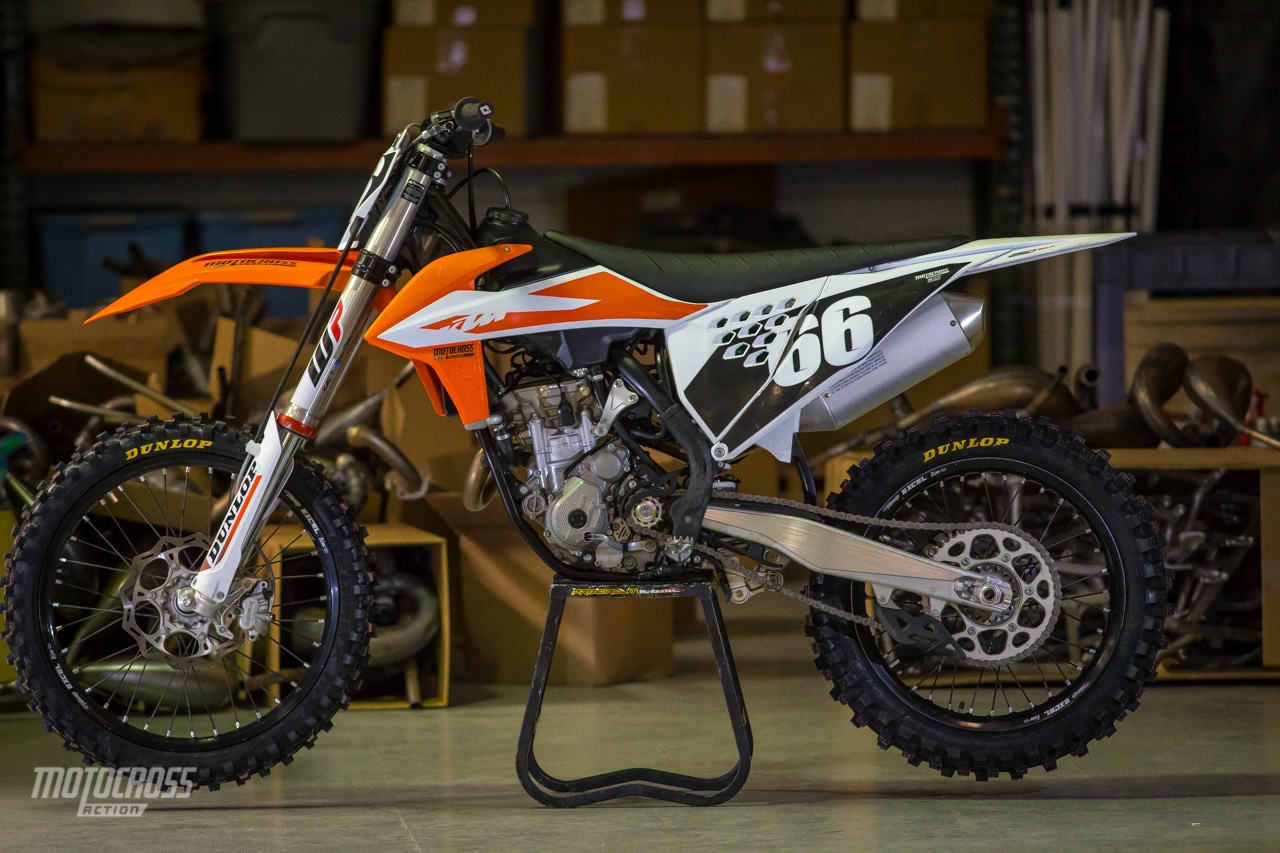 2020 KTM 250SXF. 
STAPO MX BIKE RENTALS IN SOUTHERN CALIFORNIA
If you're coming out to Southern California and need a rental bike, check out KnobbyShop South/StapoMx for all your rental needs. They offer Motocross Vacations, Bike rentals, and Lessons. Just send them an email ([email protected]) or visit their website at www.stapomx.com) for more details!
One of the many rental bike that you can ride. 
WATCH THE MOTOCROSS OF NATIONS THIS WEEKEND IN THE NETHERLANDS
Racing from the 2020 MXON will live stream this weekend both  Saturday and Sunday on MXGP-TV.com. Saturday's coverage of qualifying begins at 8:20 a.m. Eastern time.  Sunday's racing starts at 7:00 a.m. Eastern time  with the first moto. CBS Sports  will air the race on delayed coverage beginning Sunday at 12:00 p.m. ET.
COLE SEELY'S VLOG ON BUILDING THE CR250
MOTO | TRIVIA
Who is this rider and what year was it taken. Answer at the bottom of the page.
MXA YOUTUBE CHANNEL | HIT THAT SUBSCRIBE BUTTON

The MXA wrecking crew is everything moto related. Check out our MXA YouTube channel for bike reviews, Supercross coverage, rider interviews and much more. And don't forgot to hit that subscribe button.
EVS SPORTS – DESIGNED FOR THE RIDE, SHOP OUR COMPLETE LINE OF GEARBAGS
I'M DREAMING OF AN ELECTRIC CHRISTMAS
Press Release: Who wants an X-Box or PS4 when you've got an Electric OSET motorcycle and a life on two wheels ahead of you? As Christmas rolls around again, the big man in red is taking orders.
OSET Bikes are electric off-road motorcycles mainly for kids. They come in five different sizes and are ideal for teaching kids throttle control, balance and technique all in the comfort of the back yard or wider open spaces.
Electric power has surprising torque, but because it's linear and can be turned down to walking pace, meaning there's no scary power band to put kids off. And of course, because they're silent you won't annoy the neighbours.
Steve Deines who runs OSET Bikes USA, said: "These are the top choice for any moms and dads who are looking for either that first motorcycle for their little racer or the ultimate play bike for kids that can be used everyday in your back yard without upsetting your neighbours.
They have no hot parts, require no gas, need very little maintenance, are virtually silent and most importantly… are mom approved meaning that glittering career in supercross or motocross can start as early as 3 years old!"
The bikes are primarily aimed at kids aged 3 – 12 and retail from $1399 – $4,399. Available with lithium (around 6 hours run time) and lead acid batteries (around 2 hours run time). Visit www.osetbikes.com/us to find your closest dealer.

Get ready to have your back yard turned into an obstacle course or motocross track, safe in the knowledge the neighbors won't hear a thing!
P.S. They come in dad size too….
7TH ANNUAL KURT CASELLI RIDE DAY | DECEMBER 14
Press Release:  The Kurt Caselli Foundation will host the 7th Annual Kurt Caselli Ride Day at Fox Raceway in Pala, California on Saturday, December 14th, 2019. The event is for all ages and will have a variety of activities going on throughout the day as well as a vendor row to check out all of the cool new products from your favorite motorcycle companies who support The Kurt Caselli Foundation. Camping will be available and can be reserved when you pre-register for the event. All proceeds will benefit The Kurt Caselli Foundation and help fund the growing list of safety initiatives, projects, and scholarships to protect and support the lives of off-road riders, which can be viewed on our website. Pre-register now at https://give.classy.org/CaselliRideDay2019 to save time with our special VIP entrance line and score a free KC66 gift!
What: The 7th Annual Kurt Caselli Ride Day
When: Saturday, December 14th, 2019 | Gates open at 8:00 AM, Riding: 9:00 AM to 4:00 PM
Where: Fox Raceway | 12799 California Highway 76, Pala, CA 92059
Tickets: $25/person, Kids 12 & Under: Free | Get tickets here!
What You Get By Registering Early:
● VIP Entrance
● Free KC66 Gift (for each paid admission registrant)
Festivities include:
● Riding open from 9 am to 4 pm
● Main Track
● Vet Track
● Off-Road Loop
● Kids-Only Track
● Kids-Only Practice session on the Vet Track
● Stacyc Learn To Ride demos for the kids!
● The Caselli Team Challenge (your chance to team up with a Pro and compete!)
● Presentation of the Spring 2020 Kurt Caselli Scholarship Winner
● Great Raffle Prizes & Giveaways including the Custom 2020 KTM 500 EXC-F KC66 Edition Motorcycle
● Silent Auction with special items from Kurt's collection
● Camping – can be reserved when you pre-register for the event
● Food, Music, Vendor Row & more!
YOU DO THE MATH! SUBSCRIBE TO MXA & GET A $25 CHAPARRAL GIFT CARD
If you subscribed to Motocross Action,  you could be spending your gift money at Chaparral right now.
If you subscribe to MXA you can get the mag on your iPhone, iPad, Kindle or Android by going to the Apple Store, Amazon or Google Play or in a digital version. Even better you can subscribe to Motocross Action and get a $25 Chaparral gift card to spend on whatever motorcycle parts or products you need. And the awesome print edition will be delivered to your house by a uniformed employee of the U.S. Government. You can call (800) 767-0345 or CLICK HERE or click on the box at the bottom of this page.
RICKY CARMICHAEL'S CHAMPIONSHIP WINNING HONDA CR250 TWO-STROKE
CLASSIC PHOTO
Jeremy McGrath from back in 1993.
---
Moto Trivia answer: Rick Johnson back with the number 1 plate back in 1988.