MOTOCROSS ACTION MID-WEEK REPORT
#WHIPITWEDNESDAY
Rider: Eli Tomac
Year: 2014
Bike: Factory Geico Honda CRF450
TWO-STROKE SPOTLIGHT | 1993 YAMAHA WR500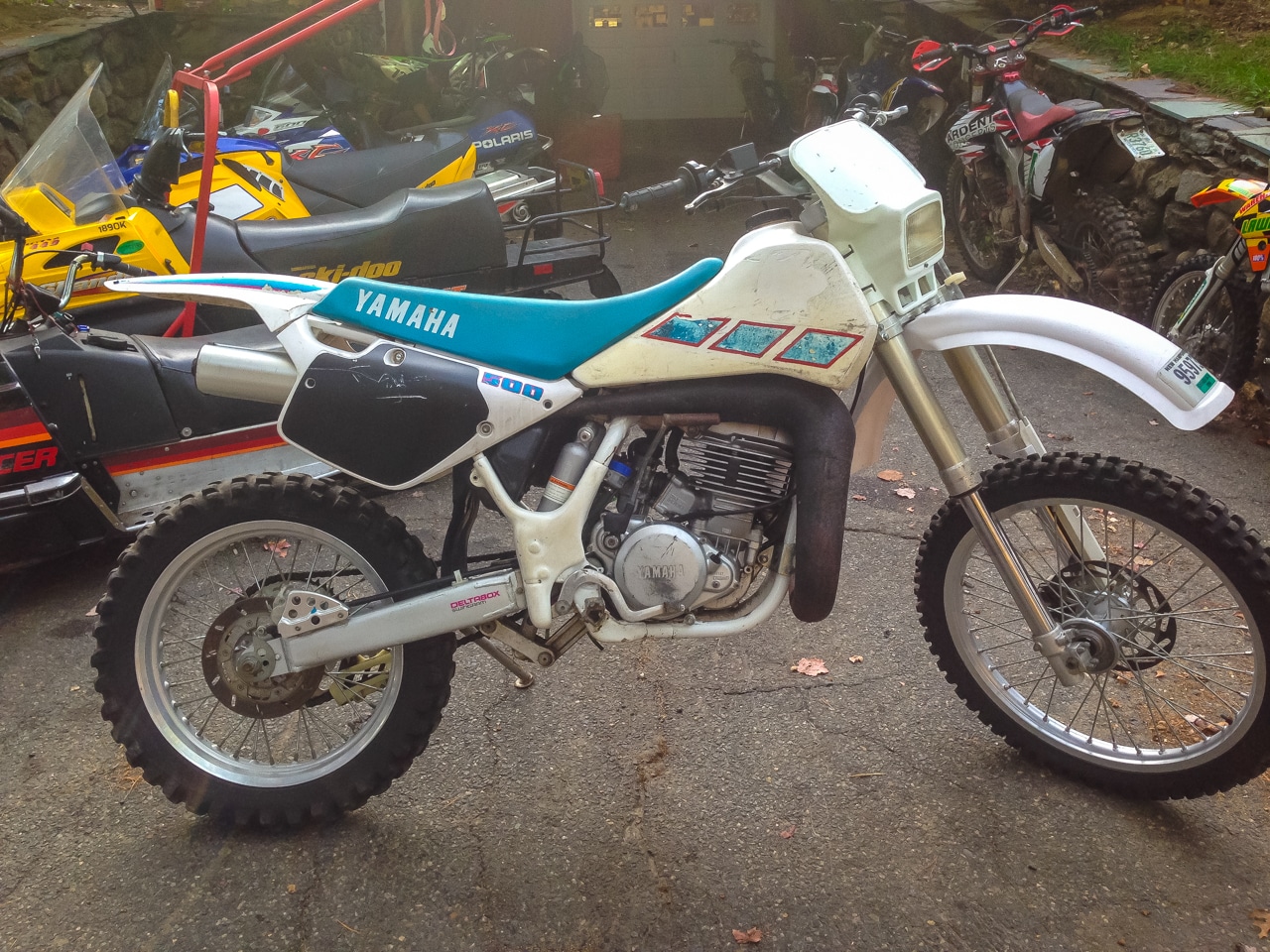 The before picture of the 1993 Yamaha WR500. 
"Here's my 1993 Yamaha WR500.  I disassembled it to replate all hardware and media blast and tumble all aluminum  the parts. When it was finally done,  I decided to pull out an old MXA issue and do the YZ250 tank conversion."
A layout of all the parts disassembled.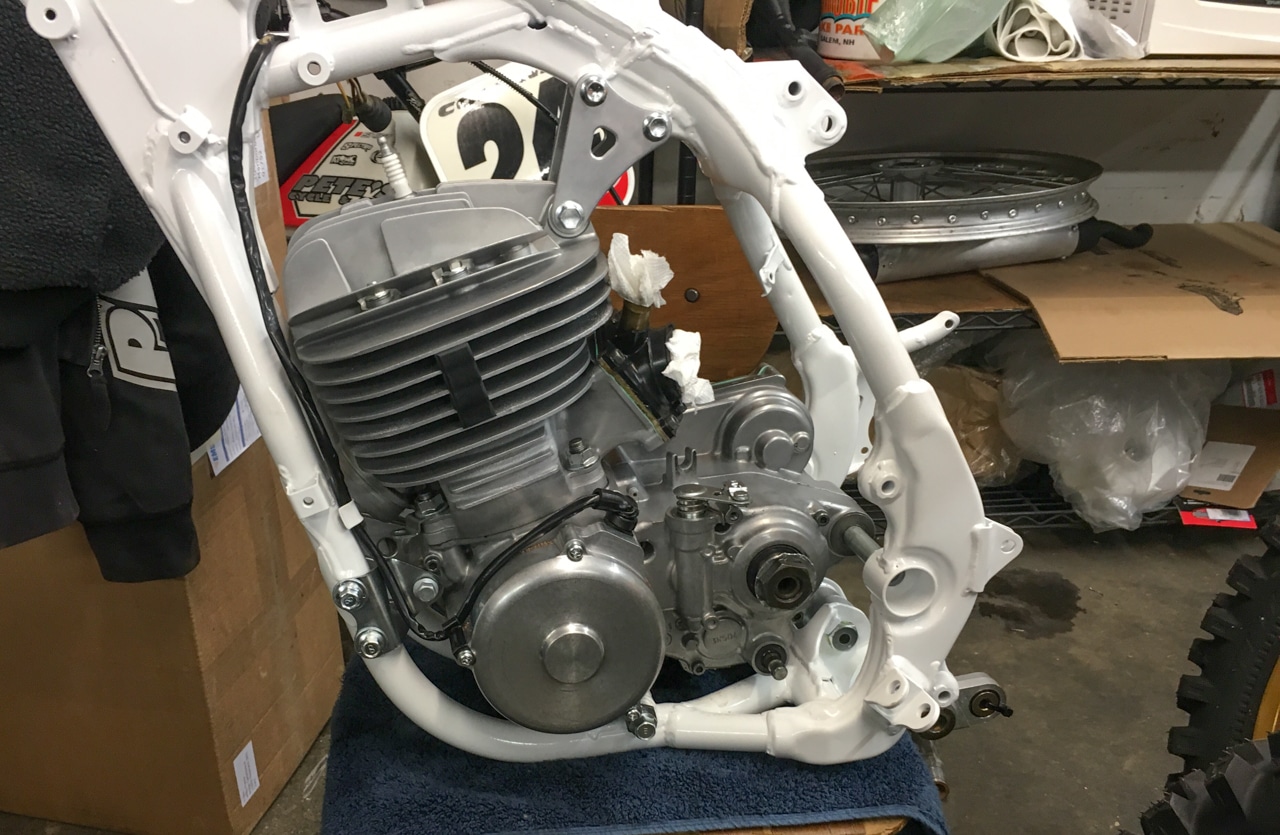 After the engine was rebuilt. 
After the bike was restored. 
After the bike was restored the owner decided to do the YZ250 tank conversion on it. Which version do you like better?
Editor's note: Please keep those submissions coming. If you would like your bike to be featured in the "Two-Stroke Spotlight," please email me at [email protected] All I ask is that you give a breakdown of your bike and a detailed description of the build. Please also send a few photos of your steed. By submitting your bike for the "Two-Stroke Spotlight," you agree to release all ownership rights to the images and copy to MXA. Please don't email me spam or try selling me Taylor Swift concert tickets or email me spam. I already celebrate T-Swizzle's entire collective, and there will be "bad blood" if you send me junk mail. See what I did there? Happy submitting your smoker.
CAMERON MCADOO & JORDON SMITH TO PRO CIRCUIT TEAM FOR 2020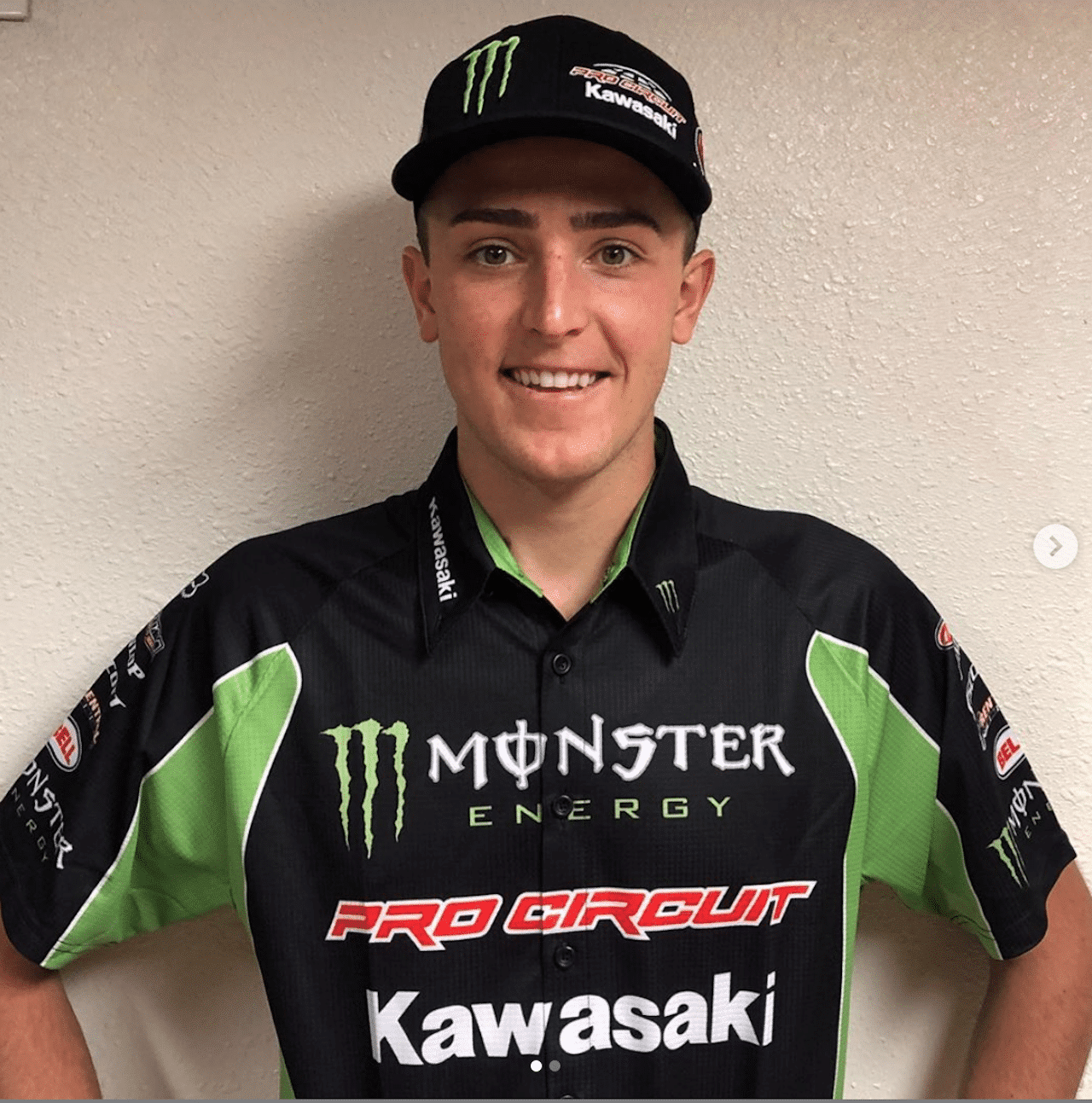 Cameron McAdoo announced on Instagram this morning he will be racing for the Pro Circuit Kawasaki team for 2020.
He will be number 29 for the 2020 season. 
Jordon Smith was with the Troy Lee Designs KTM team for three years capturing his first wins on the team. For 2020 Jordan will switch teams to race for the Pro Circuit Kawasaki team. He will be number 54 next year. 
33rd ANNUAL CHAPARRAL PARKING LOT SALE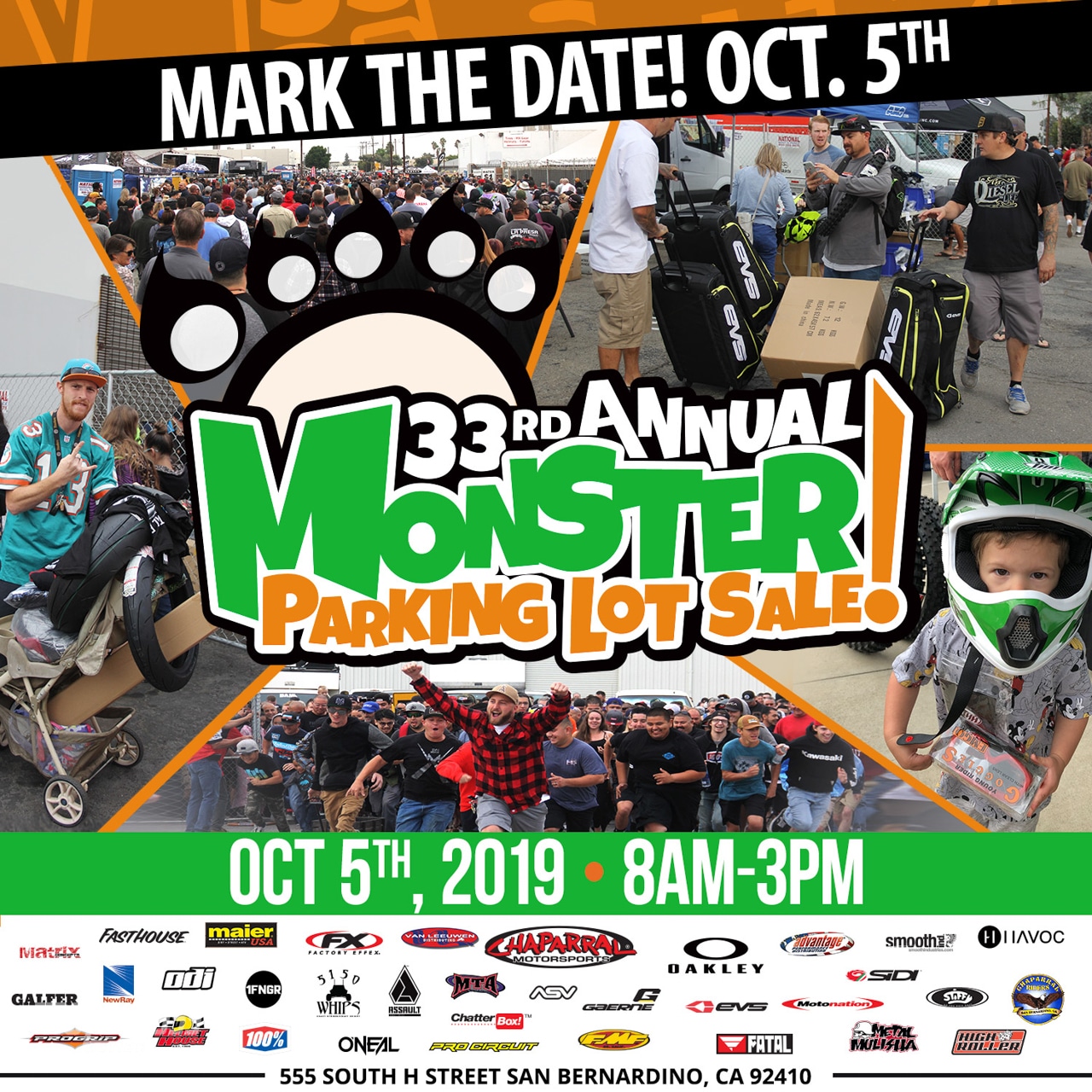 PRESS RELEASE: Can you feel it Southern California? There's a Monster rumbling about and it's ready to take over Chaparral Motorsports at the 33rd annual Chaparral Motorsports Monster Parking Lot Sale on Saturday October 5th. Grab your pumpkin spice lattes, your Monster Energy, or whatever octane booster you need because it's going to be the sale of the year and you won't want to run out of gas half way through vendor row.
October 5th, 2019
8am – 3pm
Click here to Download the Flyer
If you've been to this sale before you know that the even though the gates open at 8 a.m. it's best to get there early with the rest of the crowd because some of these deals are so good that the high demand products are gone within the first couple of hours. For those that have never been to the Chaparral Motorsports Monster Parking Lot Sale this is the one time of year where you can find insane deals on a huge inventory of motorcycle, ATV, and UTV tires, as well as gear and accessories. The event is so big and there are so many vendors, there are more than 30 so far, that it can't fit inside Chaparral's massive 160,000 square-foot store and therefore has to be held in the parking lot behind the store.

This is the sale that dirt bike, ATV, SXS, cruiser, Harley, sport bike riders talk about all year because it's the only time they'll find their favorite brands blowing out gear for unbelievably low prices. This year's lineup of vendors includes popular brands such as Galfer, Oakley, FMF Racing, Metal Mulisha, O'neal, Assault Industries, 5150 Whips, Pro Circuit, 1Finger, Havoc Racing, Fatal Clothing and many many more. These companies will be selling everything from t-shirts and sunglasses to whip mounts and dirt bike pipes.
If it's tires you need then Chaparral's massive vending area is where you'll want to head first as there will be more than have 1,000 different models and sizes of tires, for a total of more than 4,000 ATV, UTV, dirt bike, Harley and street bike tires at deeply discounted prices. Plus there will be the biggest selection of goggles you've ever seen along with a wide array of MX jerseys, gloves, helmets, utility jugs, gear bags, t-shirts, hoodies, UTV harnesses, and way too much more to list.
To help keep you fueled and refreshed there will be the sweet and smoky flavorings of barbequed meats from the skilled pit master of Seasoned with Love; and the Express Lemonade crew knows how to carefully spike a tasty lemonade with just enough Red Bull to kick start you back into shopping mode. However, if it's just a quick pit stop you need then hit up our friends at the Chaparral Riders Club booth and help them give back to the Loma Linda Children's Hospital by purchasing a water, donut, or light snack.
No matter what you ride, where you ride, or even if you don't ride at all but want to get a jump on your Christmas shopping, this is the sale you don't want to miss. The gates open at 8am but the crowd will start lining up well before that! If this is going to be your first time attending, here's a pro tip: bring a wagon, hand truck, or kick the kid out of the stroller because you're probably not going to be able to carry everything you purchase with your hands or arms alone. Be sure to mark your calendar for October 5th, because if you miss the Chaparral Motorsports Monster Parking Lot Sale you won't see deals like this for another 365 days!
Located at 555 South H Street in San Bernardino, California, Chaparral Motorsports started as a family motorcycle parts business in 1980 and now encompasses a 160,000 square foot footprint in San Bernardino, California. Recognized as one of the largest motorcycle dealerships in the country, Chaparral Motorsports offers a great selection of motorcycle parts, accessories, motorcycle gear, and motorcycle tires. Over its 38 years in business, Chaparral Motorsports has developed into a multi-line motorcycle and ATV superstore, offering Honda, Yamaha, Kawasaki, KTM, Suzuki, Can-Am, Polaris, and Kymco ATV's, motorcycles, side-by-sides and utility vehicles. For more information on Chaparral Motorsports, visit www.chapmoto.com.
MXA RIDES BRC'S 500cc KIT BIKE
LOST BUT NOT FORGOTTEN | CHAD PETERSON'S 1996 PRO CIRCUIT KX125
POWER SEAL USA
PRESS RELEASE: PowerSeal USA is the performance cylinder plating and repair company. Since 2004, we have served the power sports industry by providing our customers the highest quality cylinder repair and plating at a competitive price with industry-leading turnaround. All work is performed in-house and is backed by our 100% satisfaction guarantee. We utilize the latest technology, processes, and procedures to provide our customers a superior product when they need it. Guaranteed. Our business is built on three core principles: (1) Quality. (2) Customer Satisfaction. (3) Industry Leading Turnaround. Head over to www.powersealusa.com for more information.
DENNIS STAPLETON'S "STAPO MX BIKE RENTALS" IN SOUTHERN CALIFORNIA
In his spare time, when he's not testing with MXA, racing in a foreign country, going to Japan or helping many of his motocross buddies, Dennis has the time to open up his house, garage, bikes and mechanics to help riders who would like to come to SoCal on a motocross vacation. He offers full service to all of the Southern California tracks for racers or for play riders.
If you're coming out to Southern California and need a rental bike, check out KnobbyShop South/StapoMX for all your rental needs. They offer Motocross Vacations, bike rentals and motocross lessons. Just send them an email [email protected].
One of the many rental bikes that you can ride. 
If you'd like to live the SoCal lifestyle for a day, a weekend, a week, a month or three months visit Dennis'  website at www.stapomx.com for more details!
EVS SPORTS – DESIGNED FOR THE RIDE, SHOP OUR COMPLETE LINE OF GEARBAGS
MXA's 125cc PROJECT BIKE SHOOTOUT IS COMING
An R&D KTM 125SX vs. Pro Circuit Husky TC125 vs. Twisted Development Yamaha YZ125.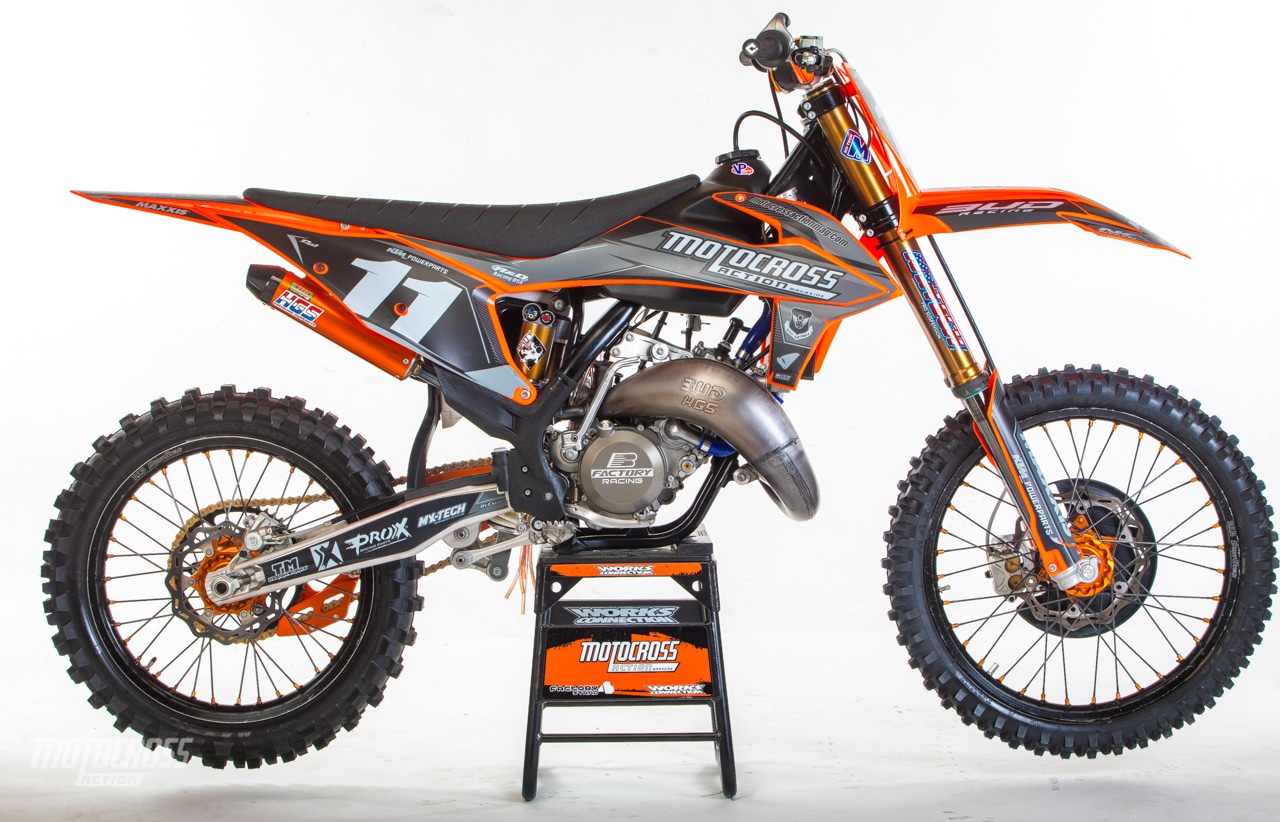 Our KTM 125SX Project bike. 
MXA test rider Justin Muscutt getting the most out of the R&D engine.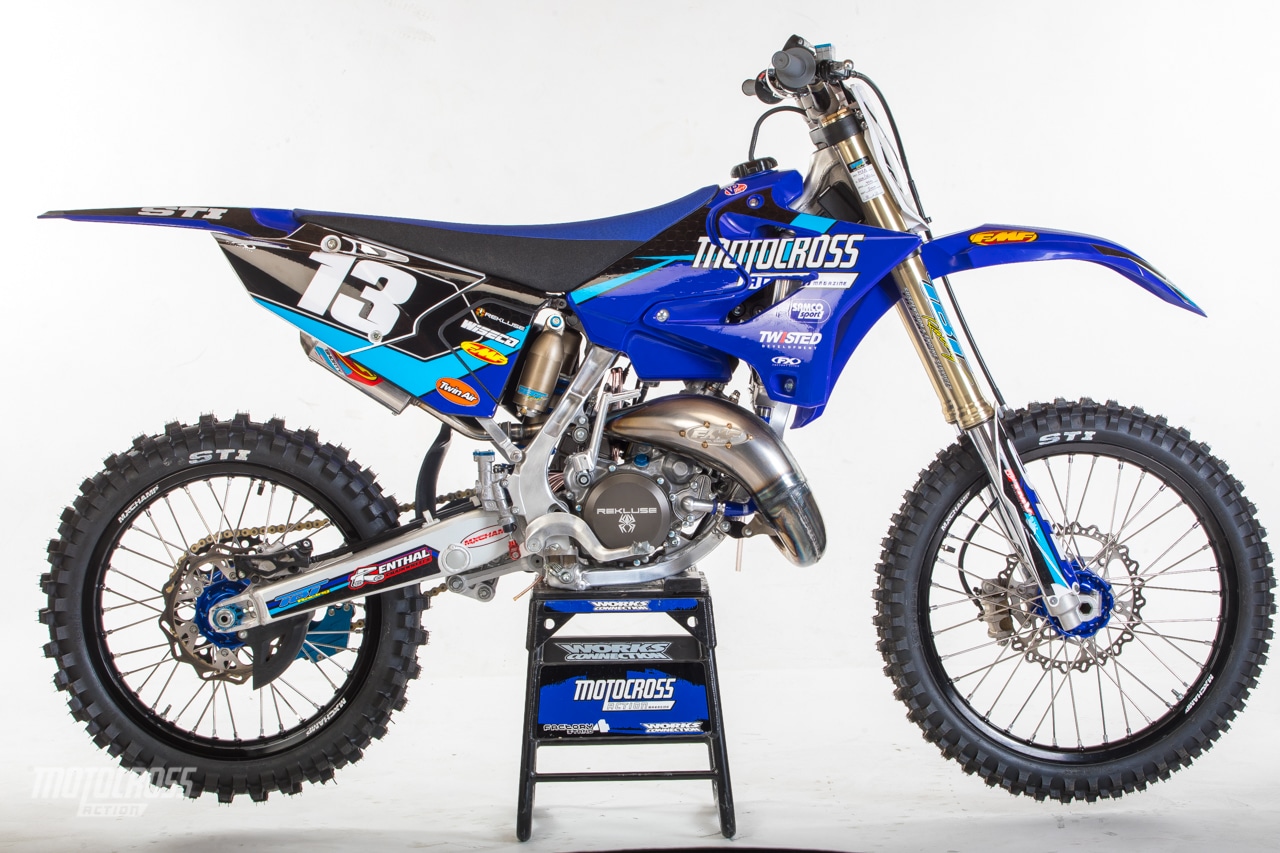 A closer look at the Twisted Development YZ125 that we built. 
Test rider Brian Medeiros had a blast riding the bike. 
Our Pro Circuit TC125.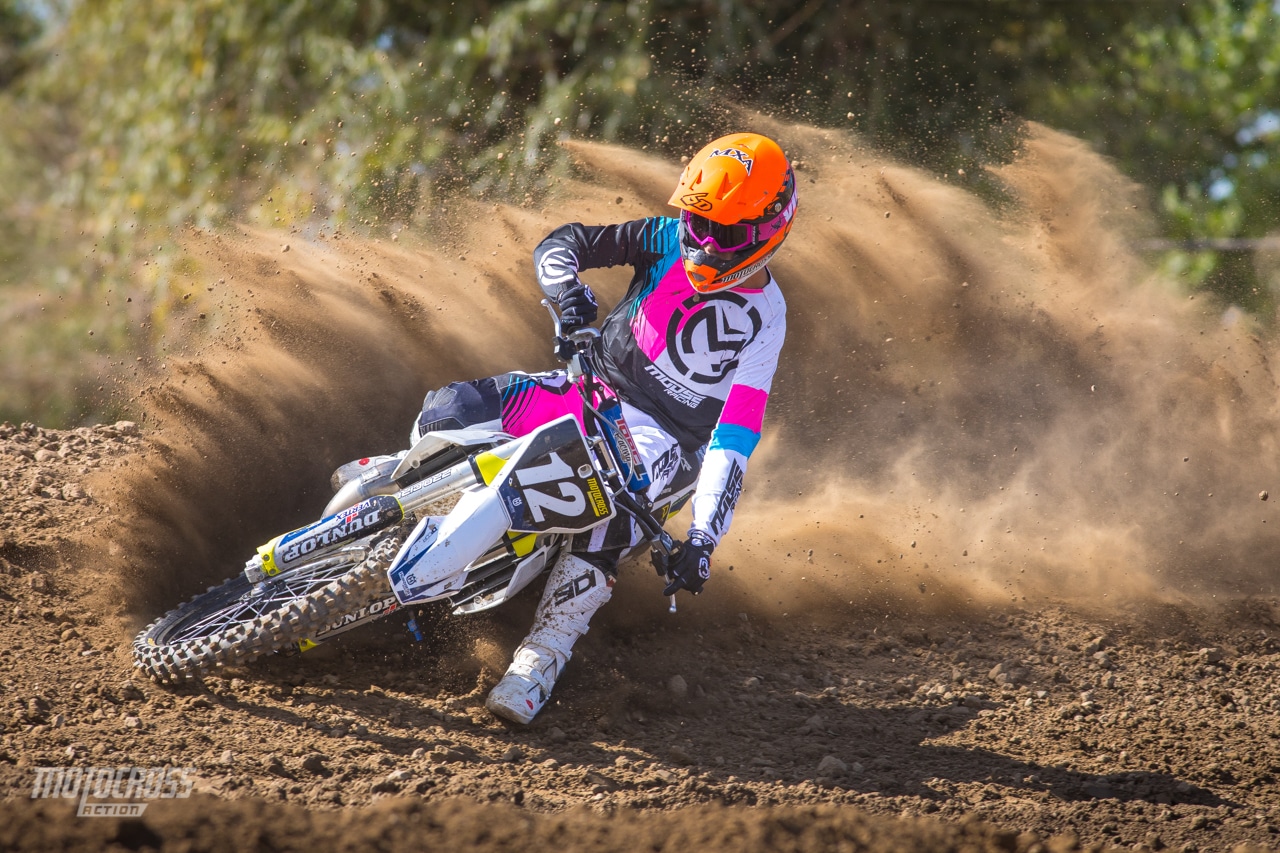 MXA's Josh Mosiman was moving some earth with this bike. 
I'M DREAMING OF AN ELECTRIC CHRISTMAS
Press Release: Who wants an X-Box or PS4 when you've got an Electric OSET motorcycle and a life on two wheels ahead of you? As Christmas rolls around again, the big man in red is taking orders.
OSET Bikes are electric off-road motorcycles mainly for kids. They come in five different sizes and are ideal for teaching kids throttle control, balance and technique all in the comfort of the back yard or wider open spaces.
Electric power has surprising torque, but because it's linear and can be turned down to walking pace, meaning there's no scary power band to put kids off. And of course, because they're silent you won't annoy the neighbours.
Steve Deines who runs OSET Bikes USA, said: "These are the top choice for any moms and dads who are looking for either that first motorcycle for their little racer or the ultimate play bike for kids that can be used everyday in your back yard without upsetting your neighbours.
They have no hot parts, require no gas, need very little maintenance, are virtually silent and most importantly… are mom approved meaning that glittering career in supercross or motocross can start as early as 3 years old!"
The bikes are primarily aimed at kids aged 3 – 12 and retail from $1399 – $4,399. Available with lithium (around 6 hours run time) and lead acid batteries (around 2 hours run time). Visit www.osetbikes.com/us to find your closest dealer.

Get ready to have your back yard turned into an obstacle course or motocross track, safe in the knowledge the neighbors won't hear a thing!
P.S. They come in dad size too….
YOU DO THE MATH! SUBSCRIBE TO MXA & GET A $25 CHAPARRAL GIFT CARD
If you subscribed to Motocross Action,  you could be spending your gift money at Chaparral right now.
If you subscribe to MXA you can get the mag on your iPhone, iPad, Kindle or Android by going to the Apple Store, Amazon or Google Play or in a digital version. Even better you can subscribe to Motocross Action and get a $25 Chaparral gift card to spend on whatever motorcycle parts or products you need. And the awesome print edition will be delivered to your house by a uniformed employee of the U.S. Government. You can call (800) 767-0345 or CLICK HERE or click on the box at the bottom of this page.
MOTO | TRIVIA 
Name each Yamaha of Troy rider above from the 2000 National season. Answer at the bottom of the page.
7TH ANNUAL KURT CASELLI RIDE DAY | DECEMBER 14
Press Release:  The Kurt Caselli Foundation will host the 7th Annual Kurt Caselli Ride Day at Fox Raceway in Pala, California on Saturday, December 14th, 2019. The event is for all ages and will have a variety of activities going on throughout the day as well as a vendor row to check out all of the cool new products from your favorite motorcycle companies who support The Kurt Caselli Foundation. Camping will be available and can be reserved when you pre-register for the event. All proceeds will benefit The Kurt Caselli Foundation and help fund the growing list of safety initiatives, projects, and scholarships to protect and support the lives of off-road riders, which can be viewed on our website. Pre-register now at https://give.classy.org/CaselliRideDay2019 to save time with our special VIP entrance line and score a free KC66 gift!
What: The 7th Annual Kurt Caselli Ride Day
When: Saturday, December 14th, 2019 | Gates open at 8:00 AM, Riding: 9:00 AM to 4:00 PM
Where: Fox Raceway | 12799 California Highway 76, Pala, CA 92059
Tickets: $25/person, Kids 12 & Under: Free | Get tickets here!
What You Get By Registering Early:
● VIP Entrance
● Free KC66 Gift (for each paid admission registrant)
Festivities include:
● Riding open from 9 am to 4 pm
● Main Track
● Vet Track
● Off-Road Loop
● Kids-Only Track
● Kids-Only Practice session on the Vet Track
● Stacyc Learn To Ride demos for the kids!
● The Caselli Team Challenge (your chance to team up with a Pro and compete!)
● Presentation of the Spring 2020 Kurt Caselli Scholarship Winner
● Great Raffle Prizes & Giveaways including the Custom 2020 KTM 500 EXC-F KC66 Edition Motorcycle
● Silent Auction with special items from Kurt's collection
● Camping – can be reserved when you pre-register for the event
● Food, Music, Vendor Row & more!
MXA'S 2020 250 FOUR-STROKE SHOOTOUT VIDEO
MXA YOUTUBE CHANNEL | HIT THAT SUBSCRIBE BUTTON

The MXA wrecking crew is everything moto related. Check out our MXA YouTube channel for bike reviews, Supercross coverage, rider interviews and much more. And don't forgot to hit that subscribe button.
CLASSIC PHOTO
Jeff Ward (3), Jeff Stanton (1), Jeff Matiasevich (20), and Guy Cooper (4) back in 1990.
---
Moto Trivia answer: Stephane Roncada (26), Ernesto Fonseca (28) and Casey Johnson (29).