MOTOCROSS ACTION MID-WEEK REPORT
#WHIPITWEDNESDAY
Rider: Broc Hepler
Year: 2009
Bike: Factory Yamaha YZ450F
TWO-STROKE SPOTLIGHT | 2008 YAMAHA YZ250 PROJECT BIKE
"Hi my name is Kyle, @Fmxkyle, owner of @yzingerz Instagram. This is my project YZ250 I tore down to the frame, even split the cases and replaced and refurbished everything. This is my dream bike. I got a YZ250 when I was 17 years old in 2007 and had to sell it shortly after due to a family crisis. After ten years, schooling, getting married and settling down, I decided to build my dream bike. I picked up a used 2008 YZ250 for $2700 and rode it for a year while I collected parts. In the meantime I met Scott Reynold of Moto Village performance and we both jumped on the project together. I couldn't have done it without him.  Six months into the project  we had the bike  back together."
BELOW IS THE PARTS LIST.
BDP Racing:
– Custom Yzingerz brake reservoir cap.
Bolt Motorcycle Hardware
– Anodized seat button bolt
– Engine Fastener Kit
– Exhaust O-Rings and Springs
– Plastics Fastener Kit
Boyesen:
-Rad Valve with spacer
– Water pump supercooler
Cerakote:
– Armored Black
Cylinder Head
Fork feet
Foot Peg Brackets
Front and rear Brake line guide
Front and rear Brake Calipers
Front and rear Master Cylinders
Kickstart lever
Linkage
Power valve covers
Rear axle
Shock Body
Swingarm Plugs
Sniper Grey
Fork Tubes
Titanium Blue engine Case
Core Moto:
– Steel braided translucent green break lines
FLO Motorsports:
– Pro series foot pegs
Fly Racing
– Billet kill switch
GPI Racing:
– Radiators and Hoses
GYTR:
– Clutch Cover
Hinson:
– High performance clutch
KYB:
– 44 kg/mm front springs
– 5.3 kg/mm rear Spring with thrust washer

Leo Vince
– Carbon fiber rear disc gaurd
– Carbon fiber rear break caliper guard
Luxon:
– Ignition Cover
Maxima:
-Pro Air Filter
MotoStuff:
– Blue Banjo Bolts
OEM Replaced parts:
– Carburetor rebuild kit
– Fork Seal Rebuild kit
– Front and rear Master Cylinder rebuild kit
– Many miscellaneous bolts
Pivot works:
– Linkage bearings
– Transmission bearings
– Shock bearings
– Wheel bearings
Powder Coat:
– Stealth charcoal frame, swingarm and subframe
– Candy Blue hubs
Pro Circuit:
– Axle Blocks
– R304 Carbon Kevlar Shorty
– Triple clamps
– Works pipe buffed and clear Cerakote.
R-Tech:
– YZ Revolution tank and plastics
– R-15 Worx stand
Ride Designs Australia:
– Graphics
Tag Metals:
– Chain
– Slim Grips
– Sprockets
– T2 Handlebars
Thrill Seekers:
– Seat Cover
Throttle Assembly
– CNC Blue anodized throttle tube and housing
Torc1 Racing:
– Front Brake Lever
– Rear Brake Lever and Clevis
– Shift Lever
Tusk:
– Blue Rear Axle Nut
– Blue Air filter Screw
– Air and Fuel carburetor screws
Wiseco:
-Crankshaft assembly
Works Connection:
– Clutch and brake bar clamps
– Elite 123 EZ Clutch and perch
– Fuel vent
– Steering Stem Nut
– Titanium axle bolt adjusters
Zeta:
– Aluminum fork Pistons
– Blue fork guard bolts
– Fork Feet protectors
– Fork Top Caps
– Front Brake line clamp
– Oil fill Plug
– Rear master cylinder cap
– Steering stem cap
– Wheel Spacers
– Wheel lock nuts and valve caps
Editor's note: Please keep those submissions coming. If you would like your bike to be featured in the "Two-Stroke Spotlight," please email me at [email protected] All I ask is that you give a breakdown of your bike and a detailed description of the build. Please also send a few photos of your steed. By submitting your bike for the "Two-Stroke Spotlight," you agree to release all ownership rights to the images and copy to MXA. Please don't email me spam or try selling me Taylor Swift concert tickets or email me spam. I already celebrate T-Swizzle's entire collective, and there will be "bad blood" if you send me junk mail. See what I did there? Happy submitting your smoker.
 SUPERCROSS WITH MAX VOHLAND ON A KTM 125SX TWO-STROKE
2020 MXA 450 SHOOTOUT PREVIEW
Six bikes, six riders.
All six bikes at speed heading into Glen Helen's Talladega first turn. 
Every year Brian Medeiros wins the award for most crashes and destruction at our shootouts. This year is was decided for him to carry a caution cone around with him. 
This is what Brian accomplished this year. He put a hole right through the CRF450 radiator. Thanks Brian. 
MXA's Josh Mosiman giving our video guy Travis Fant a ride to the top of Mt. Saint Helen's.
Remember when the power was shut off due to high winds. That was the day we had our shootout. In fact, the water and power was shut off on us. It was very dry and very windy. 
450 SHOOTOUT CRASH PHOTO BLAST 
TAYLOR ROBERTS WINS 2019 WORCS PRO CHAMPIONSHIP
Press Release:  The FMF KTM Factory Racing Team extended its championship-winning success to the west coast on Sunday as team rider Taylor Robert clinched the 2019 World Off-Road Championship Series title at the penultimate round of racing in Taft, California.
Robert powered his KTM 450 XC-F off the start to capture the holeshot and early lead but a few turns into the opening lap another rider slammed into him pretty hard causing him to experience a 'dead arm' throughout the first half of the race. Robert regrouped in the fourth-place position early on and charged hard to bring himself into podium contention by the fourth lap. From there, he continued to click off fast lap times to ultimately land in second with two laps to go. Although Robert wasn't able to completely make up the deficit created at the beginning of the race, he did put in a stellar come-from-behind ride to finish second-overall and clinch the title with one round remaining.
Team Manager, Antti Kallonen: "This is a big day for Taylor and KTM as this is their first WORCS Championship together since Taylor joined our team in 2014. No doubt Taylor has been fast, but a string of injuries has held him back all these years and finally we were able to put a consistent and injury-free season together and the results are impressive. Congratulations to Taylor and the entire team for successful season."
Taylor Roberts: "It feels good to get this monkey off my back, especially after the last couple years of having some pretty bad luck. All-in-all, it's been a great season with a lot of wins and I'm just really excited to be able to be focused on ISDE now and to get the championship out of the way before we head over to Portugal."
MXA YOUTUBE CHANNEL | HIT THAT SUBSCRIBE BUTTON

The MXA wrecking crew is everything moto related. Check out our MXA YouTube channel for bike reviews, Supercross coverage, rider interviews and much more. And don't forgot to hit that subscribe button.
LOST BUT NOT FORGOTTEN | 1994 HONDA CR125
2020 MXA 250 SHOOTOUT RANKING 
7TH ANNUAL KURT CASELLI RIDE DAY | DECEMBER 14
Press Release:  The Kurt Caselli Foundation will host the 7th Annual Kurt Caselli Ride Day at Fox Raceway in Pala, California on Saturday, December 14th, 2019. The event is for all ages and will have a variety of activities going on throughout the day as well as a vendor row to check out all of the cool new products from your favorite motorcycle companies who support The Kurt Caselli Foundation. Camping will be available and can be reserved when you pre-register for the event. All proceeds will benefit The Kurt Caselli Foundation and help fund the growing list of safety initiatives, projects, and scholarships to protect and support the lives of off-road riders, which can be viewed on our website. Pre-register now at https://give.classy.org/CaselliRideDay2019 to save time with our special VIP entrance line and score a free KC66 gift!
What: The 7th Annual Kurt Caselli Ride Day
When: Saturday, December 14th, 2019 | Gates open at 8:00 AM, Riding: 9:00 AM to 4:00 PM
Where: Fox Raceway | 12799 California Highway 76, Pala, CA 92059
Tickets: $25/person, Kids 12 & Under: Free | Get tickets here!
What You Get By Registering Early:
● VIP Entrance
● Free KC66 Gift (for each paid admission registrant)
Festivities include:
● Riding open from 9 am to 4 pm
● Main Track
● Vet Track
● Off-Road Loop
● Kids-Only Track
● Kids-Only Practice session on the Vet Track
● Stacyc Learn To Ride demos for the kids!
● The Caselli Team Challenge (your chance to team up with a Pro and compete!)
● Presentation of the Spring 2020 Kurt Caselli Scholarship Winner
● Great Raffle Prizes & Giveaways including the Custom 2020 KTM 500 EXC-F KC66 Edition Motorcycle
● Silent Auction with special items from Kurt's collection
● Camping – can be reserved when you pre-register for the event
● Food, Music, Vendor Row & more!
MOTO | TRIVIA 
Name the rider and year of the photo. Answer at the bottom of the page.
2020 KTM 450 & 250 TEAMS | photos by Trevor Nelson
The KTM 450SXF team is the same as last year with the 2019 Supercross champ Cooper Webb and teammate Marvin Musquin. 
Press Release: KTM North America, Inc. officially unveiled its 2020 Red Bull KTM Factory Racing and support team lineups on Friday alongside a press event at KTM's test track facility "RD Field" in Murrieta, California.
Headlining KTM's premier factory effort is the Red Bull KTM Factory Racing duo of Cooper Webb and Marvin Musquin, who are both set to contest the 2020 AMA Supercross and Pro Motocross Championships aboard the KTM 450 SX-F FACTORY EDITION. Webb debuted his coveted number one plate to the press on Friday as he prepares to defend his 2019 450SX Championship come January. As for Musquin, the French rider signed a recent two-year agreement to compete through the 2021 season. Musquin sustained a knee injury at the final round of the AMA Pro Motocross Championship and he continues to mend his injury as he prepares to line up for the Anaheim SX season opener in January. Led by Team Manager Ian Harrison for the second year, the now veteran Red Bull KTM Factory Racing Team is ready to take on the 2020 race season.
Cooper Webb was riding, but Marvin Musquin was not due to a knee injury. 
Troy Lee Designs/Red Bull/KTM will once again serve as the official KTM 250 factory team with a four-rider roster in 2020. The young team has undergone big changes this season with a brand-new lineup of riders, all competing aboard the KTM 250 SX-F. Recent Red Bull Straight Rhythm runner-up, Brandon Hartranft, officially joins the team wearing the #30 in his second full year in the 250SX class. Hartranft finished sixth overall in the 2019 250SX East Championship and the 21-year-old looks to expand on his success this year. Seventeen-year-old French rider, Brian Moreau, will make his full-time U.S. debut with the TLD squad riding aboard the #104 machine. Moreau, the 2017 European 125 Class Champion, placed fifth in the Amateur All-Star Class at the 2018 Monster Energy Cup, proving his potential in the highly competitive field. Making his professional debut last season in the Pro Motocross Championship, longtime KTM Orange Brigade amateur rider Derek Drake will continue his seventh season with the KTM brand as he joins the team full-time for 2020. Drake, now 20-years-old, will be joined by longtime amateur teammate Pierce Brown, who has also been with the KTM brand since 2014. The seventeen-year-old Brown made an appearance at the Florida National last season before making his full-time pro debut in the 250SX class aboard the #163 in 2020. Team Manager Tyler Keefe will continue to oversee the team's operations, while working closely with KTM to achieve the ultimate success in 250cc competition.
Pierce Brown will be one of the new kids on the TLD team for 2020. 
The Rocky Mountain ATV/MC – WPS – KTM team, which will field two riders in the 450cc division for both AMA Supercross and Pro Motocross, continues its association with KTM for 2020. With Team Manager Michael Byrne back for a third season and Team Owner, Forrest Butler, injecting his many years of professional experience, team riders Blake Baggett and Justin Bogle look to put all the pieces together for a successful season aboard the KTM 450 SX-F FACTORY EDITION. In 2019, Baggett claimed his first and the team's first-career 450SX and 450MX wins and he is primed and ready to attack additional wins as he goes after a championship title. Bogle, who joined the team last season as a fill-in rider, is now set to compete in the full AMA Supercross and Pro Motocross Championships in 2020 aboard the KTM 450 SX-F FACTORY EDITION.
The Rocky Mountain ATV/MC–WPS team will hold Blake Baggett and Justin Bogle for 2020. 
Blake Baggett's KTM 450SX for the 2020 Supercross season. 
Blake Baggett. 
Justin Bogle is always stylish. 
As usual, Roger Decoster was watching over everything. 
YOU DO THE MATH! SUBSCRIBE TO MXA & GET A $25 CHAPARRAL GIFT CARD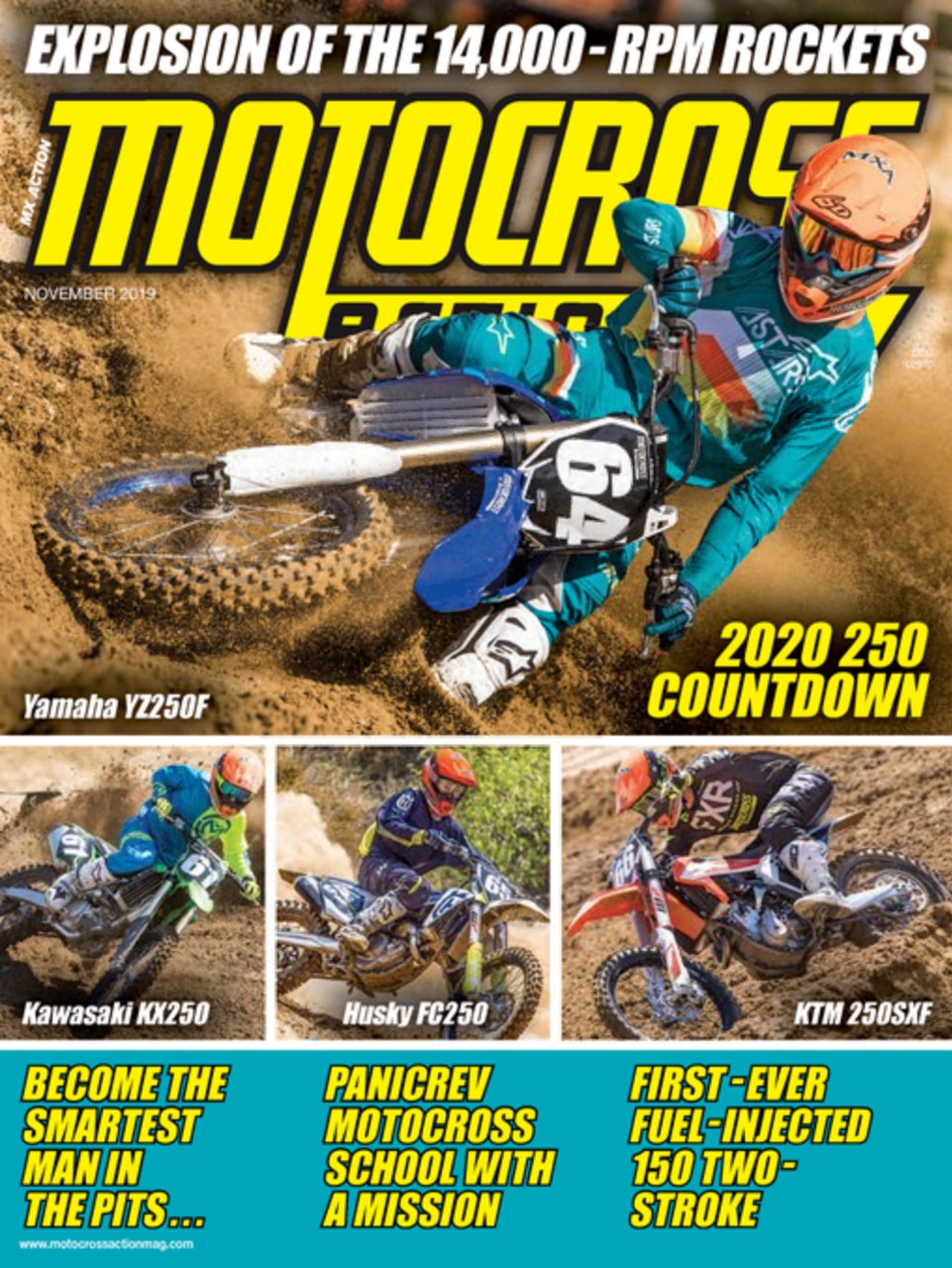 If you subscribed to Motocross Action,  you could be spending your gift money at Chaparral right now.
If you subscribe to MXA you can get the mag on your iPhone, iPad, Kindle or Android by going to the Apple Store, Amazon or Google Play or in a digital version. Even better you can subscribe to Motocross Action and get a $25 Chaparral gift card to spend on whatever motorcycle parts or products you need. And the awesome print edition will be delivered to your house by a uniformed employee of the U.S. Government. You can call (800) 767-0345 or CLICK HERE or click on the box at the bottom of this page.
CLASSIC PHOTO
Ricky Carmichael and Sebastian Tortelli racing at the Motocross Des National in Saint-Jean-d'Angély back in the year 2000. USA won that year after a three year losing streak.
---
Moto Trivia answer: Mike Bell on a factory Yamaha YZ250 back in 1983