MOTOCROSS ACTION MID-WEEK REPORT
#WHIPITWEDNESDAY
Rider: Justin Barcia
Year: 2019
Bike: Factory Yamaha YZ450F
TWO-STROKE SPOTLIGHT | BRAND NEW OLD SMOKERS IN THE NETHERLANDS
Editor's note: Please keep those submissions coming. If you would like your bike to be featured in the "Two-Stroke Spotlight," please email me at [email protected]. All I ask is that you give a breakdown of your bike and a detailed description of the build. Please also send a few photos of your steed. By submitting your bike for the "Two-Stroke Spotlight," you agree to release all ownership rights to the images and copy to MXA. Please don't email me spam or try selling me Taylor Swift concert tickets or email me spam. I already celebrate T-Swizzle's entire collective, and there will be "bad blood" if you send me junk mail. See what I did there? Happy submitting your smoker.
GAERNE RED SG12'S COMING SOON
Keep checking the Gaerne USA website to get yours. 
125 TWO-STROKE SUPERCROSS WITH MAX VOHLAND
MXA YOUTUBE CHANNEL | HIT THAT SUBSCRIBE BUTTON

The MXA wrecking crew is everything moto related. Check out our MXA YouTube channel for bike reviews, Supercross coverage, rider interviews and much more. And don't forgot to hit that subscribe button.
LOST BUT NOT FORGOTTEN | 1998 HUSABERG FC400
YOU CAN MAKE YOUR SOCAL RACING VACATION A REALITY
In his spare time, when he's not testing with MXA, racing in a foreign country, going to Japan or helping many of his motocross buddies, Dennis has the time to open up his house, garage, bikes and mechanics to help riders who would like to come to SoCal on a motocross vacation. He offers full service to all of the Southern California tracks for racers or for play riders.
If you're coming out to Southern California and need a rental bike, check out KnobbyShop South/StapoMX for all your rental needs. They offer Motocross Vacations, bike rentals and motocross lessons. Just send them an email ([email protected]). If you'd like to live the SoCal lifestyle for a day, a weekend, a week, a month or three months visit Dennis' website at www.stapomx.com for more details!
ADAM CIANCIARULO'S FACTORY KX450 UP CLOSE & PERSONAL | photos by Travis Fant
The bike that won the 2019 Monster Energy Cup. Not bad for Adam's first race on the KX450.

The other side of this beauty. 
An up close shot of the KX450 factory powerplant. 
The factory front brake of the number 9. 
Adam Cianciarulo is still able to run Pro Circuit exhausts. 
If you look closely at the linkage you will see some interesting trick parts. 
MOTOOL SLAKER V3 SAG SCALE UPDATED
The new Slacker V3 is the ultimate suspension tool for your street, adventure or off-road bikes. The V3 is so much more than a sag scale that we are re-branding it as the Slacker Digital Suspension Tuner in recognition of it's true capabilities. We have beefed Slacker up, trimmed some fat and gave it a fresh new look and a 2-year limited warranty! -Now includes all the street and Adventure bike attachments, no accessory kit required. Below are the Slacker updates.
-New 2-year warranty.
-Overall better build quality.
-Reduced the length of the magnet post and re-enforced with ribs.
-Reduced length of universal clip.
-Overall it is rebranded and small changes to improve quality that we do as a normal part of the production cycle.
MOTO | TRIVIA 
Name the rider and year of the photo. Answer at the bottom of the page.
POLISPORT NARDO GREY NEW KITS
Press Release: Polisport enlarges its range of the popular Nardo Grey Color. Now, this color will be available for some models of Husqvarna, KTM, Beta; and also for Polisport restyling kits for Yamaha and Honda 2-stroke models.
The kits will come with the fork guards included and will be the perfect match for your graphics. Now you can make your bike special with Polisport special color – Nardo Grey.
2020 MXA 250 SHOOTOUT
ALPINESTARS PRESENTS: LIMITED EDITION 'ALPINESTARS X DEUS EX MACHINA' MX CAPSULE COLLECTION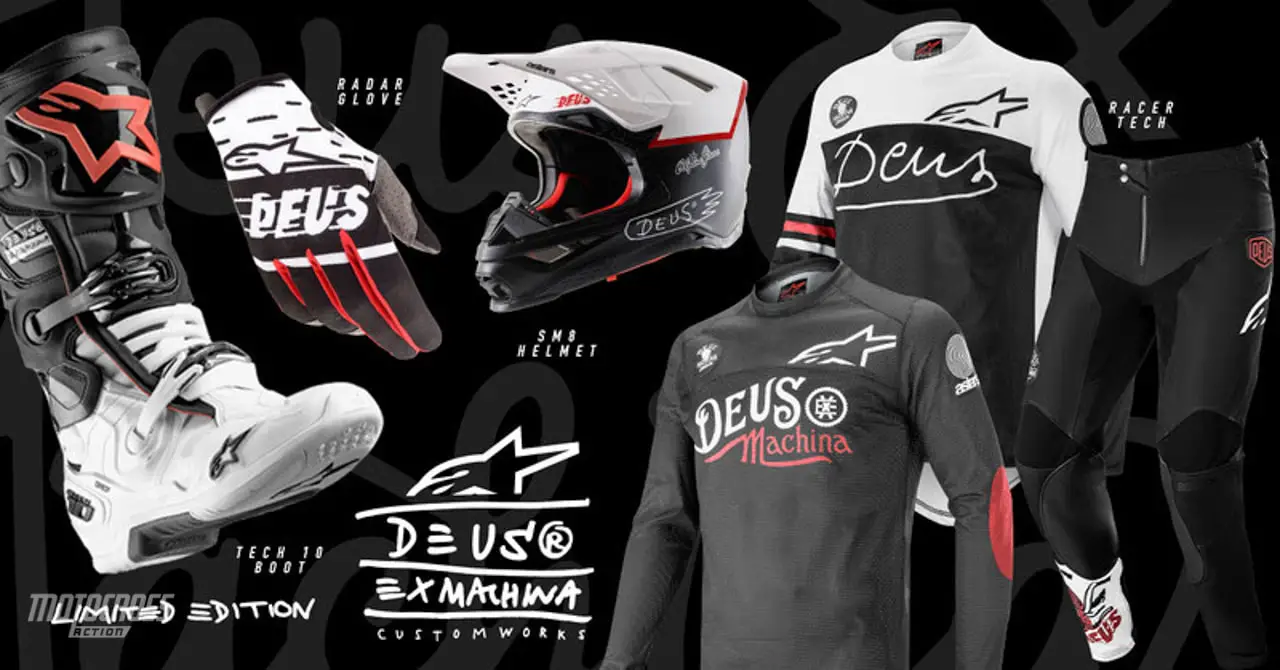 7TH ANNUAL KURT CASELLI RIDE DAY | DECEMBER 14
Press Release:  The Kurt Caselli Foundation will host the 7th Annual Kurt Caselli Ride Day at Fox Raceway in Pala, California on Saturday, December 14th, 2019. The event is for all ages and will have a variety of activities going on throughout the day as well as a vendor row to check out all of the cool new products from your favorite motorcycle companies who support The Kurt Caselli Foundation. Camping will be available and can be reserved when you pre-register for the event. All proceeds will benefit The Kurt Caselli Foundation and help fund the growing list of safety initiatives, projects, and scholarships to protect and support the lives of off-road riders, which can be viewed on our website. Pre-register now at https://give.classy.org/CaselliRideDay2019 to save time with our special VIP entrance line and score a free KC66 gift!
What: The 7th Annual Kurt Caselli Ride Day
When: Saturday, December 14th, 2019 | Gates open at 8:00 AM, Riding: 9:00 AM to 4:00 PM
Where: Fox Raceway | 12799 California Highway 76, Pala, CA 92059
Tickets: $25/person, Kids 12 & Under: Free | Get tickets here!
What You Get By Registering Early:
● VIP Entrance
● Free KC66 Gift (for each paid admission registrant)
Festivities include:
● Riding open from 9 am to 4 pm
● Main Track
● Vet Track
● Off-Road Loop
● Kids-Only Track
● Kids-Only Practice session on the Vet Track
● Stacyc Learn To Ride demos for the kids!
● The Caselli Team Challenge (your chance to team up with a Pro and compete!)
● Presentation of the Spring 2020 Kurt Caselli Scholarship Winner
● Great Raffle Prizes & Giveaways including the Custom 2020 KTM 500 EXC-F KC66 Edition Motorcycle
● Silent Auction with special items from Kurt's collection
● Camping – can be reserved when you pre-register for the event
● Food, Music, Vendor Row & more!
ALPINESTARS FRIENDS AND FAMILY RIDE DAY
Before we hit the track, Alpinestars gathered everyone for a riders meeting and group photo.
By Josh Mosiman
Alpinestars invited MXA out to the Willow Springs road course to ride Street bikes, check out their new road racing gear and hangout with a wide variety of Alpinestars sponsored athletes. I jumped on the opportunity to try something new while Daryl Ecklund spent the day in the office working on our next issue of the magazine. I had done a track day once before up at Sonoma Raceway in Northern California, but I was really slow and I needed some redemption. Thanks to Alpinestars for letting me have a second chance to try my skills on the road.
The Yamaha Champions Riding School was on hand to teach all of the newbies how approach the track.
Athletes like Justin Barica, Freestyle riders Nate Adams and Jarryd McNeil, IndyCar driver JR Hildebrand, Nitro Circus star Jolene Van Vugt, Airplane Aerobatic and Air Race pilot Anthony Oshinuga and more joined me for the quick "crash course" review on how to ride these bikes safely and smoothly on a track. The Yamaha Champions school motto is that excellent riders are safe riders. The Yamaha Champions team was led by Nick Lenatsch (not pictured) and it was Nick took all of the newbies around the track for a lap in their cargo rental van with four rows of seats. We packed in there thinking that it would be like a standard track walk, but instead Nick pinned it around the track going up to 100mph in a van that none of us even knew had that capability. He took us for three lap, stopping along the way to teach us techniques about riding on the track, but the most memorable part was listening to a group of elite athletes cheer in fear and excitement as we felt the rear tires drifting through the corners.
You can tell this his Justin Barcia for two reasons, he had the Monster helmet and his elbows up high like any moto guy.
Justin Barcia gets some tips from MotoAmerica Superbike racer, Josh Herrin. Justin had a really cool experience learning from MotoGP World Champion Casey Stoner and MotoGP race winner Ben Spies as well. They followed Justin around the track and gave him tips.
Nate Adams, Jarryd McNeil and Jolene Van Vugt.
Street Freestyle motorcycle rider, Aaron Colton and Aerobatic and Air Race pilot, Anthony Oshinuga put on an awesome show for us during lunch.
IndyCar driver, JR Hildebrand was giving hot lap rides in this McLaren during lunch as well. I was the last person to get a ride in it and I was very glad I did! I looked over at the speedometer only once and saw it at 140mph.
I rode a Yamaha R3 300 for most of the day to learn the basics and then I jumped on a Honda CBR600 for the final session and I felt much more comfortable.
Alpinestars set everyone up with loaner bikes and gear. I started on Yamaha's R3 which is a 300cc sport bike. It was perfect for helping me get my feet wet, but definitely not enough power to keep up on such a fast track. I jumped on the Honda CBR600 for my last session and it was much better. The bigger bike and bigger tires helped me feel more confident in the corners and the faster engine helped me a ton down the straightaways.
YOU DO THE MATH! SUBSCRIBE TO MXA & GET A $25 CHAPARRAL GIFT CARD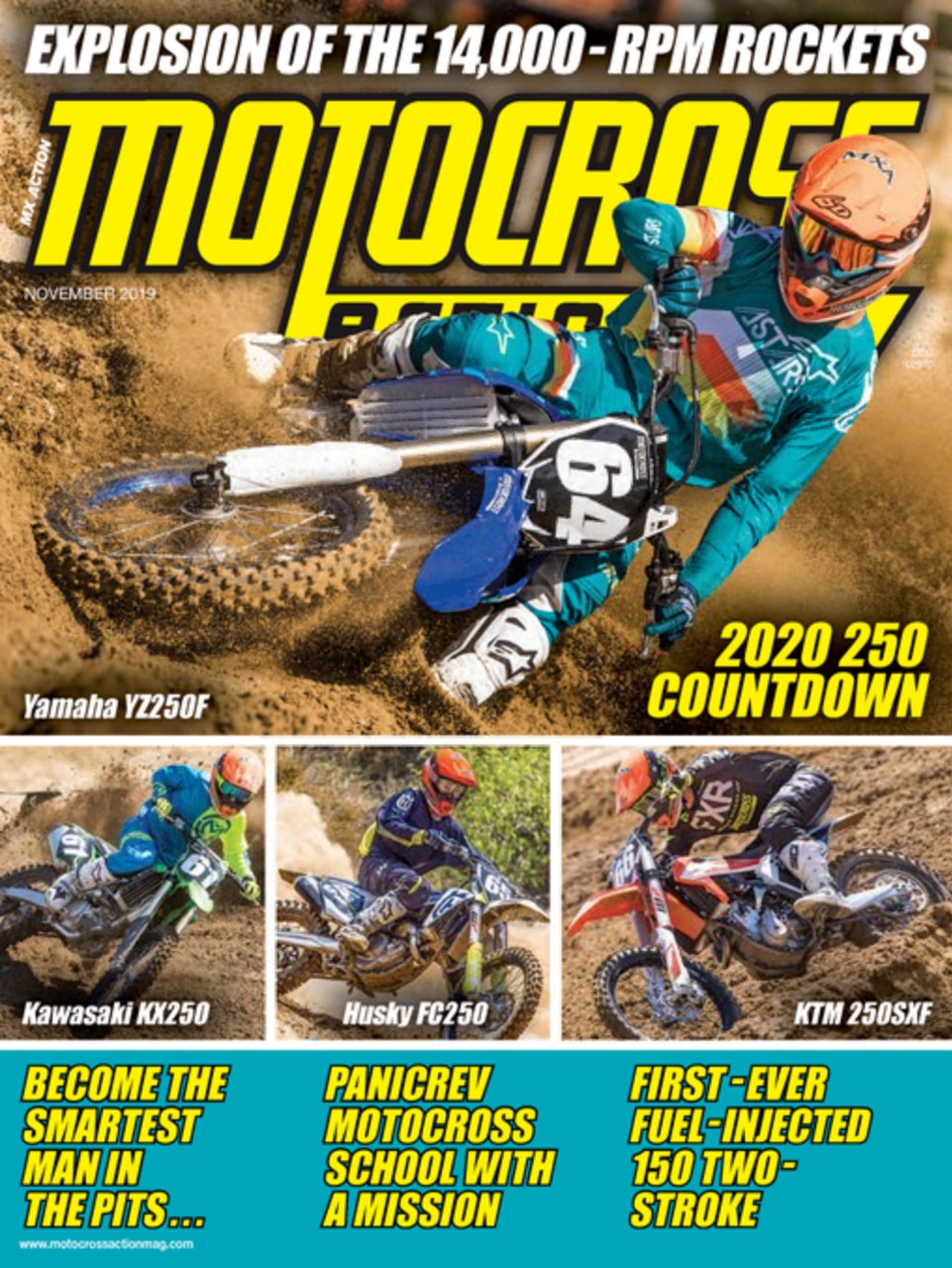 If you subscribed to Motocross Action,  you could be spending your gift money at Chaparral right now.
If you subscribe to MXA you can get the mag on your iPhone, iPad, Kindle or Android by going to the Apple Store, Amazon or Google Play or in a digital version. Even better you can subscribe to Motocross Action and get a $25 Chaparral gift card to spend on whatever motorcycle parts or products you need. And the awesome print edition will be delivered to your house by a uniformed employee of the U.S. Government. You can call (800) 767-0345 or CLICK HERE or click on the box at the bottom of this page.
MICKY DYMOND | ROAD TO RECOVERY
Press Release: On October 9, 2019 Micky Dymond sustained a traumatic brain injury when he crashed on his bicycle during a training ride in Orange County, California. Even though Dymond was wearing a helmet at the time of the crash, he still sustained extensive head trauma that caused subdural brain contusions and subarachnoid hemorrhaging that rendered Micky unconscious for nearly fifteen minutes at the seen of the accident. He came to briefly, only to go back to being unconscious upon arrival at the ICU. He woke up five days later. After spending the first week unconscious in ICU, and another week in a neuro trauma unit, Dymond is on the next steps of his road to recovery.
Unfortunately, Dymond does not have medical insurance and is expected to have insurmountable medical expenses. Therapy, coupled with a two week stay in the hospital, and the fact that Dymond won't be able to work for months to come, all add up to a long and expensive recovery for Micky and his family. If you are able to support him, please make a tax-deductible donation to his cause here. Funds donated to Dymond's cause will go directly to cover the mounting medical expenses he incurs.
Please leave a positive message for Micky Dymond on his Road 2 Recovery cause page. Any and all prayers and positive vibes are appreciated and needed.
Micky and his family are grateful for any donation. Please find the Road 2 Recovery donation page here.
MONSTER ENERGY SUPERCROSS 3: THE OFFICIAL VIDEO GAME – EXTENDED TRAILER
GIVE THEM ADVENTURE THIS HOLIDAY SEASON | OSET BIKES OFFER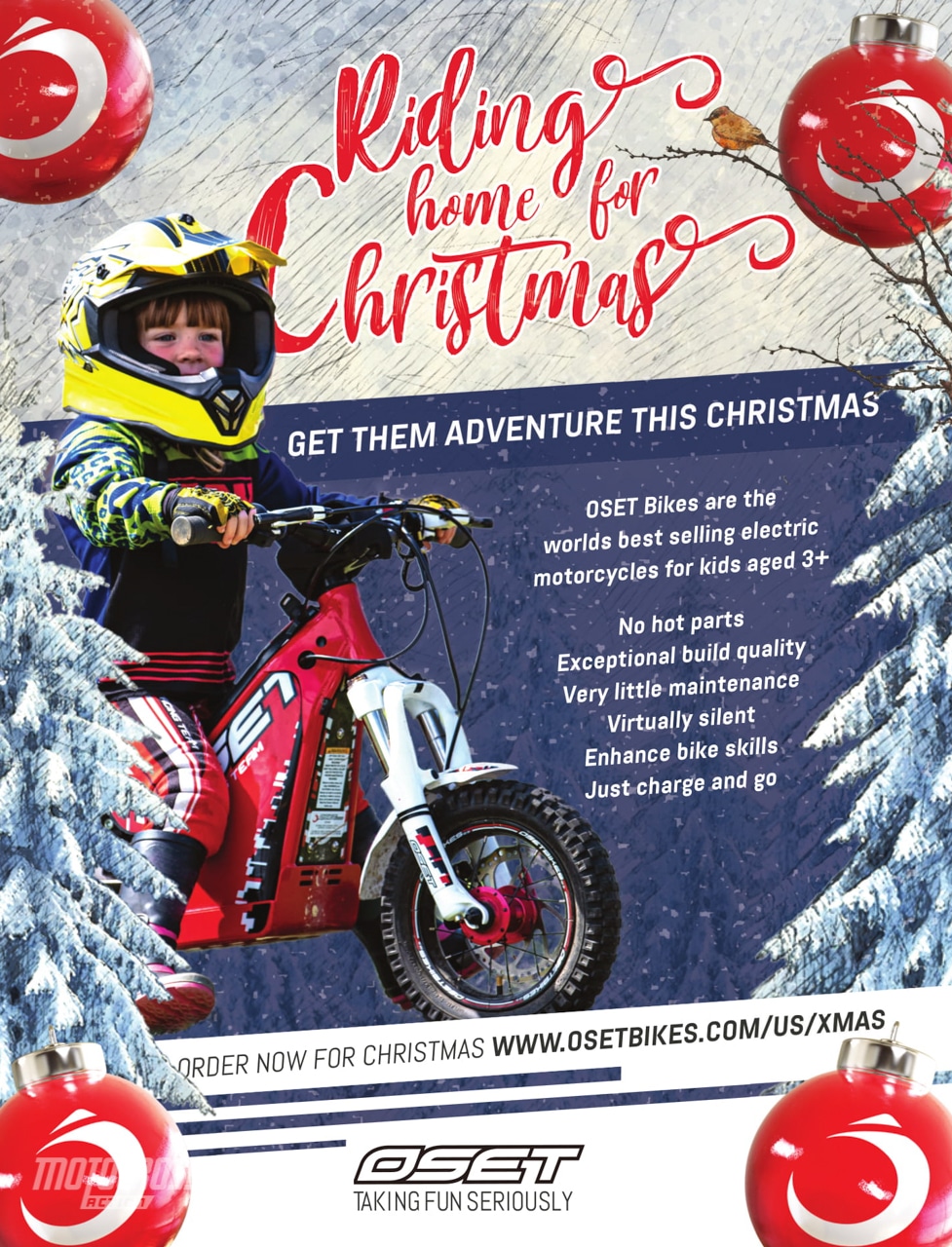 Press Release: OSET is making that special holiday season surprise more affordable for parents this year, as it slashes the price of its 12.5 range of electric off-road motorcycles for kids ages 3-5
The 12.5 Racing and Eco range are the perfect entry-level motorcycle that's ideal for beginners and back yard riders age 3-5 who want to experience a real motorcycle with all the benefits that come with being electric such as ease of maintenance, very low running costs, no hot parts and being virtually silent.
James Robertson, Head of Marketing and Sales at OSET said: "It's more important than ever to get kids outside and encourage the next generation of riders to have fun on two wheels. Not only this but it is a great form of exercise and a real activity family can do together. With screen time taking up more and more of our kid's free time, we need outside to be more exciting than inside, and that's exactly what a motorcycle from OSET delivers.
"As the holiday season approaches and parents struggle to decide what to get their kids, an OSET Electric Motorcycle is guaranteed to deliver the biggest smile at an affordable price!"
Customers can enjoy healthy discounts of up to $100 off bike's while stocks last
James finished: "We hope to see mums and dads walking off the holiday excess, joined by their little one riding quietly beside them on their OSET."
Customers should visit: https://osetbikes.com/us/ to find their local OSET dealer and see more info on the full range of OSET Electric Motorcycles for kids.
CLASSIC PHOTO
Mike LaRocco back in 1991 on a Factory Suzuki RM250.
---
Moto Trivia answer: Johnny O'Mara back on a factory Suzuki in 1989.