MOTOCROSS ACTION MID-WEEK REPORT
#WHIPITWEDNESDAY
Rider: Dan Reardon
Year: 2007
Bike: Torco Oil's Honda CRF250
TWO-STROKE SPOTLIGHT | $20,000 BRAND NEW HONDA CR250 IN BOX
A brand new CR250 still in the crate. 
Want a brand new Honda CR250 two-stroke? Back in 2007 a CR250 off the showroom floor retailed for $6449. Who would have thought that people would be selling them for more than three times more over a decade later? The industry thought smokers were dead! Well, whoever this  guy from Canada is that  thought CR250's would be a good investment he must have had a crystal ball. Check out the website below to get details on the crated brand new CR250. https://www.kijiji.ca/v-dirt-bikes-motocross/calgary/honda-cr250r/1462673683?undefined
Editor's note: Please keep those submissions coming. If you would like your bike to be featured in the "Two-Stroke Spotlight," please email me at [email protected]. All I ask is that you give a breakdown of your bike and a detailed description of the build. Please also send a few photos of your steed. By submitting your bike for the "Two-Stroke Spotlight," you agree to release all ownership rights to the images and copy to MXA. Please don't email me spam or try selling me Taylor Swift concert tickets or email me spam. I already celebrate T-Swizzle's entire collective, and there will be "bad blood" if you send me junk mail. See what I did there? Happy submitting your smoker.
WANTING THE MXGP WIN | MX WORLD S2E2
YOU DO THE MATH! SUBSCRIBE TO MXA & GET A $25 CHAPARRAL GIFT CARD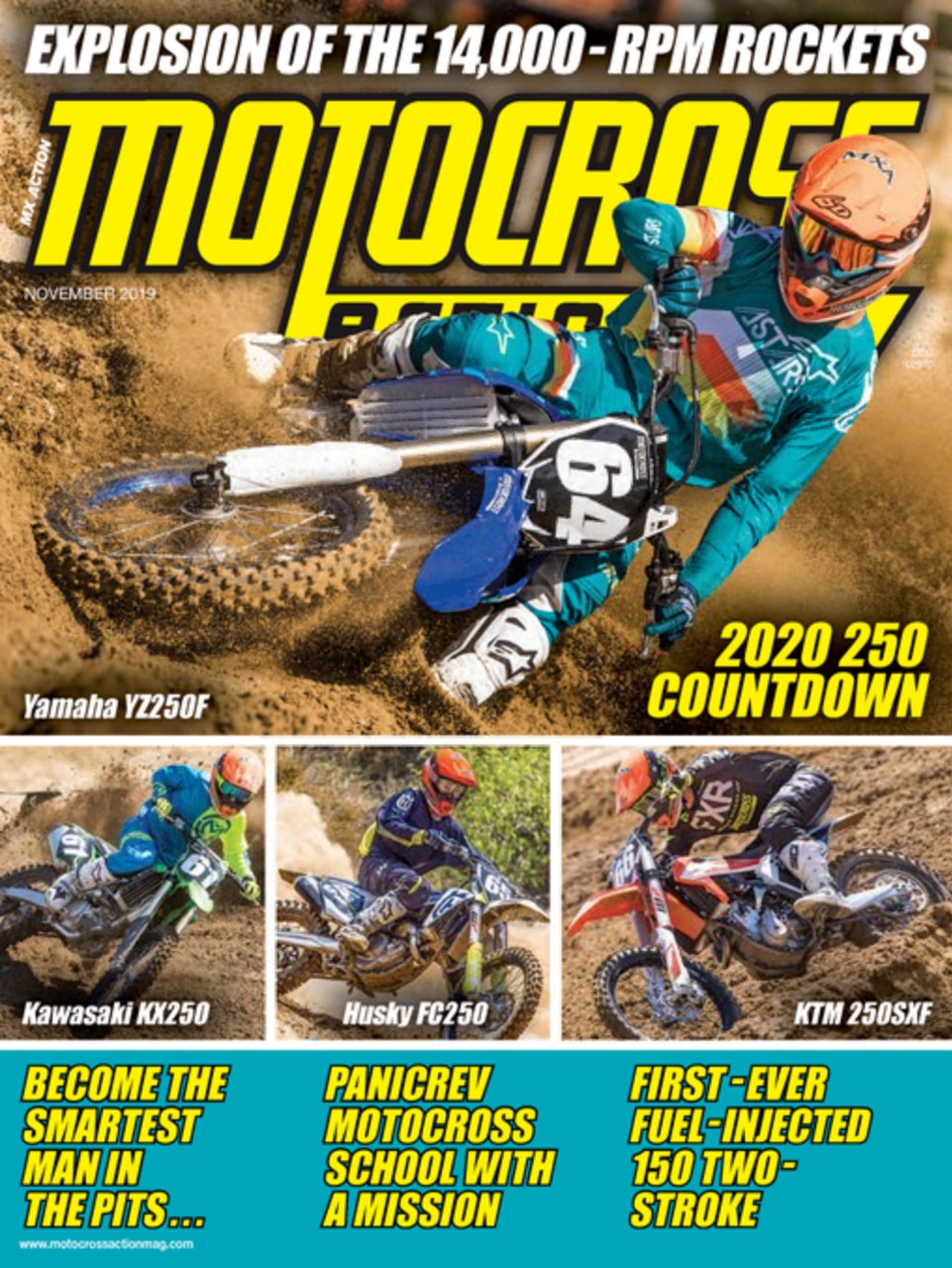 If you subscribed to Motocross Action,  you could be spending your gift money at Chaparral right now.
If you subscribe to MXA you can get the mag on your iPhone, iPad, Kindle or Android by going to the Apple Store, Amazon or Google Play or in a digital version. Even better you can subscribe to Motocross Action and get a $25 Chaparral gift card to spend on whatever motorcycle parts or products you need. And the awesome print edition will be delivered to your house by a uniformed employee of the U.S. Government. You can call (800) 767-0345 or CLICK HERE or click on the box at the bottom of this page.
LOST BUT NOT FORGOTTEN | 1990 SUZUKI RM125
EKS BRAND SPONSORSHIP SUBMISSION IS OPEN!
Press Release: The fastest privateers in the world wear EKS Brand! EKS Brand is now accepting rider resumes for the 2020 season.
The EKS BrandRider Support Program is in its 10th year and is actively looking for riders to be a part of the program. Support levels range from C class riders all the way up through National level racers. The program is open to riders of all disciplines including, Motocross, Supercross, Off-Road, Flat Track, Hill Climb, Supermoto, Speedway, Endurocross, Trials, ATV, Mountain bike BMX, Snowsports, and all action sport athletes.
Click on www.eksbrand.com and go to "contact us" or send a small resume to [email protected]
EKS Brand  goggles have become a leader in the off-road goggle market. In our 10 year history EKS Brand has won at the highest level in AMA Supercross, AMA outdoor nationals, FIM World motocross, GNCC wins and Championships, the Baja 500 and 1000, WORCS series wins and Championships, AMA National dirt track wins, AMA National Enduro overall wins, as well as several AMA amateur National championships. Join the likes of 2019 racers Chris Blose, Alex Ray, Kyle Chisholm, Adam Eticknap, Vince Freise, Kyle Cunningham, Henry Miller, John Short, Ben Lemay, Brandon Hartranft, Jacob Hayes, etc… as well as Off-road greats, Steward and Grant Baylor, Russell Bobbit, Craig Delong, Ricky Russell, Gary Sutherlin, Ricky Brabec, Tayla Jones, Mackenzie Tricker, Dalton Shirey, Beau Barron.. Among many many others. Let us know who you are and come and get on the team!
www.eksbrand.com
Note: If you were on the EKS Brand team last year, please specify the program you were on in your resume.
WHAT THE MXA WRECKING CREW IS UP TO
Is had been a long time in the works but MXA, MRE and KX Guru Racing finally came together for the ultimate 500cc shootout. Both bikes have 2016 KTM 250SXF chassis' with the red bike having a CR500 engine and the green bike a KX500 engine. Both these bikes are anything but stock. We are doing a full shootout in the February issue of MXA. 

We called this bike a KTX500e. Yes the "e" stands for electric start. 
And we called MRE's build the KTR500. Ain't she pretty. 
Josh Mosiman started as the KTX500e tester. 
While Ezra Lewis rode the KTR500. 
CHECK OUT THE ALL-NEW SIDI ATOJO BOOT
Press Release: A Motocross boot must be durable, comfortable and manufactured with high quality materials to ensure the driver a good sensitivity: the ATOJO SRS motocross boot has all these features and has also been significantly reduced in weight compared to previous models, without compromising the protection. The height of the boot reflects the requirements of our professional athletes who have helped us to develop and test it.
This is a good looking boot that comes in many colors. Check out the details. 
INSIDE JESSY NELSON'S KTM 125SX TWO-STROKE
7TH ANNUAL KURT CASELLI RIDE DAY | DECEMBER 14
Press Release:  The Kurt Caselli Foundation will host the 7th Annual Kurt Caselli Ride Day at Fox Raceway in Pala, California on Saturday, December 14th, 2019. The event is for all ages and will have a variety of activities going on throughout the day as well as a vendor row to check out all of the cool new products from your favorite motorcycle companies who support The Kurt Caselli Foundation. Camping will be available and can be reserved when you pre-register for the event. All proceeds will benefit The Kurt Caselli Foundation and help fund the growing list of safety initiatives, projects, and scholarships to protect and support the lives of off-road riders, which can be viewed on our website. Pre-register now at https://give.classy.org/CaselliRideDay2019 to save time with our special VIP entrance line and score a free KC66 gift!
What: The 7th Annual Kurt Caselli Ride Day
When: Saturday, December 14th, 2019 | Gates open at 8:00 AM, Riding: 9:00 AM to 4:00 PM
Where: Fox Raceway | 12799 California Highway 76, Pala, CA 92059
Tickets: $25/person, Kids 12 & Under: Free | Get tickets here!
What You Get By Registering Early:
● VIP Entrance
● Free KC66 Gift (for each paid admission registrant)
Festivities include:
● Riding open from 9 am to 4 pm
● Main Track
● Vet Track
● Off-Road Loop
● Kids-Only Track
● Kids-Only Practice session on the Vet Track
● Stacyc Learn To Ride demos for the kids!
● The Caselli Team Challenge (your chance to team up with a Pro and compete!)
● Presentation of the Spring 2020 Kurt Caselli Scholarship Winner
● Great Raffle Prizes & Giveaways including the Custom 2020 KTM 500 EXC-F KC66 Edition Motorcycle
● Silent Auction with special items from Kurt's collection
● Camping – can be reserved when you pre-register for the event
● Food, Music, Vendor Row & more!
MOTO | TRIVIA 
Name the rider in the photo. Answer at the bottom of the page.
MXA YOUTUBE CHANNEL | HIT THAT SUBSCRIBE BUTTON

The MXA wrecking crew is everything moto related. Check out our MXA YouTube channel for bike reviews, Supercross coverage, rider interviews and much more. And don't forgot to hit that subscribe button.
2020 MXA 250 SHOOTOUT
2020 MXA 450 SHOOTOUT
TALK MOTO WITH MOTO MINDED PEOPLE. JOIN MXA'S FACEBOOK GROUP CHAT

We love everything moto and want to bring all moto junkies together into one place to share their two cents, ideas, photos, bike fixes, bike problems and much more. To check it out first you must need to or already have a Facebook account. If you don't, it isn't much work and you could even have an alias so nobody knows it is you. To join click HERE. After you request to join we will accept your request shortly after.
CLASSIC PHOTO
Nathan Ramsey throwing a whip over the finish line at Anaheim Supercross during press day back in 2003. If you look closely you can see Travis Preston behind him. 
---
Moto Trivia answer: Mike Hartwig with Pierre Karsmakers behind him