MOTOCROSS ACTION MID-WEEK REPORT
#WHIPITWEDNESDAY
Rider: Chad Reed
Year: 2014
Bike: TwoTwo Motorsport KX450F
Race: Anaheim Supercross
FOUR-STROKE SPOTLIGHT | MATT WELLER'S PROJECT BIKE

"I wanted to share my latest project bike with you, this one being a 2004 Honda CRF450. It is something completely different from my normal '90s two-stroke builds.
"I purchased the bike in several boxes from a friend who had started working on it and lost interest. My original idea for the build was going to be a Ricky Carmichael tribute. While surfing eBay I came across a set of blue side panels and rear fender, I immediately knew that I had to switch gears and build a '92 Peak Honda replica. The frame and swingarm were sent out to Curry Custom Coatings to have the powder coat stripped off. Curry Custom Coatings also coated the engine covers black to match the look of the '92 CR125 engine.
"KE3 Restorations Vapor Blasted the engine cases, cylinder, all brake components, hubs and the linkage to a better than new appearance. Bolt Motorcycle Hardware offers a complete engine bolt kit that made it very easy and affordable to assemble the engine with all new hardware. The engine was built using a Hot Rods stroker crankshaft, Vertex piston, and Hot Cams Stage 2 camshaft.

"I knew the graphics and seat cover would be a make or brake deal for this build. Thankfully Unbounded Designs was able to recreate the graphics based off of a few detailed pictured. CEET Racing who made the original seat covers agreed to make a one off-seat cover, without those two companies the overall look of this bike would not have been possible.
"I would like to thank everyone who helped make this build possible."–Matt Weller.
Curry Custom Coatings – Cerakote/Powder Coat
KE3 Restoration -Vapor Blasting
Bolt Motorcycle Hardware – Engine bolt kit
CEET Racing – Seat cover
Garvis Honda – OEM Honda parts
Photo's by Micah Thompson @gr82kr8
Editor's note: Please keep those submissions coming. If you would like your bike to be featured in the "Four-Stroke Spotlight," please email me at [email protected]. All I ask is that you give a breakdown of your bike and a detailed description of the build. Please also send a few photos of your steed. By submitting your bike for the "Four-Stroke Spotlight," you agree to release all ownership rights to the images and copy to MXA. Please don't email me spam or try selling me Taylor Swift concert tickets or email me spam. I already celebrate T-Swizzle's entire collective, and there will be "bad blood" if you send me junk mail. See what I did there? Happy submitting your smoker.
RICKY CARMICHAEL VERSUS BEN TOWNLEY IN AUCKLAND
CHECK OUT THE 2020 LEATT CATALOG TO LEARN MORE ABOUT THE LINE
The inventors of the Leatt-brace and the producers of advanced protective gear, are now in the motocross gear market. Leatt is offering head-to-knee protection including a complete apparel range of products for all off-road moto disciplines. The 2020 apparel range has a completely new look and feel incorporating the latest fresh colorways for pants, jerseys and gloves, this includes the proud South African statement colorway, the Zebra! Leatt's helmets also feature the same colorways to match the gear along with their protective 360° Turbine Technology.

TEAM USA IS BACK ON TOP! …IN OFF-ROAD AT LEAST
American off-road stars Taylor Robert and Kaliub Russell hoist their American flags.
American's have a reason to celebrate as our ISDE World Trophy team recently won in Portugal at the 94th annual FIM International Six Days Enduro. The ISDE is the MXON equivalent of off-road racing and 2019 marks the second time that Team USA has won the premier World Trophy class with Taylor Robert, Ryan Sipes, Kaliub Russell and Steward Baylor on the four-man World Trophy squad. Team USA's first ever World Trophy win came in 2016 and Taylor Robert and Kailub Russell were also apart of the first American team to win. The ISDE is different from the MXON in many ways. One of the differences is that each country is allowed to have multiple teams in different categories. This year Team USA's Women's Trophy team and Club teams both won the overall in their divisions and the Team USA Junior World Trophy team finished second in the Junior division.
Team USA on the podium at the 94th annual ISDE.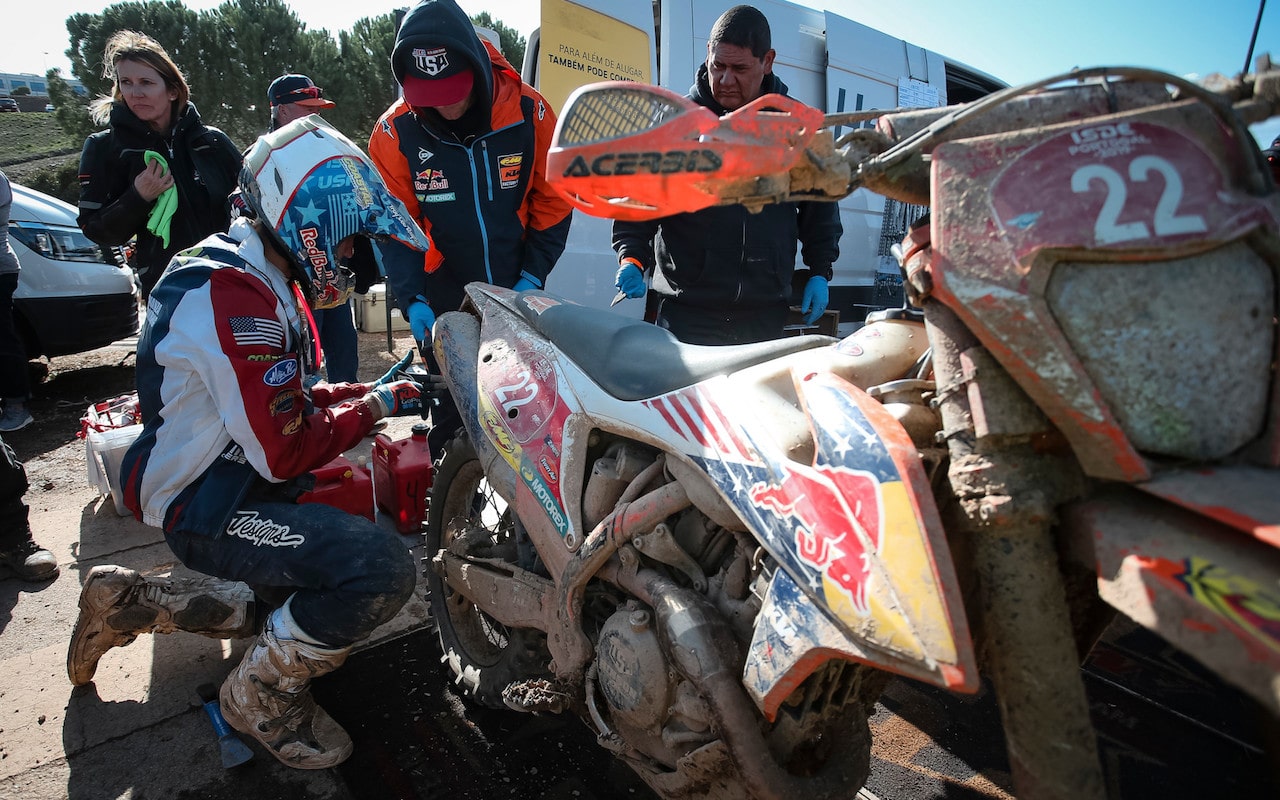 At the ISDE, riders have a limited amount of time to work on their bikes after each day and they aren't allowed to have a mechanic do the work for them. They have to get their hands dirty and the mechanics are only allowed to hand them tools as they change tires and air filters. 
With the race taking place over six days, the landscape of the ISDE course varies from day to day. Here Taylor Robert navigates through the tress. 
Ryan Sipes has had quite the year of motorcycle racing. From competing in Supercross to GNCC to Hill Climbs and Flat Track; Sipes has just about done it all. Now he can cross off the International Six Days Enduro off his 2019 schedule and he can add World Champion to his stat sheet. 
Kaliub Russell is the 2019 GNCC Champion and now he's also a two-time World Champion.
CHECK OUT THE ALL-NEW SIDI ATOJO BOOT
Press Release: A Motocross boot must be durable, comfortable and manufactured with high quality materials to ensure the driver a good sensitivity: the ATOJO SRS motocross boot has all these features and has also been significantly reduced in weight compared to previous models, without compromising the protection. The height of the boot reflects the requirements of our professional athletes who have helped us to develop and test it.
This is a good looking boot that comes in many colors. Check out the details. 
LOST BUT NOT FORGOTTEN | DAVI MILLSAPS' 2013 ROCKSTAR SUZUKI RM-Z450
MXA'S DENNIS STAPLETON RACES IN CHINA
Dennis Stapleton is a world traveler. Motocross has taken him around the world several times. He has raced in more countries then there are U.S. States. Dennis has already been to and raced in China twice. But since China is close to as big as the United States there are a lot of places Dennis hasn't conquered. This time Dennis traveled to South China to a place called Jiangmen Xinhui and took young racer Ryan Surratt with him. 

Dennis took Ryan out for his first meal in the foreign land. Snakes are good protein, right?
Dennis and Ryan were staying not far from the track in a town called Gudou Hot Spring.
The track was hard-packed and dry. 
Many of the bikes looked a lot like Honda's, KTM's and Kawasaki's, but they were far from it. They were knockoffs. However, many of the locals raced them. This lookalike Honda is called a Kayo. Check out their website, www.kayomoto.com.
Ryan Surratt (pictured) and Dennis insisted they race actual Kawasakis and KTMs. Ryan raced a KX250 which he won the Pro class on. 
Is that an electric start RM-Z250? Or is it just missing the kickstarter? Or is it really a Suzuki at all?
Another knockoff Chinese bike.
The top five riders in the Pro class with Ryan (middle) winning and Dennis (far right) getting fourth. 
INSIDE JESSY NELSON'S KTM 125SX TWO-STROKE
MOTO | TRIVIA 
Name the rider and year of the photo. Answer at the bottom of the page.
YOU DO THE MATH! SUBSCRIBE TO MXA & GET A $25 CHAPARRAL GIFT CARD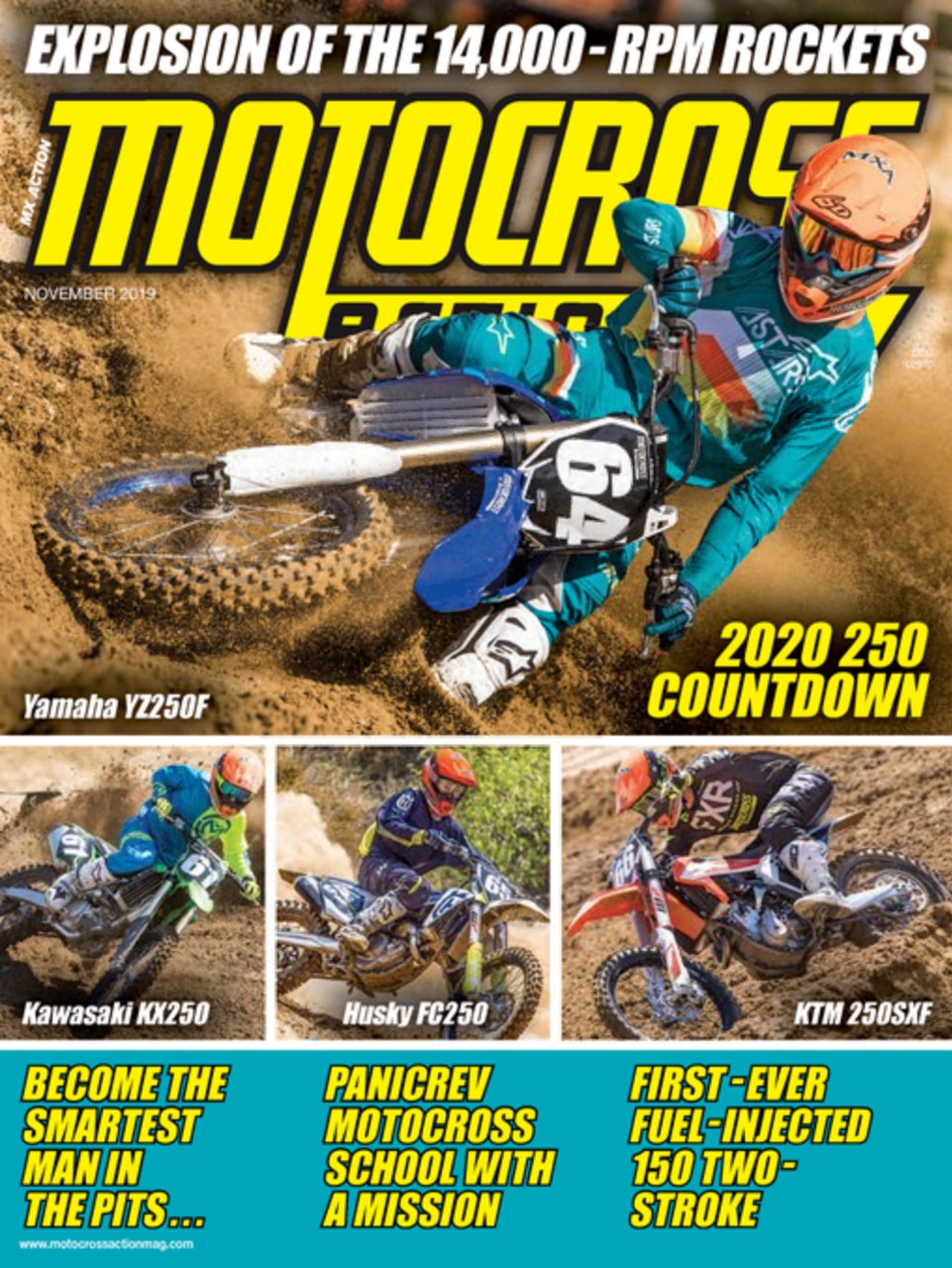 If you subscribed to Motocross Action,  you could be spending your gift money at Chaparral right now.
If you subscribe to MXA you can get the mag on your iPhone, iPad, Kindle or Android by going to the Apple Store, Amazon or Google Play or in a digital version. Even better you can subscribe to Motocross Action and get a $25 Chaparral gift card to spend on whatever motorcycle parts or products you need. And the awesome print edition will be delivered to your house by a uniformed employee of the U.S. Government. You can call (800) 767-0345 or CLICK HERE or click on the box at the bottom of this page.
EKS BRAND SPONSORSHIP SUBMISSION IS OPEN!
Press Release: The fastest privateers in the world wear EKS Brand! EKS Brand is now accepting rider resumes for the 2020 season.
The EKS BrandRider Support Program is in its 10th year and is actively looking for riders to be a part of the program. Support levels range from C class riders all the way up through National level racers. The program is open to riders of all disciplines including, Motocross, Supercross, Off-Road, Flat Track, Hill Climb, Supermoto, Speedway, Endurocross, Trials, ATV, Mountain bike BMX, Snowsports, and all action sport athletes.
Click on www.eksbrand.com and go to "contact us" or send a small resume to [email protected]
2020 MXA 250 SHOOTOUT
2020 MXA 450 SHOOTOUT
CLASSIC PHOTO
Ken Roczen back in 2010 during the Glen Helen USGP back when he was still racing the MXGP circuit.
---
Moto Trivia answer: Zach Osborne back in 2010 when he raced the MXGP series over in Europe.