MOTOCROSS ACTION MID-WEEK REPORT
#WHIPITWEDNESDAY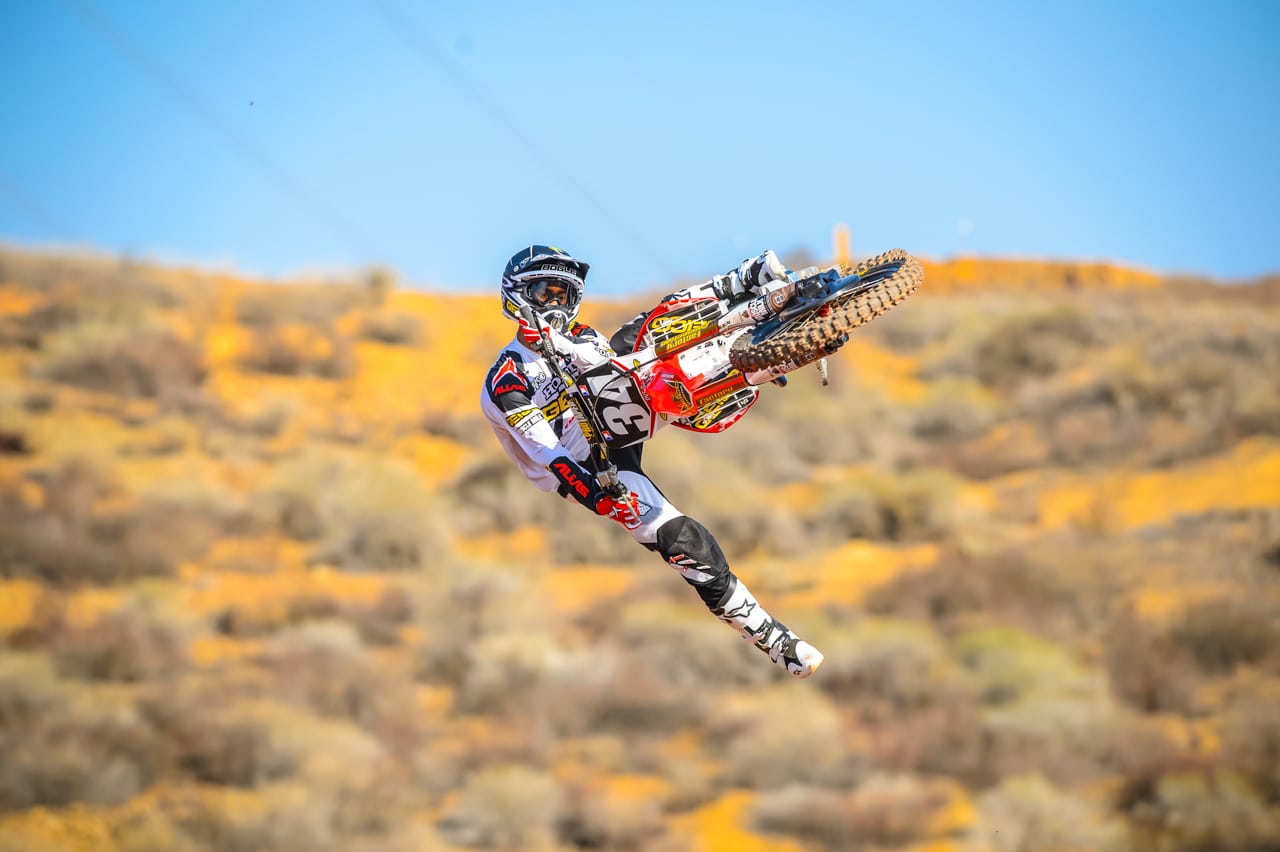 Rider: Justin Bogle
Year: 2013
Bike: Geico Honda CRF250
TWO-STROKE SPOTLIGHT | JESPER KILINK'S KX500AF
Jesper didn't give us much details about his KX500AF build. However, you can see many trick parts on the bike if you look closely such as the Fox Podium shock and HGS pipe. 
Editor's note: Please keep those submissions coming. If you would like your bike to be featured in the "Two-Stroke Spotlight," please email me at [email protected]. All I ask is that you give a breakdown of your bike and a detailed description of the build. Please also send a few photos of your steed. By submitting your bike for the "Two-Stroke Spotlight," you agree to release all ownership rights to the images and copy to MXA. Please don't email me spam or try selling me Taylor Swift concert tickets or email me spam. I already celebrate T-Swizzle's entire collective, and there will be "bad blood" if you send me junk mail. See what I did there? Happy submitting your smoker.
SLR HONDA WINS BAJA 1000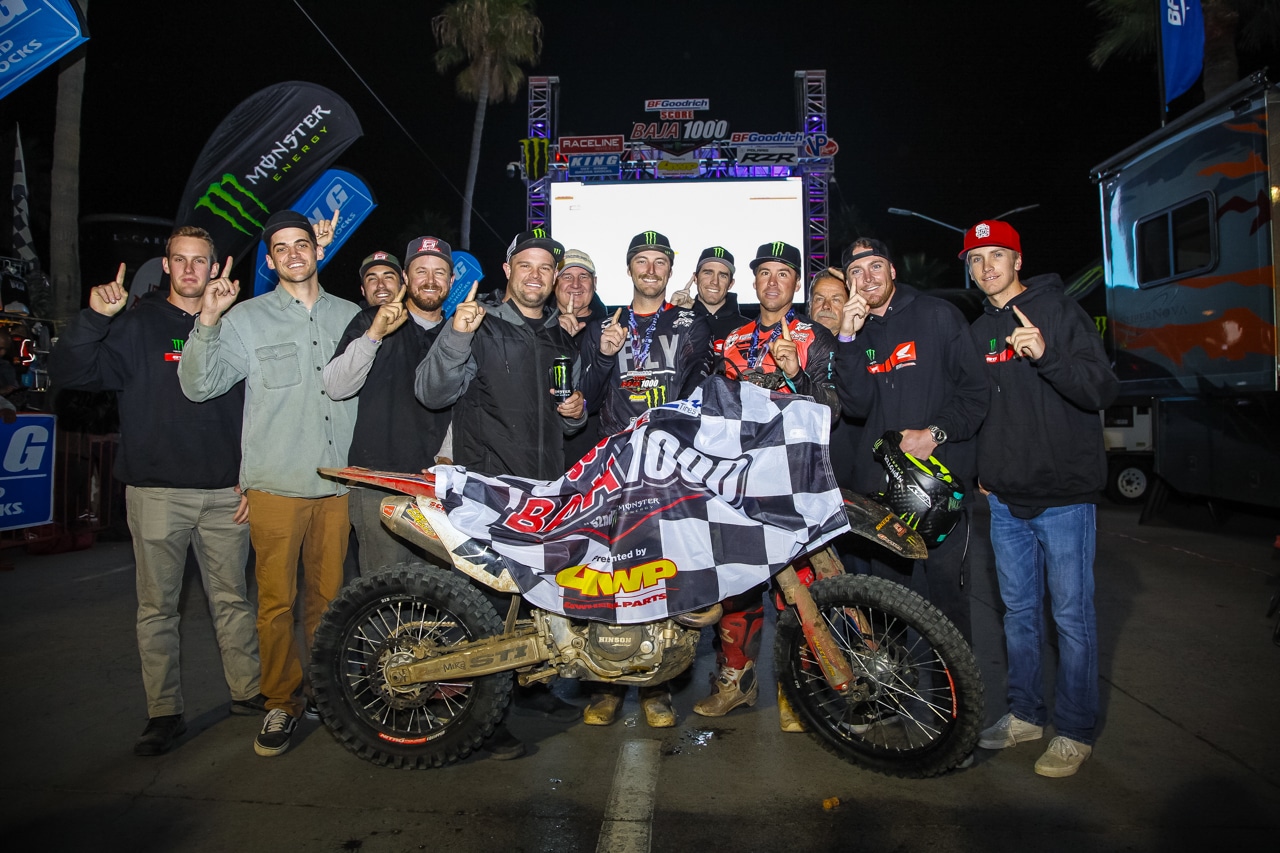 In a dramatic SCORE International Off-Road Racing 2019 finale that saw the Baja 1000 postponed by a day due to a racecourse affected by inclement weather, the SLR Honda team notched a start-to-finish victory aboard the No. 1X CRF450X. The win in the legendary event's 52nd edition capped off the squad's second-straight undefeated season in the series and stretched the Honda CRF450X's unmatched Baja 1000 win total to 13; the model's current platform remains undefeated in SCORE racing. Honda-mounted teams have earned a record 29 victories in the race, including 22 of the last 23 years.
In Saturday's pre-dawn hours, SLR Honda was the first team to leave the start line in Ensenada, Mexico, and although the wet conditions meant that the following teams didn't have to cope with dust, SLR teammates Justin Morgan, Max Eddy Jr., David Kamo and Shane Esposito immediately began to stretch their advantage. They were never headed during the counterclockwise loop around the northern end of the Mexican peninsula, finishing back in Ensenada over 800 miles later with a winning time of 17 hours, 34 minutes, 28 seconds, which was over two hours ahead of the runner-up Pro Moto Unlimited squad. Honda teams also won the Pro Moto 30, Pro Moto Ironman, Pro Moto 50, Pro Quads, Sportsman Quads and Sportsman Moto classes.
Despite the smooth race day, things hadn't looked promising for the squad just over seven weeks earlier, when SLR team owner and rider Mark Samuels broke both of his femurs in a training crash. (Samuels has been a rider on four winning Baja 1000 teams.) "After I got hurt, I had to go back to the drawing board and figure out what to do," Samuels said. "I was pretty stressed, but I was fortunate to line up some riders with a ton of experience in Baja, and they all rode flawlessly. The only real issue we had all day was a short in our lighting system right off the start, so we swapped it out at a pit. Apart from that, everything went great for us, while the other top teams had some issues. It was kind of different being on the sidelines for this one, but it was also pretty special to sit back and be the manager and watch our guys perform."
First officially run in 1967, the Baja 1000—"the world's longest non-stop off-road race"—was inspired by Dave Ekins and Bill Robertson Jr.'s 1962 run from Tijuana to La Paz aboard a pair of Honda CL72 Scramblers. Honda-mounted Larry Berquist and Gary Preston won the motorcycle class in 1968, and the list of winning Honda riders since then includes famous names like Johnny Campbell, Kendall Norman, Chuck Miller, Bruce Ogilvie, Al Baker and others.
MXA YOUTUBE CHANNEL | HIT THAT SUBSCRIBE BUTTON

The MXA wrecking crew is everything moto related. Check out our MXA YouTube channel for bike reviews, Supercross coverage, rider interviews and much more. And don't forgot to hit that subscribe button.
LOST BUT NOT FORGOTTEN | RYAN DUNGEY'S 2012 FACTORY KTM 450SXF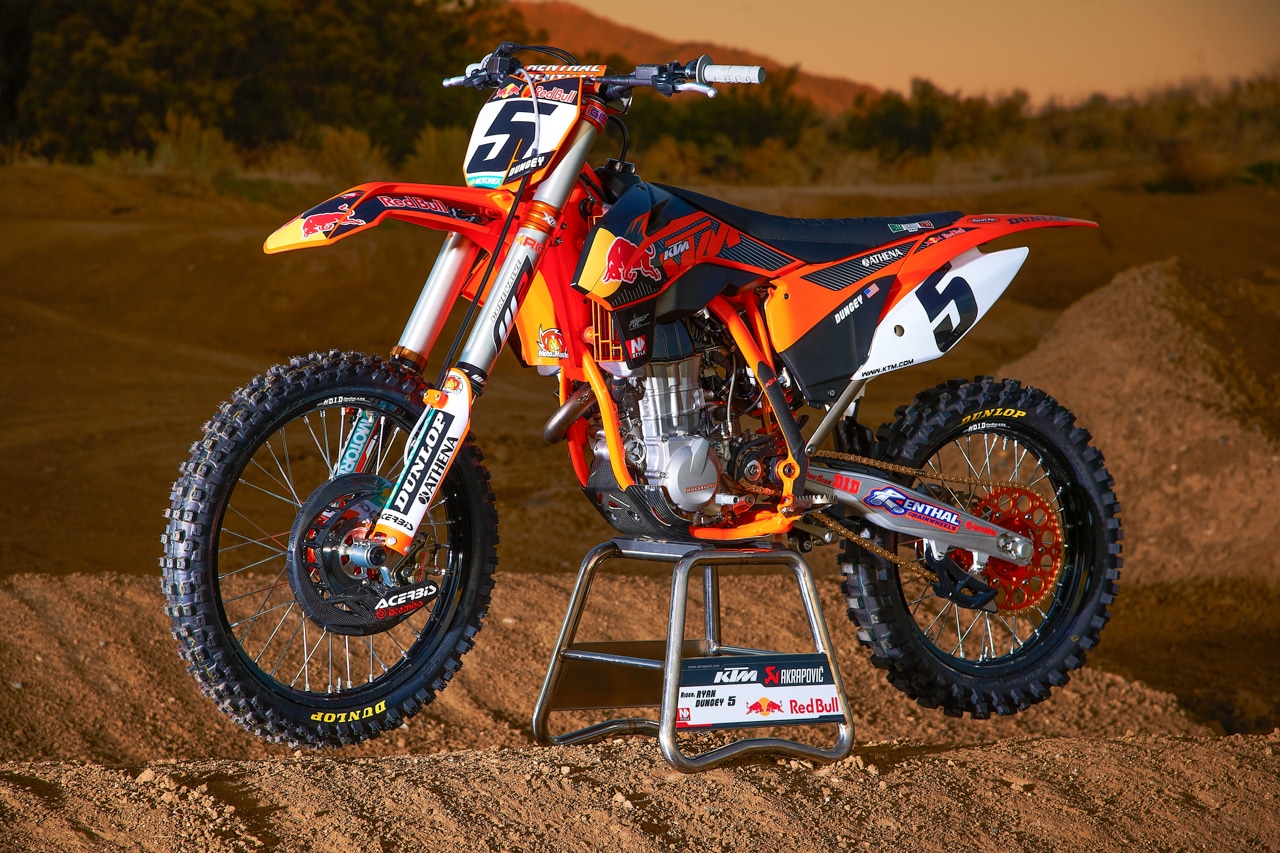 4TH ANNUAL JESSY NELSON MX SCHOOL FUNDRAISER
Press Release: The Road 2 Recovery Foundation is pleased to announce details for the 4th Annual Jessy Nelson MX School, to be held on Thursday, December 19 in Pala, California. Riders of all ages and skill levels will have a once-in-a-lifetime opportunity to learn from some of the nation's top motocross/supercross riders and coaches at a premier stop of the AMA Pro Motocross National circuit at Fox Raceway. With the support and generosity of the motorcycle community, proceeds from this event will go to benefit Jessy Nelson and Micky Dymond in their R2R Funds.This year's star-studded lineup of coaches includes Jessy Nelson, Cole Seely, Broc Tickle, Blake Savage, Weston Peick, Jeff Ward, Doug Dubach, Ryan Honstein, Brandon Mays and Carlen Gardner. The event will kick off on Thursday morning at 8 a.m. with registration and breakfast, followed by a Rider/Coach Meeting at 9 a.m. Participants will receive ample riding time with their coaches as the first two sessions take place from 10:00 a.m. – 2:20 p.m., before a catered lunch at 12:25 p.m. Riders will then hit the track once again from 1:30 – 3:55 p.m. for the final two rounds of riding, and the day will conclude with an information-packed Q&A session with riders, coaches and vendors to provide a complete breakdown of the day's activities. To make sure that each attendee gets the quality time needed to increase their skills, the school will be capped at 100 entries.
With a minimum donation of $150 per rider, participants will have a full day packed with years of knowledge and experience. Participants can expect small class groups and they'll gain valuable skills from the best in the business. Coaches will be split into groups of two with a focus on specific parts of the track, including starts, turns, big jumps and "S-turns." With your donation, you will receive a complimentary breakfast, delicious lunch, a swag bag, and access to the Troy Lee Designs/Red Bull KTM Factory Racing Team mechanics for help with any small mechanical needs.

For more details or to register for the 4th Annual Jessy Nelson MX School, please visit the online registration page. For more information on Road 2 Recovery, upcoming events and athlete updates, visit road2recovery.com or click here to make a donation.
TALK MOTO WITH MOTO MINDED PEOPLE. JOIN MXA'S FACEBOOK GROUP CHAT

We love everything moto and want to bring all moto junkies together into one place to share their two cents, ideas, photos, bike fixes, bike problems and much more. To check it out first you must need to or already have a Facebook account. If you don't, it isn't much work and you could even have an alias so nobody knows it is you. To join click HERE. After you request to join we will accept your request shortly after.
INSIDE ADAM CIANCIARULO'S MONSTER ENERGY CUP WINNING FACTORY 2020 KX450
MOTO | TRIVIA 
Name the rider and year of the photo. Answer at the bottom of the page.
IN MXA'S STUDIO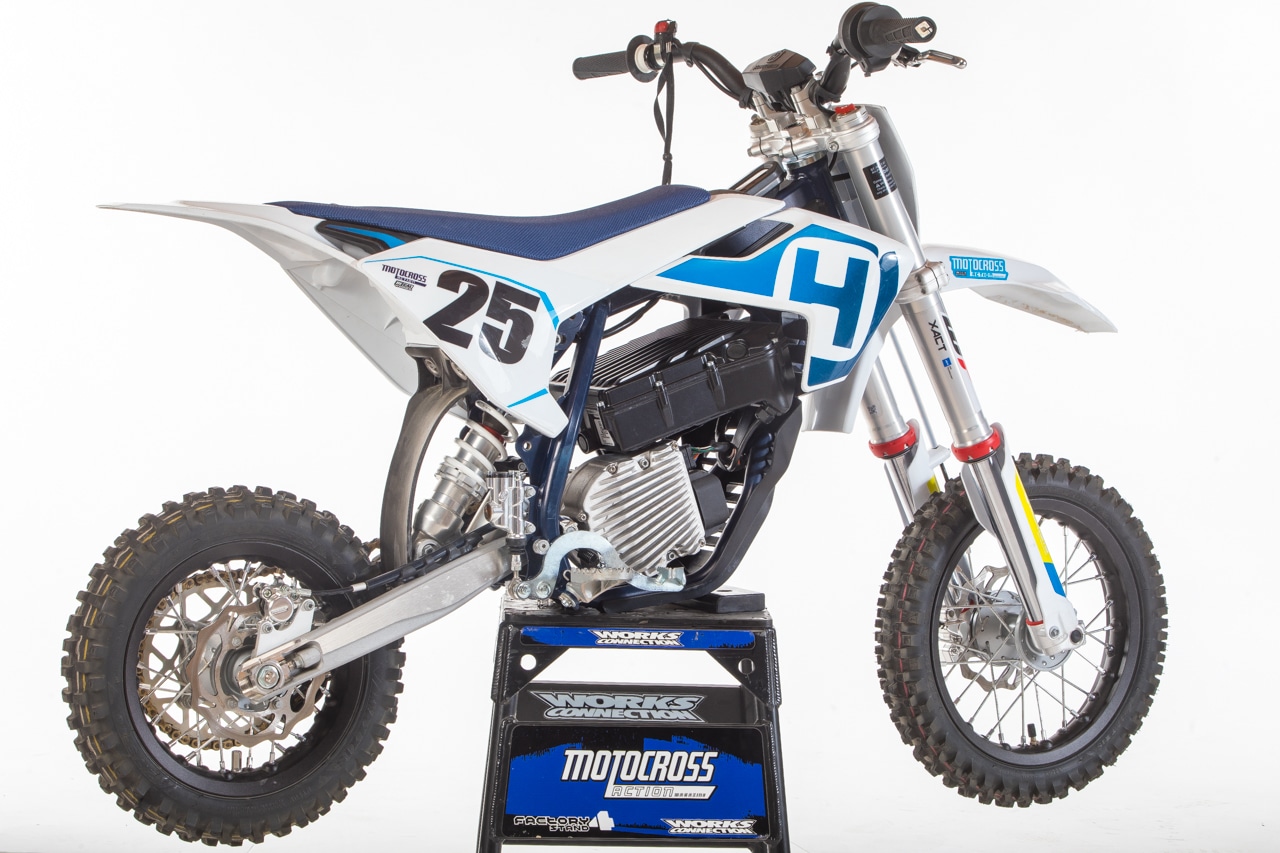 We got one of the first Husqvarna EE5 mini-bikes in the studio. We rode this electric bike down the street a few times and this thing is a rocket ship. We can't wait for our mini guys to hit the track with this silent machine.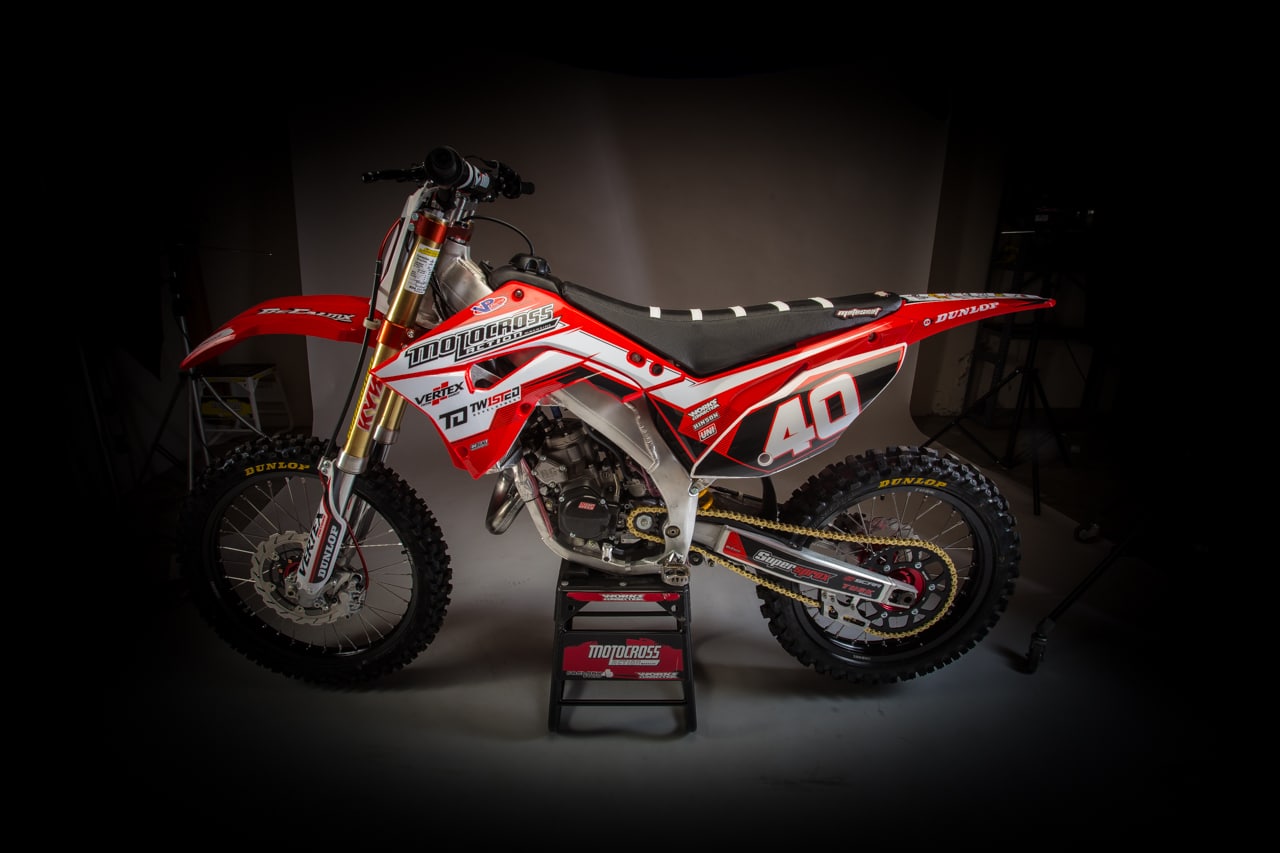 Twisted Development built us a purpose built 2003 Honda CR125. We started riding it this week.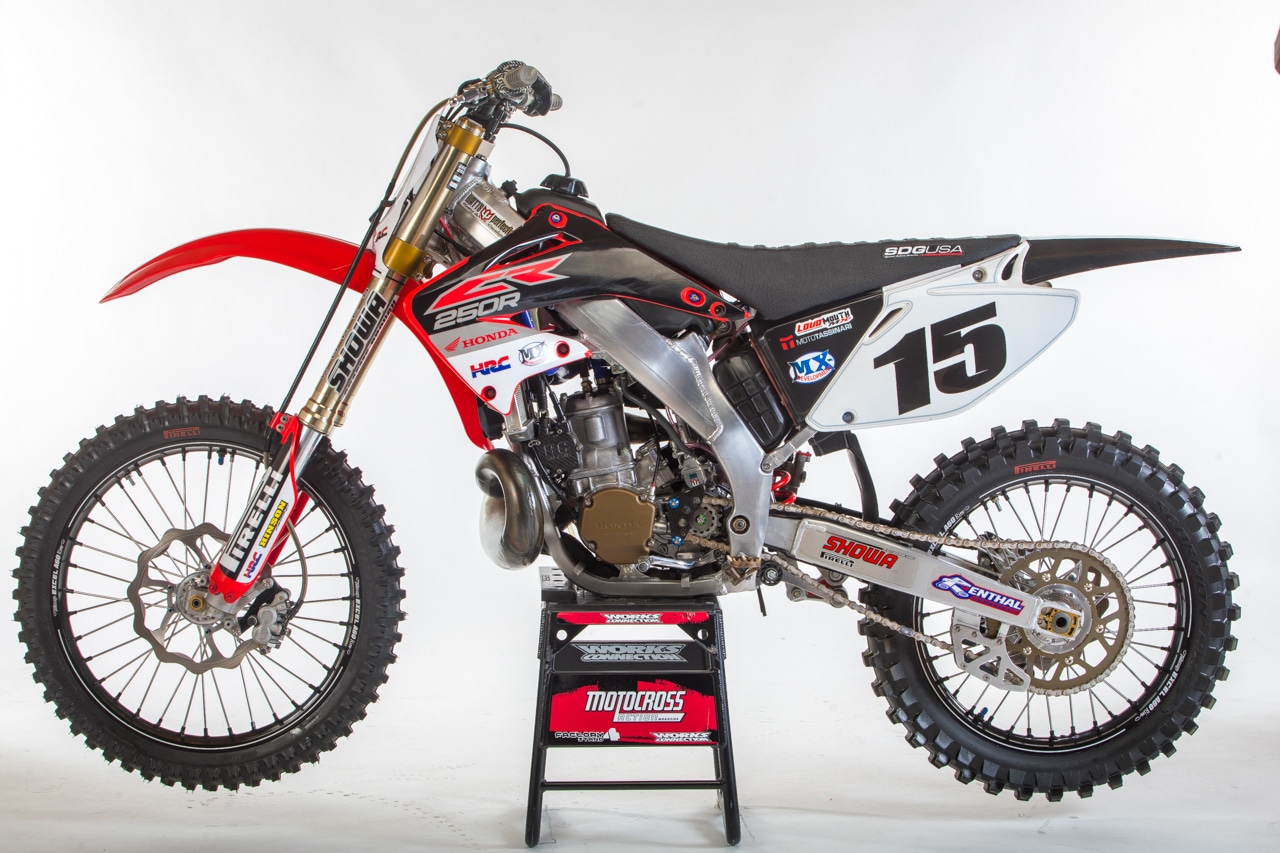 This is Mark Chilson's MX Development 2003 Honda CR250 that he built from the ground up (and has owned since he bought it new back in 2003). He left no stone unturned when building this bike. 
INSIDELINE CONNECT MEDIA DAY
Andy White and the FXR Racing crew.
By Josh Mosiman
Last week I was sent to State Fair MX, formerly known as Starwest, to attend the Insideline Connect Media Camp. Unfortunately it was cold and rainy so we didn't end up riding, but lucky for us the State Fair MX facility had a nice "City Hall" style building that we could hangout in and conduct the "speed dating" portion of our media day activities.
 Insideline Connect founder, operator, owner, marketing specialist and more: Jason McCune. 
Insideline Connect is a media relations company that helps connect brands with the media, athletes and consumers. Jason McCune makes my job easier as an editor for a magazine and website, and he also makes life easier for the brands that choose to work with him. He is in charge of getting the MXA crew product, information, press releases and so on. With Jason representing brands like FMF, 6D Helmets, FXR, Boyesen, Rekluse, Viral Goggles, FCP Engine mounts and more, we are always bugging Jason for something.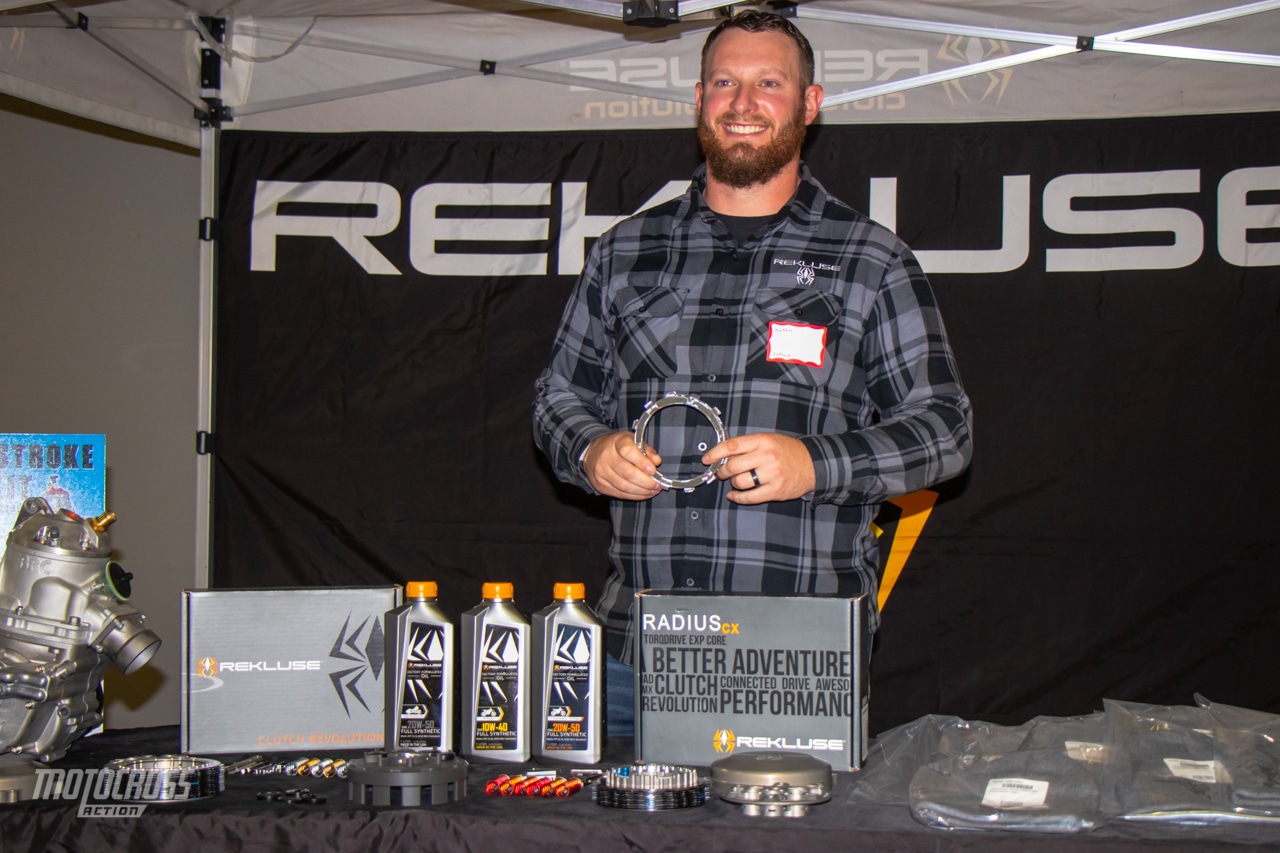 Rekluse's product manager and developer, Austin Paden flew in from Boise, Idaho to hangout at the media camp. 
The Insideline Connect media day is set up to help us get to know the people and products that they represent. Each brand was set up inside of the building with their EZ-UP and a few samples of their newest products. Once the timer started, the speed dating began and each company would use that time to teach us about their products. It was also great to get to know the people behind the brands we use. With personal relationships, it's easier for us to work together with the brands that support MXA.
Austin Paden knew how much we liked the BRC 500 Two-Stroke we rode a few months ago, so he brought the engine that was in the BRC 500 we rode with with his cover on it to display at the Rekluse table.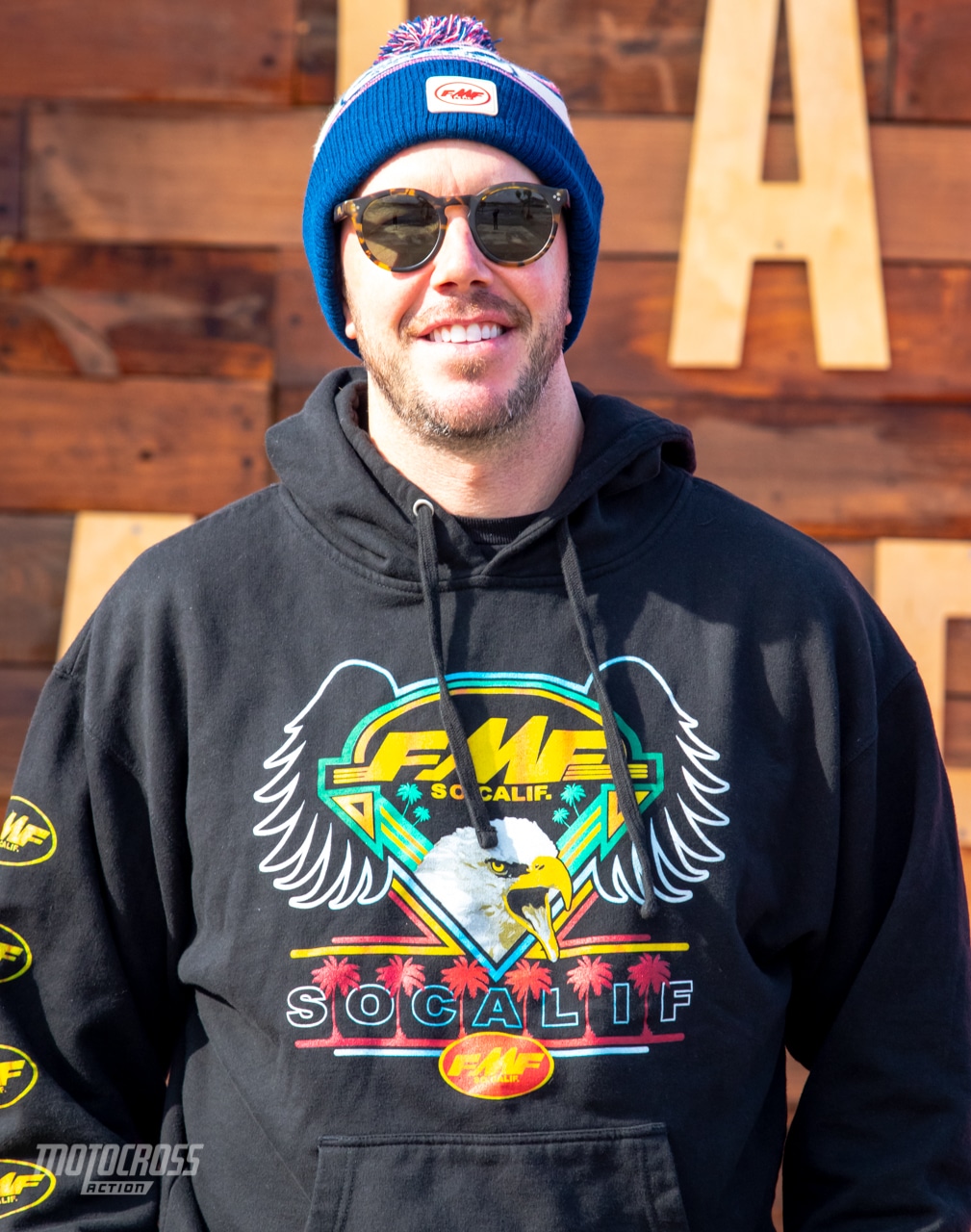 Recognize this guy? FMF's Donny Emler Jr. also known as "Lil D" was on hand to talk about FMF Racing latest exhausts and apparel. I also got a Dream Jobs interview with him, look for it in a future issue of MXA. Click here to subscribe to the magazine.
Cody Webb was also in attendance to show off his new 2020 Sherco Factory ride. To learn about Cody Webb's move from Red Bull KTM to Sherco USA, click here.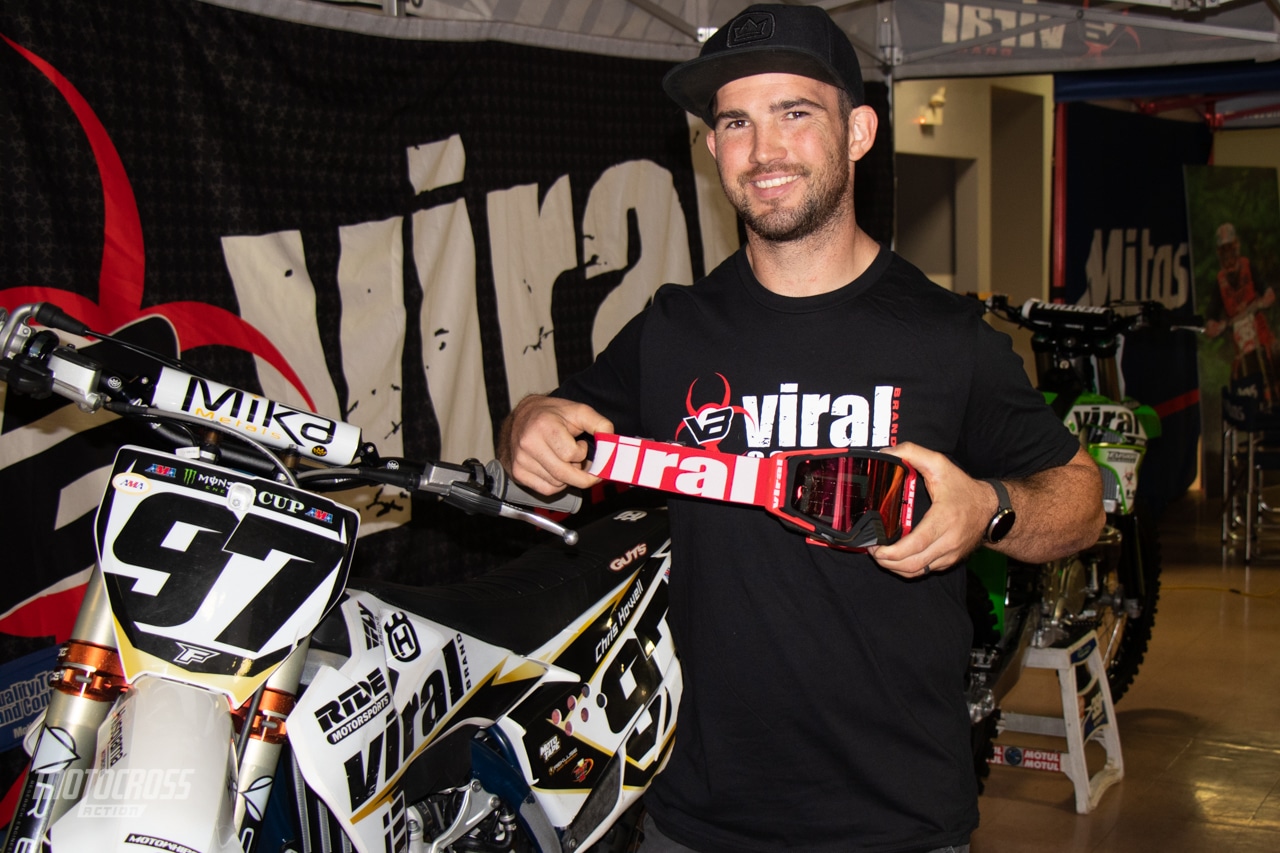 Supercross rider and my friend Chris Howell was in the building to show off his Viral Brand goggles. Chris rode for the JMC Husqvarna team before and for 2020 he decided to do his own privateer effort.
The man behind FCP Engine Mounts, Kris Palm.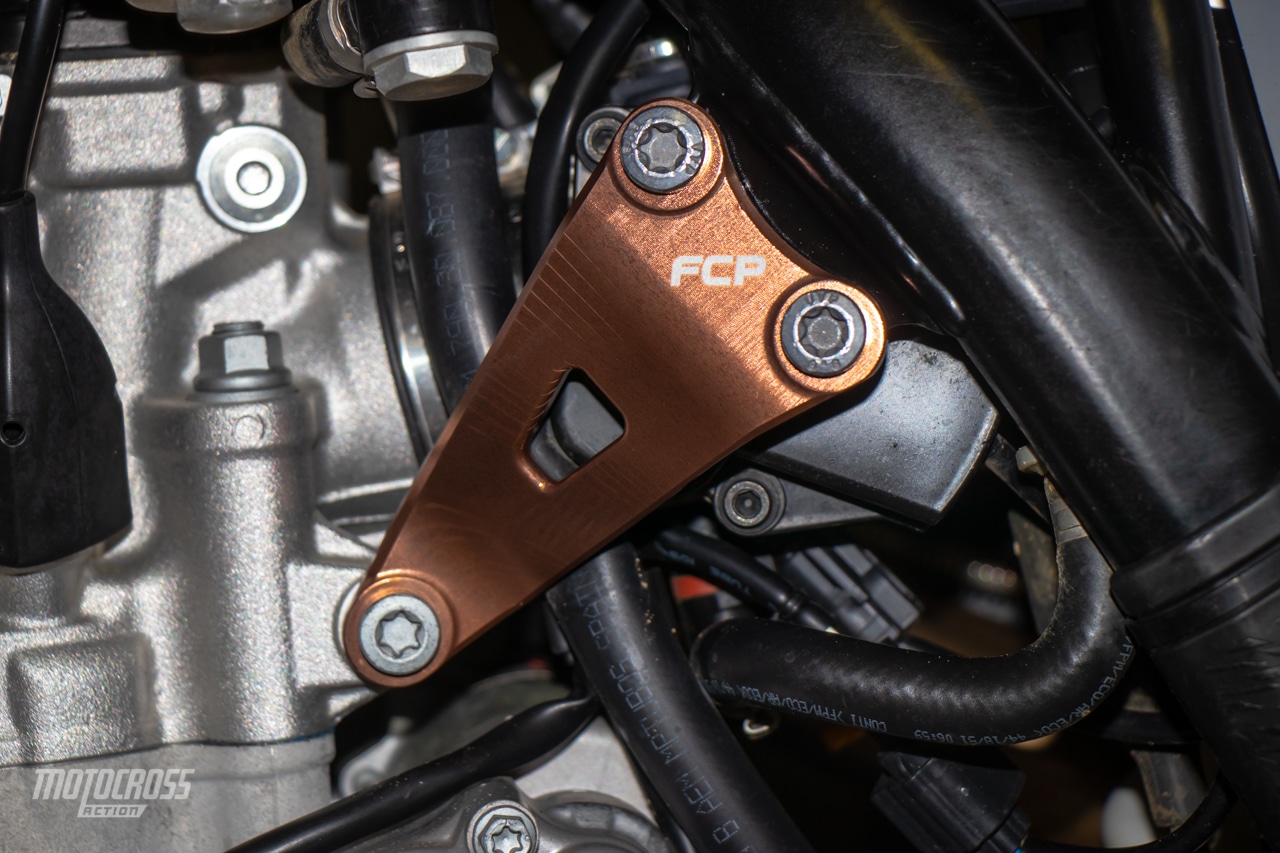 The new FCP Engine mounts come with the FCP logo on them. 
6D HELMETS IMPACT INSPECTION AND REBUILD PROGRAM
 This helmet was cut apart to display the technology that goes into 6D's Helmets. Bob Weber, owner and founder of 6D Helmets was also at the Insideline Connect media camp to talk about their new helmet rebuild program. 
Motorcycle helmets utilize EPS (Expanded Polystyrene) foam as the primary energy management material. This is why your motorcycle helmet has always been marketed as a "single-impact" device. What this means is that the EPS foam is crushed under impact when the force applied exceeds the threshold of the EPS foam's base density strength. It's this crushing capability that defuses a large amount of the kinetic energy transfer during impact. Crushed foam is what you want to see after a moderate to severe crash event.
With 6D's suspended internal liner and its respective ability to provide improved deceleration and angular shearing, your helmet may show more visual damage than perhaps you have seen with your old helmet from similar impacts. This damage is directly related to the amount and severity of the impact force it was required to manage during the crash event.
The Rebuild Program is aimed at repairing a customer's helmet that has been damaged in a crash at an affordable price. The helmet's external shell must pass 6D's engineers inspection process to become a candidate for the Rebuild Program.
Program details and requirements:
– The customer must have completed the warranty registration of the helmet.
– The helmet must be returned to 6D for inspection/rebuild at owner's expense.
– Not every helmet will qualify for rebuild.
– Please send the crashed helmet to the address below with the athlete's personal contact info (name, phone number, and email).
– Please do not include comfort liner, cheek pads, and helmet bag.
Rebuild Program Costs:
$150 – Rebuild inner EPS assembly (ATR-2 $125)
$50   – New Chin bar (EPS)
+ Tax & Shipping
– Does not include new comfort liner, cheek pads, chin strap covers, visor, or other accessories.
– Turnaround time for a rebuild is approx. 5-10 business days.
KTM SX-E 5 ELIGIBLE FOR 2020 AMA AMATEUR NATIONAL MOTOCROSS CHAMPIONSHIP

Press Release: MX Sports recently released the 2020 National Classes and Supplemental Rules and KTM North America, Inc. is pleased to announce that the KTM SX-E 5 is eligible for the brand new Mini-E (4-6) Jr. class, giving young racers the opportunity to participate in the world's largest amateur motocross program – the AMA Amateur National Motocross Championship at Loretta Lynn's – on an electric powered mini bike.
Nathan Ramsey, Orange Brigade Team Manager: "I am very excited to be able to see our SX-E 5 race at Loretta's in 2020. I believe it is a necessary step for our industry to look into the potential future of our sport. I am very happy to be a part of a company like KTM, who is always striving forward and always READY TO RACE. I can't wait to watch those little riders have an electric battle!"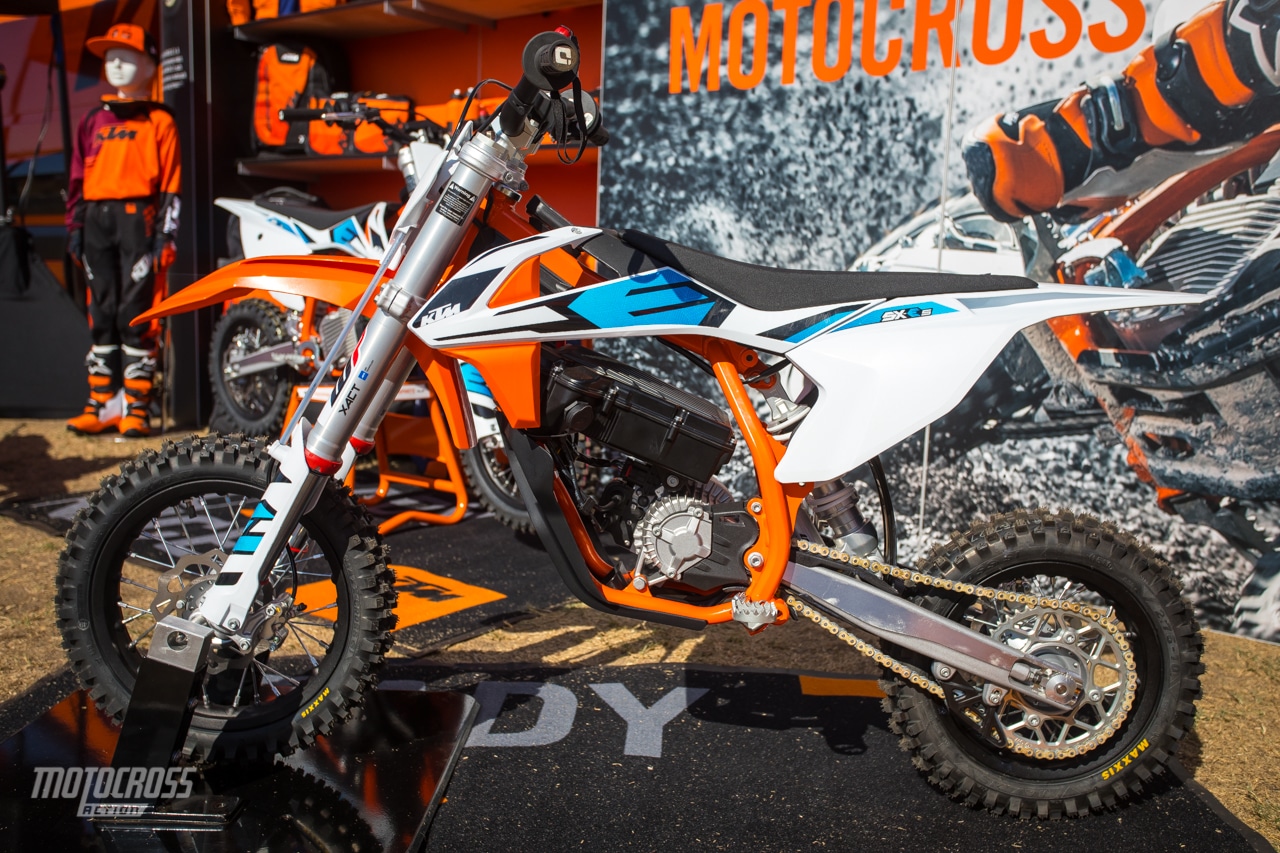 The KTM SX-E 5 is eligible for the Mini-E (4-6) Jr. class with the adjustable bodywork and suspension set to the lowest position, bringing the seat height below the 25-inch requirement. A lowering kit is also available in KTM's PowerParts line for smaller racers. A seat height of just 22-inches can be reached with the internal suspension lowering kit installed and the bodywork and external suspension adjustments made.
Restrictions for the new Mini-E (4-6) Jr. class include: battery energy limited to 1kWh; maximum (adjusted length) wheelbase of 41 inches; maximum wheel size of 12 inches; and maximum seat height of 25 inches.
For more information on the KTM SX-E 5, please visit www.ktm.com/us. For more information on the National Classes and Supplemental Rules for the AMA Amateur National Motocross Championship at Loretta Lynn's, please visit www.mxsports.com.
2020 MXA 250 SHOOTOUT
2020 MXA 450 SHOOTOUT
7TH ANNUAL KURT CASELLI RIDE DAY | DECEMBER 14
Press Release:  The Kurt Caselli Foundation will host the 7th Annual Kurt Caselli Ride Day at Fox Raceway in Pala, California on Saturday, December 14th, 2019. The event is for all ages and will have a variety of activities going on throughout the day as well as a vendor row to check out all of the cool new products from your favorite motorcycle companies who support The Kurt Caselli Foundation. Camping will be available and can be reserved when you pre-register for the event. All proceeds will benefit The Kurt Caselli Foundation and help fund the growing list of safety initiatives, projects, and scholarships to protect and support the lives of off-road riders, which can be viewed on our website. Pre-register now at https://give.classy.org/CaselliRideDay2019 to save time with our special VIP entrance line and score a free KC66 gift!
What: The 7th Annual Kurt Caselli Ride Day
When: Saturday, December 14th, 2019 | Gates open at 8:00 AM, Riding: 9:00 AM to 4:00 PM
Where: Fox Raceway | 12799 California Highway 76, Pala, CA 92059
Tickets: $25/person, Kids 12 & Under: Free | Get tickets here!
What You Get By Registering Early:
● VIP Entrance
● Free KC66 Gift (for each paid admission registrant)
Festivities include:
● Riding open from 9 am to 4 pm
● Main Track
● Vet Track
● Off-Road Loop
● Kids-Only Track
● Kids-Only Practice session on the Vet Track
● Stacyc Learn To Ride demos for the kids!
● The Caselli Team Challenge (your chance to team up with a Pro and compete!)
● Presentation of the Spring 2020 Kurt Caselli Scholarship Winner
● Great Raffle Prizes & Giveaways including the Custom 2020 KTM 500 EXC-F KC66 Edition Motorcycle
● Silent Auction with special items from Kurt's collection
● Camping – can be reserved when you pre-register for the event
● Food, Music, Vendor Row & more!
GET BOTH MOTOCROSS ACTION & DIRT BIKE MAGAZINE & MAKE MONEY ON THE DEAL 
Get both great magazines for only $32.99 Plus TWO $25 Chaparral gift cards!
CLASSIC PHOTO
Jimmy Button back in 1999 aboard a factory Yamaha YZ400.
---
Moto Trivia answer: MXA's Managing Editor Daryl Ecklund back in 2007 at the Daytona Supercross where he missed qualifying for the 250 main event by one position.