MOTOCROSS ACTION MID WEEK REPORT
#

WHIPITWEDNESDAY
Rider: Ryan Villopoto
Year: 2013
Bike: Factory Kawasaki KX450F
Race: Anaheim 1 opener
TWO-STROKE SPOTLIGHT: CHRIS OVREBO 2000 YAMAHA YZ250
The 2000 Yamaha YZ250 Jeremy McGrath tribute bike. 
"I bought a 2000 Yamaha YZ250 off my local Craigslist, blown up for $500 and decided to build the McGrath tribute bike I always wanted when I was in High School, but could never afford. I call it a "tribute" not a replica because its not an exact replica and I use some cheap parts in place of more expensive parts. I tore the bike completely down to every last nut and bolt. I rebuilt the engine, suspension and painted everything myself. Once it was complete I rode (and still ride) the heck out of it.
The before picture of the YZ250 that Chris bought for $500.
"The bike has the same Pro Circuit exhaust that I bought it with, I just did the freezer trick to pop all the dents out and then buffed the heck out of it. I shortened the silencer to a shorty. It has Acerbis plastics, Renthal bars and grips, Bridgestone tires, a 1998 airbox, an eBay seat cover and the rest of the bike is just cleaned up OEM. Fusion Graphix out of Washington made all the graphics for the bike."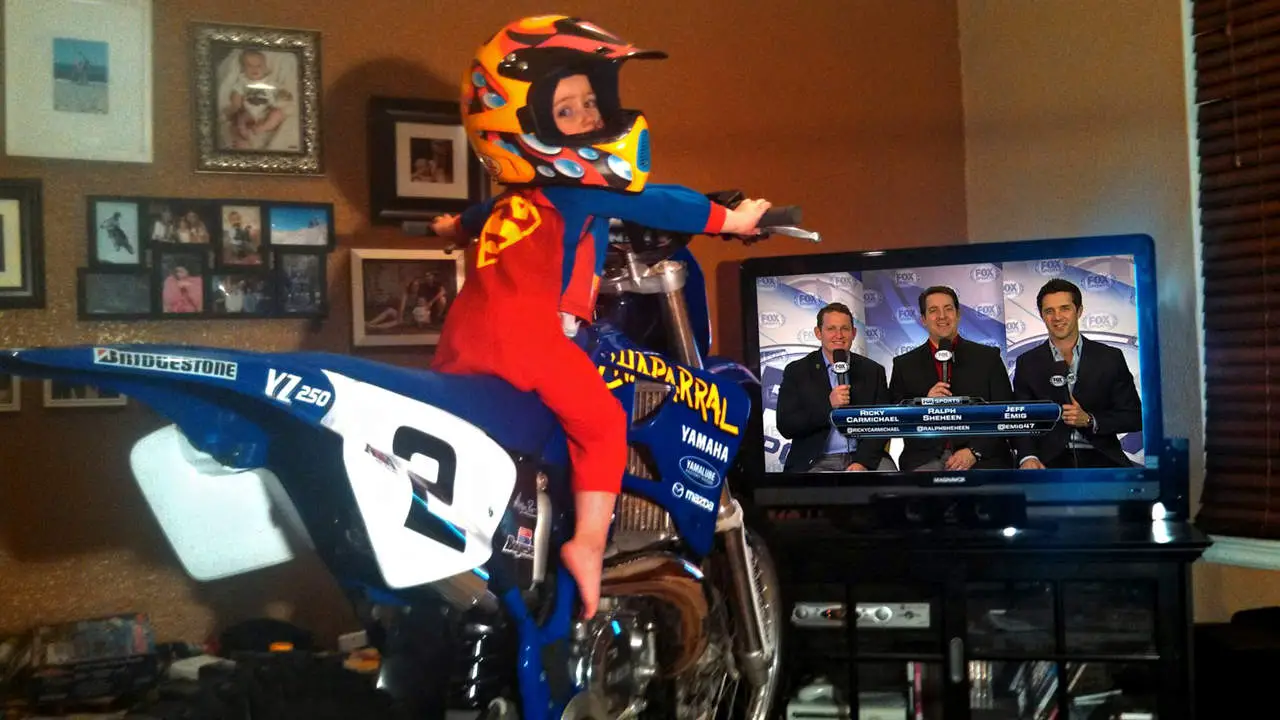 Nothing like watching Supercross in the living room.

Editor's Note: Please keep those submissions coming. If you would like your bike to be featured in the "Two-Stroke Spotlight," please email me at [email protected]. All I ask is that you give a breakdown of your bike and a detailed description of the build. Please also send a few photos of your steed. By submitting your bike for the "Two-Stroke Spotlight," you agree to release all ownership rights to the images and copy to MXA. Happy submitting your smoker.
GET BOTH MOTOCROSS ACTION & DIRT BIKE MAGAZINE & MAKE MONEY ON THE DEAL 
Get both great magazines for only $32.99 Plus TWO $25 Chaparral gift cards!
TIMMY WEIGAND'S TWO-STROKE WORLD CHAMPIONSHIP TC112 SUPER MINI
MILESTONE MX PARK'S LAST WEEK EVER
Justin Barcia and the factory Monster Energy Yamaha team were out testing at Milestone on Monday.
With the announcement of Milestone Mx Park officially closing, local riders and Pro Supercross riders have been putting in lots of laps at the track located in Riverside, California while they can. For Supercross privateers, Milestone has been the hot spot to train at for many years. Now with the track closing, there are rumors going around that the Supercross track will stay open for a little bit longer to give privateers a place to ride. We can't confirm this is true, but we sure hope it works out for the privateers. Otherwise, the Hemet Supercross track has just reopened. This time under new management and with a rebuilt track, check out @hemetsx on instagram to learn more. Also, we have heard that State Fair MX, previously known as Starwest, is building a public Supercross track soon as well.
Broc Tickle was out putting in laps on his AEO Powersports KTM. Reports from Broc's Instagram  say that he will be riding on a AEO backed Husqvarna soon. 
Aaron Plessinger was doing motos with his teammate Justin Barcia.
Alex Ray dives to the inside with his feet on the pegs. As you can see the rain has been good for the tracks allowing multiple ruts to form in each corner.
Justin Barcia lays into a deep rut on the Supercross track.

Chris Howell navigates the deep Supercross ruts.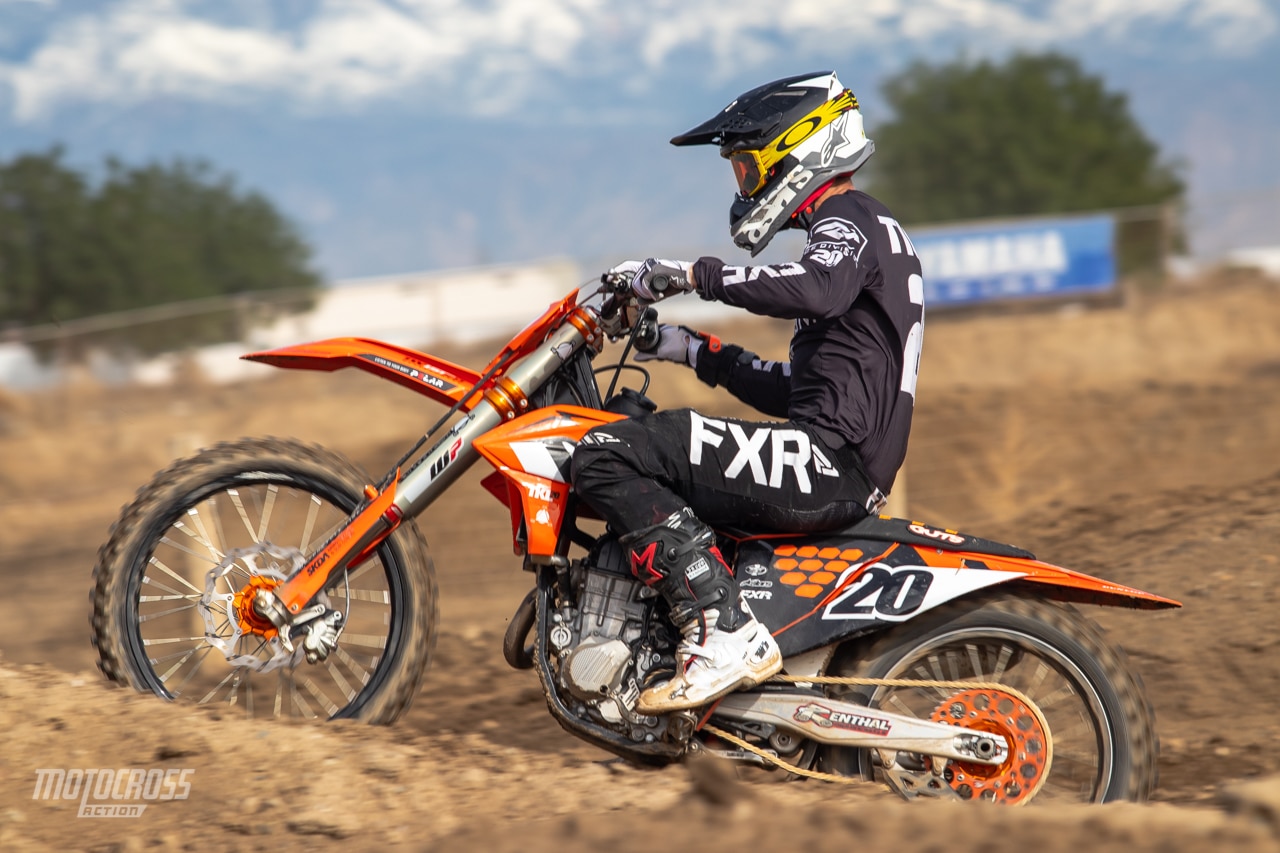 Broc Tickle uses all of his rear shock up the face of Milestone's Supercross triple.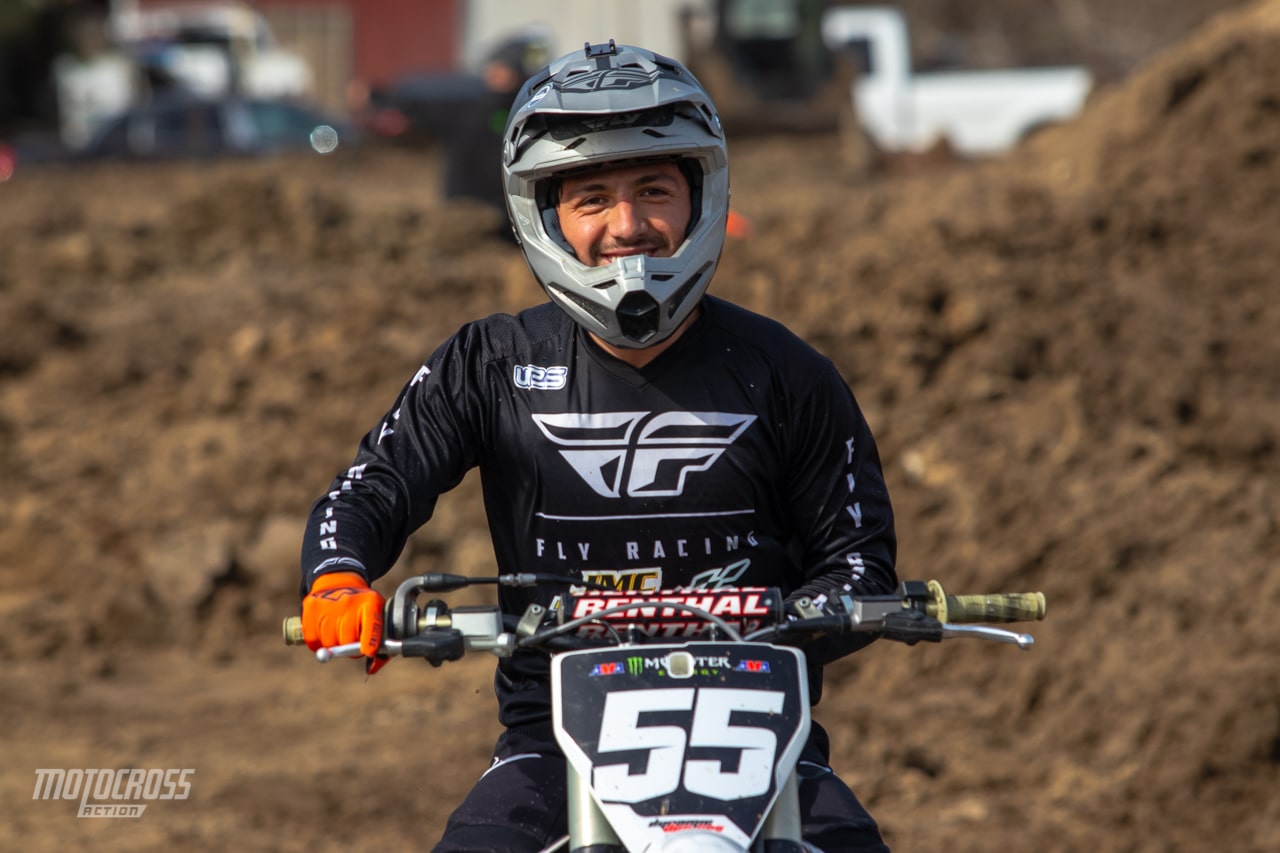 JMC Husqvarna's Martin Castelo.
Click here to learn all about the closing of Milestone MX Park.
TALK MOTO WITH MOTO MINDED PEOPLE. JOIN MXA'S FACEBOOK GROUP CHAT

We love everything moto and want to bring all moto junkies together into one place to share their two cents, ideas, photos, bike fixes, bike problems and much more. To check it out first you must need to or already have a Facebook account. If you don't, it isn't much work and you could even have an alias so nobody knows it is you. To join click HERE. After you request to join we will accept your request shortly after.
LOST BUT NOT FORGOTTEN

| JUSTIN BARCIA & TREY CANARD'S 2014 FACTORY HONDA CRF450'S
FXR GOES GLOBAL WITH SHAUN SIMPSON IN MXGP
Press Release: FXR Racing proudly joins forces with Shaun Simpson to compete in the 2020 MXGP and British Championships. FXR will be the official apparel sponsor to Simpson and the SS24 KTM team.
"We are excited to elevate our MX program in Europe and compete in the MXGP and British Championships. Having Shaun prove that our products perform at the highest levels on the MXGP circuit is invaluable. Utilizing Shaun's experience and history was an opportunity we couldn't miss, and we jumped at the chance to get on board with SS24 KTM. We look forward to working together to develop even better products." UK Territory Manager, David Wright.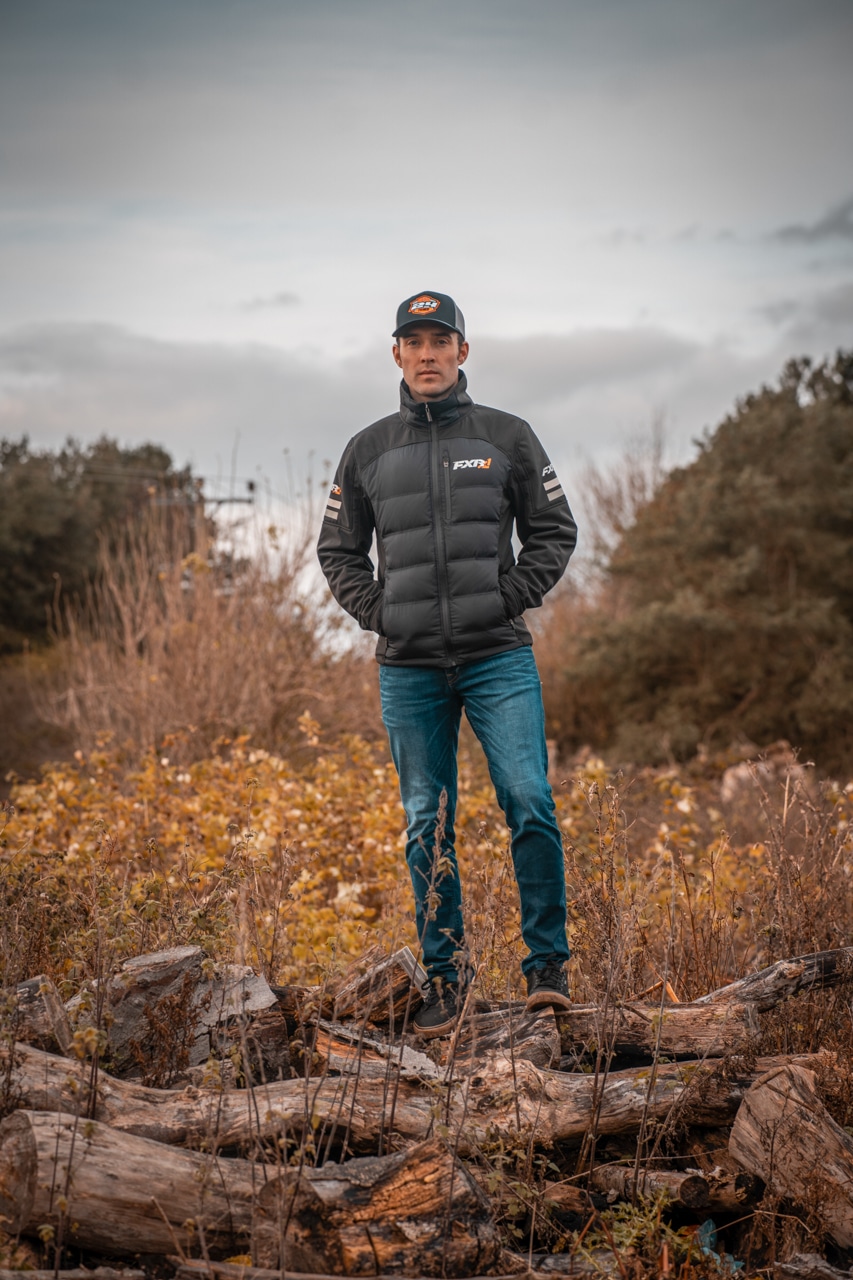 "Establishing SS24 KTM MXGP race team for 2020 has been an exciting but daunting task. FXR is taking the stress off my shoulders with the motivation and support they have shown me so far. The fit and quality of this Canadian gear is unbelievable and looks good. I'm honoured to be FXR's sole representative in MXGP next year, we're ready to get things rolling." Shaun Simpson
MOTO | TRIVIA 
Name the rider and year of the photo. Answer at the bottom of the page.
2020 MXA 250 SHOOTOUT
MXA YOUTUBE CHANNEL | HIT THAT SUBSCRIBE BUTTON

The MXA wrecking crew is everything moto related. Check out our MXA YouTube channel for bike reviews, Supercross coverage, rider interviews and much more. And don't forgot to hit that subscribe button.
H.E.P. MOTORSPORTS & SUZUKI CONTINUE PARTNERSHIP FOR 2020

Press Release: H.E.P. Motorsports and Suzuki Motor of America, Inc. (SMAI) are proud to announce their continued partnership for the 2020 racing season. Building on continuity and increased support from SMAI, H.E.P. Motorsports will look to excel to new heights by contending for career-high finishes on the race track and continuing to lead the pack in fan engagement off the race track. "The H.E.P Team has done a great job representing the RM Army both on and off the track," added Chris Wheeler, Suzuki's SX/MX Manager. "Each year they've worked very hard progressing forward and I'm looking forward to seeing them take that next step up during the 2020 season!"
In addition to competing in the 2020 Monster Energy Supercross Championship, the team will also contest in the 2020 Lucas Oil Pro Motocross Championship. "Taking on a new Championship series seemed like quite the challenge at first. But, when I took a step back and looked at the athletes, partners, and staff assembled, I knew it was time for the team to take the next step," explained Team Manager Dustin Pipes. "Going into our third professional season, I feel this move shows the motorcycle community and all racing fans that the team is committed to the sport long-term by exhibiting continued progression."
Parallel to the planned expansion, H.E.P. Motorsports is also proud to announce the addition of former World MXGP race winner and 2017 Motocross of Nations overall winner Max Anstie. The likeable Englishman will look to make waves in both the Supercross and Motocross series. Already gelling with his 2020 Suzuki RMZ-450, the sky is the limit when the talented Brit hits the track. With limited Supercross experience, Max has already shown an aptitude for the tighter circuits. "Although my focus until recently has been on the MXGP championship, I have always kept an eye on one day competing in the American Championships. Having spent some of my teenage years in the States and placing as high as 4th in my single full Lites West season, I know I am up for the challenge ahead. There are a lot of talented racers here, but I believe in myself and my team." added Max. "Supercross is going to be a learning experience and I plan to build throughout the season. Motocross, on the other hand, is quite natural to me. I will be up to speed quickly when the series starts outdoors."
Flanking Max will be the hardworking veteran Kyle Cunningham. An original member of the inaugural H.E.P. Motorsports team, the Weatherford, Texas native looks forward to stepping back into the premier 450 class. "In a sense I feel like I am coming back to family. Although it wasn't always easy, the team and I worked together during their first season where we were both constantly searching for ways to be better. After spending some time away and then resigning with the team this winter, it was exciting the first time I jumped back on the bike and noticed the progress they made. I am a racer at heart, and to have a team around me as invested in racing as myself is refreshing. I expect to catch a lot of people off guard and remind people how fast I can go," exclaimed a confident Cunningham.
Rounding out the trio of athletes is fan-favorite Adam Enticknap or better known as the "Seven Deuce Deuce".  Full of moxie and a likeable attitude, Adam will come back for his 2nd consecutive year with the team. Many times sporting the most boisterous autograph lines, the Lompoc, California local is easily the most approachable athlete in the paddock. Rounding out a healthy offseason, Adam will look to set new career highs. "I have been working really hard during the off-season. Helping develop the team's new suspension and motor packages have meant me spinning a lot of laps. I have definitely found another level this off-season and I can't wait until I can show the fans at the first round all the gains I've made," explained Enticknap.
Continuing as the teams Crew Chief will be racing industry legend Clark Jones. With countless credentials earned throughout his many years around motorcycles, the former professional racer, team owner, and current owner of Noleen J6 is confident in the team's ability to exceed expectations in 2020. "With Anaheim just over a month away, testing has been going great! Rider feedback has allowed us to improve not only the suspension package, but the motor as well. The riders are feeling comfortable and confident on their machines and are ready to attack the season ahead," mentioned Jones.
2020 MXA 450 SHOOTOUT
CLASSIC PHOTO
James Stewart racing for JGR Yamaha during the 2012 season. James brought the JGR Yamaha YZ450F two Supercross wins that season, finishing out in 10th overall in the series.
---
Moto Trivia answer: Ryan Sipes back in 2013 aboard a Rockstar Suzuki RM-250.