MOTOCROSS ACTION MID-WEEK REPORT
#WHIPITWEDNESDAY
Rider: Joey Savatgy
Year: 2020
Bike: JGRMX Suzuki RM-Z450
Instagram Handle: @jrgmx
TWO-STROKE SPOTLIGHT: JOHN ELLERSICK'S 2010 SUZUKI RMZILLA 500cc SMOKER
This bike sure reminds us of Travis Pastrana's RMzilla that he raced a few years ago at the Red Bull Straight Rhythm. 
"This machine started it's life out as a 2010 Suzuki RM-Z250. In June of 2014, I picked up this machine in New Jersey as a roller chassis. I brought her back to New York and took the hacksaw to her, then sent the chassis to Jr mods/ K3 Offroad for an extreme makeover and some custom fabrications including an over-sized aluminum fuel tank. I then picked up a 1993 Honda CR500 that was rebuilt with a complete engine. I added a Jr mods decompression head and a Adam Millar squash mod head who is the current guru or the CR500. Definitely the go to for all your CR500 questions and knowledge. They put in a new OEM crank, 90mm Wiseco piston and replaced everything needed in the engine.
The engine shoehorned into this 2010 RM-Z250 chassis is out of a 1993 Honda CR500. 
I also added the following parts:
FMF Fatty pipe
FMF Powercore silencer
Moose Racing black rims 21/18
Moose Racing spokes
Tusk rotors
Primary Drive chain and sprockets
Rekluse Z start pro
Fast Lane Powersports graphics
P3 Carbon pipe guard
GPR V4 steering stabilizer
Powder coated hubs triple trees
Fasst Company Flexx bars
Cycra Racing hand guards
Boyesen stator cover
Boyesen clutch cover
Tusk shifter
TM Designs chain guides
A custom aluminum tank had to be made so the CR500 engine would have enough clearance to fit.
Thanks for looking and I appreciate the share.
Editor's note: Please keep those submissions coming. If you would like your bike to be featured in the "Two-Stroke Spotlight," please email me at [email protected]. All I ask is that you give a breakdown of your bike and a detailed description of the build. Please also send a few photos of your steed. By submitting your bike for the "Two-Stroke Spotlight," you agree to release all ownership rights to the images and copy to MXA. 
AUSTIN FORKNER & CAMERON MCADOO SX PRACTICE PHOTO BLAST| photos by Travis Fant
JEREMY MCGRATH TELLS HIS MITCH PAYTON TALES
GET BOTH MOTOCROSS ACTION & DIRT BIKE MAGAZINE & MAKE MONEY ON THE DEAL 
Get both great magazines for only $32.99 Plus TWO $25 Chaparral gift cards!
LOST BUT NOT FORGOTTEN | DOUG HENRY'S 1997 YZM400F

THE TIM TALES OPENS A DIRT BIKE & OUTDOOR THEMED ONLINE STORE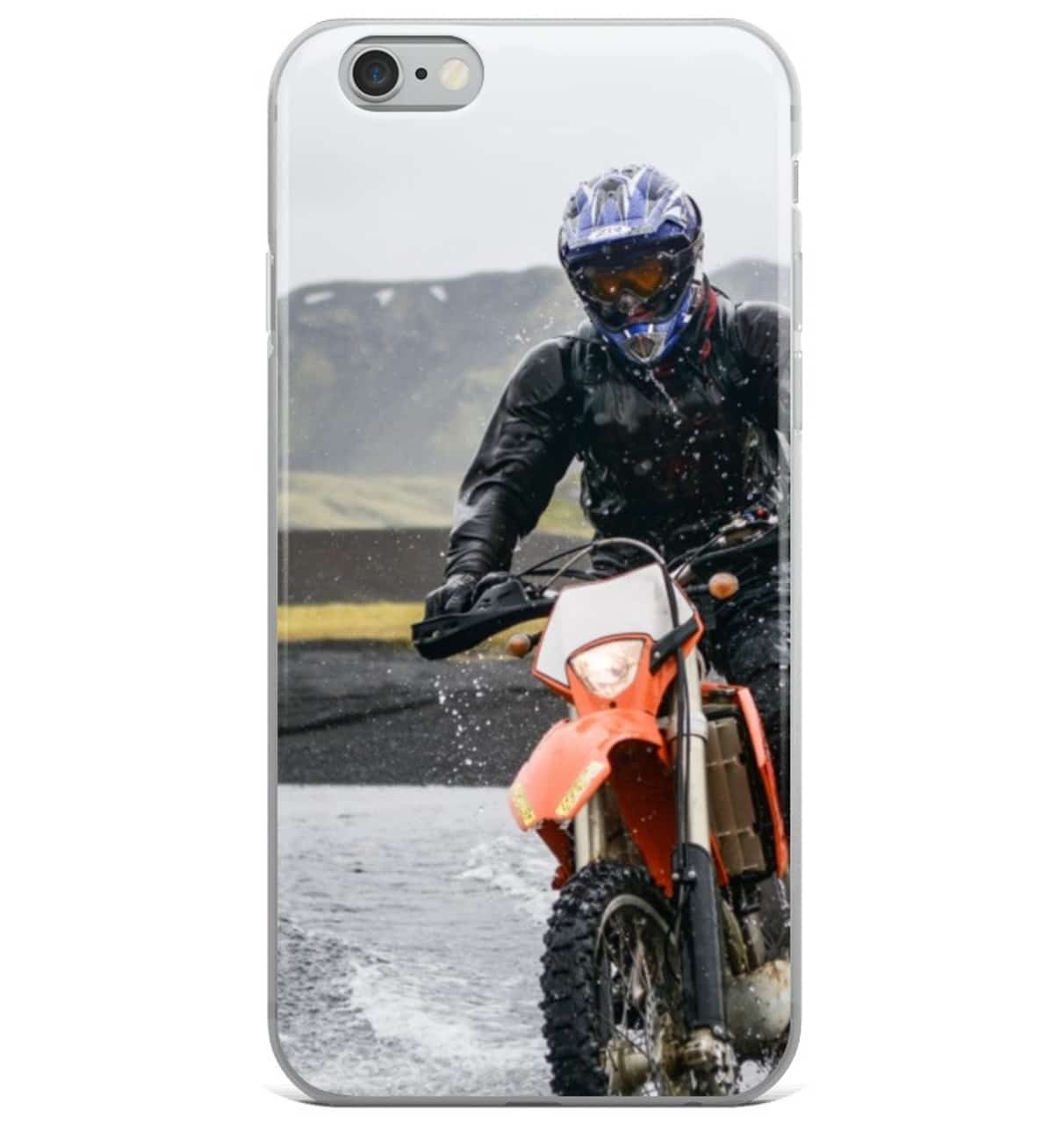 Press Release: The Tim Tales [www.thetimtales.com] is one of the quirkiest new outdoor adventure stories sites to open this year (if you haven't read the stories you need to go there immediately). Following interest from fans and media, Tim has now set up an online store with motocross and dirt bike themed T-shirts, Coffee mugs, Phone Cases & more. Check it out at www.inktale.com/timtales!
MOTO | TRIVIA


Name the rider and year of the photo. Answer at the bottom of the page.
JGRMX 2020 SUPERCROSS TEAM PHOTOS
Joey Savatgy's JGRMX Suzuki RM-Z450. 
Joey in action at the JGRMX facility in North Carolina. 
Jimmy Decotis' JGRMX Suzuki RM-Z250. 
Jimmy blitzing the North Carolina whoops.
So you know what Jimmy looks like without a helmet on. 
Freddy Noron's JGRMX Suzuki RM-Z450. 
Freddy getting frisky for the camera.
Head shot of Freddy. 
Alex Martin's JGRMX RM-Z250. 
Alex blowing up a corner on the yellow machine. 
Alex smiling for the camera. 
TLYER BOWERS TEAMS UP WITH ANSWER RACING FOR THE 2020 SUPERCROSS SEASON
Answer Racing announces the signing of Tyler Bowers for 2020 season in premier 450 class.
Press Release:  Answer Racing is excited to announce the signing of Tyler Bowers for the upcoming 2020 Supercross and motocross race seasons. A native to Kentucky now residing in Southern California with his wife and daughter, Bowers kicks off his Answer Racing debut on January 4th at the Supercross opener at Anaheim stadium aboard his Triggr Racing/Kawasaki/AHM backed KX450F.
"We can't be more excited to be working with Tyler in 2020. He's a working-class hero both in the pits and on the track and is a great fit for the Answer Brand. It's awesome to be able to welcome him to the Answer Family," stated Rob Ramlose, Answer Racing VP of Brands.
"Bowers has proven himself year after year and demonstrates hard work, passion, and determination, which are core values that align with our brand," explained Answer Racing Marketing Manager, Kobi Iseri. "We're planning some fun events around Tyler throughout the year, starting at Anaheim 1, so make sure and come by his pit setup."
"I am extremely excited to be teaming up with Answer Racing for the 2020 season," states Tyler Bowers. "I know their image and legacy in the racing industry align perfectly with what I believe racing is all about!"
Be on the lookout for the #34 of Tyler Bowers as the 4-time Arenacross Champion comes into the new season after a career-best 12th overall finish in the 450SX class this year and looks to progress in 2020 with Answer Racing!
TALK MOTO WITH MOTO MINDED PEOPLE. JOIN MXA'S FACEBOOK GROUP CHAT

We love everything moto and want to bring all moto junkies together into one place to share their two cents, ideas, photos, bike fixes, bike problems and much more. To check it out first you must need to or already have a Facebook account. If you don't, it isn't much work and you could even have an alias so nobody knows it is you. To join click HERE. After you request to join we will accept your request shortly after.
AUSTIN FORKNER RAW VIDEO ON THE PRO CIRCUIT TEST TRACK
MXA YOUTUBE CHANNEL | HIT THAT SUBSCRIBE BUTTON

The MXA wrecking crew is everything moto related. Check out our MXA YouTube channel for bike reviews, Supercross coverage, rider interviews and much more. And don't forgot to hit that subscribe button.
BREAKING NEWS | TM RACING USA AND DE CORSA RACING JOIN FORCES
TM USA and Decorsa Racing  will offer an amateur youth program for 2020. If you looking for a team with a National Setup or are  just looking for help a the Nationals, they have every option for you. If interested please contact Cat Barnes , [email protected].
HRC HONDA FACTORY TEAM SHOOT 
The HRC Honda class of 2020. From left to right: Jordan Troxell, Ken Roczen, Eric Kehoe, Justin Brayton and Brent Duffe.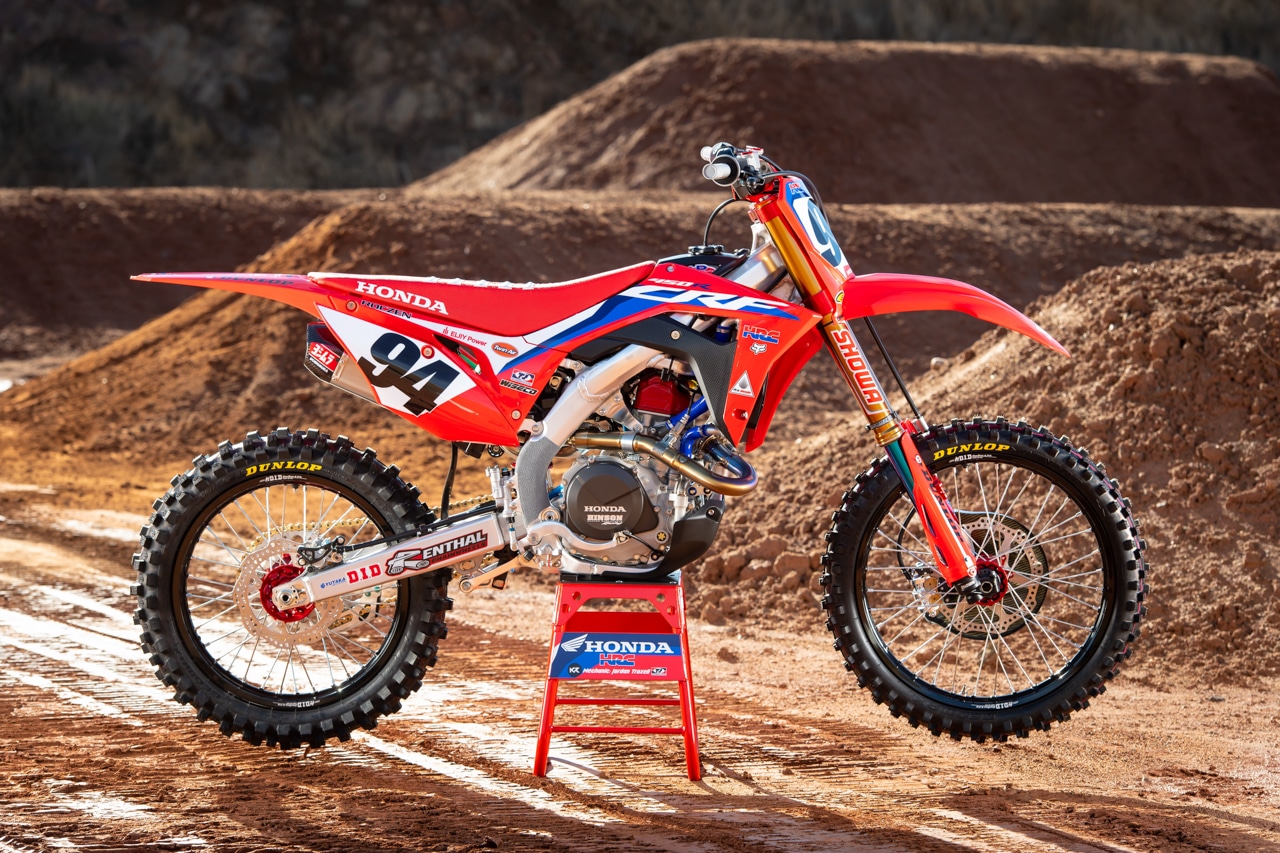 Up close to Ken Roczen's 2020 Supercross weapon. 
What are your thoughts on the red head cover?
Kenny with his wrench Jordan Troxell.
Kenny always has some nice whips.
Justin Brayton's factory steed. 
Justin and his wrench Brent Duffe.
Justin keeping it low on the Honda Supercross test track. 
The Factory Honda riders for 2020. 
CLASSIC PHOTO
James Stewart back in 2006 racing the Glen Helen National where he finished first in the 450 class and 4th over in the 2006 outdoor National season. Ricky Carmichael dominated that year.
---
Moto Trivia answer: Denny Bentley back in 1983.