MOTOCROSS ACTION MID-WEEK REPORT
#WHIPITWEDNESDAY
Rider: Justin Hill
Event: 2020 Anaheim 1 Supercross
Bike: Smartop Bullfrog Spas Honda CRF450
Photographer: Travis Fant
TWO-STROKE SPOTLIGHT: CHRISTIAN LØVENFELDT'S 1981 MUGEN 125
An original 1981 Mugen 125cc.
"So after over 10 years of restoration, it is finally done. This is my 1981 Mugen 125 that I bought from Dave Turk in pieces and with lots of parts missing more than 10 years ago. This is not the kit bike that most riders were using back then, but the full factory Mugen bike from Japan. Which includes Mugen`s own frame, swingarm, gas tank, radiators, 43mm Showa/Mugen factory front fork, Showa/Mugen factory rear shock and of course the Honda/Mugen engine
"In the end, I had to ask my friend Richard Wareham to pick up a few of my bikes and finish them since I was just too busy and he has done a fantastic job, thanks Richard." –Denmark's Christian Løvenfeldt
Editors Note: Please keep those submissions coming. If you would like your bike to be featured in the "Two-Stroke Spotlight," please email me at [email protected]. All I ask is that you give a breakdown of your bike and a detailed description of the build. Please also send a few photos of your steed. By submitting your bike for the "Two-Stroke Spotlight," you agree to release all ownership rights to the images and copy to MXA. Please don't email me spam or try selling me Taylor Swift concert tickets or email me spam. I already celebrate T-Swizzle's entire collective, and there will be "bad blood" if you send me junk mail. See what I did there? Happy submitting your smoker.
GET BOTH MOTOCROSS ACTION & DIRT BIKE MAGAZINE & MAKE MONEY ON THE DEAL 
Get both great magazines for only $32.99 Plus TWO $25 Chaparral gift cards!
MOTO | TRIVIA
Name the rider. Answer at the bottom of the page.
LOCAL CALI KID DOMINATING FIM SUPERENDURO JUNIOR CLASS ON TM 
TM Racing's local California kid has been dominating the FIM SuperEnduro Junior class overseas against the toughest riders in the world.  Ty Cullins (Riverside) took the pole position and won all three  motos at the last race in Riesa, Germany extending his championship lead, all on a pretty much bone stock TM 300 two-stroke.
Ty Cullins racing in Germany. 
JUSTIN COOPER PRE-SEASON OPENER INTERVIEW
BOYESEN RACING CLUTCH COVERS AND SUPERCOOLERS FOR HONDAS 
BOYESEN RACING WORKS EDITION BILLET FACTORY RACING CLUTCH COVERS FOR HONDA
The universally recognized phrase "Factory Racing" has stood for years as an iconic symbol of performance in the hearts and minds of MX and Offroad riders around the world.  With a legacy dating back to 1972, Boyesen's Factory Racing branded engine components have held an iconic position within racing circles for decades. The best riders in the world, at some point in their career, have opted to ride with Boyesen. In the Early 1990's, before Boyesen's original casted Factory Racing covers, all clutch covers were stock. This snapshot of the Boyesen legacy describes the sheer magnitude and impact of the term Factory Racing and Boyesen's impact on a rider's ability to customize their machine with bolt-on products that perform better than stock.

What began in the early 90s as Eyvind Boyesen's solution to numerous professional Factory Race Team requests for more durable clutch covers, has now evolved into a new modern billet aluminum design that features a fresh take on the Factory Racing brand. Boyesen's new WORKS Billet Factory Racing clutch covers continue to build on a rich history of innovative design and uncompromising performance. At the heart of the phrase "Factory Racing" exists the perfect synergy between race passion and design. Providing a set of product benefits that are second to none for the price, the new WORKS BILLET Series Factory Racing Clutch Covers deliver exceptional value with unique features such as Boyesen's own proprietary surface hard coating that is one of the most durable and scratch resistant coatings available in the world.
With each passing year as Boyesen's legend continues to grow, our legacy in the Factory Racing line of engine components lives and continues to shape the passion that riders have for their racing lifestyle around the world. Become part of the Boyesen legacy today; Become Factory.
Price: $159-$189
Contact: www.boyesen.com or (800) 441-1177

New Boyesen Supercoolers for Honda CRF 250R/RX and Honda CRF 450R/RX machines.
Boyesen SuperCooler Water Pump Cover and Impeller Kits are specifically designed to enhance the performance of the Honda CRF 250 and Honda CRF 450 engine's cooling system. These high-flow, hydrodynamic water pump kits have been tested and designed to flow more coolant and to dramatically reduce air cavitation in your coolant. By increasing the flow, and virtually eliminating air cavitation the engine will run cooler at a more constant temperature.
Excessive engine heat can cause damage to a bike, but with modern EFI machines, managing engine heat now plays a MUCH more important role than simply to extend the lifespan of an engine's valve-train. When an engine exceeds it's optimal operating temperature, the amount of horsepower produced and the way in which that power is delivered are negatively affected – especially with modern EFI systems. Our Supercooler is designed to be HYDRODYNAMICALLY EFFICIENT, meaning that it propels more coolant into the engine faster, without cavitation. Also it's patented impellor design demands less parasitic loss from the engine. Combined, these factors allow your engine to produce more horsepower and MAINTAIN it for the duration of hot summer motos, or in low air-flow, muddy conditions experienced in Offroad. The Boyesen Supercooler is a proven race component, and is the best bolt-on solution for rider's looking to reduce coolant temps, optimize horsepower and extend the lifespan of an engine's internal valve-train components.
AVAILABLE COLORS: The new Boyesen Supercooler is currently available for Hondas in Black and Magnesium, as well as the ever-popular Spectra Series Race Red color.
Price: $194.95-$199.95
Contact: www.boyesen.com or (800) 441-1177

SUPERCROSS PHOTO BLAST BY TRAVIS FANT
MXA YOUTUBE CHANNEL | HIT THAT SUBSCRIBE BUTTON

The MXA wrecking crew is everything moto related. Check out our MXA YouTube channel for bike reviews, Supercross coverage, rider interviews and much more. And don't forgot to hit that subscribe button.
TALK MOTO WITH MOTO MINDED PEOPLE. JOIN MXA'S FACEBOOK GROUP CHAT

We love everything moto and want to bring all moto junkies together into one place to share their two cents, ideas, photos, bike fixes, bike problems and much more. To check it out first you must need to or already have a Facebook account. If you don't, it isn't much work and you could even have an alias so nobody knows it is you. To join click HERE. After you request to join we will accept your request shortly after.
LOST BUT NOT FORGOTTEN | NIKE MX BOOTS
James Stewart and Ryan Dungey were the honored riders that got to wear the Nike motocross boots. They never were for sale to the public, but it was a cool moment in the sport to see such a big name like Nike step up to the plate. 
Here is Ryan Dungey wearing the Nike boots. 
THEY SAID IT | 2020 ANAHEIM 1 SUPERCROSS

Freddie Noren: "It was great to be at A1 for the first round of the season. I came in wanting to learn and grow, and I accomplished that this weekend. In the main, I got together with another rider and went down which was a bummer, but overall was consistent. I felt the most comfortable I ever have at Supercross due to the great bike and training with Buddy Antunez this preseason. I'm very excited for St. Louis next weekend."
Jimmy Decotis: "It was an awesome feeling getting back to racing under the lights again at Anaheim 1. First race of the year is always exciting. I'm looking forward to round two to make some improvements, learn from the first race, and continue to keep striving to be better. Just glad to be back at the races and look forward to the future."
Alex Martin: "It was very exciting to be back at the races after a productive and healthy offseason. We made some positive changes throughout the day to be fourth in Qualifying. The heat race went great for me as I scored the holeshot and led a few laps. The main event was going decent after a top-five start, but I made a mistake. Not the end result we wanted, but lots of positives to take away from this weekend."
Ken Roczen: "Anaheim 1 started pretty good but the main event was definitely not the greatest. We were a little off on our bike setup, with it being way too stiff. That really showed in the main because of the way the track deteriorated so much. I didn't feel like I was able to keep a good flow or attack the track the way I needed to. For sure this is not the position we wanted for the night, but it's good to get the first race out of the way and leave healthy. We know what we need to work on for the upcoming race and have a plan in mind moving forward to implement those changes. Overall we're not going to let this first race get us down, and I'm looking forward to St. Louis."
Justin Brayton: "I'm pretty happy with how tonight went overall. To start the night with that heat win and Kenny and I going 1-2 was super cool. The biggest thing I'm really stoked about is my starts. All off-season, that was my main focus. I told myself that if we can start up front, we can win some of these races, and I think I really put a stamp on that tonight. Running top-three for over half the race was great too; unfortunately, I got taken out, but it is what it is. I was still able to get up and get eighth. So a heat win, two good starts and an eighth with a crash—I'd say I'm pretty happy. The bike was awesome too, so it's only up from here."
Austin Forkner: "It was a split-second decision to be as safe as possible. That's what they always tell us to rejoin safely and with me pointed backward and slightly left, I thought that after the next rider went by I would be fine. I didn't gain any position by doing what I did. It's a bummer they (the officials) didn't feel the same way. After knowing I was able to put a good pace out front, I'm more fired up than ever to get back out there next weekend."
Cameron Mcadoo: "After so much preparation, it's nice to finally get on the track and get a finish under my belt. We took away a lot of good from this round that I'm hoping we can work on this week to go after an even better result. I would love to be challenging for the podium and proving to these guys that I am able to run up front."
Justin Barcia: "It doesn't get much better, honestly. We had a really nice day. I qualified alright. The Heat race was great, I got a great start and won. And the main event, wow, just unbelievable. I got another great start, led a lot of laps, but I made a mistake and got passed. I regrouped and got into the lead again and took the win. I'm feeling over the top right now. It's phenomenal! It's going to be a long season though. I just want to keep having a lot of fun and keep putting that bike on the podium."
Aaron Plessinger: "A1 wasn't really the night that I wanted. I felt kind of tight in practice and qualifying and then in the Heat race I went down and someone ran over my ankle. I had to get it taped up and went out for the LCQ. I was able to get the last transfer spot to the Main and I pretty much got the best start I could have with the gate pick that I had. In the end, I was able to salvage the night with 12th and get some valuable points for the championship. I'm going to go back with the team this week, work out some kinks and come back swinging in St. Louis."
Justin Cooper: "It's indescribable. Everyone says that about their first win, but it honestly it is. I felt like I needed to pinch myself after I went over the finish line. Looking up into the crowd and all the lights and realizing what I had just accomplished – my first win at Anaheim — it's unreal! I can't wait to go home and sleep on it and see how I feel tomorrow. I really don't want this feeling to end."
Dylan Ferrandis: "The day was good as a whole, I just got a bad start in the Main. I came back pretty strong, but I'm a little bit disappointed because I think I should have finished a little bit closer than I did. I was riding a little bit tight today. It's the first one of the year, a lot of pressure, a lot going on. Everyone wants to win the first one. But it's good. Last year, I finished second and went on to win the championship. So no problem, we'll move on to next weekend."
Cooper Webb: "It's been a struggle today with the sickness but that's what makes this sport so gnarly, you have to be able to go out on Saturday and perform despite how you're feeling. I'm just pumped to be on the podium, I feel like I dug deep and pushed through it tonight and it's a good start to the season for myself and the team."
Jason Anderson: "My weekend went pretty decent. In the Main Event, I started in the back and I had to make some passes to get into fifth-place. Once I got behind [Blake] Baggett and Cooper [Webb], that's all she wrote."
Zach Osborne: "The first round didn't go the way I would have liked. I've had a flawless off-season and it's a bummer to come in super prepared on a great bike/team and then get sick – I've had a fever pretty much since Tuesday and tonight I just had nothing left to give."
Dean Wilson: "My weekend was pretty good. Going from dead last to 13th isn't the greatest way to start the season off but I charged the whole way and I know we're just going to get better from here."
Michael Mosiman: It was good to come out of here with a top-five result but I'm not super stoked on how I rode. It's comforting, though, because I know I've got a whole lot more in the tank."
CHAD REED TALKS ABOUT WHAT HE IS GOING TO DO AFTER RETIREMENT FROM SUPERCROSS
CLASSIC PHOTO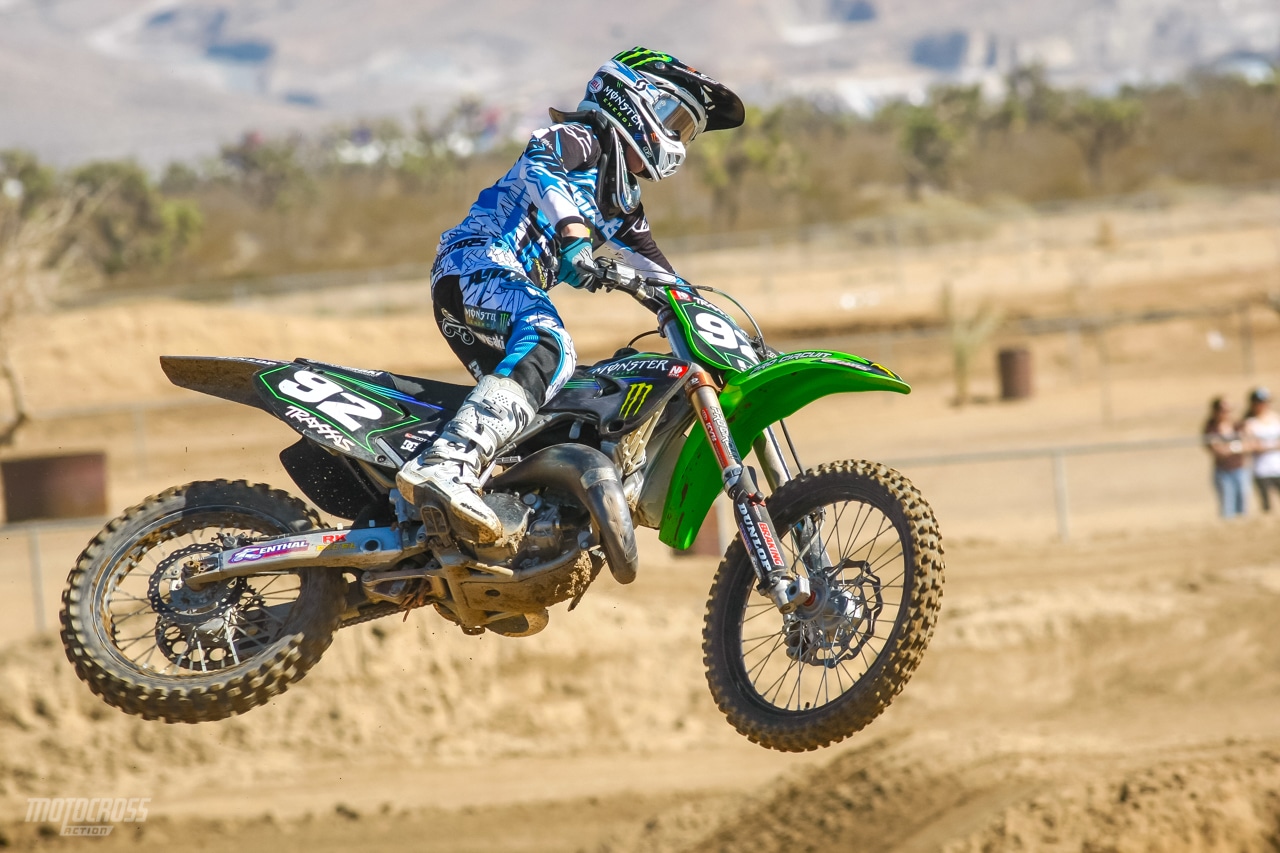 A young Adam Cianciarulo back in 2012 when he was just going from 85cc machines to a KX125. He sure has came a long way. 
---
Moto Trivia answer: Bob Hannah wearing nothing but his skivvies,