MOTOCROSS ACTION MID-WEEK REPORT
#WHIPITWEDNESDAY

Rider: Adam Cianciarulo
Event: Round 2 2020 St. Louis Supercross
Bike: Factory Kawasaki KX450
Photographer: Brian Converse
TWO-STROKE SPOTLIGHT: CURT WINTER'S JAPANESE BLEND

I was initially worried about featuring the "Two-Stroke Spotlight," because I was unsure whether Mid-Week Report readers would submit photos and descriptions of their bikes. Fortunately, my inbox has been flooded with awesome two-strokes. Thanks for taking the time to send over info on your prized iron. I have to give a special nod to Curt Winter, who deservingly earned this week's honor with his Yamaha/Suzuki/Honda amalgamation. Take it away, Curt.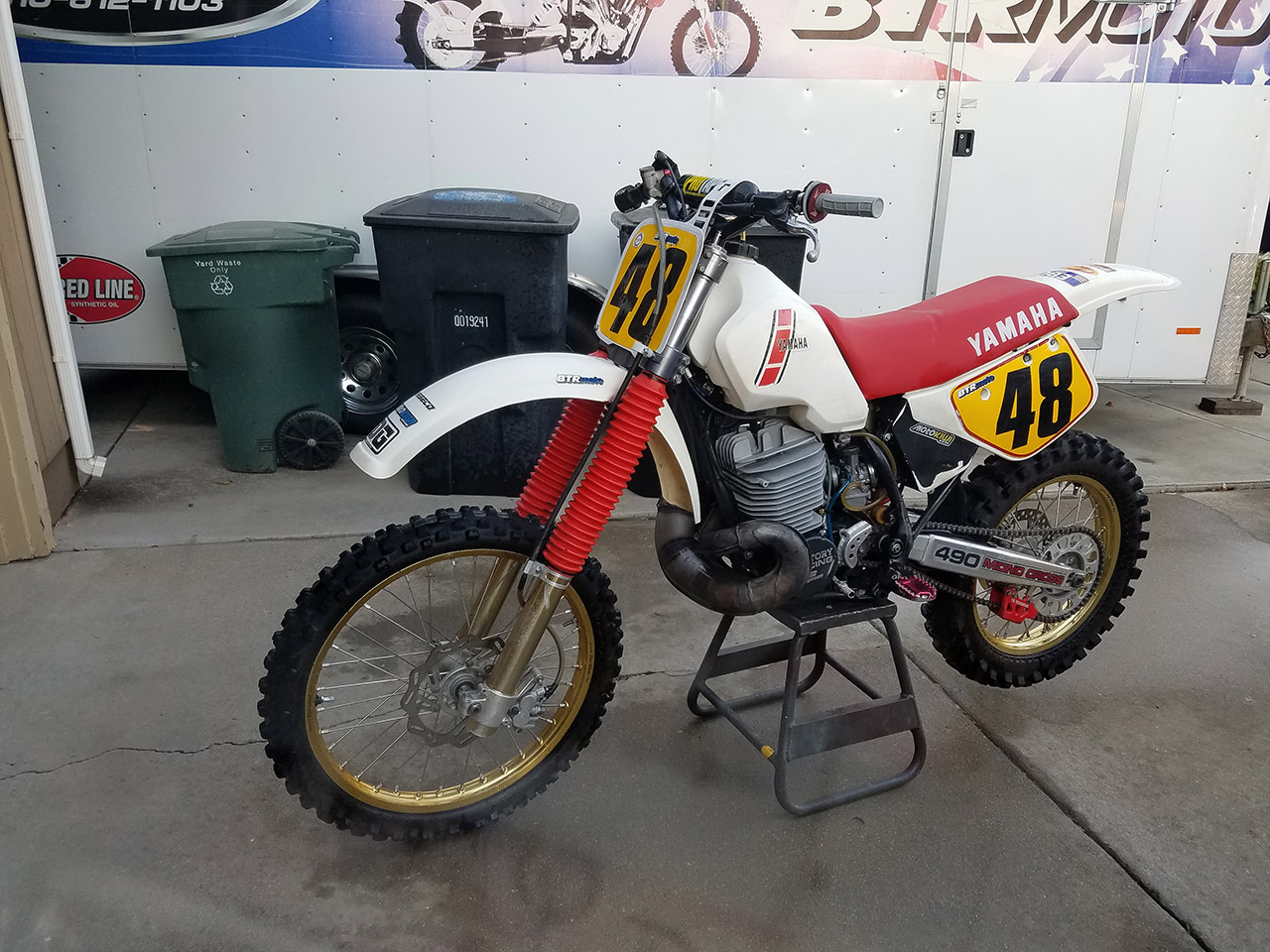 "Hi MXA, I saw your article on the Honda CR500 AF. I've built and owned several of those and have always been a Honda guy, but I wanted something different. 500 AFs are everywhere, so I built something different. I bought a well used 1987 Yamaha YZ490, stripped it down to the frame and started the build. I graphed on rear suspension from a 2007 Honda CRF250, including the rear disc brake. In an effort to retain the old school look I opted for a set of 1997 Suzuki RM250 forks. I rode and raced it for a while, but never really liked the shortcomings of the Yamaha motor. For that reason I installed the complete top end from a 1984 Honda CR500 (air-cooled) on a 1990 CR500 lower end and slapped that motor in the YZ chassis. Now it's got a motor worthy of the better suspension. I currently race it against modern bikes and have a blast. Truth be told, I was surprised how well it worked."
Editor Note: If you would like your bike to be featured in the "Two-Stroke Spotlight," please email me at [email protected]. All I ask is that you give a breakdown of your bike and a detailed description of the thing. Please also send a few photos of your steed. By submitting your bike for the "Two-Stroke Spotlight," you agree to release all ownership rights to the images and copy to MXA. 
LOST BUT NOT FORGOTTEN | 1996 KAWASAKI KX250
JUSITN COOPER + SHANE MCELRATH VIDEO
STACYC OFFICIAL YOUTH ELECTRIC BIKE OF SUPERCROSS
Press Release:  Stacyc Inc, the kids brand focused on Creating the Next Generation of Motorcycle Riders proudly announces that it has become the Official Youth Electric Bike of the 2020 Monster Energy Supercross season. With this sponsorship program, Stacyc will realize the brand awareness benefits that come with a sponsorship of this kind. National television commercials, in stadium jumbotron spots and association with the most premier series in all of dirt bike racing. Those benefits aside, Stacyc is most excited about their Kids Ride Zone located in the pits at 12 Supercross rounds. Kids ages 3 to 8 years old will have a chance to ride a Stacyc on a custom, DIRT, demo track during the Supercross Fan Fest Party. "Come out to Supercross and ride with us" says VP of Sales & Marketing, Mike Dettmers. "There is finally something for just about all ages in the pits now. Our Kids Ride Zone gives the little guys and girls a place to engage in riding right at the most exciting party on two-wheels." Anaheim 1 was the first event of the year and the Stacyc booth was packed the entire time. Over 200 kids got a chance to twist the throttle and rip around the track prior to watching an amazing opening round of racing.
Stacyc believes that experiencing two-wheels is the most important step in becoming a motorcycle rider. "Everyone thinks motorcycles are cool" says CEO & Co-Founder, Ryan Ragland. "I built the first Stacyc for my son because I wanted him to feel the same excitement for motorcycles as I had and I wanted it to happen sooner. As an industry, if we can get more people, young or old on two-wheels sometime in their life, we can create more motorcycle riders. Supercross is a great forum to engage with fans of motorcycles that may not have had the chance to actually ride yet. With our Kids Ride Zone, we can Share the Love of Riding with hundreds of kids just a few hours. This is our way of filling the pipeline and creating the next generation and we think it's pretty impactful!"
For more information about the Stacyc Kids Ride Zone and to find out which rounds the kiddos can test ride in the pits, visit stacyc.com and click on the events tab. www.stacyc.com
GET BOTH MOTOCROSS ACTION & DIRT BIKE MAGAZINE & MAKE MONEY ON THE DEAL 
Get both great magazines for only $32.99 Plus TWO $25 Chaparral gift cards!
MOTO | TRIVIA
Name the rider. Answer at the bottom of the page.

WHAT THE MXA WRECKING CREW IS WORKING ON
Josh Mosiman was having so much fun on the YCF 190 that he got a little to excited and the rear end came around. See below. 
I was a slow crash, but after a long day of testing Josh took a nap before he got up.  
MXA test rider Ezra Lewis getting sideways of the 2020 Husky TC250 that we will have an in depth review in the April issue of MXA. 
Here is Josh Mosiman on the same tabletop at Glen Helen that Ezra was whipping the TC250 off of. Who did it better? 
MXA YOUTUBE CHANNEL | HIT THAT SUBSCRIBE BUTTON

The MXA wrecking crew is everything moto related. Check out our MXA YouTube channel for bike reviews, Supercross coverage, rider interviews and much more. And don't forgot to hit that subscribe button.
HUSQVARNA TC125 PRO CIRCUIT PROJECT BIKE VIDEO
TALK MOTO WITH MOTO MINDED PEOPLE. JOIN MXA'S FACEBOOK GROUP CHAT

We love everything moto and want to bring all moto junkies together into one place to share their two cents, ideas, photos, bike fixes, bike problems and much more. To check it out first you must need to or already have a Facebook account. If you don't, it isn't much work and you could even have an alias so nobody knows it is you. To join click HERE. After you request to join we will accept your request shortly after.
THEY SAID IT | 2020 ST. LOUIS SUPERCROSS
Ken Roczen: "This feels so surreal and is absolutely amazing. It's been a long time coming with a lot of struggle in the process, so this is definitely one of the sweetest moments of my career. The emotions and joy from everyone is very special. I think tonight was just our night to win. The whole day was good, starting with feeling so much more comfortable on the bike than I did last week. We also grabbed a couple of solid starts in both races tonight. I rode really good in the heat race and even in the main. I'd say that I actually surprised myself and maybe the team a little with how the main event went; it was just our time to shine. I knew if I wanted to make it happen, I'd need to make my way to the front fast, so that's what I did. I got around Zach [Osborne] quick and had a clear track, so then I just clicked off some great laps, putting a gap between myself and the field. At one point Justin [Barcia] seemed to close in a bit but I just focused on hitting my marks and managing my pace. The race felt really long because the lap times were fairly short; the tower was right after the finish so I could get a glance at the clock each lap—it seemed like it took forever! I've messed it up so many times in the last laps, so it's not over until it's actually over. I just tried to maintain a pace while also staying consistent and not making any mistakes. We're going to enjoy this but then get back to work this week. This is a big confidence booster and really motivating for me to want to keep the momentum going."
Justin Brayton: "Definitely a wild night. I never want to go to the LCQ, but I actually enjoyed it a bit. Under those circumstances, you just try to make the best of it and it was kind of nice to get out there and win it, plus get to ride the track so close to the main event. I hope I don't have to go to another one though! I'm super proud of the team to be able to get me back out there. Main event-wise, I was still able to get a pretty good start from the far outside gate. I ran inside the top 10 for the whole race, finishing eighth, which isn't where I would like to be by any means but still an overall good start to the season with the adversity both weekends. Hopefully another cleaner weekend next week at A2 and I'm really hoping to be in the top five, then build up to some podium finishes."
Alex Martin: "It was nice to be back racing in the Midwest as St. Louis is the closest race to home for me. We made small changes for the main that seemed to help as it was the best I felt and rode all day, ending up three tenths out of a podium position with fourth on the night. And we're two points out of third in the championship. Excited to keep the momentum going heading into Anaheim next weekend!"
Jimmy Decostis: "I've been working hard during the week trying to improve myself, and at round two I felt like we made some positive changes. I'm enjoying the process of being back at the races and working with my team. Ready to improve on my mistakes this weekend and continue to progress and learn as a racer when we head back to Anaheim next weekend. I'm hoping for a speedy recovery for my teammate Freddie as well."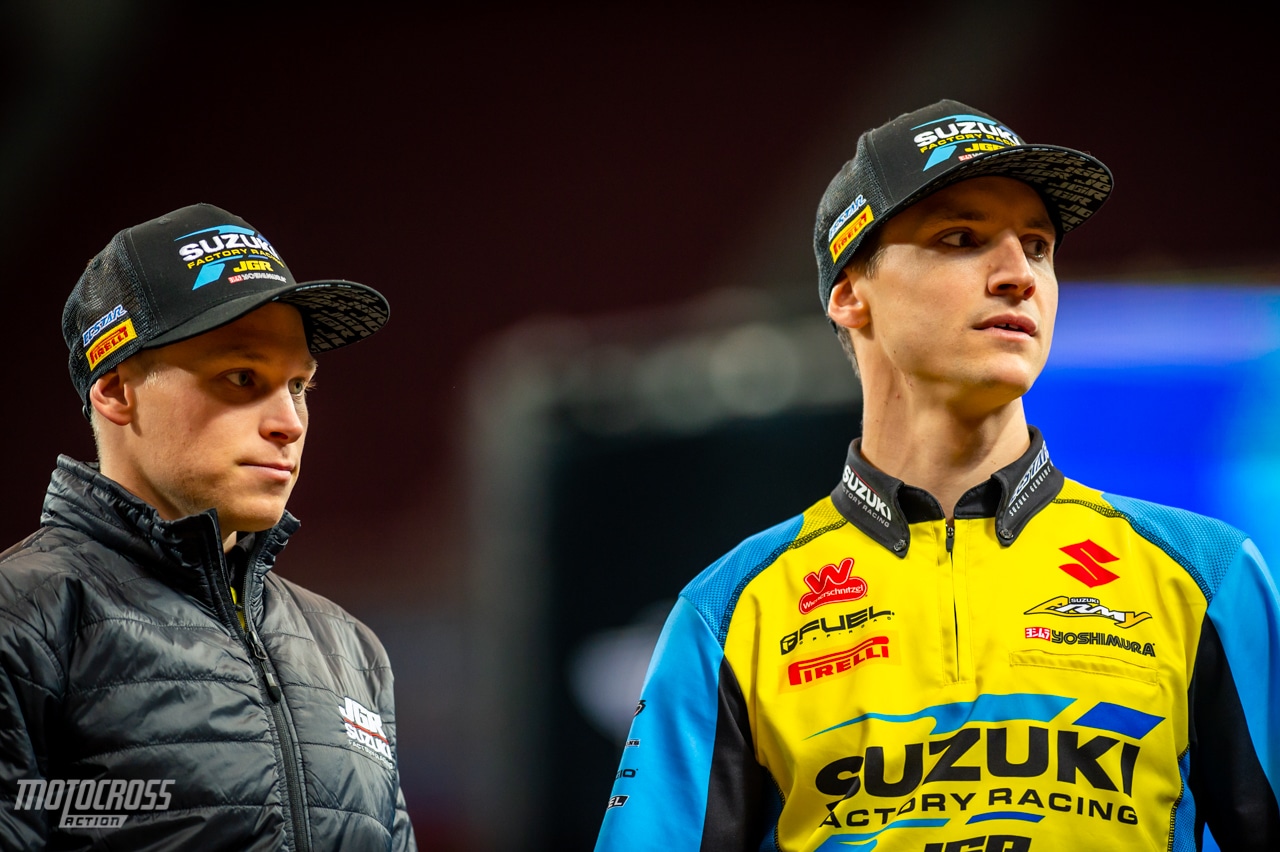 Freddie Noren: "I was very excited coming into the weekend and had a good practice week. I was running comfortably in a transfer spot with a few laps left to go when I slightly overshot a triple in a rhythm section. When I landed I felt a snap in my leg. I had to pull off and have come to find out that I've injured my ankle. At this point, I'm unsure of the recovery but hoping for the best so that I can be back at the races soon."
Brandon Hartranft: "I can't believe it, to be honest with you right now. With only two laps to go… Christian and Jett, [looked like they] crashed, I knew I was in fifth when they both went down. I'm like, 'I don't know if I'm in third or not.' But then with two laps to go I looked at the board and I'm like, 'Okay I've got to get this done.' So, I'm so happy."
Cooper Webb: "Tonight definitely didn't end up how I had wanted it to. I struggled all day to get comfortable and unfortunately, I was just not able to make it happen tonight. We are going to regroup, work on getting healthy and hopefully get back up on the podium next weekend in Anaheim."
Austin Forkner: "I am really happy to get back up here (on the podium). I started to ride tight halfway after I got to think about it. It's been a long time coming with physically healing from the knee and mentally getting back knowing I can win. I could hear the fans and they pushed me through. I love being able to win in front of my home crowd."
Justin Barcia: "It was a pretty tough day for me. I was really sick all week, and I just had to be mentally tough and push through the difficulties I was having today. My heat race went really well. I got a bad start, but I fought through the pack and got up to third. I made some really great passes, so that was awesome. In the Main Event, I got a much better start and quickly moved into second. I was pushing really hard, but tonight the best I had was second. I rode really well, considering. I felt like I rode better today than I did in Anaheim. I just unfortunately was a little under the weather. So, all in all, a really good day. The team did a great job with the motorcycle and setting it up. I'm really looking to get better this week and feeling better for Anaheim."
Aaron Plessinger: "Today was a little bit better than last weekend. I kind of struggled in the Heat race. I didn't get the greatest start, but I still qualified pretty good. A 14th gate pick in the Main was tough. Then, getting a bad start and trying to work my way back up into the top 10, it was really gnarly. The track conditions were pretty challenging. It was slick in some spots and really rutted. So, you had to be on your toes at all times or the track was going to take you down. It took a lot of people down, and I'm glad I wasn't one of them. It was tough day, but we're making progress. We'll go back this week, put some more work in and work a little bit more on the starts and sprint laps so I can get a better gate pick. I want to try and get up on the podium or at least in the top five."
Jason Anderson: "I'm just out here enjoying myself. I feel like I was riding pretty good in the Main. I got off to a good start and I kind of let the battling happen in front of me and then I worked my way through the guys I could and settled into third."
Zach Osborne: "All-in-all it was a good night and a good rebound from last weekend. It was good to get a solid finish and restart my season after being really ill last weekend."
Dean Wilson: "Tonight was a small improvement for me. I had a good start and ran in the top-10 for a few laps but I'm just not prepared to be at that point. I just have to keep working and building from here."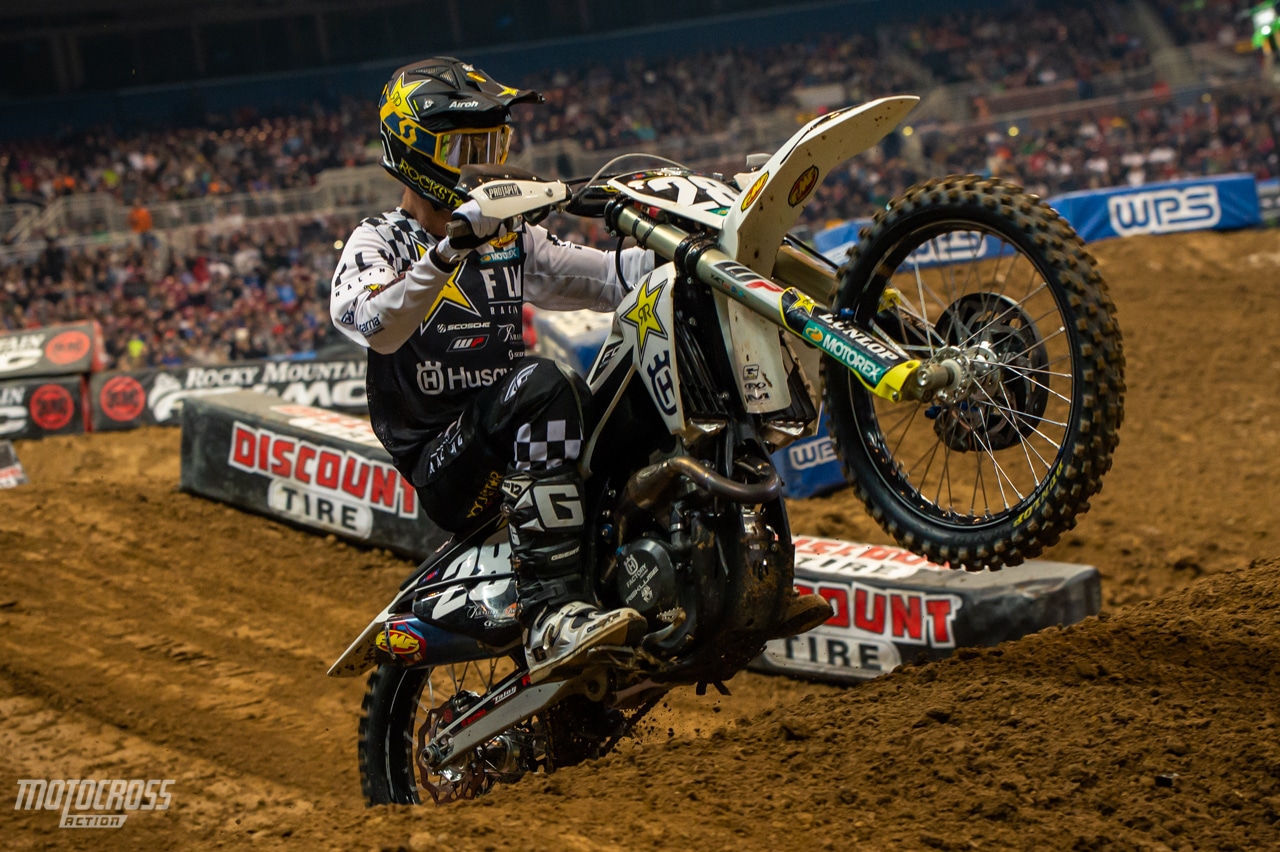 Michael Mosiman: "I actually felt pretty good, better than last weekend. There was carnage in the first rhythm section and I got bumped and then landed on and that was just kind of the beginning of the end. I'm pretty stoked to get out of St. Louis healthy and on to the next round."
Justin Cooper: "Last weekend I had it pretty easy. I was just out front clicking off my laps. This weekend was a different story. I felt good all day, but I didn't put myself in the best positions in the races tonight. I just had to put my head down and take my time and come through the pack. Once you get the feeling of victory, you don't want to lose it. But this feels like a win tonight. It was a good learning curve for me. We're going to hold the red plate and we're going to hold onto it tight. We're going to fight for this championship."
Dylan Ferrandis: "I felt really good all day. The track conditions were good too. Unfortunately we didn't get results we were looking for. I don't understand what happened on the first lap (of the Main). Someone crashed in front of me and I couldn't escape it. After that, I just rode to try to save some points, but I'm pretty frustrated about that of course. It is how it is. We'll go back to training next week and get ready for A2."
CLASSIC PHOTO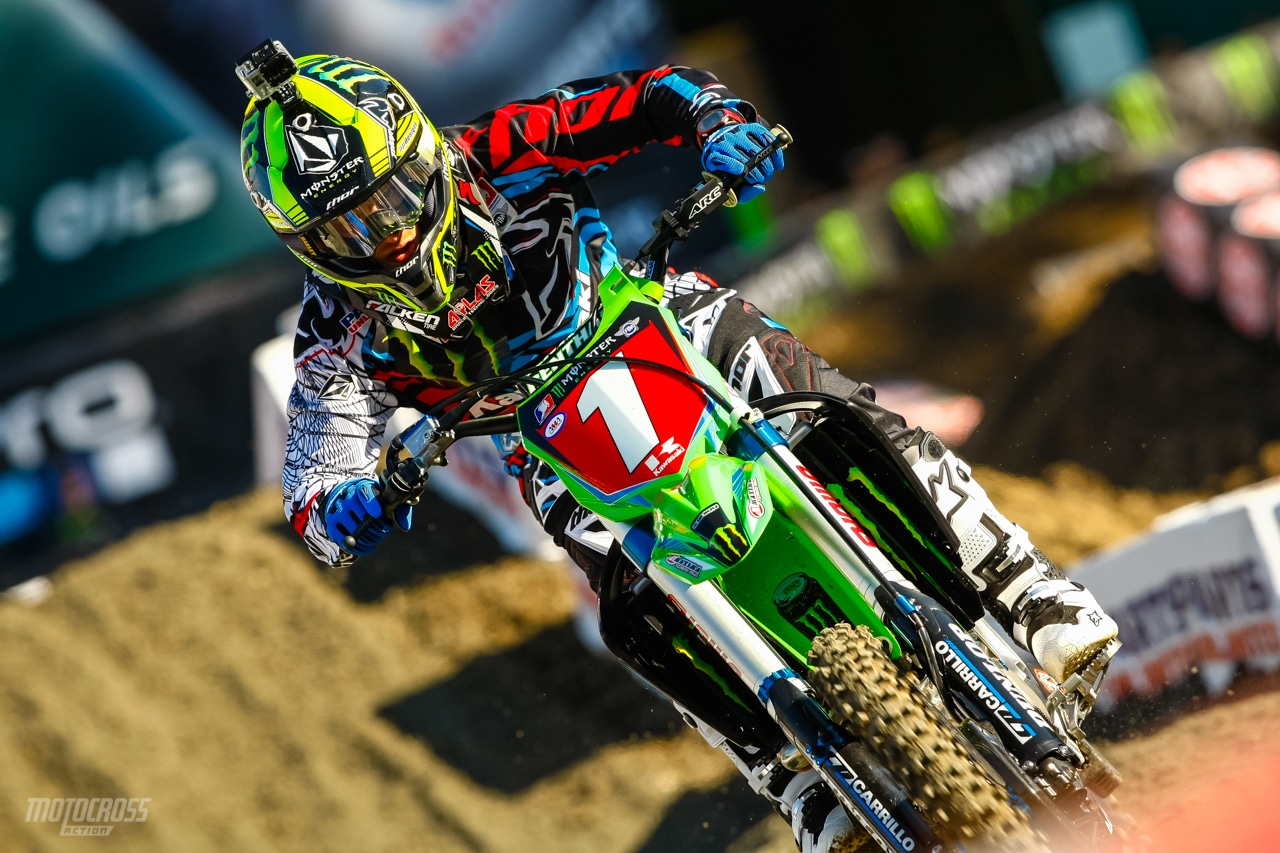 Ryan Villopoto back in 2013 where he won 10 450 SX main event to go on to wi the Championship.
---
Moto Trivia answer: Rodney Barr.