MOTOCROSS ACTION MID-WEEK REPORT
#WHIPITWEDNESDAY
Rider: Ken Roczen
Event: Round 3 2020 Anaheim 2 Supercross
Bike: Factory Honda CRF450
Photographer: Travis Fant
TWO-STROKE SPOTLIGHT: JOHAN VREUGDENHIL'S 1985 HONDA CR80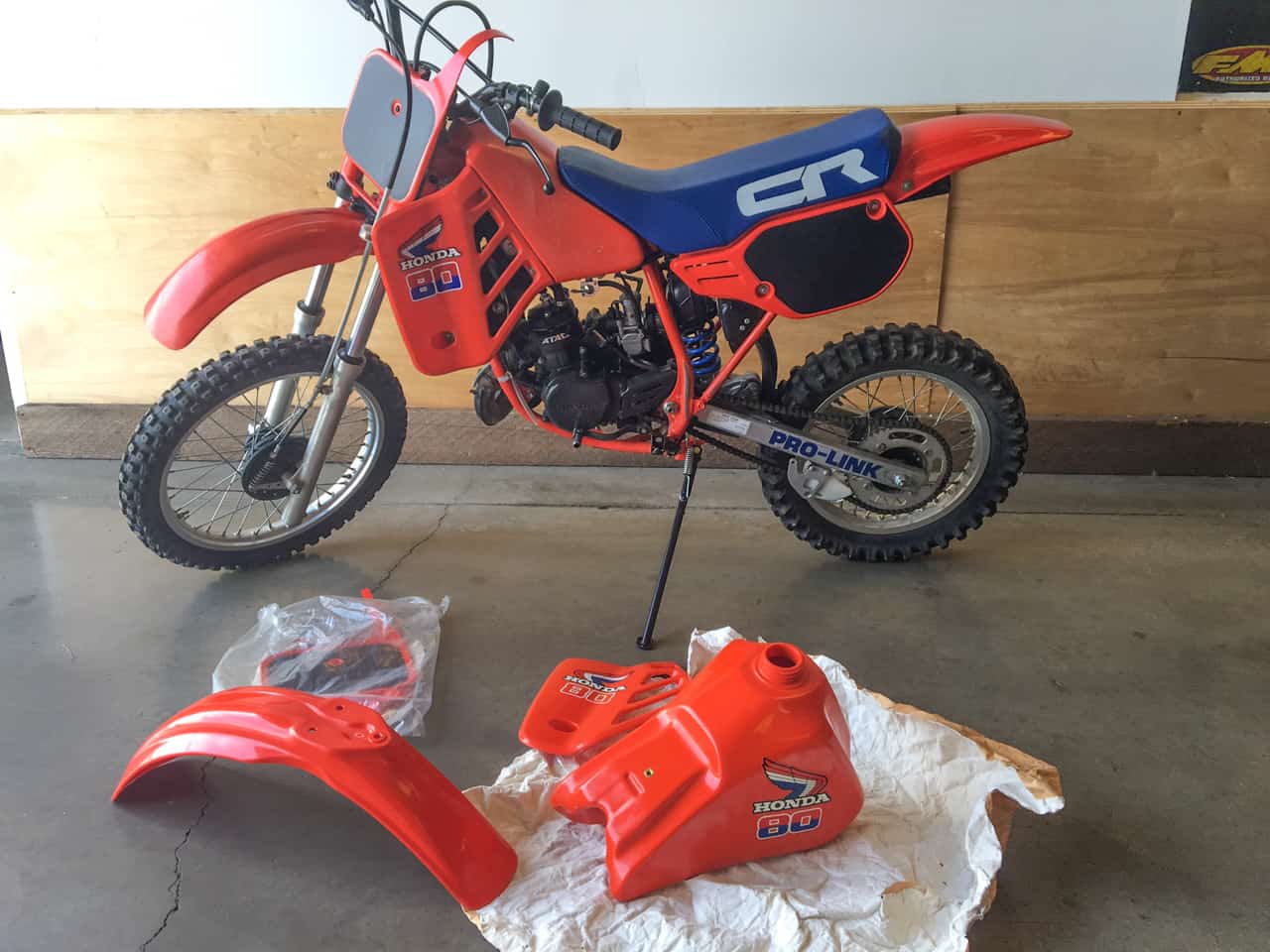 "I found this 1985 Honda CR80 that had the OEM front tire and piston. The kid who owned it crashed it and the bike sat for decades. The crank seal gave way and that preserved the bike until I bought it for a few hundred bucks. Found the CEET seat cover on eBay, as well as NOS new, never used, original old Honda plastic. Fuel tank, fenders, panels, pegs, side stand, cables, exhaust pipe.
"Virtually any bolt or OEM honda part I could find new was purchased from around the world which cost a pretty penny when added up. As of right now I am only missing a new right side rear panel. The bike runs very well. I rode it as a pit bike and on dirt roads without abusing it. Am already twice the weight it's designed for but it's an awesome toy."–Johan Vreugdenhil
Editors Note: Please keep those submissions coming. If you would like your bike to be featured in the "Two-Stroke Spotlight," please email me at [email protected]. All I ask is that you give a breakdown of your bike and a detailed description of the build. Please also send a few photos of your steed. By submitting your bike for the "Two-Stroke Spotlight," you agree to release all ownership rights to the images and copy to MXA.
FROM THE HORSES MOUTH | JETT LAWRENCE & CHRISTIAN CRAIG NOT MAD AT DYLAN FERRANDIS
Jett Lawrence laying on the ground after an intense battle with Dylan Ferrandis. 
Both Christian Craig and Jett Lawrence have both spoke up publicly on social media about their run-ins with Dylan Ferrandis in the Anaheim 2 main event. Whether Dylan Ferrandis was intentional with his tactics, you can be sure he didn't want to end up on the ground as well. Did Dylan think Craig would see him and slow down coming from the inside? Did his Dunlop tires lose traction and slide into Craig? Or did Dylan purposely take him out? Whatever your thoughts or, the bottom line it rubbing is racing. Everyone on the track wants to win. Ferrandis showed that he wanted it more than anybody on the track.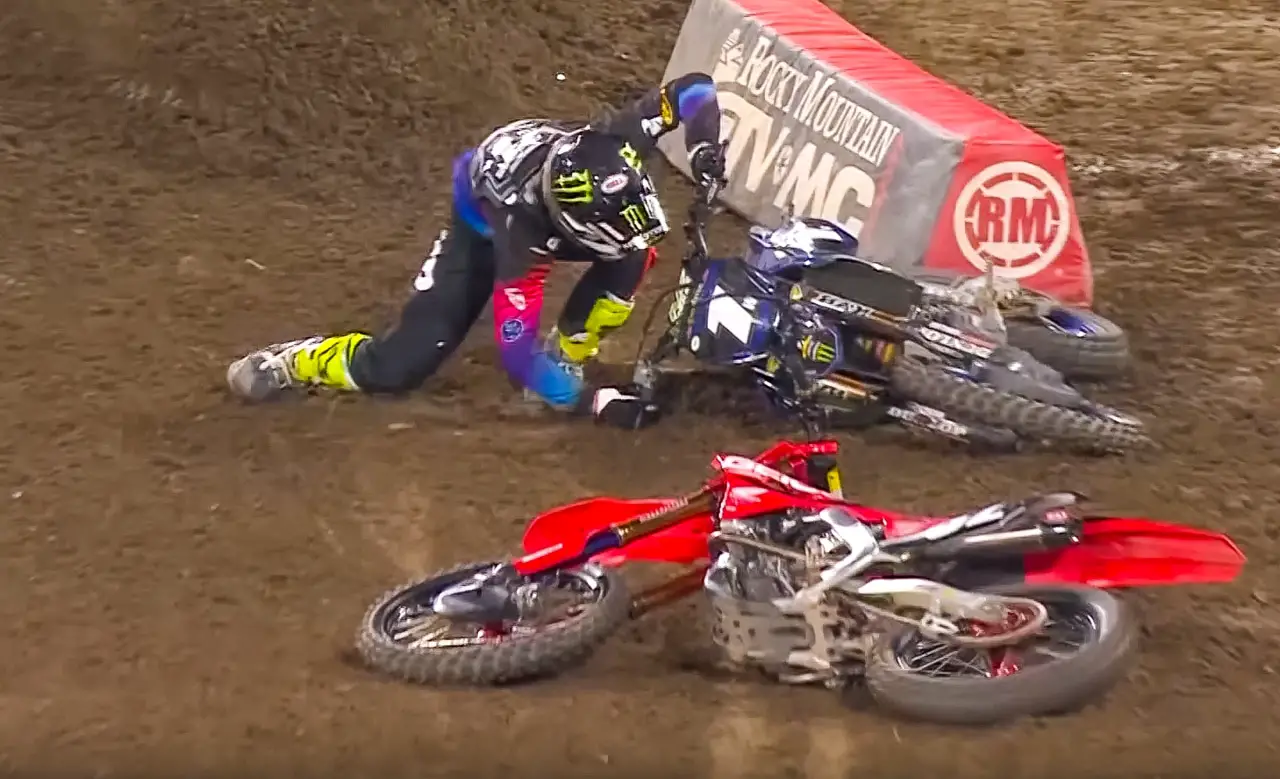 Let's be honest. If the same thing would have happened mid pack nobody would think twice about it. The fact is that happens all the same.
The keyboard warriors heckling and treating him and his wife is just ridiculous. Hear what the two affected from all this (Christian Craig and Jett Lawrence) have to say.
LOST BUT NOT FORGOTTEN | DENALI MOTO PRO ELECTRIC BIKE
STACYC OFFICIAL YOUTH ELECTRIC BIKE OF SUPERCROSS

Press Release:  Stacyc Inc, the kids brand focused on Creating the Next Generation of Motorcycle Riders proudly announces that it has become the Official Youth Electric Bike of the 2020 Monster Energy Supercross season. With this sponsorship program, Stacyc will realize the brand awareness benefits that come with a sponsorship of this kind. National television commercials, in stadium jumbotron spots and association with the most premier series in all of dirt bike racing. Those benefits aside, Stacyc is most excited about their Kids Ride Zone located in the pits at 12 Supercross rounds. Kids ages 3 to 8 years old will have a chance to ride a Stacyc on a custom, DIRT, demo track during the Supercross Fan Fest Party. "Come out to Supercross and ride with us" says VP of Sales & Marketing, Mike Dettmers. "There is finally something for just about all ages in the pits now. Our Kids Ride Zone gives the little guys and girls a place to engage in riding right at the most exciting party on two-wheels." Anaheim 1 was the first event of the year and the Stacyc booth was packed the entire time. Over 200 kids got a chance to twist the throttle and rip around the track prior to watching an amazing opening round of racing.
Stacyc believes that experiencing two-wheels is the most important step in becoming a motorcycle rider. "Everyone thinks motorcycles are cool" says CEO & Co-Founder, Ryan Ragland. "I built the first Stacyc for my son because I wanted him to feel the same excitement for motorcycles as I had and I wanted it to happen sooner. As an industry, if we can get more people, young or old on two-wheels sometime in their life, we can create more motorcycle riders. Supercross is a great forum to engage with fans of motorcycles that may not have had the chance to actually ride yet. With our Kids Ride Zone, we can Share the Love of Riding with hundreds of kids just a few hours. This is our way of filling the pipeline and creating the next generation and we think it's pretty impactful!"
For more information about the Stacyc Kids Ride Zone and to find out which rounds the kiddos can test ride in the pits, visit stacyc.com and click on the events tab. www.stacyc.com
GET BOTH MOTOCROSS ACTION & DIRT BIKE MAGAZINE & MAKE MONEY ON THE DEAL 
Get both great magazines for only $32.99 Plus TWO $25 Chaparral gift cards!
THEY SAID IT | 2020 ANAHEIM SUPERCROSS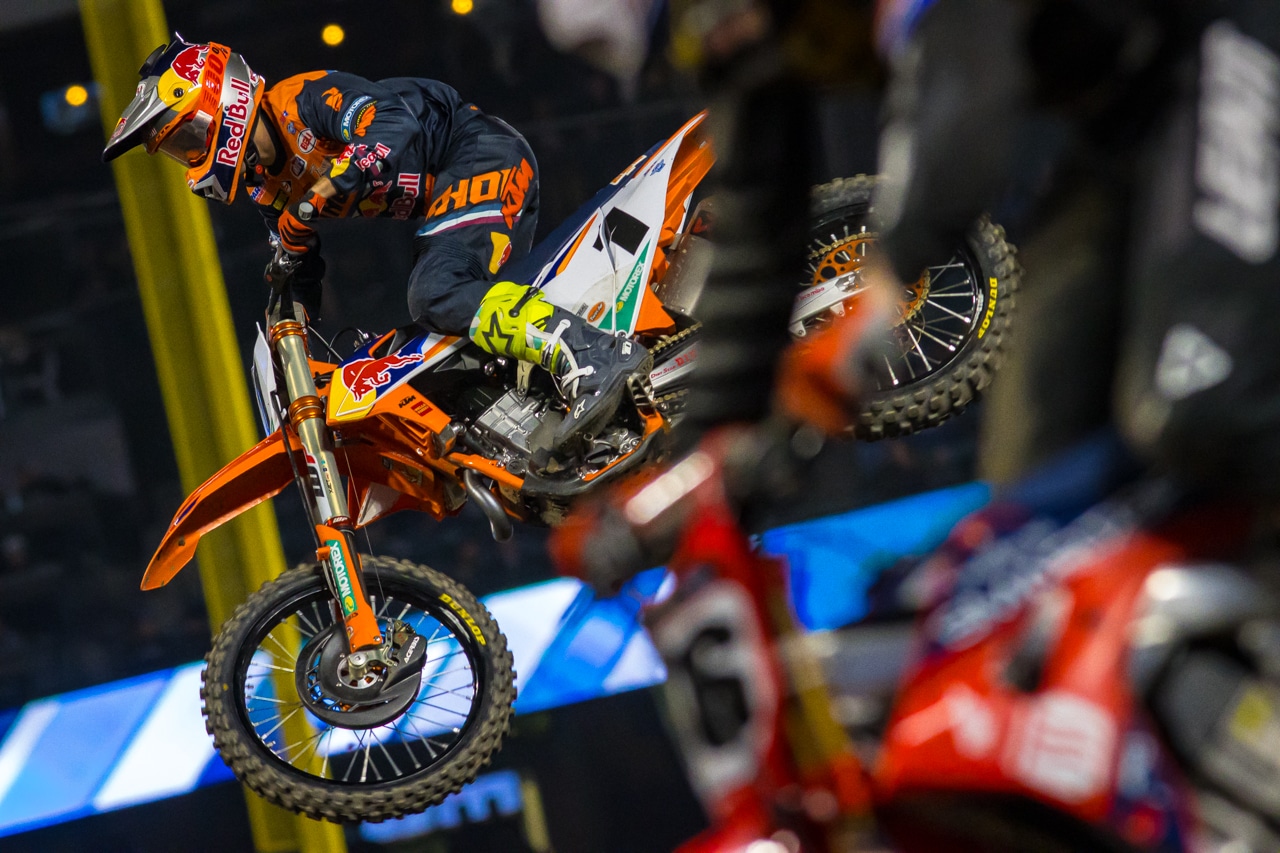 Cooper Webb: "It feels good to be up here on the podium, it's been a tough start to the season. I went to the doctor on Monday after A1 and found out I had the flu and strep [throat] so it was a tough week leading up to St. Louis. It was a good learning experience for me and this week was much better, I was able to ride and train a little bit more. I'm pumped to be up here and we were pretty dang close [to the winner] so I can't complain."
Brandon Hartranft: "It feels just as good [to get on the podium] as last weekend, I am so happy. I'm starting to believe in myself a lot more. I definitely want to win – that's the main goal – but I'm just going to take it step by step and make the weeks count."
Ken Roczen: "My night was pretty good. I had a good battle with Adam [Cianciarulo] in the heat race, which was fun and good to come away with the win. That put me in a good position for the main event and to be able to pick a decent gate. Tonight though, pretty much every gate on the start was super rough and there were a lot of holes, so it was hard to decide which one to pick. But I hooked up really good and got my first holeshot of the year, so that was nice. We've been putting in a lot of work on my starts, so it's been paying off. For me to be able to win tonight, I had to be a lot better in the whoops. I was just struggling there the entire race, so that didn't help me out; I feel like I lost all my time there. I was trying to skim them, then went to jumping them, which was horrible too; I lost a lot of ground so went back to skimming and just was all over the place and that was where Eli [Tomac] made up a lot of time and closed in on me. We definitely have some work to do but don't want to get too crazy. We just need to keep doing what we're doing. We're in a good spot right now and we just have to keep it up. First last weekend and second this weekend, plus the red plate is really great. I'm really happy."
Justin Brayton: "I'm pretty happy with how the race went tonight. A little bummed after the heat race after getting the holeshot but crashing in the first turn, which set me up for a bad gate pick for the main. That's pretty crucial now with how bad the ruts get outside the gate, but I was able to start around 11th or 12th and pass my way up to seventh. At the middle of the race, I was actually one of the fastest guys on the track. With a better track position, I definitely think I could end up on the podium. Overall a really good night, and although the first three rounds have gone well, I'm looking forward to improving and getting into the top five."
Justin Barcia: "Anaheim 2 was a difficult one to say the least. I really struggled in the whoops all day, also in the race. I definitely rode really smart, I didn't want to lose too many points so I managed the race as good as I could. Ninth was the best we had tonight. I tried really hard, rode as hard as I could but it just was a little bit of a struggle. We have some work to do for tracks with whoops like that. I'm just happy to get out of Anaheim healthy. That's the biggest thing. In the past I haven't been able to get through the first three rounds healthy, so we're in a good position. We're only three points down. I'm feeling good about that. I'm really excited for Glendale next weekend, I really like that track and stadium, so I'm just going to keep moving forward and get ready for the next race."
Aaron Plessinger: "Yeah, tonight was tough. I got off to a really good start in the Main and kind of froze up. It was a gnarly track. The whoops were really gnarly, a lot of moisture in the track. I'm going to put my head down and keep on focusing on getting better – take the positives and work on the negatives. We'll be back next week in Phoenix, so I just need to get another start like that and keep it up front."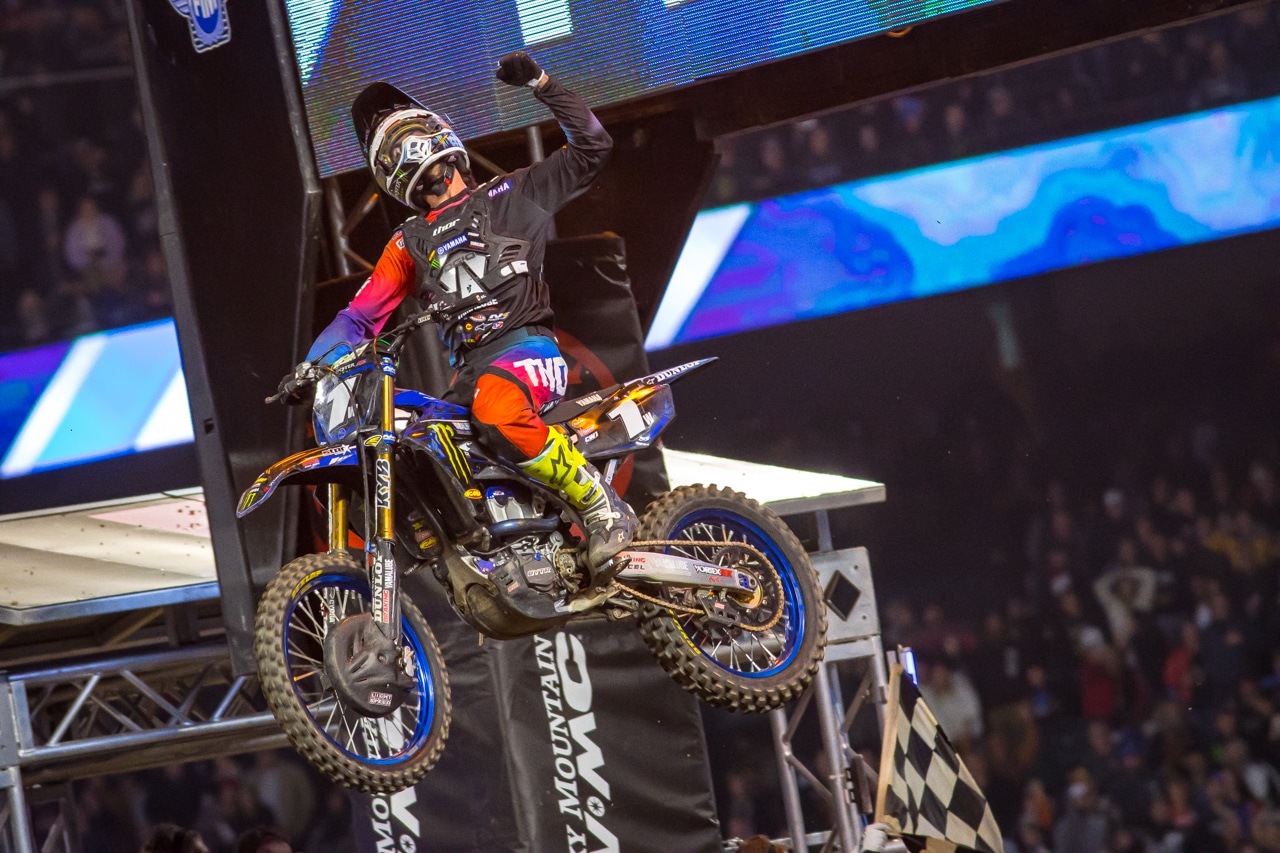 Dylan Ferrandis: "I'm really happy to get this first win, especially after some struggling in the first two races. We had some issues with the start and we figured it out this week with the team and made some good improvements there. I got caught up with some riders at the start (of the Main) but was able to move forward. The race was going good and then the moment with Christian (Craig)… Obviously it was not my intention for us both to crash, but it was just a racing incident. We had one of the most technical tracks that we've ever had. I did like the track. I felt really good all day, but there were a lot of things going on in the Main. A lot of riders crashed. I'm glad to get this win and we will keep working during the week to prepare for next weekend."
Justin Cooper: "It was just a tough day all day, but we were able to come through when the time was right and land on the podium again. We got some good points. The track was definitely tough tonight; it was pretty tricky. It was hard to find a flow out there, but I did the best I could. Knocked off some consistent laps, rode smart and ended up with a good result."
Austin Forkner: "It was a tough one to take tonight after being in good position the whole race. The track was changing a lot during the race, getting slippery and the whoops broke down a lot more than we expected. Moving forward, I know I will do everything in my power to make sure I'm getting maximum points and go after that red plate. Next week will be interesting with the Triple Crown so we'll see how that changes things up."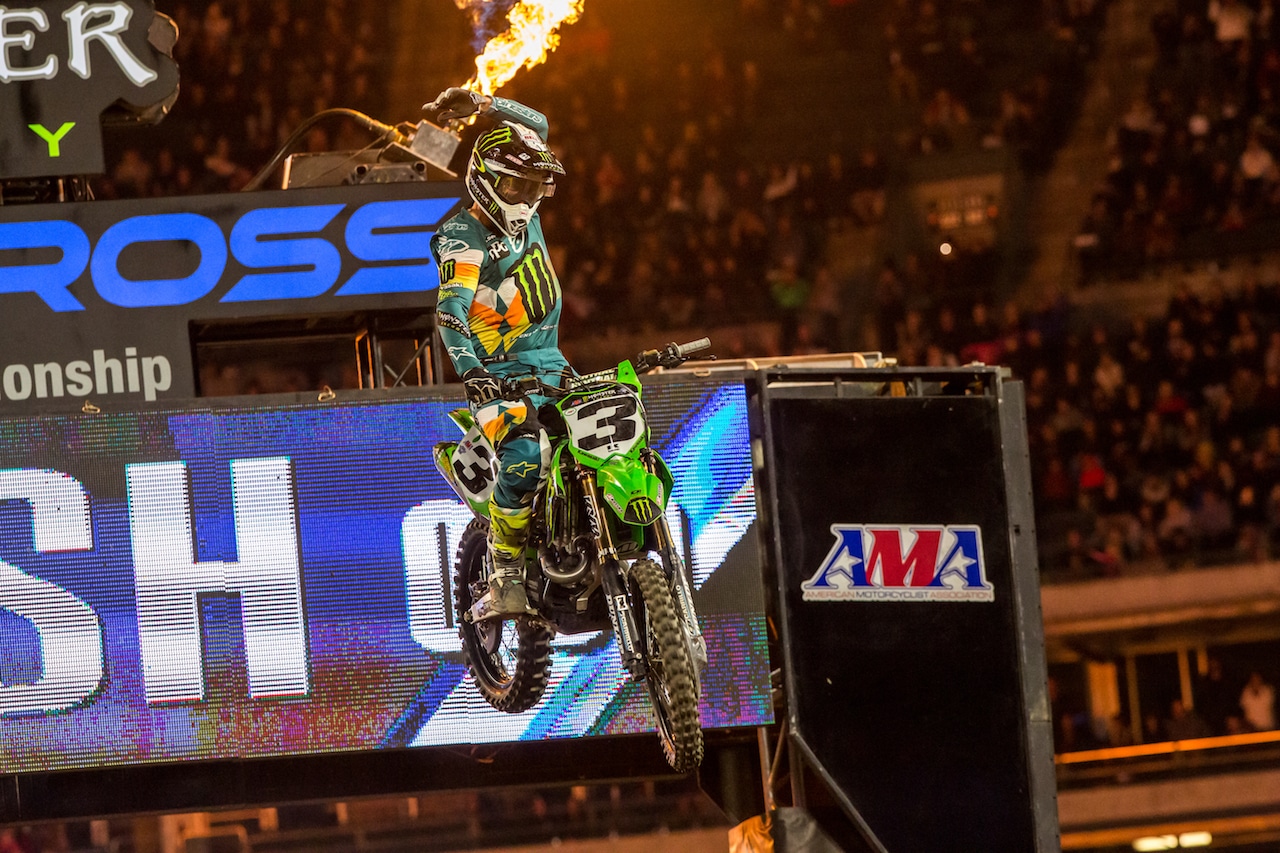 Eli Tomac: "It was a big push. Luckily, I was able to [take] the insides around the first few corners there and then it was just game on. I'm like, 'I'm making a push.' It was realistic to catch the front today and I was riding way better, way more comfortable on my motorcycle. Body was awesome. It was a really tough track tonight, it was kind of the usual Anaheim, it got slicker toward the – past halfway I swear the moisture was coming up the whoops. Started dancing around, it got tough there. Really tough. Really had to focus down and just grind it out."
MOTO | TRIVIA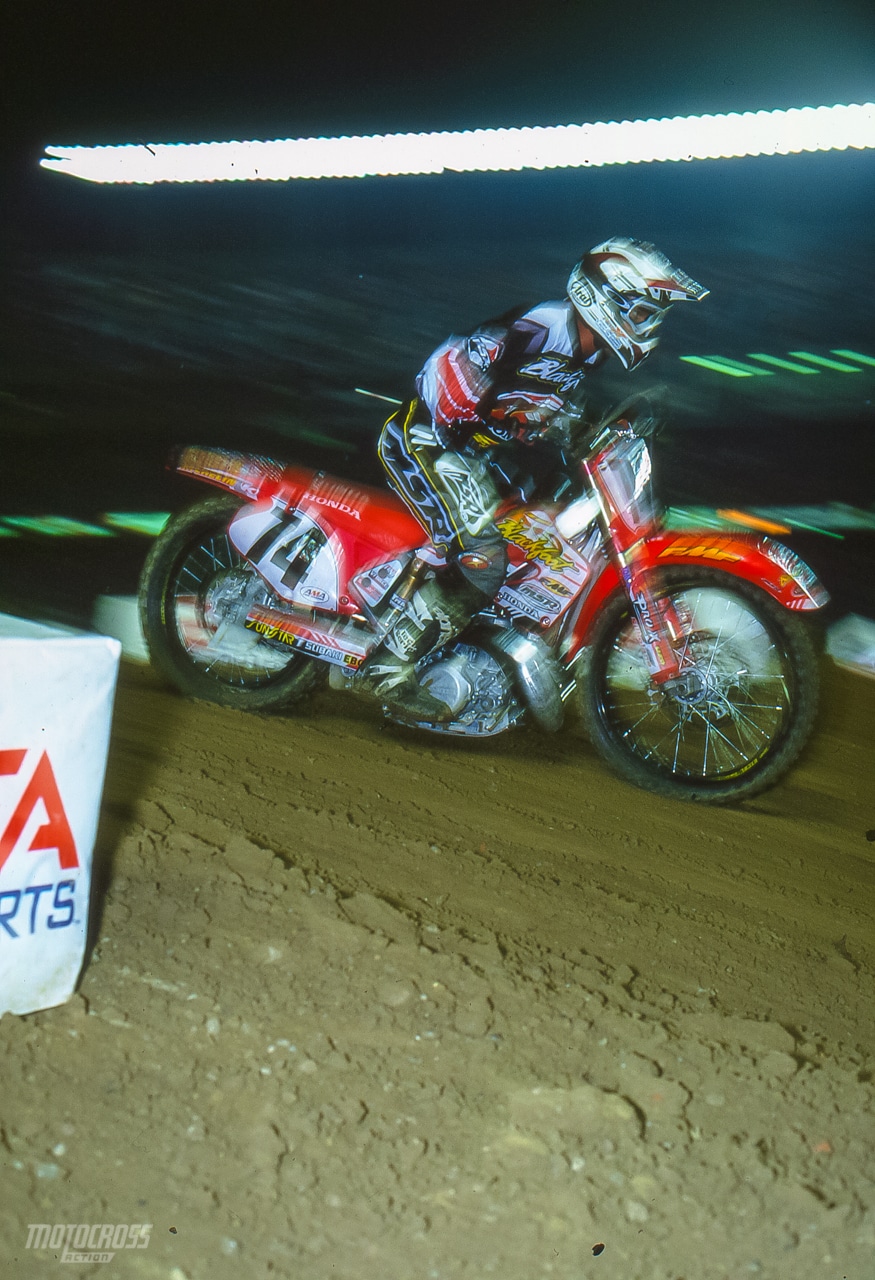 Name the rider and year. Answer at the bottom of the page.
LIVING WITH & LOVING LIFE WITH THE 2020 HUSQVARNA FC350 | 

By Brian Medeiros
Brian Medeiros on the 2020 Husqvarna FC350.
What's up Motocross Action family, test rider Brian Medeiros here. I have elected the 2020 Husqvarna FC350 as my bike of choice for this season. My goal is to race this bike in the upcoming 2020 AMA National Motocross series 450 class. In 2019 I raced a Husqvarna FC450 and I struggled tremendously. Being that I am 5'5 and 130 pounds soaking wet, the 450 was just too much. It felt heavy, it had a very on/off power characteristic to it, and I just couldn't get it set up to where I was fully comfortable. For me, working a full-time job and riding 1-2 times a week is not enough for me to be able to ride a 450 to its full potential without riding over my head and potentially getting hurt. After talking things over with Andy Jefferson at Husqvarna, we decided that the FC350 would be a good fit for someone my size.
I had never ridden a 350 for more then a few laps at this point and I had a few doubts in mind. My initial thoughts were that I would have to ride it like a 250, close to the rev limiter if not at it to get the most power out of it. The thought of this had me on the fence as I am more of a low end to mid-range type of rider. Not to mention that I would be lining up next to my competitors with an engine that is 100cc smaller than everyone else on the gate. With all these questions and self-doubt in mind I decided to come into it with an open mind because what I did in 2019 obviously didn't work.
After picking up my 2020 FC350, I headed out to Glen Helen to shake it down for the first time. I spent the whole day getting use to the power and handling characteristics of the bike as well as trying to dial in the stock suspension as best I could. In 2020 Husqvarna aimed to tailor the stock suspension to fit a wider range of riders and I felt that the suspension wasn't far off from where I wanted it to be on that bike, it just lacked the initial plushness that I was looking for. It was better the further down in the stroke I got, but the first inch to two inches of the stroke felt harsh on small chop causing the front end to deflect more than I would like. The shock was also subpar for me, I felt that it didn't settle as well as I would like on the entrances of corners. As far as power goes, the 350 is very underrated. The smooth power delivery made it easy to ride, but pulled all the way to the 14,000 rpm rev limiter and never felt like it fell off. The downside of getting high up in the rpm was that it made the chassis feel rigid. I noticed this when I would try to ride it like a 250. Through acceleration bumps on the exits of the corners the rear of the bike would step out more then I was comfortable with. However, when I hit the exact same corner in a taller gear and the bike had enough power to pull me through it without having to fan the clutch. The rear of the bike settled better in the acceleration chop and kept my momentum driving forward.
With this newfound knowledge of being able to ride this bike in a lower rpm range, my focus was now on setting the bike up particularly for me and my riding style. I gave the guys at FMF Racing a call and got an FMF 4.1 Mega Bomb system to liven up the bottom end to get it to where I would like. I tend to ride farther forward on the bike which allows me to push through jumps easier as well as set up for my corners better, this translates to me liking a firm fork setting with good initial plushness and a softer shock setting to keep the rear of the bike settled while most of my weight is up front. With this information relayed to the guys at Wrench 42 Motorsports / TBT Racing they were able to come up with a rider specific setting for my WP production suspension that gave me the initial plushness in the forks that I was looking for while still having great bottoming resistance and a shock setting that was soft enough to absorb small acceleration chop but stiff enough for g-outs and big braking bumps.
Lastly, I have been running VP T4 fuel. A cleaner burning fuel then standard pump gas, T4 took away the hesitation upon the crack of the throttle that I was experiencing for a fraction of a cost of their higher end MR-Pro6 race fuel. Other than these modifications, my bike is completely stock. I ride my FC350 in map 1 with traction control on which provides me with a smooth power delivery on hard pack tracks which helps me keep the rear wheel from breaking loose. I also like map 1 with traction control off in softer conditions as well. I've found that in map 1 on softer tracks I can be more aggressive in deeps ruts while still having good control of the lean angle of the motorcycle. Not having to rely on the clutch to control the power and slowing down my forward momentum helps in long deep ruts, . I would also like to note that I have not run into any durability issues so far on the FC350.
I've recently hit the 20-hour mark of ride time on this bike and I have no complaints. The Husqvarna FC350 is a phenomenal motorcycle for someone my size. I can hop on this bike after a 40-hour work week and not feel like it's going to rip my arms off. I feel like I can put this bike wherever I want it while using less energy than I would on a 450.  With the little modification done to this bike, I feel that I am already in a good spot going into the first round of AMA Pro Motocross series.
PRODUCT SPOTLIGHT: SEDONA TIRE MX-208SR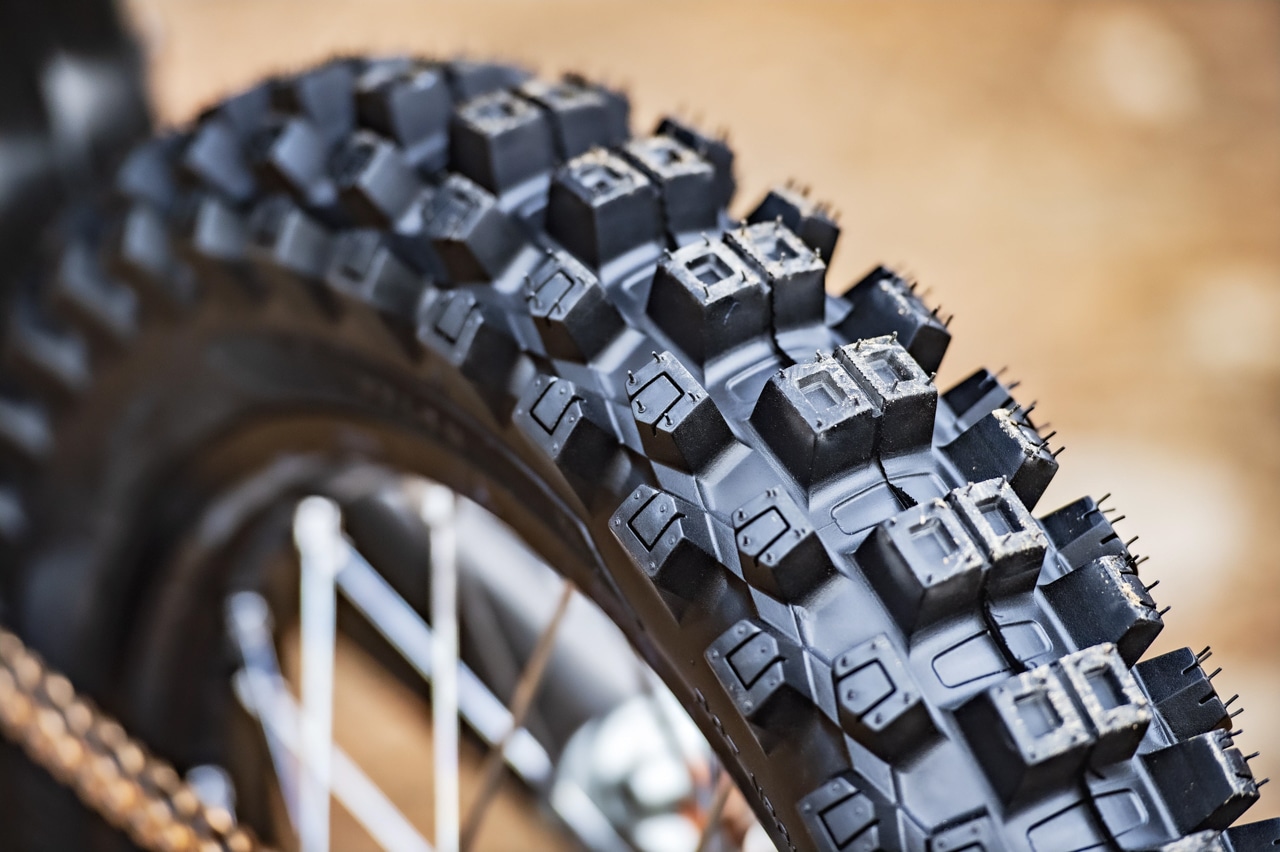 The Sedona MX-208SR rear tire.
After extensive research and development while gathering input from riders from across the country, Sedona Tire and Wheel is proud to announce their newest steel-belted radial carcass tire for off-road and motocross riding, the MX-208SR. The steel-belted radial tire construction gives you the ability to run lower air pressure with increased stability. This allows you to ride on the toughest terrain using the anti-rebound, energy dispersing properties of the steel-belted carcass.  $69.95 (front), $92.95-$99.95 (rear)—www.sedonatires.com or (208) 376-8400.
The Sedona MX-208SR front tire.
CLASSIC MXA PHOTOS | DAVID VUILLEMIN DURING THE 2001 SEASON
---
Moto Trivia answer: Doug Dehahn back in 2001.