MOTOCROSS ACTION MID-WEEK REPORT

#WHIPITWEDNESDAY
Rider: Jason Anderson
Bike: 2018 Husqvarna Rockstar FC450
Photographer: Brian Converse
Event: 2018 Atlanta Supercross
Lens: 300mm f/2.8
Focal length: 300mm
Exposure: 1/1250 sec
F-stop: f/4
ISO: 2000
TWO-STROKE SPOTLIGHT: DAVID FRANCIS' 2007 AF HONDA CRF250X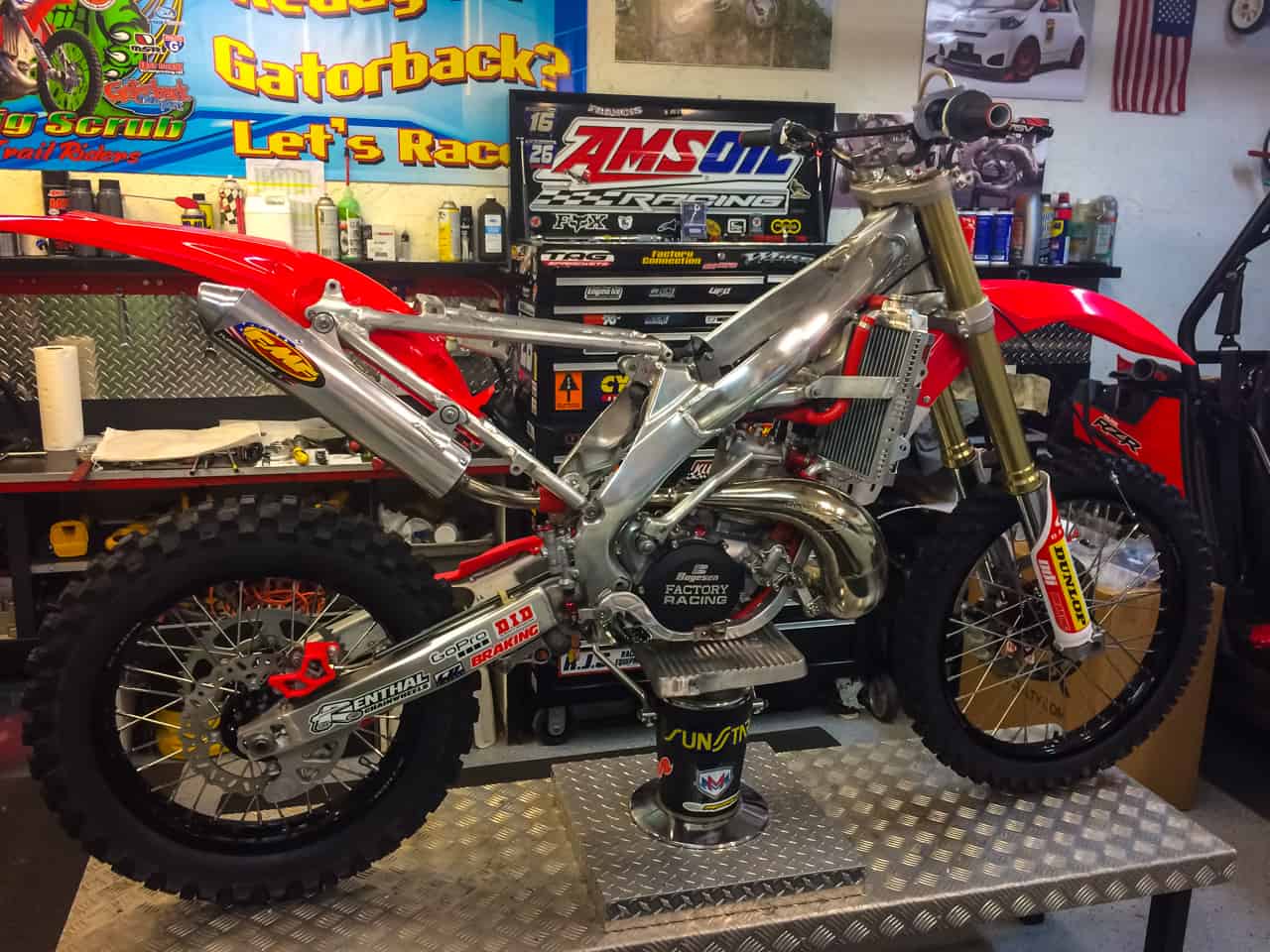 "I built the bike purely for offroad Hare scrambles where I compete in the FTR series in Florida in the "Silver Master A" class. It started out as a 2007 Honda CRF-X roller picked up locally, but now with a 2004 CR250 two-stroke engine carefully fitted after cutting away and replacing the lower frame tubes and re-welding in the Y-frame section.
This was one of the most difficult builds I have done, the hardest part was relocating the electronic power valve servo underneath the seat/tank (using a split-in-2 throttle cable to connect it to the RC valve) all this to clear the larger X gas tank! The bike was built to very high standards. Everything was either replaced or refurbished and nearly all of the fabrication was done by myself.
With the 18" rear wheel and softer suspension the bike handles just how I wanted it to on our choppy, sand, whooped out trails. With over $5K invested this was a "bargain" compared to similar new bikes, plus wherever it gets parked it drawers a crowd and some nice comments. Thanks! I have been a reader of Motocross Action since 1974!" –David Francis Fort Lauderdale Florida
Editors Note: Please keep those submissions coming. If you would like your bike to be featured in the "Two-Stroke Spotlight," please email me at [email protected]. All I ask is that you give a breakdown of your bike and a detailed description of the build. Please also send a few photos of your steed. By submitting your bike for the "Two-Stroke Spotlight," you agree to release all ownership rights to the images and copy to MXA. Please don't email me spam or try selling me Taylor Swift concert tickets or email me spam. Happy submitting your smoker.

MOOSE RACING XCR HATCH GOGGLE
Features:
-Soft multi-density dual layer foam with fleece backing improves comfort, provides excellent moisture management and seals out dirt
-Optically pure polycarbonate lens with scratch resistant and anti-fog coating
-Large eye port for maximum viewing
-Injected polyurethane frame is flexible and durable
-Ventilated frame drives out heat and perspiration
-Outrigger system designed to create a consistent seal and balanced fit
-Elastic strap with tacky silicone print secures goggle
-Integrated nose guard for maximum roost coverage
-Tested and certified according to European standard EN 1938:2010
WHAT IS THE MXA WRECKING CREW UP TO
The 51Fifty Energy team was nice enough to let us test Kyle Chisholm's Yamaha YZ250F race bike this past week. We were surprised just how good Kyle's setup was for the average rider. The forks felt more like an outdoor setup then Supercross, which was a nice surprise for us mortals. 
We were greeted by the 51Fifty crew; from left to right, Craig Monty, Terry Beal, Brent Myron and Tyler Dunn. 
Our favorite is the blue Energize 51Fifty energy drink. What is yours?
Chief test rider Dennis Stapleton airs out the 51Fifty machine. Look for a full write up in a future issue of MXA. 
We got to do some two-stroke testing last week with the 2018 Husky TC250. We played with suspension settings, jetting and the power valve adjuster.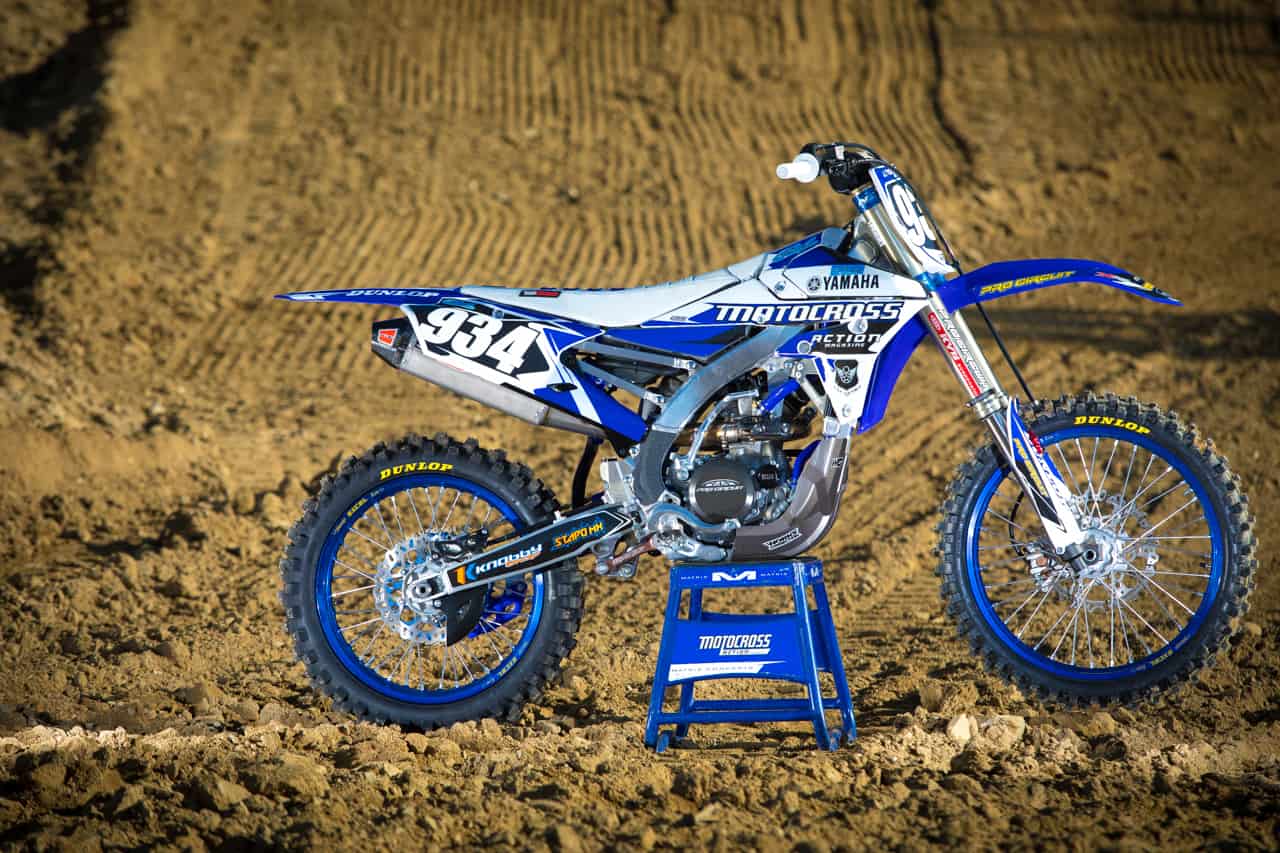 This is David Vuillemin's, we mean Brian Medeiros' Pro Circuit/Pasha built YZ250F. Brian will be racing a few outdoor Nationals this summer. When we asked about the number he said he wanted to be the next "Cobra." Actually, it was the only number the AMA would give him. Whatever the matter, it is cool to see the number 934 on a bike again. 
Brian got to be the photo rider for his own race bike. He was supposed to only break it in, but he just kept on filling up the tank as he was having so much fun. 
NITRO CIRCUS GEARS UP FOR THE YOU GOT THIS TOUR
Outrageous All-New Live Stunt Show Coming to U.S. and Canada This Fall. Tickets On Sale Starting Friday, March 9 at NitroCircus.com
Press Release: Nitro Circus' biggest moments, and some of its most notorious crashes, have come from the mind of Travis Pastrana. For the action sports icon, pushing the envelope is just another day at the office. But Pastrana also has the uncanny ability to encourage his fellow riders to go big or go home as well… In some cases despite their better judgment! Now with the 2018 You Got This tour, Travis debuts as executive producer to ramp up the shenanigans with the greatest, craziest, funniest show in Nitro Circus history.
Kicking off September 28, 2018 at Montreal's Centre Bell, Nitro Circus: You Got This will visit U.S. and Canada arenas this fall. Fans can get a jump on the action, though, with tickets on sale starting this Friday, March 9 at nitrocircus.com.
"Nitro Circus is turning me loose to oversee the creative on this tour for the first time! With the You Got This Tour, I'm putting all of my best – and worst – ideas into one huge show," Pastrana says. "Expect bigger, brand-new ramps and even more ridiculous stunts. It's going to be unreal! Look out, though. There may be a few rough landings."
The You Got This tour will feature Nitro Circus' best athletes in FMX, BMX, Scooter and Inline, including multiple X Games medalists and several Nitro World Games champions. An all-star roster will attempt both never before seen tricks and completely ill-advised stunts. This tour will debut an audacious production complete with new huge ramps and crazy contraptions. Sketchy challenges will be thrown down. Who will take them up? With this crew, you never know what will happen, but without a doubt You Got This will be totally wide open, with more thrills, more excitement and more irreverence than ever before.
"You Got This is more than a tour, it's a mindset," Pastrana explains. "As Nitro's ringleader, one of my jobs is to inspire guys to push themselves to go further, farther and faster than they
thought they could. Sometimes, maybe more than they should! It's a challenge, no doubt. But one we live for, and I can't wait for the guys to throw down on this tour."

RIDE ENGINEERING 2018 RMZ450 BIKE BUILD & SET UP TIPS

Check out all the modifications Ride Engineering made to new 2018 RM-Z450 to get the bike competitive with the other 450s in class for motocross and off-road riding. See what Gary Sutherlin (2017 WORCS champ) and Carlen Gardner (Supercross rider) have to say about their build as they compare it to the stock bike. Video link: https://www.ride-engineering.com/videos.php
HARLEY-DAVIDSON INVESTS IN ALTA MOTORS
Press Release: Harley-Davidson, Inc. announced today that it has made an equity investment in Alta Motors, a leader and innovator in lightweight electric vehicles, and that the two companies will collaborate on electric motorcycle technology and new product development.
"Earlier this year, as part of our 10-year strategy, we reiterated our commitment to build the next generation of Harley-Davidson riders, in part, by aggressively investing in electric vehicle (EV) technology," said Harley-Davidson President and CEO Matt Levatich. "Alta has demonstrated innovation and expertise in EV and their objectives align closely with ours. We each have strengths and capabilities that will be mutually beneficial as we work together to develop cutting-edge electric motorcycles."
Harley-Davidson has already announced the planned launch of its first electric motorcycle, informed by Project LiveWire™. That motorcycle is on track for release in 2019.
Since its inception, Alta Motors has designed and commercialized the world's most advanced electric motorcycles, enabling everyone from pro riders to new riders to experience "the future of fast."
"Riders are just beginning to understand the combined benefits of EV today, and our technology continues to progress," said Alta Motors Chief Product Officer and Co-Founder, Marc Fenigstein. "We believe electric motorcycles are the future, and that American companies have an opportunity to lead that future. It's incredibly exciting that Harley-Davidson, synonymous with motorcycle leadership, shares that vision and we're thrilled to collaborate with them."
As electric-drive innovation brings new levels of ease, accessibility and control, Harley-Davidson and Alta Motors aim to attract new audiences who are inspired by motorcycles and drawn to the "twist-and-go" ease and exhilaration of an electric motorcycle with no gears or clutch.
"We believe that EV is where global mobility is headed and holds great appeal for existing riders as well as opportunity to bring new riders into the sport," said Levatich. "We intend to be the world leader in the electrification of motorcycles and, at the same time, remain true to our gas and oil roots by continuing to produce a broad portfolio of motorcycles that appeal to all types of riders around the world."
MOTO | TRIVIA
Name the rider and year. Answer at bottom of page.
THEY SAID IT | 2018 ATLANTA SUPERCROSS
Christian Craig: "I hate to see anyone get hurt, especially someone so close to me. Cole is like a brother to me, and also someone I look up to, so it was such a bummer to see him get hurt. But it opened the door for me to ride in the 450 class and gave me an opportunity put in some better results than I had last year on the 450. I had a couple days on the bike and just came into it with an open mind. I didn't have any expectations except to be proud of myself and how I rode. I think that showed in how I performed. All day was solid. I had some decent qualifying and just went into the night show confident in myself. I've been working a lot on the mental side of things so it's time to finally show it. I led a lot of laps tonight, both in the first and last motos. Being up front with those guys isn't something you can practice for; you have to just do it and learn from it. It was fun to ride with those top guys. I'm looking forward to next weekend in Daytona and am hoping to keep building off tonight. Fifth is a personal best for me, so I'm pretty happy with this, but on the other hand I'm hungry for more."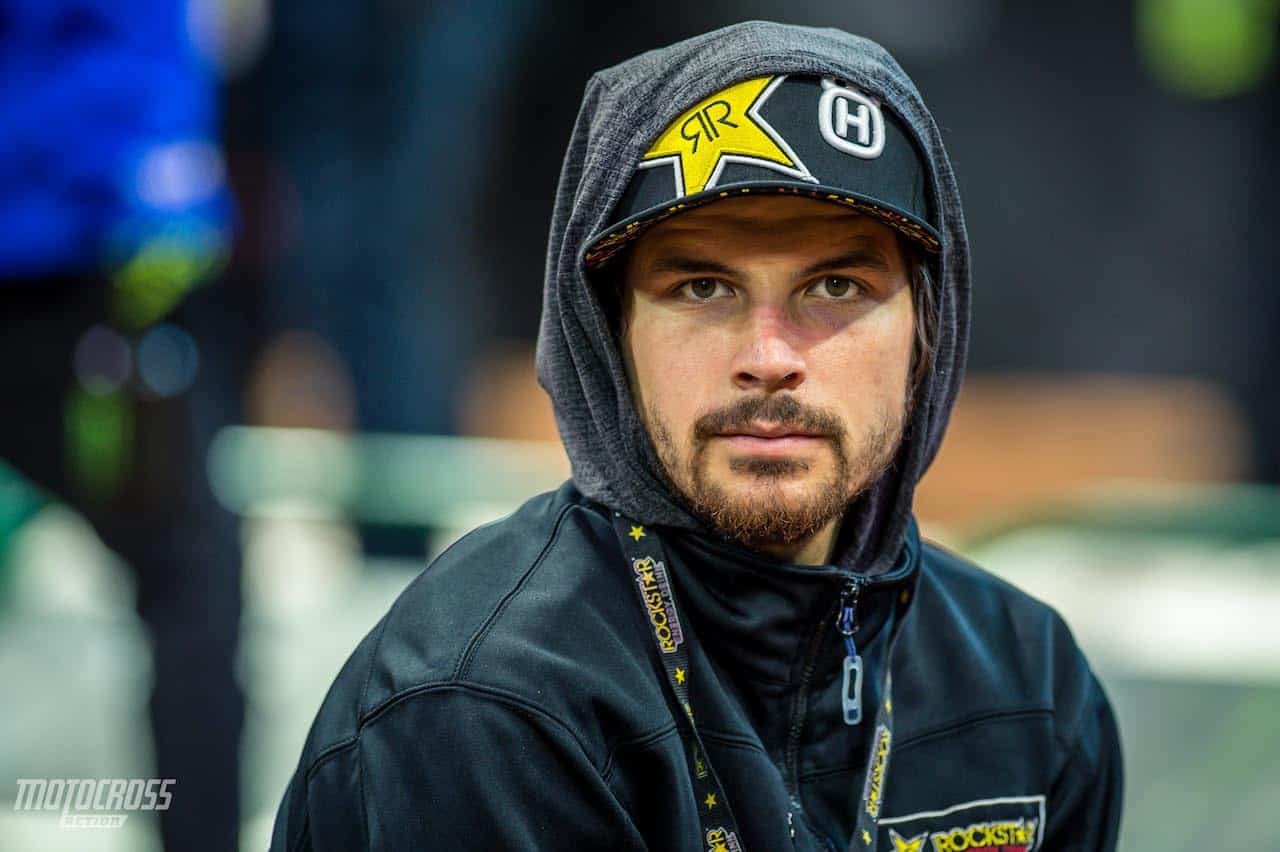 Jason Anderson: "I was really able to pull through for the races. Practice didn't go as well as I had hoped, but I pulled through. I was consistent during the races—that's what helped the most. The whoops were sketchy, but I had enough of a cushion in the last main to not have to push it so hard and still come out with the overall."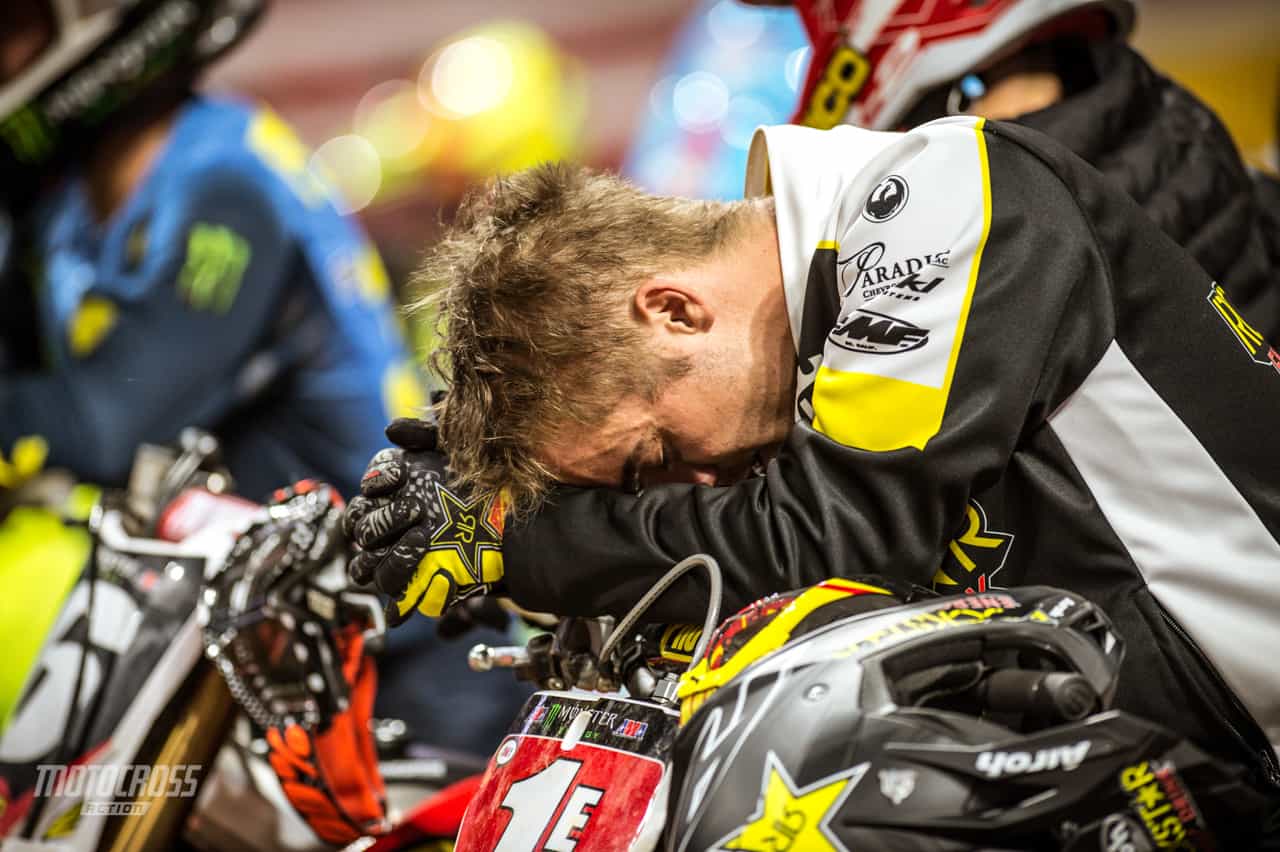 Zach Osborne: "It was a decent night. I missed out on the overall in the last main – it is what it is – but I'm still happy with the night. I had a great ride in the first main, and two strong rides after that. I hit my nose and my face pretty hard in the second main when I crashed, but I'm going to keep fighting."
Broc Tickle: "All around it was a tough night once racing started. Basically, out of three starts I had three crashes, so not a good night. Not sure what ladder I walked under this week as I feel like I just kept having bad luck with every race. It's definitely not how I wanted my Atlanta Supercross to go. It's such a shame because I had a good week training and made some positive bike set-up changes. I was really happy with how it all went this week so definitely not the results I was expecting tonight."
Marvin Musquin: "It was a great track; the dirt was amazing and they made it super technical. I had the fastest qualifying time in the afternoon, which is awesome but my starts were not so good tonight. It's really frustrating when you know you have the speed and you're behind those guys. Luckily, I was able to regroup for the last moto and we put ourselves in a better position off the start, I was more outside and I was top three right away. I was really happy about my riding tonight except for the starts in the first two motos. It was great to put myself on the 2nd overall, which is good considering my first two results of the night. I'm losing points on the championship [to Jason Anderson] – that is the bad point of today – but the riding is good."
Austin Forkner: "The format is really fast and it makes that final race pretty crazy. We did know where we needed to be in that final race to end up on the podium or get a win, but I saw my mechanics' pit board with two laps to go and knew I needed to get by the rider in front of me. It's really cool to take the win and make up even more points. There is a lot of racing left and I think I'm really going to like Daytona."
Martin Davalos: "Today was such a rollercoaster for me and I felt like I had the speed to win or at least be up on the podium. The track was really tricky and I know I wasn't the only one who had issues throughout the night, but I need to try and execute because I want to win for the team."

JOIN MXA'S SNAP CHAT FEED

If you are a Snap Chat user then add us to your stories. Get sneak peaks of everything moto. Our Snap Chat name is motocrossaction. Or just take a Snap of the picture above and it will add MXA automatically to your feed.
TALK MOTO WITH MOTO MINDED PEOPLE. JOIN MXA'S FACEBOOK GROUP CHAT

We love everything moto and want to bring all moto junkies together into one place to share their two cents, ideas, photos, bike fixes, bike problems and much more. To check it out first you must need to or already have a Facebook account. If you don't, it isn't much work and you could even have an alias so nobody knows it is you. To join click HERE. After you request to join we will accept your request shortly after.
CLASSIC PHOTO
Ricky Carmichael back in 2004 aboard his Honda CR250 smoker.
Moto Trivia answer: The year, 1990. The rider, Denny Stephenson.