MOTOCROSS ACTION MID-WEEK REPORT
#WHIPITWEDNESDAY
Rider: Dylan Ferrandis
Event: Round 5 (2020 Oakland Supercross)
Bike: Star Yamaha YZ250F
Photographer: Travis Fant
TWO-STROKE SPOTLIGHT: MICK FRASER'S 1997 KAWASAKI KX80
Before and after pictures. 
"I'd like to share with you a Kawasaki KX80 restoration project I recently completed. It is a 1997 year model that I made look like a 1992 year model. I purchased the bike for $200. It had a seized engine and was quite beat up and in need of a lot of work. The previous owner had left the cylinder head off the engine for a few years and there was rust on the crank and the engine was in need of a full overhaul. JRK Works Motorsports in Calgary, Alberta did a great job of a complete engine rebuild.
The bike was transformed from a 1997 model to a 1992. You don't hear about people making their bikes older vary often. 
I bought the bike to teach my girlfriend to ride on so I took the suspension to Don Ellis at Pro-Action Canada in Airdrie, Alberta for him to service and re-spring/valve for an adult sized rider. The remainder of the work I did myself:
-Sanded and painted the frame
-Painted the swingarm
-Painted the exhaust expansion chamber and repacked the muffler
-Replaced all bearings in the linkage, wheels and swingarm
-Rebuilt the front and rear brake master cylinders and calipers
-New rear brake disc
-New clutch and throttle cables
-New Renthal handle bars and grips
-Complete new plastics kit and new blue front fork boots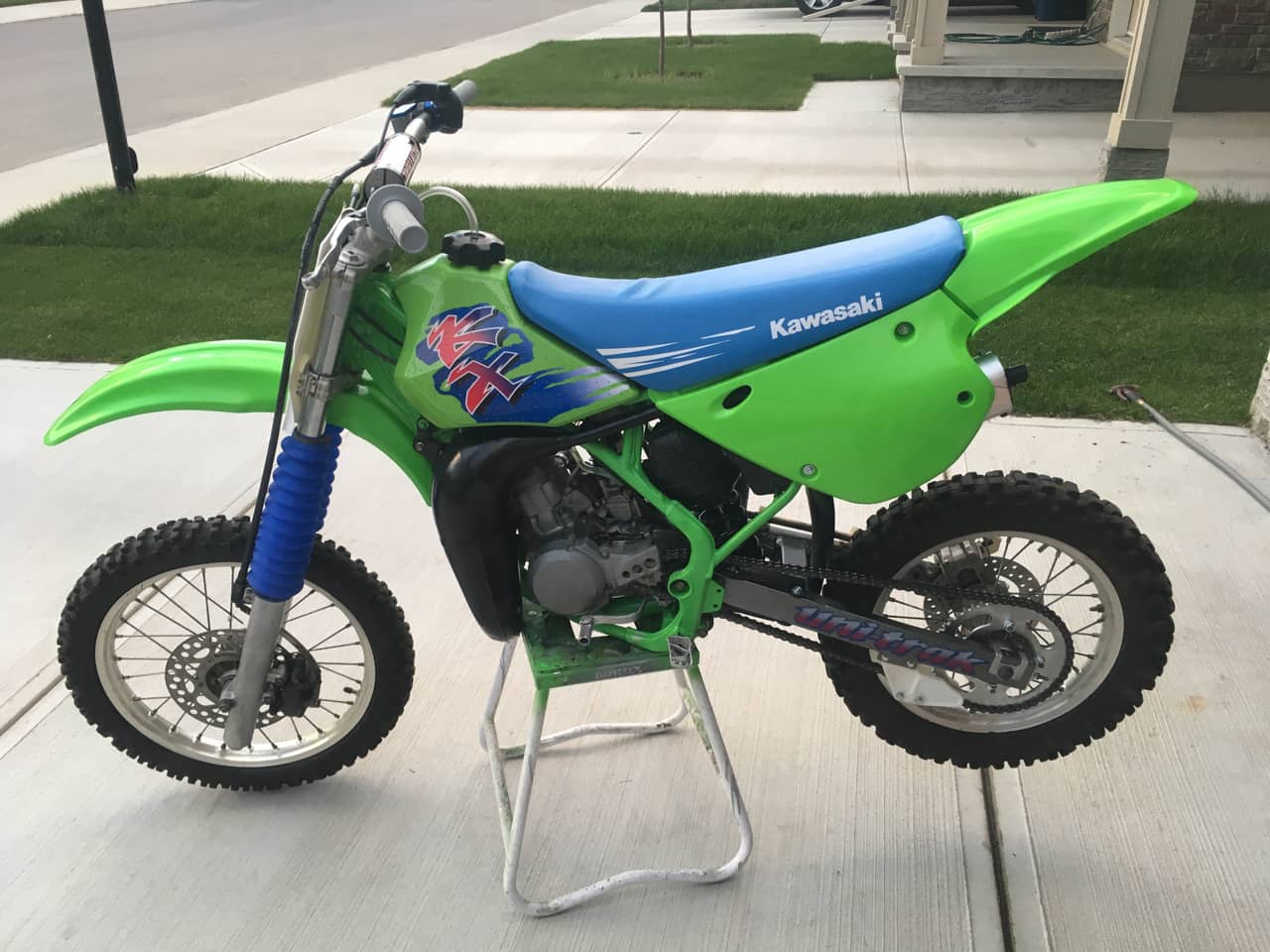 Bought for $200 and restored to an original condition. 
To finish off the bike I added 1992 OEM style tank and rad shroud decals and a 1992-style seat cover. I also used a 1990's style KX125/250 style swingarm decal as I couldn't find any readily available 1992 style KX80 swingarm decals."
Editors Note: Please keep those submissions coming. If you would like your bike to be featured in the "Two-Stroke Spotlight," please email me at [email protected]. All I ask is that you give a breakdown of your bike and a detailed description of the build. Please also send a few photos of your steed. By submitting your bike for the "Two-Stroke Spotlight," you agree to release all ownership rights to the images and copy to MXA. Please don't email me spam or try selling me Taylor Swift concert tickets or email me spam. I already celebrate T-Swizzle's entire collective, and there will be "bad blood" if you send me junk mail. See what I did there? Happy submitting your smoker.
MOTO | TRIVIA
Name the rider. Answer at the bottom of the page.
WHAT THE MXA WRECKING CREW IS UP TO
We got a trick KTM 250SX that was made into a 300cc two-stroke.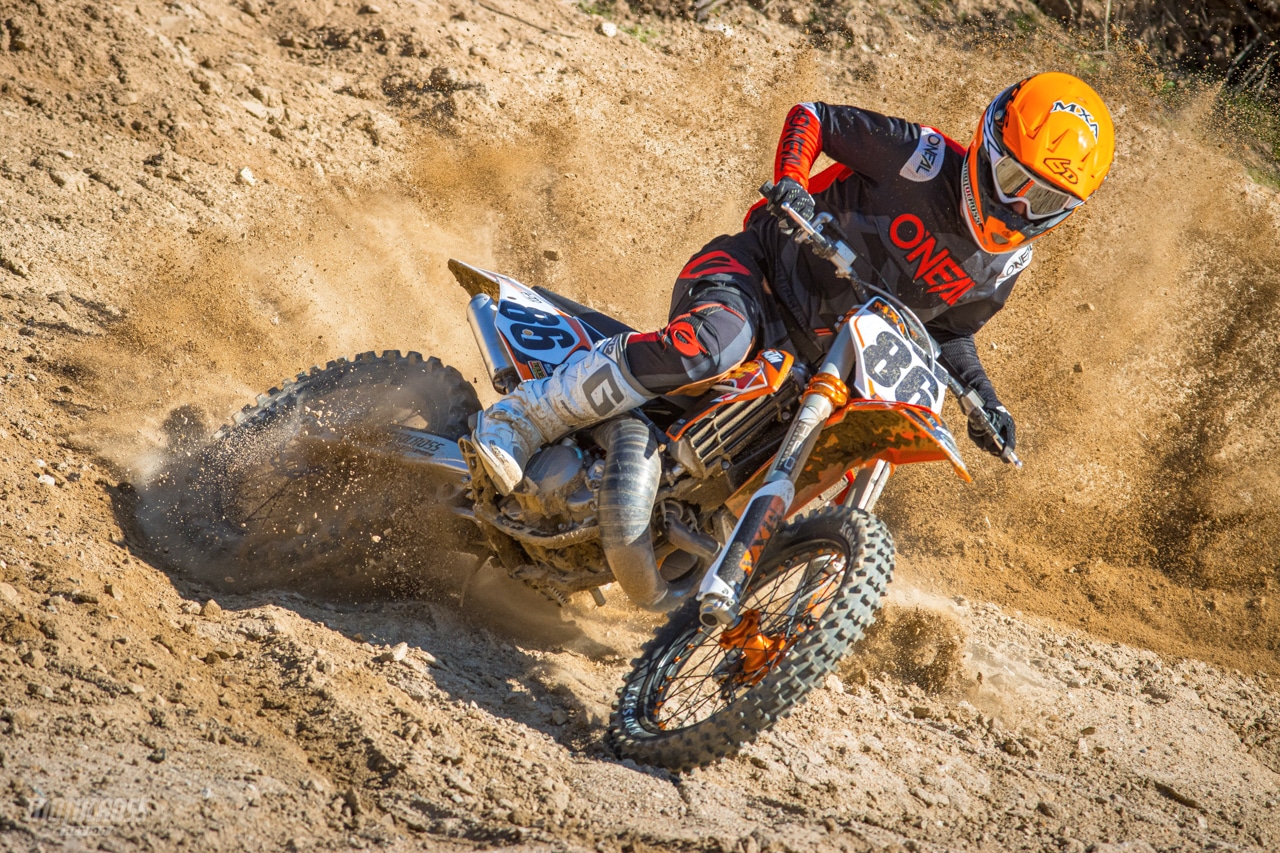 Josh Mosiman sliding the smoker around a corner. 
Cole Zellar ripping the 2020 TM 144MX that we have been testing. 
We got a GYTR YZ125 kit from Europe that we ran on the dyno this week. First we ran the stock YZ125 engine, then we took it apart and ran the GYTR kit parts.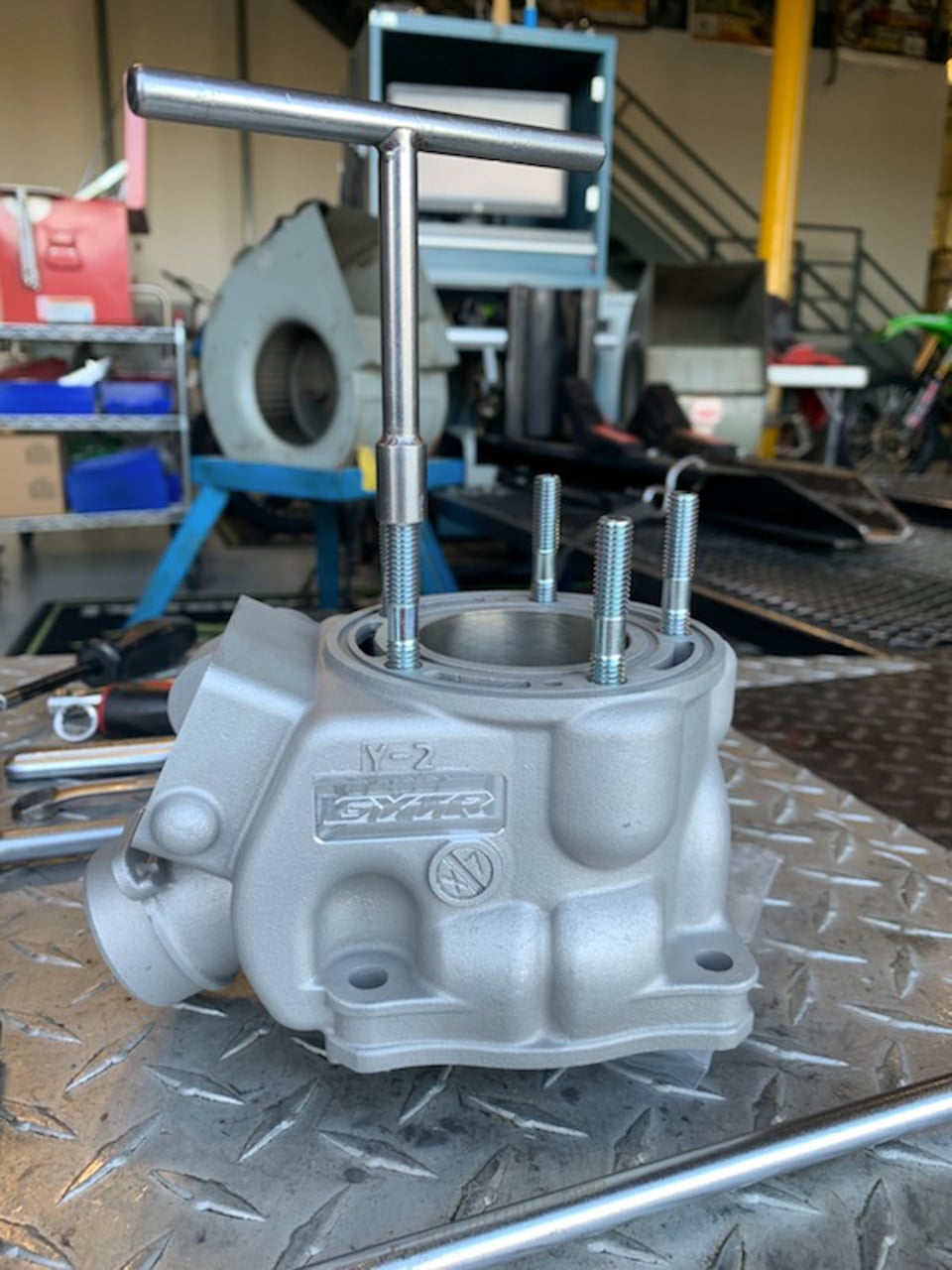 The YZ125 GYTR cylinder that we bolted on to our bike. 

The GYTR head.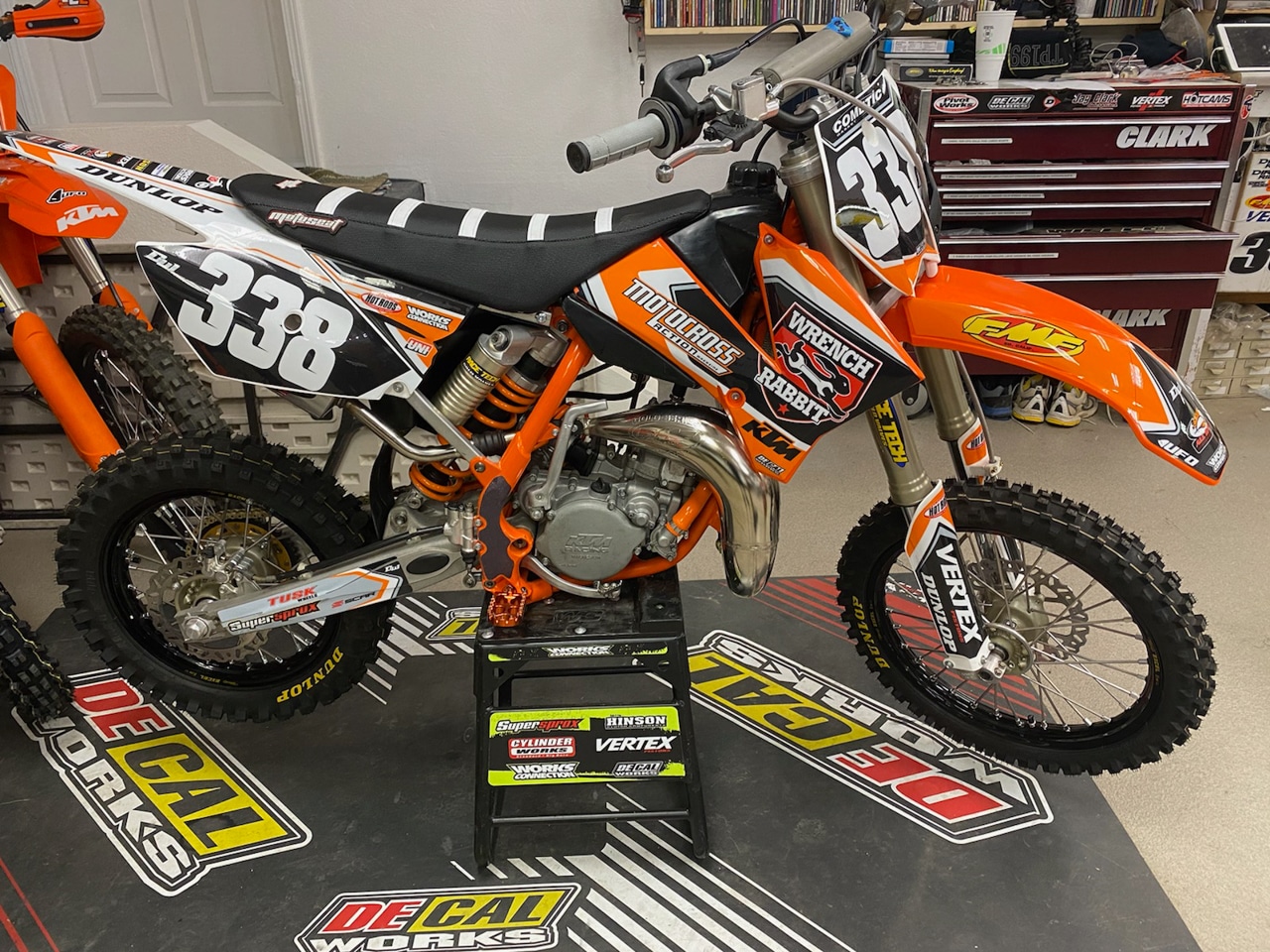 Zach Osborne back on an 85? No, Jay Clark brought a KTM 85SX back to life for us to ride and test. 
JUSTIN BARCIA & TROY LEE COME TOGETHER TO CREATE A DESIGN FOR HIS ARAI HELEMT 
MXA YOUTUBE CHANNEL | HIT THAT SUBSCRIBE BUTTON

The MXA wrecking crew is everything moto related. Check out our MXA YouTube channel for bike reviews, Supercross coverage, rider interviews and much more. And don't forgot to hit that subscribe button.
LOST BUT NOT FORGOTTEN | HONDA CRF450 PROTOTYPE THAT WAS RACED BY RYAN HUGHES

JUSTIN HILL & VINCE FRIESE SUPERCROSS 2020
TALK MOTO WITH MOTO MINDED PEOPLE. JOIN MXA'S FACEBOOK GROUP CHAT

We love everything moto and want to bring all moto junkies together into one place to share their two cents, ideas, photos, bike fixes, bike problems and much more. To check it out first you must need to or already have a Facebook account. If you don't, it isn't much work and you could even have an alias so nobody knows it is you. To join click HERE. After you request to join we will accept your request shortly after.
THEY SAID IT | 2020 OAKLAND SUPERCROSS
Alex Martin: "All around better vibes this weekend in Oakland after a productive week of testing in North Carolina with the team. I was able to use that JGR Suzuki power and grab the main event holeshot. I led for a while before going back to third where I rode for the majority of the race before I got passed with a lap and a half to go, finishing fourth. Very bittersweet, but I'm happy with the progress that was made in just one short week with the team. I can't wait for San Diego!"
Ken Roczen: "Overall I'm happy to be on the podium. I've felt pretty good in previous weeks and today was different. I just felt a little slow in practice honestly, and wasn't really vibing too well with the track. It took me a little longer than normal to get comfortable and get everything down. With that being the case, I'm happy to have finished on the podium because it could've been worse. I'm definitely bummed I gave up some valuable points, but to still come away with the points lead is good. It was great to lead more laps, but I wasn't the fastest tonight and made some big mistakes, especially toward the end, which were costly. It allowed Cooper [Webb] to close in; when you're behind someone like he was, you can kind of pick your lines and set something up for a pass, which is what he did. Obviously, I'm not too happy about that but it's racing. I don't know what happened in the pass but somehow my foot got smashed or hung up and it was a stinger, but I'm not too worried about it. We'll keep an eye on it and if I need to, we'll get an X-ray to make sure everything is good. I'm looking at the big picture and we've been on the podium a bunch and are still in a good position overall."
Justin Brayton: "Tonight was quite a bummer. I don't know exactly where I was on the first lap, maybe around ninth, and I just got hung up with another rider when he stalled his bike in an off-camber turn. Once he got going, my rear wheel had dug a hole in the up-ramp, and I was stuck. By the time I then got going, I was 22nd by a long way back. I made my way up to 13th, which was about all I could do. It's such a bummer because I feel like I'm riding really well at the moment and we had a great week at the test track. The bike is amazing and I'm really happy with the changes we've made and how it's working. These bad starts just won't cut it. These past two weeks I've just been terrible on the starts, so I need to be better about that. I think if I can get some starts like I did in the beginning of the year, I can get into the top five. I'm super-motivated heading into San Diego. It's races like this that really motivate you to get back to work during the week."
Eli Tomac: "Once I got to the front, after the sand, I lifted a wheelie, and missed my rear brake when I set the front end down. That's why I rode over that berm. Luckily, I was able to hop right back on. That was a gnarly fight, I was like, 'Gosh dang it I just blew it' but I had enough time to get back to the front. So frickin' awesome night."
Cooper Webb: "Honestly I thought I was a little far back. I went over the finish and it seemed like a pretty big gap. So I was going for it and I killed the last lap, honestly, and made a run in the whoops. I kinda missed the only passing point on the track. Man, we were so close going back and forth there, and unfortunately made contact in that last turn, but I was really trying to square him up and get underneath. You know I'm sorry for, obviously, the contact but we were going for it, and like you said I really need to kinda claw my way back into this championship and every point counts. But it was a good fight."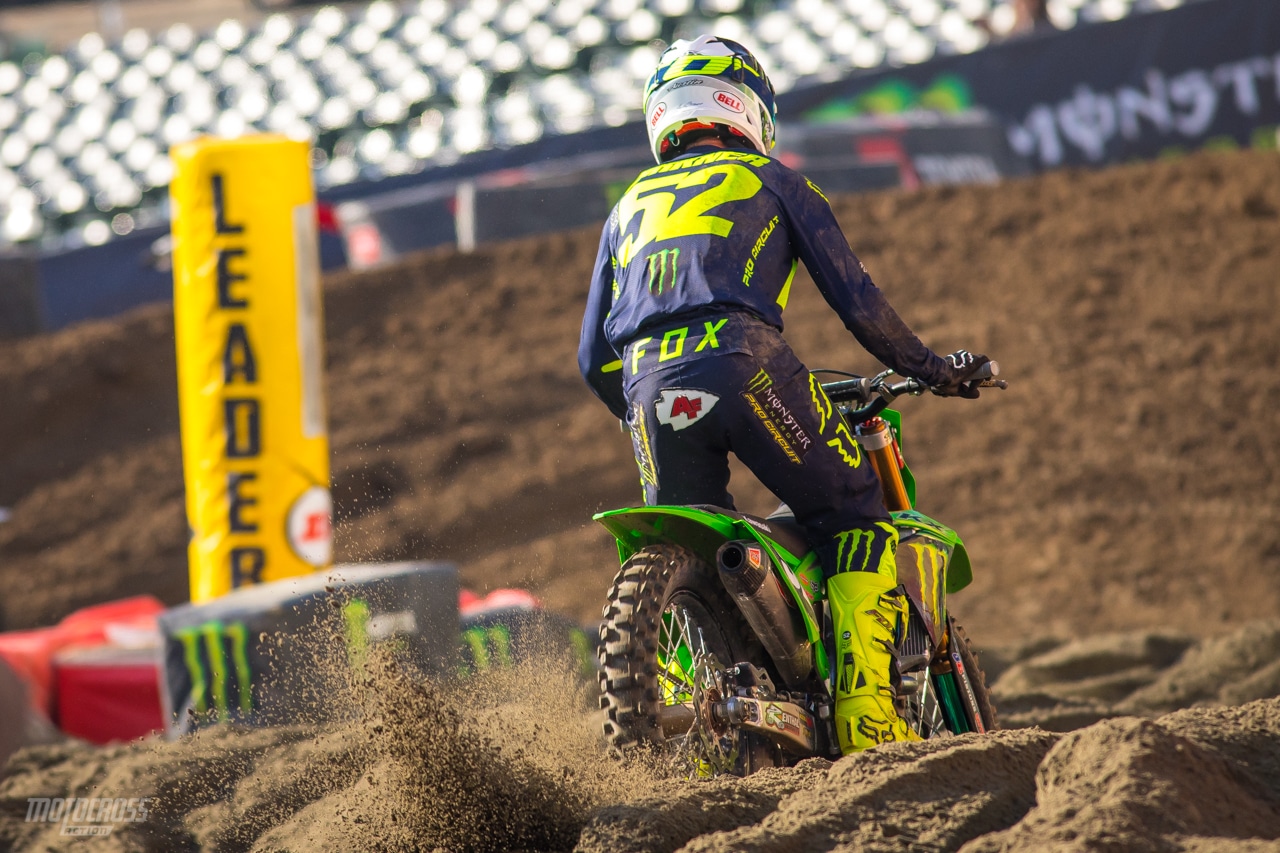 Austin Forkner: "Tonight I felt pretty solid. I was happy with my speed and fitness. I just happened to make a mistake right as I was getting caught, which cost me because everyone was so close in lap times. I'm happy with the race, but obviously wish I could have gotten the win."
Cameron Mcadoo: "It was really good to be back lining up for the team. Getting the heat race win felt awesome. I got a decent start in the main and was holding a top 10 but made a mistake and went down. The track was technical and still not being quite 100 percent cost me a little bit in the end. It was great to get out there and see where I was at because I just didn't know until I did it."
Dylan Ferrandis: "I'm pretty pumped about the way my day went here in Oakland. I finished first overall and took the red plate, which is awesome. It was such a good night for the team and myself, but we still have many races to go. So we're back to work again Monday and will work hard to be ready for the next round in San Diego."
Justin Cooper: "It was another tough night for me but we were able to bounce back. I did what I had to do. I put in a lot of laps tonight, so I was pretty smoked in that Main. It was pretty hard to pass out there. I just took my time and focused on Alex (Martin). I'm just happy to get a good start and stay up when I hit Alex in that first turn. I have got to give it up to the whole team. We'll go back to work and try and get back on top." 
Justin Barcia: "We had an extremely solid week. We tested a lot on the bike. We had some work to do, but on Thursday I felt like I was in a really comfortable position coming into Oakland. Throughout practice all day we improved, and I felt the comfort kind of come, and that was a good feeling for me. I got off the start good in the Heat race, I was about third or fourth and then someone ran into the side of me and kind of set me back a little bit. Then I had to charge up to third and was really close to second and first, but unfortunately, we had a mechanical issue on the last lap, so that sent us to the LCQ. The LCQ win was a good confidence boost going into the Main Event. The only tough thing was we were on the far outside gate and for the start this weekend, we needed to be on the inside. I kind of got pinched off and I knew I had my work cut out for me, but my body felt super good. My fitness was awesome. I charged hard throughout the whole Main Event. I came from outside the top 10 up to sixth and was closing in on the guys in front of me. All in all, Oakland for me was not the result I wanted but my riding was awesome. I felt really comfortable on a track that was difficult. I'm really looking forward to next weekend."
Aaron Plessinger: "Oakland wasn't really an ideal night. I struggled all day trying to find comfort and it showed in the Main. I got off to a mid-pack start and got passed a couple times. I started making my way through the pack but made a mistake and a couple guys got by me. I tried to just push forward from that point on and ended up 12th. We're going to go back with the team and do some testing this week. We'll get ready for San Diego, and I'll try to redeem myself there."
GET BOTH MOTOCROSS ACTION & DIRT BIKE MAGAZINE & MAKE MONEY ON THE DEAL 
Get both great magazines for only $32.99 Plus TWO $25 Chaparral gift cards!
CLASSIC PHOTO
Matt Walker back in 2004 on his Pro Circuit Kawasaki KX250F.
---
Moto Trivia answer: The rider is Zoli Berenyi who passed away back in 2010. Zoli was a major contender in the Canadian National Championships winning the 1965 Canadian 500 National Championship. Most significant, later in his racing career, Zoli was a legend at the World Vet Championship. He won his first title in 1990 in the Over-50 class (a class he would win three times). Then, Zoli won the Over-60 class four times (1995-1998) and followed that up with five wins in the Over-70 Championship (2002-2006).
Zoli also won the 1967 Canadian championship on a 1966 CZ 360 twin pipe. The bike was on display for many years at the shop Zoli used to be part owner of. It was completely restored right down to original CZ wheel bearings and Barum tires.