MOTOCROSS ACTION MID-WEEK REPORT
#WHIPITWEDNESDAY
Rider: Ken Roczen
Event: Round 7 2020 Tampa Supercross
Bike: Factory Honda CRF450
Photographer: Brian Converse
TWO-STROKE SPOTLIGHT: KENT WICKS' 1993 DONNIE SCHMIDT CHESTERFIELD YZ250 REPLICA
This is the original 1993 Donnie Schmidt Chesterfield YZ250. Below is the replica. 
"I follow up on what's happening on the Motocross Action web page every morning to get my MX fix! I am also a die hard two-stroke fan as I was fortunate enough to grow up racing when two-strokes still ruled the roost. I always preferred to race 125's when I was younger as they were so rewarding when you had them dialled in.
"I also enjoy putting old bikes back together that I used to watch on the Grand Prix and AMA circuit from the late 80's and early 90's. Attached you will find one that I have recently completed as a replica of Donnie Schmidt's 1993 Chesterfield YZ250.I know it wasn't a successful year for him as it had been the year before, but I have not seen any decent restorations done of this bike so decided to go for it. Below is a little story about the rebuild and what went into it:
1993 DONNIE SCHMIDT CHESTERFIELD YZ250 REPLICA
This is the replica. Can you tell a difference?

I decide to restore this bike as a Chesterfield Team bike for two reasons. One was because I have only seen lots of replicas of Donnie's 1992 championship winning bike and the other reason was because I was not exactly wild about the look of these bikes when they came out with their wild colors and magenta purple frames in the 90's!
I found the bike on a used goods site similar to eBay for a reasonable price. As it turned out the bike was still in very good condition and the owner had made an attempt to restore it himself. The engine had already been rebuilt which saved a lot of time and money. As for the rest of the bike, it was pulled down completely. The engine was just given a cosmetic overhaul with a fresh coat of paint and some newly plated bolts. A set of Boyesen reeds and a 38mm Keihin Air Striker carb were added. The reason for the carb was because someone had replaced the original with a Mikuni from a much older model.
The frame was sand blasted and re-powder coated black. All the bolts where re-plated and any missing ones were sourced at the local bike wreckers. The plastics was refurbished and reused where possible and if they weren't I replaced them. I had Racestar Graphix, a local company who designed the graphics kit. Evo MX in the UK supplied me with a replica seat cover. I fitted new Excel rims with Buchman stainless steel spokes. My local Yamaha dealer supplied me with any OEM parts that were still available. If I couldn't get parts from them I sourced them myself with the help of eBay and other aftermarket and OEM parts suppliers. Arrow was one of Yamaha's big sponsors back then, however, as far as I know you cannot get any of the old products that they used to make, so alternatives had to be used when it came to the exhaust and handlebars. For the pipe and silencer I used a FMF Gnarly pipe and a Powercore 2 silencer. Bars are Pro Taper SE ¾ inch. DC Plastics was kind enough to handle all the parts that I had sourced in the states and had them shipped to me as I am a supplier of foot pegs to them.
The Arrow pipe was impossible to find. A tried and true FMF pipe was put in its place. 
Once all my parts had arrived I started piecing it back together over the course of a year. It took a lot longer to get it done as I might have liked, but work keeps us from these things! I do a lot of the cleaning and fabrication myself as my father and myself own a laser cutting/fabricating business. This also allows me to re-make a lot of parts that need replacing. I am really impressed how it turned out and have had a lot of people tell me not to ride it and just to display it as it looks too good to ride. So I have been in two minds whether to ride it or not.
PS: I am also in the process now of restoring a 1989 Damon Bradshaw Yamaha YZ125 as close to what it looked like as possible.
Editor's Note: Please keep those submissions coming. If you would like your bike to be featured in the "Two-Stroke Spotlight," please email me at [email protected]. All I ask is that you give a breakdown of your bike and a detailed description of the build. Please also send a few photos of your steed. By submitting your bike for the "Two-Stroke Spotlight," you agree to release all ownership rights to the images and copy to MXA.
TAMPA SUPERCROSS "THIS SHIRT SAVES LIVES" CAMPAIGN
Press Release: This past weekend 80 Supercross racers in two divisions competed inside Raymond James Stadium on a man-made, custom designed track of challenging jumps, bermed turns, and a deep, beach-sand section that threw their race bikes in unpredictable directions. There's really no aspect of Monster Energy Supercross that isn't extraordinary.
So when the promoters of a sport like Supercross team up with a world-renowned organization like St. Jude Children's Research Hospital, it should be no surprise that that partnership is extraordinary as well. When St. Jude first partnered with Supercross in 2017, there was no detailed road map, just two unique organizations coming together to see what was possible while also supporting St. Jude ambassador and four-time Supercross Champion Ryan Dungey.
In 2020, the partnership includes a "This Shirt Saves Lives" text-to-donate campaign, an online auction that is fully supported by the Supercross community, and a specially-themed race aptly named "This Race Saves Lives", which took place on Saturday in Tampa, Florida.

For the Tampa race, athletes and teams incorporated St. Jude patient-inspired artwork into their riding gear and motorcycle graphics. These one-of-a-kind, race-worn items were collected after the race and will join the crown jewel of the 2020 auction: A Suzuki Boulevard M109R B.O.S.S. street bike that was ridden to Sturgis by five-time Supercross Champion and NBC Sports expert commentator, Ricky Carmichael. Both the text-to-donate campaign and online auction (stjude.org/supercrossauction) will remain open through the final round in Salt Lake City, Utah on May 2.
CHECK OUT THE NEW ARAI VX-PRO4 JUSTIN BARCIA-3 REPLICA 
LOST BUT NOT FORGOTTEN | CHRIS GOSSELAAR'S 2005 PPG SUZUKI RM-Z250
2020 MOOSE RACING AGROID RACEWEAR
Press Release:   A new racing season means it's time for new gear! If you're in the market for a high-performance, top of the line set of gear look no further than the brand-new Moose Racing Agroid line of racewear. Unlike last year's M1 Agroid line of racewear which was the M1 racewear chassis with an Agroid graphic, the Agroid racewear line is brand-new from the ground up. Maximum comfort and mobility are achieved with the Agroid jersey and pant by using the latest stretch polyester materials and laser-cut vent holes. Durability is a hallmark of Moose Racing products and the same can be expected with the Agroid line. A ripstop polyester woven seat and knee panels combined with full-grain leather inner knee panels provide outstanding durability. Agroid jersey suggested retail $49.95. Agroid pant suggested retail $139.95. Visit Mooseracing.com for sizes and color options.
GET BOTH MOTOCROSS ACTION & DIRT BIKE MAGAZINE & MAKE MONEY ON THE DEAL 
Get both great magazines for only $32.99 Plus TWO $25 Chaparral gift cards!
THEY SAID IT | 2020 TAMPA SUPERCROSS
Broc Tickle: "My first race back in almost two years was filled with emotions. I'm very happy with how smooth and calm I stayed throughout the day. I felt like I haven't missed a beat overall being away. I will improve each week as a racer and get more comfortable. I want to thank JGRMX/Yoshimura/Suzuki for all the hard work over the last three weeks preparing for Tampa. I'm looking forward to getting more quality riding and training in this week to show up to Dallas a step better than this round."
Jimmy Decotis: "The first round of 250 East Coast racing was a challenging task for me and the JGR team. We fought hard all day, pushing through an injury and we ended up with a ninth-place finish. I'm thankful for my crew and everyone who kept me positive through the adversity. I'm excited for a few days of rest so I can let the body heal and then head to Arlington, Texas healthy and ready to challenge upfront."
Eli Tomac: "Early on, [I] was just following Adam. With these short lap times I knew we had a lot of laps under our belts tonight, so kinda just settled for a while then made the push just before half way. I'm like, alright gotta go if I'm gonna go,' you know? So [I] was able to do that, switched up the sand there. That ended up working out really cool tonight with the option there, a good passing spot. The motorcycle was just awesome the whole day, so man this feels good."
Cooper Webb: "When we have this sand section it just makes it super hard to see, so when you're kinda behind someone you lose a bunch of time just simply not being able to see. So, it made it tough when you're behind, but once I got around Malcolm around half way, really tried to put my head down. Eli was already pretty much checked out so I'm happy with a second. Obviously wanted to be up there for that win tonight, felt great all day but its' a good night overall. I felt like I rode good and just need to be better on my starts."
Ken Roczen: "The rhythm sections weren't too technical but the sand, obviously it being beach sand it's super deep and there's not really a true line forming through there so we're swapping lanes all over the place. But that was fun. The whoops were tough, really rough. Overall though I'm just happy to be back on the podium. Struggled with my starts the last couple weekends, just trying to keep a cool head now and get those [starts] back dialed and put myself in a good position." When asked specifically about losing the red plate, he said, "It's only four points behind, you know, like you said. A lot of things can happen, and we've just got to work on our starts again and get those dialed, at the same time not freak out. Sometimes when you over train then you start going backwards. So just trying to keep it cool and go out there and have fun."
Shane McElrath: "I just gotta start off saying the Lord's been faithful through it all. Nobody outside of my wife and I really know what went into this year and what a hit we took last year. Just mentally, man it was a struggle. Everybody goes through their down times and I really had a lot of growing to do last year. And man, I'm just, we've had to grow up, that's really been it. We were being childish and man, it's nice to be here. This Monster Energy Star Racing Yamaha team, they've given me their best and I just can't thank them enough, my wife, my mechanic Matt, Dr. G… Such a relief I mean, coming into this race I was living on a prayer, really. Leading up to this season we changed everything and I'm like, 'All right God, you got us here, let's keep going.' So I'm good."
Chase Sexton: "You can always say that after the race is over, but I really feel like my speed's good and I feel like I could have been up there with him, just didn't execute my start like I needed to. Can't come from fifth and expect to catch him at the end of the race. We're riding good, the bike's great, so much better than last year, feeling like a new person. So, coming into this year I'm super confident. It was a good race, won the heat, got second in the main, so just going to keep building. Better than last year, so we'll just keep building and try to click off some wins."
Jeremy Martin: "When you qualify the fastest, obviously it's just practice, but it was looking really promising. I'm really proud to be here, third is a really big deal when you consider where I'm coming from. Last year at this time I was just beginning working at a dealership and trying to learn the ropes and live a normal life. And now I'm here back on the big stage, and I couldn't be here without Factory Connection Racing GEICO Honda. I mean, my contract was up last year, and, not gonna lie I was sweating bullets. I didn't know if they would re-sign me or not but thank God I had some success before and they were willing to take a risk on me, and here I am and yeah, really, really happy with tonight and we'll just try to keep building."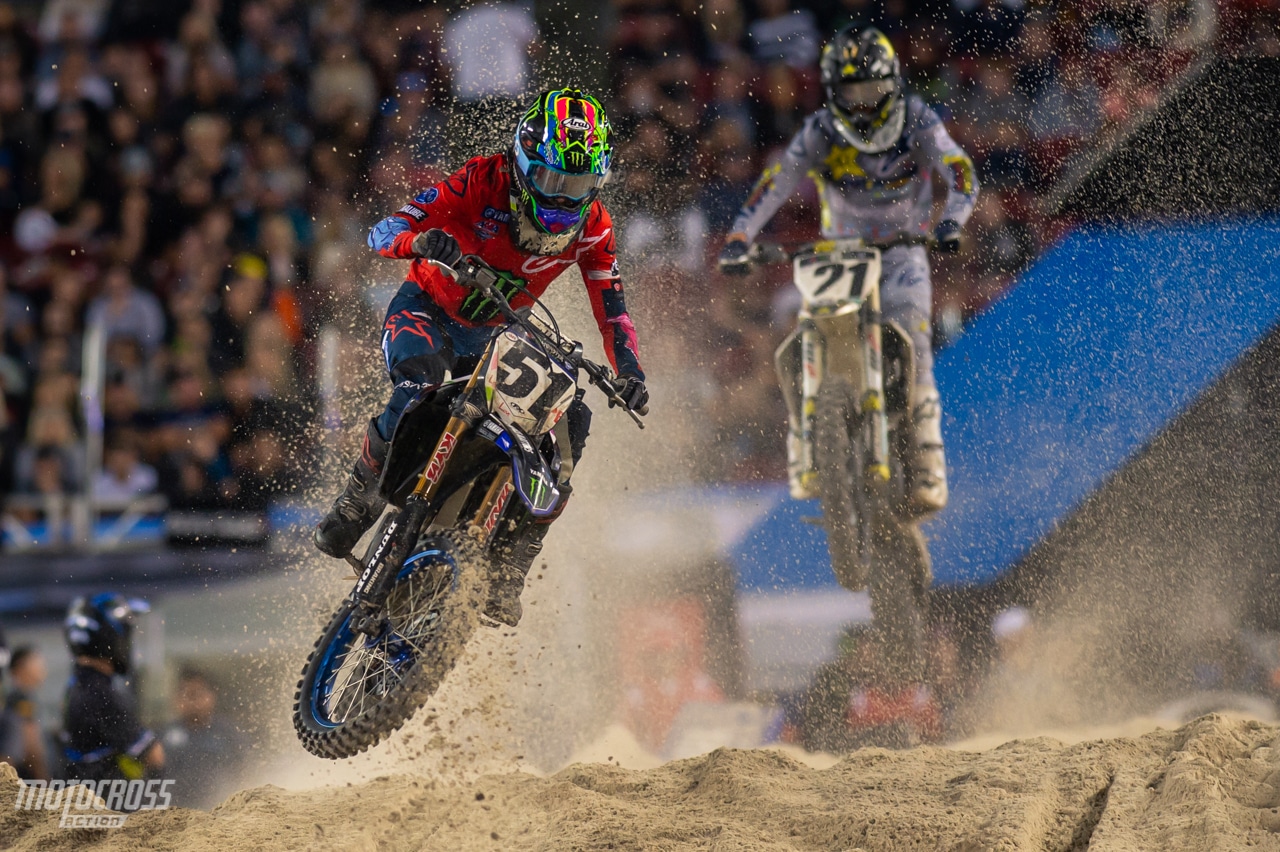 Justin Barcia: "I had a pretty scary crash in practice so it was good to walk away from that. My hand just slipped off the bar over the triple and I went flying. This track was a difficult track. I wasn't expecting it to be so hard packed. We made some good changes going into the night, but I got another one of those bad starts in the Main. I was able to charge through the pack and got fourth place. My bike was working well on the track, it was awesome. It was hard to pass out there, but I was able to make it work. All in all, I gained some confidence going through the pack like that. I'm looking forward to being back at home this week before the next round in Texas."
Aaron Plessinger: "I felt good in practice, flowing well. In the end, the dirt was a lot different down here than what I thought it would be. I thought there would be a lot more ruts. I didn't get great starts which cost me. And then me and the whoops weren't getting along much today and I ended up going down there. When I got up, I was staying at pace with the guys at the front. I know the speed is there. I just need to put myself in a good position from the start. We'll get them next week. I'm excited for the Triple Crown next weekend. It will be a good change."
Justin Brayton: "Up until about four laps to go, it was looking like we could get a top-five finish, but right about then it kind of all unraveled and I ended up in ninth. I'm pretty disappointed with it to be honest. It's been a challenging week for my family, with everyone kind of having the flu. Now my head has been pounding all day, so it's been tough to focus. I kind of ran out of gas with four to go, but that's racing and you end up ninth or 10th. The race was okay up until that, but the reality is that you get judged by your end result and it doesn't matter how you rode through the middle."
Garrett Marchbanks: "I was really hoping for a podium this weekend, but I made things a bit hard on myself when I started outside the top 10. Starts are going to be crucial next week with the triple crown so we'll look to work on those this week to come better prepared. Overall still a good night and glad to be in the top 10 on such a tough track."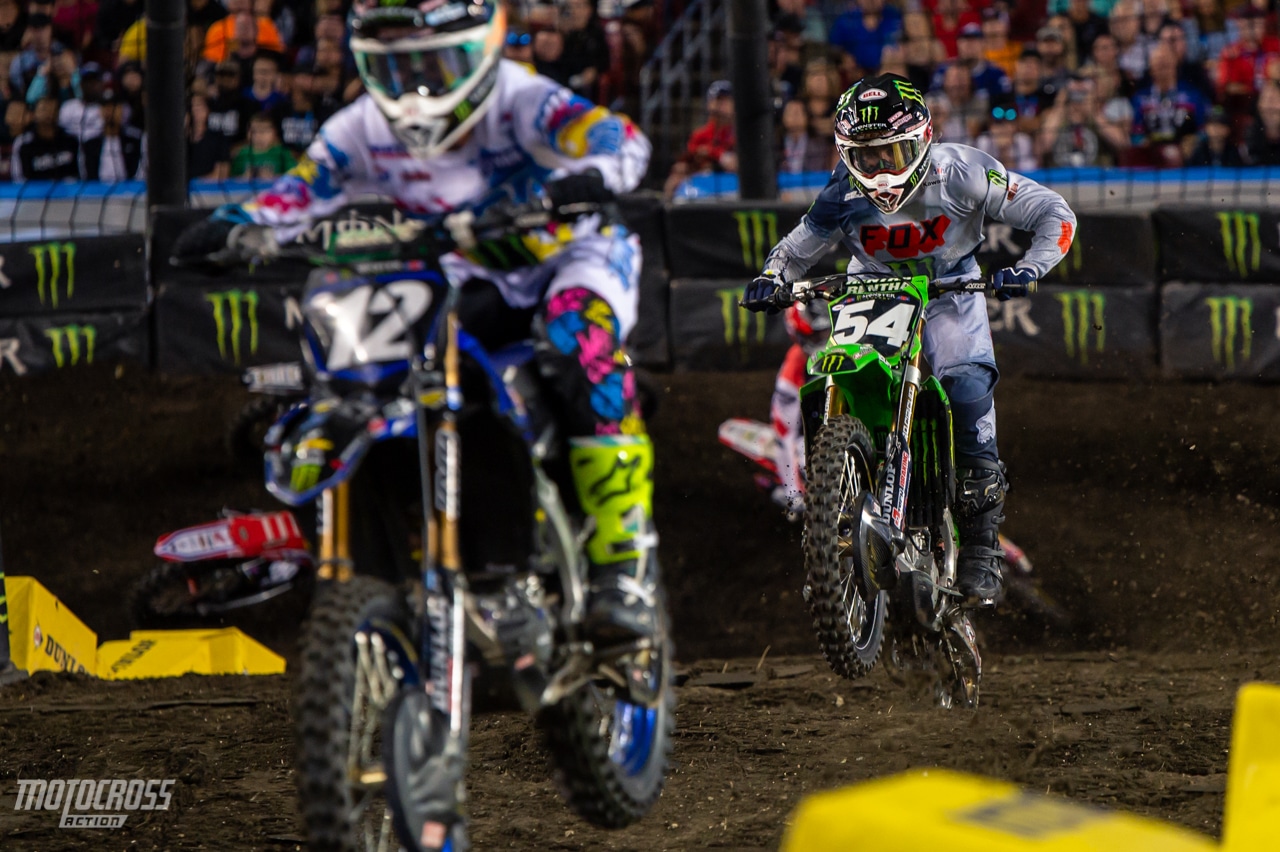 Jordan Smith: "This wasn't exactly the finish I had in mind when we made our preparations for the start of the season, but I have to look at the positives and we are out of here healthy. Sometimes that's half the battle when you face a track that is tough. After so much time away from a race track, it's great to be back and we plan to make the most out of the triple crown next weekend."
2020 TAMPA SUPERCROSS HIGHLIGHTS
WORKS CONNECTION 2019-20 KTM 125SX 150SX / HUSQVARNA TC125 MX SKID PLATE

Press Release: Rocks, ruts and cased jumps can wreak havoc on your bikes frame and engine cases. But you can trust this Works Connection MX skid plate to provide the protection from those track hazards for your KTM 125/150SX or Husqvarna TC125. CNC'd bracket mounting makes it a snap to install. Protection and convenience all in one package.
-Coverage protects engine center cases and frame rails
-Proven Rubber Isolator Mounting System (RIMS) allows frame flex and rigidity properties to perform as the O.E.M. designed
-CNC'd and formed from aircraft grade 6061 T-6 aluminum
-CNC'd aluminum brackets with quality hardware for secure mounting
-Made in the USA
Contact your retailer or visit www.worksconnection.com
MOTO | TRIVIA
Name the riders number 18, 125, 33 and 42. Answer at the bottom of the page.
MXA YOUTUBE CHANNEL | HIT THAT SUBSCRIBE BUTTON

The MXA wrecking crew is everything moto related. Check out our MXA YouTube channel for bike reviews, Supercross coverage, rider interviews and much more. And don't forgot to hit that subscribe button.
POLISPORT GRAPHIC GUARDS PROTECTOR
Press Release: Polisport releases a new performance part, the Graphic Guards Protector. These translucent plastic protectors will mount on the side panels to avoid graphics from peeling away easily. There won't be direct contact between the boot and the graphics and this will increase the lifespan of your Graphics.
The parts are made in highly resistant plastic, that will endure wear and abrasion. It's also easy to install with only 1-point mount.
The Graphics Guards Protector will be available for selected models of Yamaha, Kawasaki, Honda, KTM and Husqvarna.
FIRST RIDE OF THE 2020 ROCKSTAR EDITION HUSKY FC450
BRIAN MOREAU INJURY UPDATE FROM TAMPA SUPERCROSS
Press Release: Troy Lee Designs/Red Bull KTM Factory Racing's Brian Moreau suffered a major crash during Saturday's Free Practice session at the seventh round of the AMA Supercross Championship in Tampa, Florida. The French rider was immediately rushed to a nearby hospital where he underwent surgery to repair a fractured vertebra in his neck. Moreau is in stable condition at this time as he awaits further information from doctors.
The Moreau family released an update on Sunday morning via social media stating: "Hit in the vertebrae, Brian had surgery last night at Tampa hospital. Surgery is good and Brian woke up. He is currently in intensive care but doctors will not be able to decide on his condition in several days…Brian is a very brave and strong boy and is aware of everything!"
TLD/KTM Team Owner, Troy Lee: "Brian is a very tough kid and we know he will tackle this injury and do whatever he can to make a full recovery. Everyone at Troy Lee Designs and KTM are fully supporting his recovery every step of the way. I want to also thank both Marvin and Mathilde Musquin for all the support they have given Brian from the very first day he showed up in California. Mathilde has been at the hospital with Brian since his crash and has been amazing to work with during this difficult time."
KTM North America, Inc., along with the Troy Lee Designs/Red Bull KTM Factory Racing and Red Bull KTM Factory Racing teams are sending positive thoughts to Brian and the Moreau family at this time.
TALK MOTO WITH MOTO MINDED PEOPLE. JOIN MXA'S FACEBOOK GROUP CHAT

We love everything moto and want to bring all moto junkies together into one place to share their two cents, ideas, photos, bike fixes, bike problems and much more. To check it out first you must need to or already have a Facebook account. If you don't, it isn't much work and you could even have an alias so nobody knows it is you. To join click HERE. After you request to join we will accept your request shortly after.
CLASSIC PHOTO
Tyler Evans back in 2005.
---
Moto Trivia answer: Rider number 18 is Jeff Emig, 125 is Jeremy McGrath, 33 is Erik Kehoe and 42 is Brian Swink.