MOTOCROSS ACTION MID-WEEK REPORT
#WHIPITWEDNESDAY
Rider: Dean Wilson
Event: Round 8 2020 Arlington Supercross
Bike: Factory Rockstar Husqvarna FC450
Photographer: Brian Converse
TWO-STROKE SPOTLIGHT: PATRICK JOHNSON'S 1978 KAWASAKI SR125 REPLICA
"Hello MXA! Forty years ago, Kawasaki Motor Corporation hired renowned Open Class specialist, Gaylon Mosier to contest the 1978 125cc Championship. KMC armed Gaylon with a "one-off" SR125, arguably a blend of the 1978 KX125 A4 and the yet to be released 1979 KX125 A5 production bikes. The SR125 used many parts off of Kawasaki's production bikes, but also incorporated unique design features intended for the future UniTrak rear suspension. Like most works bikes of the day, at the end of the 1978 season, the bike was destroyed and put into a dumpster in the back of KMC's race shop.
"To commemorate the 40th anniversary of Gaylon's 1978 125cc campaign (placing 2nd behind Broc Glover), I created this exact replica of the 1978 SR125. To quote Marty Tripes, it's a "works bike made in America". Starting with a 1979 KX125, I reverse engineered the chassis and engine into a replica works racer." –Pj
EDITORS NOTE: Please keep those submissions coming. If you would like your bike to be featured in the "Two-Stroke Spotlight," please email me at [email protected]. All I ask is that you give a breakdown of your bike and a detailed description of the build. Please also send a few photos of your steed. By submitting your bike for the "Two-Stroke Spotlight," you agree to release all ownership rights to the images and copy to MXA. 
ST. JUDE BENEFIT AUCTION: COOL THINGS FOR A GOOD CAUSE 
Get in on the silent auction with a Suzuki Boulevard M109R B.O.S.S. and a Ryan Dungey 2016 Supercross Championship Replica Ring.
MOTO | TRIVIA
Name the rider and year. Answer at the bottom of the page.
MXA'S FIRST RIDE OF THE 2020-1/2 HUSQVARNA FC450 ROCKSTAR EDITION
OGIO POWERSPORTS RIG T-3 GEAR BAG 
Ogio Powersports recently sent us their new Rig T-3 gear bag and we're loving it!
The All-New admiral of the Ogio Gear Bag collection, the Rig T-3 is a 3-in-1 gear bag and it comes complete with a full-featured/removable Head Case Helmet bag and a removable, washable, full-featured Boot bag. With adjustable cargo pockets, added side compartments for storage, a full changing mat, hideaway essential tool holder and perfect pocket placement to carry absolutely everything, the Ogio Rig T-3 gear bag is the best carry-all rider bag that Ogio has created and MXA is stoked to have one.
Features:
– 3-in-1 bag features separate and removable FULL-FEATURED Head Case-Helmet bag and Boot Bag
– Extra-wide lid opening for easy access to gear bags and under lid storage
– Helmet Case accessible via top panel opening
– Velcro opening mesh panel for airflow
– SLED (Structural Load Equalizing Deck) System for increased durability-handling in any condition
– Heavy-duty oversized wheels with wheel protection guards
– Internal adjustable mesh dividers for custom organization
– Hideaway changing mat
– Multiple reinforced padded grab handle
– 3 under lid storage pockets for increased capacity and top slash zipper-pocket
– Dual compression strap secure hold system
– Telescopic pull handle
– Small tool storage pack (included)
The complete Ogio Rig T-3 set. 
The new Ogio boot bag. 

NEW RACE-READY 2020 MOOSE AGROID GEAR 
LOST BUT NOT FORGOTTEN | JAMES STEWART'S KAWASAKI SR250
THE MARCH 2020 ISSUE IS HERE! IT IS JAM-PACKED FULL OF BIKE TEST & TECH ARTICLES

Not only do we ride Cooper Webb's KTM 300SX two-stroke works bike, but we do a midsize shootout beetween the KTM 350SXF, TM 300FI-MX & Husky FC350. Wait, there's more. We do a Yamaha YZ125 versus KTM 125 UnShootout and build a project Honda CRF450.

If you subscribe to MXA you can get the mag on your iPhone, iPad, Kindle or Android by going to the Apple Store, Amazon or Google Play or in a digital version. Even better you can subscribe to Motocross Action and get the awesome print edition delivered to your house by a uniformed employee of the U.S. Government. You can call (800) 767-0345 or Click Here (or on the box at the bottom of this page) to subscribe.
POLISPORT GRAPHIC GUARDS PROTECTOR
Polisport releases a new performance part, the Graphic Guards Protector. These translucent plastic protectors will mount on the side panels to avoid graphics from peeling away easily. There won't be direct contact between the boot and the graphics and this will increase the lifespan of your Graphics. The parts are made in highly resistant plastic, that will endure wear and abrasion. It's also easy to install with only 1-point mount.
The Graphics Guards Protector will be available for selected models of Yamaha, Kawasaki, Honda, KTM and Husqvarna. Click here to get yours today.
BRIAN MEDEIROS RACES THE HONOLULU HILLS WORCS RACE IN TAFT CALIFORNIA | HE TELLS YOU HOW IT WENT
Brian on a 3 Bros KTM to race the WORCS race in Taft, CA. 
As you many know, I have been getting ready for the 2020 AMA Pro Motocross series beginning in May while working a full-time job as a suspension technician at Wrench 42 Motorsports. Getting the proper amount of training and riding in can be tough at times and I always try to ride as much as I can on my days off in order to keep my bike skills up to par. Last Monday I got a call from a friend of mine John Kilmartin, John runs Kilmartin Racing Three-Bros  KTM; a four-man, privately funded effort that competes in both the WORCS and NGPC series with support from sponsors like 3 Bros KTM, Elusive Graphics, Nitro Mousse, Factory Connection, IMS, FXR, and many more. John asked if I would be interested in racing a KTM 450 SX-F at the WORCS race taking place at Honolulu Hills raceway in Taft California that weekend. Although my off-road experience was slim to none, I agreed.
That Thursday at Glen Helen raceway was the first time I got to ride the bike. It was also my first time riding a bike that was purposely built for off-road racing. The first thing that I noticed was the oversized IMS fuel tank. It felt like a normal gas tank between my legs but when full, the added weight was noticeable. This wasn't a bad thing though because it gave the bike a well-connected feel to the ground on dry hardpack surfaces. The next thing I noticed was the ultra-plush Factory Connection suspension. Much softer than my motocross bike, the Factory Connection suspension absorbed small square-edge bumps well but on the jumps at Glen Helen it was simply too soft, but this was fine because there aren't very big jumps in off-road racing. The last big change for me was the mousse tubes, a must have in off-road racing to avoid flat tires. They made the front end feel heavy while turning but gave me a consistent feel at the front tire in both soft and hard-packed surfaces, I was able to tell what the front tire was going to do at all times.  After a few hours at the Glen Helen fine tuning the suspension to get myself comfortable, we called it a day and the team took the bike back in order to get it ready for the weekend. This was weird for me; I am not used to having someone else get a bike ready for me to go race on. It was nice.
Friday afternoon after work, I stopped at my house, ate dinner with my fiancé and made the three-hour drive up to Honolulu Hills Raceway. I made it to the track five minutes before the gates closed for the night. Yes, I drove straight to the track, I was so excited to try something new that all I wanted to do was wake up, throw my gear on, and race my motorcycle. But first, in order for me to be able to race the Pro 2 class (a step below the premier class) on Sunday, I would have to place in the top 25 in the 450 A class on Saturday—which I was able to do. But it wasn't easy. Rain was in the forecast. It held off for most of the day until about ten minutes before the start of the 450 A qualifying race began and didn't let up until after our hour-long moto was done. That was by far the muddiest race that I have ever done. The hard-pack surface didn't make things any easier. After going though 20 tear-off's and eventually tossing my goggles, the race came to a close. Once I got off the team wasted no time and immediately started getting the bike ready for the next day.
Sunday brought much better weather, temperatures in the high 60's with a light breeze, and sunshine made it for a perfect day of racing. Well, so I thought. The Pro race was scheduled to begin at 12:30 in the afternoon, it consists of 3 waves of riders. The first wave was the Pro class, second was the Pro 2 class, and lastly the Pro 2 Lights class. being that the track crew had only touched up a few parts of the course (the motocross section) I knew it was going to be a long two-hour race ahead.
Once the race began, I was amazed at the sprint speed of all the riders at the beginning of the race, knowing that it was a two-hour long moto I was not expecting that. I tried to sprint for as long as I could. What also impressed me was how long the top guys could go at that pace, it seemed like they never slowed down for the first hour of the race. I felt good up until the hour and fifteen-minute mark. My hands started to go numb and I could not feel my fingers and the roost started to get to me. It felt like getting shot by a paintball gun point blank the entire time. It didn't matter if you were coming up on someone slower or behind someone fast, it hurt. With lap times in the 10 to 12-minute range and having 3 waves of Pros on track, sections of the course would look completely different from the lap before.
After giving it all I had, I pulled off into the mechanics area and called it a day. I knew I had to be at work the next day and that I would be putting myself at risk of injuring myself if I tried to press on. With that said, it is a testament to all these top off-road racers and what they can do on a motorcycle for two hours of brutal racing. It was a humbling experience to say the least, but I'm glad that I did it. It opened my eyes to a new type of riding and racing that I can do to help prepare myself for the upcoming Pro Motocross series. I'd like to thank John, and everyone involved with Kilmartin Racing Three-Bros, KTM for all the hard work this past weekend. It is greatly appreciated!
 THEY SAID IT | 2020 ARLINGTON SUPERCROSS
Justin Barcia: "It was strong racing tonight in Dallas. We got a little bit better on the starts, but still needed something there to get us on the podium. The track was not super technical, but took a few guys out of the race. All in all, my race was really good. I made charges and made passes. I felt really strong and stayed in the hunt. My starts are going to keep getting better, I just need to stay consistent and keep trying my hardest. I'm ready for next week for sure."
Broc Tickle: "Tough night in Arlington last night. Struggled a little throughout the day but was excited to go racing for the night show. Got off to a rough start in Main 1 and came through first rhythm, first lap and collided with another rider. My left hand got smashed in between my bars and rear wheel of other rider at contact. I am unsure of full prognosis of my hand, but will have more insight tomorrow and will give you guys an update as I know more."
Aaron Plessinger: "Dallas was another step in the right direction for me. I felt good in practice, was really flowing and riding well. The dirt was a little slick on top, but got rutted and really rough. The whoops broke down quite quickly and we were jumping them by the second or third practice. I liked it though. It had some technical stuff, but overall I'm just happy to be back on soft dirt. I'm looking forward to this week riding. I ended up eighth overall, and that's my best finish so far this year. Next week we'll go to Atlanta which is where I got my best finish at last year. Hopefully we can get better starts and run up there and break into the top five."
Ken Roczen: "The first main was really good. I made some moves early and while I wouldn't say I checked out, I rode up front the whole race. It was good to get that first win and start with a low number for the night's overall points. I think the second race is the most important and we wanted to go out there and get a good finish, but it just wasn't our race at all. I didn't get the start I wanted and then couldn't find the same momentum. I'm happy with how we executed the last race though. I battled hard and went back and forth with Eli [Tomac] a couple times and just rode much better in traffic, having people in front of me and making some passes. All in all, with how many crashes there were throughout the whole day and night, and how I struggled with the track overall, I'm really happy to come away healthy and with second overall."
Justin Brayton: "Man, what a rough night. I had five crashes in one day—that's more than I've had total in the past few years! I had three in practice, and the last one I thought was going to end my night. I caught my foot on the takeoff of the finish-line jump and it sent me down hard. I decided to suit up for the races after being checked out and cleared by the medical staff. In the first race, I got a good start, was running in fifth and feeling good. Unfortunately, with a few minutes to go, I crashed in the whoops. Then in the second ra, race, I crashed again, high-siding in a corner, and that one ended my night. I'm honestly sitting here in disbelief about how it all happened, but I'm also thankful nothing is seriously injured and I'll be good for Atlanta."
 
Garrett Marchbanks: "I was hoping to battle more with those guys at the front, but I didn't put down the best starts and had to work my way up. Even coming through traffic I was able to get in some really good lap times, so I need to make it easier on myself and try to get some clear laps at the front. It will be good to get back to a normal schedule and go after another solid finish next week."
Jordan Smith: "To say I got beat up out there today would be an understatement. There were things that were just accidents and then there some that seemed to be intentional. If I took away the time on the ground, I was happy with my speed and had two out of three good starts. I can't dwell on the bad, but I can learn from it. We'll be ready for Atlanta."
Shane McElrath: "I felt awesome all day. I didn't put myself in a good position tonight with the first two starts. It really tough to catch the leaders, but I fought hard all night and at times maybe a little too hard. I'm happy with my last race and motivated to get behind the gate again next weekend!"
Cooper Webb: "Some times you ride the bull sometimes you get the horns. Just left medical examinations and I got very lucky with hematoma with deep bone bruising to my pelvis as well as my sacrum. Extremely lucky and blessed to only walk away with that. Thanks everyone for the support and prayers. Not quite done yet."
Adam Cianciarulo: "Had a crash in Q1 and broke my left collarbone. Gonna have to sit this one out tonight. Sucks but it is what it is. My fault. I'll keep you guys updated on the recovery!"
WANNA RACE IN SOCAL? NEED TO RENT A BIKE? FIND A PLACE TO STAY? NEED MOTOCROSS INSTRUCTION: JUST CALL STAPO

Dennis Stapleton doing what he does every day of the week — let him make your dreams come true.
In his spare time, when he's not testing with MXA, racing in a foreign country, going to Japan or helping many of his motocross buddies, MXA test rider Dennis Stapleton opens up his house, garage, bikes and mechanics to help riders who would like to come to SoCal on a motocross vacation. He offers full service to all of the Southern California tracks for racers or for play riders. Whether you want to rent a bike, move in for a week, race at Glen Helen or take motocross lessons—this is one-stop shopping. Just send them an email ([email protected]). If you'd like to live the SoCal lifestyle for a day, a weekend, a week, a month or three months, visit Dennis Stapleton's' website at www.knobbyshopsouth.org for more details!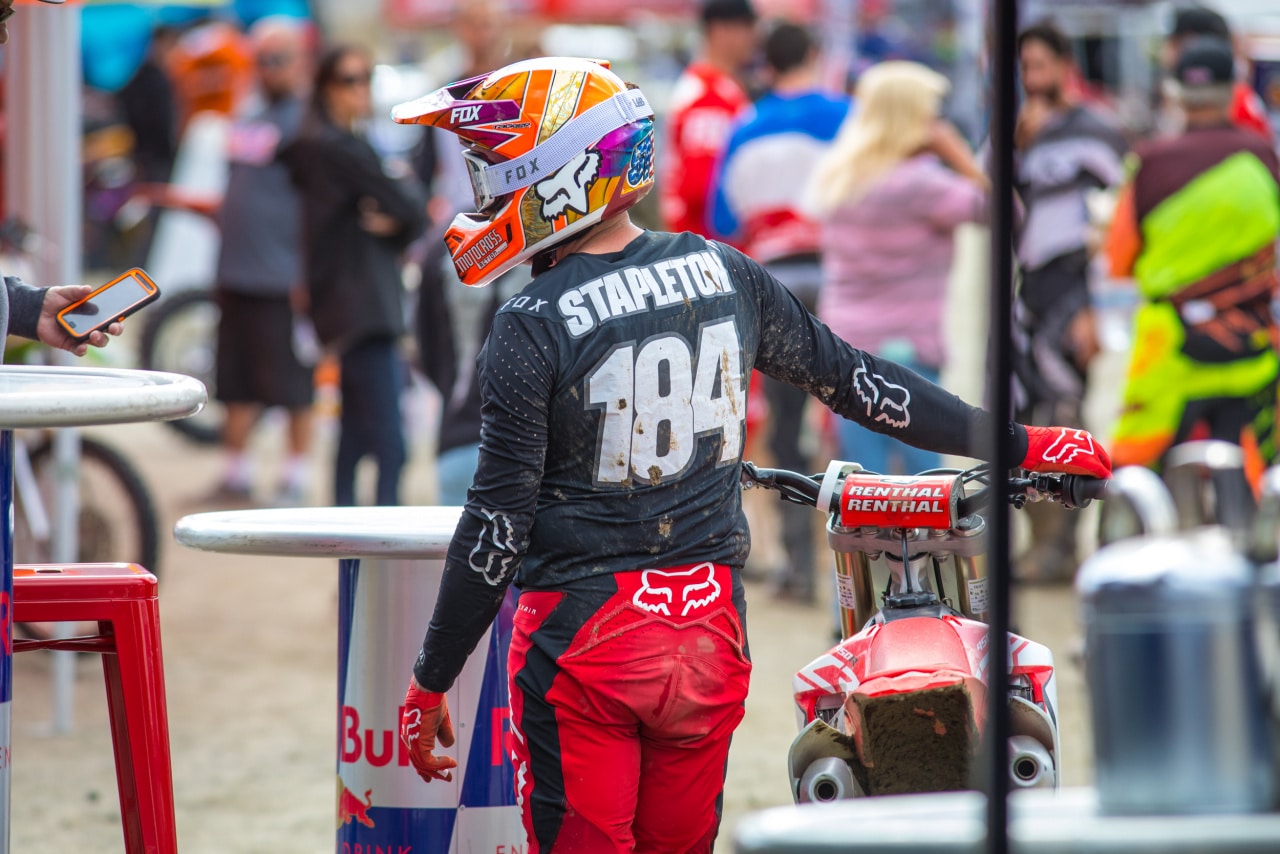 MXA YOUTUBE CHANNEL | HIT THAT SUBSCRIBE BUTTON

The MXA wrecking crew is everything moto related. Check out our MXA YouTube channel for bike reviews, Supercross coverage, rider interviews and much more. And don't forgot to hit that subscribe button.
TALK MOTO WITH ON MXA'S FACEBOOK GROUP CHAT

We love everything moto and want to bring all moto junkies together into one place to share their two cents, ideas, photos, bike fixes, bike problems and much more. To check it out first you must need to or already have a Facebook account. If you don't, it isn't much work and you could even have an alias so nobody knows it is you. To join click HERE. After you request to join we will accept your request shortly after.
CLASSIS PHOTO
Josh Grant during his rookie year back in 2004. 
---
Moto Trivia answer: Josh Hanson in 2004