MOTOCROSS ACTION MID-WEEK REPORT
#WHIPITWEDNESDAY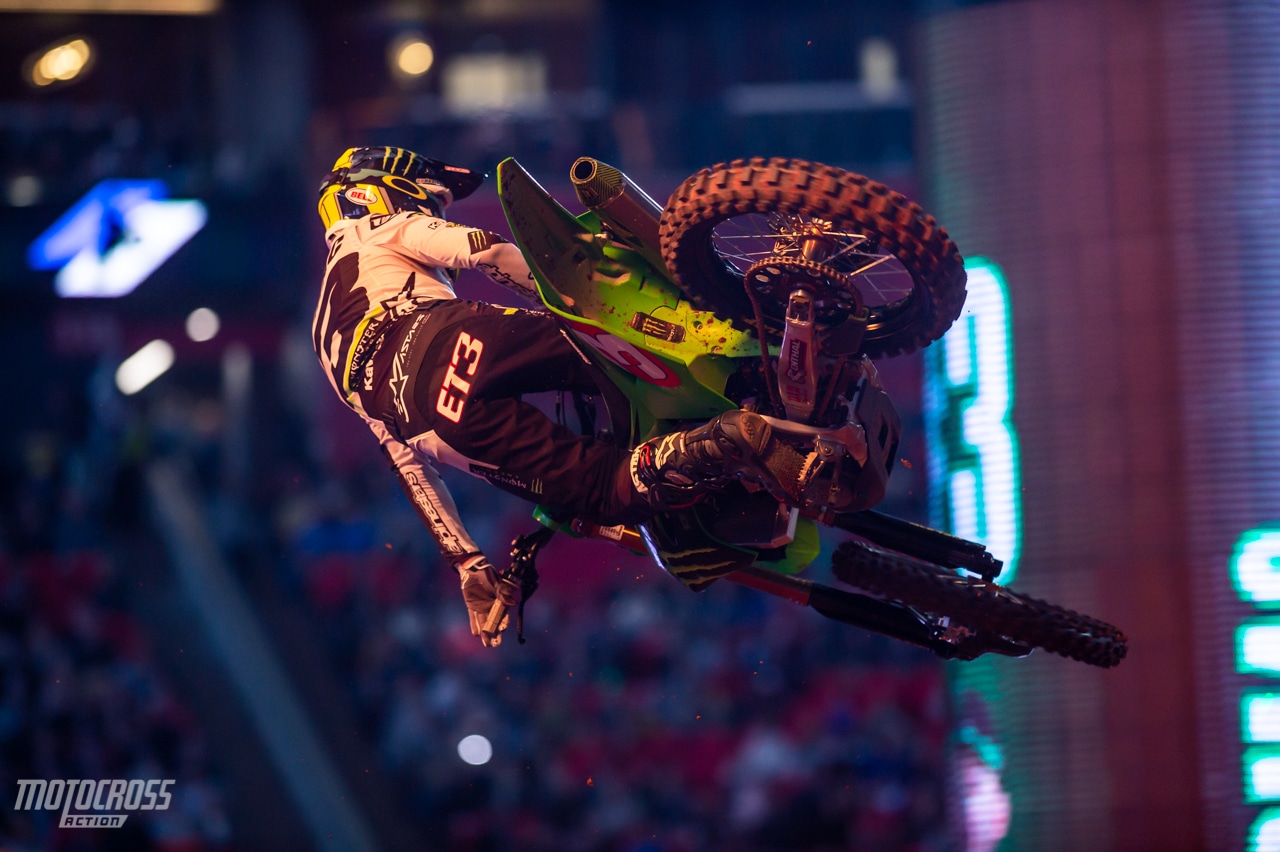 Rider: Eli Tomac
Event: Round 9 2020 Atlanta Supercross
Bike: Factory Kawasaki KX450
Photographer: Brian Converse
TWO-STROKE SPOTLIGHT: BOB PATCHETT'S 1979 YAMAHA YZ125
"I completely restored this 1979 Yamaha YZ125. Everything done. Buchanans did the wheels and Matt Crown Racing rebuilt the monoshock. All sandblasted and powder-coated. DC Plastics for the plates. Race Tech did the forks and Dave Bowman did the engine and was a huge help with great advice." –Bob Patchett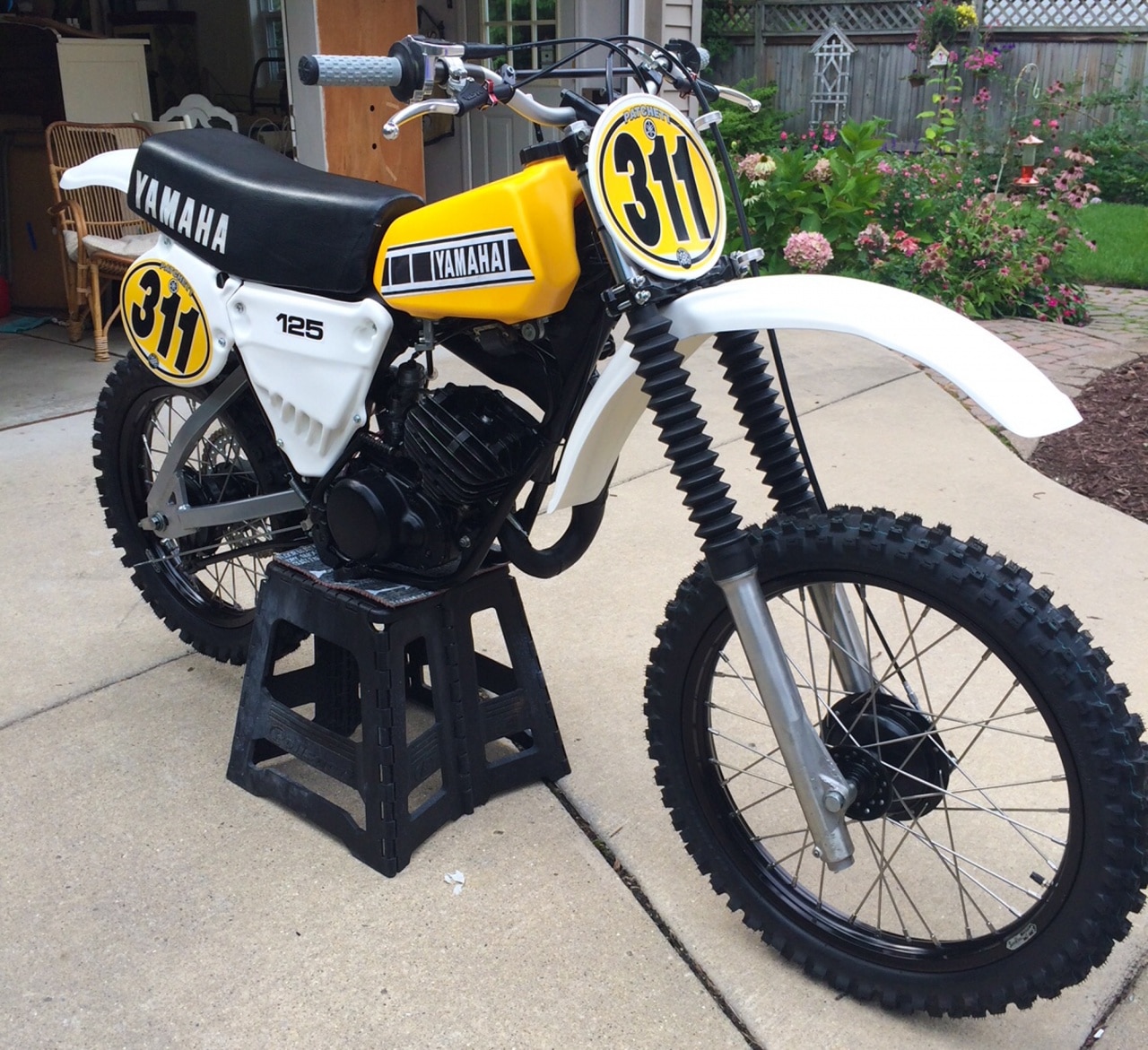 EDITORS NOTE: Please keep those submissions coming. If you would like your bike to be featured in the "Two-Stroke Spotlight," please email me at [email protected] All I ask is that you give a breakdown of your bike and a detailed description of the build. Please also send a few photos of your steed. By submitting your bike for the "Two-Stroke Spotlight," you agree to release all ownership rights to the images and copy to MXA. Please don't email me spam or try selling me Taylor Swift concert tickets or email me spam. I already celebrate T-Swizzle's entire collective, and there will be "bad blood" if you send me junk mail. See what I did there? Happy submitting your smoker.
DAYTONA SUPERCROSS IS NEXT WEEKEND SO WE HAD TREVOR NELSON REPLICATE THEIR LOGO FOR US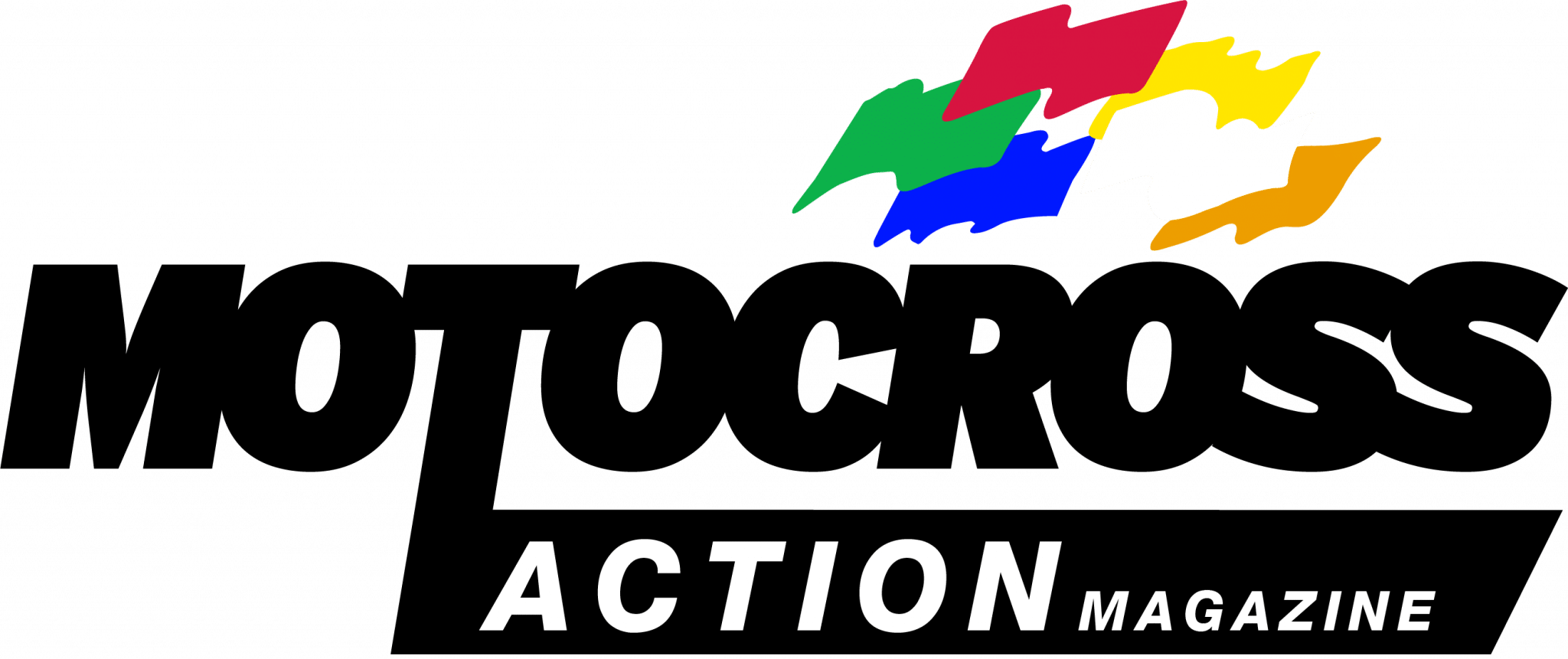 EXTREME CUSTOM BUILT KTX500E TWO-STROKE
HONDA USES LEAP DAY SX TO LEAP INTO THE POINTS LEAD IN BOTH CLASSES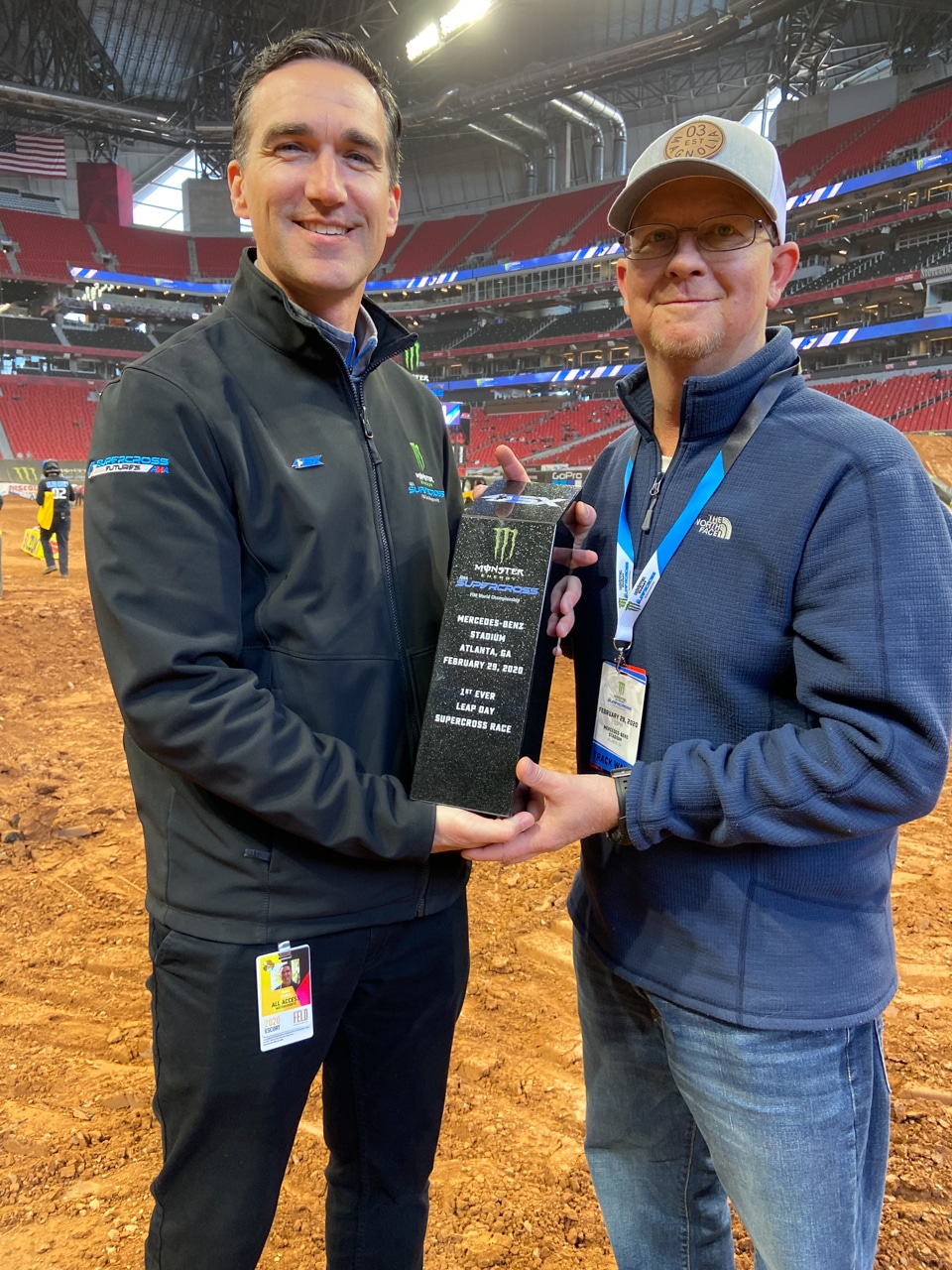 This last weekends Supercross race in Atlanta was the first time it was on a leap day.
By Ben Bridges
Since 1974 there have been 682 rounds of SX raced in the premier class.  SX races have been held all over the U.S. from January – December.  We've had races on February 28th and March 1st, but this is the first time a SX race has ever been held on February 29th.  Honda's Ken Roczen and Chase Sexton used the Leap Day race to leap into the points lead. Roczen helped Honda get their first win in Atlanta since 2008, and broke the European stranglehold on the Atlanta race.  Kawasaki was the last Japanese brand to win in Atlanta, when Chad Reed did it in 2015.  Roczen now shares the red plate with Tomac. Sexton put his Geico Honda on the top spot of the podium and taking the red plate that he shared with McElrath all to himself.  Honda has set many records in SX.  They will be the Leap Day champions until 2048, which is the next year February 29th falls on a Saturday.
JORDAN SMITH TALKS ABOUT HIS SEASON THUS FAR WITH MXA 
MXA | MOTO | TRIVIA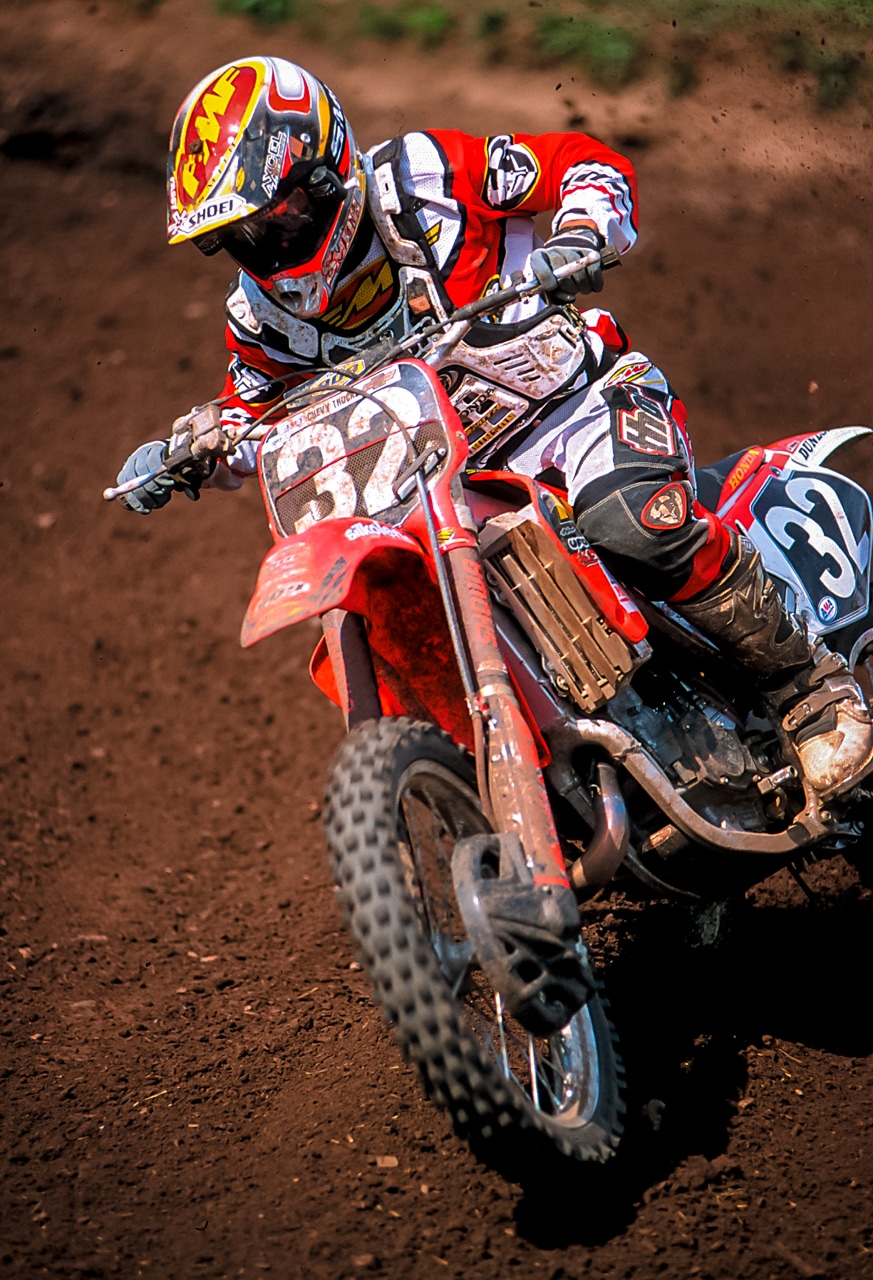 Name the rider and year. Answer at the bottom of page.

2020 KTM FACTORY EDITION | PHOTOS BY TREVOR NELSON
The MXA wrecking crew has got a lot of time now of the 2020 KTM 450SXF Factory Edition with the full review coming in the June issue. Make sure to subscribe today so you don't miss out!
One of the biggest changes to the Factory Edition for 2020 were the internal changes to the WP XACT forks.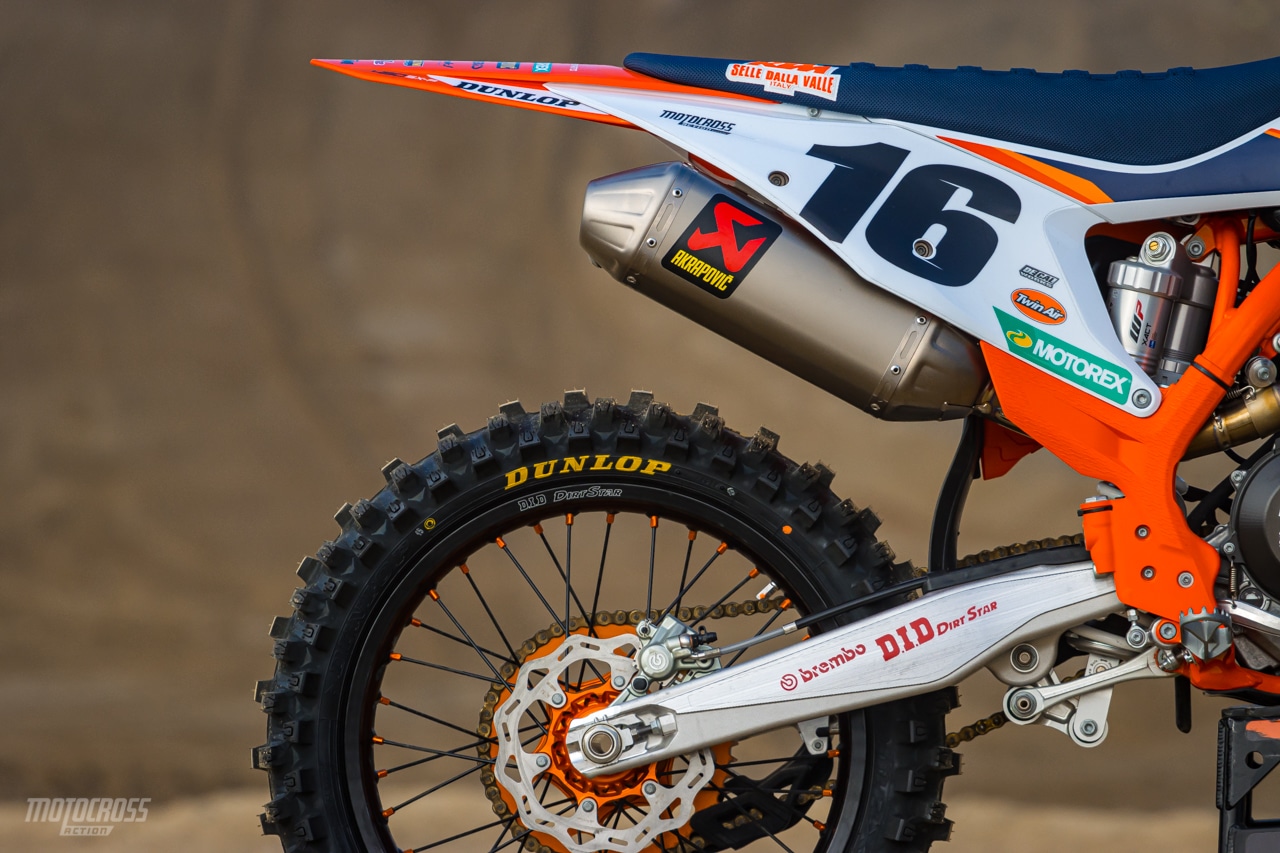 With the hefty price tag of a FE you get the orange frame and the trick Akrapovic slip-on exhaust. 
Josh Mosiman was the first one out of the MXA gang to swing a leg over the FE to get it dirty. 
FIND MXA ON TIK TOK | DON'T MISS OUT ON ALL THE ACTION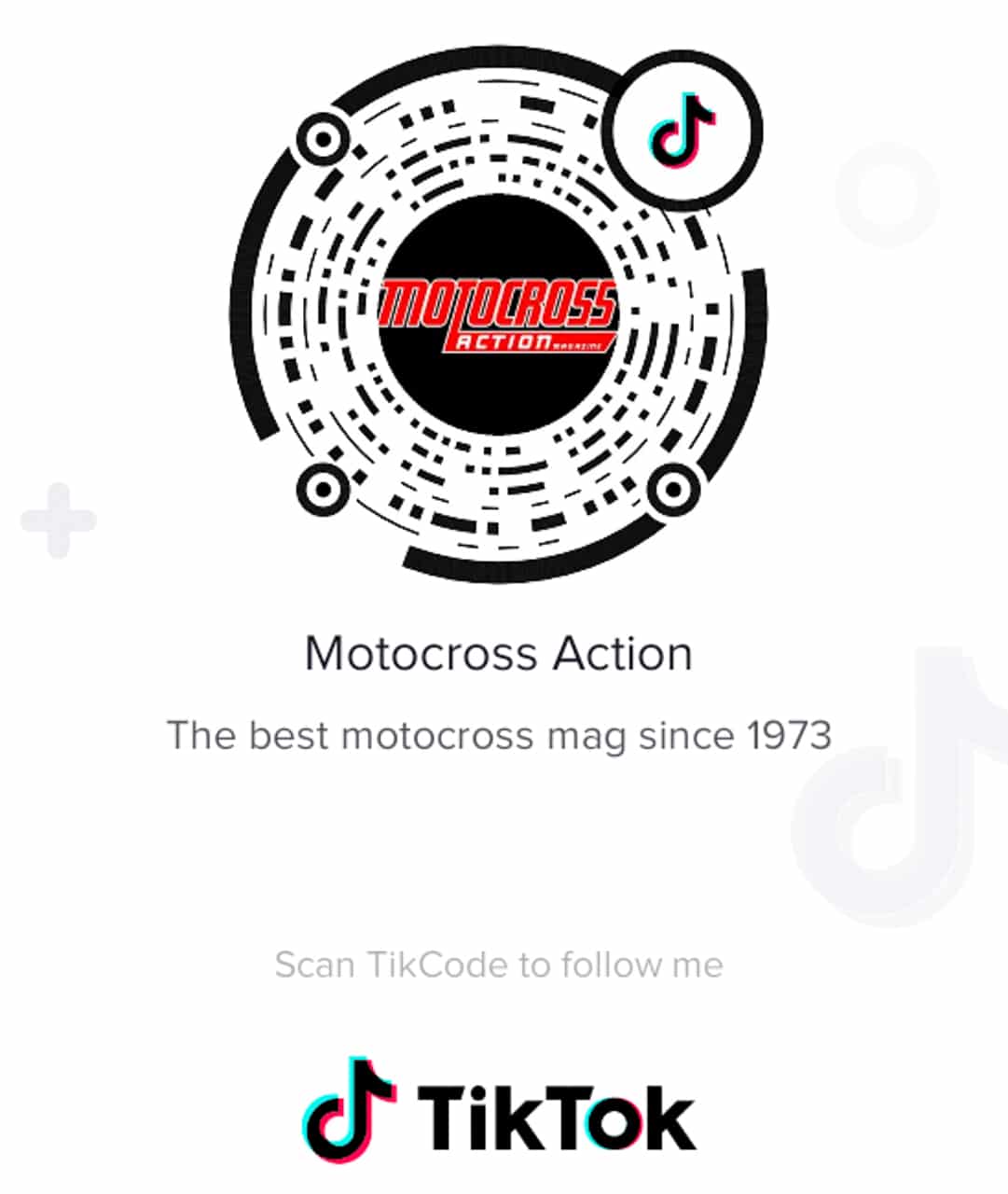 2020 HUSKY TC250 RAW VIDEO
MXA'S PRODUCT SPOTLIGHT: POD K8 CARBON KNEE BRACES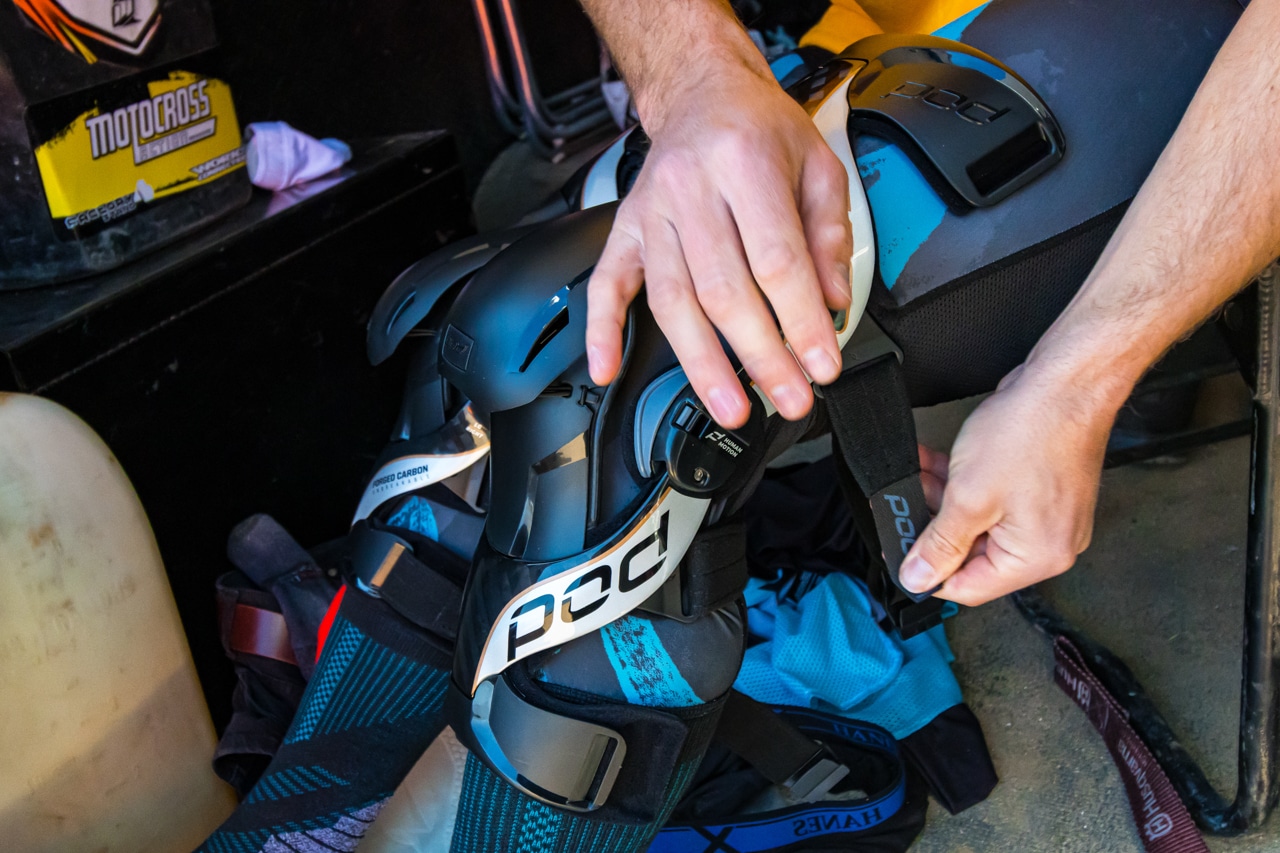 MXA's Josh Mosiman suiting up for another test day with the POD K8 Carbon knee braces. 
Not only are the POD K8 Carbon knee braces cool looking and lightweight, but they're also certified as a medical device and that makes them even better. The knee is one of the largest and most complex joints in the body, with three large bones held together by ligaments that are vital for joint stability and function.
POD developed their own Synthetic Ligaments to reduce the strain on the ligaments in your knee in the event of a crash. Inspired by the human body, POD's patented Human Motion technology uses the Synthetic Ligaments engineered from Vectran Fibres (which are five times stronger than steel) to provide progressive, multidirectional motion control. The new POD Hinge Housing provides smooth contact surface against your knee avoiding abrasion against your gear while delivering new levels of comfort, performance & reliability.
The new CE impact tested & certified Full Coverage guards protect against impacts, handlebar strikes, plus enhance comfort when kneeling. The adaptive top and bottom cuffs were designed to conform to various leg shapes, while adapting to muscle movement while you're. They accommodate muscle motion, increase comfort and disperse load reducing the risk of skeletal fractures.
The new full coverage guards offer much more protection to the knee cap than previous POD knee braces had. 
THE MARCH 2020 ISSUE IS HERE! IT IS JAM-PACKED FULL OF BIKE TEST & TECH ARTICLES

Not only do we ride Cooper Webb's KTM 300SX two-stroke works bike, but we do a midsize shootout beetween the KTM 350SXF, TM 300FI-MX & Husky FC350. Wait, there's more. We do a Yamaha YZ125 versus KTM 125 UnShootout and build a project Honda CRF450.

If you subscribe to MXA you can get the mag on your iPhone, iPad, Kindle or Android by going to the Apple Store, Amazon or Google Play or in a digital version. Even better you can subscribe to Motocross Action and get the awesome print edition delivered to your house by a uniformed employee of the U.S. Government. You can call (800) 767-0345 or Click Here (or on the box at the bottom of this page) to subscribe.
NIHILO CONCEPTS STACYC ELECTRIC BIKE FOOTPEGS
Electric bikes are fast becoming one of the most popular electric balance bikes in the world. The bikes are awesome and fun but can use a few upgrades. The engineers at Nihilo have started working on some pretty awesome upgrades for these popular bikes.
One of the first things we made for the Stacyc's was a set of Billet Foot Pegs that simply bolt right on to the frame with the OEM bolts. They provide a much better grippy platform than the plastic foot rest that comes stock and they will give your bike that factory look. Available in Blue, Black and Orange to match any color scheme.
LOST BUT NOT FORGOTTEN | MIKE ALESSI'S 2012 KTM 450SXF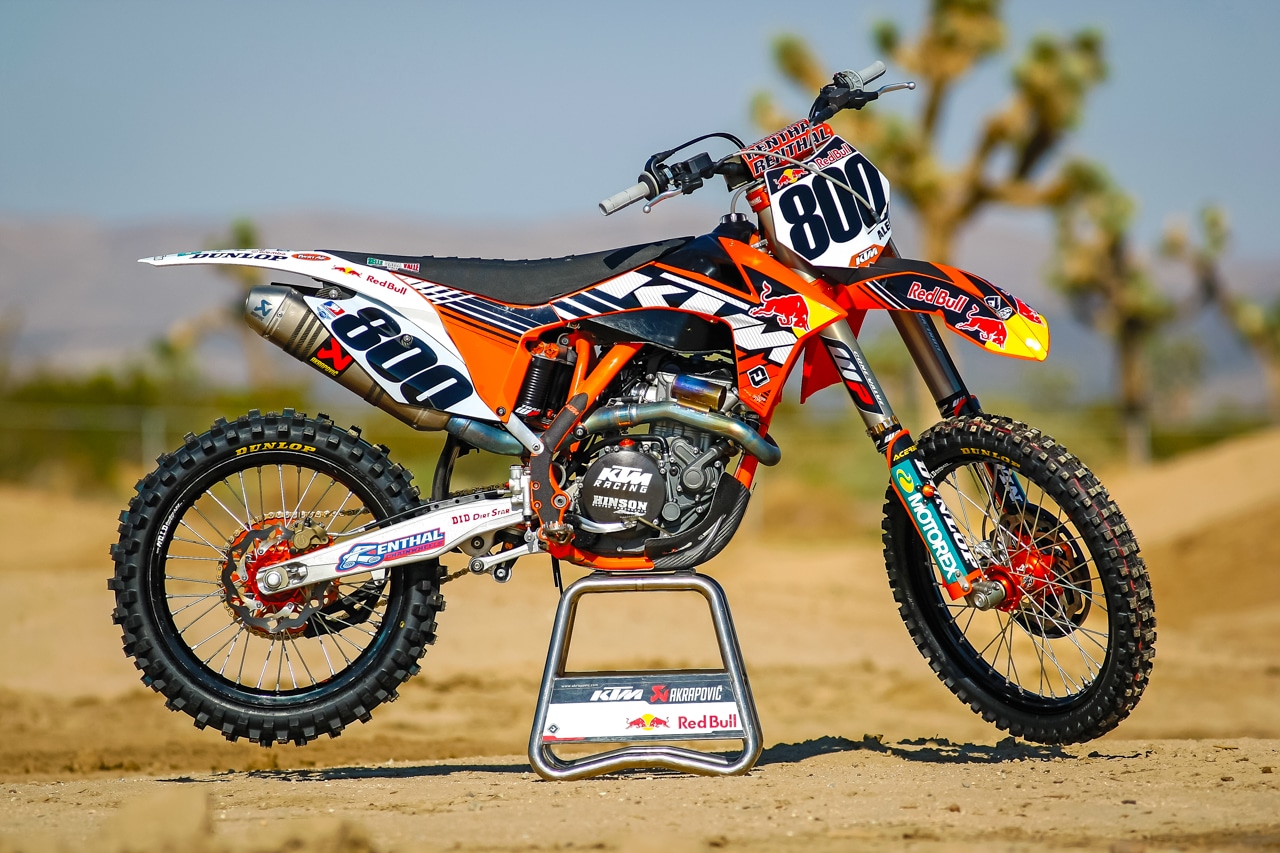 WANNA RACE IN SOCAL? NEED TO RENT A BIKE? FIND A PLACE TO STAY? NEED MOTOCROSS INSTRUCTION: JUST CALL STAPO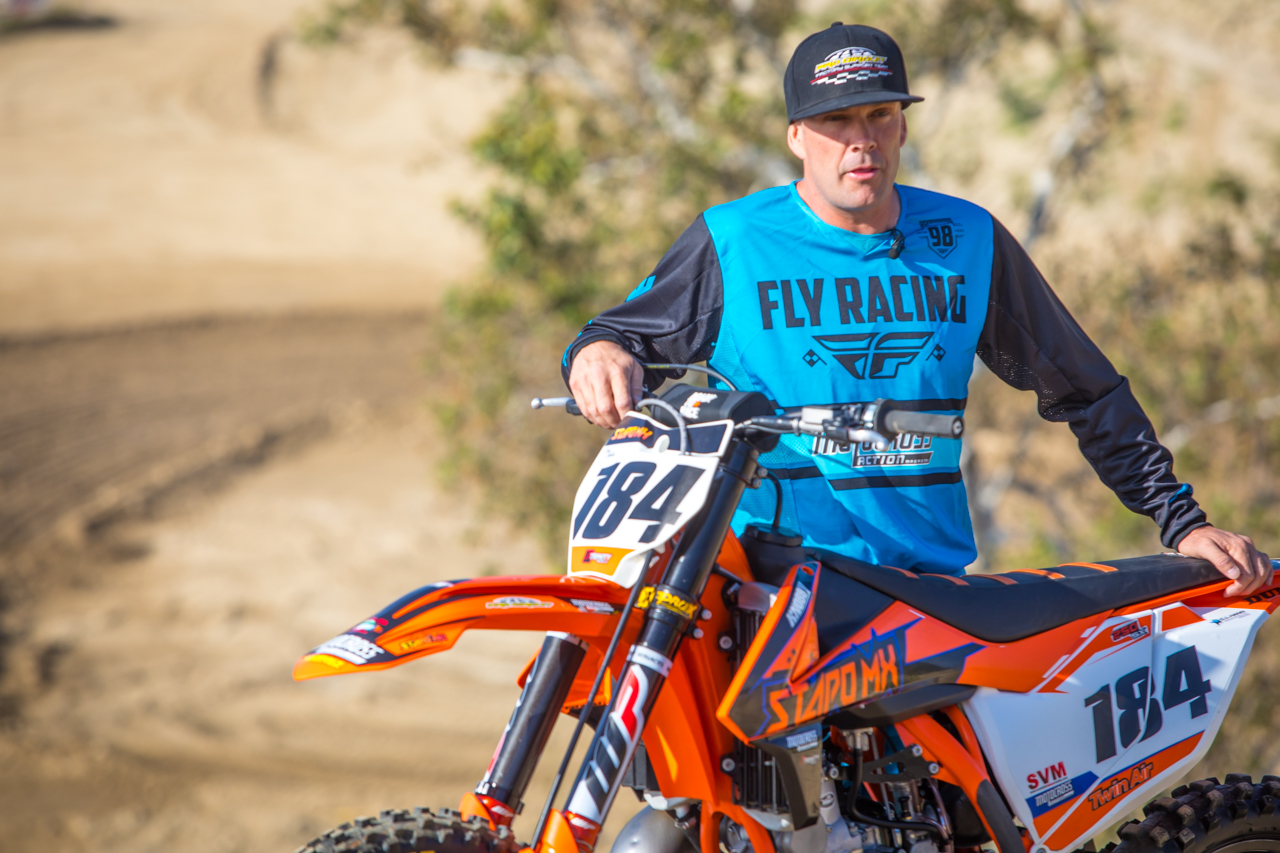 Dennis Stapleton doing what he does every day of the week — let him make your dreams come true.
In his spare time, when he's not testing with MXA, racing in a foreign country, going to Japan or helping many of his motocross buddies, MXA test rider Dennis Stapleton opens up his house, garage, bikes and mechanics to help riders who would like to come to SoCal on a motocross vacation. He offers full service to all of the Southern California tracks for racers or for play riders. Whether you want to rent a bike, move in for a week, race at Glen Helen or take motocross lessons—this is one-stop shopping. Just send them an email ([email protected]). If you'd like to live the SoCal lifestyle for a day, a weekend, a week, a month or three months, visit Dennis Stapleton's' website at www.knobbyshopsouth.org for more details!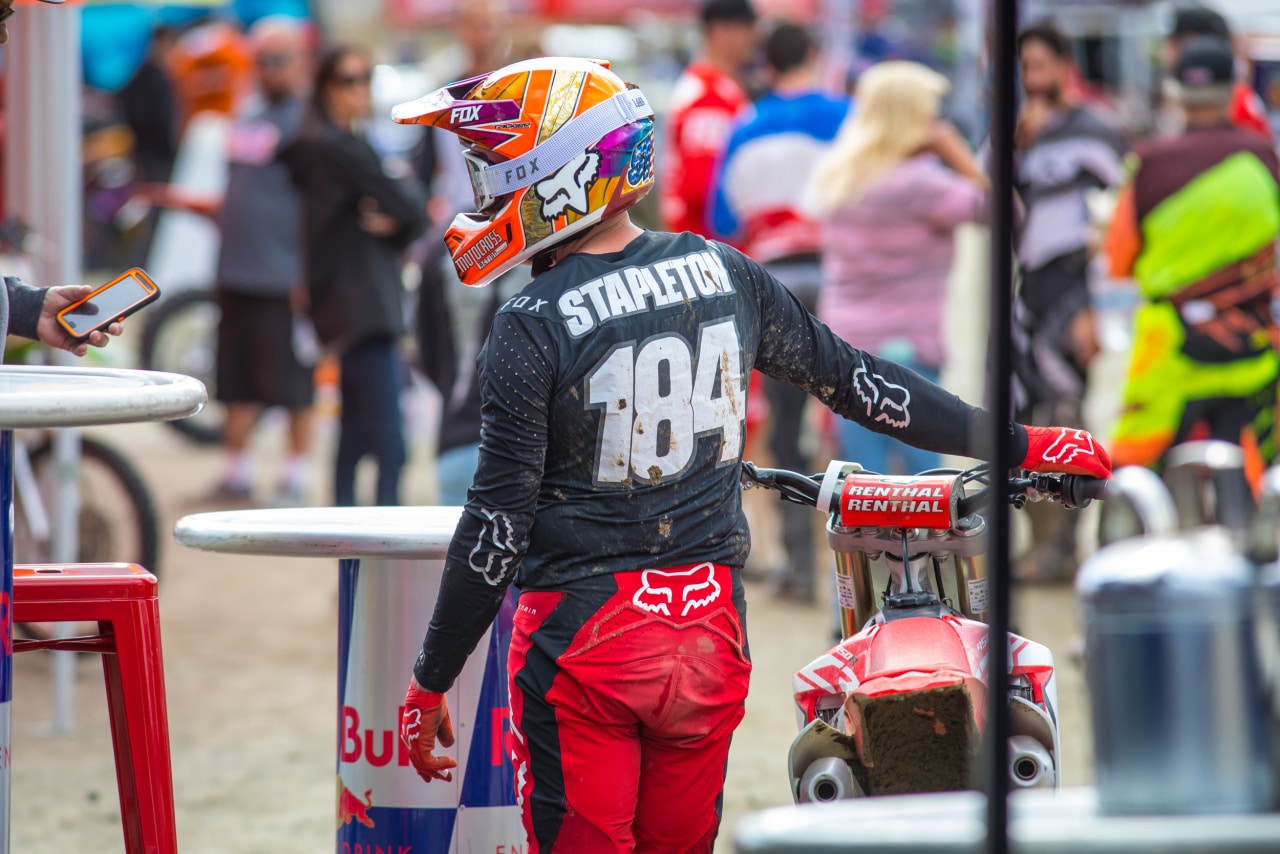 THEY SAID IT | ATLANTA SUPERCROSS
Cooper Webb: "That was probably the hardest race I've ever had. I was way back and just put my head down and tried to do the best I can. I got a few gifts from the guys ahead of me but man, it was painful. I knew it wasn't going to be fun or easy, but that's racing. It's a long way out but the only thing keeping me going is this championship, so we'll do whatever we can."
Ken Roczen: "This was a fun race. I mean, I had a good gap and that makes it also difficult. The track broke down a lot more than I thought it was going to, honestly. So that makes it tough. You just don't want to make a mistake, so you really have to keep your composure throughout the entire Main Event. I had such a blast out there. I felt really good all day and laid it out there, and this is what we had to do. My bike has been working phenomenal here today, [I'm] really happy with it. And every time I win, I'm happier and happier so winning just gets more fun and more addicting."
Justin Barcia: "Yeah, for sure. I made a good clean pass on him and then he just pounded into me, got me pretty good. I was a little bit not happy with that racing, but I want to put that aside. What a great race, charged through the pack. Didn't have the best start, I've been working on them a lot, today [I got] a decent one in the heat race, main event was a little struggle; but can't thank all the Yamaha people enough. Our headquarters are here in Atlanta, got a lot of guys out here today… It's crazy racing, brutal track tonight, hard to pass, but obviously made a lot of passes, had a good time. Made some points probably, too, so that's cool."
Eli Tomac: "Just battling. If I get bumped I'm just going to bump back. That's the way it is. It might have been a little bit more of a hit but really I'm just like, just kinda giving it back. Tight track tonight, that's what leads to those situations. Really hard just to make the pass stick so you had to go inside on the bowl turns, that was really the only spot tonight. I was in a hurry, Kenny was out front, and that was all I could do. The one with Blake [Baggett], that one was, I didn't mean it to be that bad. I thought I had good momentum to slingshot from the outside to in, and then he was already coming down so… just the tight track makes it really hard to make moves. So that was that. Fortunately, I got back to fourth and that was it."
Jordan Smith: "It felt good to be so close to where I train and grew up. I was ready to breakthrough and have a race track that I was meshing with. I wish I could have kept the front guys closer, but we'll take it one step at a time and make our way onto that podium."
Chase Sexton: "It was tough. It was really hard to pass out there. The track was pretty one-lined. Had a lot of lines but one really good line. RJ was riding really good, he wasn't making any mistakes. I was kinda waiting for a mistake and I just had Shane behind me and [thought] 'I gotta make this pass.' And I saw [RJ] case that triple a little bit and I just dove to the inside. Didn't really want to hit him but he committed to the corner and I was there, so it was good to get that pass and then just kinda try to get away, ride my own race. And it was good. I didn't really feel that good all night, but we got it done."
RJ Hampshire: "Like I said, each week we're going to continue to get better. That was a good glimpse [of a win], got that holeshot, just felt good, man, found a good flow." Regarding the contact, Hampshire said, "All is good… Hey man, we're out there racing for more than just a couple hundred bucks, so I want to win."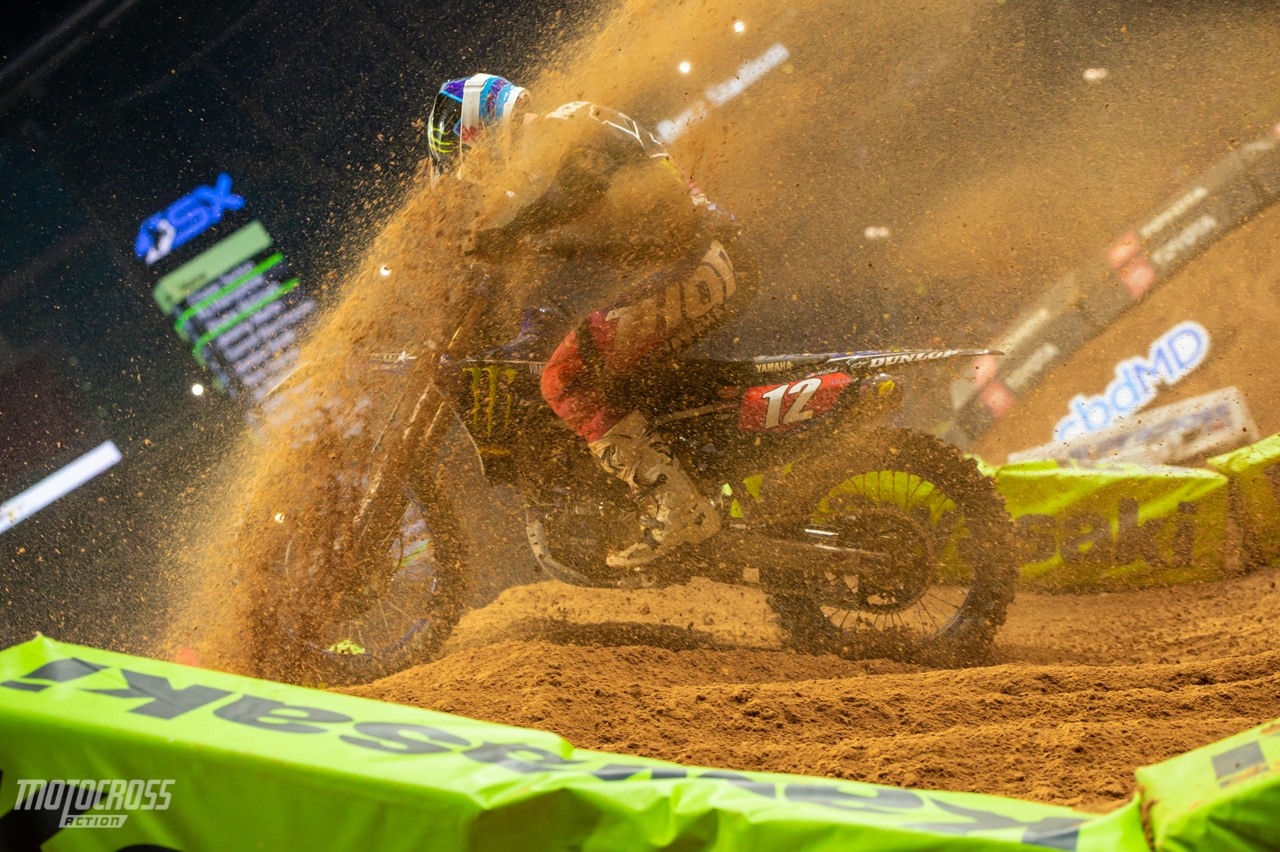 Shane McElrath: "Like I said, each week we're going to continue to get better. That was a good glimpse [of a win], got that holeshot, just felt good, man, found a good flow." Regarding the contact, Hampshire said, "All is good… Hey man, we're out there racing for more than just a couple hundred bucks, so I want to win."
Garrett Marchbanks: "Seventh wasn't what I felt like I had to give today, but sometimes that's how racing goes," said Marchbanks. "We've been making good progress testing during the week and I'm really looking forward to the outdoor style track next weekend in Daytona."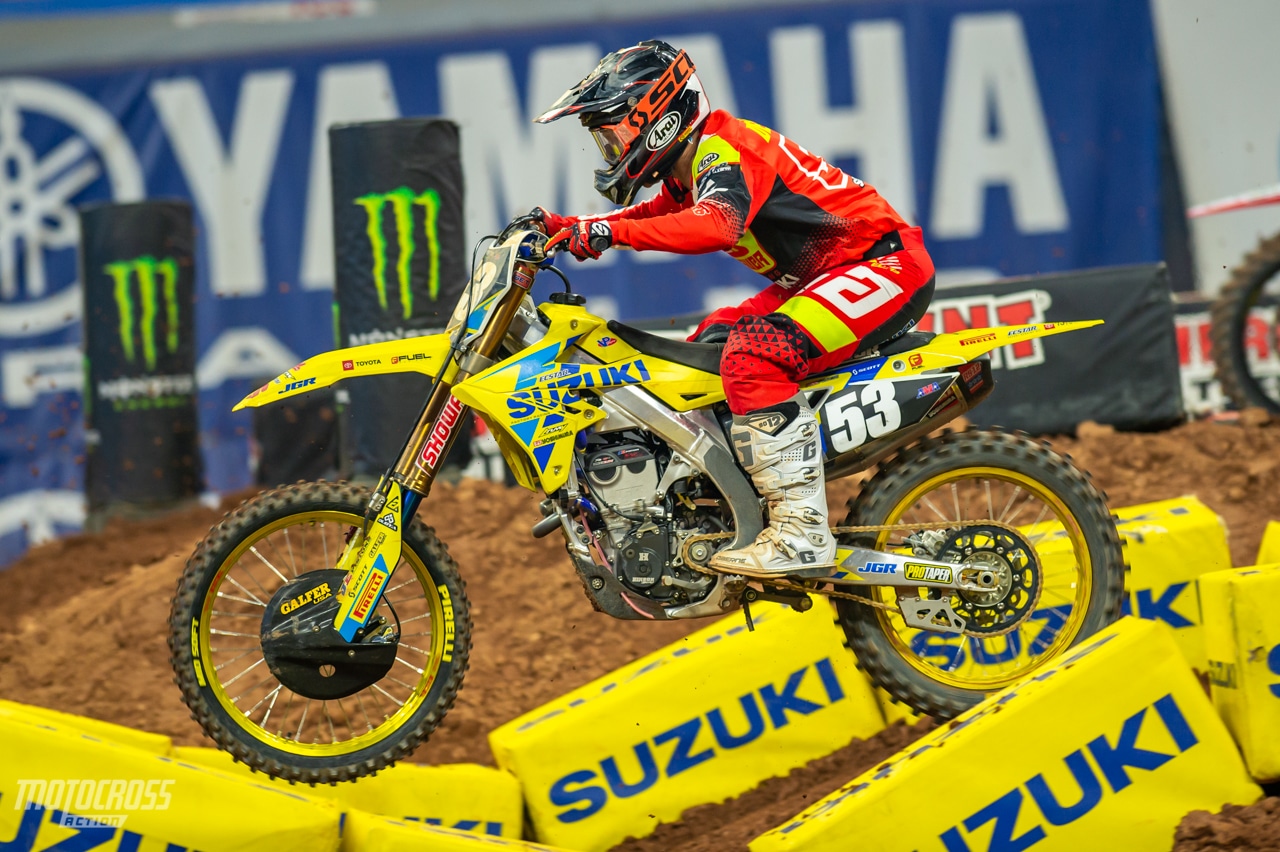 Jimmy Decotis: "Atlanta is always a cool race for the JGR team as it's the closest to our home," said Decotis. "The track was awesome and my bike was working great. I'm bummed on my finish as I haven't been riding much and it's showing on the weekends. I'm really proud of everyone at JGR for sticking with me and believing in me. It's an amazing feeling when a team supports you through your struggles. I'm looking forward to Daytona this weekend!"
450SX CLASS CHAMPIONSHIP STANDINGS
1. Eli Tomac, Cortez, Colo., Kawasaki (200)
2. Ken Roczen, Clermont, Fla., Honda (200)
3. Justin Barcia, Greenville, Fla., Yamaha (177)
4. Cooper Webb, Clermont, Fla., KTM (176)
5. Jason Anderson, Rio Rancho, N.M., Husqvarna (151)
6. Malcolm Stewart, Haines City, Fla., Honda (137)
7. Adam Cianciarulo, New Smyrna Beach, Fla., Kawasaki (128)
8. Justin Hill, Yoncalla, Ore., Honda (127)
9. Justin Brayton, Charlotte, N.C., Honda (116)
10. Dean Wilson, Murrieta, Calif., Husqvarna (113)
250 EAST CLASS CHAMPIONSHIP STANDINGS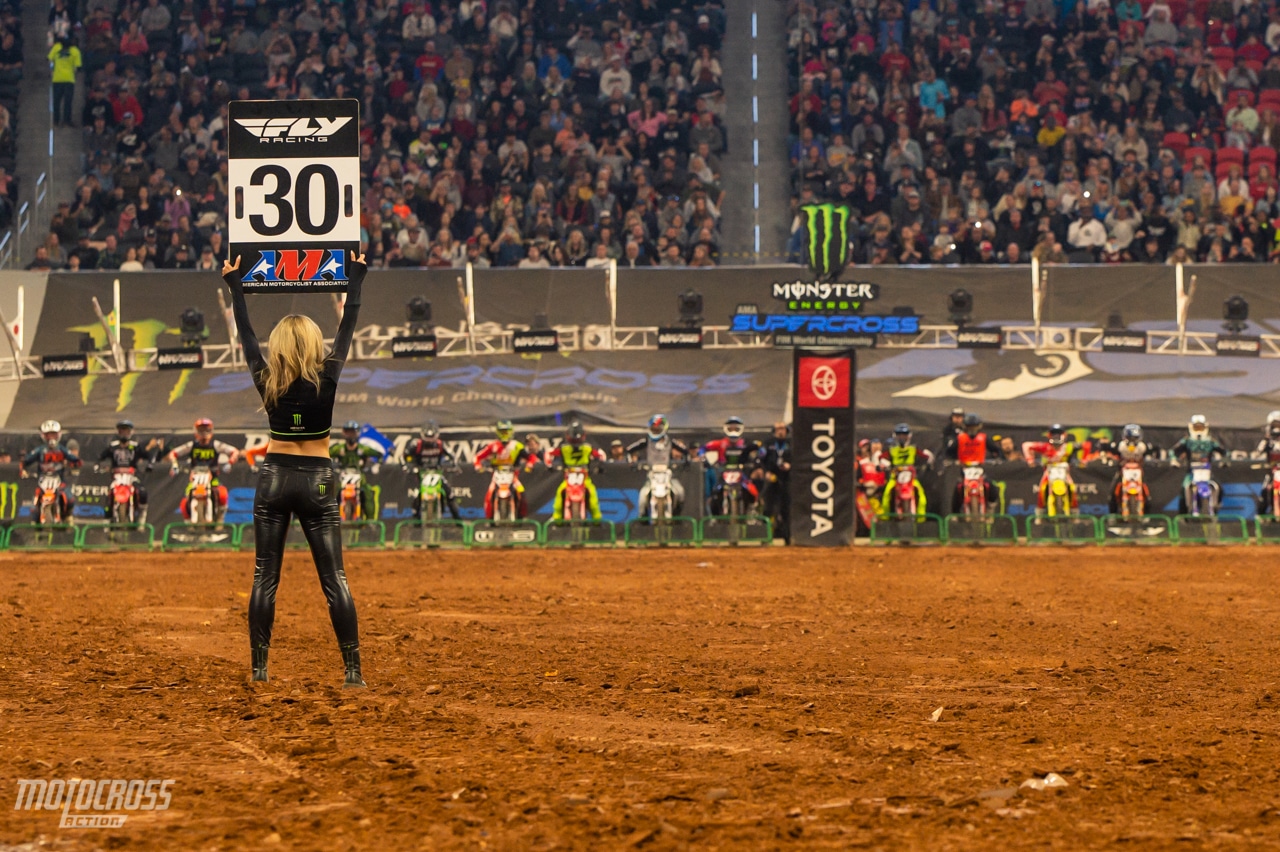 1. Chase Sexton, Clermont, Fla., Honda (75)
2. Shane McElrath, Murrieta, Calif., Yamaha (70)
3. RJ Hampshire, Minneola, Fla., Husqvarna (61)
4. Garrett Marchbanks, Coalville, Utah, Kawasaki (53)
5. Jordon Smith, Ochlocknee, Ga., Kawasaki (47)
6. Jeremy Martin, Rochester, Minn., Honda (44)
7. Jo Shimoda, Irvine, Calif., Honda (44)
8. Joshua Hill, Huntersville, N.C., Yamaha (41)
9. Enzo Lopes, Huntersville, N.C., Yamaha (36)
10. Joey Crown, Metamora, Mich., Yamaha (31)
ENZO-DRC OUTERTUBE CLAMP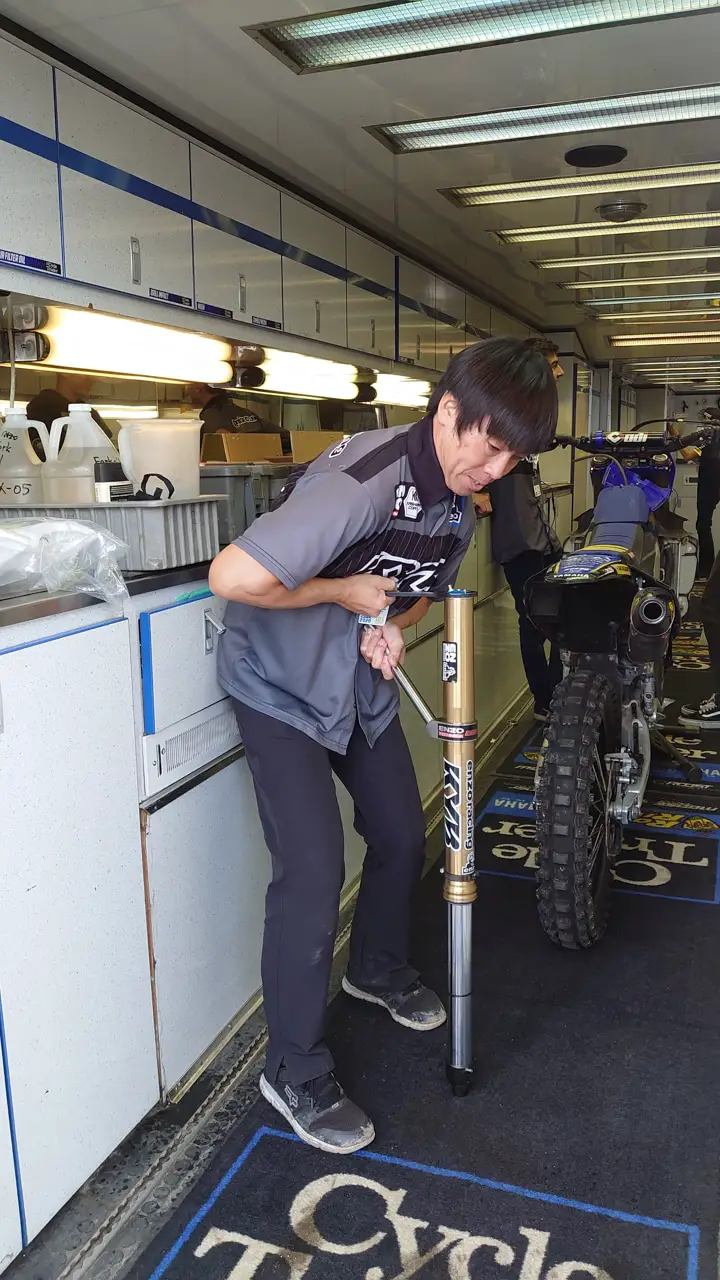 – ENZO DRC co-developed product.
– Grab a front fork perfectly.
– Convenient to open the tightly closed top cap.
– Provides three ways capability.
– MSRP $127.95
KYLE PETERS WINS 2020 AMA ARENACROSS SERIES
Press Release: Phoenix Racing Honda rider Kyle Peters clinched the 2020 AMA Arenacross title a round early this weekend at the penultimate stop, in Salt Lake City's Maverik Center.
The performance capped an absolutely dominant streak for the squad, with Peters and teammate Jace Owen (the 2019 champion) having given the Honda CRF250R an undefeated record as the series left the previous event. That said, the title wasn't assured heading into rounds 10 and 11 in Utah; while taking advantage of a short break in the series last week by participating in the Arlington, Texas, AMA Supercross round, both Phoenix riders suffered injuries – in Peters' case, a fractured triquetrum in his throttle hand. The 23-year-old from Greensboro, North Carolina, shrugged off the pain and prepared for battle, his right limb bolstered by athletic tape and a brace. Peters was able to post steady podium finishes in all four main events on Friday and Saturday, plenty good enough to secure the crown.
"That was a tough one to finish out!" Peters said. "My wrist was sore, but I'm pretty headstrong and knew what I had to do to get it done. At first it wasn't too bad because I had taken the whole week off from riding, but after racing on Friday, Saturday was excruciating. I only had to finish the first 250 main to clinch it, but after that I decided to go ahead and do both. Other than my wrist, it was a great season, and Jace and I battling each other really helped raise our speed and intensity. I'm happy to earn the title for Honda and the whole Phoenix team. Now I'll work on trying to get back healthy for the end of the Supercross season."
In the end, Peters tallied 13 main-event wins over the course of the season, and never finished off the podium.
"We were nervous about the boys wanting to go ride supercross, and we were worried after they got hurt," said David Eller, owner of the Salisbury, North Carolina-based team, which also runs Honda-support efforts in GNCC and AMA ATV Motocross. "It was great that Kyle was able to race, but we were just hoping he wouldn't fall again and make it worse. Fortunately, Kyle rode smart, and we're happy to keep the title for another year, as the competition was a lot tougher this season. Now it's time to turn our focus back to off-road and ATV racing."
Phoenix Racing Honda's next event will be round two of GNCC this weekend in Palatka, Florida, whereas AMA ATV Motocross – in which Phoenix Racing will be defending the 2019 crown earned by Joel Hetrick – kicks off March 10 in Daytona Beach, Florida. Meanwhile, Peters and Owen will both miss the final AMA Arenacross round and will return to the AMA Supercross 250SX East series when their injuries allow. (Owen may be back in time for this weekend's Daytona Supercross round.)
MXA YOUTUBE CHANNEL | HIT THAT SUBSCRIBE BUTTON

The MXA wrecking crew is everything moto related. Check out our MXA YouTube channel for bike reviews, Supercross coverage, rider interviews and much more. And don't forgot to hit that subscribe button.
TALK MOTO WITH ON MXA'S FACEBOOK GROUP CHAT


We love everything moto and want to bring all moto junkies together into one place to share their two cents, ideas, photos, bike fixes, bike problems and much more. To check it out first you must need to or already have a Facebook account. If you don't, it isn't much work and you could even have an alias so nobody knows it is you. To join click HERE. After you request to join we will accept your request shortly after.
CLASSIC MXA PHOTO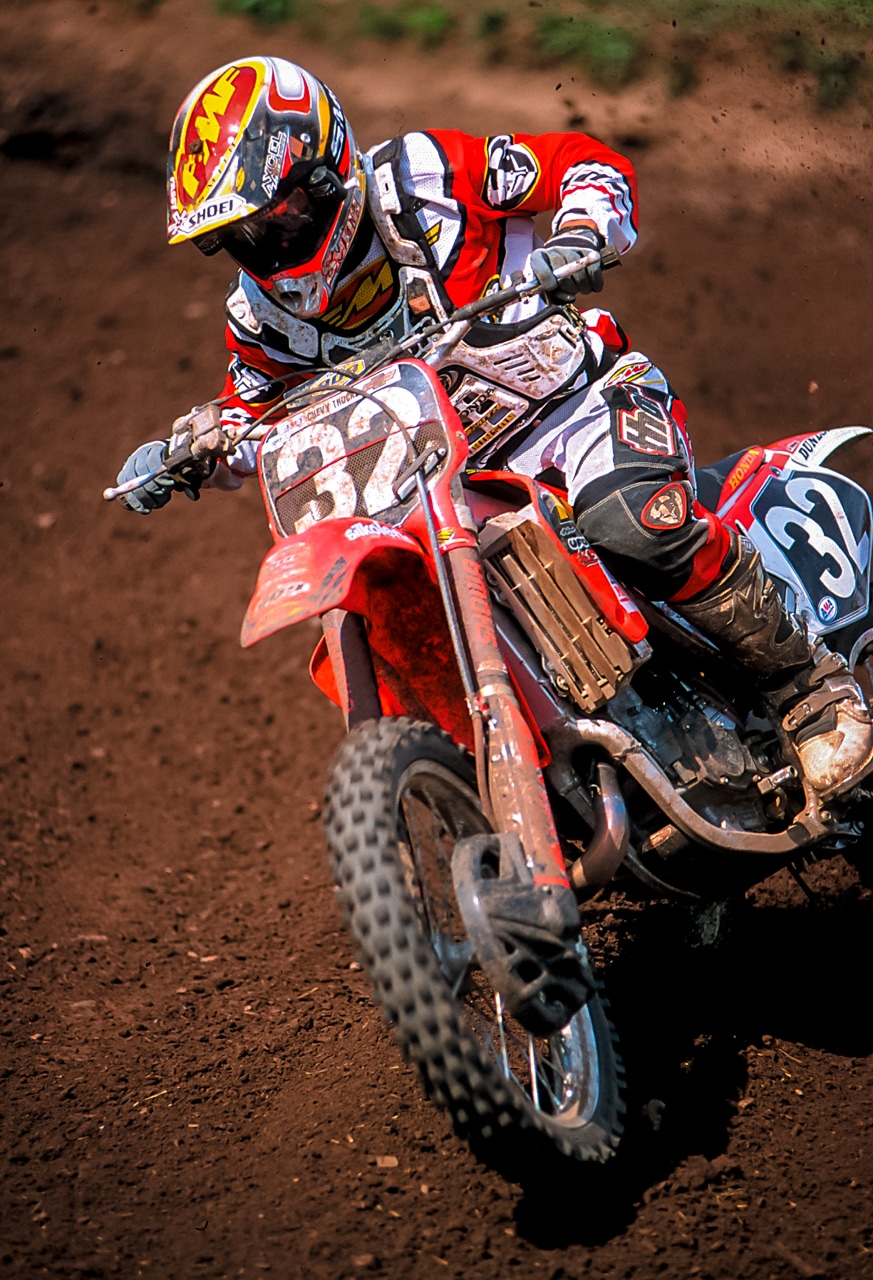 Danny Smith on the FMF Honda CR125 in 2000.
Moto Trivia answer: The year was 2000 and number 32 on an FMF Honda CR125 is Danny Smith. Danny finish 10th overall in the 125 National series that year.