MOTOCROSS ACTION MID-WEEK REPORT
#WHIPITWEDNESDAY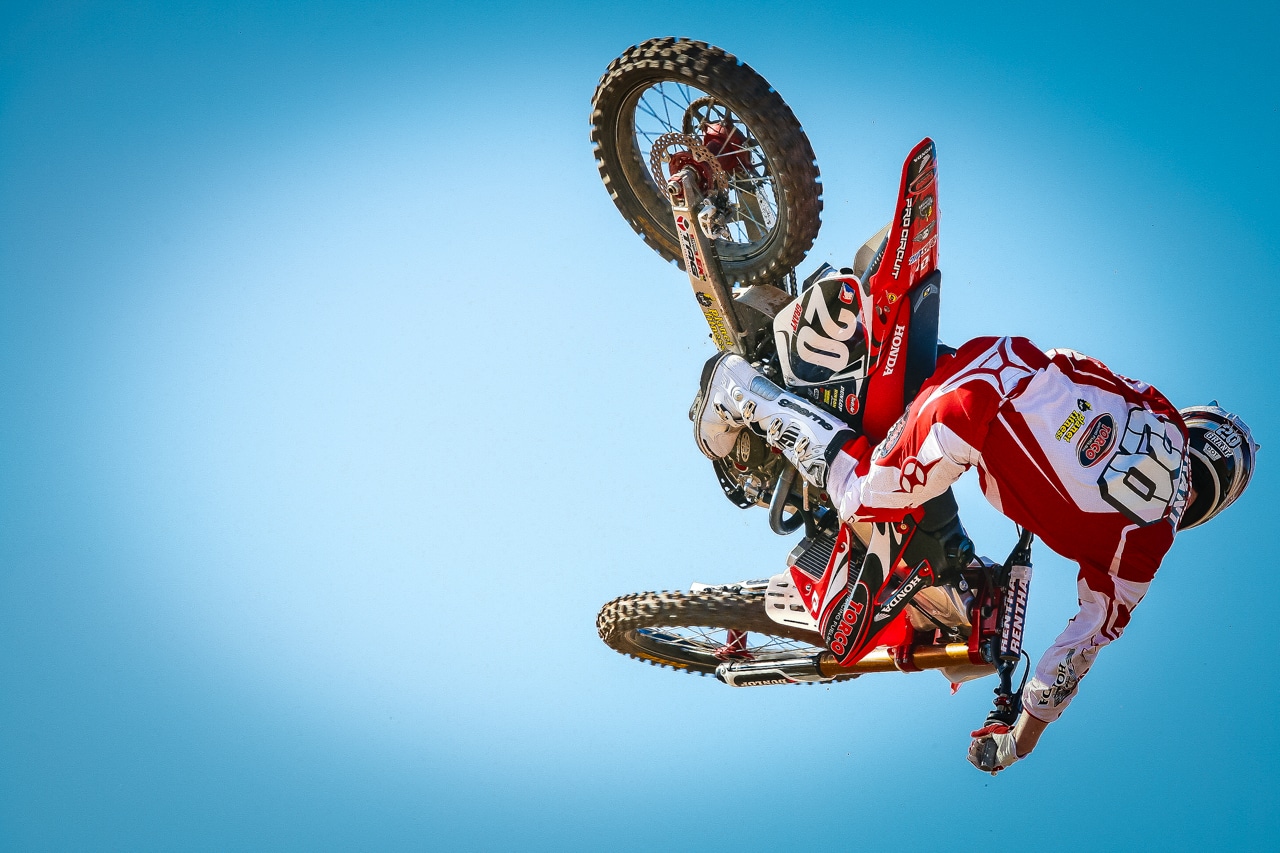 Rider: Josh Grant
Bike: 2007 Honda CR250F
TWO-STROKE SPOTLIGHT: JAMES PAYNE'S MUGEN CR125 PHOTO BLAST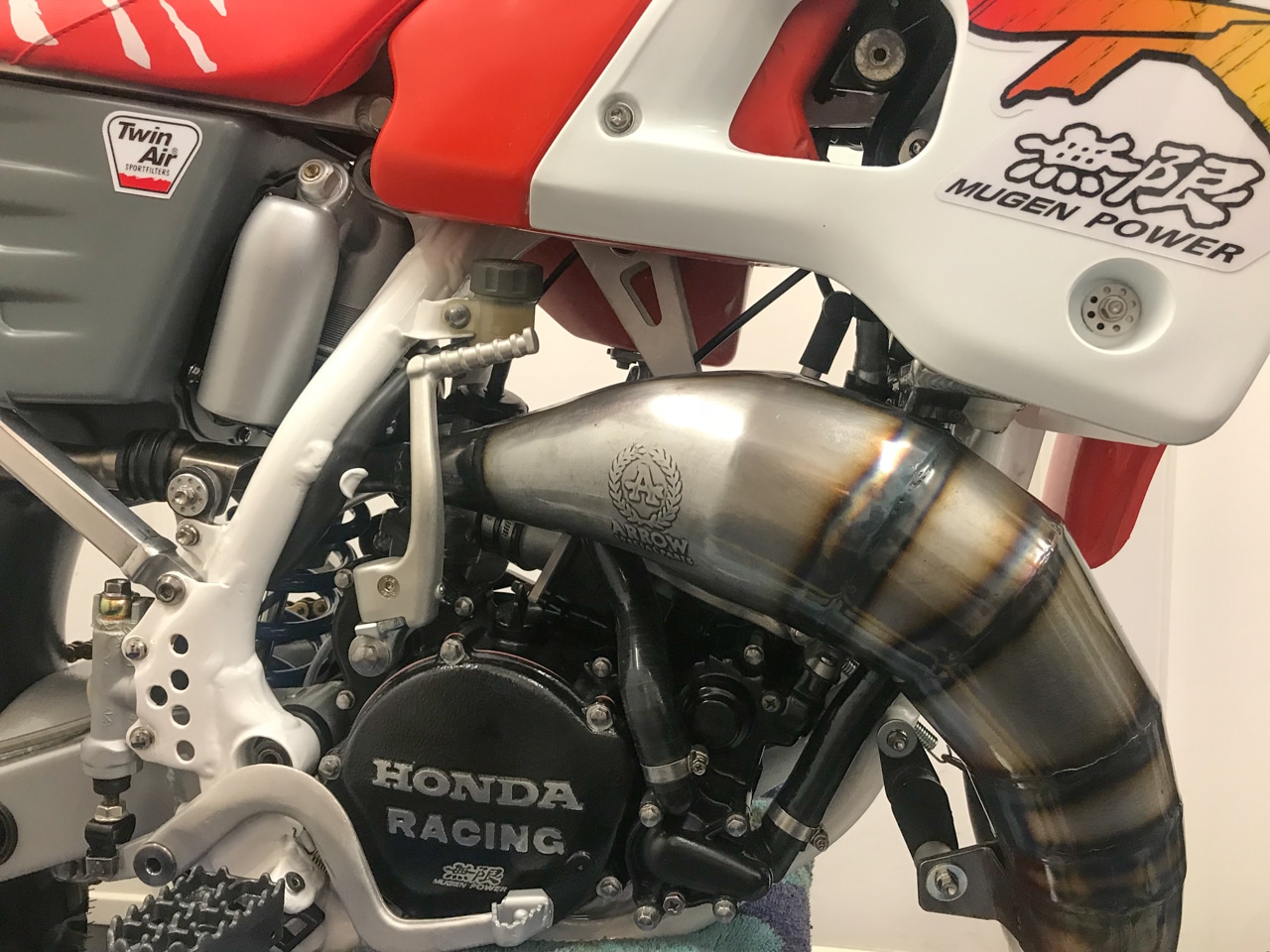 EDITORS NOTE: Please keep those submissions coming. If you would like your bike to be featured in the "Two-Stroke Spotlight," please email me at [email protected]. All I ask is that you give a breakdown of your bike and a detailed description of the build. Please also send a few photos of your steed. By submitting your bike for the "Two-Stroke Spotlight," you agree to release all ownership rights to the images and copy to MXA. Please don't email me spam or try selling me Taylor Swift concert tickets or email me spam. I already celebrate T-Swizzle's entire collective, and there will be "bad blood" if you send me junk mail. See what I did there? Happy submitting your smoker.
MXA ISOLATION EQUALS MORE FUN
We got TM's 144 project bike in the studio before it got dirty on the track.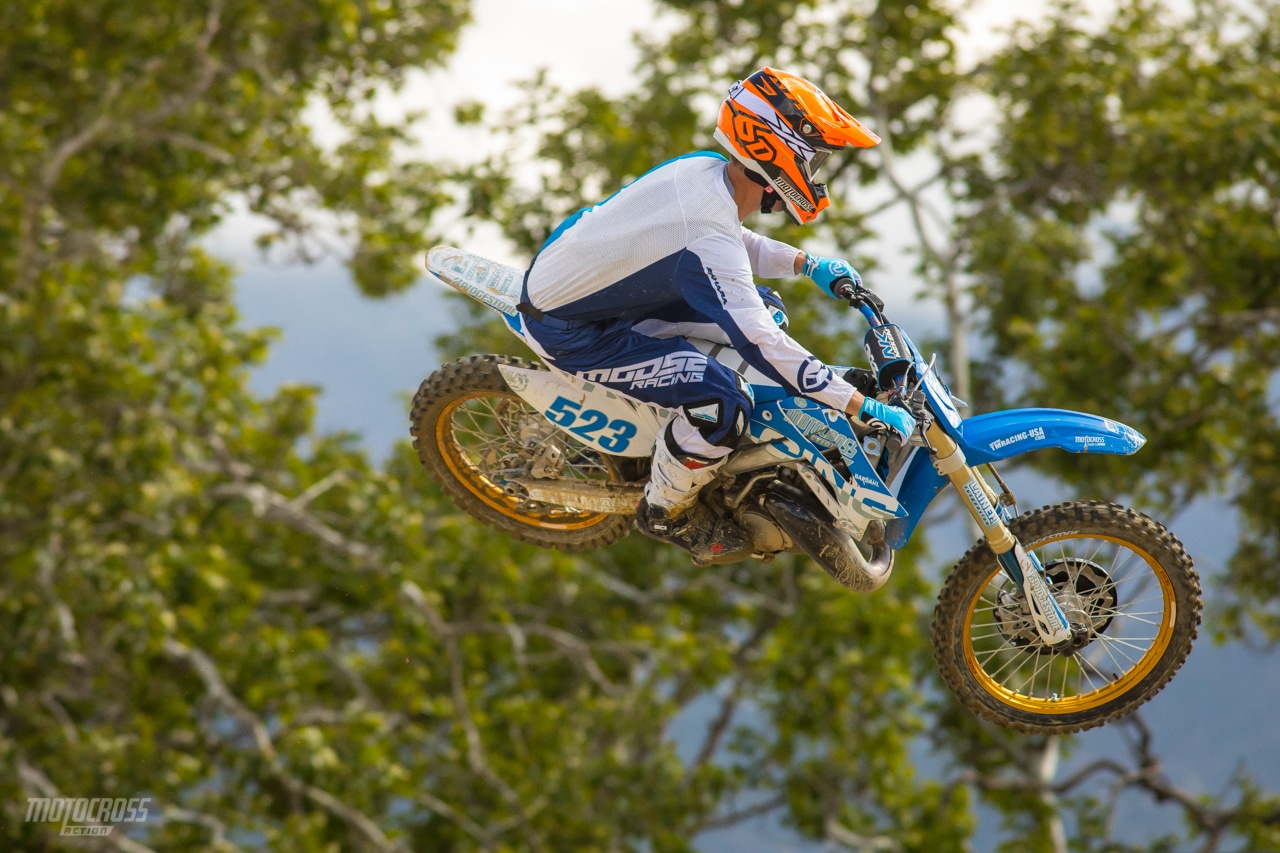 MXA's Josh Mosiman having fun on the TM 144MX project bike. This thing hauled the mail and suited higher level riders as it was a top-end powerband. 
Jay Clark resurrected this old 2004 KTM 85SX for MXA to test. It reminds us of when Zach Osborne raced this in the mini class.
Brian Medeiros tucked on the Osborne replica KTM 85SX mini-bike on a fast straight. 
SoCal has been blessed with a continuous cycle of one week of rain, one week of warm and perfect riding days in between. Yes, there are days when it's 80-degrees, but the track has mud puddles on it.. It's still great.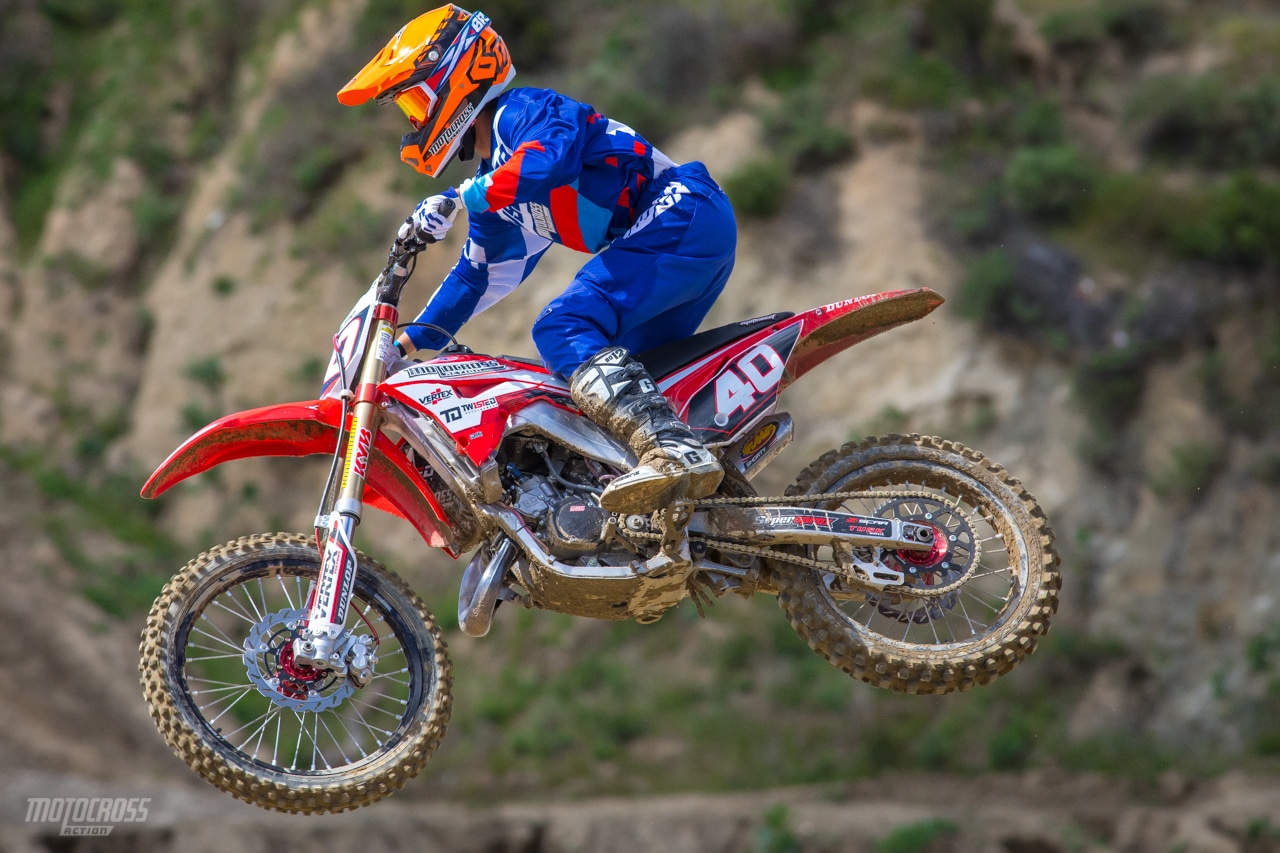 The last MXA project bike for this week was a Twisted Development built 2003 CR125. We first started testing this bike a few months back, but a stuck ring on the 17-year old engine. We back-burnered the project, but Jamie got it back to us this week.

MXA's videographer, Travis Fant and Brian Medeiros decide on where to shoot next. 
MXA's Josh Mosiman is model material. Here, he's wearing the O'Neal Hardwear gear with some Gaerne SG12s and MXA's signature 6D orange lid. In the background, you'll see Ogio's newest Rig T3 gear bag and helmet bag where Josh keeps all his moto gear in.  
NEED BEER GOGGLES FOR THE WEEKENDS? EKS BRAND HAS YOU COVERED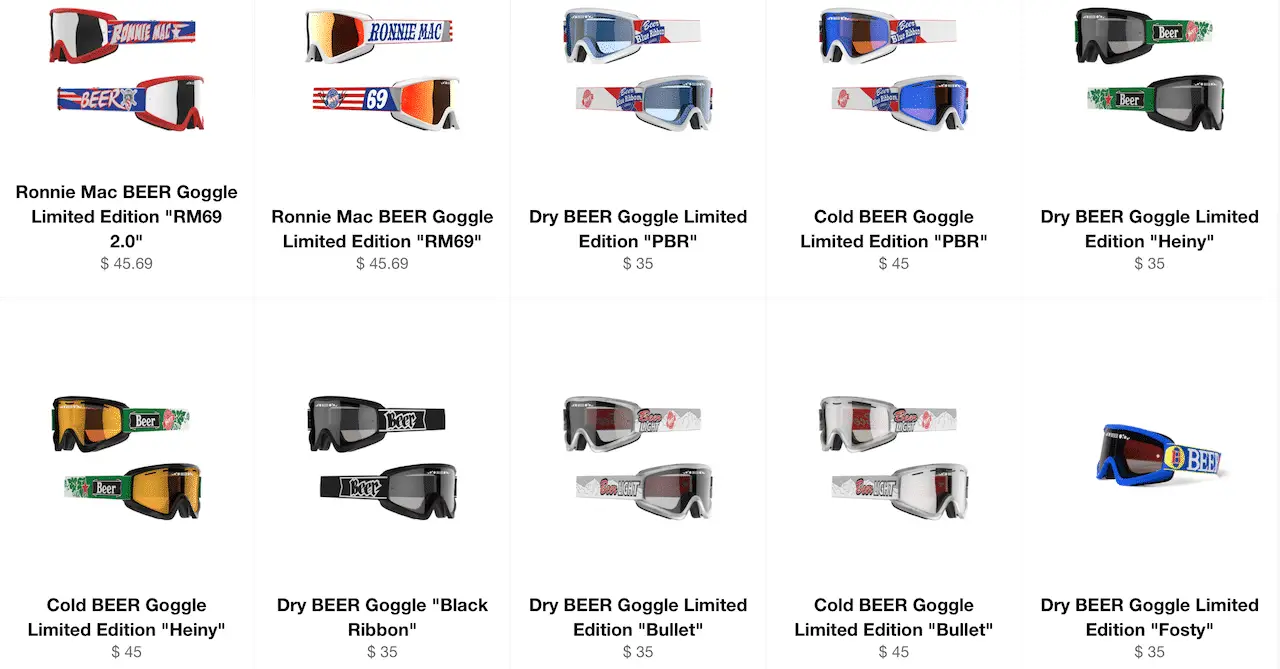 Click on the photo above to find want beer goggles that suits your tastes.
USWE RIDE IT OUT CAMPAIGN: SUPPORTING AMERICAN EVENTS ONE DONATION AT A TIME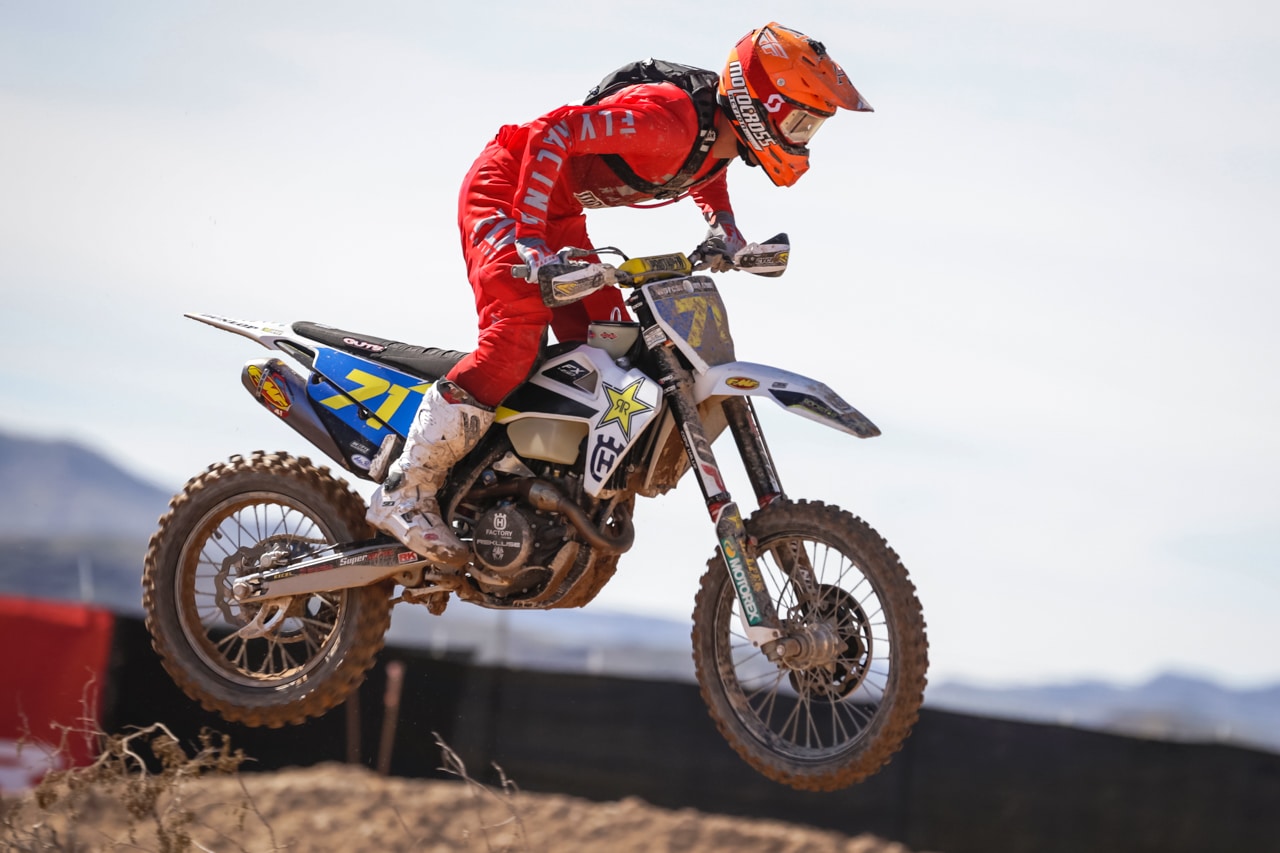 MXA's Josh Mosiman wearing the USWE hydration pack at the Lake Havasu WORCS race. Now, USWE is giving back to the action sports community with their new RIDE IT OUT campaign. Learn more about it below. 
USWE makes bounce free action backpacks, primary for mountain bikers, off-road motorcycle riders, trail runners and skiers. As seen in the photo above, MXA test rider wears a USWE pack whenever trail riding or racing off-road. The photo above was taken by Jason Roberts @jasonr.photos from the 2019 WORCS race at Lake Havasu where Josh finished 8th in the Pro class and got to be Andrew Short's teammate for the weekend on a Factory Rockstar Husqvarna FC450. USWE is a fast growing and award winning Swedish company. A company built by active people with a great passion and dedication to sports and its global community.

Press Release Malmö – Sweden, 26th of March, 2020
THE CORONAVIRUS IMPACT ON THE SPORTS EVENT INDUSTRY 
At USWE we noticed the Event Industry being one of the first businesses to be badly affected by the Coronavirus Impact. Events are cancelled in all the USWE sports arenas; Mountainbike, Motosports, Trail Running and Winter Sports. Often these events are run by small businesses, now needing to shut down. We know how you guys are suffering right now. The expectations, dreams and goals for the coming season are put on hold. Sports events play a very important role for USWE and the sports community. The events support our way of living. Here we meet and hang out. But most importantly, we often set a goal with our training to reach for at the next event.
RIDE IT OUT FOUNDATION – SUPPORTS U.S. SPORTS EVENTS 
So, we at USWE put our heads together at the office. What can we do right now, to support the event organizations within the sports we operate within? We want these events to be able to survive, and continue to be a part of our active lifestyle. We feel for the event organizers. The Coronavirus forced them to stop their businesses from one day to another. Most of these event companies are small companies or family businesses and associations. Their main objective is to provide the best experience they can, for all of us. This is pretty much like our company…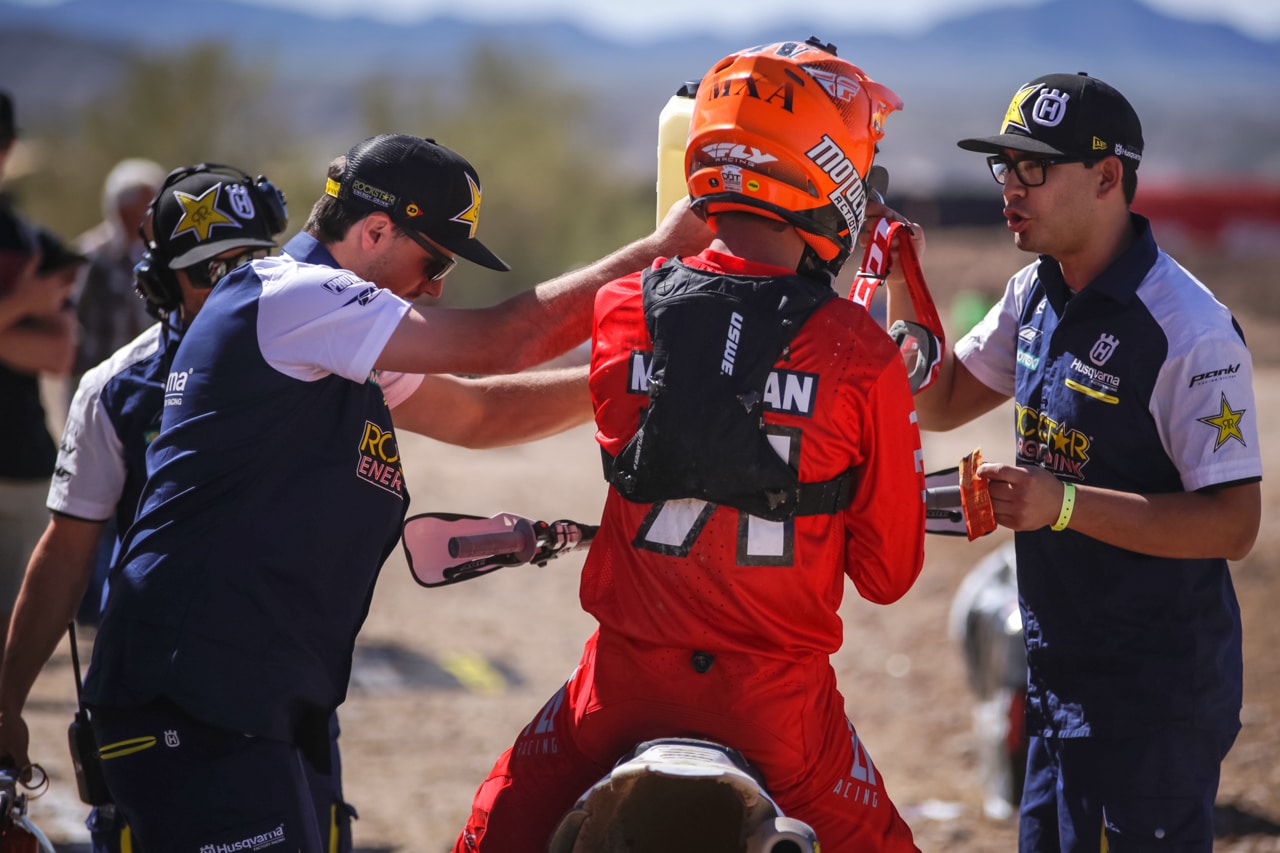 Josh during a mid race pit stop with the Husky team and his USWE hydration pack.
OUR DONATION
We will therefore support local sports event organizers in the US, by donating $10 for every hydration backpack sold at our official U.S. online store (uswe-sports.com). We can't meet you guys at the events right now, but we can still provide you with "kick-ass" products by online delivery. We started our donations for every hydration pack sold on the 18th of March, and plan to keep the foundation supported with our online backpack sales until further notice.
SUMMIT UP
USWE is a small company. We are not one of the big corporations with big wallets. Still we are a part of the "dream factory", and we really want to make a difference if we can. We can't support all sports events, but with your help we can support a few. And together with the industry, we could make a difference! We truly hope that the sports community will support this initiative! We also hope to see the support from all athletes and weekend warriors out there, as well as for the "big guys" in the industry to follow our example. This is a little something that we can do to keep the dreams come true in the years to come. Every sold hydration pack counts. We hope to see your contribution and we hope that you will support us."
DEAN WILSON ONEAL GLOVE CONTEST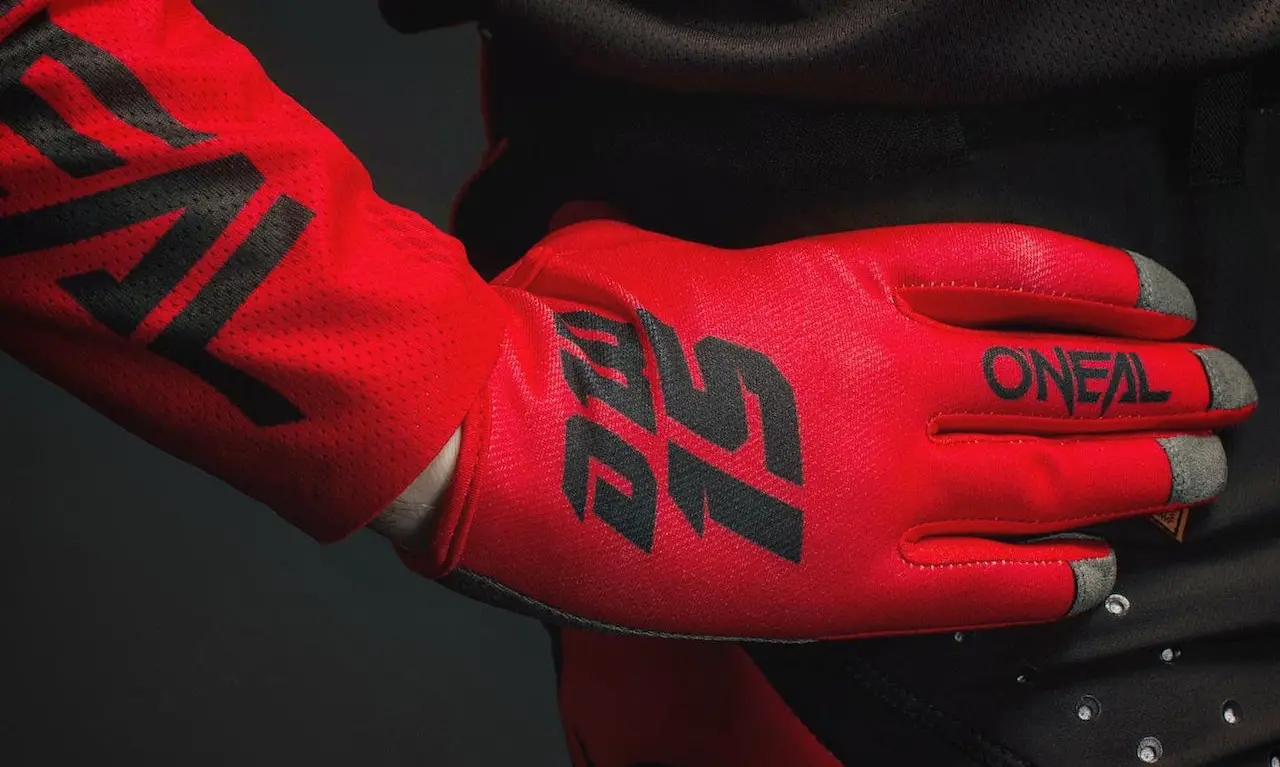 Ever noticed the custom red gloves Dean Wilson wears? If you like them, O'Neal is doing a giveaway to 50 lucky fans now. Check out the O'Neal instagram post below for information on how enter to win! 
@OnealRacing posted: "We teamed up with @deanwilson15 for a unique giveaway!The custom red DW15 gloves that Dean wears has definitely caught your attention. We've seen the comments and read your DMs… They haven't been available – until now! Dean wanted to do something cool for the fans during this time off from racing. So we are giving away 50 PAIRS OF DW15 MAYHEM GLOVES!! To enter, simply comment below and tag a friend. Boom! That's it. If chosen, you each win a pair of brand new Red DW15 Mayhem Gloves. 25 Winners and their tagged friend will be chosen and announced on our IG Story at 12 Noon Wednesday 4/1/20 – RULES BELOW!"
.
* Comment and tag a friend to enter both of you.
* Both fans must be following @onealracing to be eligible.
* Shipping available WORLDWIDE.
* Winners will be given a NEW pair of DW15 Mayhem gloves.
* Sizes available on first come first serve basis to winners.
NBC SPORTS GOLD OFFERS FREE ON-DEMAND ACCESS TO PRO MOTOCROSS PASS FOR MONTH OF APRIL
MORGANTOWN, W.V. (March 27, 2020) – NBC Sports Gold, the direct-to-consumer streaming service from NBC Sports, has announced it is providing FREE access to nine different sports passes, including the popular "Pro Motocross Pass," for a limited time through the month of April. With this access, viewers receive commercial-free and on-demand content, including full event replays and exclusive qualifying shows, from the 2017, 2018, and 2019 seasons of the Lucas Oil Pro Motocross Championship, sanctioned by AMA Pro Racing.
NBC Sports Gold can be accessed via the NBC Sports app, which is available in the United States through the Apple App Store (iOS), Apple TV (tvOS), Google Play (Android), Microsoft Store, PlayStation Store, Android TV, Amazon Fire (TV & Tablet), Amazon Echo Show, Roku, Chromecast, Xfinity X1, Xfinity Flex and Smart TV.
Access can also be found at NBCSports.com/Gold.
RONNIE RENNER | 4 THE KID IN YOU
MXA'S JOSH MOSIMAN TM USA'S TEST TRACK: DUTCH MOUNTAINS RANCH – WATCH VIA INSTAGRAM
MXA YOUTUBE CHANNEL | HIT THAT SUBSCRIBE BUTTON

The MXA wrecking crew is everything moto related. Check out our MXA YouTube channel for bike reviews, Supercross coverage, rider interviews and much more. And don't forgot to hit that subscribe button.
MXA | MOTO | TRIVIA  
Name the rider and year. Answer at the bottom of page.
AARON PLESSINGER | ISOLATED
PRO CIRCUIT SUSPENSION SPECIAL OFFER
MXA GEAR BAG | MOOSE RACING M1 GEAR
The MXA "Gear Guide" is here to suit your needs from head to toe. Whatever your style or color preference, you will find it here this month or the next. Whether you are on a budget or want the best gear money can buy, you will find it here. Our "Gear Guide" features quality products that you can bet your hard-earned money on. This month we feature 2020 Moose Racing M1 gear.
Helmet: Moose Racing F.I. Session—$159.95
Goggles: Moose Racing XCR Hatch—$54.95
Jersey: Moose Racing M1—$34.95
Pants: Moose Racing M1—$109.95
Gloves: Moose Racing SX1—$24.95
Boots: Moose Racing M1.3—$149.95
Contact: www.mooseracing.com
LOOKING FOR A JOB IN THE INDUSTRY? COMBAT THE COVID-19 CRAZINESS WITH MOTORCYCLE INDUSTRY JOBS
The world is a crazy place these days and MIJ is trying to do its part to help! Whether you just graduated from the Motorcycle Mechanics Institute or have been furloughed "indefinitely" there is plenty of confusion, fear and uncertainty in our lives right now. However MotorcycleIndustryJobs.com is confident that we will get to the other side of this chaos… Once we do, it will be time to twist that throttle WFO and hopefully get your job back or MIJ is here to help you shift gears into a new career!
"The rain doesn't last forever… once the COVID-19 crisis is over people will be in the saddle again," says MIJ founder Alex Baylon. "They will be going outside in a hurry to their favorite motorcycle shop and then favorite place to ride. Smiles on their faces, throttles in their hands. When that happens, these stores and manufactures are going to look to ramp back up with enthusiastic employees ready to get back to a normal way of life."
The enforced hiatus is a great time to take stock of your career and update your resume. "I encourage all dealerships personnel who have been laid off to upload their resume immediately, because MIJ will be offering free resume browsing with a 30-day job posting to dealers once the dust settles,"adds Baylon. "We have been helping industry pros turn their passion into a career since 2004." By specializing in powersports since day one, MIJ has become the go-to source for HR personnel across the country.
The first step is to register and post a resume. To facilitate this process, MIJ software allows job seekers to build up to five resumes with five distinct cover letters."Use a web application template, upload any type of file, or upload your LinkedIn data. Get creative! You can also add photos, upload videos, attach files and preview your resume before it gets posted," he says.
"We expect dealerships and manufacturers alike will be looking to hire. We want to help you be prepared when they do. If you need help with your resume, please contact us by phone or email… and it is all free! As the mantra goes, we are all in this together."
If you are ready to rebound from the COVID-19 closures, register at www.motorcycleindustryjobs.com today. Also be sure to check out the steady stream of job posts appearing at MIJ's Facebook and Instagram page: https://www.facebook.com/motorcycleindustryjobs/  Instagram: @motorcycleindustryjobs
ADAM CIANCIARULO TALKS ABOUT HIS RELATIONSHIP WITH MITCH PAYTON
FIND MXA ON TIKTOK: ALL THE KIDS ARE DOING IT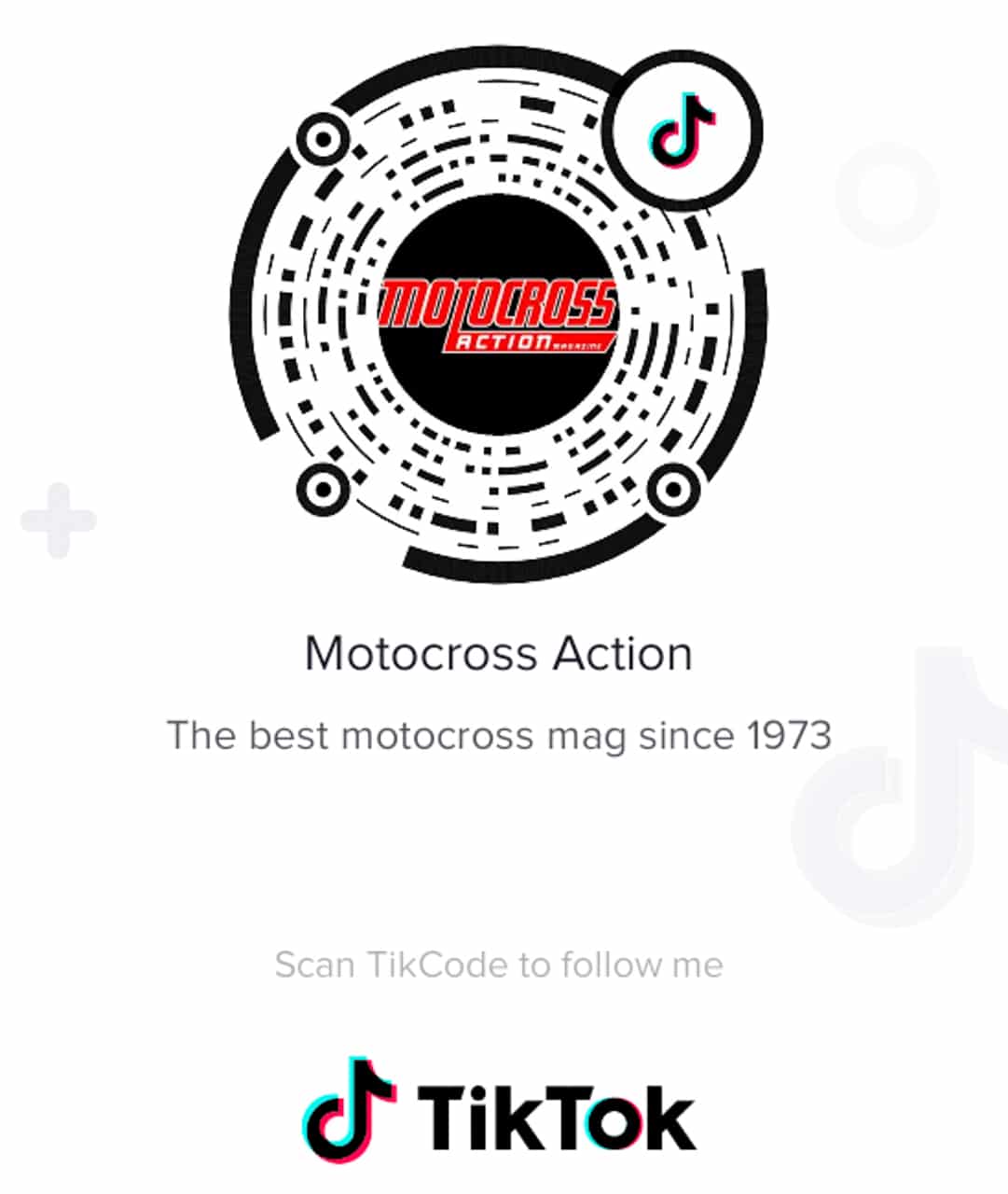 OSET ACTIVITY PACK AND TRAINING VIDEO'S 

Press Release: With the prospect of months of extra sofa time and boredom, the OSET crew decided to be pro-active and give both kids and adults some fun – both on and off their bikes.
The OSET 'Activity Pack' is now available to download from the OSET web site at https://osetbikes.com/us/activity-pack/ This pack will keep the kids busy with word searches, crosswords, a quiz, colouring exercises with bikes and clothes, story writing and more!
For both kids AND adults with OSET's, the back garden is often big enough to do some serious learning while 'Taking Fun Seriously'. OSET's own Oliver and Elliot Smith will be releasing a series of training and challenge video's for those at home to follow. OSET hope that as many riders as possible hop on their bikes and take part.
With each challenge, OSET are inviting riders to send in their video's via the OSET Facebook page. Oliver is ready to comment on customer video's to provide personalised tips and guidance. Each challenge will be preceded by a training video. Subjects include basics such as stance on the bike, balance and tight turns, up through hopping, wheelies, stoppies, bunny-hops, front touches and – ultimately – to front wheel roll-backs! OSET hope that USA Trials Champ and stunt rider Pat Smage will be a guest teacher for this technique, with Oliver as student number 1!
The advantage of OSET bikes has always been the ability to ride a lot, in small spaces, and in silence! In these difficult times there is no reason not to improve your riding at a faster pace than ever. Both Oliver and Elliot have been averaging 4 hours a day on bikes – all in the back garden!
As Malcolm Gladwell, author of 'Outliers' concluded 'ten thousand hours is the magic number of greatness'. To be World Class takes 20 hours a week for 10 years. At least during this time, we can all add some hours and increase our expertise in riding off road motorcycles while having fun and getting our daily exercise!
If you can't ride your motorcycle anywhere else, then at least the back garden is still available
MXA TEAM TESTED: PRO-BOOT MX RESOLE & REPAIR SERVICE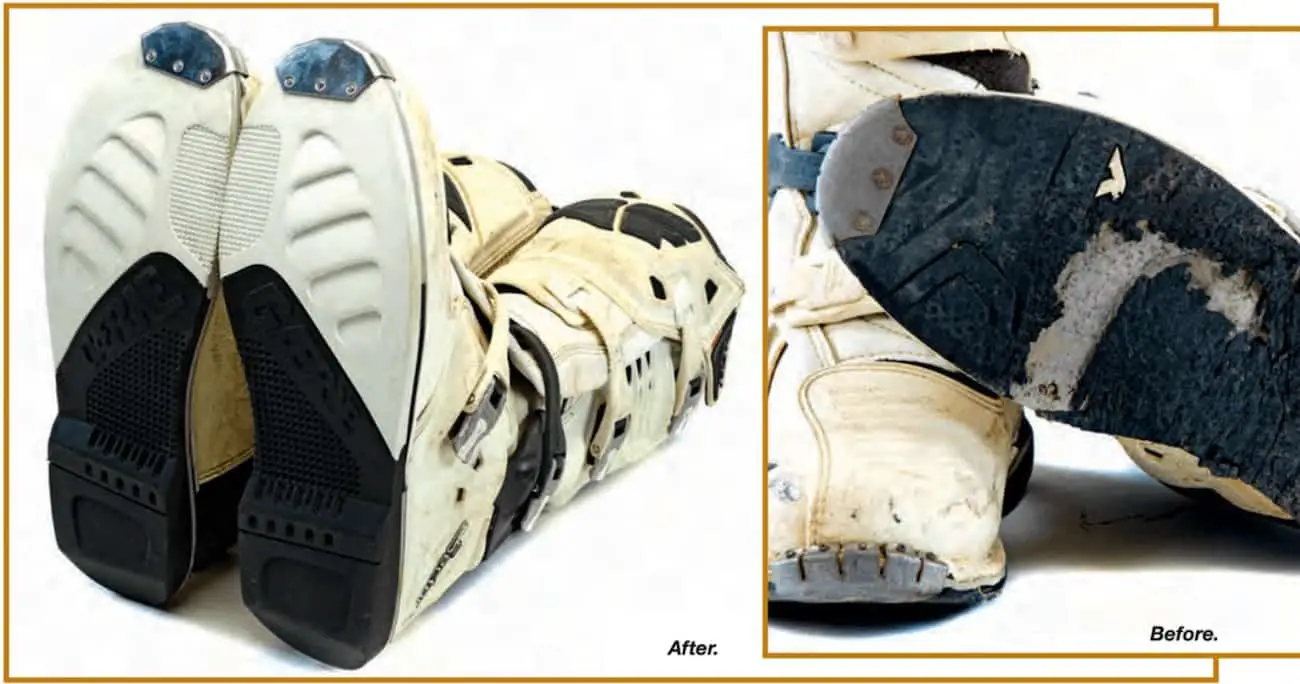 WHAT IS IT? MXA has a long history with Pro-Boot owner Randy Nagel. We go back to the good old days. Randy is a dedicated racer—although he now prefers vintage bikes—but you may know him best for his other company, Pro-Vue goggles, that pioneered building prescription goggles for eyeglass wearers.
WHAT'S IT COST? $99.00 (plus shipping).
CONTACT? www.pro-bootmx.com or (800) 548-8354.
WHAT STANDS OUT? Here's a list of things that stand out with Pro-Boot's resole and repair.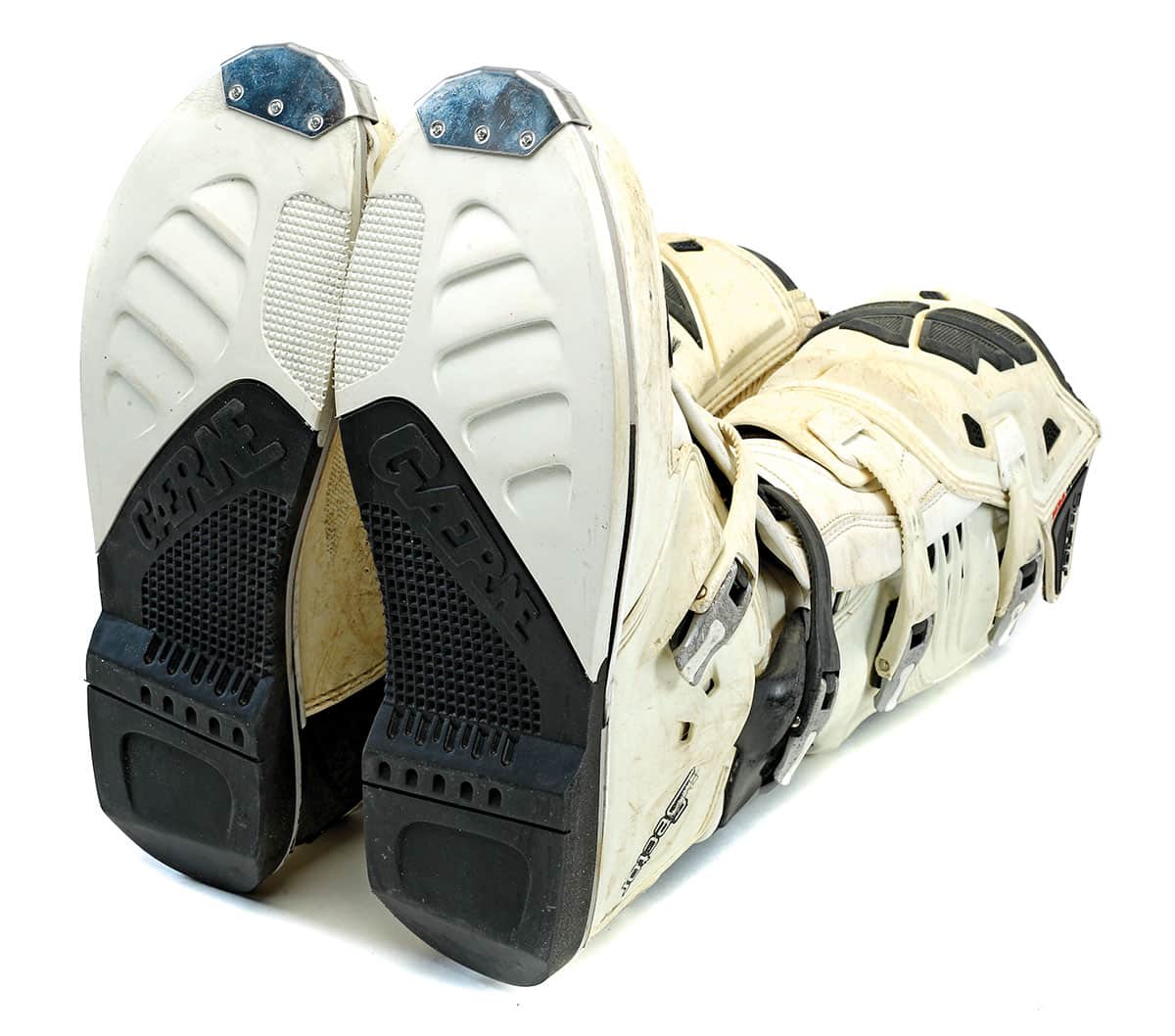 (1) Applications. Pro-Boot can only resole stitched (welted) sole boots. Pro-Boot does not repair bonded-sole and molded-sole boots, such as Alpinestars Tech 10s. If you have boots with molded-on soles, try MX Boot Resole & Repair at www.mxbootrepair.com or (949) 791-8009. We sent Pro-Boot a beat-up pair of Fly Sector boots (very similar to TCX boots). The MXA test rider who owned them loved the way the boots felt and didn't want to go through the break-in process again. The solution? Resole the old boots to make them new again.
(2) Condition. To get full value from a resole, the boot's chassis must be in good-enough condition to last the life of the new soles. Take note of the condition of the parts on your old boots. The buckles, insoles and toe caps can usually be replaced. Plus, Pro-Boot can do minor leather repair. Overall, degradation of the body of the boot, however, can't be fixed. Consider how much support the boot offers, because if the upper is worn out, there is no fix for that. Before shipping your boots, take note of the condition of all the boots' materials and make a call to Pro-Boot to see what they think. They will give you good advice.
(3) Cobbler. You might be asking, "Why should I waste time and money shipping boots across the country when I can just drop them off at the local cobbler?" MXA did just that. Local cobblers can be a gamble. We took a set of Gaerne SG10 to a local shoe repair shop. We spent $100, plus $30 for Gaerne soles, and only got two rides out of our resoled SG10s before they started delaminating. Resoling a motocross boot is trickier than resoling your average loafers; it takes a skilled cobbler to do a proper job. Pro-Boot guarantees their work. If a sole were to delaminate, they would redo it for free.
(4) Soles. Pro-Boot uses Gaerne soles on all the boots they repair (regardless of the brand of the boot). You wouldn't want them to use the same sole that wore out.
(5) Repairs. Pro-Boot can do boot repairs beyond just the sole, including stitching and gluing. If a boot is chewed through to the mid-sole, don't give up on it. Pro-Boot can fill it in and resole the boot. If the plastic is pulled away from the leather, it can be glued back in place. Pro-Boot does minor mid-sole fill-ins and gluing for free as a courtesy. More time-consuming repairs require an additional charge, which will be quoted once Pro-Boot takes a look. Typical repairs might cost $25.
WHAT'S THE SQUAWK? You have to make a financial decision about whether to repair your old boots or buy new ones. If your boots are expensive, you should consider resoling them, but it makes no sense to resole a set of $200 boots, because once you calculate the cost of the repair and two-way shipping, it's easier to buy a new set of cheap boots.
MXA RATING: Pro-Boot repaired our Fly Sector soles with brand-new Gaerne soles. This is a smart option for riders who are trying to save a few bucks or riders who love the feel of their old boots and don't want to part with them.
THE APRIL 2020 ISSUE IS JAM-PACKED FULL OF BIKE TEST & TECH ARTICLES

If you haven't seen the latest issue of MXA then you are missing a thrill ride of motocross facts, figures, information, racing, tech and the stuff that never makes it to your phone.
If you subscribe to MXA you can get the mag on your iPhone, iPad, Kindle or Android by going to the Apple Store, Amazon or Google Play or in a digital version. Even better you can subscribe to Motocross Action and get the awesome print edition delivered to your house by a uniformed employee of the U.S. Government. You can call (800) 767-0345 or Click Here (or on the box at the bottom of this page) to subscribe.
MXA CLASSIC PHOTO

Ricky Carmichael in 1998 on a Pro Circuit KX125. Ricky went on to win both the 125 outdoor Nationals and 125 East Supercross Championships.
---
Moto Trivia answer: Nick Wey 1998. Nick only raced two races in 1997 making 1998 his first full year in the Pro ranks. He finished 9th in points on his Pro Circuit KX125.