MOTOCROSS ACTION MID-WEEK REPORT
TWO-STROKE SPOTLIGHT: 1995 HONDA CR125 
Before. 
"I'm way to big for this 1995 Honda CR125.I am 6 foot 2 inches 200 pounds and 62 years old, but these sure are fun to race in the vintage MX races. Below is a list of what I did to restore it."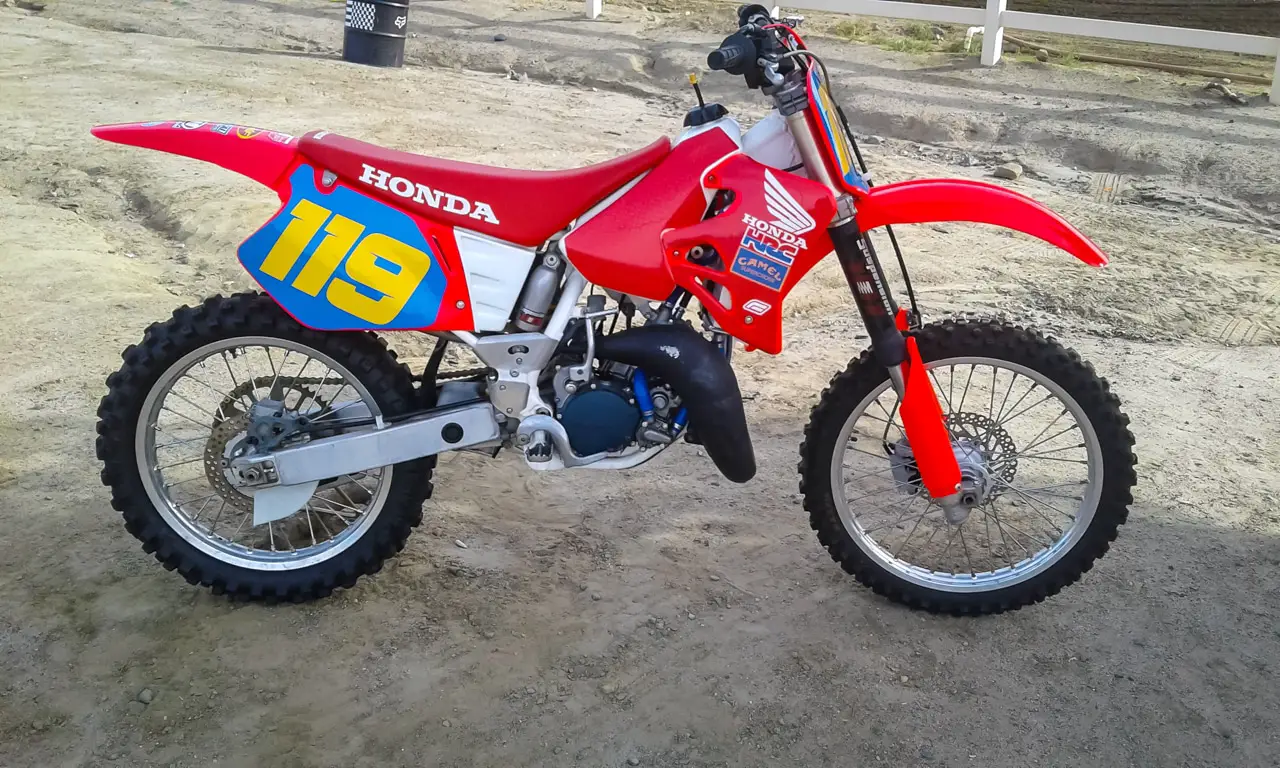 After the restoration.
Frame: The frame was powdercoated by San Diego powder coating,
Suspension: Suspension 101 in Alpine Ca.
Plastic: Maier for the gas tank, UFO for the plastic in the correct nuclear red.
Graphics: Fastlane MX and DeCal MX.
Seat cover: EBAY, installed, Jims upholstery in San Diego.
Engine: Piston, Namura, Reed block, Vforce. Barnett clutch plates and springs.
Bearings and gaskets: All Balls and Athena.
Cylinder re plated: Millenium Technologies.
Pipe: FMF Fatty w PC 304 shorty silencer.
Drivetrain: Vortex chain and sprockets.
Braided steel brake lines: Clairemont cycle.
Hardware: Specbolt or replated
Wheels: Stock wheels and hubs with new bearings.
Misc: Pro taper bars, MSR controls, Honda cables and Tusk pegs.
Oils: Maxima
Thanks,
Mike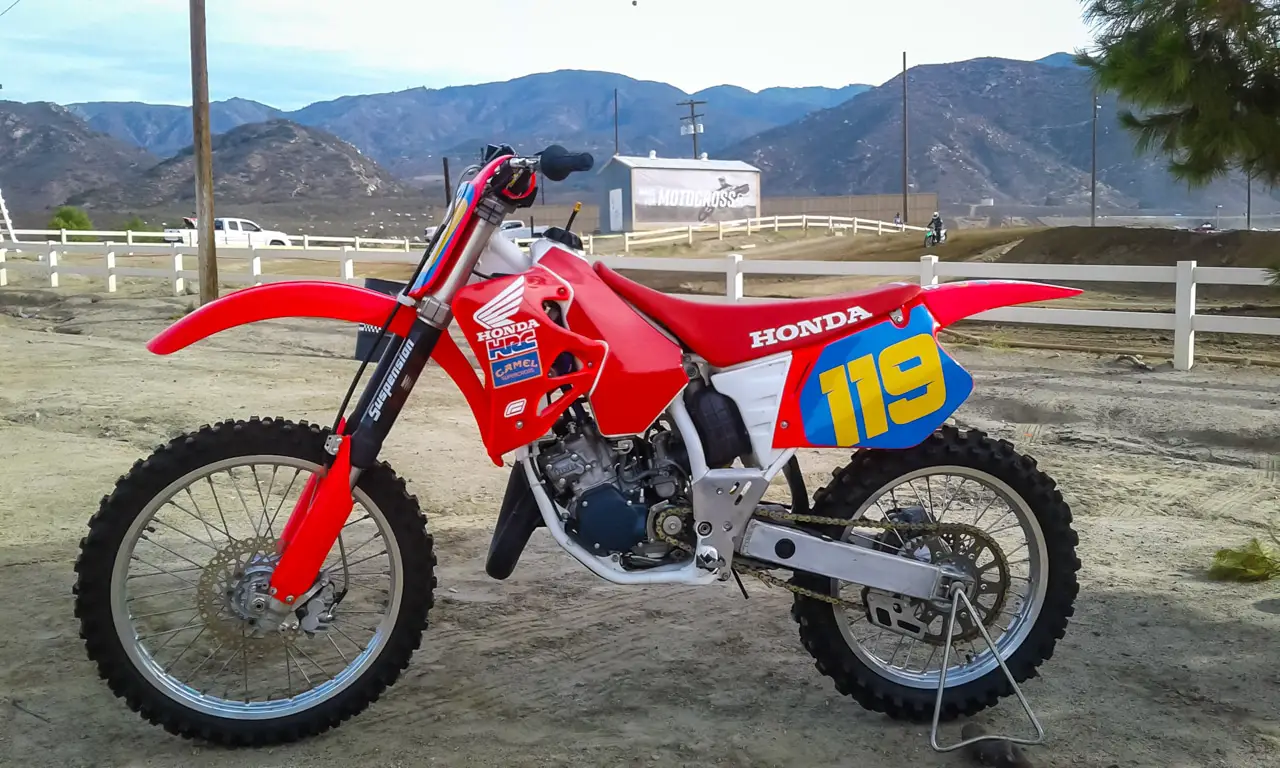 EDITORS NOTE: Please keep those submissions coming. If you would like your bike to be featured in the "Two-Stroke Spotlight," please email me at [email protected]. All I ask is that you give a breakdown of your bike and a detailed description of the build. Please also send a few photos of your steed. By submitting your bike for the "Two-Stroke Spotlight," you agree to release all ownership rights to the images and copy to MXA.
#WHIPITWEDNESDAY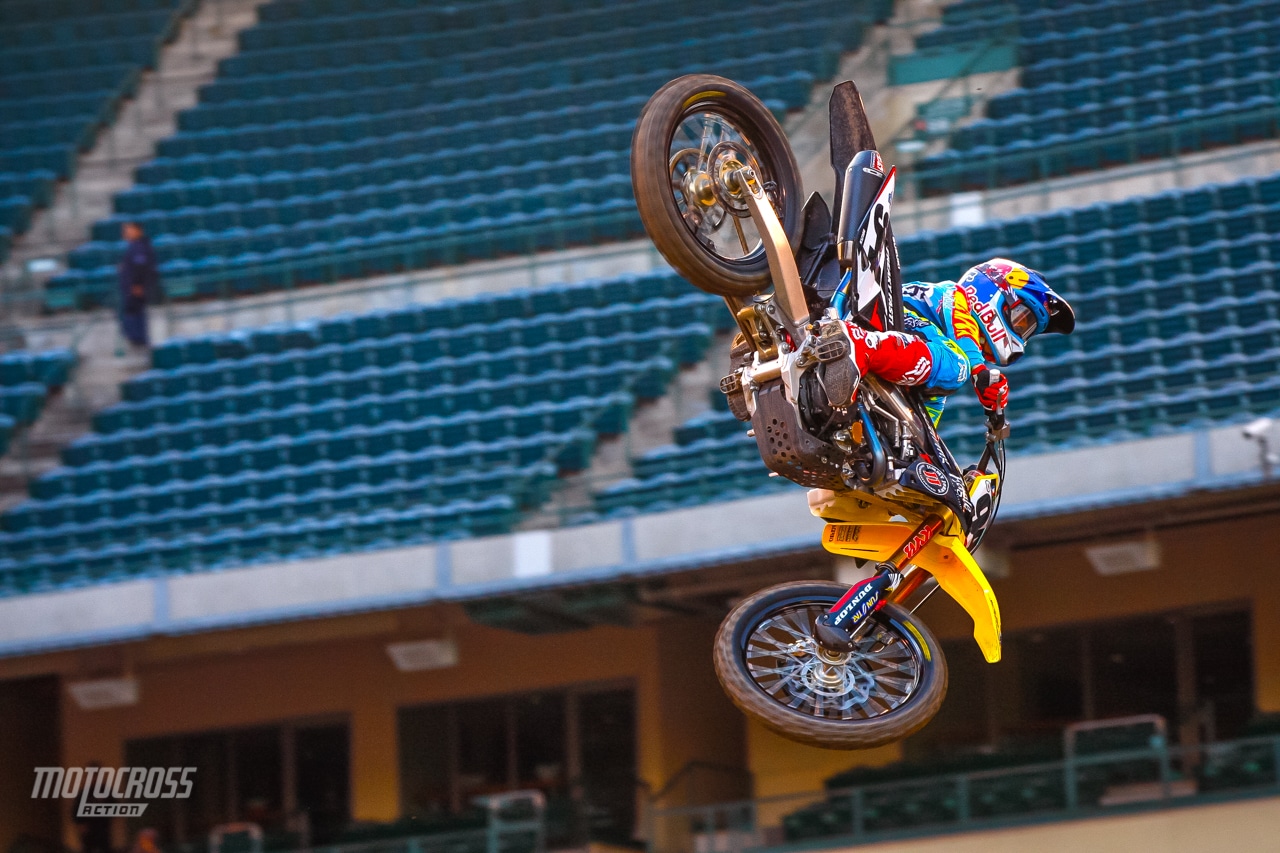 Rider: Ken Roczen
Year: 2016
Focal length: 300
Exposure: 1/320 sec
F-stop: f/4.5
ISO: 640
Photographer: John Basher
TALK MOTO WITH MOTO MINDED PEOPLE. JOIN MXA'S FACEBOOK GROUP CHAT

We love everything moto and want to bring all moto junkies together into one place to share their two cents, ideas, photos, bike fixes, bike problems and much more. To check it out first you must need to or already have a Facebook account. If you don't, it isn't much work and you could even have an alias so nobody knows it is you. To join click HERE. After you request to join we will accept your request shortly after.
MXA | MOTO | TRIVIA
Who is this rider and what year is it.
JOSH MOSIMAN'S NEW FXR WORK ATTIRE DURING THE PANDEMIC
The new FXR Racing Helium LE gear is pretty slick.
TOP 6 MOST POPULAR  MXA VIDEOS IN THE LAST 6 MONTHS
MXA TESTED | ODI PODIUM RC4 BEND CFT HANDLEBARS

The RC4 Signature Edition MX handlebar features ODI's patent-pending Controlled Flex Technology (CFT) crossbar system. The main bar is constructed out of 2014-T6 aluminum. The crossbar is made from softer 6061 aluminum and has a telescoping flex section to absorb impacts. Many riders like handlebars with a crossbar but don't like the added rigidity. With ODI's Controlled Flex Technology (CFT), you get the best of both worlds: a handlebar that features a crossbar but that is also tuned to flex under a load.
VERDICT: The ODI RC4 Controlled Flex handlebars offer the discerning rider an oversized bar with a crossbar that doesn't have the added rigidity or vibration you would expect; in fact, it is noticeably flexible and reduces vibrations. A surprising handlebar.
DIGITS: $134.95 (RC4 CFT bars), $99.95 (RC4 Flight bars)—www.odigrips.com or (951) 786-4755.
FROM MXSPORTS | ALL MOTORSPORTS ACTIVITIES POSTPONED THRU EASTER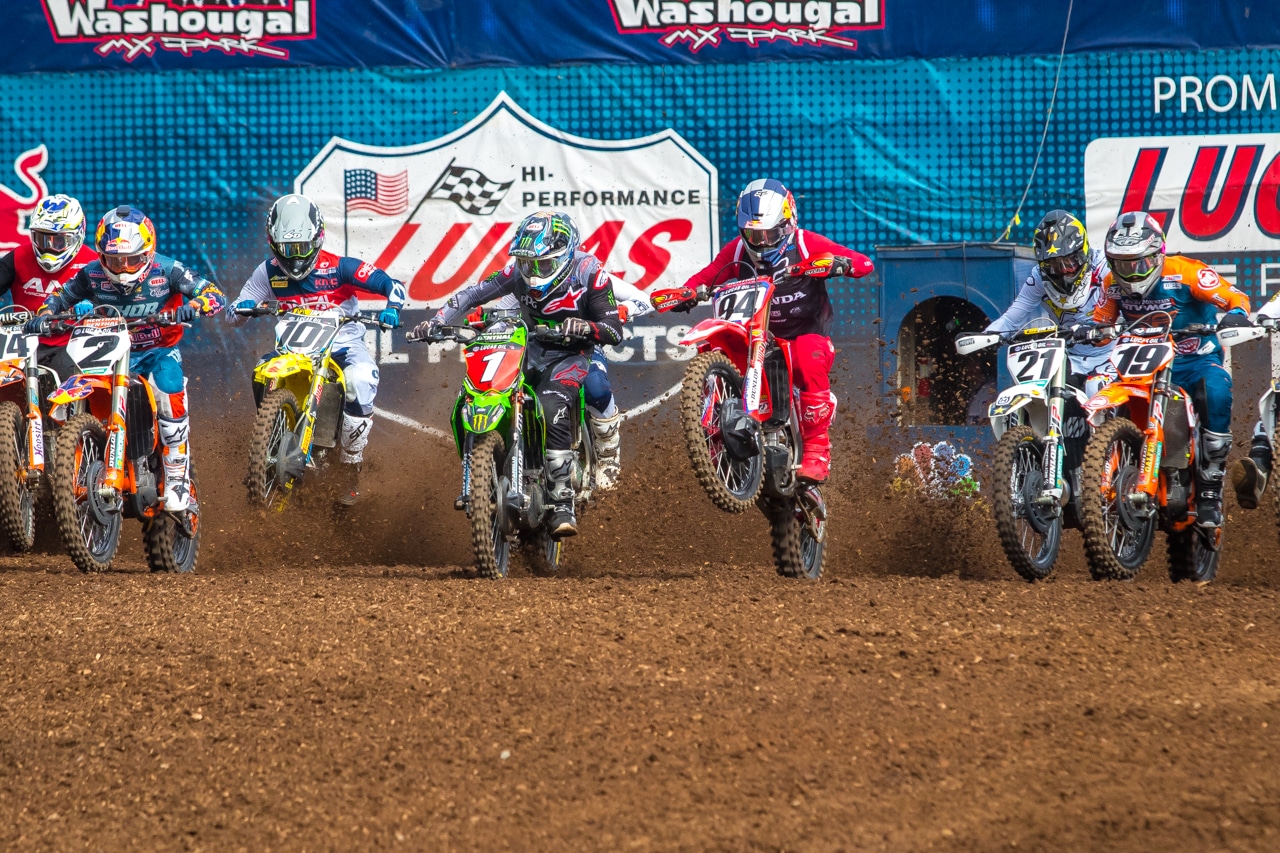 Press Release: Due to ongoing COVID-19 concerns and in accordance with government recommendations regarding large group gatherings, the Race Leadership Team (RLT) has postponed all motorsports activities thru Easter, April 12, 2020. This affects the following race series: Loretta Lynn Amateur Nationals, GNCC Racing, ATVMX and Pro Motocross.
Accordingly, the following events originally scheduled for April 4/5 are postponed, and every effort will be made to reschedule as soon as possible:
| | | |
| --- | --- | --- |
| Northeast AQ | Doublin Gap | Shippensburg, PA |
| Southeast AQ | Mill Creek | Pell City, AL |
| Mid-East AQ | Chillitown | Chillicothe, OH |
| North Central AQ | Archview | Washington Park, IL |
| Northwest AQ | Horn Rapids Motorsports Complex | West Richland, WA |
| Midwest AQ | Porterville OHV Park | Porterville, CA |
| Southwest AQ | Porterville OHV Park | Porterville, CA |
The Steele Creek GNCC in Morgantown, NC, originally scheduled for April 4/5, had previously been postponed. The Underground ATVMX in Kemp, TX, originally scheduled for March 28/29, has been rescheduled for September 19/20. As a result of the Pro Motocross schedule change previously announced March 20, the Southeast Youth Regional at WW Ranch in Jacksonville, FL, has been rescheduled for June 20/21.
The RLT consists of representatives from the AMA, MX Sports and MX Sports Pro Racing. The RLT will reconvene next Monday to review the race schedules, making adjustments as needed, and will work with event organizers to reschedule events when possible. The RLT urges racing families to use common sense: 1) wash your hands often; 2) avoid shaking hands or coming into close personal contact with others; 3) if you are sick, stay home; 4) if you are really sick, go to the hospital; and 5) don't panic.
The health, safety and welfare of our riders and their families remains paramount, and we will keep our race community apprised of all further developments.
MXA PRODUCT SPOTLIGHT: NEW SAINTS OF SPEED GLOVES
Saints of Speed is offering a unique line of gloves, completely different than any other gloves we've  seen in the moto industry. 
All of the Saints of Speed gloves feature a classic chassis design equipped with soft, stretchable, & breathable sublimated polyester on top of the hand & finger gussets. A thumb pad is utilized for added grip & wear resistance at friction points. For the fit, a simplistic, no hassle, fully adjustable, neoprene/velcro secured cuff is used. The palms are without padding like many top-of-the-line brands which makes for maximum tactic functionality and feedback from your bike. The synthetic leather palm material with silicone accents is also used for added grip on the fingers and thumb along with strategically placed perforations on the palm for maximum breathability. To learn more about Saints of Speed and check out the rest of the crazy gloves they have, check out www.saintsofspeed.com.
MXA YOUTUBE CHANNEL | HIT THAT SUBSCRIBE BUTTON

The MXA wrecking crew is everything moto related. Check out our MXA YouTube channel for bike reviews, Supercross coverage, rider interviews and much more. And don't forget to hit that subscribe button.
LOST BUT NOT FORGOTTEN | 1991 KAWASAKI KX125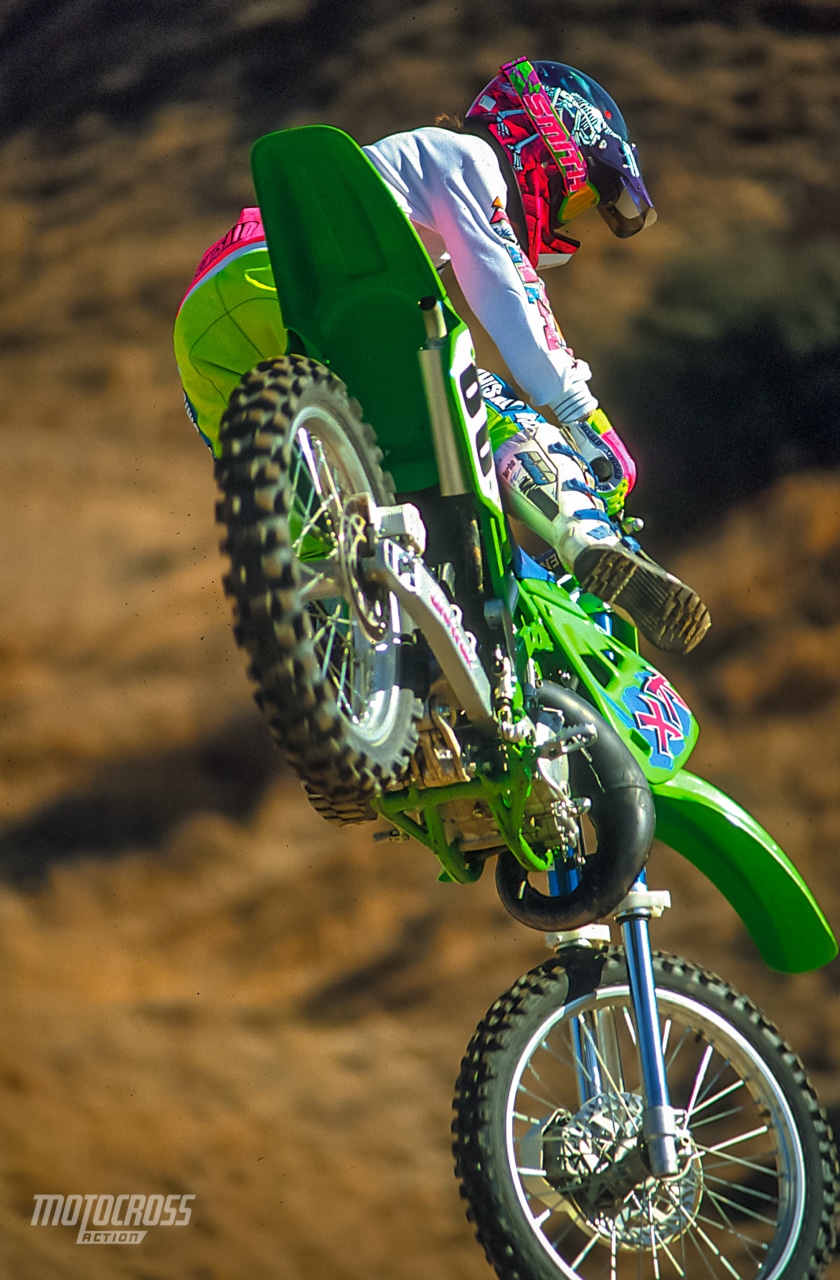 FIND MXA ON TIKTOK: ALL THE KIDS ARE DOING IT
MXA PRODUCT SPOTLIGHT | POWERSEAL USA NIKASEAL CYLINDER PLATING AND REPAIR

"PowerSeal USA provides state-of-the-art cylinder repair, reconditioning and modification services for virtually all high-performance engine cylinders. The heart of our process is a nickel-silicon-carbide layer electroplated on the cylinder bore that is finished to exact tolerances. This provides exceptional lubrication, wear resistance and ring seal, which results in long-lasting peak performance. Utilizing the latest equipment, tooling, manufacturing procedures and quality-control practices helps us provide a finished product that exceeds customer expectations." —PowerSeal USA's Kris Ray.
$199–$270—www.powersealusa.com or (866) 845-1531.
GET THE DIGITAL EDITION OF MXA FOR FREE FOR LIMITED TIME!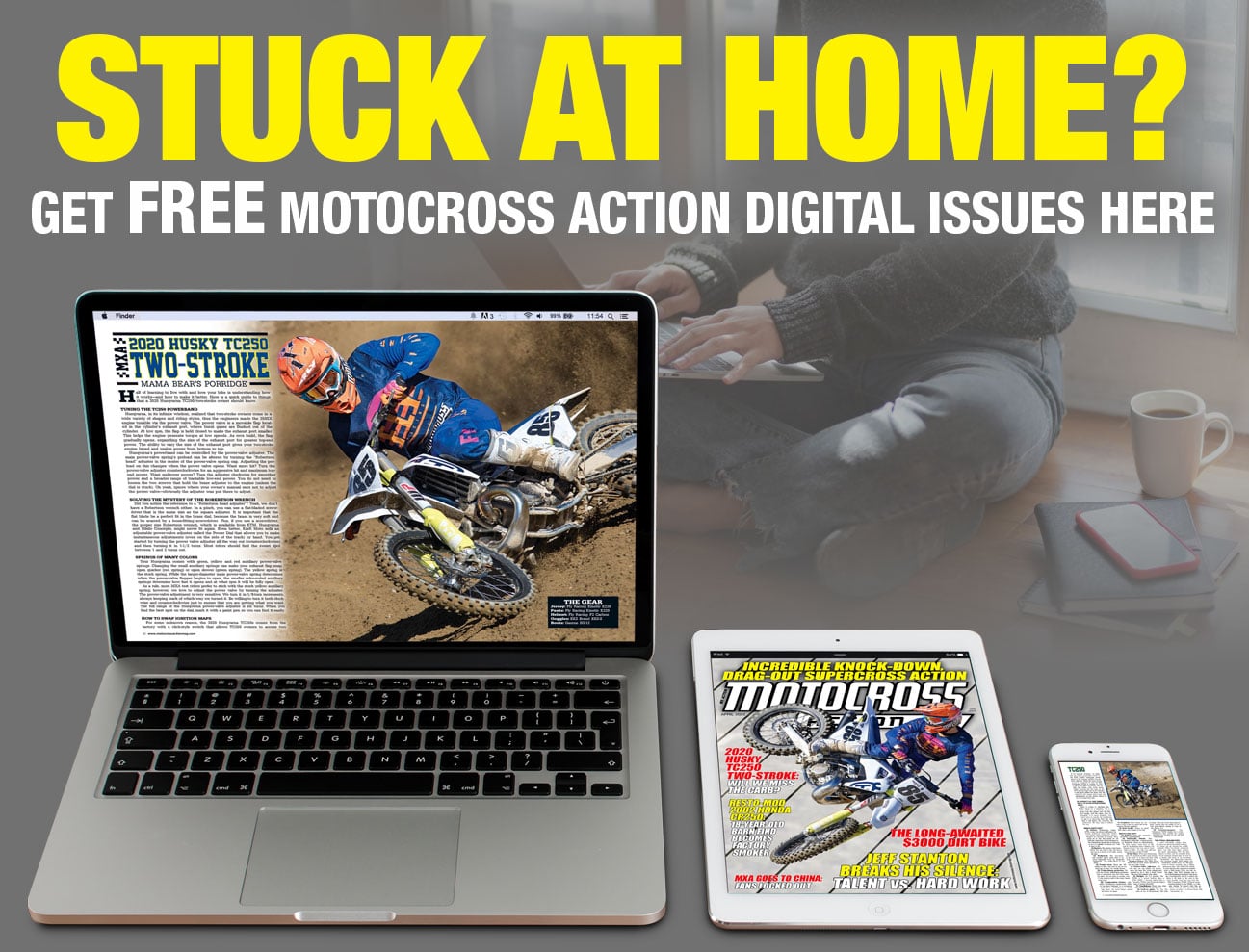 Click here are the above photo to get your free digital issues. 
CLASSIC PHOTO
Kevin Windham ripping up a factory Honda CR250 two-stroke.
---
Moto Trivia answer: Nathan Ramsey from 2000.