MOTOCROSS ACTION MID-WEEK REPORT
TWO-STROKE SPOTLIGHT: ROBERT REED'S 2017 KX250F TWO-STROKE CONVERSION
2017 KX250F two-stroke conversion.
"I grew up riding Kawasakis, and although I have several KXs in the 2003-2005 range I have not had a new bike since 1987. I wanted a new KX, but Kawasaki abandoned the two- stroke. I helped a buddy out as an Admin on KXRiders.com, and have seen several people complete really nice aluminum frame conversions. One of the conversions was done by KXGuru racing and involved using an early 2000s Honda CR250 frame cradle. I found a guy who was parting out a brand new 2017 KX250F on eBay and was able to swing a deal with him for all the parts I needed to build the bike. Everything else on the bike came off my 2004 KX250 (you would be surprised how much will bolt right up). Jon Pickel is a family friend and fabrication genius, and he handled the cradle swap. He builds hot rods by trade, and it's actually hard to see where his welds start and the factory welds end. I fabricated the rest of the spacers, brackets, and the head stay. I wanted to style the bike so that it looked like it could be from the factory, just customized by the owner."
PARTS LIST
• 2017 KX250F frame purchased on eBay along with the swingarm, linkage, subframe, shock, and seat, forks purchased from same seller. The bike was bought new at a dealership and parted out.
• 2001 CR250 frame cradle, adapted to KXF frame by Jon Pickel, brackets and head stay designed and built by owner
• 2004 KX250 Engine, rebuilt with re-plated cylinder by Millennium Technologies and a forged Wiseco Piston, FMF Gnarly pipe (2003 model pipe), FMF Turbinecore 2 silencer, Rekluse EXP auto clutch, Uni air filter
• Stock radiators modified to fit by ICW Radiators, Devol radiator guards
• Stock 2017 KX250F airbox with 2004 internals and adapter plate by C&N MX Powders
• 2018 KX450F forks with Dal Saggio Sphere inserts and Kashima coated uppers by N2Dirt Suspension
• Re-valved 2017 KX250F shock with Kashima coated body and DLC coated shaft by N2Dirt Suspension
• Xtrig Rocs Tech stock offset clamps

• Acerbis oversized tank, 2008 CR 450F petcock and fuel lines
• Tusk Impact wheels and Dunlop MX31 Tires
• Tusk oversized front brake rotor and Galfer brake line, Ride Engineering master cylinder cover
• Rear Galfer brake line and Works Connection rear caliper guard and master cylinder guard, Ride Engineering master cylinder cover
• Fasst Company Impact Pegs
• Mika Metal oversize bars, ODI bolt on grips, Fasst anti-vibration bar ends, ASV F3 clutch lever and perch, and ASV F3 brake lever
• Acerbis plastic
• Decal Works custom stock appearance graphics with F removed
• Primary Drive gold o-ring chain and sprockets, Acerbis chain guards
• Pro Moto Billet kickstand
EDITORS NOTE: Please keep those submissions coming. If you would like your bike to be featured in the "Two-Stroke Spotlight," please email me at [email protected]. All I ask is that you give a breakdown of your bike and a detailed description of the build. Please also send a few photos of your steed. By submitting your bike for the "Two-Stroke Spotlight," you agree to release all ownership rights to the images and copy to MXA. Please don't email me spam or try selling me Taylor Swift concert tickets or email me spam. I already celebrate T-Swizzle's entire collective, and there will be "bad blood" if you send me junk mail. See what I did there? Happy submitting your smoker.
#WHIPITWEDNESDAY
Rider: Jordan Smith & Josh Grant
Location: 2018 Red Bull Straight Rhythm
Focal length: 300mm
Exposure: 1/1600sec
F-stop: f/6.3
ISO: 250
Photographer: Daryl Ecklund
MXA | MOTO | TRIVIA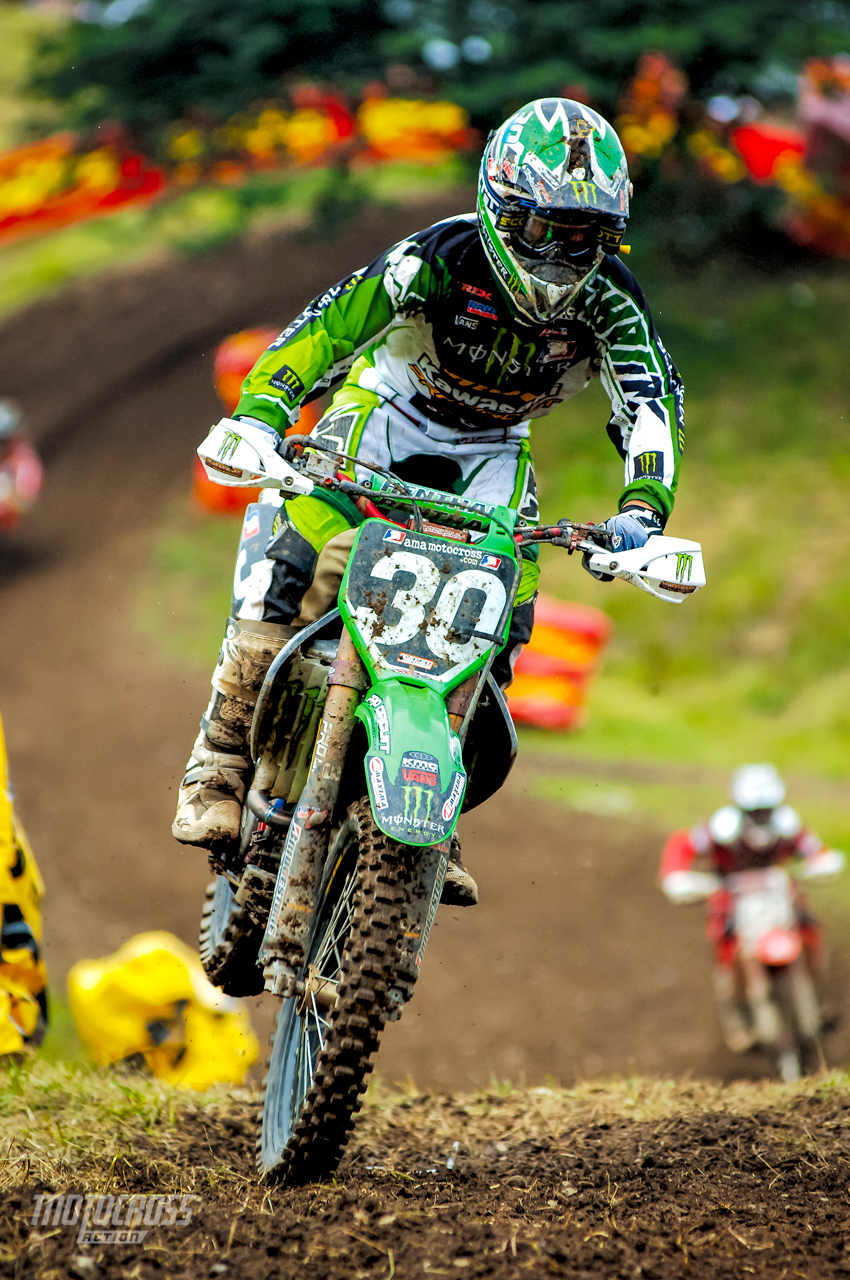 Name the rider and year. Answer at the bottom of the page.
BORED AT HOME? TIRED OF RERUNS OF "SEINFELD?" TRY FREE ACCESS TO MXA DIGITAL EDITIONS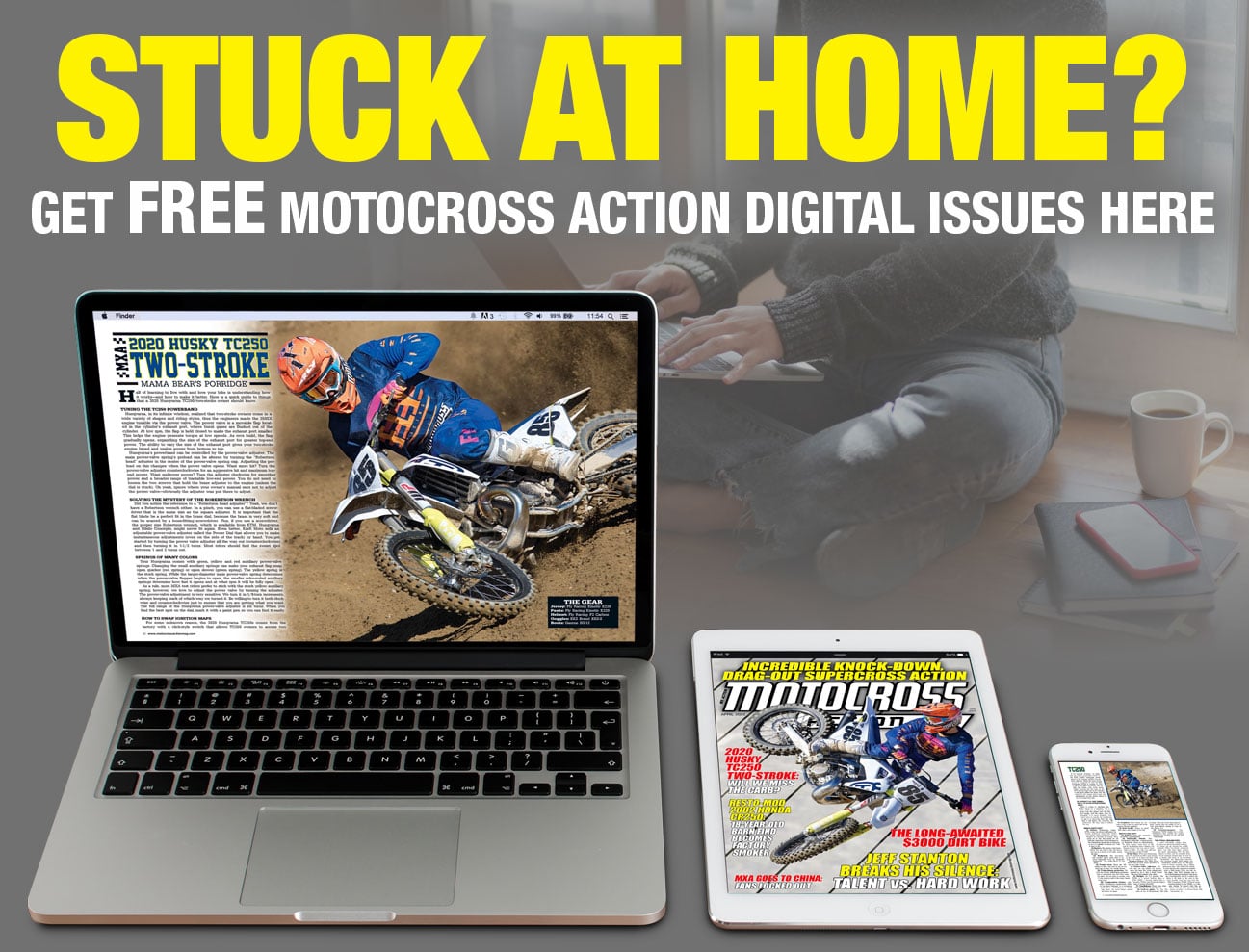 Click here or on the above photo to get your free digital issues.
TWO-STROKE NATIONAL PREP WITH MXA
MXA's Assistant Editor, Josh Mosiman is building our 2020 KTM 250SX into a 300 for the Two-Stroke National. But in the mean time, he's putting some time on the bike to get comfortable on it.
Even in stock form, the 250SX has plenty of power!
HAVE YOU SEEN THE MAY 2020 ISSUE OF MXA? THE BEST OF AMERICAN MOTOCROSS
Aren't you tired of looking at awesome motocross photography on the tiny little screen of an iPhone, while holding it at odd angles to figure out what you're looking at?  Get the real deal and see those giant spread photos at 11-inches by 16-inches and live a little.
If you subscribe to MXA you can get the mag on your iPhone, iPad, Kindle or Android by going to the Apple Store, Amazon or Google Play or in a digital version. Even better you can subscribe to Motocross Action and get the awesome print edition delivered to your house by a uniformed employee of the U.S. Government. You can call (800) 767-0345 or Click Here (or on the box at the bottom of this page) to subscribe.

O'NEAL/BLUR OPTICS DONATES 1,000 GOGGLES TO COVID-19 NURSES
The Los Robles nurses were happy to show off their new Blur goggles.
Amidst the coronavirus pandemic, doctors and nurses are in need of more PPE (personal protective equipment) to keep themselves healthy while dealing with patients that may or may not have the virus. Thankfully, companies like O'Neal Racing have stepped up to fill the void with goggles. O'Neal Racing's Marc Shear stated: "We wanted to reach out and help the frontline health heros. We have heard the call for more personal protective equipment, including eye protection in the form of goggles. BLUR in cooperation with national retailer Cycle Gear initiated a nationwide donation of over 1,000 sets of goggles in local hospitals. These images are from a recent drop at our local Los Robles hospital in Thousand Oaks."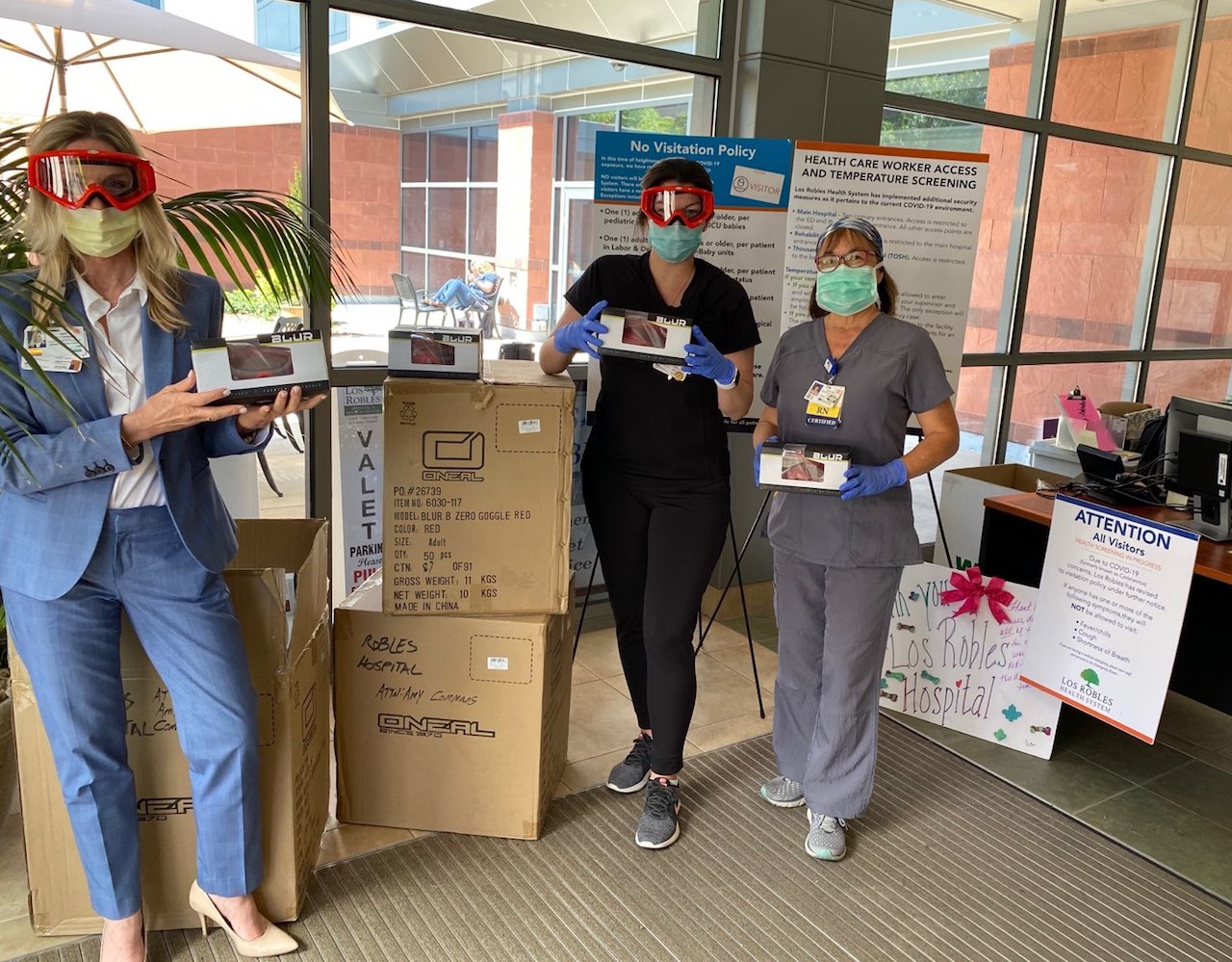 The nurses at Los Robles hospital showing off their new Blur Goggles. 
THOR MX 2020 RIDER SUPPORT NOW OPEN
While many businesses are closed, Thor MX has opened their rider support program and now you can apply for sponsorship from home.
During these uncertain times, we all need to unite while we physically stay apart. One thing is for sure, when the rules of isolation no longer apply, racing will be waiting for us all!
For the 2020 season, the THOR Rider Support Program is proud to continue our decades long tradition of supporting riders across all levels of the sport. We are now accepting applications from dedicated racers and riders to represent the THOR brand proudly and to be true ambassadors for motocross and/or off-road racing disciplines.
Space is limited and not every rider will qualify for support. To apply, simply click the link below and follow the directions to the "Apply for Sponsorship" page. Stay safe and we will see you at the track soon!
https://ridersupport.thormx.com/login
MXA YOUTUBE CHANNEL | HIT THAT SUBSCRIBE BUTTON

The MXA wrecking crew is everything moto related. Check out our MXA YouTube channel for bike reviews, Supercross coverage, rider interviews and much more. And don't forgot to hit that subscribe button.
ANSWER: Cole Seely
MXA PRODUCT SPOTLIGHT: ODI GRIPS EMIG PRO V2 LOCK-ON GRIPS
ODI Grip's new black and yellow grips were made to match the Rockstar Edition Husqvarna perfectly.
ODI Grips recently introduced new color options for their Emig Pro V2 Lock-On grips. Now you can get black and yellow grips to match your Rockstar Edition Husky FC450 or Grey, Orange and Blue grips to match your KTM Factory Edition as seen below. They also released new black and green grips to match the signature Kawasaki colors. Click here to learn more about the grips and get MXA's opinion on them.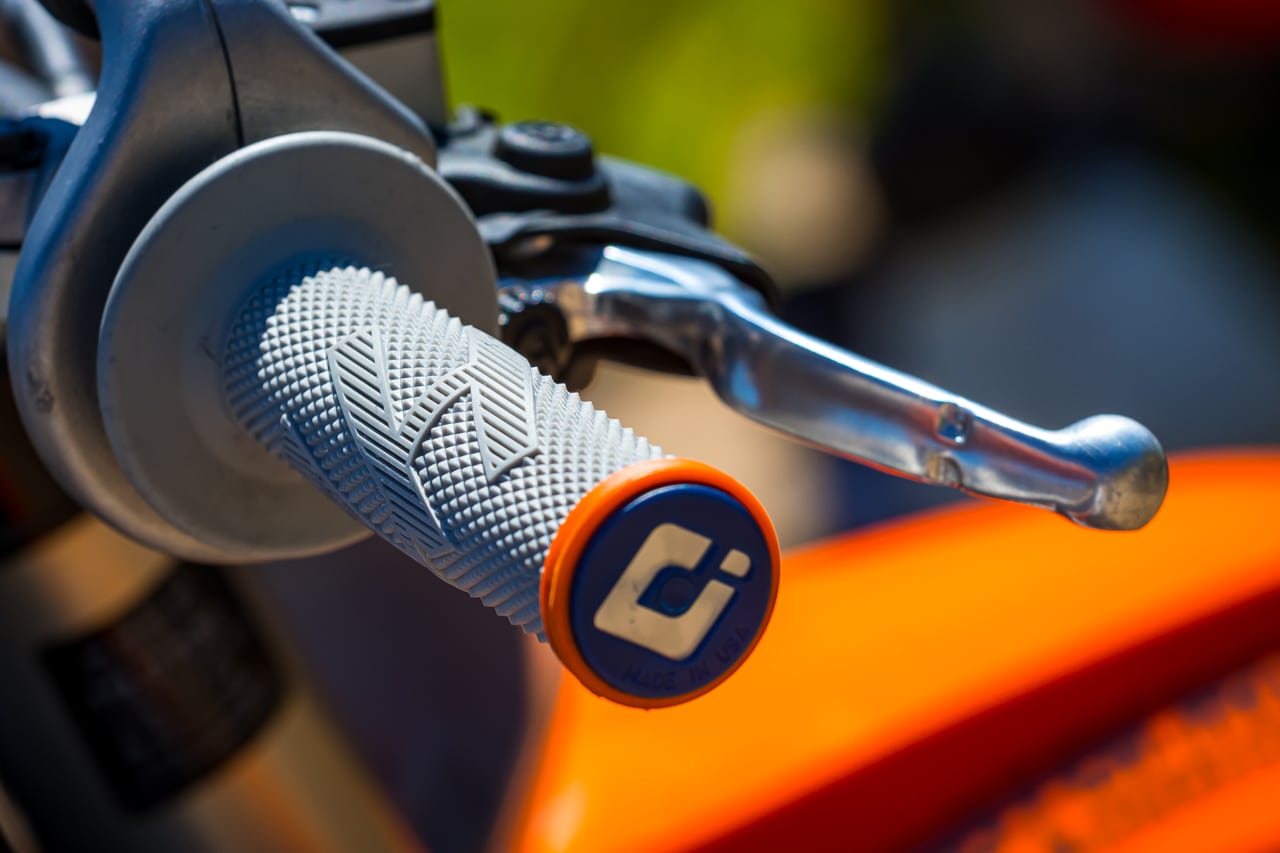 The new Grey/Orange/Blue color way matched our KTM 250SX great. But it looks even better on factory edition models.
We really like the extra-soft, undercut, independent ribs on the Emig Pro V2 grips. They extend across the outer two-thirds of the grip and they're designed to deliver lateral and rotational traction. The ribs are angled downward towards the inside of the grip to encourage better hand positioning and to remind you to raise your elbows.
SNEAK PEEK INSIDE THE BOYESEN FACTORY TO SEE HOW THINGS ARE MADE | photos by Travis Fant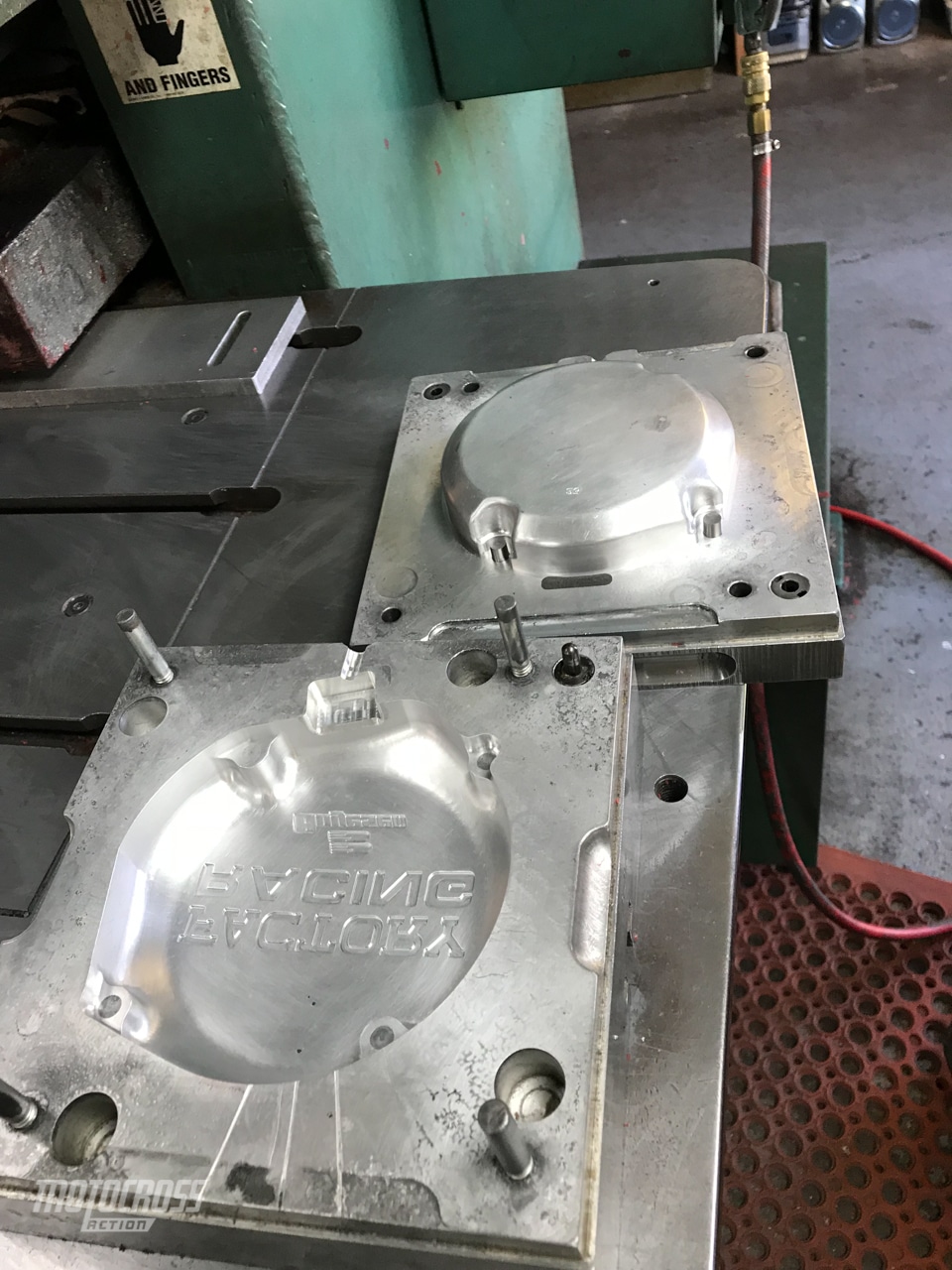 This is a steel cast used for a Boyesen clutch cover. 
The Boyesen clutch covers start as a wax form in a mold.
They are then dipped into a liquid that hardens over to make a cast mold. The heated metal is poured into the cast that's formed.
The cast is then broken off and discarded to make the clutch cover. An employee then checks for any yields.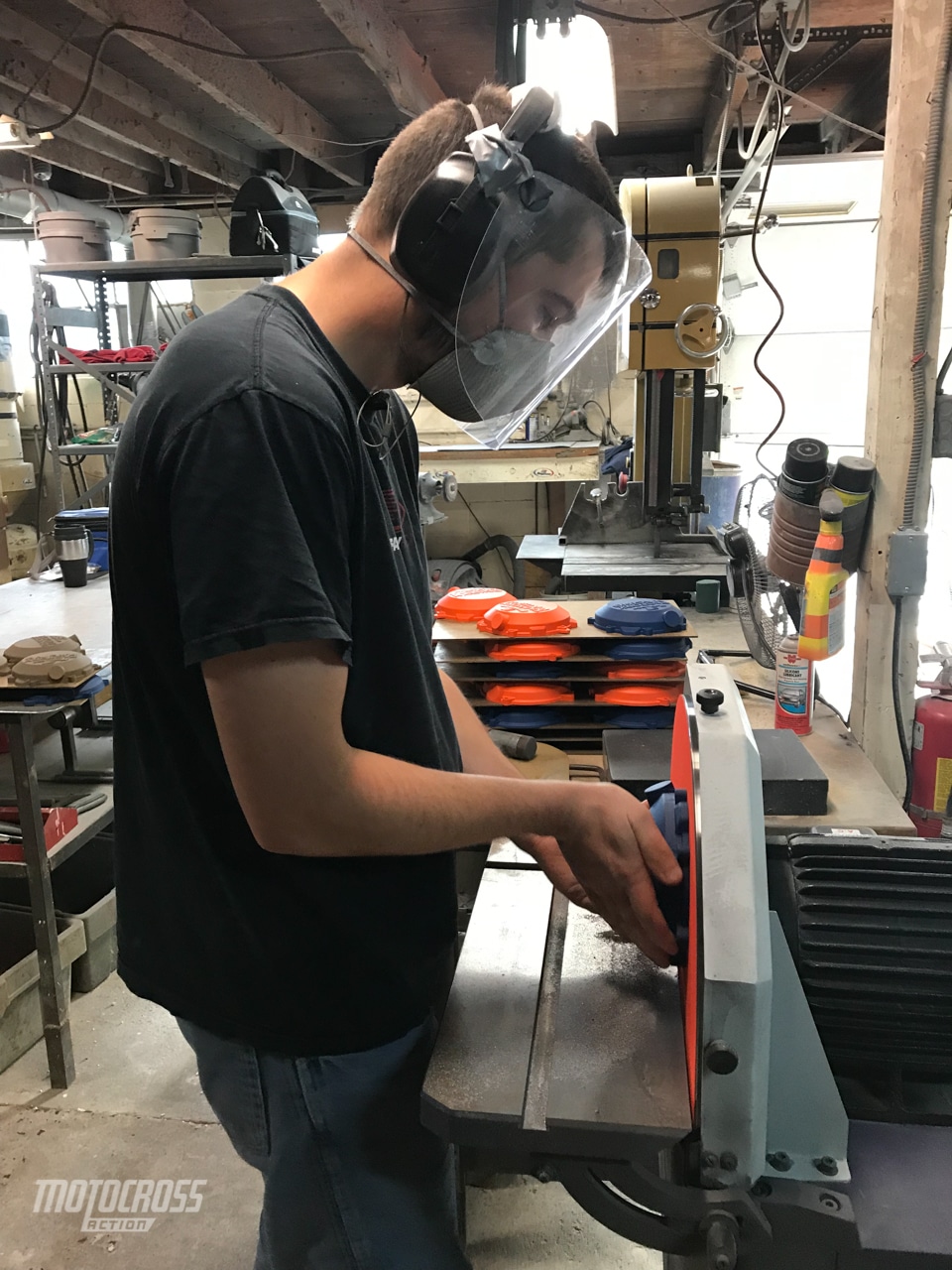 He grinds down the cover to make the surface even and smooth. This is an art form and he is pretty much the only one that can do it. It then goes to get powder coated.
Once powder coated the cover is ground down for the Boyesen chrome finish on the lettering. Boyesen products are 100% hand made from start to finish.
FIND MXA ON TIKTOK: ALL THE KIDS ARE DOING IT

LOST BUT NOT FORGOTTEN | 1998 Kawasaki KX250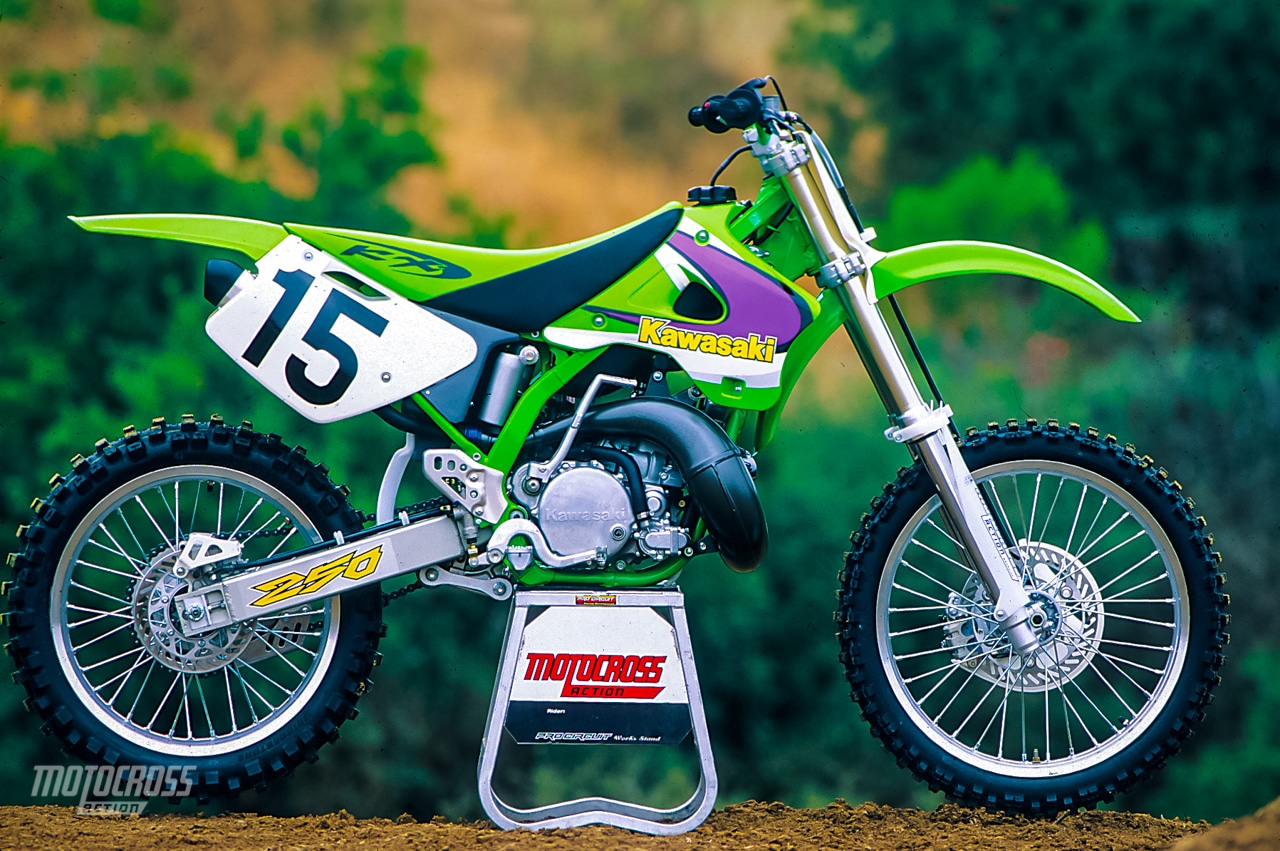 TALK MOTO WITH MOTO MINDED PEOPLE. JOIN MXA'S FACEBOOK GROUP CHAT

We love everything moto and want to bring all moto junkies together into one place to share their two cents, ideas, photos, bike fixes, bike problems and much more. To check it out first you must need to or already have a Facebook account. If you don't, it isn't much work and you could even have an alias so nobody knows it is you. To join click HERE. After you request to join we will accept your request shortly after.
WANT TO KNOW HOW A DYNO WORKS?
There is no more effective tool to tune and compare race engines than a dynamometer. Dynos measure the force of an engine and give the results in corrected "perfect condition" figures. This allows the engine builder to compare uniform results on a day-to-day basis under fluctuating temperature, air humidity and barometric pressure (these conditions have a correlating effect on the amount of power an engine can produce). Performance shops use dynos to immediately test just-released bikes or new, untried mods and compare the results directly against best and worst power curves from past and present. Dynamometers take much of the guesswork out of engine tuning before ever setting a wheel on the track. Top tuners spend an equal amount of time on the dyno as they do testing on the track.
WAYS POWER IS MEASURED
Conceptually, nothing could be simpler than a dynamometer. It measures the force of an engine and factors that information into given units of measurement. The knowns are that one horsepower is equal to the force required to raise a 550-pound weight at the velocity of one foot in one second. Torque is a foot-pounds measurement of the effectiveness (leverage) of the force that creates rotation. By applying a rotating resistance to an engine and reading how quick and how fast the constraint is turned in comparison to how fast and quick the engine is turning, power and torque output can be accurately recorded.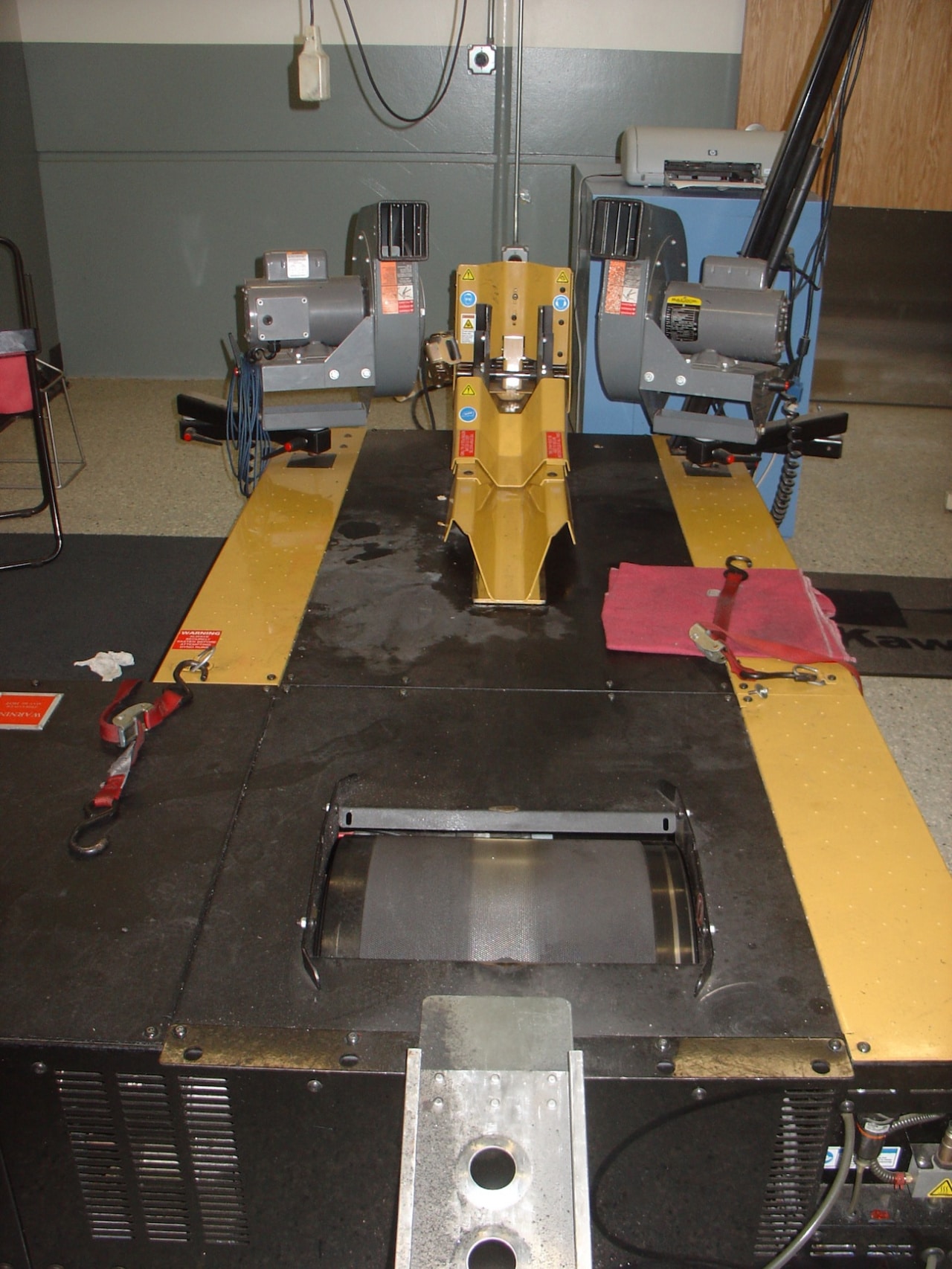 A dyno without the bike on it. 
FROM THE REAR WHEEL
Inertia dynamometers, like a Dynojet, are easy to use and very popular. The front wheel of the motorcycle fits into an adjustable chalk and the rear wheel powers a 900-pound, inertia drum. Horsepower is calculated by deriving force through multiplying drum acceleration by drum mass and velocity by the time it takes to rotate the inertia drum one turn. Torque is figured by multiplying the measured force at any given moment by the drum radius, proportioned by the ratio of the engine to drum speed. The Dynojet takes horsepower and torque readings every 200 rpm. Inertia dynamometers necessitate that the tuner sits on the motorcycle during operation. Results are most consistent if the bike is measured by performing a roll-on test in the upper gears.
One advantage of the Dynojet is that the bike can be taken straight off the dyno, and if surroundings permit, run through the gears out in the parking lot and then propped right back atop the dyno again.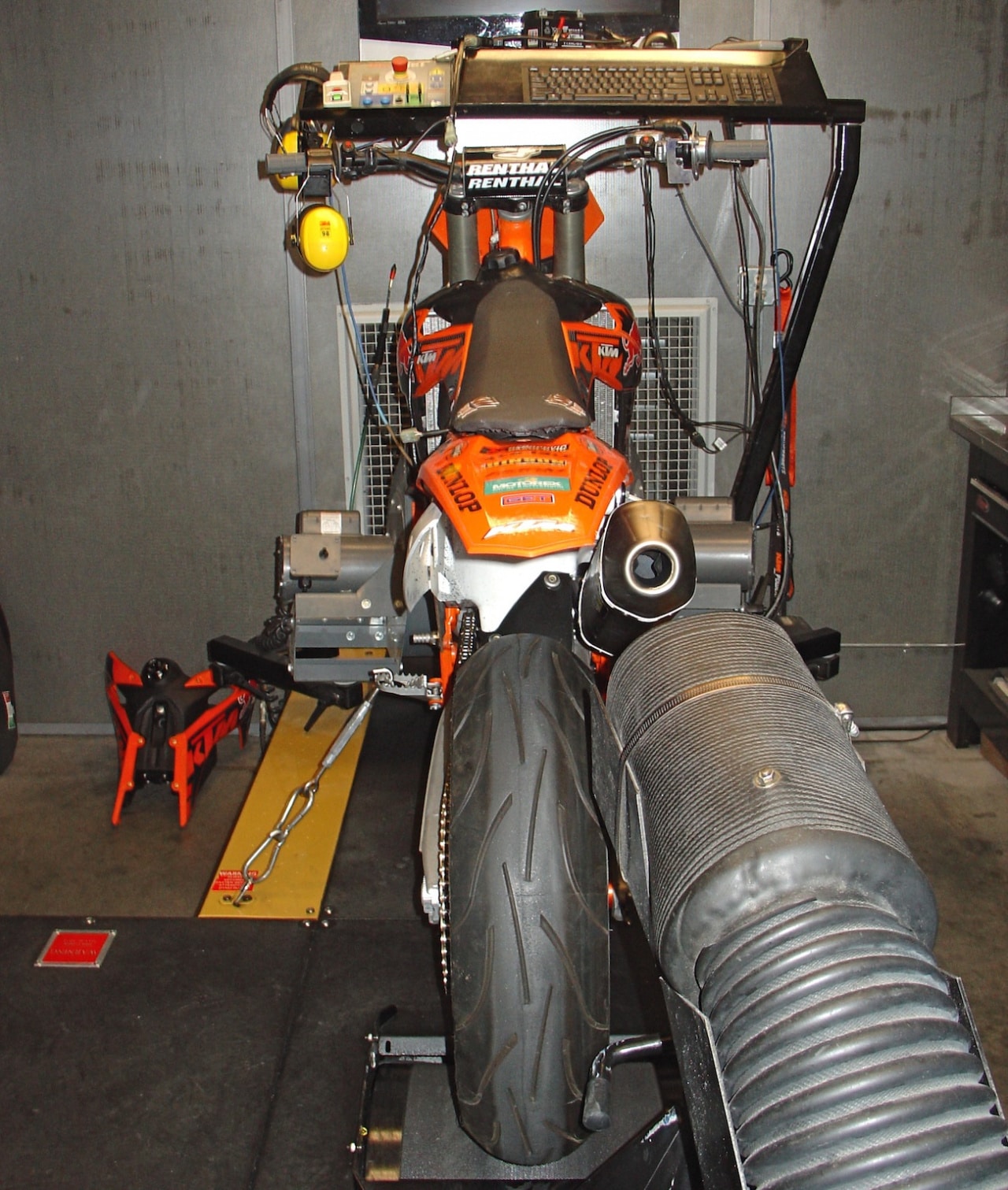 FROM THE COUNTERSHAFT
Waterbrake dynamometers, like the SuperFlow, are highly automated. The motorcycle clamps to an engine cradle stand and drives the waterbrake through the countershaft. The waterbrake uses a concealed impeller and a controlled volume of water to correlate resistance directly against engine rpm. The waterbrake pivots on the driven impeller shaft and is secured against rotation with a wire-like, strain-gauge bridge. Foot pounds of torque are calculated directly by how far the strain-gauge bridge is displaced; factoring both rpm and waterbrake resistance into the equation. Horsepower is mathematically derived by converting torque to kilowatts to horsepower. The SuperFlow takes horsepower and torque readings every 100 rpm.
Since waterbrake dynamometers read horsepower and force by applying an increasing resistance against the engine, the engine is worked harder during a complete reading than on an inertia dyno. It is thus necessary to richen the needle circuit to offset the heavy load.
Jody looking at the results of a dyno run of a KTM 450SXF.

THE DYNO ROOM
Dynamometers reside in well-ventilated, soundproof rooms with a plume to supply a generous quantity of fresh air. Since the bike is standing still it is necessary to use shop fans to blow air through the radiators. The tail end of the motorcycle is hooked to either a fan-controlled exhaust tube or backed up against a filtered and fan-controlled exhaust vent; both sucking fumes out of the room and out the top of the roof.
The most important thing to remember about a dyno is that it is only comparable to itself. And, only on days with the same temperature, humidity, and barometric pressure. Just cause one dyno claims 45 horsepower and another claims 43 doesn't mean that one is right and the other is wrong. Dyno numbers are greater on cold days than warms days. And unless the two dynos are going to race, it doesn't matter what the horsepower is, only what difference a given dyno can measure between different pipes, port jobs, jetting, carbs or ignitions. Dynos are for comparison—and nothing more.
CLASSIC PHOTO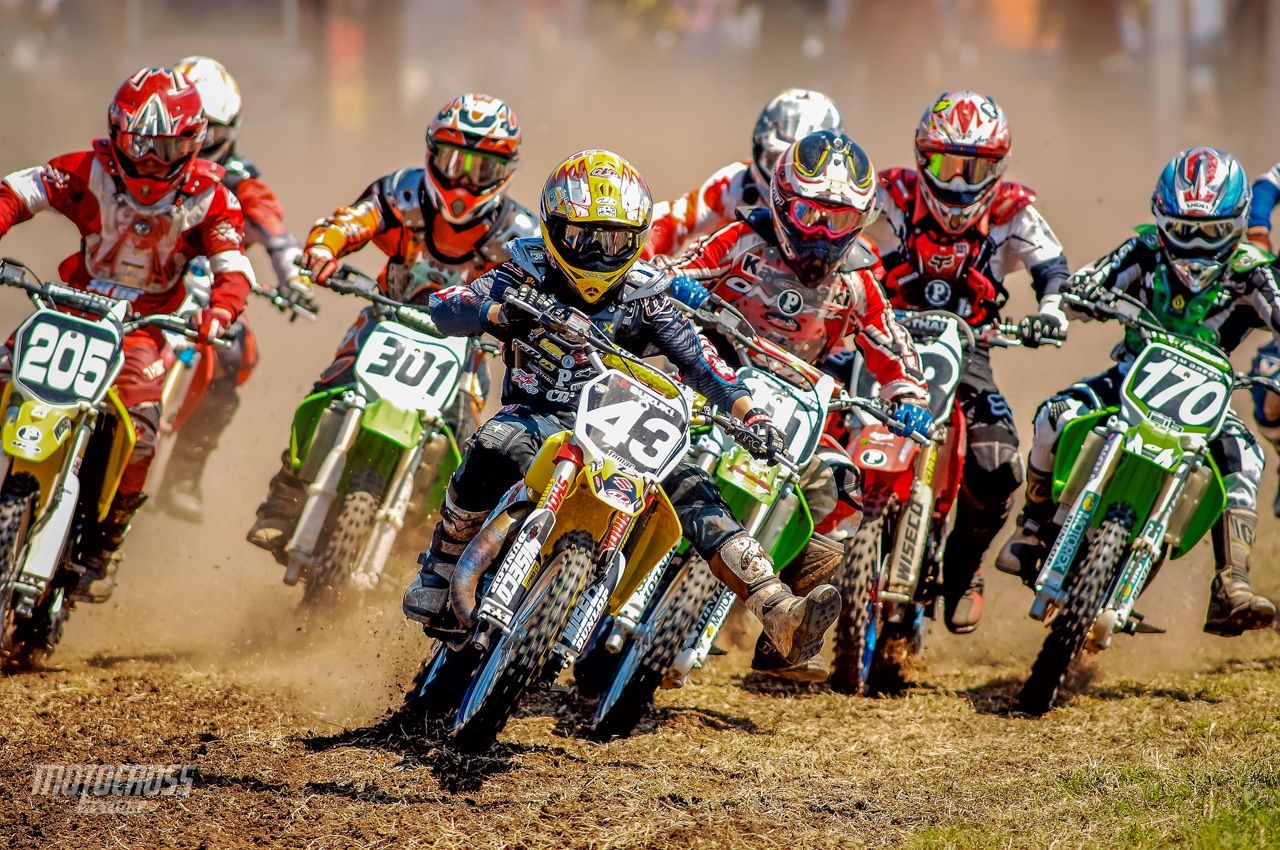 Eli Tomac capturing the holeshot back in 2005 at the NMA Ponca city Nationals.
That is John Tomac holding Eli's RM85 in staging. 
---
Moto Trivia answer: Ivan Tedesco back in 2005.