MOTOCROSS ACTION MID-WEEK REPORT
#WHIPITWEDNESDAY

Rider: Nick Wey
Location: KTM test track
Date: October 29, 2007
Photographer: John Basher
Camera: Canon 30D
Lens: 70-200mm f/2.8
Focal length: 200mm
Exposure: 1/1600 sec.
F-stop: 3.2
ISO: 320
TWO-STROKE SPOTLIGHT: CURT WINTER'S JAPANESE BLEND

Curt Winter deservingly earned this week's honor with his Yamaha/Suzuki/Honda amalgamation. Learn all about this bike from Curt below: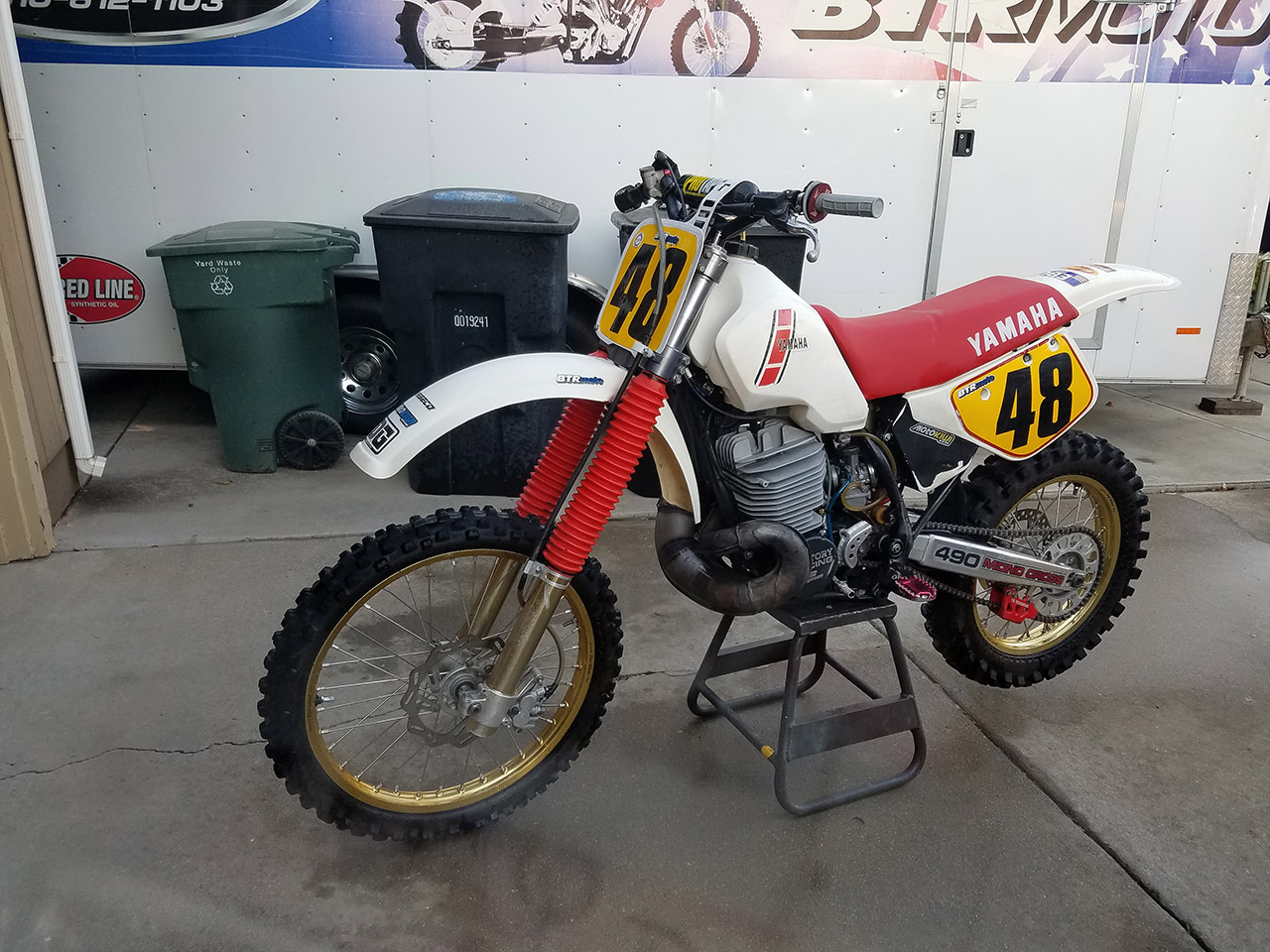 "Hi MXA, I saw your article on the Honda CR500 AF. I've built and owned several of those and have always been a Honda guy, but I wanted something different. 500 AFs are everywhere, so I built something different. I bought a well used 1987 Yamaha YZ490, stripped it down to the frame and started the build. I graphed on rear suspension from a 2007 Honda CRF250, including the rear disc brake. In an effort to retain the old school look I opted for a set of 1997 Suzuki RM250 forks. I rode and raced it for a while, but never really liked the shortcomings of the Yamaha motor. For that reason, I installed the complete top end from a 1984 Honda CR500 (air-cooled) on a 1990 CR500 lower end and slapped that motor in the YZ chassis. Now it's got a motor worthy of the better suspension. I currently race it against modern bikes and have a blast. Truth be told, I was surprised how well it worked."
If you would like your bike to be featured in the "Two-Stroke Spotlight," please email us at [email protected]. All we ask is that you give a breakdown of your bike and a detailed description of the thing. Please also send a few photos of your steed. By submitting your bike for the "Two-Stroke Spotlight," you agree to release all ownership rights to the images and copy to MXA. 
JOIN ONEAL RACING'S #LOCKDOWNGEAR UP CONTEST
LOST BUT NOT FORGOTTEN | 1987 HONDA CR250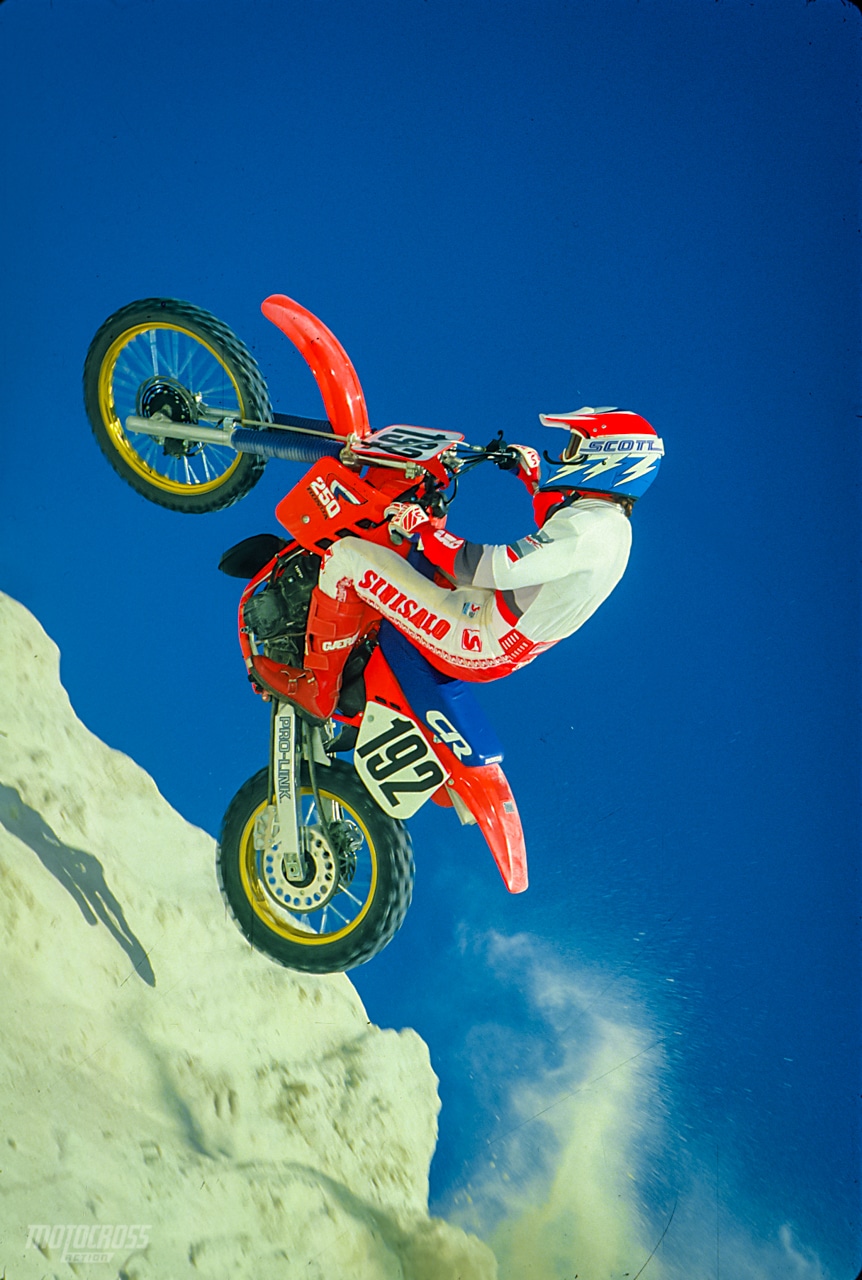 MXA'S Lance Moorewood launches a 1987 Honda CR250 straight up at the long-gone White Sands riding area for the cover of the December 1986 issue.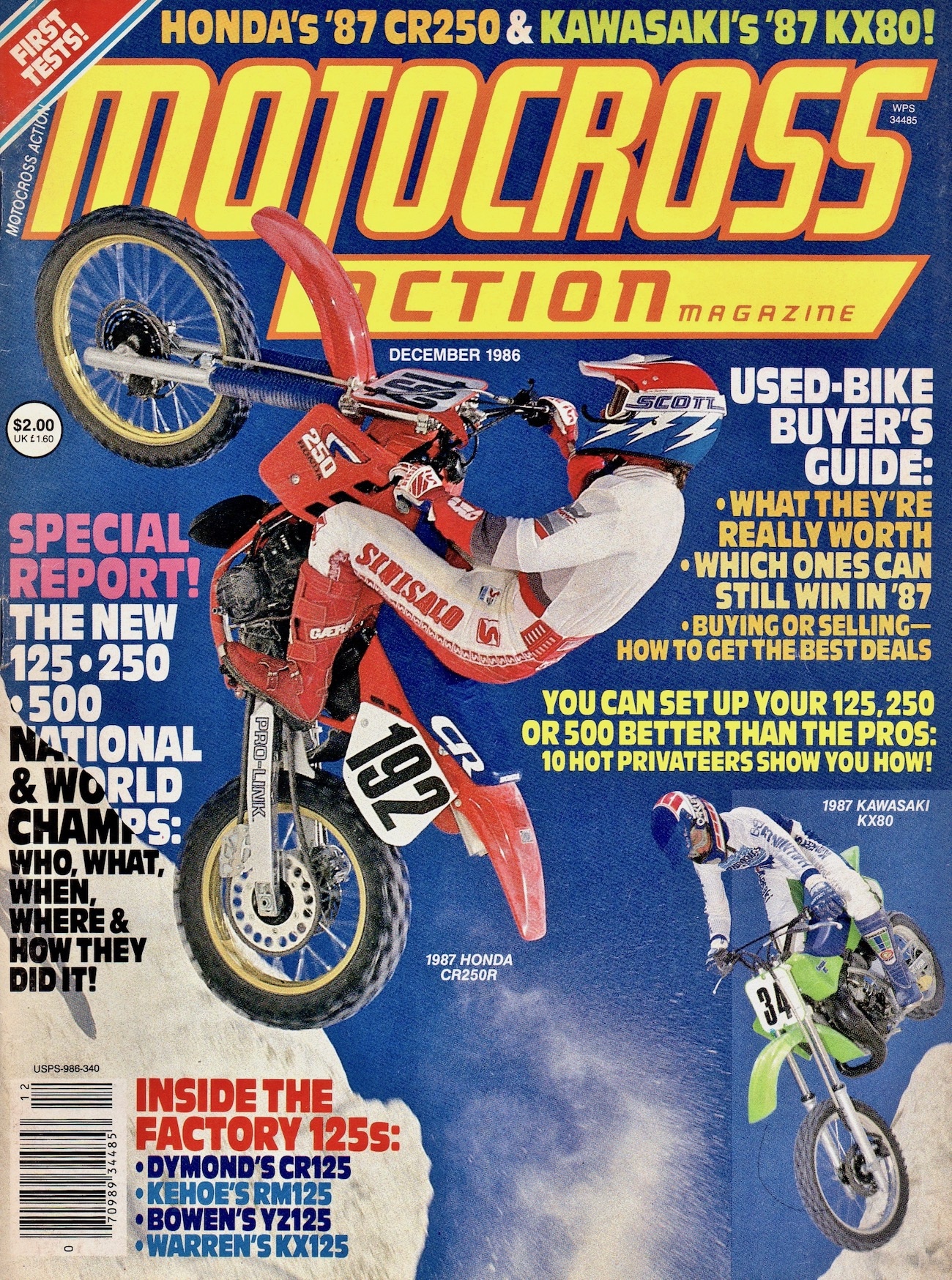 The actual December 1986 cover photo shot by Ed Arnet.
SHANE MCELRATH & WHY HE IS LEAVING HIS 800-SQUARE-FOOT APARTMENT
PERRIS, STATE FAIR, FOX RACEWAY & GLEN HELEN SOCAL MOTOCROSS TRACKS ARE OPEN FOR LIMITED PRACTICE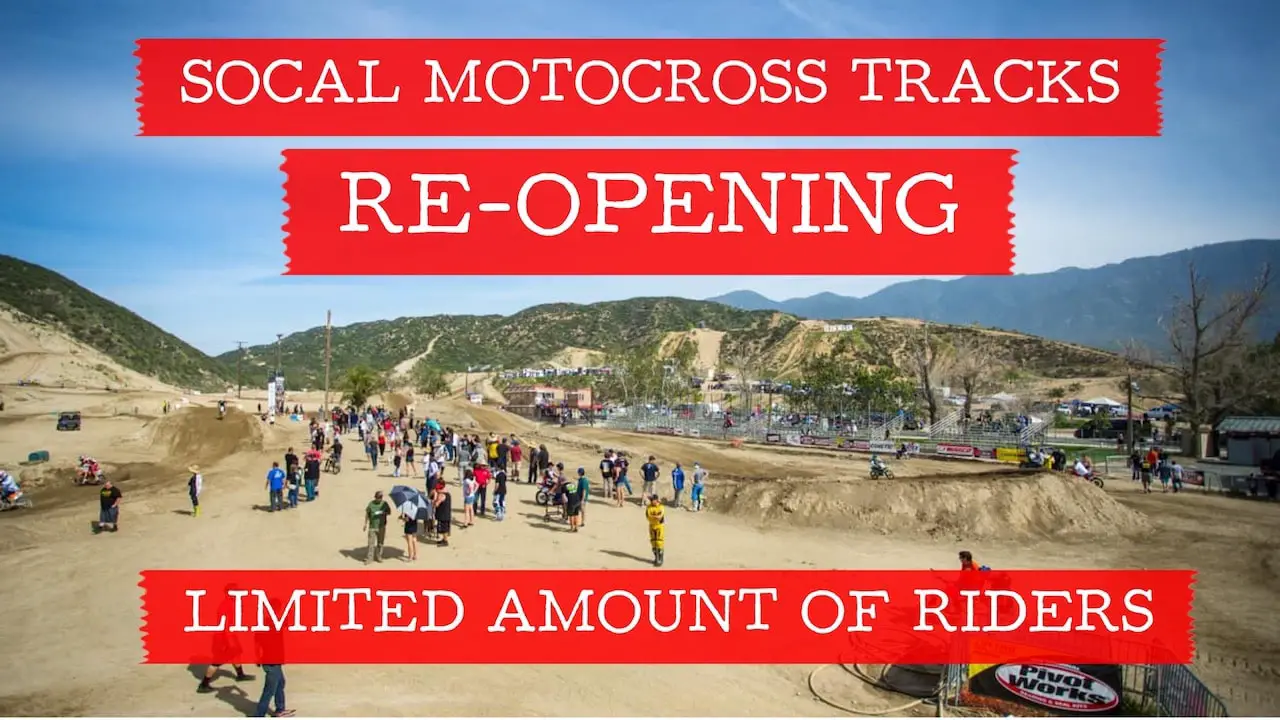 We have good news for the SoCal motocross community! First, it was announced that Glen Helen would be opening up on Saturday, April 25th, for limited practice and now Perris Mx and State Fair Mx are open as well. Hopefully this encourages other track owners around the world to keep pressing on their local governments to allow them to re-open their track. You might have to be slightly crazy to ride motocross, but we aren't dumb. We'll do what it takes to get out of the house and go riding on a watered track, even if that means parking 10-feet away from our buddies.
So far, Glen Helen, Perris and State Fair are already open while Fox Raceway is set to open May 1st and Cahuilla Creek is set to open on May 2nd. Lake Elsinore is also re-opening under new ownership on May 2nd. Cal City Mx stated via Instagram that they'll be opening soon as well. Below we added in the rules and regulations as well as the link to reserve your spot for riding at Perris Mx or State Fair Mx. Additionally, we compiled a list of Southern California tracks to let you know who's opening and who isn't, yet.
FOX RACEWAY OPENING MAY 1ST: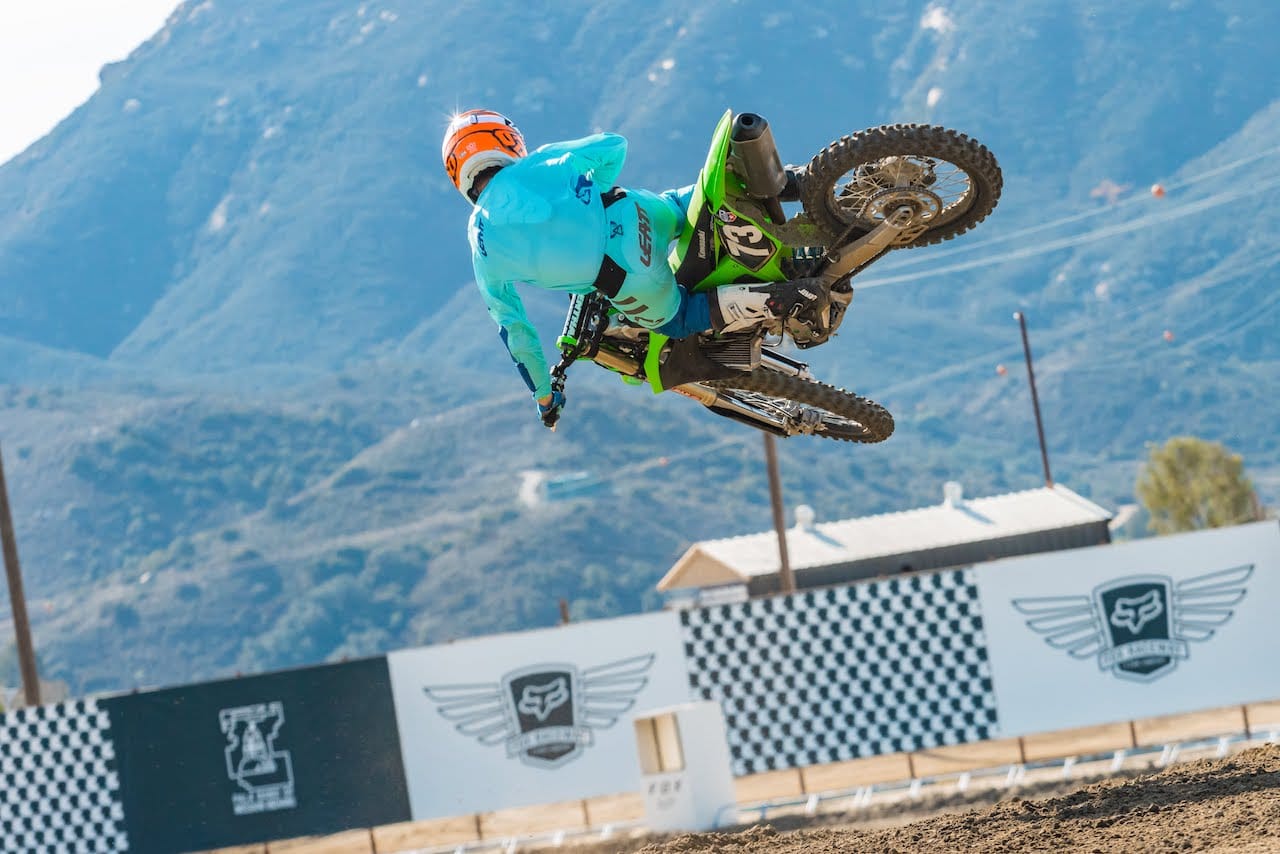 Fox Raceway in Pala, California, has announced that they will open on May 1st with all-new tracks. Their main track, vet track and kids tracks have been rebuilt.
Fox Raceway posted via instagram:
We're back! @foxraceway will reopen this Friday May 1st from 9am-4pm. We've been working to provide you all with the best experience possible and have ALL NEW Main, Vet & Kids tracks. The Main track will close at 3pm. We all want to get back riding, and to stay safe while doing it please follow the below COVID-19 precautions:
-Keep a suggested distance of 10 feet
-Masks & gloves are encouraged
-No "group" parking. Maintain plenty of space.
-No gatherings or events
-No group training/instruction
-Get your laps in and then exit the facility.
PERRIS MX & STATE FAIR MX TO RE-OPEN: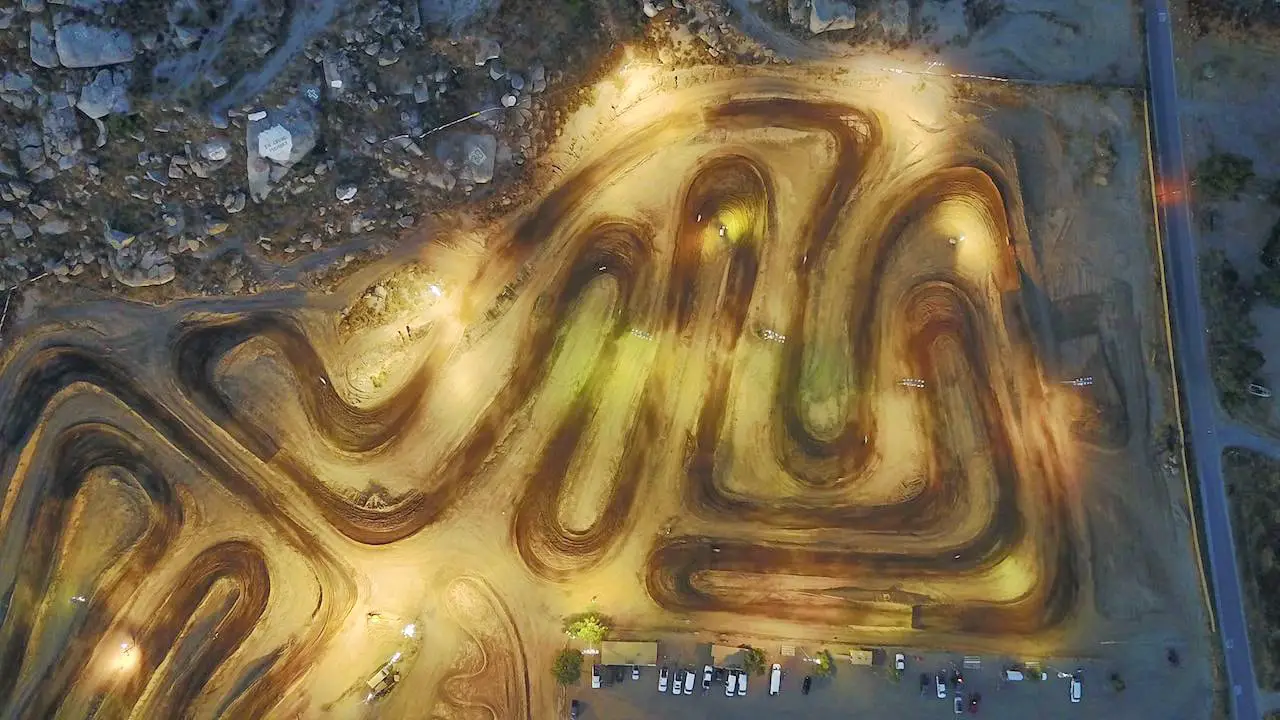 Perris Mx is located in Perris, California and State Fair is located at the old Starwest location, also in Perris, on the other side of town. This photo was shot at Perris Mx at nighttime from above. Photo by Perris Mx.
RESERVATION FOR PRACTICE AT PERRIS & STATE FAIR:
Ok, if you found this page it is so that you can get the link to reserve a space in an upcoming practice session CLICK HERE
Carefully Read Instructions:
This is an added process to prevent any riders from making the trip out and us already being at our capacity. If you have ridden our tracks before you should have a profile set up. First click Sign In in the top right of the page.
Then go to Create an Account. Enter your email address.
If you email has already been input into the system and you don't remember the password click the link to "need a new password" and reset.
Click on "Register as Unpaid" and you will pay at the gate. This will save your spot.
Once you sign in the top left of the page will have three tabs. Click "Limited Open Practice" and click "Sign Up Now" making sure the correct track has been selected in the column to the right.
Click on "Register as Unpaid" and you will pay at the gate. This will save your spot.
This is the page we created is for booking a reservation in the practice session for Perris Raceway or State Fair MX. We are in unique times so it requires unique measures. Please read this all the way to the bottom before proceeding so that we can make sure you have the best visit possible.
For now booking is only available through the weekend. We will use this as a test run and adapt it for next week but we are going back to our normal schedule for all tracks except SX. Supercross will open on Tuesday and Thursday 9am-2pm starting 4/28/20 at State Fair MX and it will have it's own limit of riders since it is on a different site. Pre reserved spaces will not be required for SX.
Perris Raceway: 
Monday Closed
Tuesday – Mini Night 4-9pm
Wednesday – Open Practice 4-9pm
Thursday – Open Practice 4-9pm
Friday – Open Practice 10am – 3pm
Saturday & Sunday 9am – 2pm
Gates open one hour before practice starts
State Fair MX:
Monday 9am – 4pm
Tuesday 9am – 4pm
Wednesday 9am – 4pm
Thursday 9am – 4pm
Friday – Closed
Saturday and Sunday 9am – 4pm
Gates open one hour before practice starts.
Important to read this:
Due to COVID-19 procedures we will have a couple of additional rules for attendees. These have to be observed and obeyed in order for us to stay open. If you don't want to see any more closures please read carefully below and make sure you are not caught voiding any policies. Local authorities will be watching.
Rules:
(1) There are no spectators allowed. Riders only. The only exception to a non rider is if the rider is a minor and one guardian/parent will be allowed per vehicle. Unfortunately for now this eliminates all trainers, photographers and non riding siblings or family.
(2) All riders and guardian/parents will be required to wear face protection once entering the facility. Riders will be required to put on face protection whenever a helmet is worn but are not required to wear both a helmet and face protection. Some form of face protection will be required by every person in the facility at all times.
(3) High risk groups (as determined by the Riverside University Health System Public Health Department) are not permitted. Visit https://www.rivcoph.org/coronavirus for more information.
(4) If you are feeling any symptoms of illness do not attend.
(5) Attendees are required to park no less than 10′ apart and to remain at least 6′ apart from all other attendees at all times.
(6) Please use the provided hand wash areas that are available at each track and wash frequently if you need to visit any common areas.
(7) All bleachers are closed.
(8) Follow all normal rules and requirements such as no guardian/parent on the track at all times.
(9) Practice sessions must be pre booked through this system. Do not book a session unless you are 100% sure that you are going to come in or you could be taking the spot away from another rider. If the session or day you are looking to book is full chose another available day. If riders are seen no showing sessions we will make changes, but it makes the reservation process more complicated.
(10) We appreciate all the communication had from Code Enforcement, City Manager, City Attorney, District Supervisors Office, Riverside County Health and the cooperation with additional local authorities. We also appreciate working with the local tracks because this was a group effort from tracks as far north as Cal City all the way down to our area.
Observe the rules and we should be able to avoid any further shut downs.
GLEN HELEN RACEWAY TO RE-OPEN WITH NEW HOURS:
Glen Helen in San Bernardino, California, will re-open on Saturday April 25th and they'll also be open on Tuesday's now from 8:00A.M. till dusk. Read more info below. 
Glen Helen Raceway holds the safety, health and well-being of our riders, fans and staff in the upmost regard. Under the direction of the county, local and federal health authorities, we have been given authorization to open the by the San Bernardino County Regional Parks to Open for MX Practice only. ( See Guideline Below)  We are NOT ALLOWED to have any racing events at this time.  Thank you for all your support
We received the best phone call today! The San Bernardino County Regional Parks Department reached out to us and told us we can open for practice. We couldn't be more excited to share the news with you as I'm sure you can't wait to get back on your bike and ride. We will also be giving away the "I've Already Got My Mask" stickers to everyone through the gate (while supplies last).
WE WILL ALSO BE OPENING WITH NEW PRACTICE DAYS AND TIMES:
Saturday: 8:00 a.m. to 4:00 p.m.
Sunday: 9:00 a.m. to dusk
Tuesday: 8:00 a.m. to dusk
Thursday: 8:00 a.m. to dusk
GLEN HELEN RACEWAY'S NEW SOCIAL DISTANCING REQUIREMENTS
(1) No spectators, photographers, and/or trainers allowed. Riders under 18 may have a single parent/guardian with them.
(2) All attendees must wear face protection during attendance when not wearing a helmet.
(3) No high-risk persons allowed (as determined by health department).
(4) Anyone experiencing COVID-19 symptoms is not allowed.
(5) Attendees must park vehicles at least 10 feet apart and maintain at least 6 feet between each other at all times inside the park.
(6) Maximum number of attendees is 75 at any given time.
(7) No events or group activities allowed.
(8) Bathrooms will be open and available to 1 person at a time. Both have hand wash stations. Bathrooms will be sanitized periodically to maintain cleanliness.
(9) All bleachers and seating areas are closed.
(10) Obey all of these guidelines if you want to keep riding areas and tracks open.
For more info go to www.glenhelen.com
CAHUILLA CREEK MX OPENING MAY 2ND:
Cahuilla Creek in Anza, California, posted via instagram that they will be opening on May 2nd and they will have a limit of 100 riders.
LAKE ELSINORE MOTORSPORTS PARK OPENING MAY 2ND: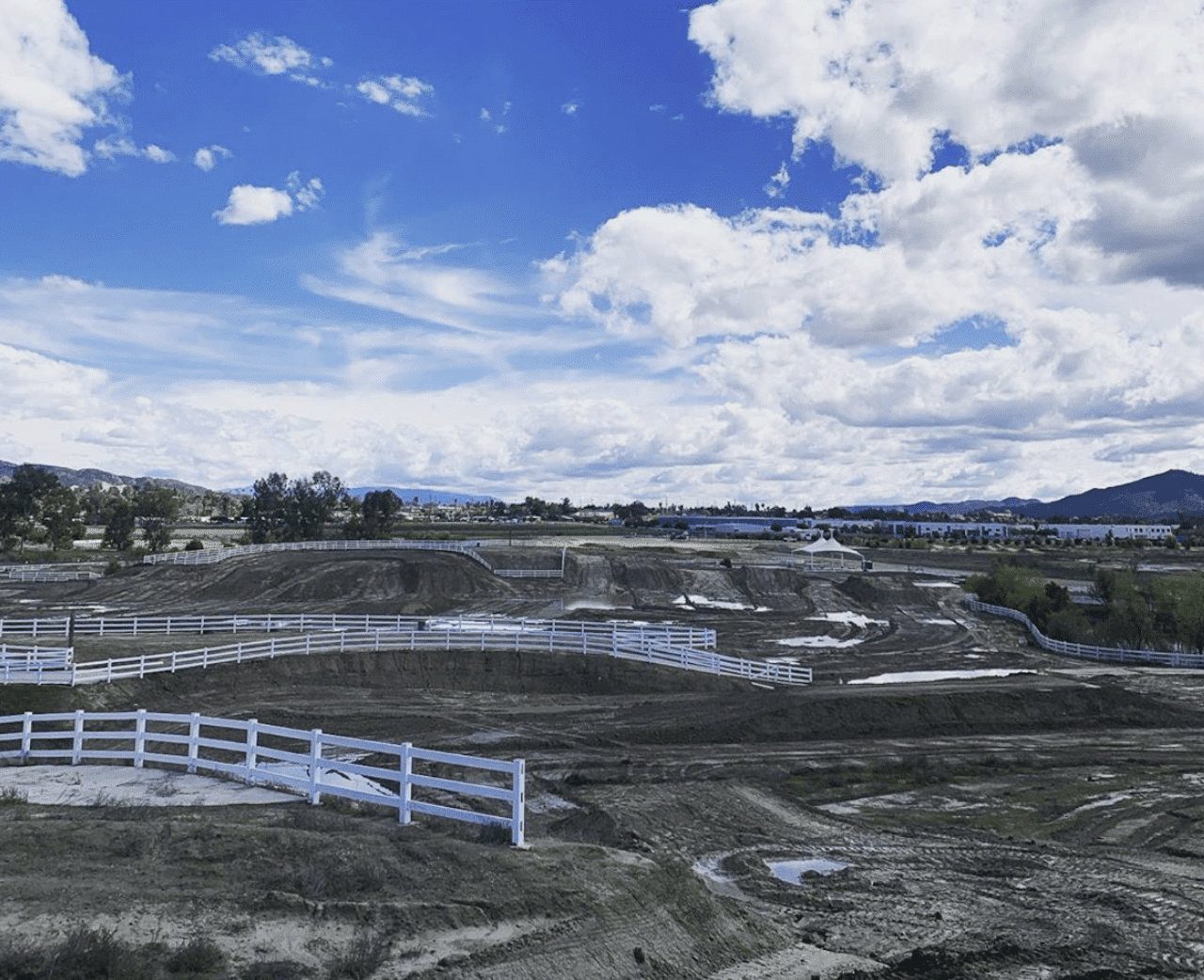 Lake Elsinore Motorsports Park announced that they will be re-opening under new ownership on May 2nd. 
CAL CITY MX PARK HOPES TO OPEN SOON:
Cal City Mx in California City, California, posted this photo on instagram and said: "SO WE AREN'T OPEN THIS WEEKEND. I know Tracks are opening back up this weekend and we hope to open soon. What I can say is we have been working on the Track and when we open back up it will be worth the drive. We hope EVERYONE has a blast this weekend and hope to see everyone soon!!"
BARONA OAKS MX HASN'T ANNOUNCED AN OPENING DATE:
Barona Oaks in Lakeside, California, (North East of San Diego) hasn't announced an opening date yet.-updated April 24th at 11:05 A.M.
2X MX PARK HASN'T ANNOUNCED AN OPENING DATE:
2X Mx Park in Porterville, California hasn't released an opening date yet.
2019 KTM 250SX RAW VIDEO!
WE TRUST WRENCH 42 FOR ANY OF YOUR BIKE NEEDS | CALL THEM TODAY!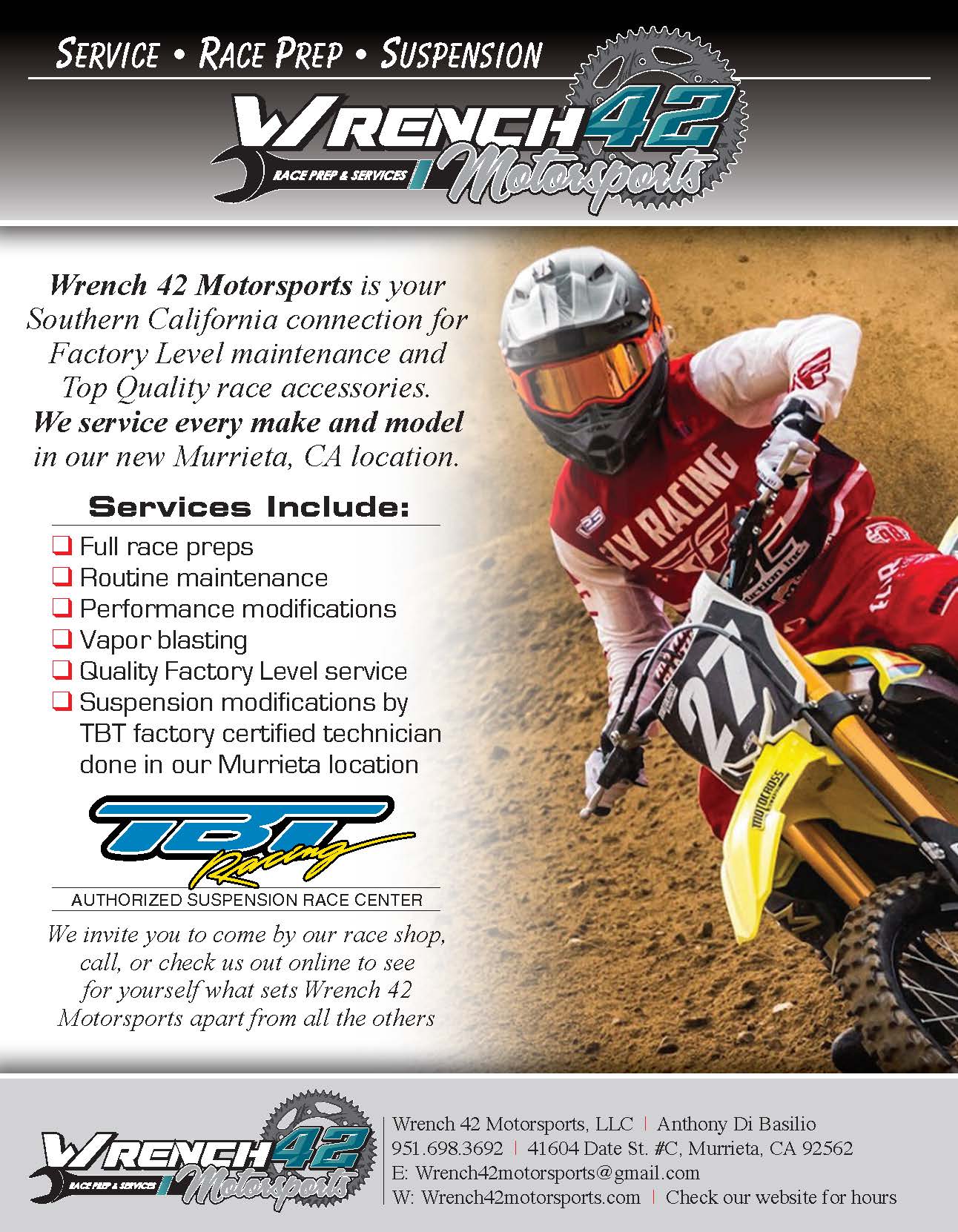 TAKE THE MXA 2020 READER SURVEY & HAVE A CHANCE TO WIN FREE THOR GEAR!

Score free head-to-toe Thor gear now! Complete our reader survey we'll take your input to help improve future web and monthly print content of Motocross Action. One lucky winner will be chosen at random to receive a free gear ensemble from Thor (style and/or color may vary). This year's Thor (www.thormx.com) gear giveaway includes the following: Prime Pro jersey and pants, Sector Split with MIPS helmet, Radial boots, Sniper Pro goggles, and Agile gloves. That's $750 worth of products, so don't miss this opportunity to win all this stylish gear for free! Fill out the entire survey!
WHAT THE MXA WRECKING CREW IS UP TO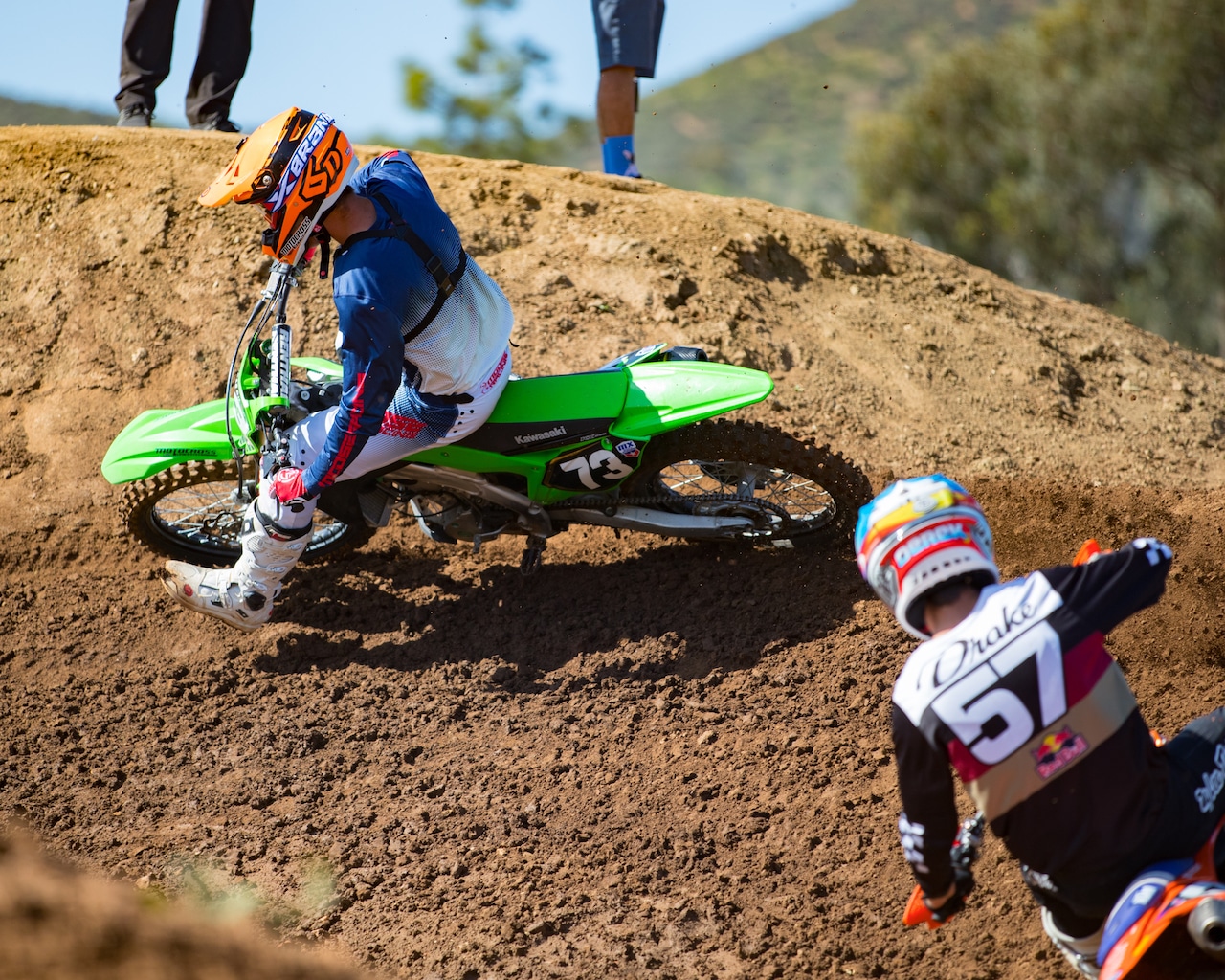 MXA's Assistant Editor Josh Mosiman (73) spent sometime riding on our 2020 Kawasaki KX250 out at amateur Geico Honda rider Hunter Yoder's house. Lots of big name riders were there including Troy Lee Design KTM's Derek Drake (pictured), Geico Honda's Jo Shimoda, Monster Energy sponsored rider Darian Sanayei, JMC Husqvarna riders Martin Castelo and Derek Kelly and more.
Josh charging in his favorite set of Moose Racing gear. The all-new 2020 Agroid line of gear has an athletic fit and our Pro level test riders love it.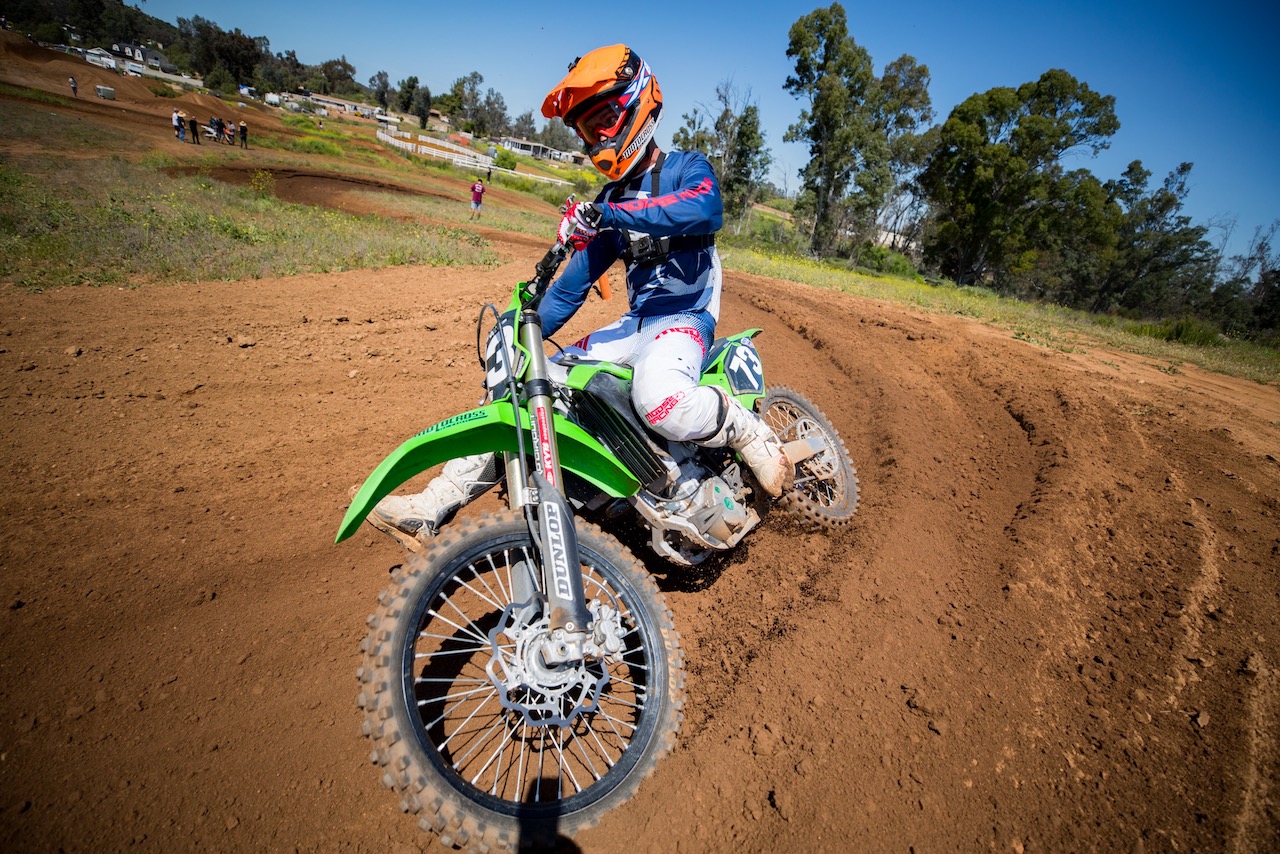 The dirt was perfect in Hunter Yoder's backyard and it also made for some great photos. Thanks to Brandon Krause @brandorkphotography for snagging these photos. 
MXA | MOTO | TRIVIA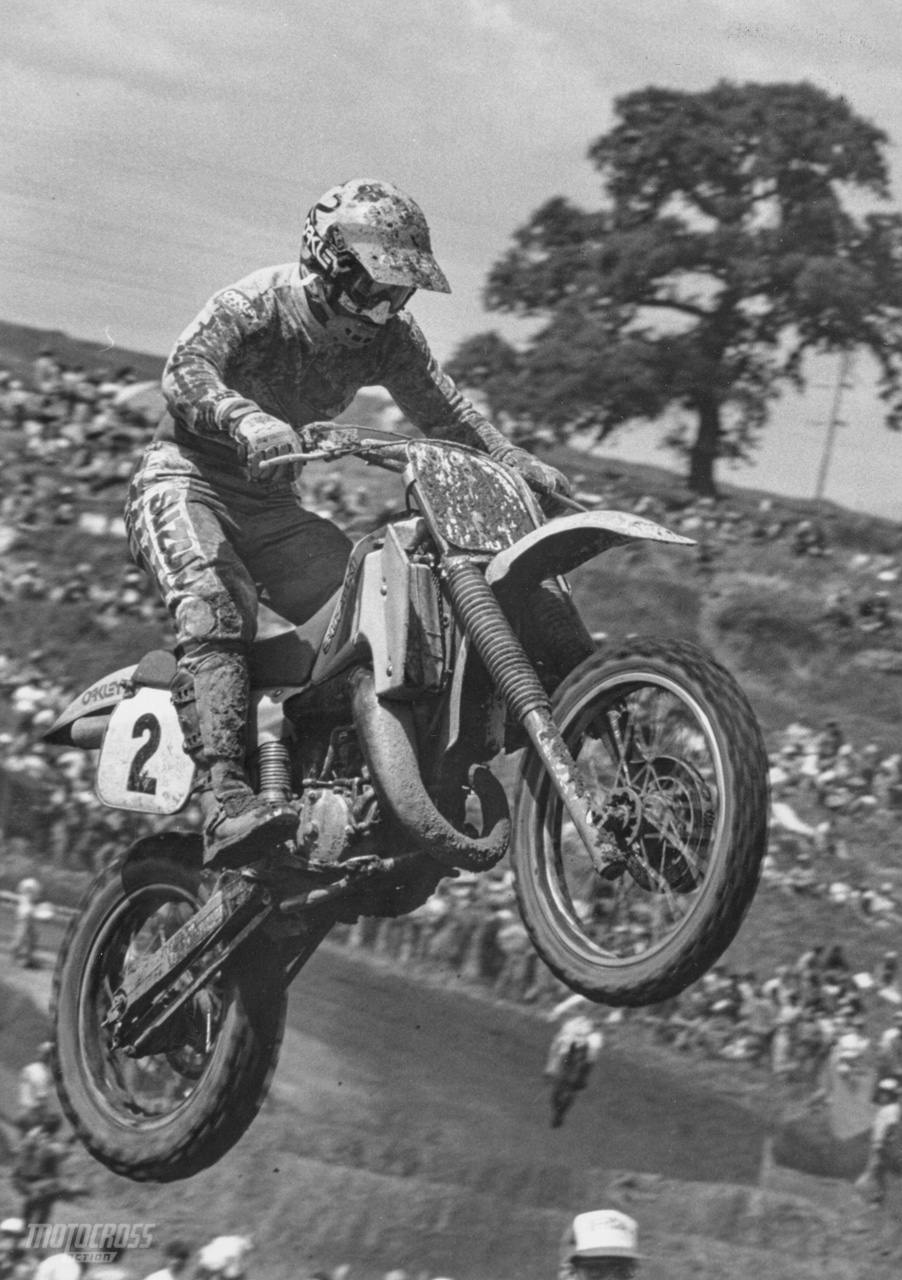 Who is the rider, what year and what track is the photo above from? Answer at the bottom of the page.
BORED AT HOME? TIRED OF RERUNS OF "SEINFELD?" TRY FREE ACCESS TO MXA DIGITAL EDITIONS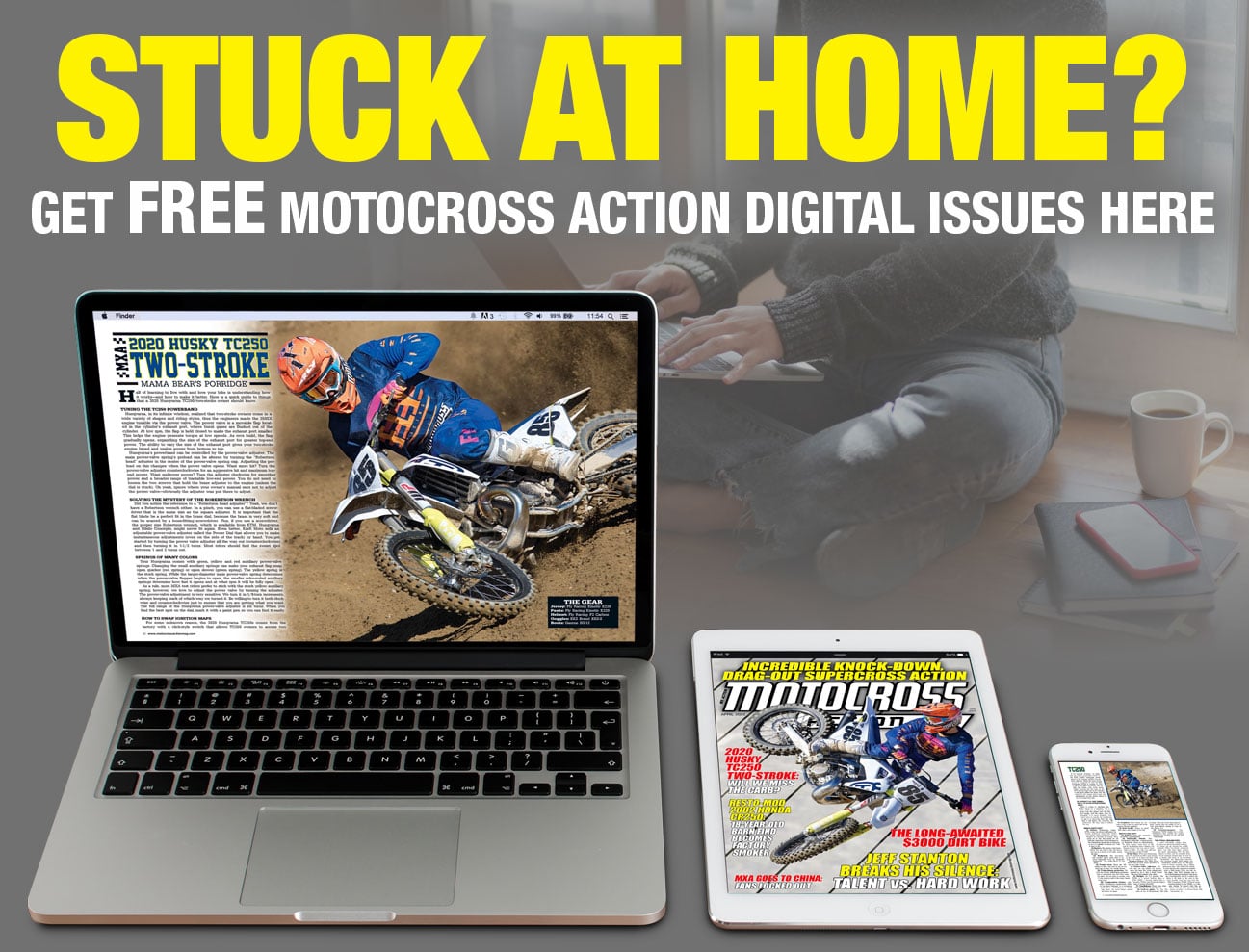 Click here or on the above photo to get your free digital issues.
KURT NICOLL ANNOUNCES CHAMPION MX VET TRAINING
Press Release: Four-time vice FIM Motocross World Champion Kurt Nicoll announced he will be offering motocross training for vet riders, an all-new addition to his Champion MX California Vacation program. Nicoll will be offering one-on-one training at Southern California tracks for riders over 35 years old, from novice- to expert-level abilities.
"After many, many requests I am now offering one-on-one coaching specifically aimed at vet motocross riders that are serious about their riding and racing," said Nicoll. "You are never too old to improve your techniques and learn to ride better and faster. I am offering three-hour coaching sessions at any of the local So Cal tracks for anyone over 35 and younger than 95.
"It is important to mention that we will be observing the current social distancing guidelines and follow the rules laid down by each track," Nicoll added. "Send me an email at [email protected] or contact me via direct message in Instagram @championmx and we will schedule a time and place to take your riding to the next level."
Following his pro career in the FIM Motocross World Championships, Nicoll has continued his impressive career on two wheels, racing to national championships in everything from AMA Supermoto to AMA EnduroCross. The Murrieta, California resident is a dominant figure in the Glen Helen World Vet Motocross, where he has earned four World Championships, and at the Vet Motocross des Nations at Farleigh Castle where he has claimed five titles.
At 55 years old, Nicoll is still racing motocross every chance he gets, and is eager to share his insight on technique, training and how to improve your speed on the motocross track. For information on Champion MX training sessions, contact Kurt Nicoll at [email protected] or call 951.795.2411.
www.ChampionMX.com
IG: @ChampionMX
FB: ChampionMXVacations
HAVE YOU SEEN THE MAY 2020 ISSUE OF MXA? THE BEST OF AMERICAN MOTOCROSS
Aren't you tired of looking at awesome motocross photography on the tiny little screen of an iPhone, while holding it at odd angles to figure out what you're looking at?  Get the real deal and see those giant spread photos at 11-inches by 16-inches and live a little.
If you subscribe to MXA you can get the mag on your iPhone, iPad, Kindle or Android by going to the Apple Store, Amazon or Google Play or in a digital version. Even better you can subscribe to Motocross Action and get the awesome print edition delivered to your house by a uniformed employee of the U.S. Government. You can call (800) 767-0345 or Click Here (or on the box at the bottom of this page) to subscribe.
MXA YOUTUBE CHANNEL | HIT THAT SUBSCRIBE BUTTON

The MXA wrecking crew is everything moto related. Check out our MXA YouTube channel for bike reviews, Supercross coverage, rider interviews and much more. And don't forgot to hit that subscribe button.
FIND MXA ON TIKTOK: ALL THE KIDS ARE DOING IT

TALK MOTO WITH MOTO MINDED PEOPLE. JOIN MXA'S FACEBOOK GROUP CHAT

We love everything moto and want to bring all moto junkies together into one place to share their two cents, ideas, photos, bike fixes, bike problems and much more. To check it out first you must need to or already have a Facebook account. If you don't, it isn't much work and you could even have an alias so nobody knows it is you. To join click HERE. After you request to join we will accept your request shortly after.
CLASSIC PHOTO
The 2003 outdoor Nationals season with John Dowd (16), Larry Ward (10), Ezra Lusk (11), Ricky Carmichael (4), Kevin Windham (14), Clark Stiles (47), Ernesto Fonseca (24), David Vuillemin (12) and Nathan Ramsey (25). 
---
Moto Trivia answer: Mark Barnett from Hangtown back in 1984.