MOTOCROSS ACTION MID-WEEK REPORT
TWO-STROKE SPOTLIGHT: MICHAEL GIGAX KTM/KX500 BUILD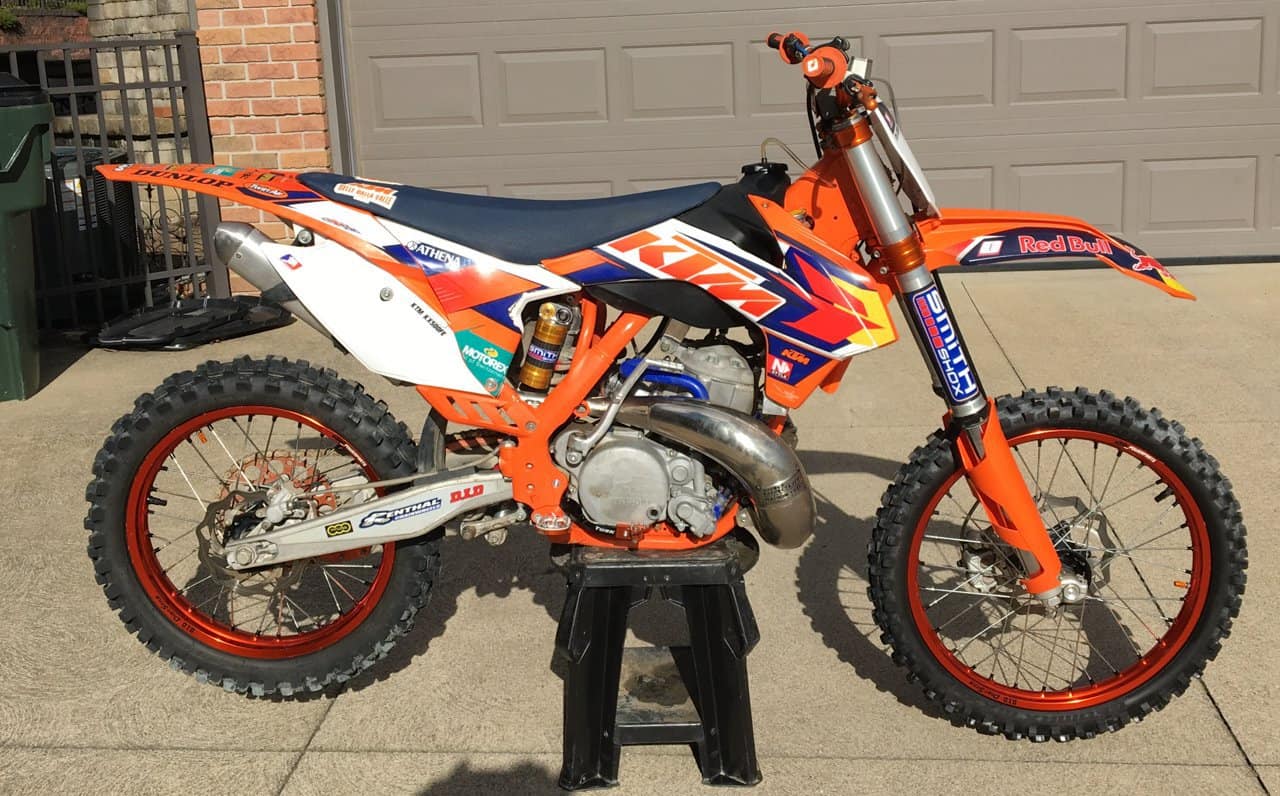 2012 KTM 250SX chassis with a 1990 KX500 engine shoehorned in. 
"This is a 2012 KTM 250SX chassis with a 1990 KX500 engine. I bought the bike from a guy in Washington who did the basic build. I then had it shipped across the country. I actually already had a 2012 KTM 250SX that was pretty tricked out so I moved the suspension (Ohlins), triple clamps, and wheels over to the 500 then sold the 250. The bike came with a knock off Chinese Keihin carb that was impossible to jet. Also the air boot was too long which was resulting in compression of the boot and narrowing of the intake tract. I replaced the carb with an OEM Keihin, shortened the boot, and got the bike running great. The suspension works great on the 500. This bike can be seen at Action Extreme Sports in New Philadelphia Ohio until the weather breaks if anyone is interested in getting a better look. Stop by and check out the bike and the shop." –Mike Gigax.
Editors Note: Please keep those submissions coming. If you would like your bike to be featured in the "Two-Stroke Spotlight," please email me at [email protected]. All I ask is that you give a breakdown of your bike and a detailed description of the build. Please also send a few photos of your steed. By submitting your bike for the "Two-Stroke Spotlight," you agree to release all ownership rights to the images and copy to MXA. 
#WHIPITWEDNESDAY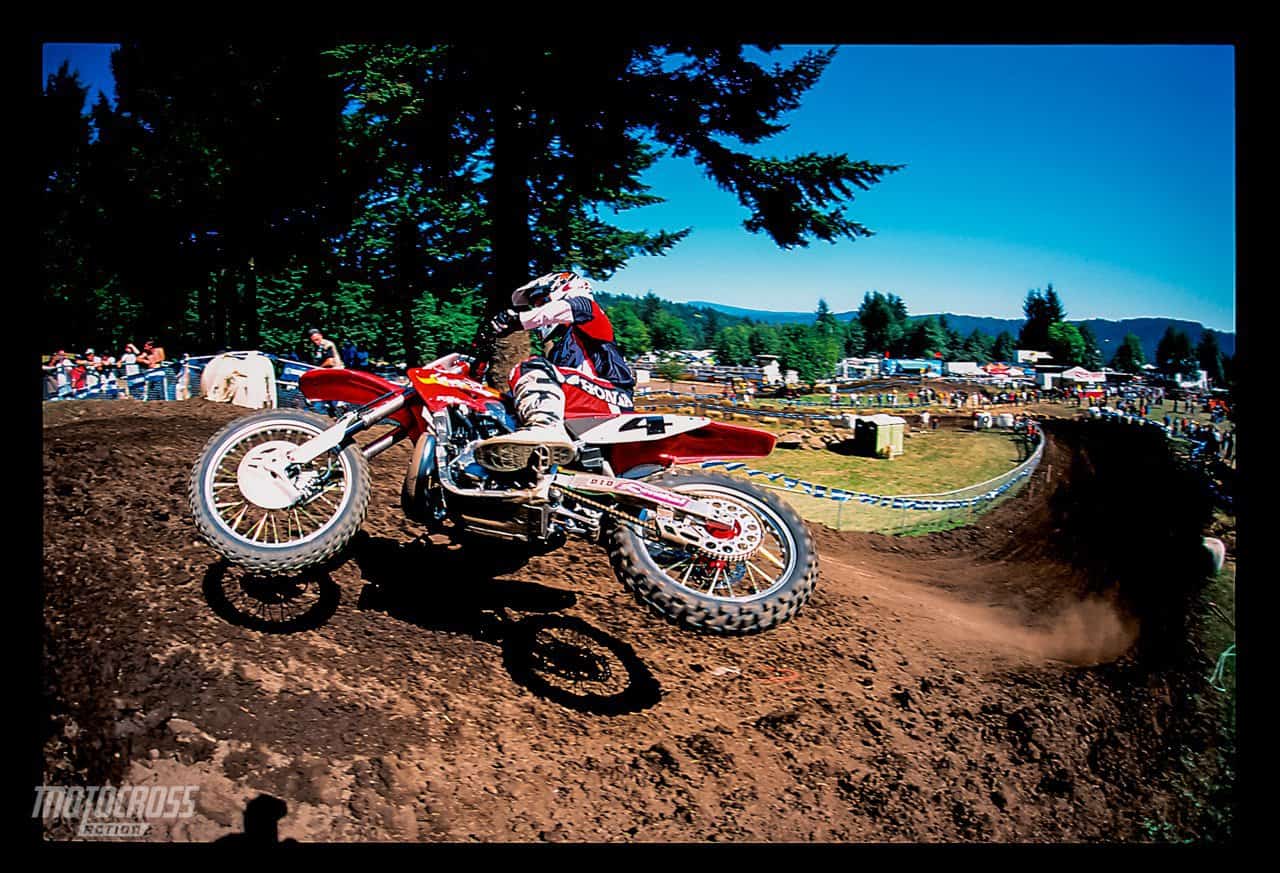 Rider: Ricky Carmichael
Year: 2002
Event: Washougal Outdoor National
Bike: Factory Honda CR250
MITCH PAYTON TELLS YOU WHAT THE BEST TEE HANDLES ARE
HONDA'S MX2 SWEDISH RIDER ALVIN OSTLIND TALKS ABOUT SWEDEN NOT LOCKING DOWN DURING COVID-19 PANDEMIC 
WHAT IS IT LIKE BEING IN SWEDEN AND NOT REALLY BEING LOCKDOWN? To be honest, it is like living normally. I can do everything like I usually do. We can go out and eat in the restaurant if we want and riding motocross isn't a problem either. I think I am very lucky.
IS IT WEIRD THAT LIFE FOR YOU HASN'T CHANGED, AND YET YOU'RE OBVIOUSLY SEEING ALL THE OTHER RIDERS AND PEOPLE ON SOCIAL MEDIA WHO ARE HAVING TO ADAPT QUITE A LOT? Yes, it is a little bit weird because I see everyone posting with the hashtags #stayhome on social media and for me, I can just live like normal. It is strange but I am trying to use the time wisely and take advantage of the circumstances and try to improve myself. My life is the same and I can ride motocross so I am doing that and hoping it will help me. I am making sure to see this as a positive.
HOW IS THE NEWS BEING REPORTED THERE? DO YOU THINK THAT IT IS THE RIGHT DECISION OR THE WRONG DECISION, WHAT SWEDEN IS DOING? I'm not into it very much, I don't follow too closely. The only thing they really closed down were the ski mountains, there are usually a lot of people at this time and they closed it for this year. I think that was a good idea because it stopped a lot of tourists coming here. I think it is not good that so many jobs are shut around the world because the economy will be very bad and a lot of people will suffer. At the same time though, we have many cases here in Sweden with lots of sick people so it is very hard to say. No one really knows the right way to do things.
THE TEAM YOU RIDE FOR, TEAM ASSOMOTOR HONDA IS BASED IN ITALY, WHO ARE UNDER SEVERE LOCKDOWN, HAVE YOU HAD ANY PROBLEMS OF NEEDING PARTS OR ANYTHING? I was very lucky actually because I had planned to stay in Sweden during the season and train here. So when we went to Matterley Basin, we came from Italy and I took everything I needed for a whole summer of training on the bike. So I have spare parts, tires, two Honda CR250Rs and everything else. I was very lucky because at the moment I don't need anything from the team. I keep in touch with them regularly though and speak to them just to let them know how I'm progressing.
AT THE MOMENT NO ONE TRULY KNOWS WHEN THE SEASON IS GOING TO START, IS IT HARD TO TRAIN PROPERLY? Yes, it is tough because it has changed a lot in the past few weeks. Now, I've tried to get myself a plan for each week and each day and stick to that. You also need to think about the fact that it could be a long season also, and that we could run until the end of November so you have to be fit and motivated for a long time. So, I have this in the back of my mind and this is why, even though I can, I am choosing to only ride one or two times a week. I am focusing more on physical training.
I am making sure that I should be okay to ride until the end of November because with this break we are having now, I think riding a couple of months later in the year shouldn't be a problem. Now if it keeps getting later and we are having to ride in December, it will be different because it will affect next season but November should be okay.

MXA TESTS THE 2020 YAMAHA YZ125
WHAT THE MXA WRECKING CREW IS UP TO
We got hooked up with Brian Deegan through Jamie Ellis at Twisted Development to test out Haiden Deegan's KTM 112cc Supermini. At the Deegan compound, they have numerous tracks that all have huge jumps. Haiden took his new Supermini, strapped on an MXA helmet, and spun laps on his full-blown Supercross track like a true professional. 
Haiden looks like a true pro on a full blown Supercross track. 
Haiden on the on-off section. 
Mitchell Oldenburg was riding with Haiden to test out his new race bike.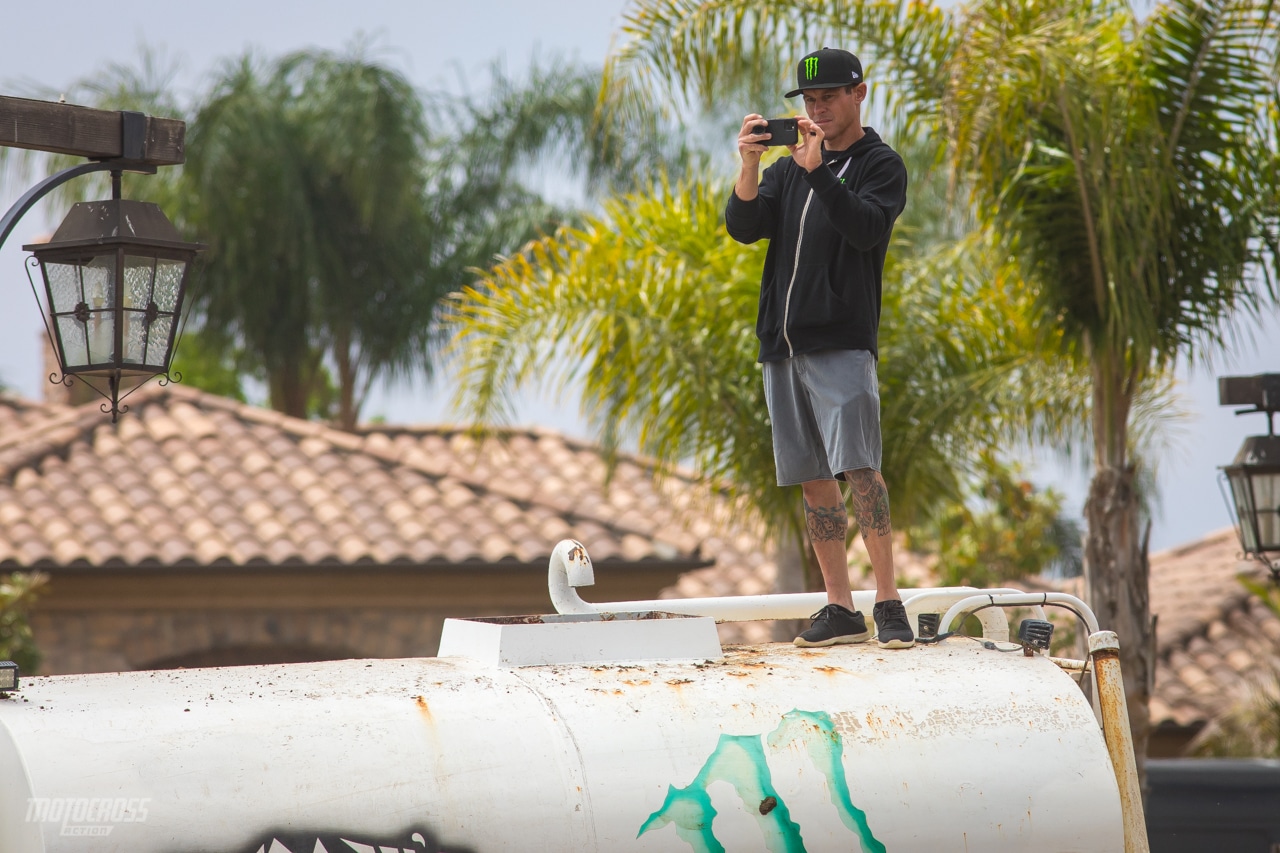 The legend, Brian Deegan filming some shots of Haiden on the SX track.
BORED AT HOME? TIRED OF RERUNS OF "SEINFELD?" TRY FREE ACCESS TO MXA DIGITAL EDITIONS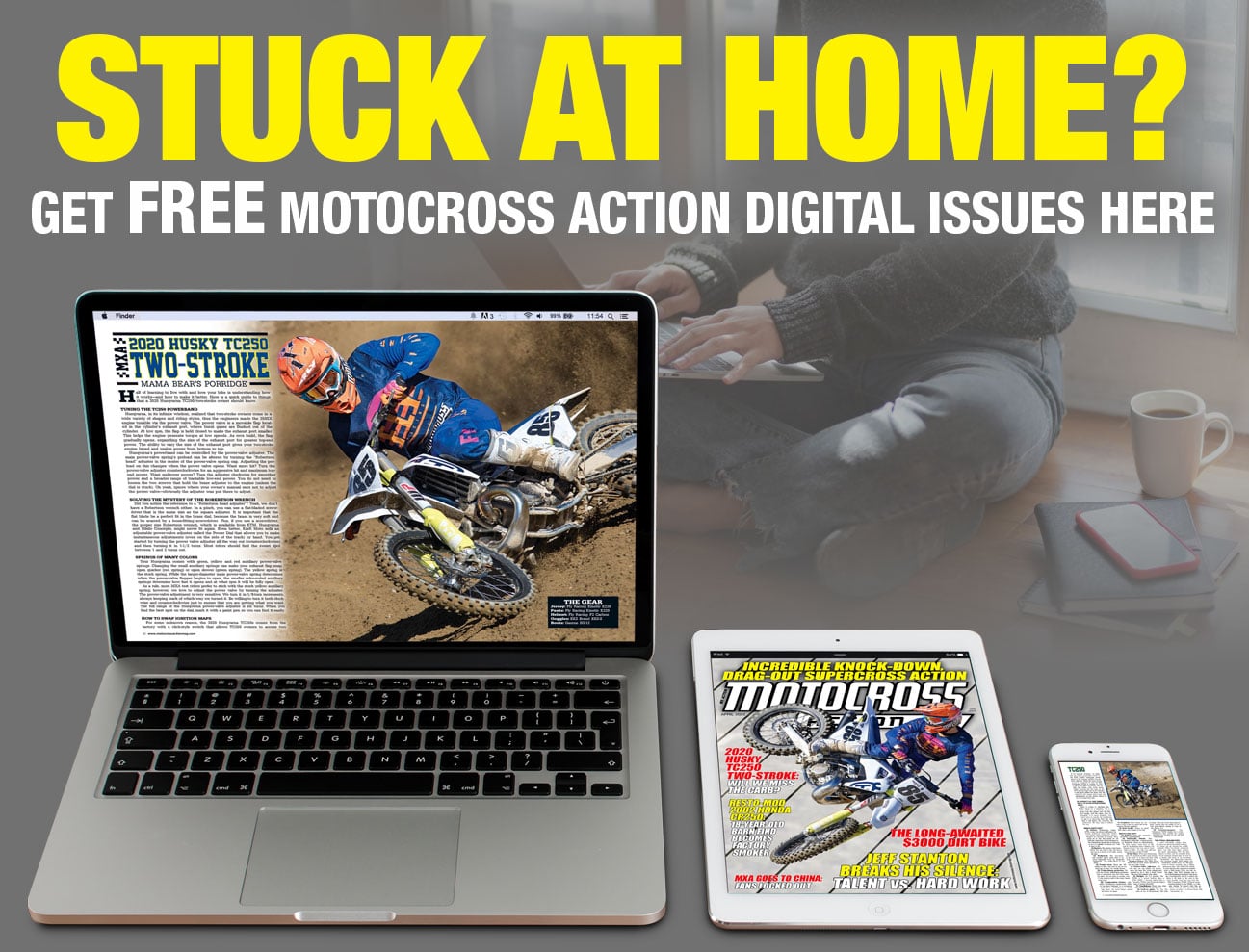 Click here or on the above photo to get your free digital issues.
MOTO | TRIVIA
Name the rider. Answer at bottom of the page.
WE RIDE ZACH BELL'S WORLD TWO-STROKE CHAMPIONSHIP TC250 RAW VIDEO
WE TRUST WRENCH 42 FOR ANY OF YOUR BIKE NEEDS | CALL THEM TODAY!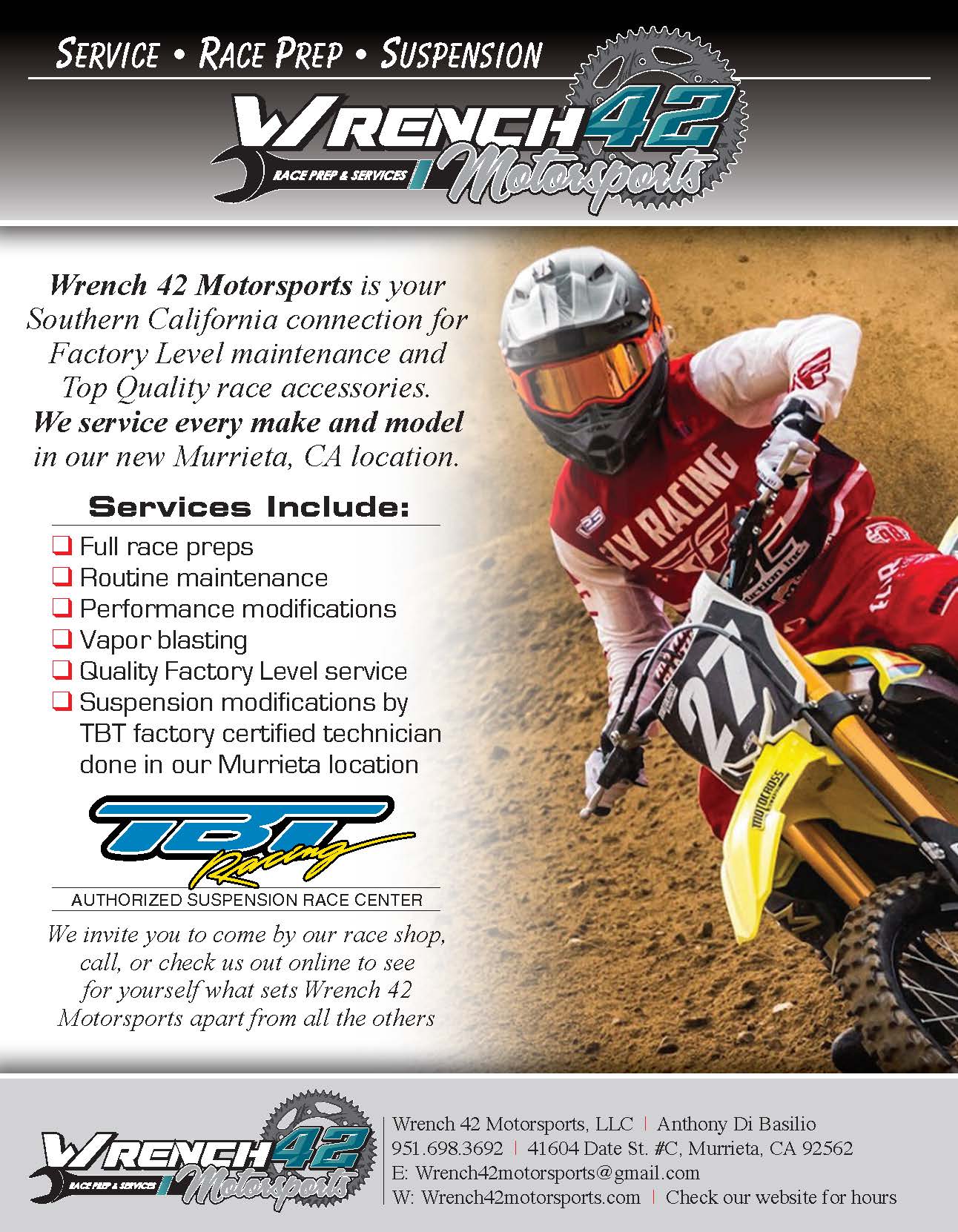 TAKE THE MXA 2020 READER SURVEY & HAVE A CHANCE TO WIN FREE THOR GEAR!

Score free head-to-toe Thor gear now! Complete our reader survey we'll take your input to help improve future web and monthly print content of Motocross Action. One lucky winner will be chosen at random to receive a free gear ensemble from Thor (style and/or color may vary). This year's Thor (www.thormx.com) gear giveaway includes the following: Prime Pro jersey and pants, Sector Split with MIPS helmet, Radial boots, Sniper Pro goggles, and Agile gloves. That's $750 worth of products, so don't miss this opportunity to win all this stylish gear for free! Fill out the entire survey!
TALK MOTO WITH MOTO MINDED PEOPLE. JOIN MXA'S FACEBOOK GROUP CHAT

We love everything moto and want to bring all moto junkies together into one place to share their two cents, ideas, photos, bike fixes, bike problems and much more. To check it out first you must need to or already have a Facebook account. If you don't, it isn't much work and you could even have an alias so nobody knows it is you. To join click HERE. After you request to join we will accept your request shortly after.
HAVE YOU SEEN THE MAY 2020 ISSUE OF MXA? THE BEST OF AMERICAN MOTOCROSS
Aren't you tired of looking at awesome motocross photography on the tiny little screen of an iPhone, while holding it at odd angles to figure out what you're looking at?  Get the real deal and see those giant spread photos at 11-inches by 16-inches and live a little.
If you subscribe to MXA you can get the mag on your iPhone, iPad, Kindle or Android by going to the Apple Store, Amazon or Google Play or in a digital version. Even better you can subscribe to Motocross Action and get the awesome print edition delivered to your house by a uniformed employee of the U.S. Government. You can call (800) 767-0345 or Click Here (or on the box at the bottom of this page) to subscribe.
MXA YOUTUBE CHANNEL | HIT THAT SUBSCRIBE BUTTON

The MXA wrecking crew is everything moto related. Check out our MXA YouTube channel for bike reviews, Supercross coverage, rider interviews and much more. And don't forgot to hit that subscribe button.
FIND MXA ON TIKTOK: ALL THE KIDS ARE DOING IT

CLASSIC PHOTO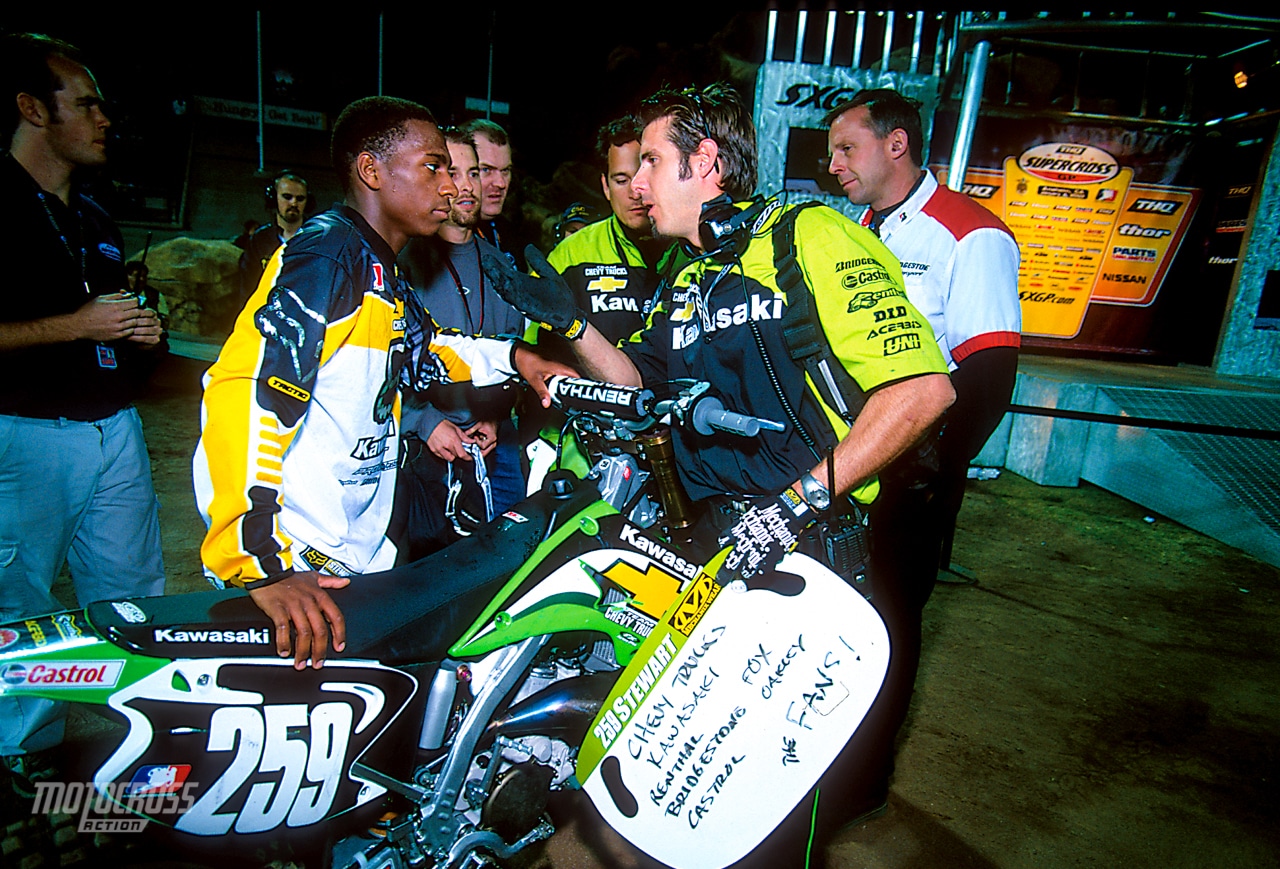 James Stewart and then mechanic Jeremy Albrecht chatting after a Supercross win on a Factory Kawasaki KX125. 
---
Moto Trivia answer: Tim Ferry in 2004 on  a Factory Yamaha YZ450F