MOTOCROSS ACTION MID-WEEK REPORT
#WHIPITWEDNESDAY
Rider: Martin Davalos
Bike: 2019 Pro Circuit Kawasaki KX250
Location: Nashville, Tennessee
Photographer: Brian Converse
TWO-STROKE SPOTLIGHT: JASON STEFFINS 2001 YAMAHA YZ125
The Craiglist photo. 
"These things are all over. Definitely a fun bike to ride and build. I took this one from the brink of death, back to almost new. Stripped it down to nothing. Repainted the frame original YZ Blue. My son Langston helped on this build which made it pretty special. Engine was stripped, new bearings, seals and gaskets. Cylinder was shot, so we sent it over to USA Chrome to make it new. Fresh suspension by 4th Dimension Suspension, and lots of polishing and cleaning. The Doma pipe looked dead, but we got it back to almost new! Miscellaneous Tusk parts scattered around to give it a fresh look. Bike sounds beautiful now. Once the snow and cold clears, it will be my sons." –Jason Steffins.
Breaking the bike down.
Really broke down. 
The finished product. 
EDITORS NOTE: Please keep those submissions coming. If you would like your bike to be featured in the "Two-Stroke or Four-Stroke Spotlight," please email me at [email protected]. All I ask is that you give a breakdown of your bike and a detailed description of the build. Please also send a few photos of your steed. By submitting your bike, you agree to release all ownership rights to the images and copy to MXA. Please don't email me spam or try selling me Taylor Swift concert tickets or email me spam. I already celebrate T-Swizzle's entire collective, and there will be "bad blood" if you send me junk mail. See what I did there? Happy submitting your smoker.
MXA TEST THE 2020 YAMAHA YZ125
BORED AT HOME? TIRED OF RERUNS OF "SEINFELD?" TRY FREE ACCESS TO MXA DIGITAL EDITIONS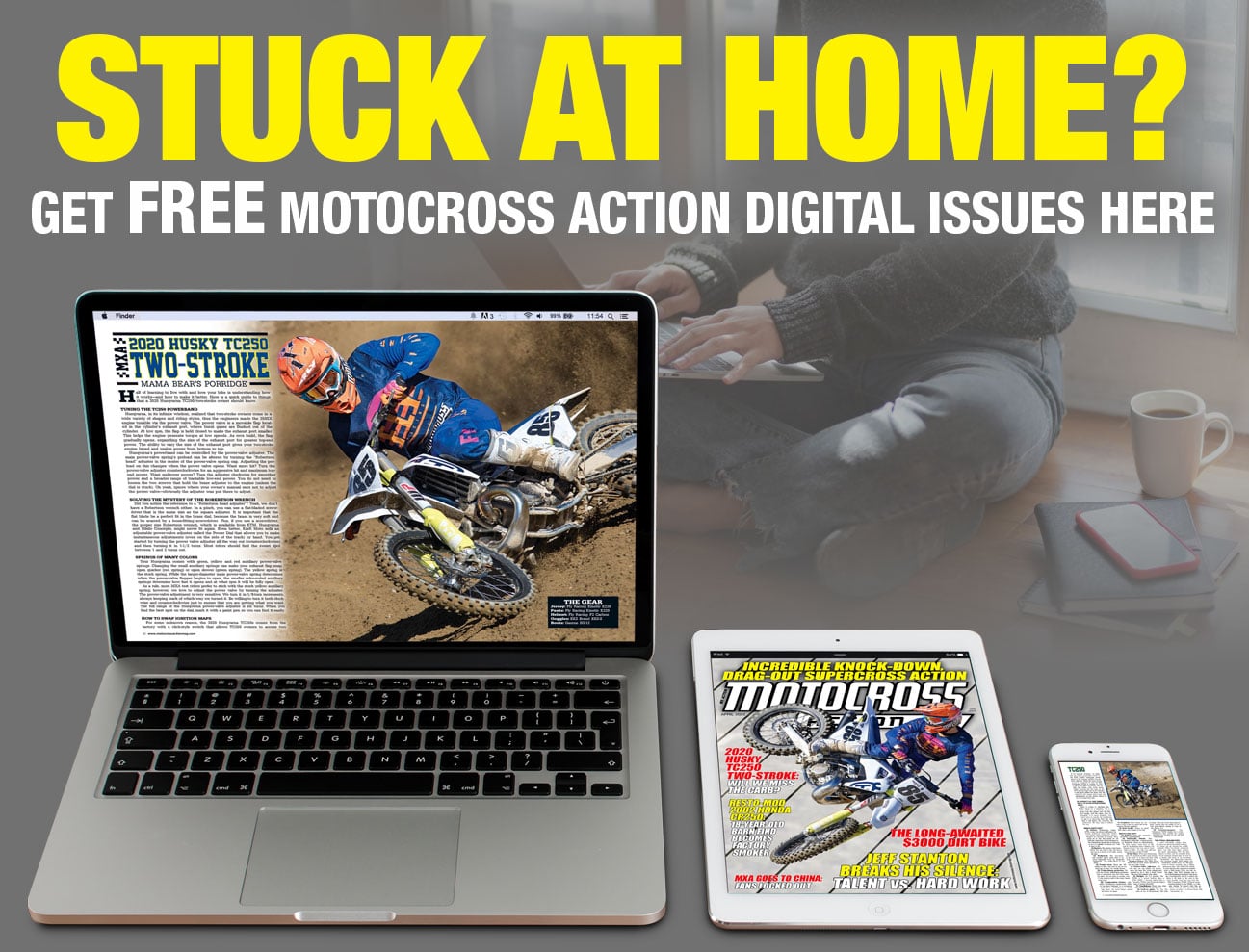 Click here or on the above photo to get your free digital issues.
RACING LEGEND JEFF WARD JOINS KENDA'S BRAND AMBASSADOR TEAM
Press Release: Kenda proudly announced the addition of another legend to its growing team. Joining Kenda Legend Doug Henry is multi-time AMA Motocross, Supercross, Supermoto champion, 7-time international MX des Nations champion, X Games gold medalist and AMA Motorcycle Hall of Fame inductee, Jeff Ward.
After retiring from motorcycle racing, Ward raced Indy cars and off-road trucks, leading to induction into the Motorsports Hall of Fame of America. As if that wasn't enough, he is currently focused on winning championships in mountain bike racing. Ward comes equipped with an expert-level knowledge base and experience in multiple racing disciplines, a valuable asset to the Kenda product development team.
Jeff Racing an F1 car back in 1997.
Kenda's Director of Powersports admires Ward for his racing career and may even have been lapped by Ward back in his Supermoto racing days. Baldwin says with a grin, "I am stoked to have Jeff onboard and look forward to seeing him in action on Kendas, but I will save the racing stories for another day."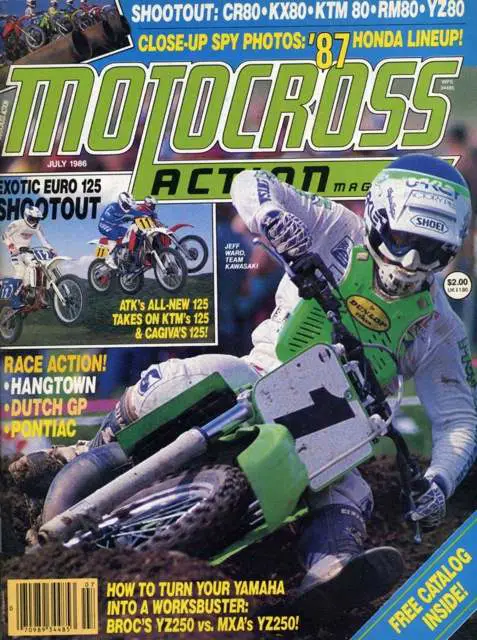 Jeff on the cover of the July 1986 MXA issue. 

2020 promises to be a great year for Kenda with Doug Henry and Jeff Ward both representing the brand across all categories including Powersports, Bicycle, Automotive, Wheelchair and Trailer. Follow Kenda on Instagram, Facebook and Twitter to see all the action from the Kenda Legends team.
MXA | MOTO | TRIVIA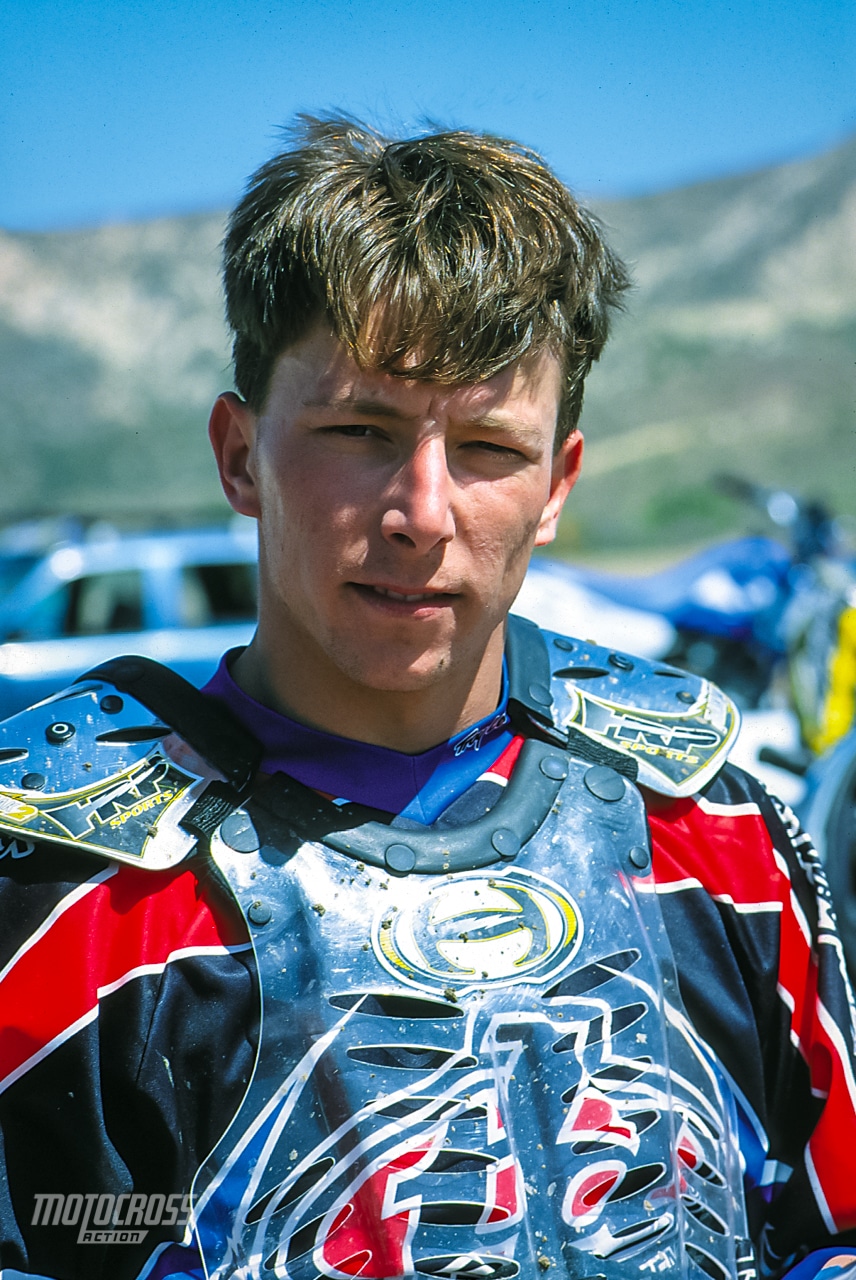 Name the rider. Answer at bottom of the page.
MXA TESTS RIDES THE 2020 KTM 125SX
LIMITED EDITION GREY STACYC TEAM EDITION-$899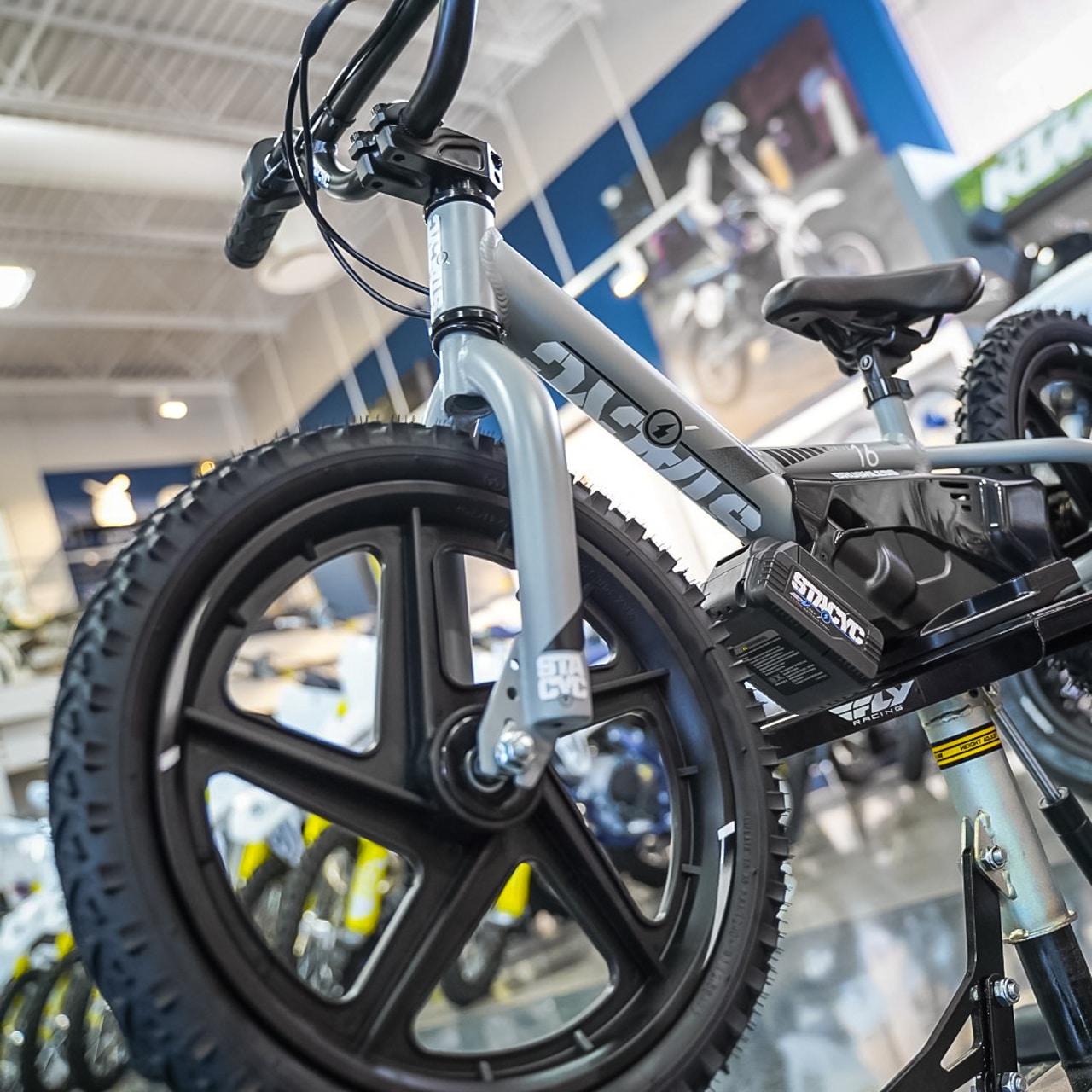 Up close on the new Stacyc 16e Drive Team Edition electric balance bike for kids.
The new STACYC 16eDRIVE Team Edition is ready to take your little ripper on the most epic adventures to date. The new Team Edition is the most hopped up electric balance bike on the market. The list of upgrades starts with the new High-Output Brushless Motor. The upgraded motor packs a punch with additional low-end power and torque allowing for more aggressive riding on more varied terrain. 4" taller bars provide additional room for growing riders and the machined aluminum extended footrests provide a larger, grippier platform for harder shredding!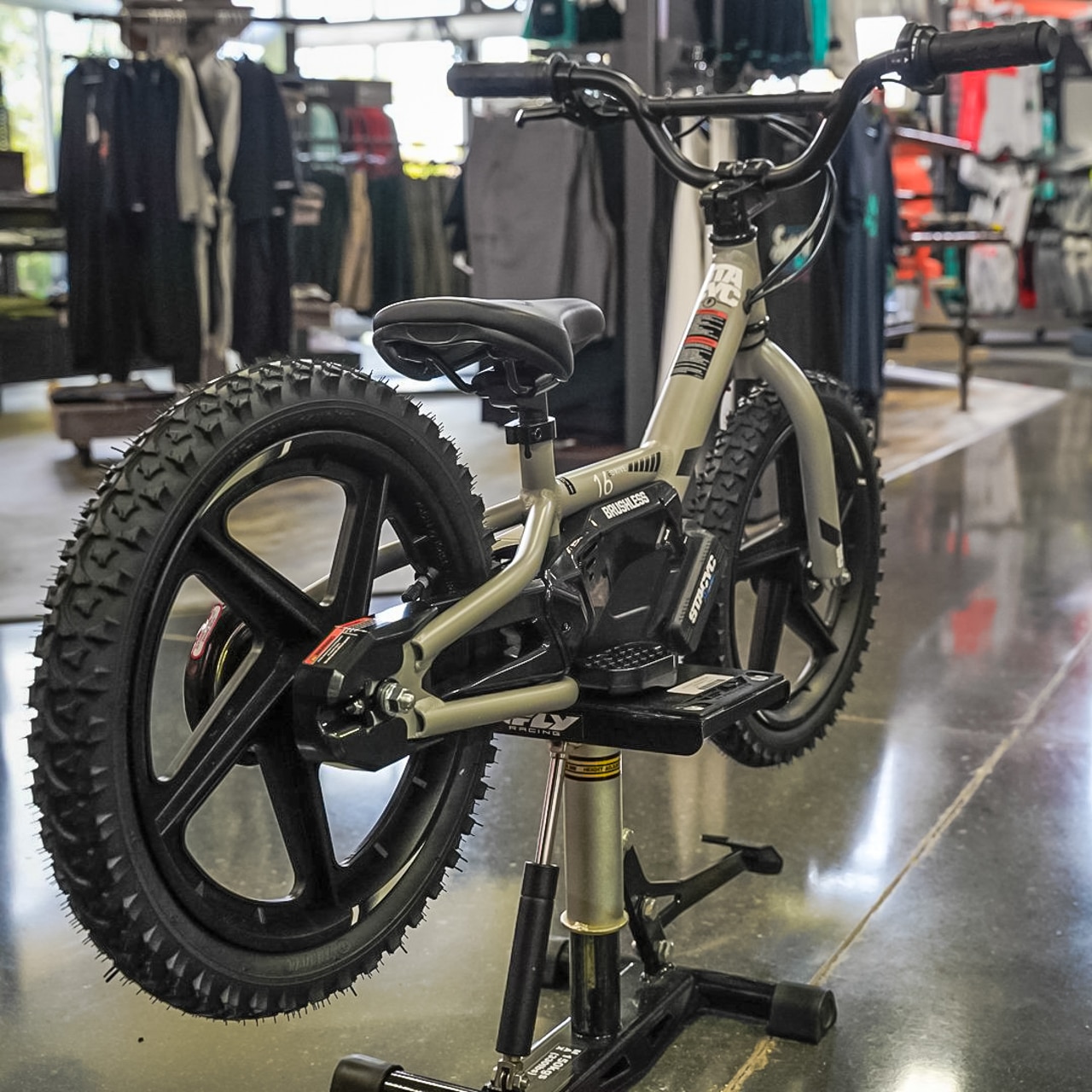 The new Stacyc 16e is available for $899.
WE TRUST WRENCH 42 FOR ANY OF YOUR BIKE NEEDS | CALL THEM TODAY!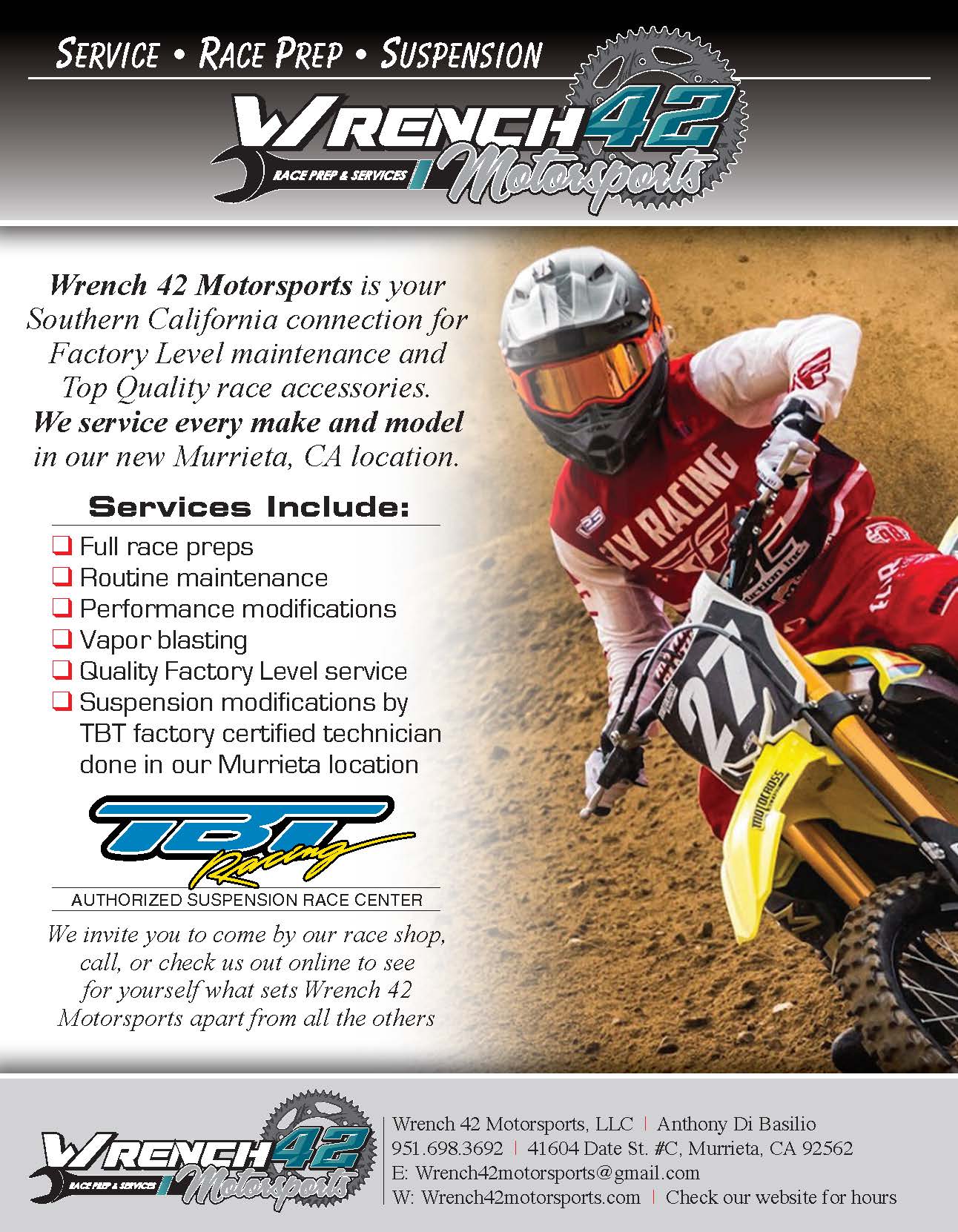 MXA GOES TRIALS RIDING WITH GASGAS AMBASSADOR GEOFF AARON
MXA's Josh Mosiman and the GasGas TXT 250 Trials bike.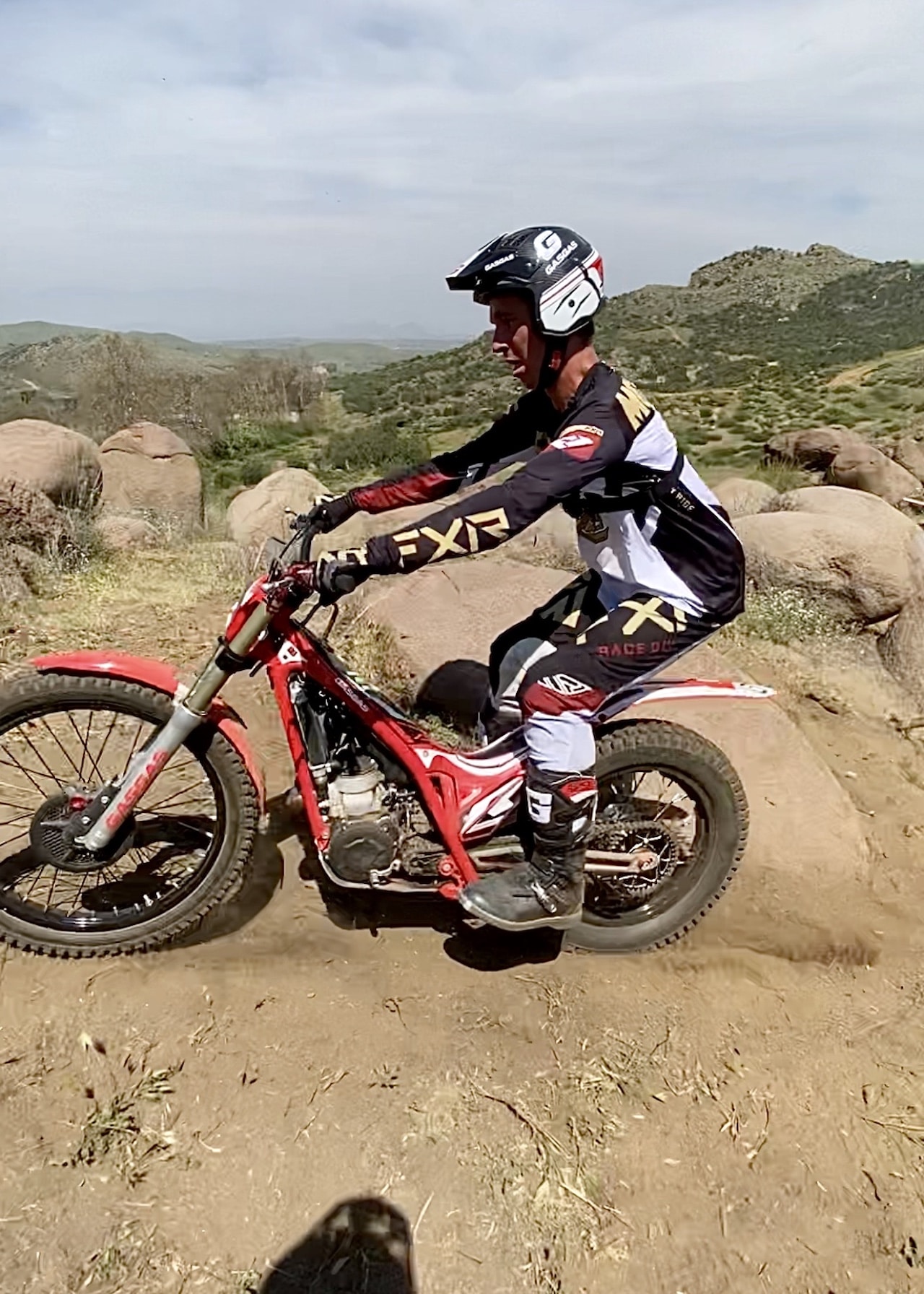 Josh can jump a Supercross triple, but climbing up a 3-foot vertical rock is a whole other story.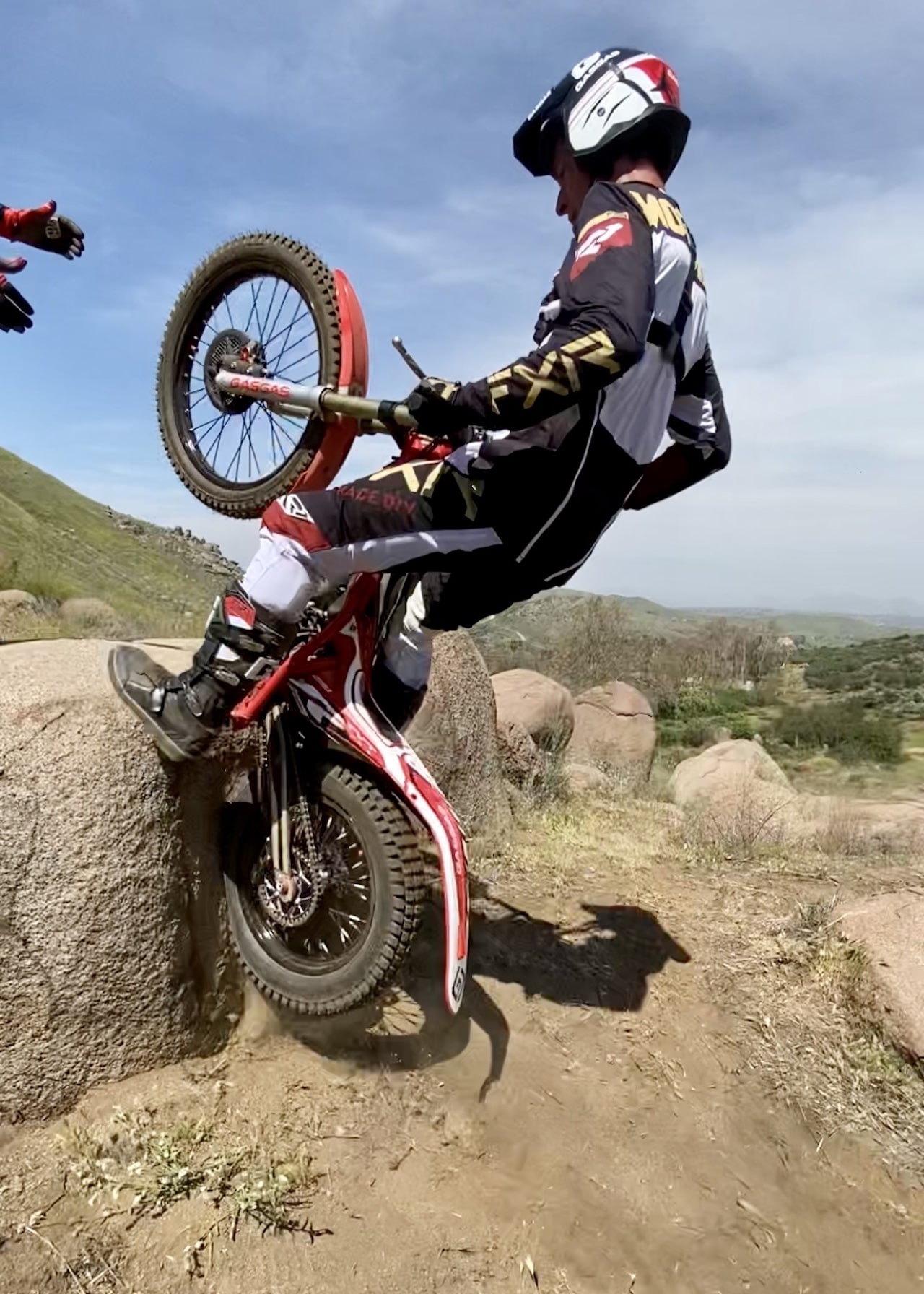 After Josh crashed the bike a few times, Geoff jumped in to catch it.
The aftermath… Eventually both Josh and Daryl made it over the rock. But it wasn't without trouble. 
TAKE THE MXA 2020 READER SURVEY & HAVE A CHANCE TO WIN FREE THOR GEAR!

Score free head-to-toe Thor gear now! Complete our reader survey we'll take your input to help improve future web and monthly print content of Motocross Action. One lucky winner will be chosen at random to receive a free gear ensemble from Thor (style and/or color may vary). This year's Thor (www.thormx.com) gear giveaway includes the following: Prime Pro jersey and pants, Sector Split with MIPS helmet, Radial boots, Sniper Pro goggles, and Agile gloves. That's $750 worth of products, so don't miss this opportunity to win all this stylish gear for free! Fill out the entire survey!
LOST BUT NOT FORGOTTEN | 2000 YAMAHA YZ400F
TALK MOTO WITH MOTO MINDED PEOPLE. JOIN MXA'S FACEBOOK GROUP CHAT

We love everything moto and want to bring all moto junkies together into one place to share their two cents, ideas, photos, bike fixes, bike problems and much more. To check it out first you must need to or already have a Facebook account. If you don't, it isn't much work and you could even have an alias so nobody knows it is you. To join click HERE. After you request to join we will accept your request shortly after.
HAVE YOU SEEN THE JUNE 2020 ISSUE OF MXA? THE BEST OF AMERICAN MOTOCROSS
Aren't you tired of looking at awesome motocross photography on the tiny little screen of an iPhone, while holding it at odd angles to figure out what you're looking at?  Get the real deal and see those giant spread photos at 11-inches by 16-inches and live a little.
If you subscribe to MXA you can get the mag on your iPhone, iPad, Kindle or Android by going to the Apple Store, Amazon or Google Play or in a digital version. Even better you can subscribe to Motocross Action and get the awesome print edition delivered to your house by a uniformed employee of the U.S. Government. You can call (800) 767-0345 or Click Here (or on the box at the bottom of this page) to subscribe.
MXA YOUTUBE CHANNEL | HIT THAT SUBSCRIBE BUTTON

The MXA wrecking crew is everything moto related. Check out our MXA YouTube channel for bike reviews, Supercross coverage, rider interviews and much more. And don't forgot to hit that subscribe button.
WHAT THE MXA WRECKING CREW HAS BEEN UP TO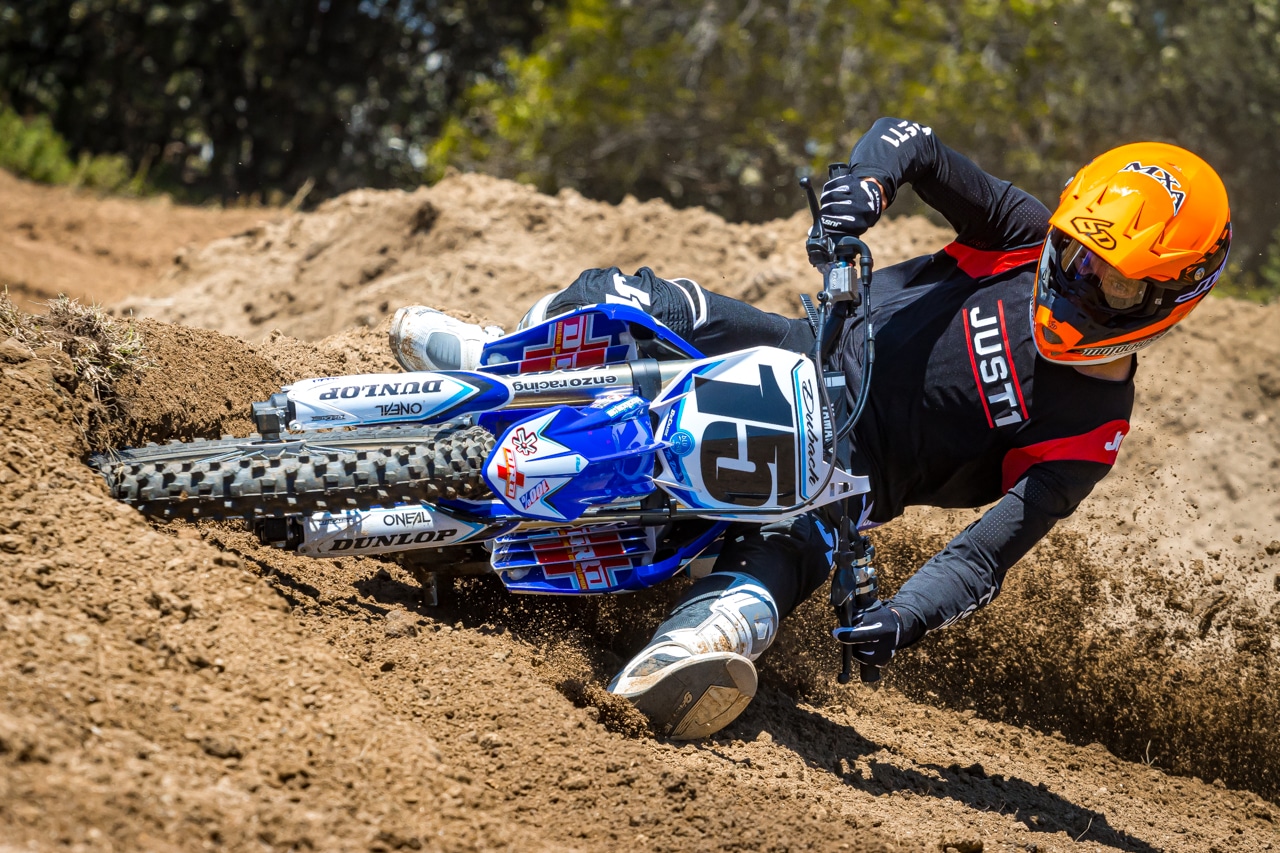 MXA's Assistant Editor Josh Mosiman leaning over our Dubach Racing-built 2020 Yamaha YZ450F at the Deegan's compound the other day. Josh and young Haiden Deegan had a competition to see who could get the lowest in the corner. See below for Haiden's best shot. Photo: Trevor Nelson.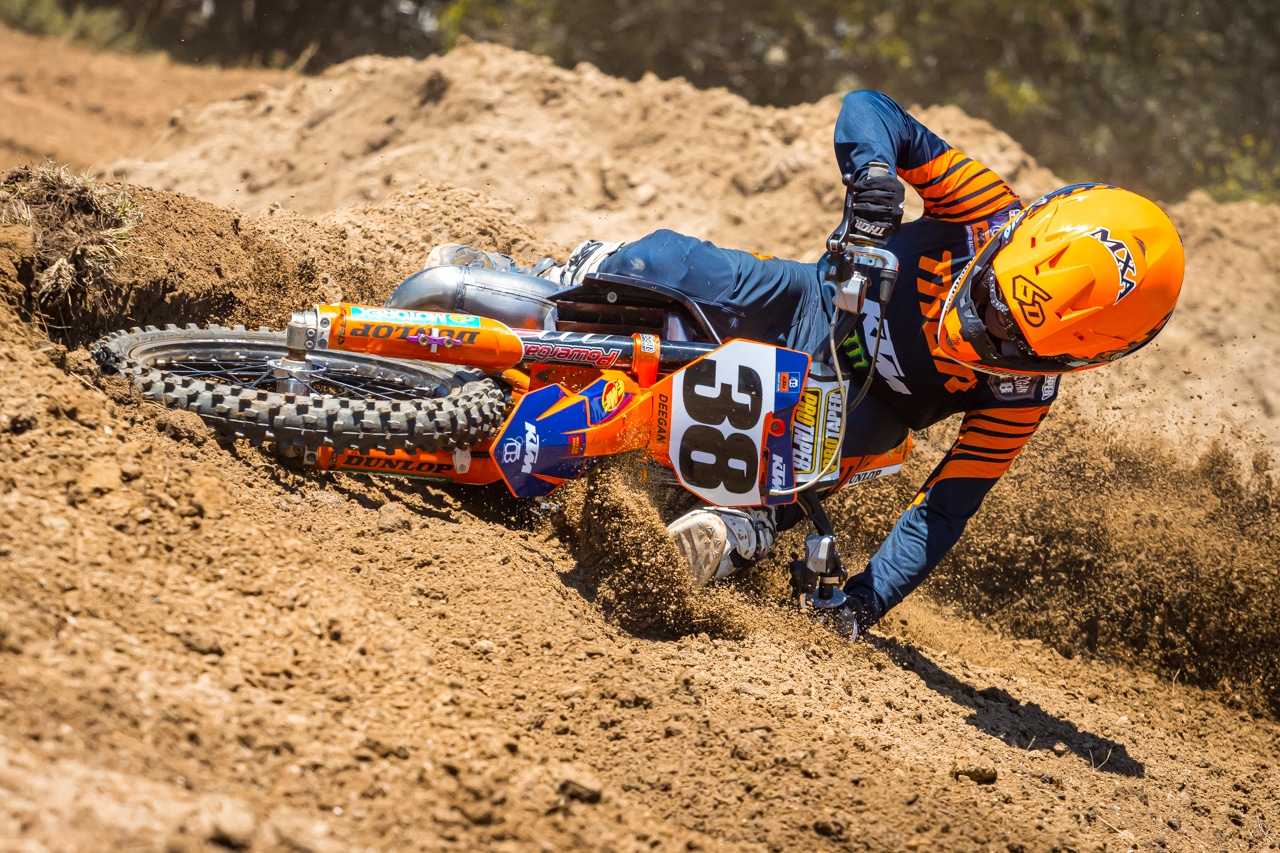 Haiden Deegan, also known as Dangerboy on instagram clearly won this competition. Photo: Trevor Nelson.
Although Doug Dubach set this bike up with motocross suspension Josh still rode with it on the Deegan's Supercross track since it was the only track prepped and watered for the day. Then afterwards he spun laps on the motocross track, but the jumps there were even bigger and steeper than the Supercross track.-Photo by Trevor Nelson.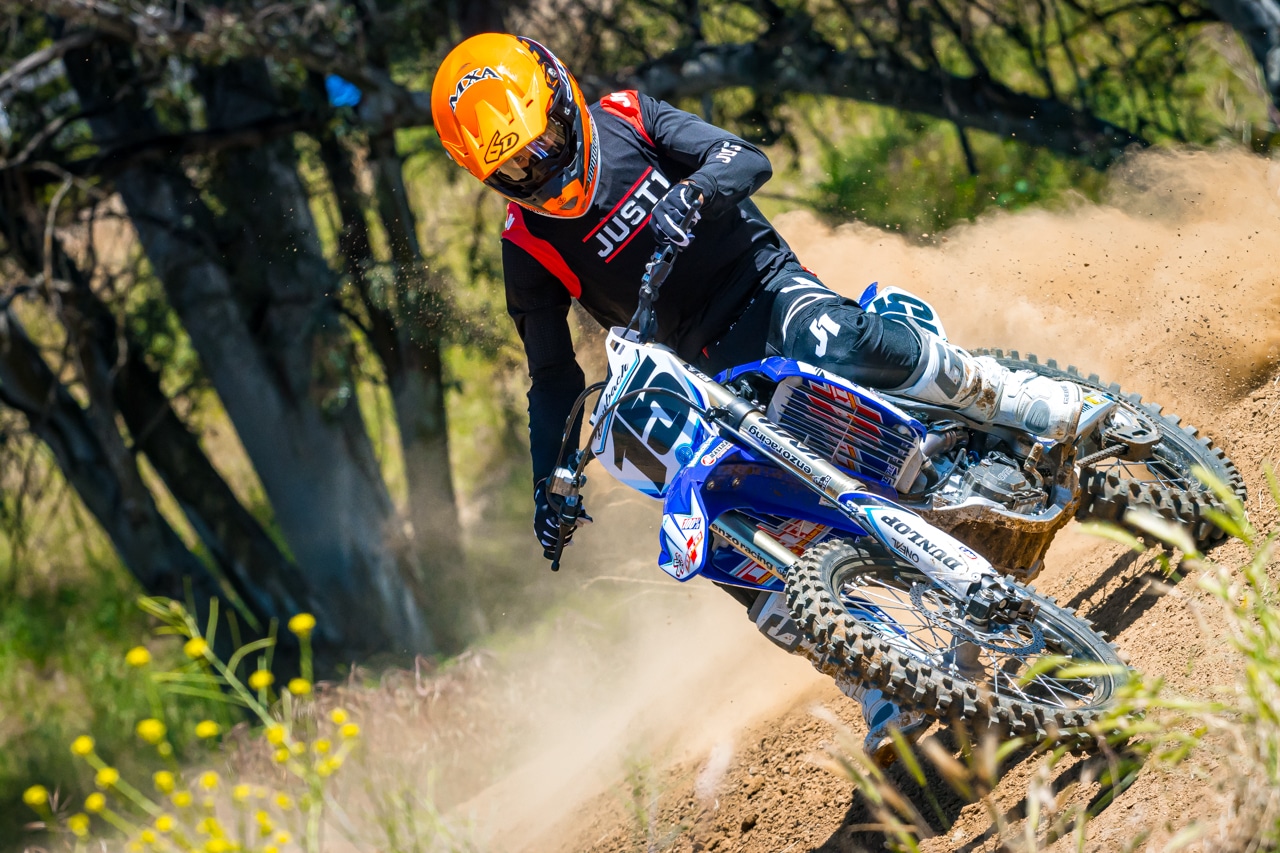 Another shot of Josh on the Dubach Racing 2020 Yamaha YZ450F.-Photo by Trevor Nelson.
 After all the photos were shot, we brought the Dubach Racing YZ450F to our local testing grounds at Glen Helen Raceway. We had four different test riders on it throughout the day including two Pros, one 30+ Vet Intermediate and one 40+ Vet Intermediate. 
Josh Mosiman also spun some laps on our 2020 Kawasaki KX450 at the recently re-opened Lake Elsinore Motorsports Park last weekend. 
NASCAR TO GET BACK TO RACING WITHOUT FANS THIS WEEKEND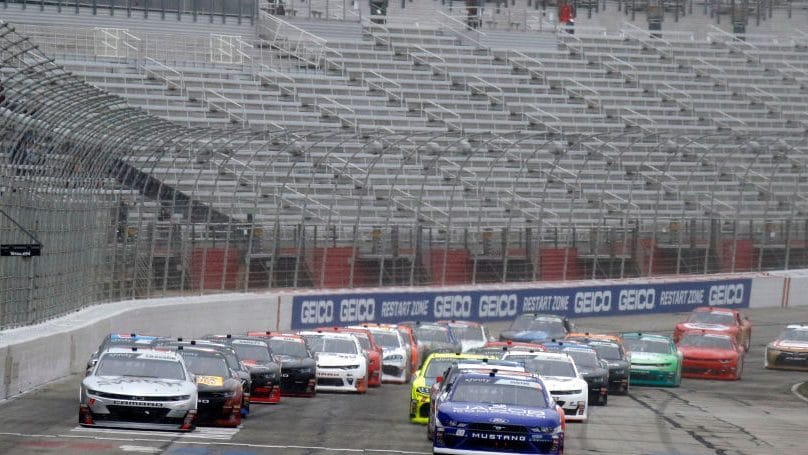 NASCAR is coming back to racing this Saturday without fans in the stands. 
NASCAR first set the trend with online racing and now they're also going to be the first major motorsports event coming back to actual racing during the COVID-19 pandemic. This Saturday, May 17th, the NASCAR Cup Series will kick off a slate of races that includes seven events in three series at two race tracks – Darlington Raceway and Charlotte Motor Speedway. Each of NASCAR's return events will be run without fans in attendance to comply with the governments request to limit public gatherings. With this happening, it seems to be more likely that Supercross could return to racing, without fans, in the near future.
"NASCAR and its teams are eager and excited to return to racing, and have great respect for the responsibility that comes with a return to competition," said Steve O'Donnell, NASCAR executive vice president and chief racing development officer. "NASCAR will return in an environment that will ensure the safety of our competitors, officials and all those in the local community. We thank local, state and federal officials and medical experts, as well as everyone in the industry, for the unprecedented support in our return to racing, and we look forward to joining our passionate fans in watching cars return to the track."
"We are excited to welcome back the FOX NASCAR season to our airwaves to provide a return to live sports, a move toward normalcy and a much-needed distraction during these unprecedented times," said Mark Silverman, President, National Networks, FOX Sports. "While we are thrilled to return to the race track, the health and safety of our employees and all race participants is our top priority.  We will continue working in lockstep with our partners at NASCAR and the race tracks to follow all national and local health guidelines."
MXA PRODUCT SPOTLIGHT: SKF DUAL COMPOUND FORK SEALS-$39.95
We recently had MXA test rider and TBT Suspension tuner Brian Medeiros throw some of the new SKF Dual Compound fork seals on our 2020 Suzuki RM-Z250 after the stock seals wore out. We now have more SKF seals on a majority of our test bikes.
InnTeck USA just released the motocross industry's first ever dual compound fork seal kit. The SKF fork seals have all new rubber compounds and SKF's patent pending innovative new co-molding production technology. The seals have an extended sealing capability, which increases durablity and improves riding comfort and compliance by minimizing the friction between the seals and the fork tube. The new open wound spring that comes on the seal is dedicated to applying constant force to the seal which keeps debris out of the coils and won't dislodge during pressure washing. Learn more online at innteck-usa.com or by calling (866) 252-8772.
FIND MXA ON TIKTOK: ALL THE KIDS ARE DOING IT

CLASSIC PHOTO
The flawless style of Ricky Johnson. 
---
Moto Trivia answer: Nathan Woods.