MOTOCROSS ACTION MID-WEEK REPORT
#WHIPITWEDNESDAY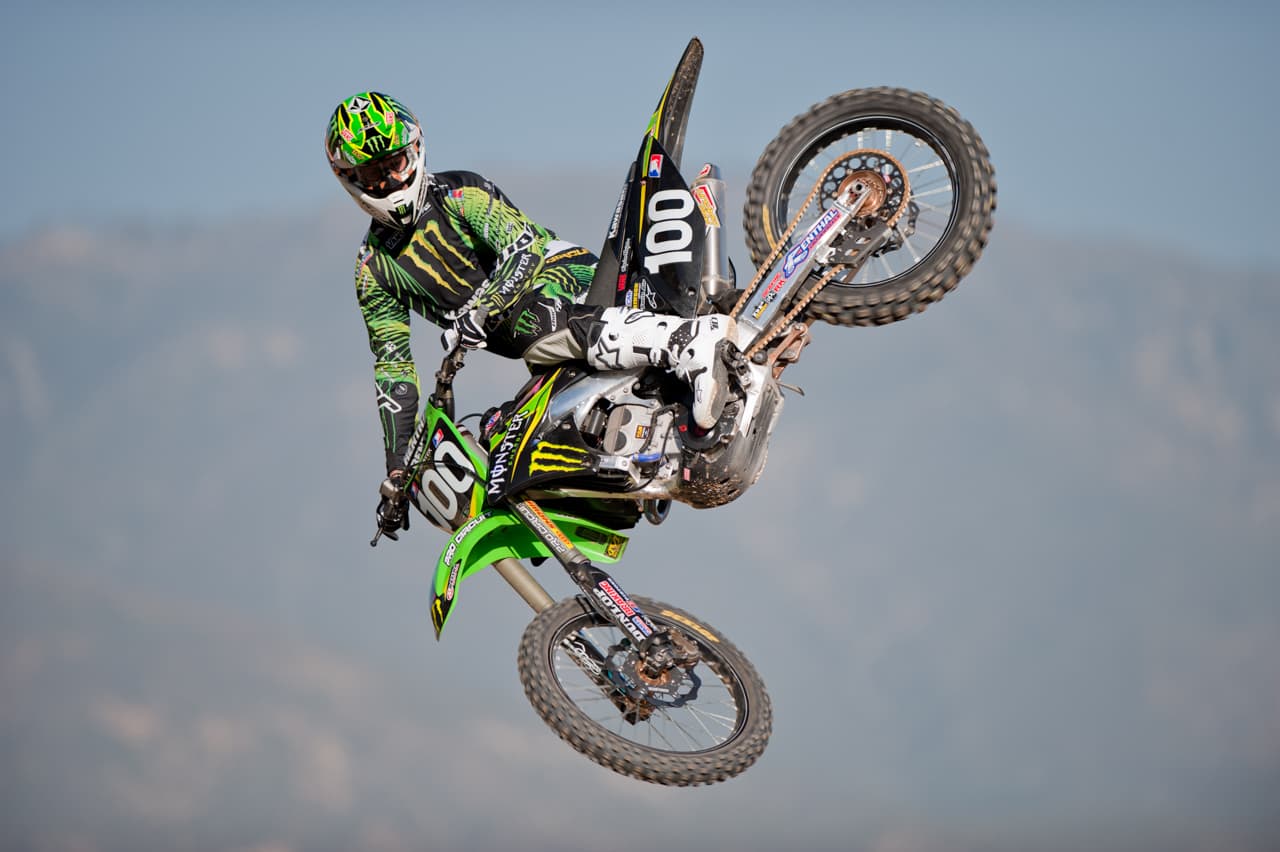 Rider: Josh Hanson
Date: 2011
Location: Pro Circuit Supercross test track
Lens: 300mm
Exposure: 1/1000 sec.
F-stop: 2.8
ISO: 200
TWO-STROKE SPOTLIGHT: MICHAEL KOLAR'S 2003 HONDA CR125
"It's a 2003 Honda CR125, but I am a big fan of the grand national Honda bikes of Bailey, Stanton, Bayle, and McGrath. It's a stock bike with the exception of the plastics, custom graphics and hand made number plate backgrounds." –Mike Kolar
EDITORS NOTE: Please keep those submissions coming. If you would like your bike to be featured in the "Two-Stroke Spotlight," please email me at [email protected]. All I ask is that you give a breakdown of your bike and a detailed description of the build. Please also send a few photos of your steed. By submitting your bike for the "Two-Stroke Spotlight," you agree to release all ownership rights to the images and copy to MXA.
BORED AT HOME? TIRED OF RERUNS OF "SEINFELD?" TRY FREE ACCESS TO MXA DIGITAL EDITIONS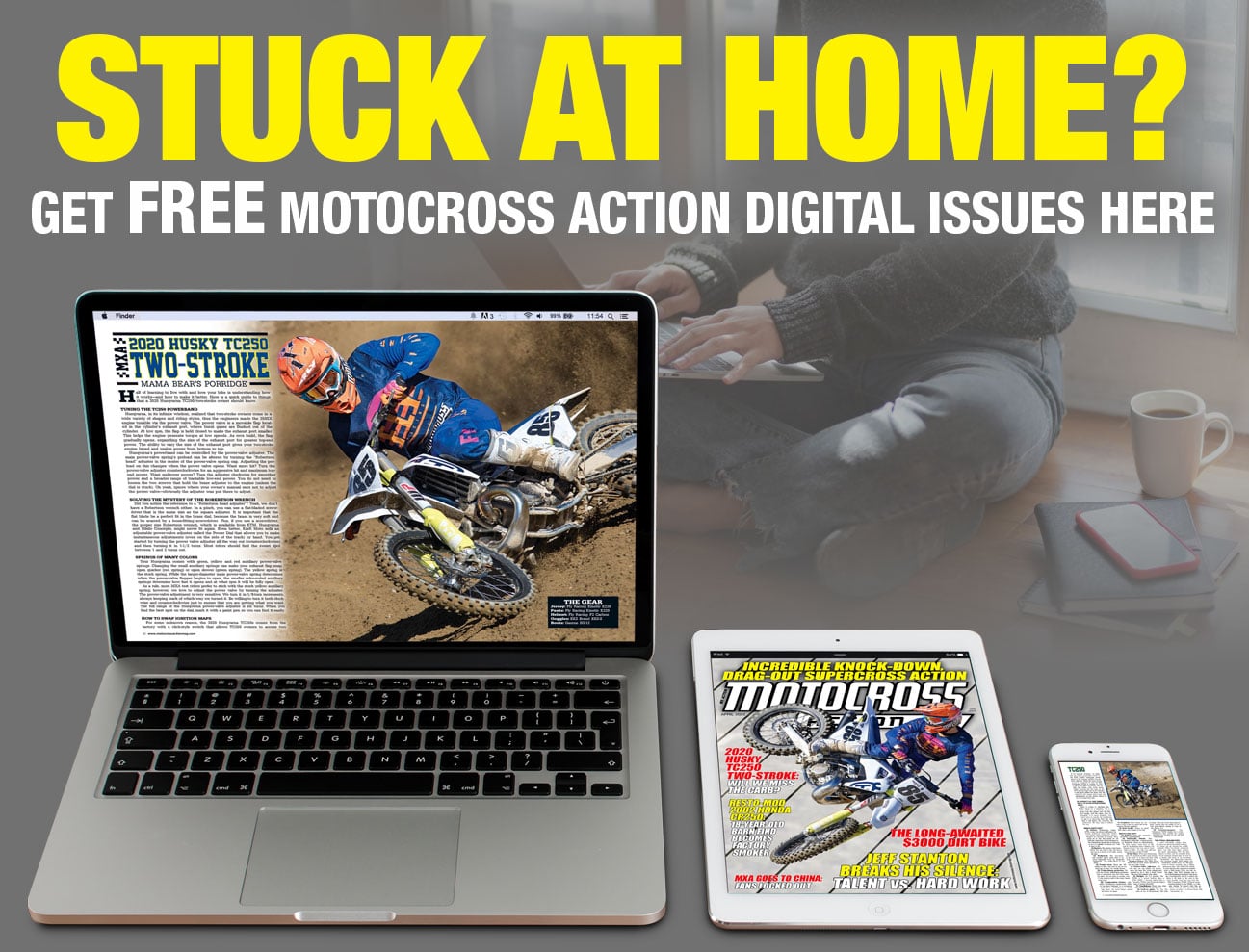 Click here or on the above photo to get your free digital issues.
PRO CIRCUIT TITANIUM CATCH CANS | JUST LIKE THE FACTORY GUYS

The popular catch cans that are secured on frames of factory bikes and our own Monster Energy/Pro Circuit/Kawasaki race bikes can now be a works part of your own. Handmade from titanium, the catch can connect to the overflow on the radiator and is designed to capture coolant when the bike gets hot. The coolant will flow back into the radiator once your bike has cooled down. Its purpose is to maintain optimal coolant levels during a race. A catch can could be used for two-strokes, but is mainly recommended for four-stroke dirt bikes.
Please visit www.procircuit.com for more information on this and other Pro Circuit products.
MXA | MOTO | TRIVIA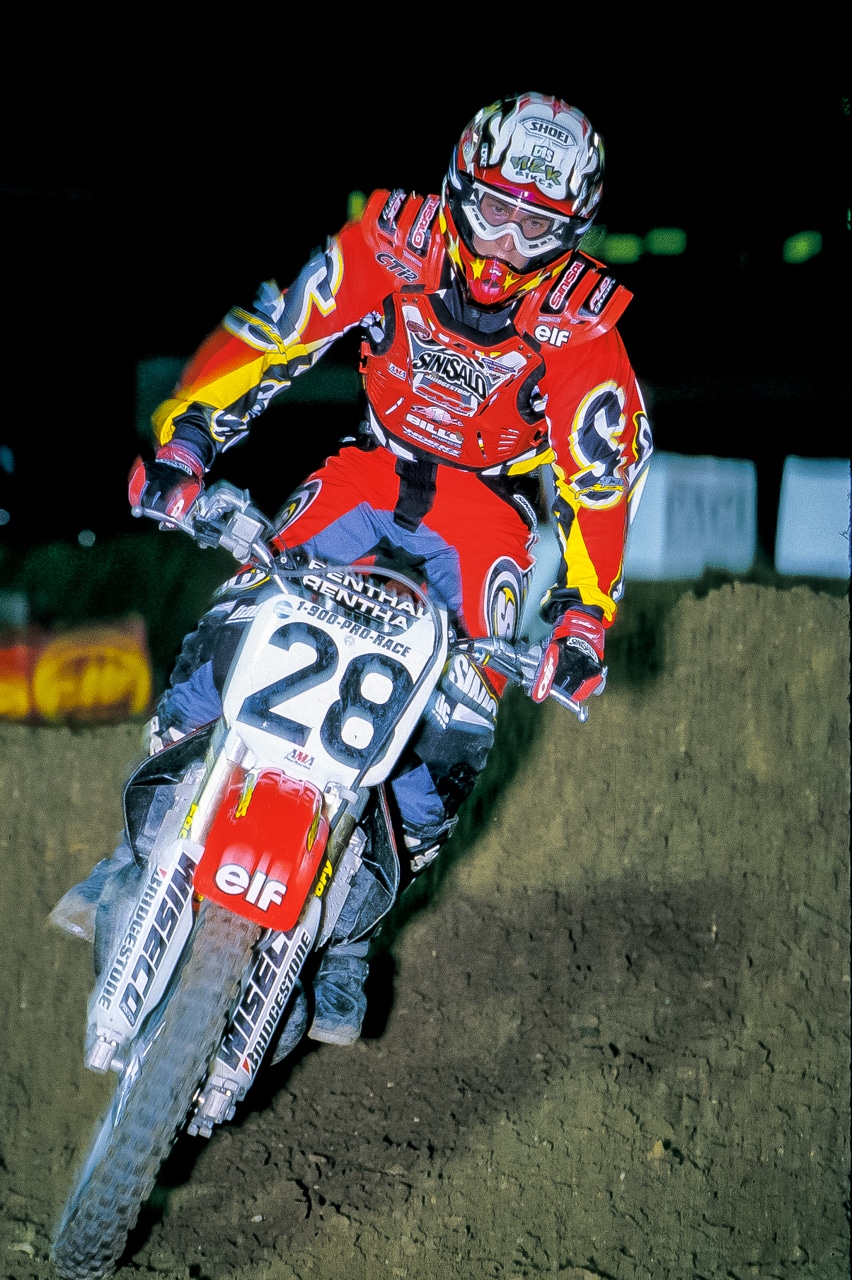 Name the rider and year. Answer at the bottom of page.
ENTER TO WIN AT THE CASELLI FOUNDATION THIS 1998 FMF HONDA CR125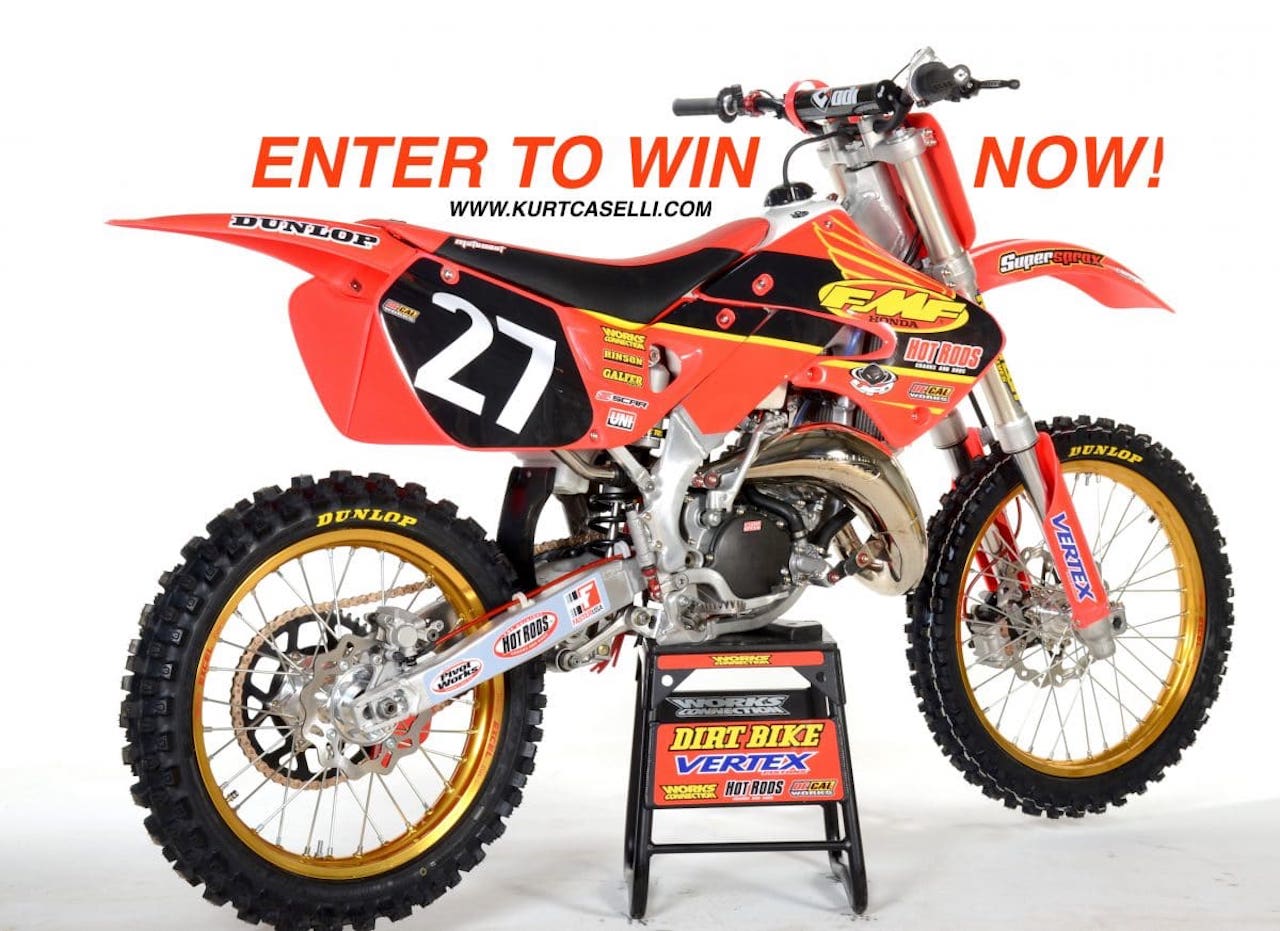 Dirt Bike Magazine teamed up with the Kurt Caselli Foundation in a sweepstake to win a 1998 FMF Honda CR125 project bike. Enter to win by going to www.kurtcaselli.com  
SUPERCROSS IS RETURNING ON MAY 31ST | HERE IS THE TV SCHEDULE FOR THE REMAINING 7 ROUNDS IN SLC


Sunday, May 31 (250 East)… 3:00 p.m. to 4:00 p.m. (NBCSN) & then 4:00 p.m. to 6:00 p.m. (NBC)
Wednesday, June 3 (250 East)…10:00 p.m to 1:00 a.m. (NBCSN)
Sunday, June 7 (250 East)…5:00 p.m to 8:00 p.m ET (NBCSN)
Wednesday, June 10 (250 West)… 7:00 p.m to 10:00 p.m. (NBCSN)
Sunday, June 14 (250 West)…7:00 p.m to 10:00 p.m (NBCSN)
Wednesday, June 17 (250 East)… 7:00 p.m to 10:00 p.m (NBCSN)
Sunday, June 21 (East/West) … 3:00 p.m to 4:30 p.m ET on NBCSN & 4:30 to 6:00 (NBC)
TAKE THE MXA 2020 READER SURVEY & HAVE A CHANCE TO WIN FREE THOR GEAR!

Score free head-to-toe Thor gear now! Complete our reader survey we'll take your input to help improve future web and monthly print content of Motocross Action. One lucky winner will be chosen at random to receive a free gear ensemble from Thor (style and/or color may vary). This year's Thor (www.thormx.com) gear giveaway includes the following: Prime Pro jersey and pants, Sector Split with MIPS helmet, Radial boots, Sniper Pro goggles, and Agile gloves. That's $750 worth of products, so don't miss this opportunity to win all this stylish gear for free! Fill out the entire survey!
REMEMBER THIS BIKE
 1999 Maico 500. Would you ride it?
DAY WITH DEANO | T-MINUS 16 DAYS TILL SUPERCROSS
TALK MOTO WITH MOTO MINDED PEOPLE. JOIN MXA'S FACEBOOK GROUP CHAT

We love everything moto and want to bring all moto junkies together into one place to share their two cents, ideas, photos, bike fixes, bike problems and much more. To check it out first you must need to or already have a Facebook account. If you don't, it isn't much work and you could even have an alias so nobody knows it is you. To join click HERE. After you request to join we will accept your request shortly after.
GREAT NEWS! CALIFORNIA CITY'S OHV PARKS AND CAMPING OPEN EFFECTIVE IMMEDIATELY
HAVE YOU SEEN THE JUNE 2020 ISSUE OF MXA? THE BEST OF AMERICAN MOTOCROSS
Aren't you tired of looking at awesome motocross photography on the tiny little screen of an iPhone, while holding it at odd angles to figure out what you're looking at?  Get the real deal and see those giant spread photos at 11-inches by 16-inches and live a little.
If you subscribe to MXA you can get the mag on your iPhone, iPad, Kindle or Android by going to the Apple Store, Amazon or Google Play or in a digital version. Even better you can subscribe to Motocross Action and get the awesome print edition delivered to your house by a uniformed employee of the U.S. Government. You can call (800) 767-0345 or Click Here (or on the box at the bottom of this page) to subscribe.
JOSH HILL DISLOCATES HIP AT CLUBMX
MXA YOUTUBE CHANNEL | HIT THAT SUBSCRIBE BUTTON

The MXA wrecking crew is everything moto related. Check out our MXA YouTube channel for bike reviews, Supercross coverage, rider interviews and much more. And don't forgot to hit that subscribe button.
MXA'S DARYL ECKLUND GOES CAMPING IN COUGAR BUTTES OVER THE WEEKEND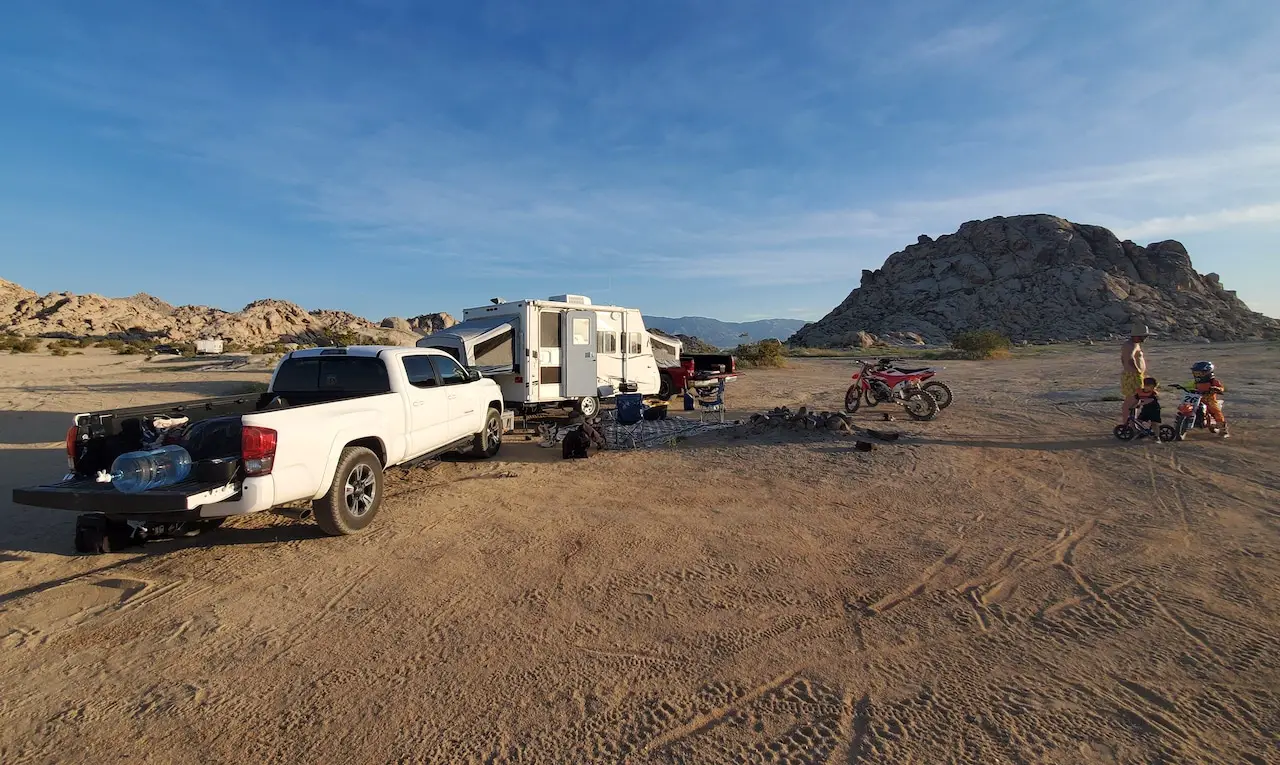 By Daryl Ecklund
I own the smallest camping trailer that you probably have ever seen. The family and I don't use it much, but when we do, it is either the family heading to the beach or the guys and their boys heading to the desert. We headed to Johnson Valley to a place called Cougar Buttes. It is the home of the "King of the Hammers". It is an awesome place to camp and ride. We only stayed a few nights but we rode at least a 100 miles with the kids sitting on our laps while riding. We rode up hills (some of which we didn't make, yes with the kids on board), to the tops of mountains where you could see no end of the desert in sight. We rode to dry lakes and hard to reach destinations like Hercules's finger.
The kids didn't seem to care much for the scenic views, they just wanted to ride. Here my son Caselli and I are posing in front of Hercules's finger in Johnson Valley. He wasn't amused. 
If we weren't riding across valleys the kids were either trying to catch big Chuckwalla lizards that roamed the big rocks or rode their Stacyc and KTM SX-E5 electric bikes. The only downfall is that we had to bring a generator just to charge the minbikes, but it worked out well.
The kids enjoying themselves in the desert on the KTM SX-E5 and Stacyc 16-inch. 
You can say Caselli had a good time as he slept most of the way home. 
FIND MXA ON TIKTOK: ALL THE KIDS ARE DOING IT

CLASSIC PHOTO
Mike LaRocco receiving his 1993 AMA 500cc National number 1 plate.
---
Moto Trivia answer: The year was 1999 and number 32 on the Honda CR250 is Heath Voss.