MOTOCROSS ACTION MID-WEEK REPORT
#WHIPITWEDNESDAY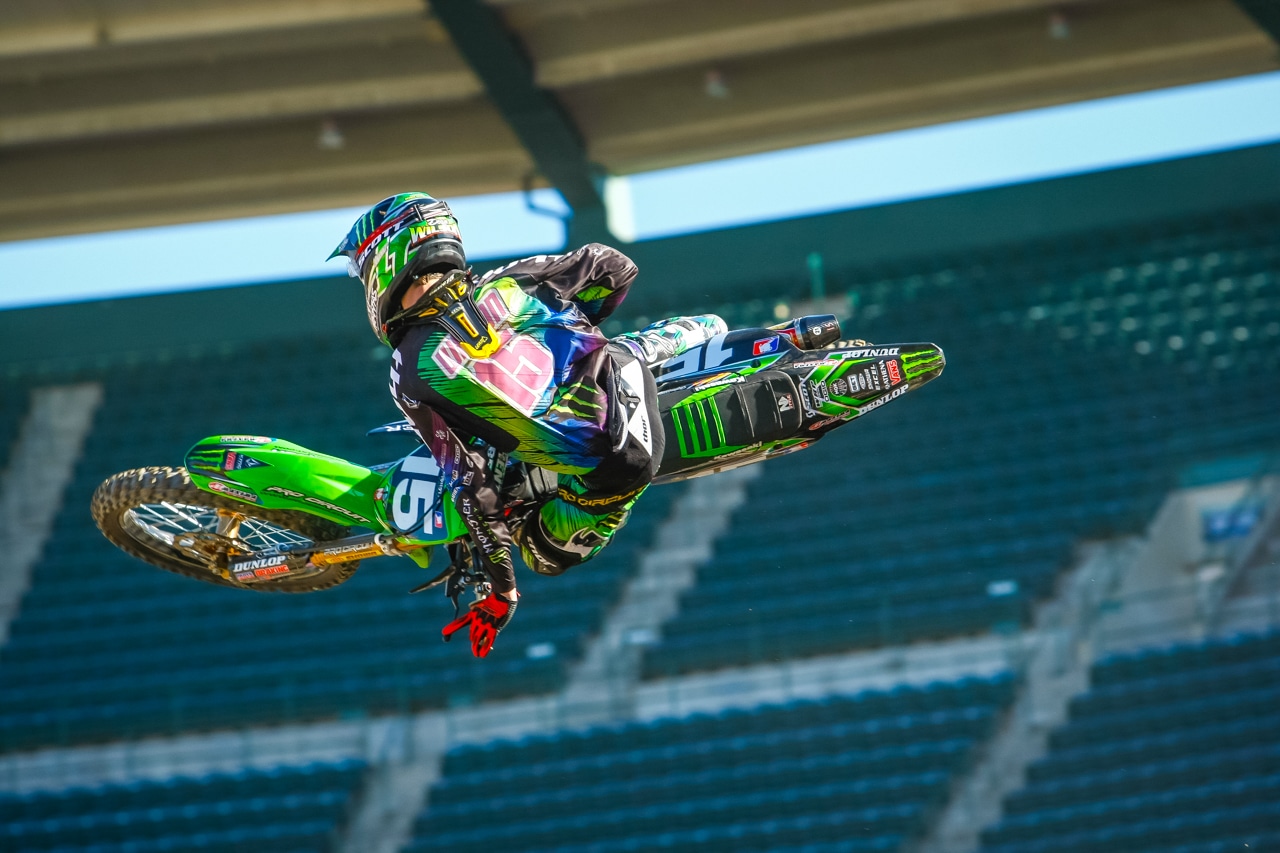 Rider: Dean Wilson
Bike: 2012 Pro Circuit KX250F
Location: Anahiem
Event: Anaheim Supercross
Photographer: MXA Archive
ISO: 400
Shutter speed: 1/1000
Lens: 70-200mm
Focal length: 200mm
F-stop: 5
TWO-STROKE SPOTLIGHT: PAUL HOEY'S 1998 YAMAHA YZ250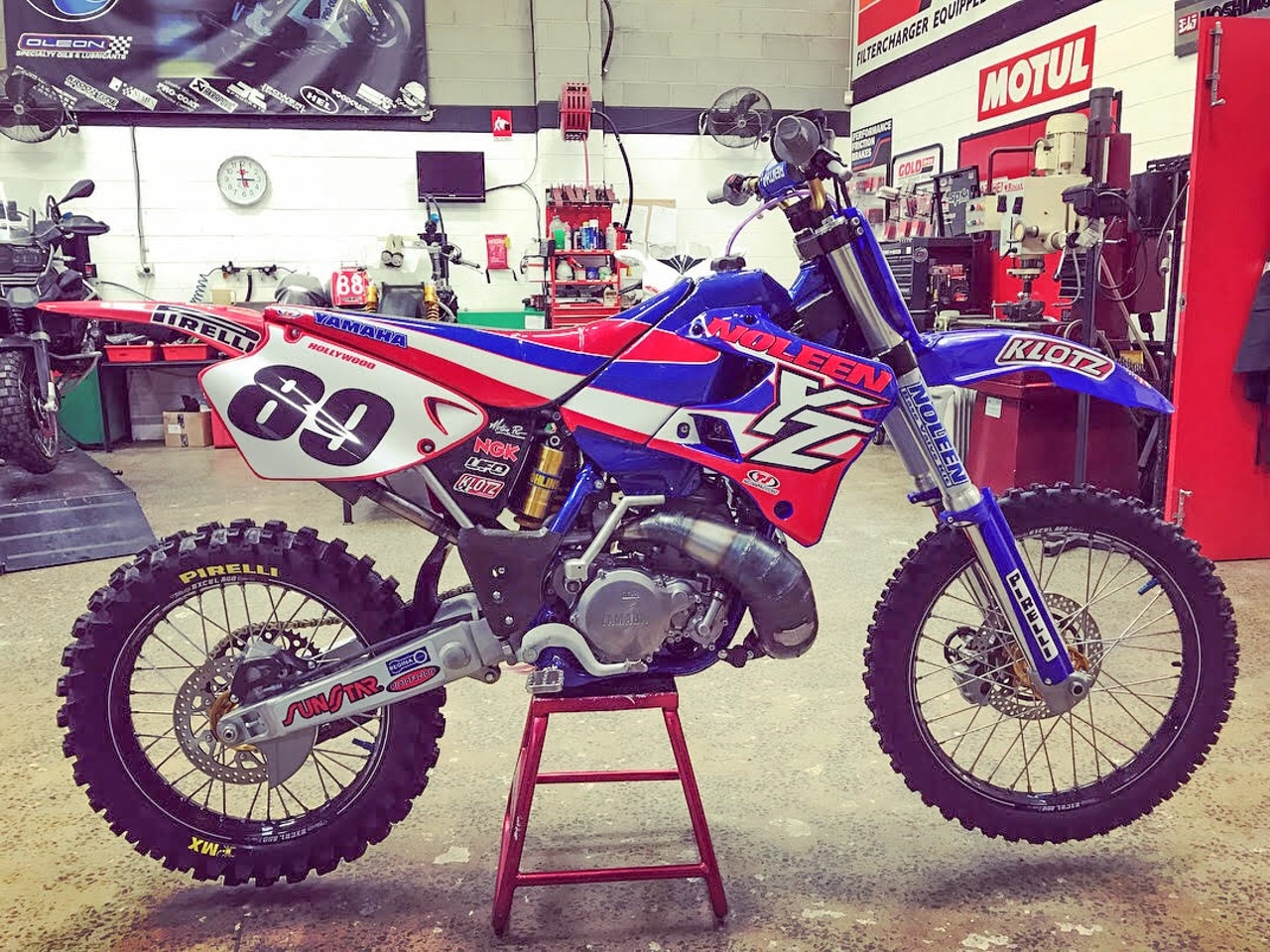 "I have just completed my 1998 YZ250 Ohlins 360cc Noleen replica. This bike was an original used and abused survivor. I completely restored and refurbished almost every part of this bike including a NOS Noleen race team ported Ohlins 360cc top end kit, UFO plastics, Throttle Jockey original Noleen race team graphics and seat cover, GP alloy fuel tank, Ohlins Shock, factory Krooztune Suspension KYB fork internals, Lightspeed Carbon Fibre Parts, Dynoport USA 360cc big volume exhaust pipe and carbon fibre silencer. Excel A60 rims, Talon hubs, Renthal sprockets, chain and handlebars. SCAR grips, Applied Racing triple clamps and Pirelli MX32 Pro tyres. It's been awesome fun building this bike and I can't wait to race it. –Paul Hoey from Australia
EDITORS NOTE: Please keep those submissions coming. If you would like your bike to be featured in the "Two-Stroke Spotlight," please email me at [email protected]. All I ask is that you give a breakdown of your bike and a detailed description of the build. Please also send a few photos of your steed. By submitting your bike for the "Two-Stroke Spotlight," you agree to release all ownership rights to the images and copy to MXA. Please don't email me spam or try selling me Taylor Swift concert tickets or email me spam. I already celebrate T-Swizzle's entire collective, and there will be "bad blood" if you send me junk mail. See what I did there? Happy submitting your smoker.
GOT A TWO-STROKE? SEND YOUR ENGINE IN TO MITCH PAYTON
HAVE YOU SEEN THE JUNE 2020 ISSUE OF MXA? THE BEST OF AMERICAN MOTOCROSS
Aren't you tired of looking at awesome motocross photography on the tiny little screen of an iPhone, while holding it at odd angles to figure out what you're looking at?  Get the real deal and see those giant spread photos at 11-inches by 16-inches and live a little.
If you subscribe to MXA you can get the mag on your iPhone, iPad, Kindle or Android by going to the Apple Store, Amazon or Google Play or in a digital version. Even better you can subscribe to Motocross Action and get the awesome print edition delivered to your house by a uniformed employee of the U.S. Government. You can call (800) 767-0345 or Click Here (or on the box at the bottom of this page) to subscribe.
HIT THE RUT OR GO AROUND IT?
MXA's Josh Mosiman navigating one of the ruts at Fox Raceway last Tuesday.-Photo by Trevor Nelson
Sometimes the track is so rough that you don't have the option to go around a rut, you just have to pick one. Other times, you can choose the easy way. In the photo above you could hit the easier outside line, or choose from the technical and long inside ruts.
The new layout on the main track at Fox Raceway is tailored to Pros, intermediates and hot shot amateurs. This inside rut was a challenge for everyone who tried to hit it, but that's what made it fun.
Sometimes standing through ruts helps you keep balance and look ahead more. Josh went back and forth trying different techniques.-Photo by Trevor Nelson

Want to get faster quickly? Find a sections that's difficult for you and practice it over and over. Don't worry about riding the rest of the track for awhile. At first it won't be as fun as riding consecutive laps, but it will accelerate your learning curve and this in turn will make riding more fun.-Photo by Trevor Nelson
TALK MOTO WITH MOTO MINDED PEOPLE. JOIN MXA'S FACEBOOK GROUP CHAT

We love everything moto and want to bring all moto junkies together into one place to share their two cents, ideas, photos, bike fixes, bike problems and much more. To check it out first you must need to or already have a Facebook account. If you don't, it isn't much work and you could even have an alias so nobody knows it is you. To join click HERE. After you request to join we will accept your request shortly after.
LORETTA LYNN REGIONAL QUALIFIER SCHEDULE ANNOUNCED: THE AMATEURS ARE GOING RACING TOO!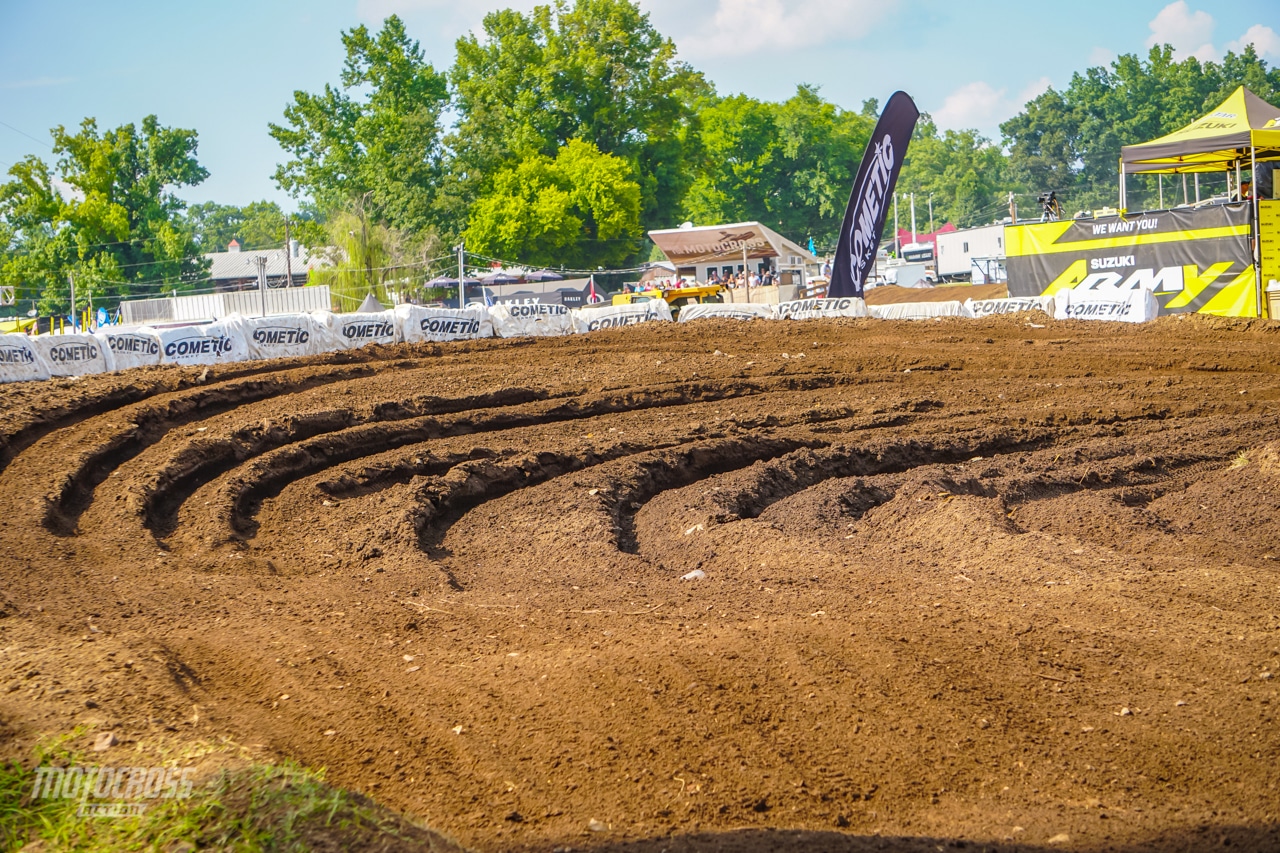 The chances for gathering thousands of people in Tennessee for the Loretta Lynn Amateur National Championships in August seem difficult at this point, but plans are still in place to make it happen. Read below for the new schedule for the 2020 Loretta Lynn regional qualifiers:
Press Release: MX Sports, producer of the Monster Energy AMA Amateur National Motocross Championship, is pleased to finally announce the 2020 Regional Championship schedule.  The previously announced schedule was withdrawn as a result of the COVID-19 crisis.  The new schedule features a series of Youth, Amateur and Vet regionals to be held from the first weekend in June through the July 4th weekend.
To guarantee a spot at a Regional Championship, riders must register online in advance with MX Sports starting today.  For the first 48 hours (through Wednesday, May 20th at 1 pm EST), registration will be open only to those riders that qualified at the seven Area Qualifiers that were able to be held prior to the pandemic and cancellation of the remaining Area Qualifiers.
Regional registration will cap at 72 riders per class, with all additional riders being placed in an Alternate Pool in the order in which they were received. Riders will only be allowed to enter for ONE Regional Championship until May 27th.  After this date riders will be able to register for additional regionals as availability permits.
Riders that qualified at the Area Qualifier level do not have to register for the regional assigned to the Area Qualifier they attended.  They are free to register at any regional.
MXA | MOTO | TRIVIA
Name the rider and year. Answer at the bottom of page.
TAKE THE MXA 2020 READER SURVEY & HAVE A CHANCE TO WIN FREE THOR GEAR!

Score free head-to-toe Thor gear now! Complete our reader survey we'll take your input to help improve future web and monthly print content of Motocross Action. One lucky winner will be chosen at random to receive a free gear ensemble from Thor (style and/or color may vary). This year's Thor (www.thormx.com) gear giveaway includes the following: Prime Pro jersey and pants, Sector Split with MIPS helmet, Radial boots, Sniper Pro goggles, and Agile gloves. That's $750 worth of products, so don't miss this opportunity to win all this stylish gear for free! Fill out the entire survey!
TREVOR NELSON'S MINI-GALLERY: DEEGAN'S, YODER & MORE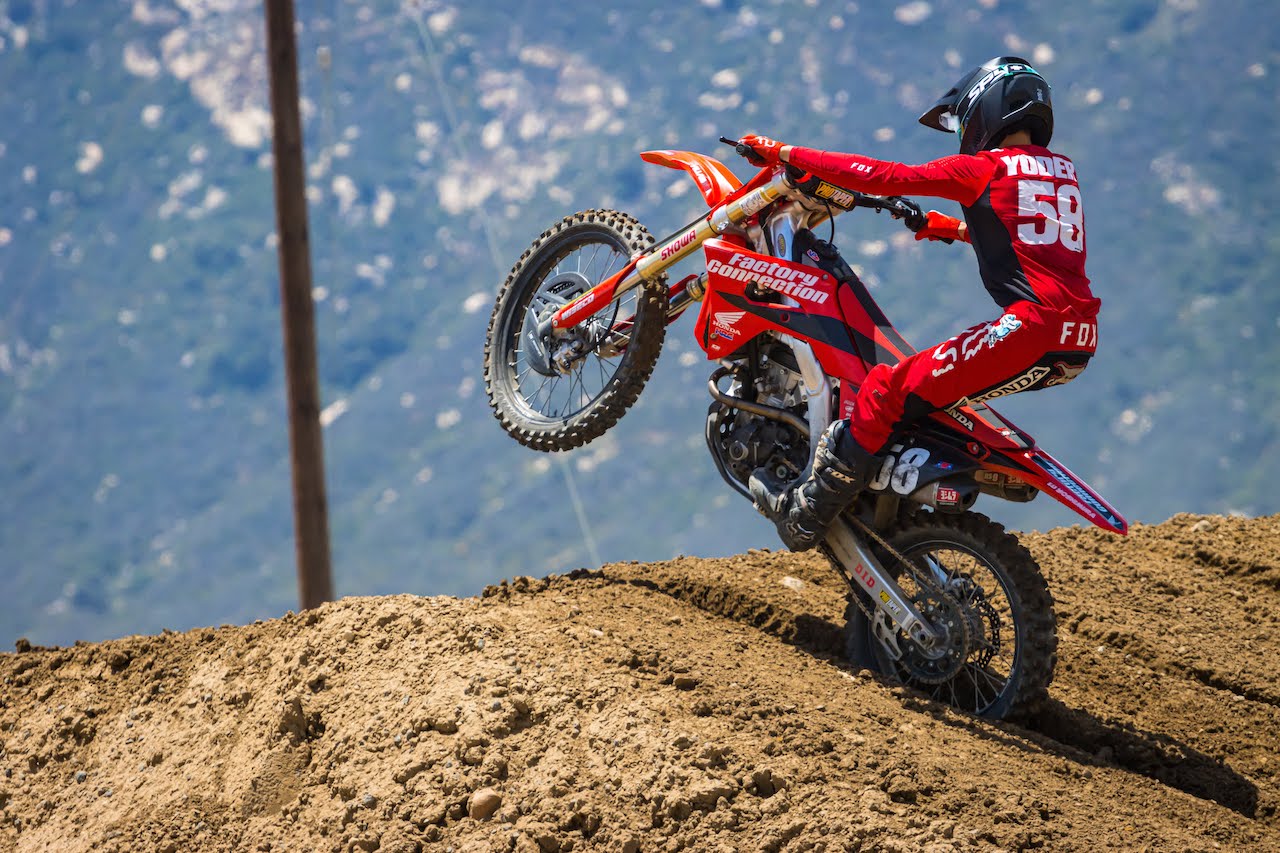 After it was announced that Supercross would return in Salt Lake City on May 31st, the Pros have been hard at it on the Supercross tracks. Meanwhile, it was also announced that the Loretta Lynn Amateur National regional qualifiers have a new schedule and they're indeed going racing soon! The amateurs will start racing their qualifiers in June and this meant that a lot of young and fast riders were out at Fox Raceway last week getting their laps in.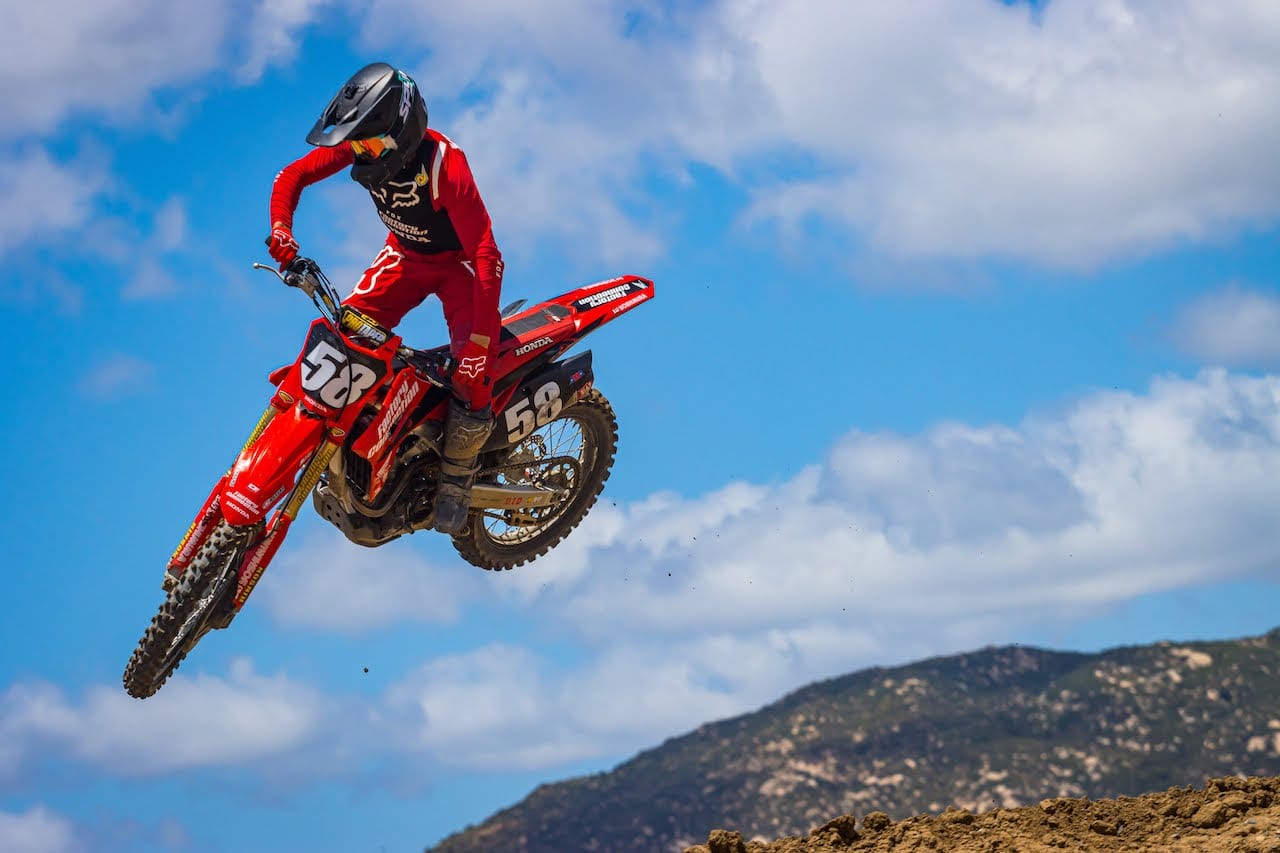 Geico Honda amateur rider Hunter Yoder has been going fast at the practice tracks lately and he's looking forward to going racing again soon.
Brian Deegan was out riding at Fox Raceway with his soon Haiden Deegan.
Brian Deegan's son, Haiden charging on his 85 in preparation for the upcoming regionals.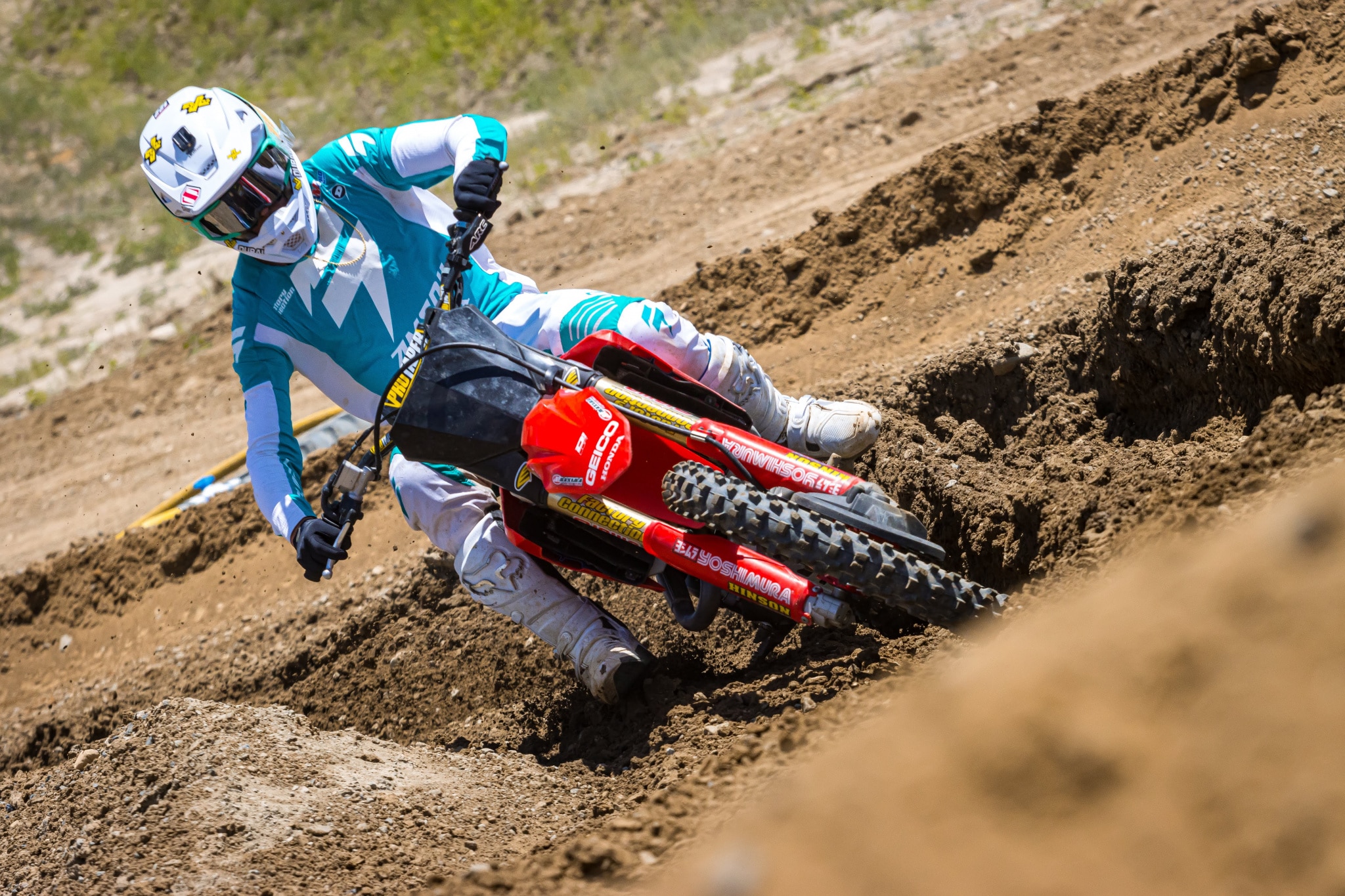 Carson Mumford hit a growth spurt and grew to be one of the tallest riders on the Geico Honda team in the last couple years. He was spinning laps on a Geico Honda CRF450 on Tuesday.
Charlie Harrison is primarily a UCI World Cup Down Hill racer, but when's he's not pedaling, he likes to cross-train on his dirt bike.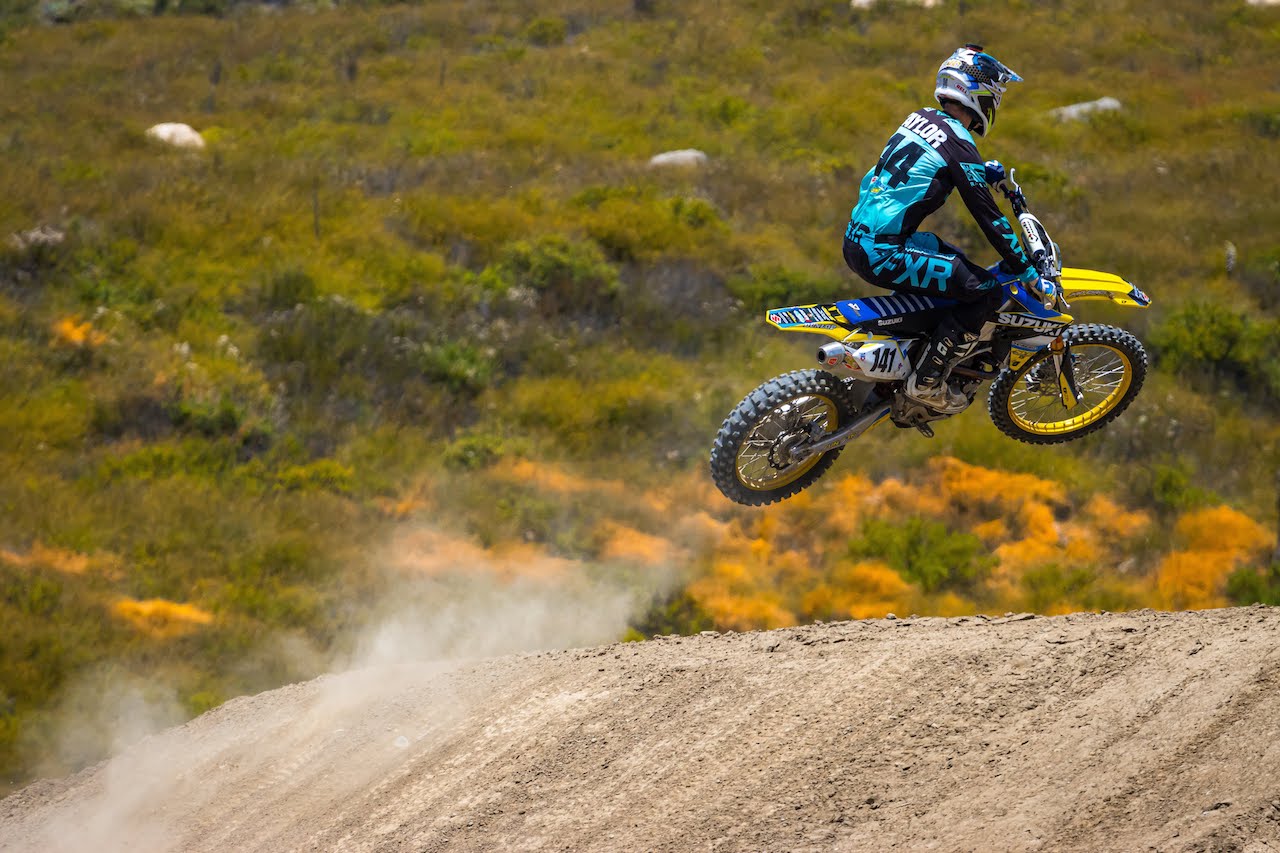 Richard Taylor was also going fast on his RM-Z450.
FOUND ON THE DARK WEB | POSSIBLE 2021 GASGAS LEAKED PHOTO
GET YOURSELF A MECHANIC WEAR MULTICAM FACE MASK
Mechanix Wear and Team Rubicon are working together to fight the spread COVID-19 in support of #NeighborsHelpingNeighbors. A veteran-led volunteer effort to help those affected by the coronavirus. $2 from every MultiCam® Mask sale directly benefits Team Rubicon and its deployment across the country. Our MultiCam Face Mask is constructed with durable CORDURA NYCO and made in the USA. Buy a 2 pack for $9.99 from www.mechanixwear.com
BORED AT HOME? TIRED OF RERUNS OF "SEINFELD?" TRY FREE ACCESS TO MXA DIGITAL EDITIONS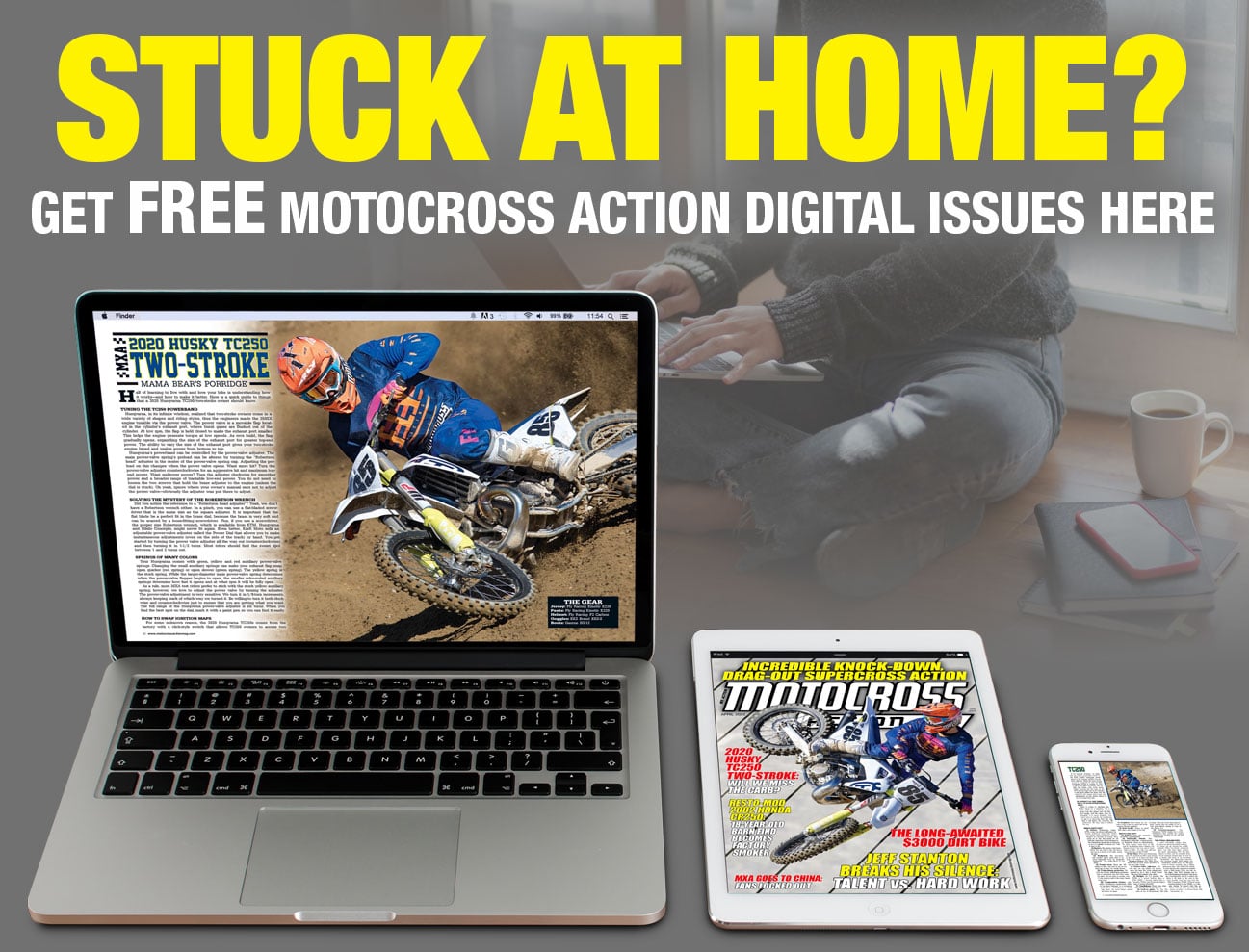 Click here or on the above photo to get your free digital issues.
TESTING OUR 2020 KAWASAKI KX450
Kawasaki's Mike Chavez came out to Glen Helen on Thursday to spend some time with the MXA wrecking crew and assist us with our KX450 project bike.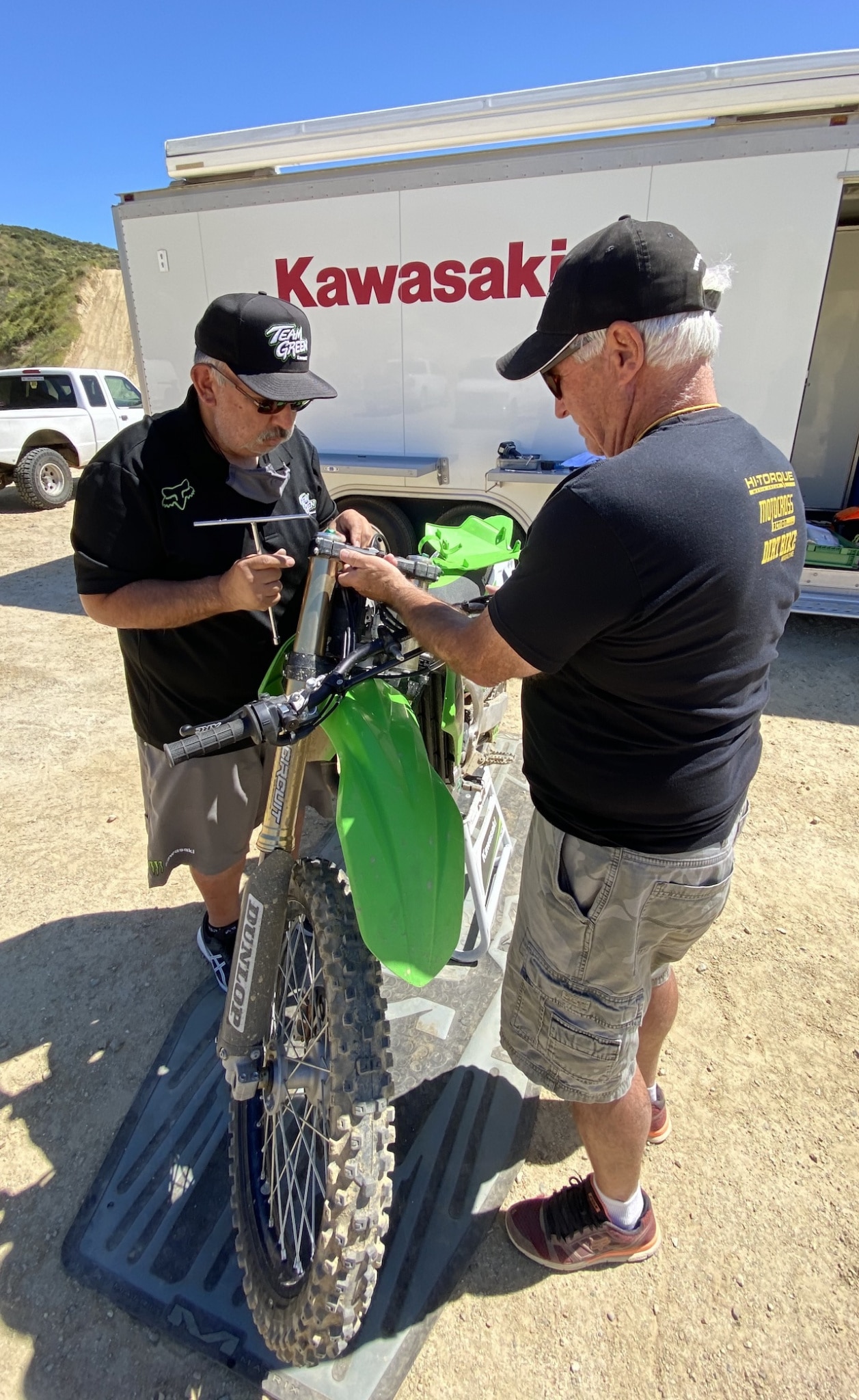 They don't call us the wrecking crew for nothing. MXA is known for being harder on our bikes than anyone else. Is that a good reputation to have? Well, yes! It's our job to figure out what's wrong and what's right with each bike so we can relay that information to our readers. This bike has been through the wringer and thankfully Mike brought some new bar mount rubbers to help us straighten out the front end and Jody helped him install them. 
 The two Josh's rode the KX450 back-to-back when testing out the mapping with Kawasaki. Josh Fout (pictured) is one of MXA's 30+ amateur test riders. 
LOST BUT NOT FORGOTTEN | 1999 KAWASAKI KX500
---
MXA Moto Trivia answer: Jason Anderson from back in 2011.