MOTOCROSS ACTION MID-WEEK REPORT
#WHIPITWEDNESDAY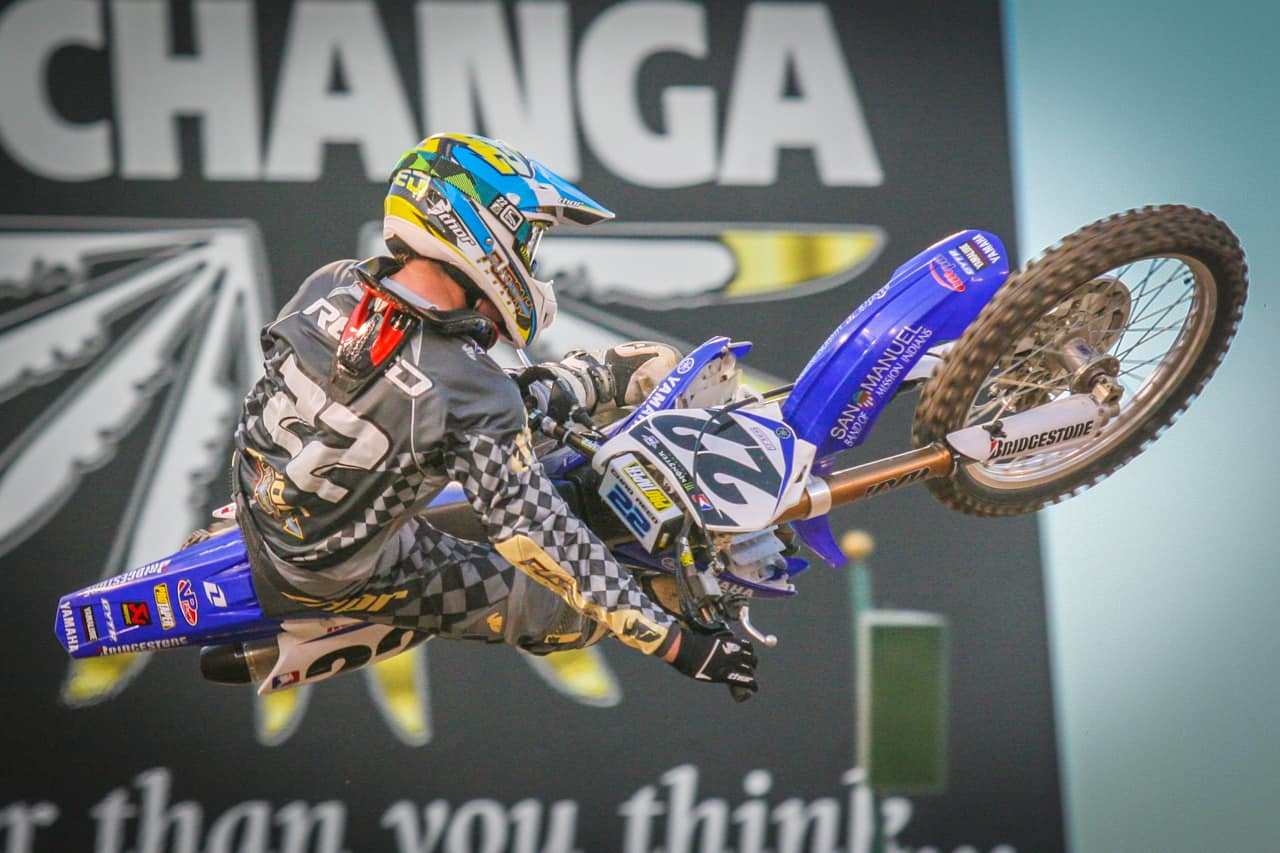 Rider: Chad Reed
Bike: 2006 FACTORY YAMAHA YZ450F
Event: 2006 Anaheim 1
Photographer: MXA Archives
Lens: 200mm f/2.8
Focal length: 185mm
Exposure: 1/1000sec
F-stop: f/4.5
ISO: 800
TWO-STROKE SPOTLIGHT: STUART TRANTER'S REPLICA JEFF MATIASEVICH 1997 KX250
Editors Note: Please keep those submissions coming. If you would like your bike to be featured in the "Two-Stroke Spotlight," please email me at [email protected]. All I ask is that you give a breakdown of your bike and a detailed description of the build. Please also send a few photos of your steed. By submitting your bike for the "Two-Stroke Spotlight," you agree to release all ownership rights to the images and copy to MXA. Please don't email me spam or try selling me Taylor Swift concert tickets or email me spam. Happy submitting your smoker.
TAKE THE MXA 2020 READER SURVEY & HAVE A CHANCE TO WIN FREE THOR GEAR!

Score free head-to-toe Thor gear now! Complete our reader survey we'll take your input to help improve future web and monthly print content of Motocross Action. One lucky winner will be chosen at random to receive a free gear ensemble from Thor (style and/or color may vary). This year's Thor (www.thormx.com) gear giveaway includes the following: Prime Pro jersey and pants, Sector Split with MIPS helmet, Radial boots, Sniper Pro goggles, and Agile gloves. That's $750 worth of products, so don't miss this opportunity to win all this stylish gear for free! Fill out the entire survey!
THEY SAID IT | SALT LAKE CITY SX ROUND 11
Broc Tickle: "I was really happy to be back at the races. I made it through three-quarters of the first practice and started putting the track together before I crashed. The bike flipped on top of me and it made contact with my right hand. I learned that I have a fracture in my right pinky metacarpal. I am bummed but I'm going to get some therapy and rest to get ready for next Sunday."
Justin Barcia: "It's nice to get the first round out of the way. It definitely wasn't how I wanted it to go. It was quite hot and being up here at altitude was definitely difficult. I had high expectations for myself coming into this round and kind of let myself down a bit. I think it's all things that can be easily fixed and turned around for Wednesday."
Aaron Plessinger: "It was no doubt a tough one for me. I was alright at the beginning of the day, but when the dry, slick conditions started coming out, I really started struggling. It was like riding on concrete with some rocks thrown in there. It's something that I need to get used to by Wednesday for a good result. I'm going to go back and get some redemption at the next one. Thankfully, we don't have that long to wait for it."
Cooper Webb: "It's good to be back racing. It's awesome just to be able to do what we love. I was battling up there in the beginning – we were all sandwiched – and I was able to actually get around Eli [Tomac] but then he went around us and really laid some good laps. During the middle of the race, I kind of lost speed a little bit and at the end I was really trying hard. I missed a rhythm at the end though, and that really cost me in maybe catching him."
Ken Roczen: "I felt pretty good. I had a decent start, but got bumped around a little bit and lost some positions, so we had to fight our way up there and were kind of just riding in a train; it was hard to make up time. I lost a couple of tenths and gained a couple of tenths here and there and then I kind of stayed the same. Obviously, Eli [Tomac] was super strong and Cooper [Webb] right in front of me, and I couldn't really make a move. I had a moment with about a lap to go where I almost crashed really, really bad, and then the last lap I really just rolled everything pretty much just to kind of bring it home. A podium is okay. Obviously we need to put ourselves in front of Tomac, but there's a lot of racing left and a lot of crashes out there, and with all the lappers, a lot of things can happen. Really, we just have to regroup and try again on Wednesday."
Justin Brayton: "It was a pretty good day. It felt so good to be back with the guys and the crew at the races and to get behind the gate again. Overall, I'm fairly happy with the day. The heat race was good; I got third there. I had a solid first half in the main and ran second for a long time. To be quite honest, I just pumped up about halfway in and kind of went backwards. Then I had a really big moment where I almost went down and that allowed a guy to get by me and some other guys to close the gap. I'm happy I didn't hit the ground on that one, that's for sure, and happy with a solid top-10 result. We've just got to keep this ball rolling, especially with the good starts that we got all day."
Garrett Marchbanks: "There was a lot that could have gone against us today with the track being so dry and still adjusting to the altitude and heat. And after so much downtime, it was hard to anticipate what to expect. With all those factors, we'll take a podium, but that's not where we want to be. I'm really glad we don't have to wait very long to line up again. We'll be ready to improve on Wednesday."
Eli Tomac: "It's so cool to get to go back to racing here in Salt Lake City and get back to riding and racing and doing what we know. Overall, awesome day there. The track got really slick at the end, lots of dust flying and lots of hunting for traction. I was a little slower early on, got to improve on that next time, especially if these guys up their game. So overall, really good day for points and just thanks to everyone."
Shane McElrath: "This is what we work to do. We had, I wouldn't say some struggles, but it was like a big learning curve for me the first four rounds [on my new team]. Our results don't show the progress we made. And now I've gotten to spend another 85 days since our last race on this bike and working with the team and making changes; and man, it's been a growing time, not only mentally, physically, but also spiritually. The Lord is using this time, whether you believe it or not, I believe that this is for a reason and I want to be a light. I want to honor this team and the Monster Energy Star Racing team. They want to win, they're competitive, and I feel like I fit right in there."

Colt Nichols: "It was honestly a really fun day and I was just really happy to be at the races again, even with the results. We had some tough luck in the main with a crash and a lengthy mechanics area stop, but in the end I just have to get off the gate better. All in all, I'm really happy to be back racing and can't wait to try again on Wednesday."
ICW RADIATOR REPAIR & MODIFICATION
We have an old beat up 2006 Kawasaki KX125 that we are bringing back to life. The radiators on the bike were bent and didn't fit. Why? Because the seller gave us a radiator that wasn't for the bike! We didn't realize this until we sent the radiators to ICW. Since they didn't fit, ICW was able to take the core from the radiator that didn't fit and retrofit it to another radiator by putting their talented touch on it to make sure that everything fit.
If you have bent radiators, leaky radiators or want to beef them up, ICW it to the place to get the job done right. www.icwradiators.com or call (919) 795-8084 or email [email protected]
WHAT THE MXA WRECKING CREW WAS UP TO THIS WEEK
This is Josh Mosiman's baby. He got a 300cc kit from KTM and had Twisted Development build up his 2020 KTM 250SX. Do you like the tan Acerbis plastics and Factory Effex graphics? We sure do. It is a different look that Josh came up with. 
The MXA wrecking had a lot to do last Thursday at Glen Helen. The staff's photog and Managing editor, Daryl Ecklund had to hop on a plane to Salt Lake City for 12 days to cover the remaining rounds of the Supercross series. But before he got on the plane he had to shoot action photos on 5 test bikes. We almost got all five done until our 1994 CR125 project bike seized a ring.
Josh still has a lot of testing to do on his project KTM 300SX to work out the kinks, but it was fairly on point straight out of the gate.
Second on the list was a red 2020 KTM 350SX that had a Cylinder Works 366cc big bore kit, Kayaba-kitted WP forks and lot of other cool stuff.

You can't tell that this is a 366cc engine from the outside. The Cylinder Works kit consists of a new cylinder, 2mm larger 90mm piston, rings and gaskets for $650.
The 2020 KTM 366SXF ripped. We still have more testing to do on it, but we believe that many riders will like the added power of the Cylinder works 366 kit. 
Our older test riders who love two-strokes thoroughly enjoyed riding the 2020 Yamaha YZ250X. It offers a better second to third gear ratio, a mellower powerband and Cadillac-like suspension. 
It's always nice to have friends in high places because they will water the road in front of where you pit to keep the dust down.

We also got our hands on a Husqvarna FX450 off-road bike. Why test an off-road Husky 450? That's simple. The FX450 is a really an FC450 with an 18-inch rear wheel, bigger gas tank, kickstand and new mapping. It had an unbelievably sweet powerband that every test rider from Pro to Vet loved.
MXA goes though a lot of Dunlop MX33 tires in a week. Luckily, Jay Clark gives us curbside service. He changed 10 tires in the morning before we started riding.
Our unique 1994 Honda CR125 had to go back to the shop for a little heart surgery, but it will be back in action soon enough — after all, it has been around since 1984, what's another couple weeks.
Unfortunately, the CR125 engine didn't last much longer after this photo was taken. The bike was running a bit lean and we decided to chance it. Oops, sorry.  
MOTO | TRIVIA
Who is this rider? Answer at the bottom of the page.
FORGOTTEN BIKES: THE ITALIAN WRM 450
The WRM 450 was a unique bike that was only developed as a prototype and never put into production.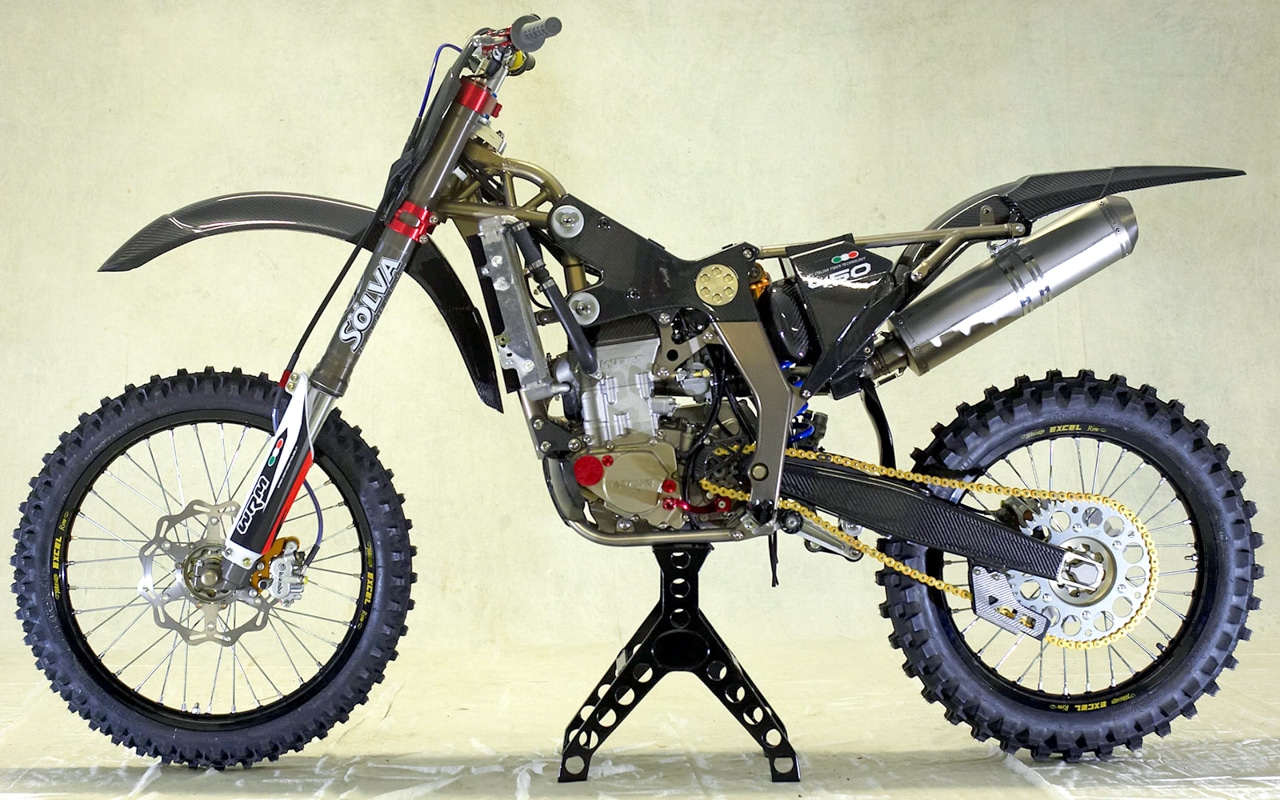 Underneath the hood were some interesting features. 
HAVE YOU SEEN THE JUNE 2020 ISSUE OF MXA? THE BEST OF AMERICAN MOTOCROSS
Aren't you tired of looking at awesome motocross photography on the tiny little screen of an iPhone, while holding it at odd angles to figure out what you're looking at?  Get the real deal and see those giant spread photos at 11-inches by 16-inches and live a little.
If you subscribe to MXA you can get the mag on your iPhone, iPad, Kindle or Android by going to the Apple Store, Amazon or Google Play or in a digital version. Even better you can subscribe to Motocross Action and get the awesome print edition delivered to your house by a uniformed employee of the U.S. Government. You can call (800) 767-0345 or Click Here (or on the box at the bottom of this page) to subscribe.
MXA YOUTUBE CHANNEL | HIT THAT SUBSCRIBE BUTTON

The MXA wrecking crew is everything moto related. Check out our MXA YouTube channel for bike reviews, Supercross coverage, rider interviews and much more. And don't forget to hit that subscribe button. 
CLASSIC PHOTO
Travis Pastrana raced three Supercross races in 2005 aboard this Suzuki RM250 two-stroke.
---
Moto Trivia answer: Mark Barnett.