MOTOCROSS ACTION MID-WEEK REPORT
#WHIPITWEDNESDAY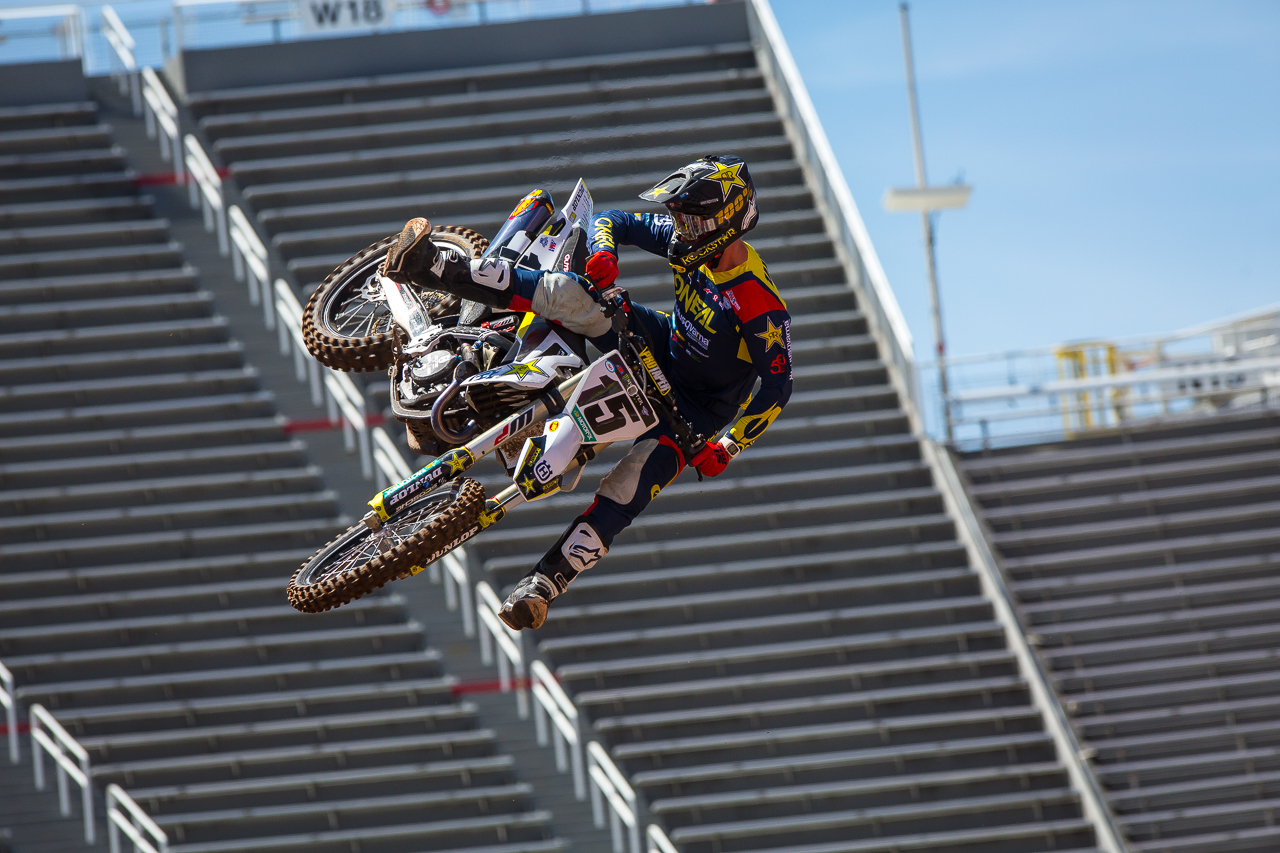 Rider: Dean Wilson
Bike: 2020 Husqvarna Rockstar Edition FC450
Place: Rice Eccles Stadium
Race: 2020 Supercross round 15 in Salt Lake City
Photographer: Travis Fant
TWO-STROKE SPOTLIGHT: CURT WINTER'S JAPANESE BLEND

"Hey MXA, I saw your article on a Honda CR500 AF. I've built and owned several of those and have always been a Honda guy, but I wanted something different. 500 AFs are everywhere, so I built something different. I bought a well used 1987 Yamaha YZ490, stripped it down to the frame and started the build. I graphed on rear suspension from a 2007 Honda CRF250, including the rear disc brake. In an effort to retain the old school look I opted for a set of 1997 Suzuki RM250 forks. I rode and raced it for a while, but never really liked the shortcomings of the Yamaha motor. For that reason, I installed the complete top end from a 1984 Honda CR500 (air-cooled) on a 1990 CR500 lower end and slapped that motor in the YZ chassis. Now it's got a motor worthy of the better suspension. I currently race it against modern bikes and have a blast. Truth be told, I was surprised how well it worked."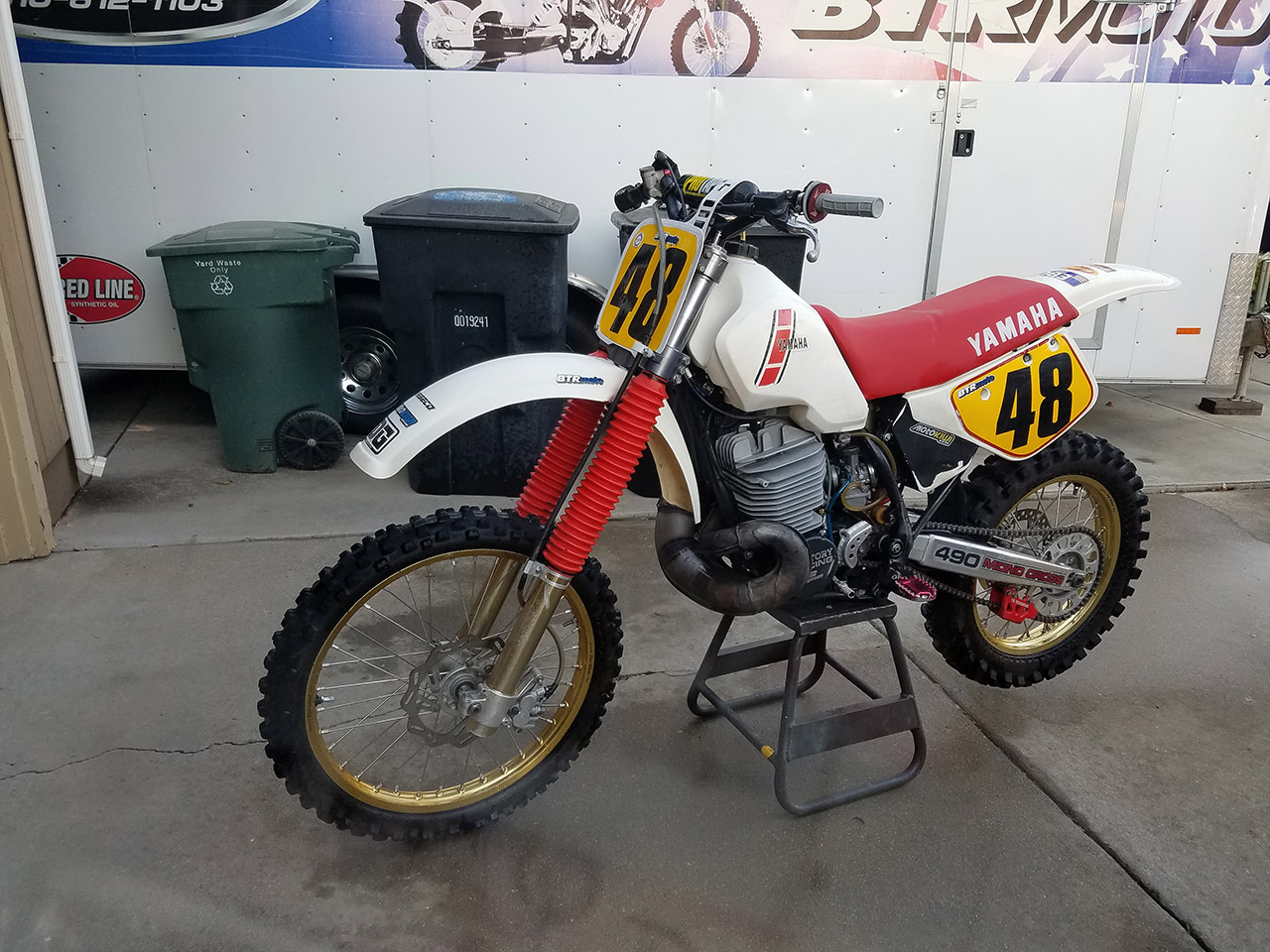 Editors Note: Please keep those submissions coming. If you would like your bike to be featured in the "Two-Stroke Spotlight," please email me at [email protected]. All I ask is that you give a breakdown of your bike and a detailed description of the build. Please also send a few photos of your steed. By submitting your bike for the "Two-Stroke Spotlight," you agree to release all ownership rights to the images and copy to MXA.
THEY SAID IT | SALT LAKE CITY ROUND 15
Broc Tickle: "Overall it was a better day on the track today. We made some changes in the right direction to give me more comfort on the bike. In the LCQ it was good to get a holeshot and get some more laps on the track."
Freddy Noren: "It may not show but I had some good improvements this race. We made some small changes to the bike that I really liked and my riding is getting better. I'm really looking forward to finishing strong in the next two rounds."
Cooper Webb: "The holeshot was huge tonight. Kenny was riding well and I knew he was a little faster, so when he got by me I was just going to try to pace him. I made a charge at the end but we were so close in times it's hard to make those chunks up. The track was definitely tough – it had a lot of flat turns, which was a little different than what we're used to. We'll come back in a few days and try to get the top step."
Austin Forkner: "After a few rounds where I was caught and passed by Dylan, it was my turn to catch him and get around him. It felt totally different to chase him down and there really weren't a lot of places to make a move since everyone was running pretty much the same lines. I had a small opportunity and I knew I had to take it. I know he would have done the same thing, and has done the same thing. It's awesome to be in contention for the championship as we head into the final race next week. We'll see what happens."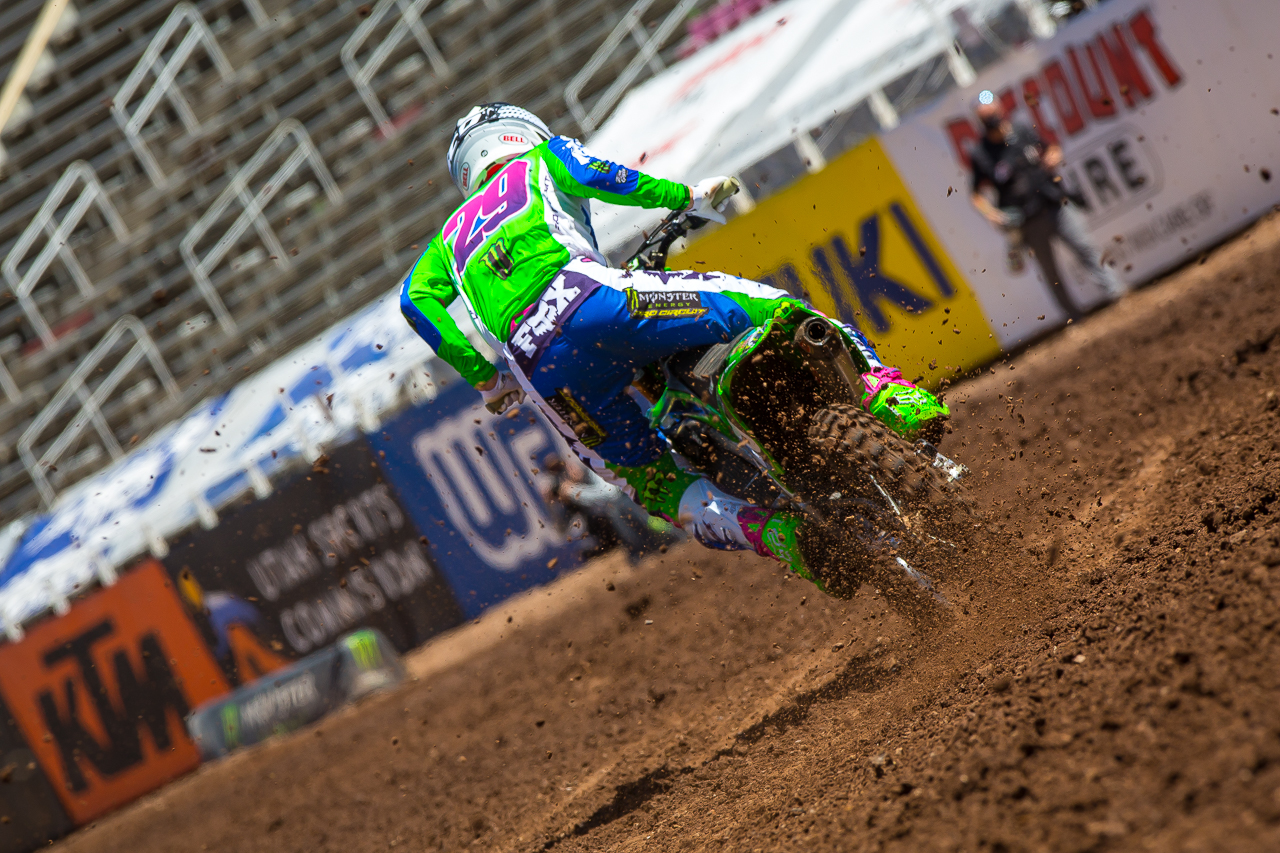 Cameron McAdoo: "It was tough to see that podium finish slip away because we've been working really hard to be up there every time we hit the track. I know I have been riding well and I will take that with me to the final race, but another podium finish would have been sweet to push through the week. Now we'll have to get back at it and make sure we come out ready to fight for it next Sunday."
Ken Roczen: "Tonight we did really, really good. I felt like I was able to go the full distance in the main, which was great. I knew it was just going to take a few extra days to get everything back lined up after the last couple of rounds and everything that's been going on with my body. We won our heat race, which was really stacked–I got a holeshot there and it was great. I really felt good with the bike; we've been tweaking it a little bit here and there, and I was really gelling with it nicely tonight. I kind of liked the track; the whoops got really chewed up again and I think that was one of my strong points tonight. We ended up getting the win, which was great because the last three rounds have been really tough on me and the team. It was good to come back and turn all that negativity around into something positive. Every time I go out and win for myself and my team, it feels like my first win back. We were the best tonight, which is awesome. The team is happy and I'm happy and looking forward to the race on Wednesday."
Justin Brayton: "I'm proud of that one–that was pretty good. I didn't get the greatest of starts, but I made some good passes early. There was just a train of us–like six, seven, eight, nine guys–and I ended up eighth; I felt pretty good about my riding and my effort. The bike was great. I'd have loved a little better track position at the beginning of the race to play into my strength, which was whoops–I felt really good in the whoops all day. Overall, I'm fairly happy with it–not super stoked on the position, but my effort, the bike and the way I was riding were really good. I'm stoked on that and super stoked on the team getting a win with Ken. It's awesome, and everybody here deserves it."
Justin Barcia: "I had a solid ride in the Heat race in third. It was the best I've ridden in a while. In the Main Event, I came out inside the top 10 and was riding really good. I feel like tonight would've been a top-five finish, it just didn't work out that way. I went into one of the ruts before the mechanic's area, and unfortunately that was like the only soft spot on the track. The rut caved in, my front wheel hit it and I ended up falling. I went all the way back to 16th and charged back to ninth. "The result really doesn't show the way I rode today and the progress that we've made on the bike. So that was definitely a little disappointing, but I think overall that's the best day I've ridden and the best I've felt on the bike. We just have to take the positives going into these next two races and try to keep it on two wheels, and just keep moving forward."
Aaron Plessinger: "I think today was pretty good, all in all. I got off to a really bad start in the Main. I really have to figure that out. I have got to get the jump on those guys and just bull dog my way to the front.  I was riding really good though and made my way back up to seventh. At about five minutes to go, I started struggling in the whoops quite a bit. The whoops were really slick, one side of them was cupped out and the middle was really slick. I just kind of tightened up in the last few laps and (Justin) Brayton got by me, (Blake) Baggett got by me and then Justin got by me. So yeah, I was a little frustrated with the way I rode in the last five minutes, but I have to take the positives out of it and move forward. Come Wednesday, I will try and get a better start and just ride the whole race as hard as I can. I'm looking forward to the next one and hopefully we can get off the line and break into the top five." 
Dylan Ferrandis: "It was a bad night for me. I got the holeshot from the outside in the Main which was good, but I made a small mistake and missed a rhythm when I saw a yellow flag and (Austin) Forkner got me after that. I lost some important points for the championship tonight. We have a few days off from racing now before the last round next Sunday and will keep working."
Justin Cooper: "I got a terrible start in the Main, which really hurt me. It made it really tough to come through the pack and I was just not aggressive enough to get by the people that I needed to in the early laps. I can't expect to be up front battling when I start outside the top 10. We have one more go next Sunday. I'll come back try and to finish out strong."
TIPS FROM PRO CIRCUIT'S SUSPENSION SHOP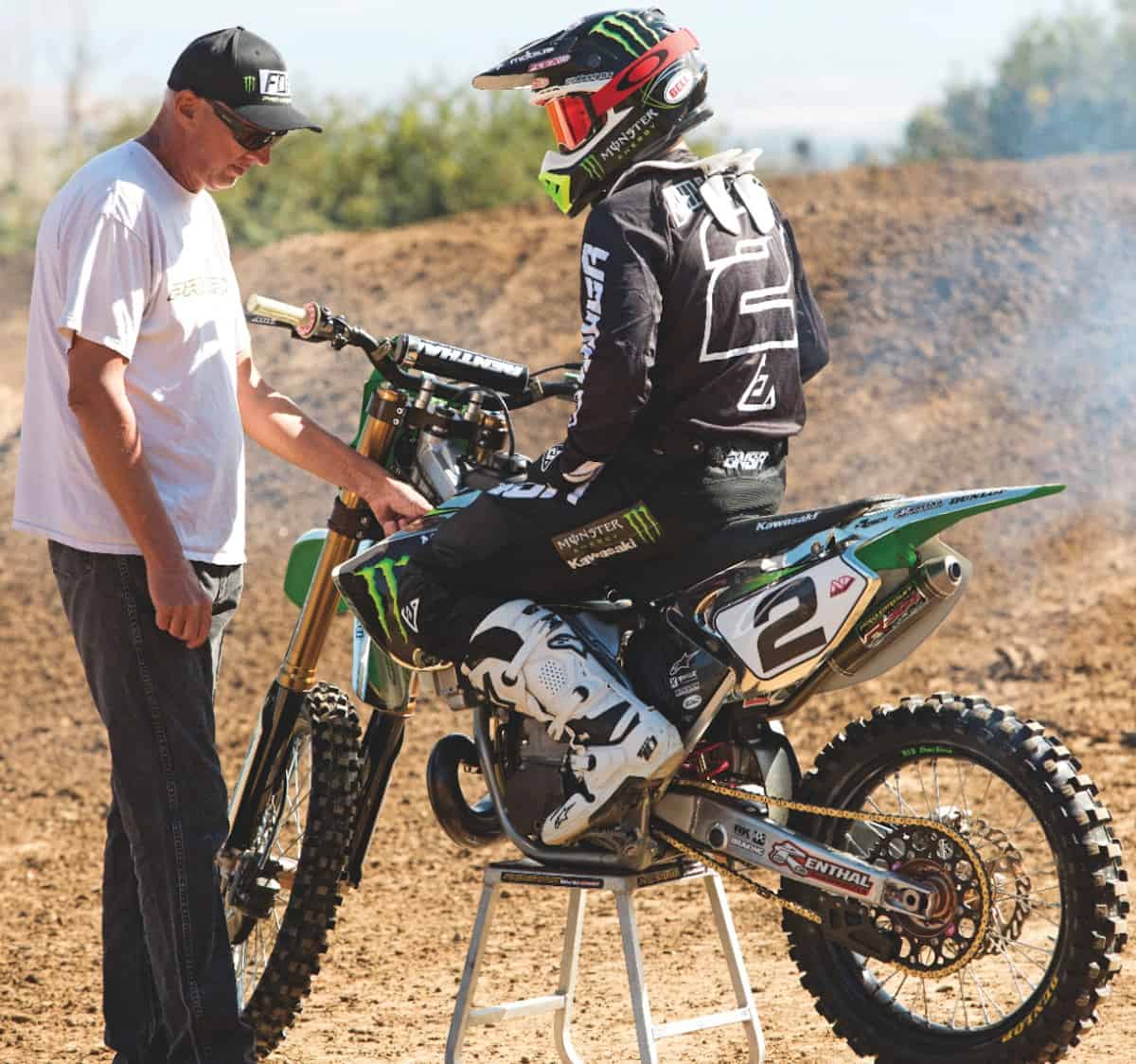 Bones Bacon with Ryan Villopoto. 
When it's time to talk suspension, you can count on Pro Circuit's Suspension Shop to be ready to answer the call. For decades, Jim "Bones" Bacon was tasked with the Monster Energy Pro Circuit Kawasaki team suspension, with his talents often flowing over into the customer shop. While Bones is still a constant presence at the shop, we've now given the reins to our newest suspension leader Luke Boyk.
Pro Circuit new suspension guru, Luke Boyk.
Luckily for our vast array of customers, Luke comes to Pro Circuit with a knowledge base of nearly all the suspension makers out there. Having worked for the last five years in pro racing, he's been excited to be able to work with the everyday rider to help them perfect their setup.
We nugged him for a few tips and here's what he had to say.
#1 – Setting Sag: A few years ago, Pro Circuit created a great tech-tip sheet on setting the sag that you can find HERE. Sometimes this is often overlooked but by setting the sag, you'll be able to feel a difference in the overall bike handling. The race team checks the sag every time they head out on the track.
#2 – Clickers: 
When we tell customers how to find their certain feeling (stiffer vs softer), we always suggest they get a baseline first. Know where you started, then go 3-4 clickers stiffer. Then go back to where you started. Then take it 3-4 clicks softer.
Always take notes
so you know what you liked and didn't like to help narrow in your desired setting. It's definitely some trial and error when finding what you like.

#3 – Call us anytime: 
If you still feel stuck, call us anytime! We just recently had a customer call in and tell us what he was experiencing, we gave some suggestions and they called us the next day blown away at the difference the suggestions made for him. Sometimes it just takes a little walkthrough to get you where you need to be.
Pro Circuit Main Line -951-738-8050.
#4 – Maybe it's time for a rebuild/service: But…there are times when we hear that the suspension has totally lost its feeling and we'll ask how long it has been since the suspension has been serviced. The longer you go without servicing, the more performance issues you'll notice.
We typically suggest every 15 hours for a really fast rider and about 20 for the standard rider. We also generally suggest every 40 hours for fork seals.
Our website lists a full rundown of the services performed for each bike and you can find that HERE.
MOTO | TRIVIA
Name the venue and year. Answer at the bottom of the page.
INSIDE JEREMY MARTIN'S GEICO HONDA CRF250
10 STEPS TO WASHING YOUR BIKE | By Brian Medeiros
Step 1: To make your job easier, before you leave the track you want to scrape off any packed up dirt and mud off your engine cases and under your fenders (doing this will help speed up the process).
Step 2: Once you get home and get unloaded you want to remove your seat and air filter. Carefully wipe away any dirt out of your air box and insert your air box wash cover. The reason for removing your seat is to not only to wash your air box but to prevent getting your seat wet and breaking down your seat foam.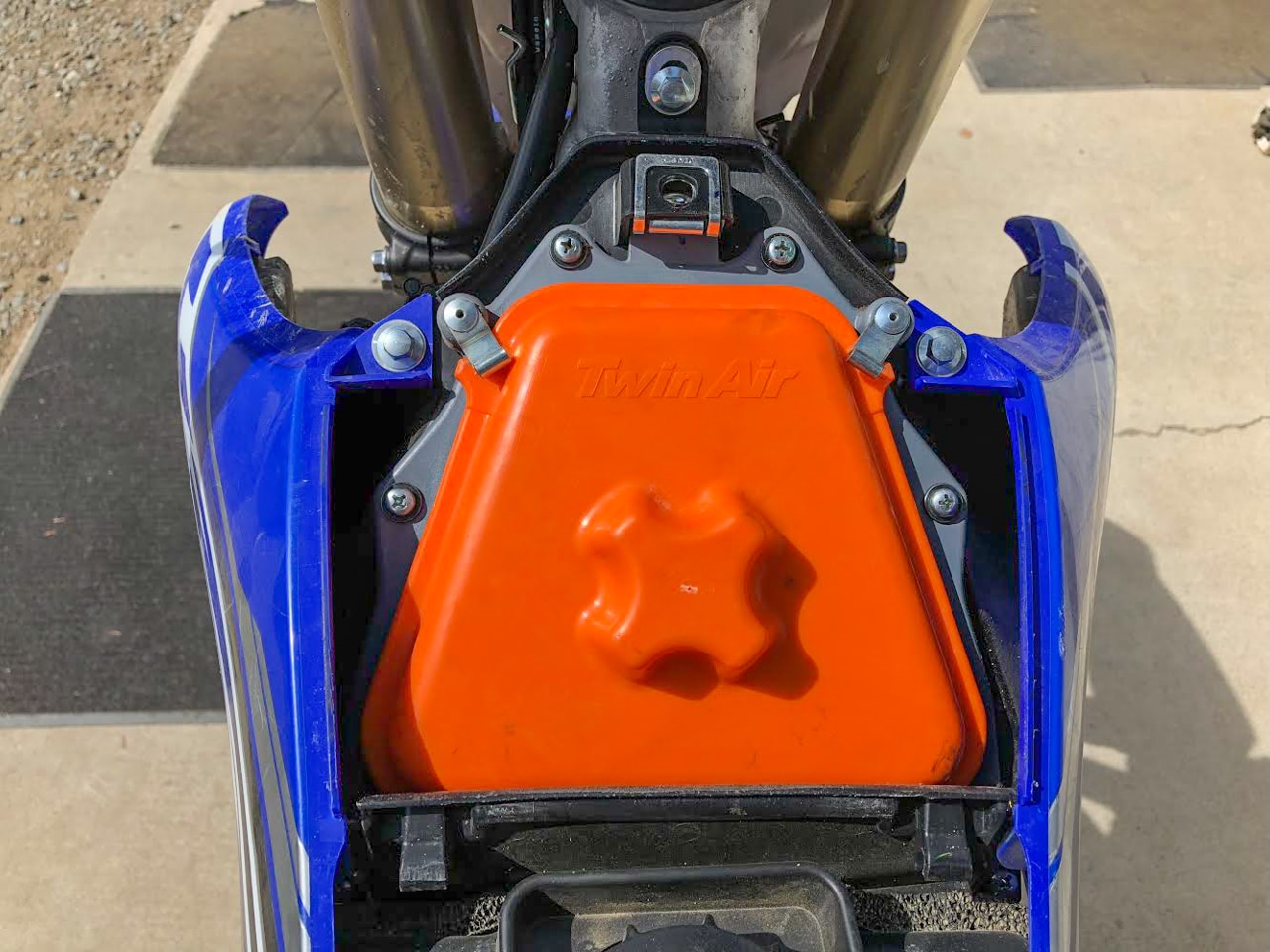 Step 3: Wheel your bike over to your wash area and use your stand to prop it up on its side. Using your pressure washer spray off any dirt and grim that is on the underside of your motorcycle. Avoid any direct contact with your pressure washer to any electrical connection's and pivot point's of your motorcycle
Step 4: Once you have the underneath of your motorcycle clean proceed to put it up on your stand, continue to spray off all the loose dirt.
Step 5: At this point, you want to get your spray bottle filled with the soap of your choice (in this case Mr. Clean) and soak your bike in soap.
Step 6: Once you have your bike all soaped up, take your green scotch brite pad and scrub your frame, always remember to scrub parallel to your frame to avoid leaving scratch marks. (KTM & Husky owners skip this step).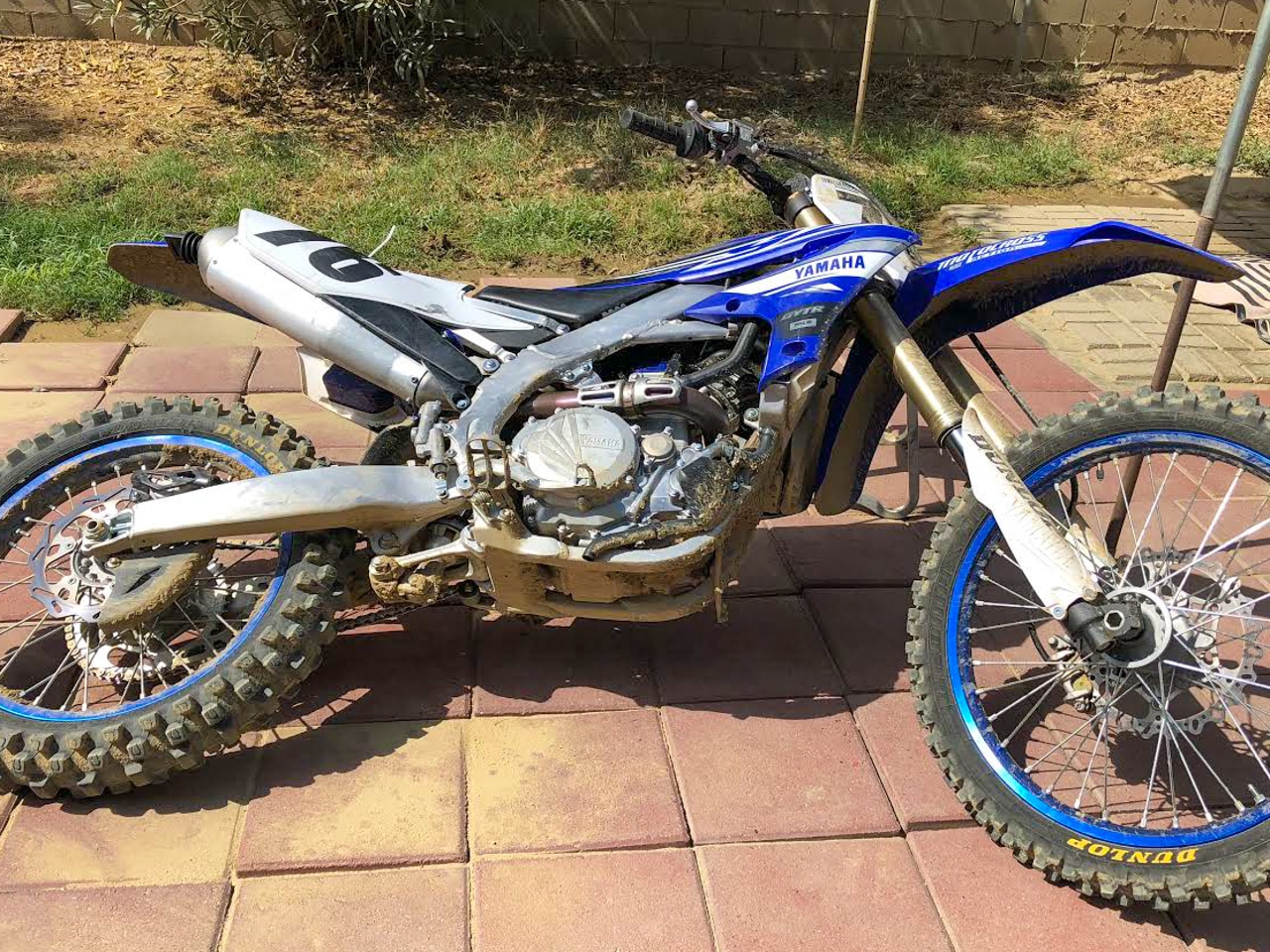 Step 7: Spray off all soap and remaining dirt that is on your motorcycle continuing to avoid direct contact with electrical connections and pivot points.
Step 8: Now that you have your motorcycle all clean, wipe it down with a clean towel or if you have a compressor blow off any access water, again avoiding direct contact with your electrical connections and pivot points.
Step 9: Remove your air box wash cover and wipe away any water that may still be in your air box and install your new air filter. Install your seat and spray it with Windex and wipe it down with a clean towel
Step 10: Start your motorcycle and let it run for a few minutes, this will help evaporate any water that may still be sitting on your motorcycle. If it is time for an oil change this will be a good time to do it since the engine oil will be nice and warm. Also, take some chain lube and make sure your chain is properly lubricated to prevent corrosion.
Notes: Washing your motorcycle is never as fun as riding it, but it is an important role in making sure your bike is clean and ready for another day of riding with your buddies. When washing your bike always remember to inspect all wear parts to see if it's time for them to be replaced (chain, sprockets, chain guide, sliders, brake pads, etc.) We hope that this information will help you keep your motorcycle in tip-top shape.
HAVE YOU SEEN THE JULY 2020 ISSUE OF MXA? TWO-STROKES FROM MILD TO WILD, BIG TO SMALL, EXOTIC TO STOCK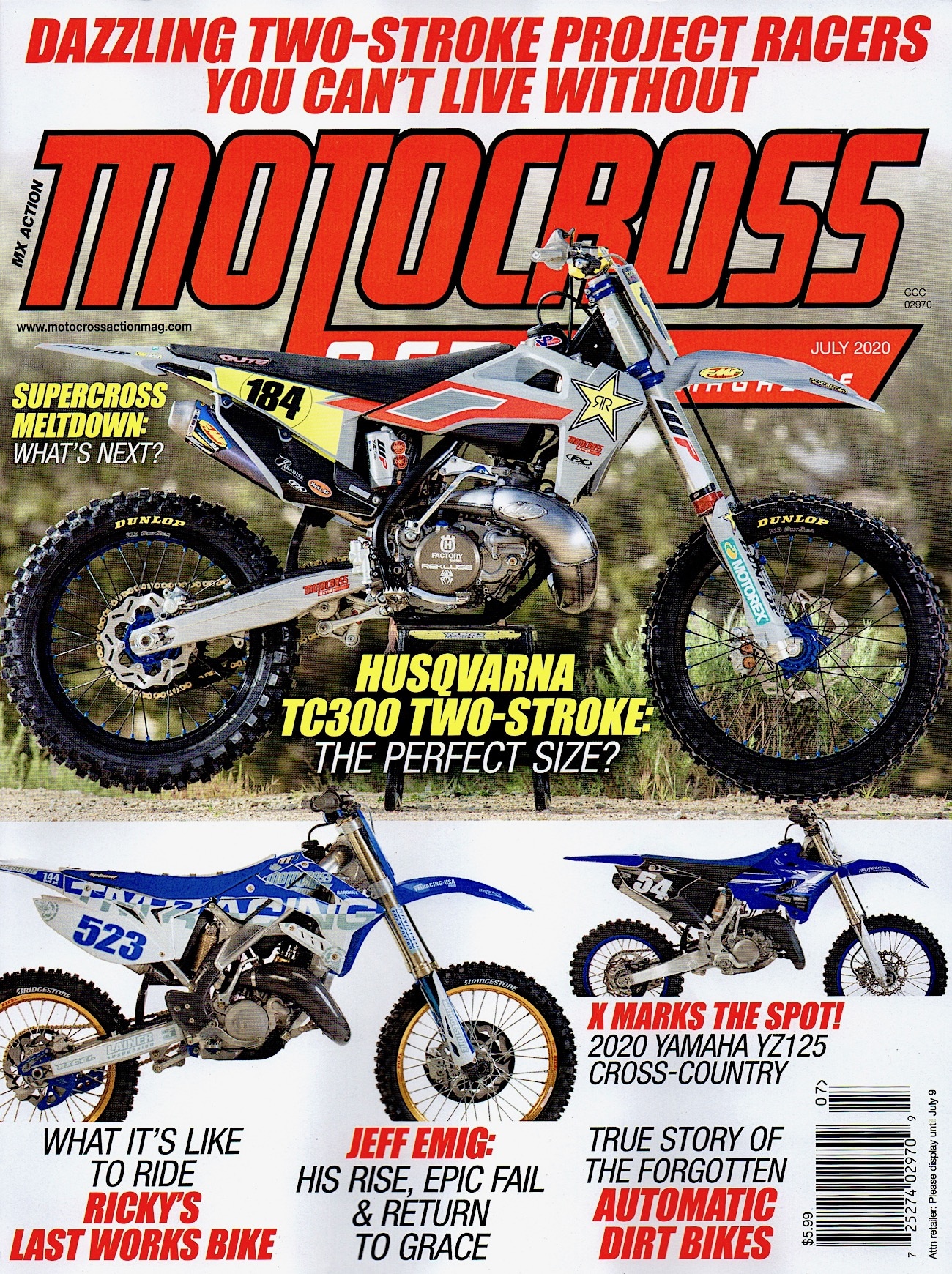 The MXA wrecking crew has been building hot-rod two-strokes at a record pace to have them ready for the 2020 World Two-Stroke Championship on October 3. Not the least of which is our Husqvarna TC300 racer—built with Jason Anderson's factory engine.
HOW TO SUBSCRIBE TO MXA SO THAT YOU NEVER MISS ANOTHER ISSUE
If you subscribe to MXA you can get the mag on your iPhone, iPad, Kindle or Android by going to the Apple Store, Amazon or Google Play or in a digital version. Even better you can subscribe to Motocross Action and get the awesome print edition delivered to your house by a uniformed employee of the U.S. Government. You can call (800) 767-0345 or Click Here (or on the box at the bottom of this page) to subscribe.
MXA YOUTUBE CHANNEL | HIT THAT SUBSCRIBE BUTTON

The MXA wrecking crew is everything moto related. Check out our MXA YouTube channel for bike reviews, Supercross coverage, rider interviews and much more. And don't forget to hit that subscribe button. 
FLYING IRONHORSE RANCH FACTORY RIDER PHOTO GALLERY | photos by Travis Fant
Flying Ironhorse Ranch in Coalville, Utah, has been a popular stop by the factory riders between their race days in Salt Lake City. The beautiful landscaped Ranch has offered great outdoor National training for the riders that are stuck in Utah for Supercross. 
Martin Davalos blitzing the whoops. 
Ken Roczen getting roosted. 
Chad Reed.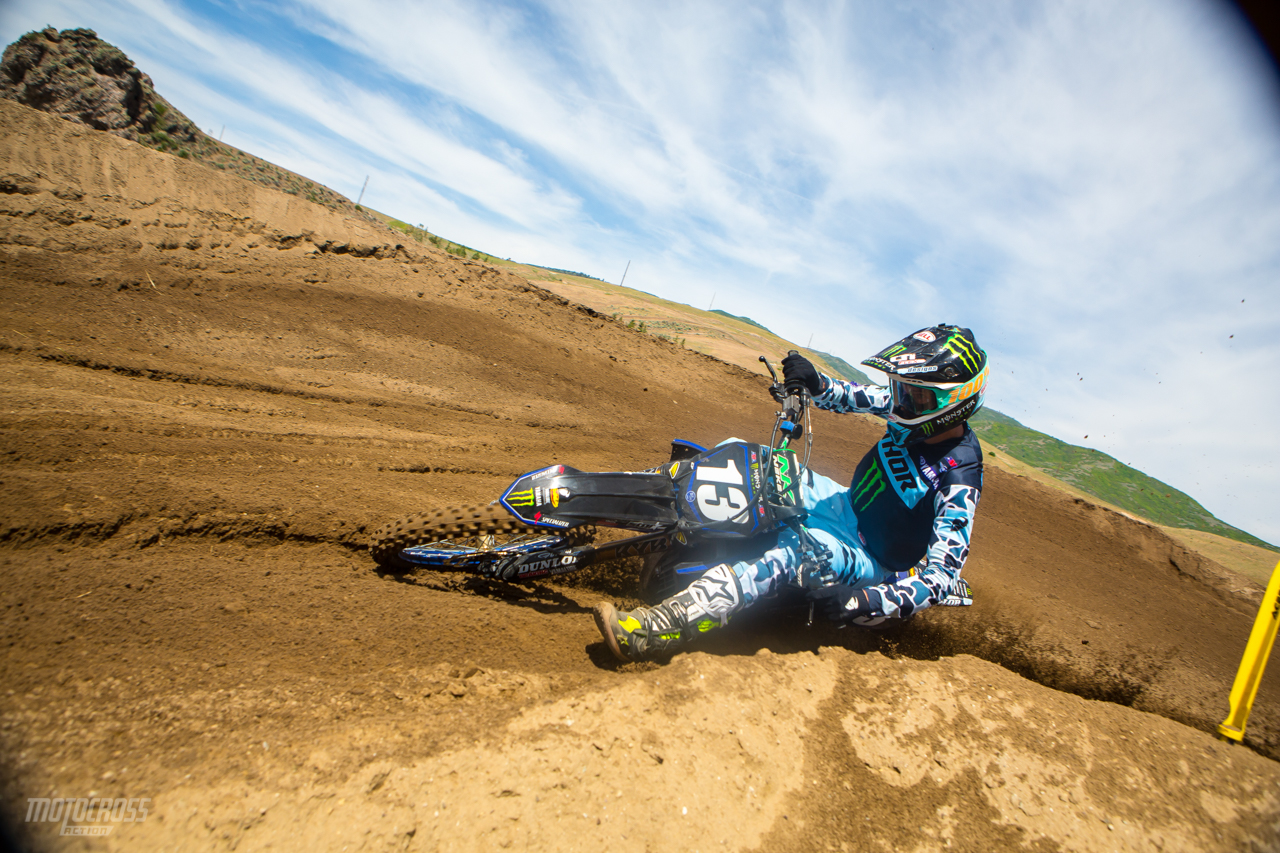 Colt Nichols getting low. 
Shane McElrath blowing up one of the sand corners.
FORGOTTEN BIKES: 1998 HONDA CR125
TAKE THE MXA 2020 READER SURVEY & HAVE A CHANCE TO WIN FREE THOR GEAR!

Score free head-to-toe Thor gear now! Complete our reader survey we'll take your input to help improve future web and monthly print content of Motocross Action. One lucky winner will be chosen at random to receive a free gear ensemble from Thor (style and/or color may vary). This year's Thor (www.thormx.com) gear giveaway includes the following: Prime Pro jersey and pants, Sector Split with MIPS helmet, Radial boots, Sniper Pro goggles, and Agile gloves. That's $750 worth of products, so don't miss this opportunity to win all this stylish gear for free! Fill out the entire survey!
RAW FOOTAGE OF JUSTIN BARCIA FROM BAMBAM LAND
CLASSIC PHOTO
Costa Rica's Ernesto Fonseca back in 2001 on the Yamaha of Troy team. He went on to win the 125 West Coast title that year.
---
Moto Trivia answer: Budds Creek back in 1997.