MOTOCROSS ACTION MID-WEEK REPORT
#WHIPITWEDNESDAY
Rider: Ricky Carmichael
Year: 2001
Photographer: MXA Archives
TWO-STROKE SPOTLIGHT: MORTEN LARSEN'S HONDA SMOKERS (FULL STORY)
"I raced many bikes, build many, and tested around everything produced since the 80´s. But some bikes stand out, and over the years you have a tendency to make them even more fantastic or bad than they might have been. One bike stood out more than any other bike; My 2001 CR250. I got it at the end of 2001, and kept on racing it to the end of 2007, when I finally was "convinced" like everybody else that big four-strokes were the way forward.
"I still insisted to own a Honda two-stroke, so I got a brand new 2007 Honda CR125, just so I'd never forget how real motocross bikes was supposed to be. I raced 250F´s for some time, had different 450´s but never really liked the big four-strokes. Yes, they were fun, easy to ride, but heavy, dull, and boring.
"Some of the fun was gone. It was not until I tried the KTM 450SXF 2016 model, that I started to see that 450´s could be fun bikes.
"I tried the newest 250 two-strokes, but did not really like any of them. The YZ is not new anyway, the TM is fine. The SX and the Husky, have no top end, and all the time I still had the 2001 CR250 engine in the back of my mind.
"Still, the problem when you get older is that you really believe that everything was  better back in the days, so there was only one thing to do: Get a New CR250 and find out if I am an old idiot, or for some reason know what I am talking about."
SOLUTION: "My friend Benny and I decided to be serious about it. We drove around most of Scandinavia on the special Honda hunt. Benny found a CR125 06, that had 20 hours on it´s back. I found up north in Sweden a 2001 CR 250, that never had been raced on tracks, and had 50 hours on the clock.
"Benny´s bike was super fine, but when I got my 2001 home in the workshop, it looked a little old school on many points. Okay! The first idea was to build a CRF AF bike, but that had been done by many, and I know there is a big difference in building a nice custom bike, and creating an effective racing bike.
"I did not want a glimmer bike, I wanted something I could beat the crap out of, with a big smile on my face while I´m doing it.
"So I drove back to Sweden and bought a 2004 CR250. The decision on the 250´s was to use the '04 frame, with the '01 engine, and because I wanted a NEW bike I went a little berserk on the details. New Crank, nikasil, clutch, bearings, piston, membrane, exhaust system, did a lot of blueprinting, and optimizing, on ports and cases. I did not want to change the port timings, but just wanted to do what the factory never wanted to use time to finish.
"World's best front brake exists on a TM bike. Brembo caliber, and a Honda master, so therefore I took a 450SXF fork, triple clamps and all, modified it all, and made it fit on my Honda.
"Benny´s 125 did get the same engine job even though his bike only had the 20 hours ride time. We insisted to make "new" bikes, but better, so he also got a new crank, ceramic bearings, we even got the new crank balanced out, to make sure that those engines would rock. I knew that the stock CR engine did not have much top end, and if you start to work on it, you lose the bottom, but the decision ended up being: mid and top end until the cows come home, and we made sure that there was a life after dead.
"The 125 got a 2016 CRF450  front fork, and   a 270mm Moto Master brake kit. We threw away the air internals on both forks and installed the new MX-Tech Lucky spring kit.
"It was perfect timing that we were at MX-Tech US working with Jeremy on the new MX-Tech National shock, just at the time where our bikes was near completion, so we created two shocks that would fit the Hondas."
CALCULATION: "The main idea was to make two CR's that would be new, but better, and not be a joke against bikes from 2019. Then of course I also had find out if I was just lost in the dreams of yesterday, or prove that the four-stroke movement is not as fantastic as it try to look like."

TEST:
CR 125: "You gotta love this bike! It feels light, brakes are perfect, the engine screams to the moon, and the suspension eat up everything.
CR 250 : "Surprise! It is true that the new KTM 250SX hit hard right from the bottom, better that anybody else, but the CR250 engine is just something else; due to the engine work, that engine is not hard hitting. Nope! It is super crisp and fast right from the start, it does not come on with a bang, it just getting stronger and stronger all the time, and best of all, is revs like a 125.
"That engine is just stinking fast, pure and simple! I´m in love! The suspension is dialed in and the Huck valve system handles all my mistakes on the track. My KTM 450SXF got the same suspension, and the bike is awesome, but sorry to say, this CR is close to being the best bike I've ever had."
WHAT DID WE DO TO THE LEFTOVERS FROM THE 250 BUILD? "We made a 2001 CR250  with the '04 engine, upgraded everything, and gave it to a promising 15-year-old  125 B-class rider, so he could grow some A-class muscles. We got a problem now; he loves that bike so much that his new 125 is standing in the garage collecting dust.
"We made the kid try all the kinds of bikes he can swing a stick at, and then asked him; 'If you could get any bike you want for next season, what bike do you want ? 'I just want a CR250, that is the most fun, coolest bike I ever tried.' " –Scandinavia's  Morten Larsen.
EDITORS NOTE: Please keep those submissions coming. If you would like your bike to be featured in the "Two-Stroke or Four-Stroke Spotlight," please email me at [email protected]. All I ask is that you give a breakdown of your bike and a detailed description of the build. Please also send a few photos of your steed. By submitting your bike, you agree to release all ownership rights to the images and copy to MXA.
MXA | MOTO | TRIVIA
Who is this rider? Answer at the bottom of the page.
TAKE THE MXA 2020 READER SURVEY & HAVE A CHANCE TO WIN FREE THOR GEAR!

Score free head-to-toe Thor gear now! Complete our reader survey we'll take your input to help improve future web and monthly print content of Motocross Action. One lucky winner will be chosen at random to receive a free gear ensemble from Thor (style and/or color may vary). This year's Thor (www.thormx.com) gear giveaway includes the following: Prime Pro jersey and pants, Sector Split with MIPS helmet, Radial boots, Sniper Pro goggles, and Agile gloves. That's $750 worth of products, so don't miss this opportunity to win all this stylish gear for free! Fill out the entire survey!
RAW FOOTAGE OF JUSTIN BARCIA FROM BAMBAM LAND
THEY SAID IT | SALT LAKE CITY FINAL
 
Eli Tomac: "Just unbelievable circumstances. I just always think back to the whole of this lifetime worth of riding, and just going through everything. The failures with the team, coming here, with the whole COVID going on right now. So pretty unbelievable. There was a time we didn't even know if we were even going to ride or not between Daytona and this swing of the series. And it's finally here and, unbelievable!"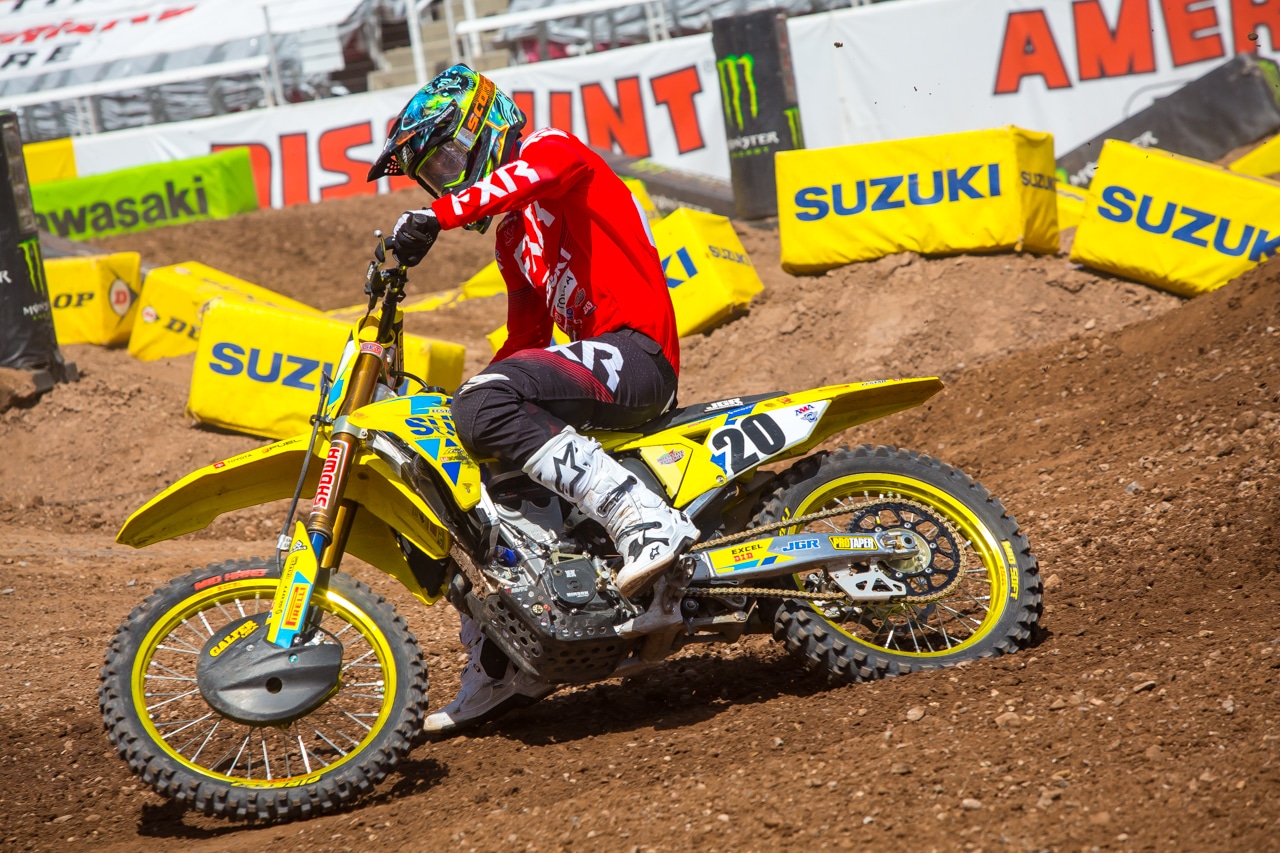 Broc Tickle: "Today was a huge step in the right direction for me. I started the day off better in practice and improved throughout practice qualifying. In the heat, I grabbed my first holeshot in a long time. I started sixth in the main and managed to stay strong and steady. This was huge for me and the JGR squad. Thank you to everyone who has made the Salt Lake City racing possible and for the support in getting me back to where I belong."
Freddie Noren: "My speed is getting better and my ankle is improving, which is good. I'm happy to finish the last round safe. It will be great to now be able to work on my endurance and speed going into the outdoors."
Alex Martin: "Racing the last round of Salt Lake City was touch and go for me all week. I was managing an injury fairly well but made a mistake in the re-start of the main and lost a lot of ground trying to recover. It was a frustrating way to end the series, but I'm very motivated to get myself and the team up front where we belong in the upcoming outdoor series."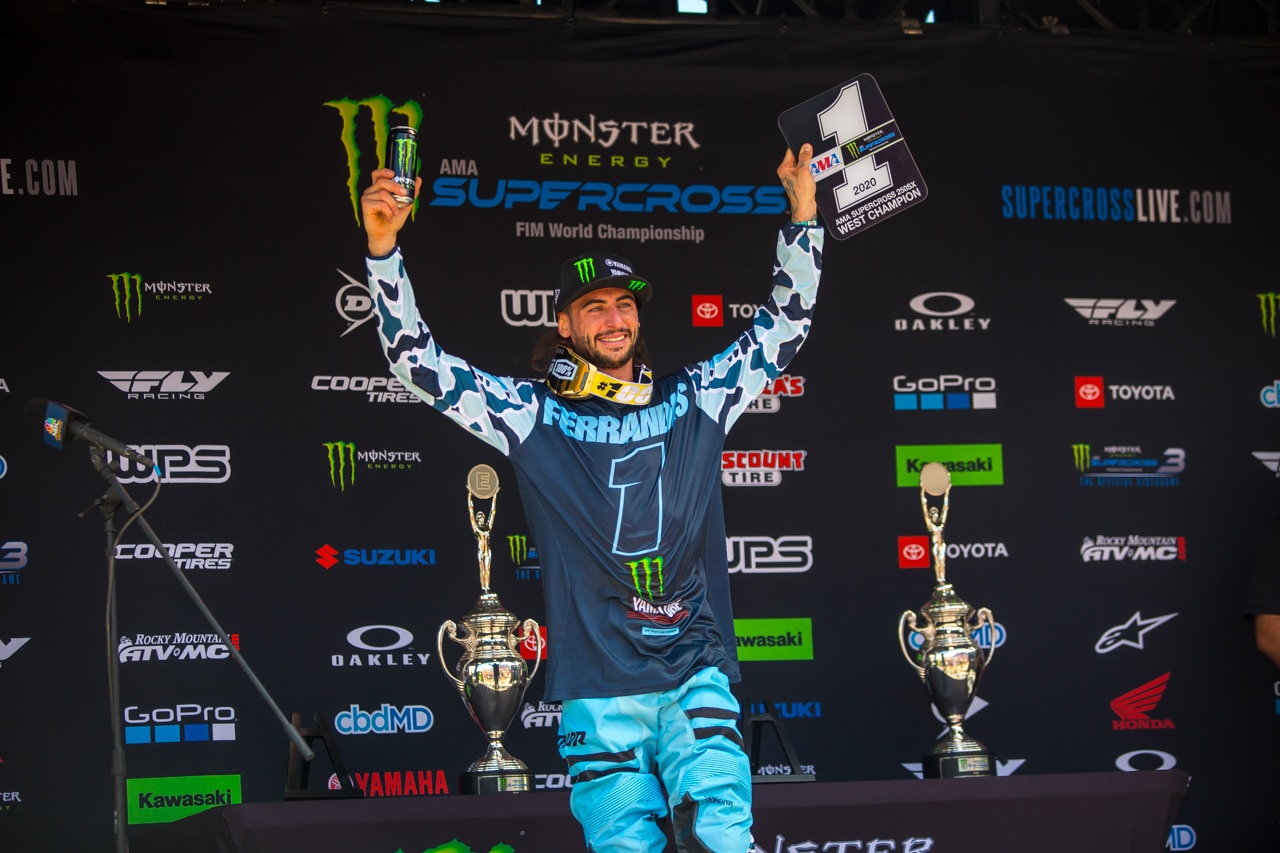 Dylan Ferrandis: "I'm pretty pumped about the way I ended this season even though I had a very difficult day. It was the most difficult day of my life. There was so much emotion today after having to win the LCQ. I've never had to race an LCQ in my four years of supercross and to have to come through today with the championship on the line, that was tough. I secured my championship in the Main to get back-to-back 250SX West titles. It is more than a dream come true. Thanks to my team, my wife and my trainer DV (David Vuillemin). I'm so happy!"
Shane McElrath: "I'm pretty disappointed that I didn't get the championship this year, but since I've been on this team I've learned so much and grown so much as a person and a rider. I'm learning from my mistakes and looking forward to moving on to the Outdoors."
Justin Cooper: "It was a pretty good day until the Main. A rider cross jumped me and put me on the ground pretty hard. On the restart I didn't get a good start and I just kind of rode the race out. I didn't really have it in me after the crash. I'm going to put it all behind me. I'm excited for the Outdoors!"
Cooper Webb: "It was a rough Main Event. I kind of struggled with the track a little bit and I didn't ride my best race but I came back to eighth, so I was able to secure second in points. I obviously wanted to keep the podium streak going but it is what it is. Overall, it was a great season and we'll get ready for outdoors."
Chase Sexton: "Man, it feels good. Everyone said I got lucky last year, and that kind of fired me up coming into this season. I won five main events, and I couldn't be more excited. I can't thank my team enough; they've been behind me since day one."
Zach Osborne: "That was a great race for all three of us. It feels amazing to get some results here at the end of the season for my team. It was an incredible day and I'm just really proud for the whole team to be on the podium. It's been an amazing trip in Salt Lake City."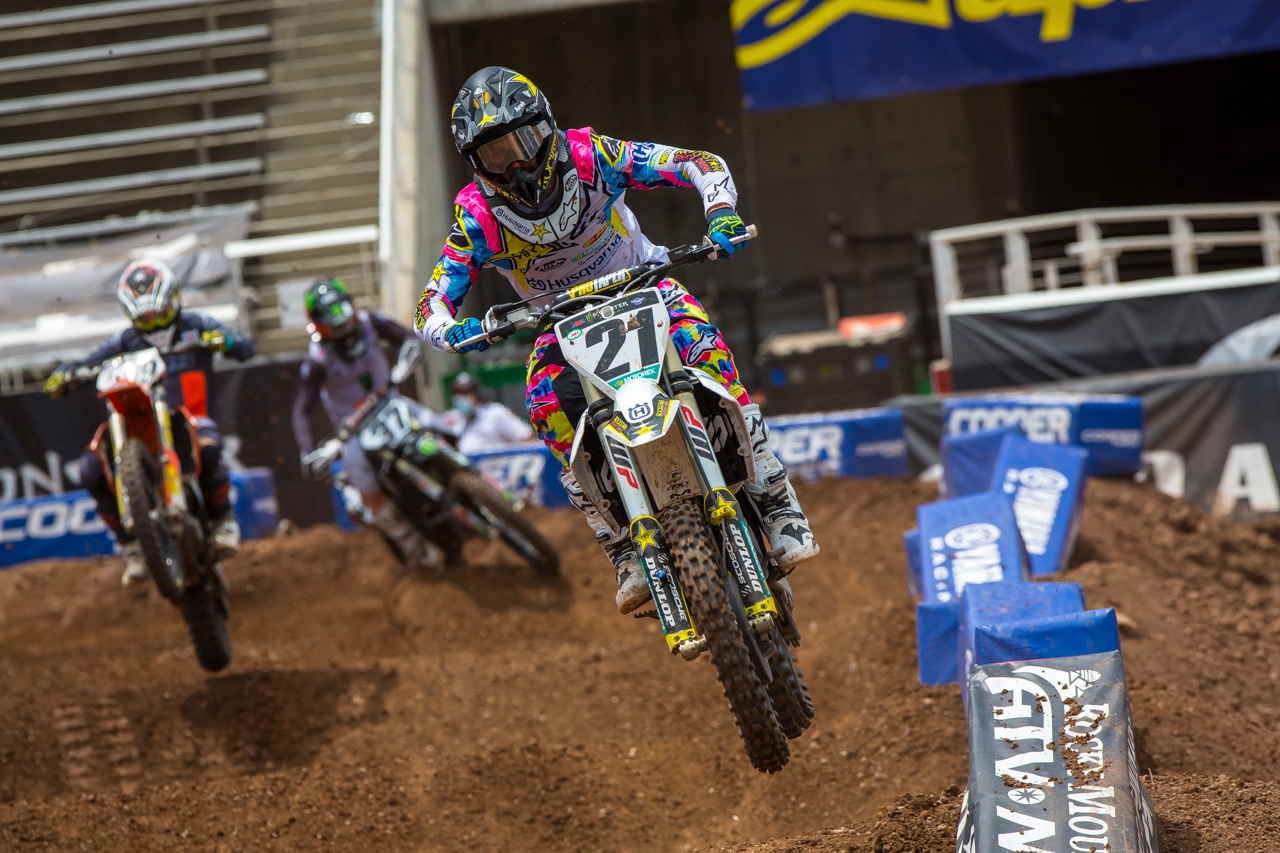 Jason Anderson: "All-in-all, it was a good trip in Utah and ending it on a high note with all three of us on the podium was good. I enjoyed Salt Lake City, so let's do this again and get ready to go for outdoors."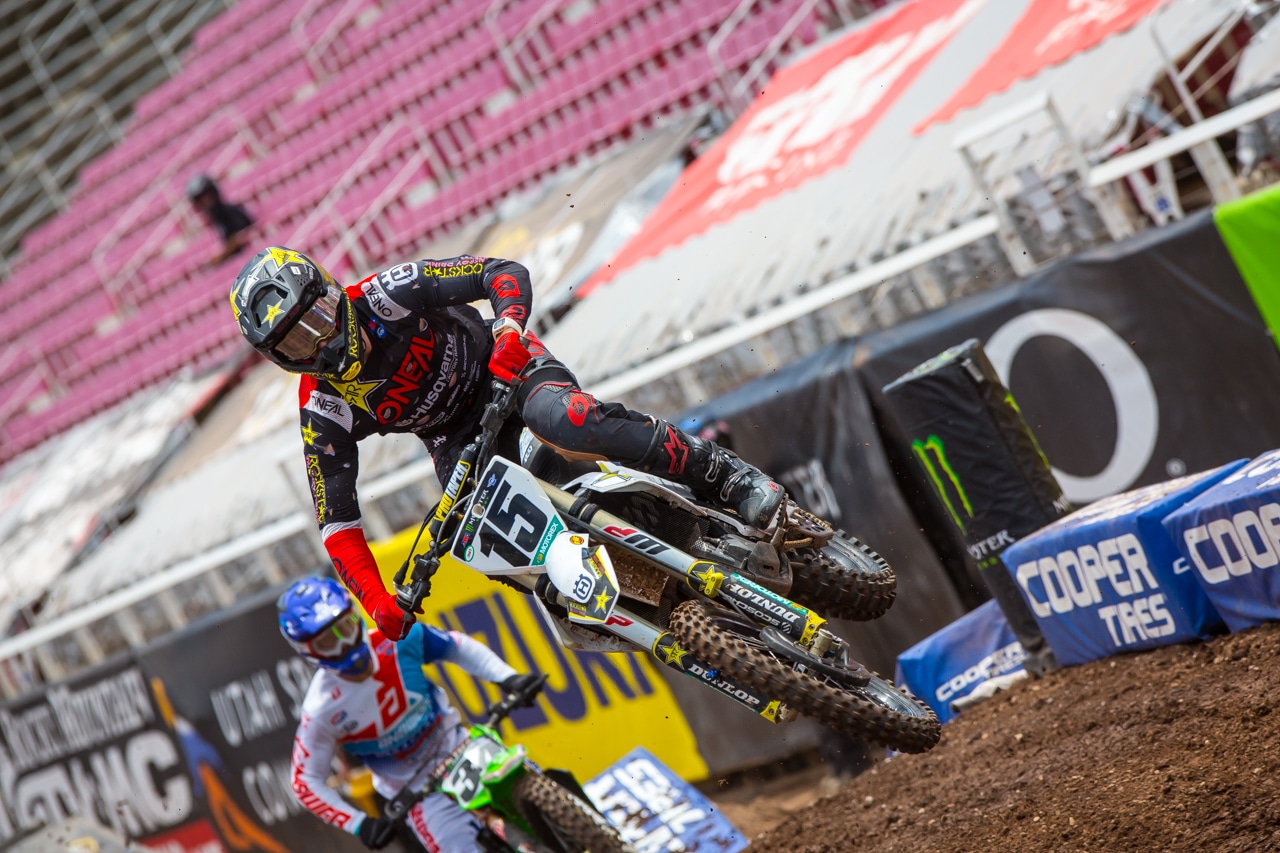 Dean Wilson: "I was a bit tight running up front but I just tried to play it cool and smart. My goal was to get on the box and that's what I did. I'm stoked to get a third place, lead some laps and end this SX season the way I wanted to. I would have liked to have more podiums but I'm super happy from where I came from at the beginning of the season barely being able to ride my bike, to being where I need to be now. I believed I could do it and I'm stoked."
Michael Mosiman: "I'm really proud of the team, we made some adjustments during the week and I felt comfortable straight out the gate. The heat was chaos, I got into it with Forkner and my elbow went into his rear tire and I couldn't feel my hand. I managed a good race in the 250 Main and ended up with a third. Overall, solid season and looking to build for this coming year."
Cameron McAdoo: "This wasn't really how we wanted to end the season, but this year has already been filled with highs and lows and it's all a part of the process. If we didn't have the hard days, we wouldn't know how to get better. I'm ready to finally start focusing on outdoors and see where that season goes for us."
Aaron Plessinger: "I was in a funk pretty much all day. I got off to a really bad start in the Main Event. It was dry and really slick. I was dead last going into the first corner and then started picking off guys one-by-one and made it to 11th. I was catching Chad Reed a little bit here and there, but he would pull away from me and we were pretty much the same speed from the time I caught him until we finished the Main. I ended up 11th, which is obviously not where I wanted to be, but we are over Supercross and on to Outdoors, so I am pumped on that!"
Justin Barcia: "This was not how I wanted to end the Supercross season. I'm going to put that behind me and focus on the Outdoors. Looking at the positives, we learned a lot in Salt Lake City. It was my most consistent Supercross season on the 450. I'm looking forward to some time at home and then getting back to work."
EXTENDED 450 SUPERCROSS HIGHLIGHT FROM THE LAST ROUND IN SALT LAKE CITY 
DIFFERENT HORSEPOWER GAINS AT DIFFERENT RPM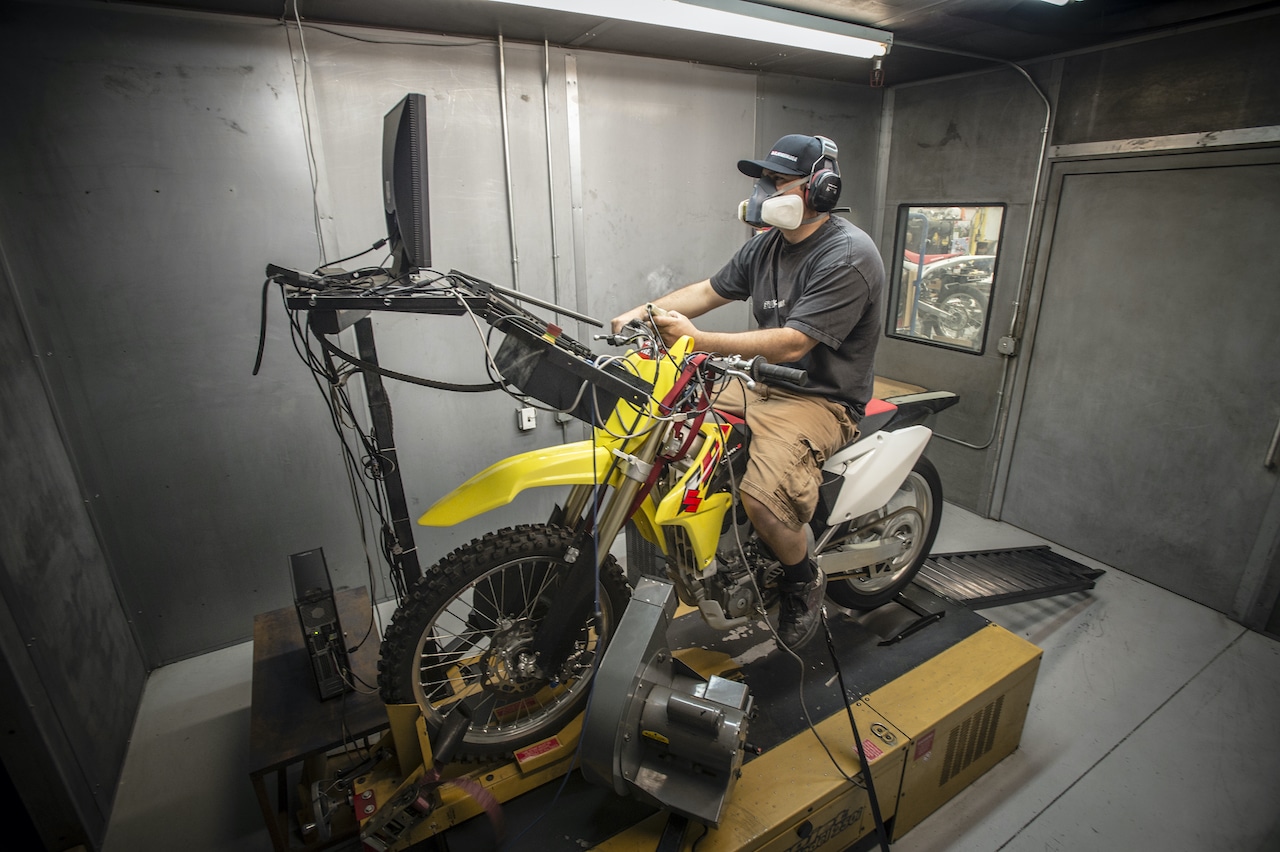 Dear MXA,
In your test of Pro Circuit's 2019 Husqvarna FC350 exhaust pipe, you said that the Pro Circuit pipe made 2 more horses than the stock pipe at peak and was 3 horses better at 11,000 rpm. That makes no sense. Does it make 2 horsepower more or 3 horsepower more? It can't be both.
Of course it can be both. You are confused about the difference between peak horsepower and horsepower measured at random spots on the rpm curve. Peak horsepower is defined as the maximum horsepower that the engine makes. In this case, the Pro Circuit pipe makes 2 horses more than the stock exhaust at peak (55.03 horsepower to 53.15), while at different points on the curve—take 10,300 rpm for example—the Pro Circuit FC350 pipe makes 3.45 horsepower more (53.48 horsepower to 50.03).
Peak measures the highest horsepower, but often a pipe, piston, cam or mod makes larger gains, albeit at lower horsepower numbers when compared to the stock engine, at different parts of the powerband. This can be very pronounced when an engine doesn't sign off as soon. For example, the 2018 KX450 makes 56.43 horsepower at peak compared to the 2019 KX450's 55.86 horsepower at peak. That would lead you to believe that the 2018 KX450 is one horsepower stronger than the 2019 KX450. It is, but only at peak; however, after peak, the 2019 KX450 made 3 more horses than the 2018 model (50.65 horsepower to 47.14). If we kept going to sign-off at 11.500 rpm, the 2019 KX450 would be making 5 more horsepower than the 2018 KX450.
MXA YOUTUBE CHANNEL | HIT THAT SUBSCRIBE BUTTON

The MXA wrecking crew is everything moto related. Check out our MXA YouTube channel for bike reviews, Supercross coverage, rider interviews and much more. And don't forget to hit that subscribe button. 
INSIDE JEREMY MARTIN'S GEICO HONDA CRF250
LOST BUT NOT FORGOTTEN | 1992 YAMAHA YZ125
TALK MOTO WITH MOTO MINDED PEOPLE. JOIN MXA'S FACEBOOK GROUP CHAT

We love everything moto and want to bring all moto junkies together into one place to share their two cents, ideas, photos, bike fixes, bike problems and much more. To check it out first you must need to or already have a Facebook account. If you don't, it isn't much work and you could even have an alias so nobody knows it is you. To join click HERE. After you request to join we will accept your request shortly after.
HAVE YOU SEEN THE JULY 2020 ISSUE OF MXA? TWO-STROKES FROM MILD TO WILD, BIG TO SMALL, EXOTIC TO STOCK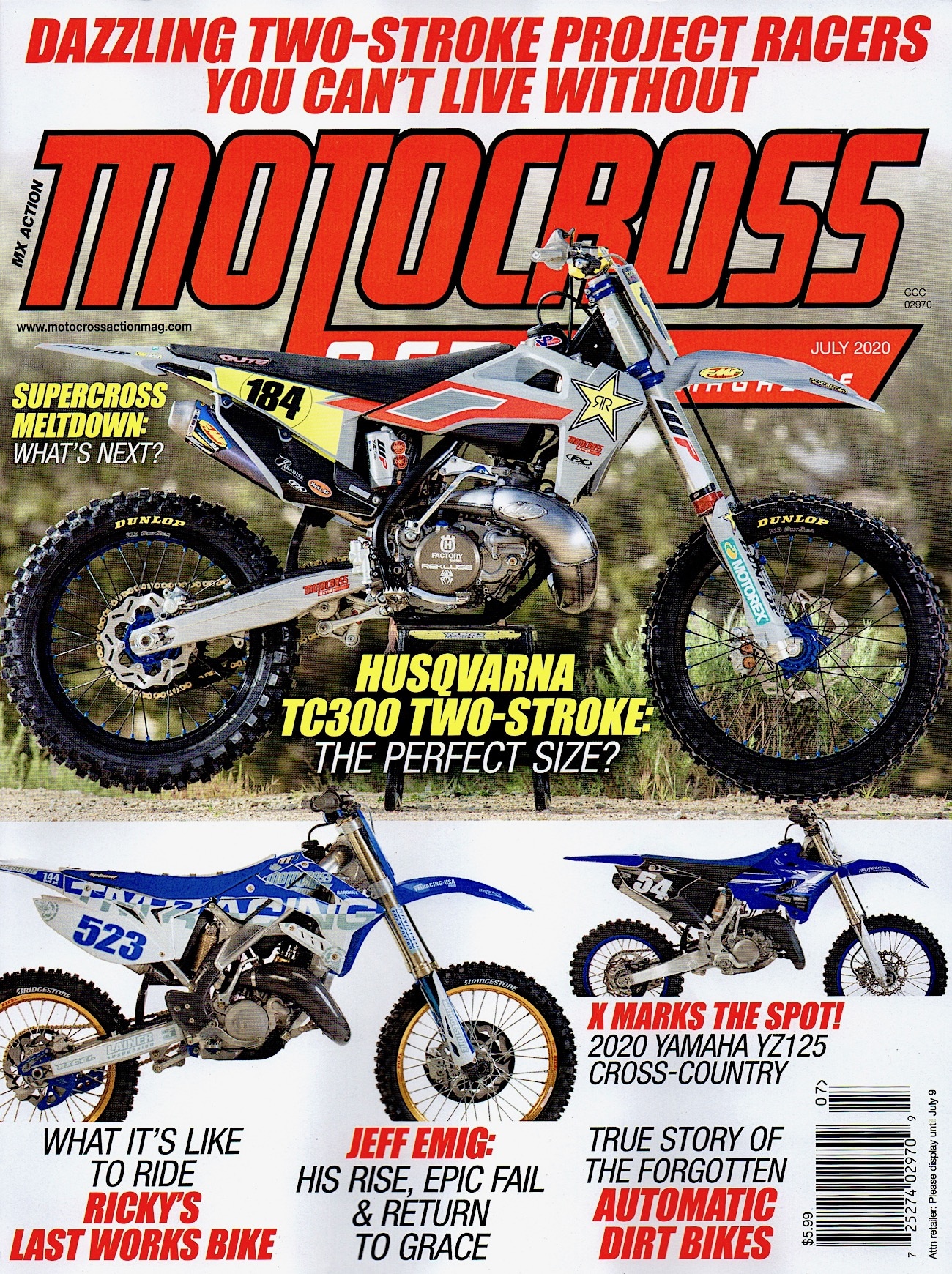 The MXA wrecking crew has been building hot-rod two-strokes at a record pace to have them ready for the 2020 World Two-Stroke Championship on October 3. Not the least of which is our Husqvarna TC300 racer—built with Jason Anderson's factory engine.
HOW TO SUBSCRIBE TO MXA SO THAT YOU NEVER MISS ANOTHER ISSUE
If you subscribe to MXA you can get the mag on your iPhone, iPad, Kindle or Android by going to the Apple Store, Amazon or Google Play or in a digital version. Even better you can subscribe to Motocross Action and get the awesome print edition delivered to your house by a uniformed employee of the U.S. Government. You can call (800) 767-0345 or Click Here (or on the box at the bottom of this page) to subscribe.
CLASSIC PHOTO
The start of the U.S Open of Supercross back in 1999. Damon Huffman won the first year in 1998 which is why he was running number one.
---
Moto Trivia answer: Chad Pederson back in 1997.