MOTOCROSS ACTION MID-WEEK REPORT
#WHIPITWEDNESDAY

Rider: Jason Anderson
Bike: 2020 Rockstar Edition Husqvarna FC450
Location: 2020 Salt Lake City SUpercross
Photographer: Travis Fant
TWO-STROKE SPOTLIGHT: 1995 KAWASAKI KX125, BEFORE AND AFTER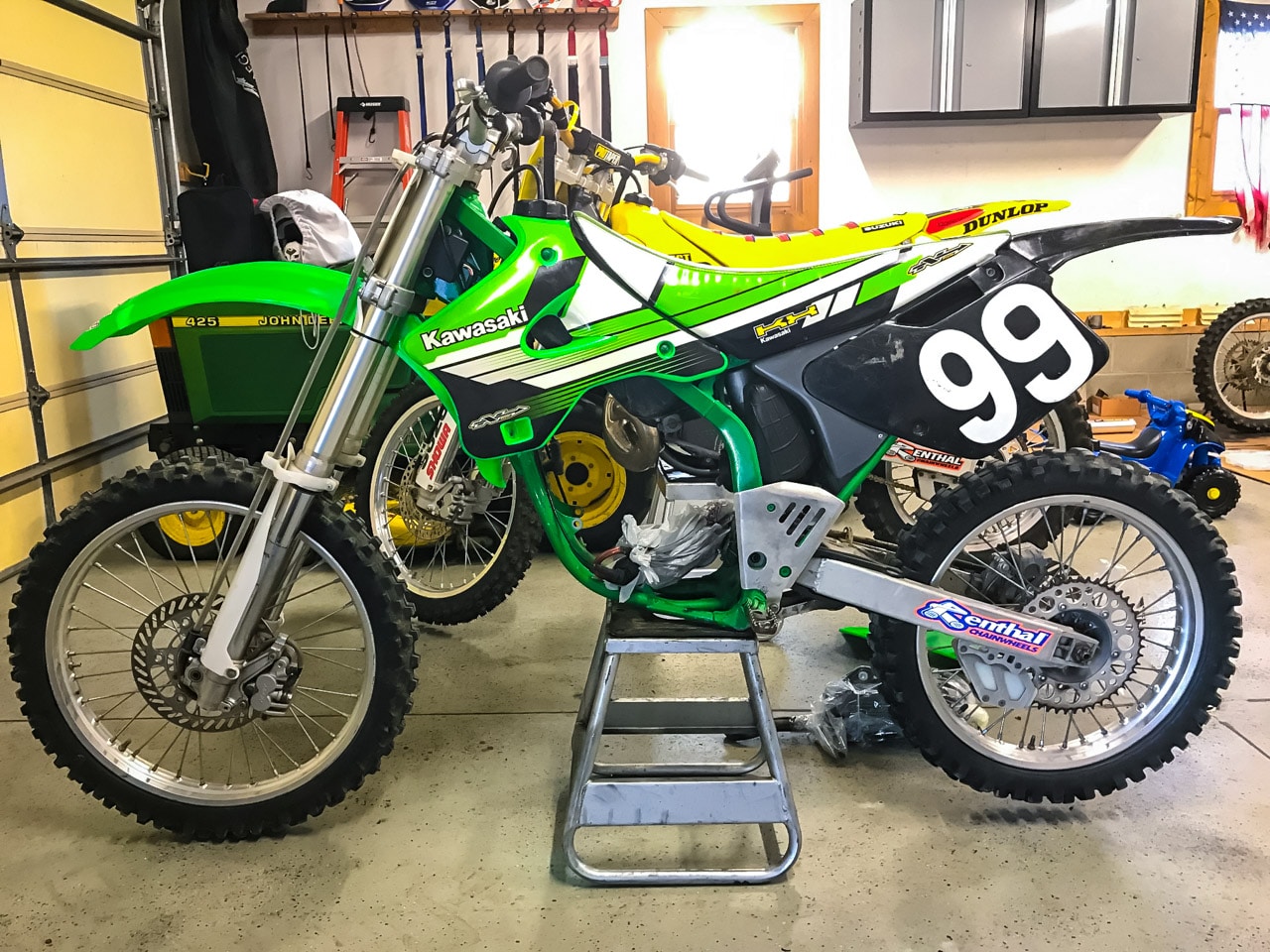 The before photo of Matt's 1995 KX125.
"It has been a while since I have shared any of my project bikes with MXA. Here is my most recent build, a 1995 KX125 built after one of my childhood hero's–Robbie Reynard. As you can see the original platform was in pretty good shape which made things easy. I started by sending the frame out to Curry Custom Coatings for a fresh coat of Kawasaki Green powder.
"The engine came in a box, the cases and cylinder were sent to Eric Gorr Racing to get the cylinder repaired, as well as a Team Green spec port job and case matching. The engine was assembled with all new bearings, seals and gaskets from Hot Rods, Winderosa, and a Vertex piston.
The after photo of the 1995 KX125 beauty. 
"The engine cases, swing arm, frame guards, brake calipers and master cylinders were sent to KE3 Restoration to be Vapor blasted, to bring back that show room finish. The clutch cover and housing were also sent to Curry Custom Coatings to be Cerakoted for the factory magnesium look. I also sent all of the OEM hardware out to be re-zinc plated.
"When everything was back in my possession, I began assembling the chassis where I used All Balls Racing bearing and seals, the forks and shock were rebuilt by Dan Elings at Race Pace Performance where he also used All Balls components as well as Race Tech Gold Valves. The stock hubs were Powder Coated to resemble the factory look and were laced using Pro Wheel Racing spokes and hoops.
The engine side. 
"I was able to source an original Braking 270 oversized from brake rotor and coupled with a Tusk Racing Honda style stainless brake hose to insure that it stops on a dime.
"This build would not have been possible without the help from the following."
All Balls Racing
Curry Custom Coatings
KE3 Restoration
Pro Circuit
Pro Wheel Racing
Race Pace Performance
Rocky Mountain MC
Tusk Racing
Renthal
UFO Plastic USA
Vertex Pistons
Editors Note: Please keep those submissions coming. If you would like your bike to be featured in the "Two-Stroke Spotlight," please email me at [email protected]. All I ask is that you give a breakdown of your bike and a detailed description of the build. Please also send a few photos of your steed. By submitting your bike for the "Two-Stroke Spotlight," you agree to release all ownership rights to the images and copy to MXA.
MONDAY IS THE NEW PRO DAY AT STATE FAIR MX
Dylan Ferrandis was out training for the Pro Motocross season at State Fair. They are now combining the main track and vet track on Monday's for anyone who wants to ride the track with longer lap times. They're also ripping it deeper and watering it more to get deeper ruts for the Pros.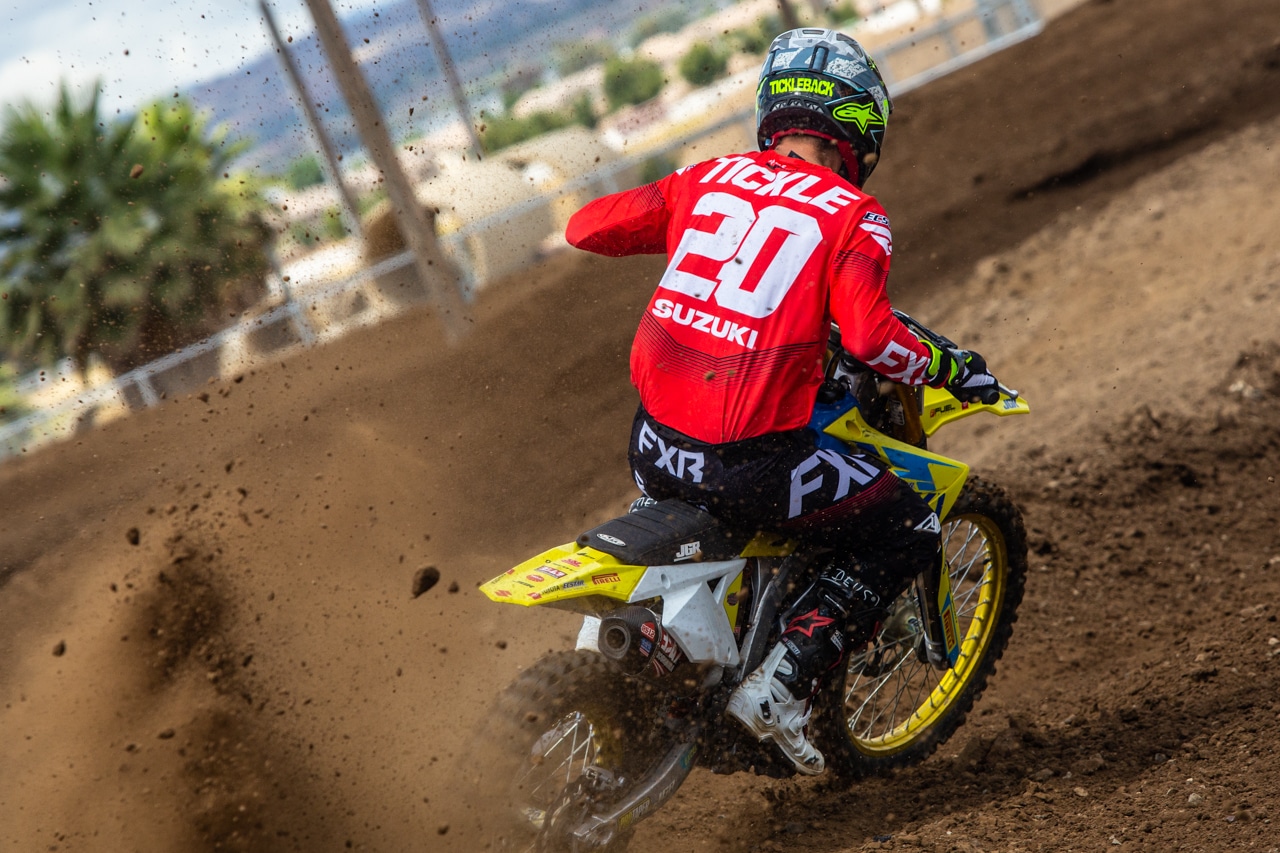 Broc Tickle stands out in his bright FXR gear. 
Cameron McAdoo was going fast on Monday.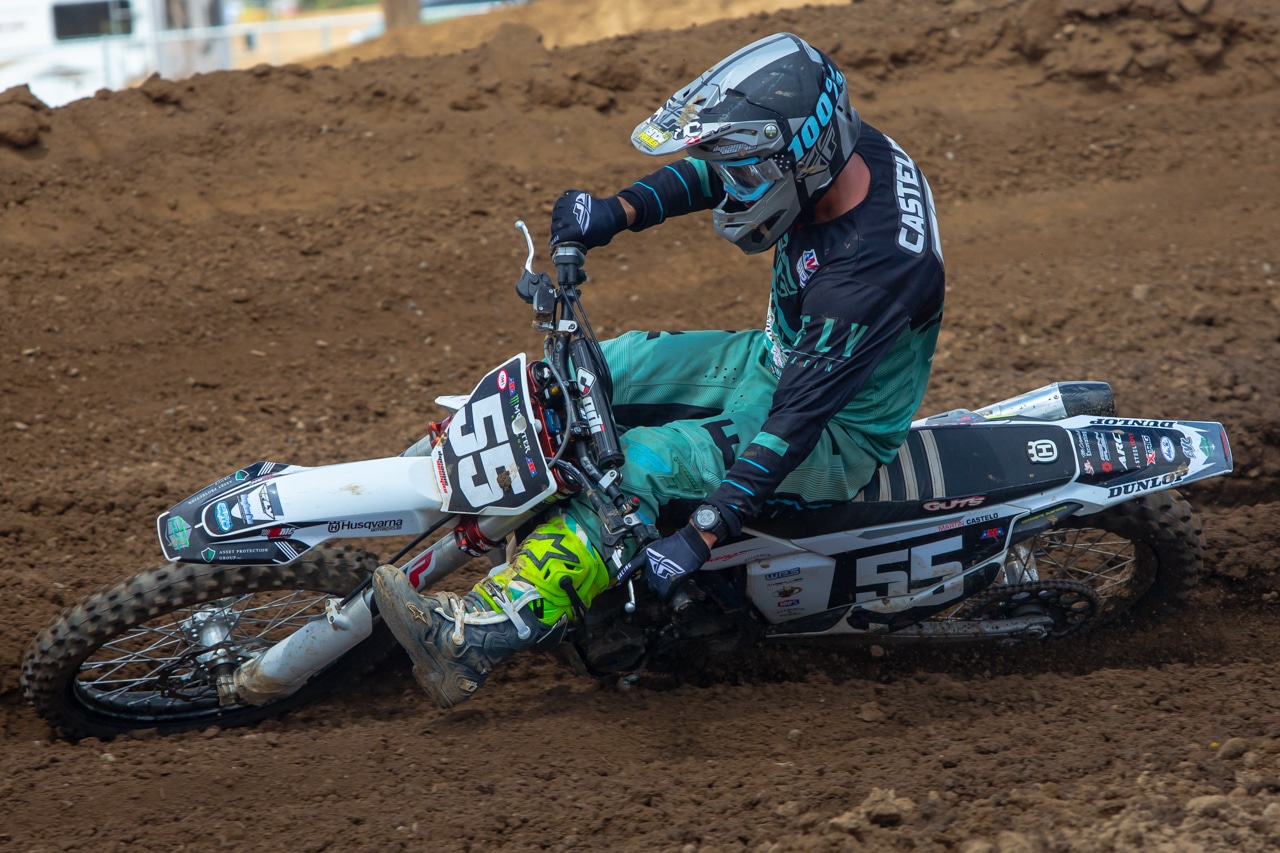 Martin Castelo was putting in laps on his JMC Husqvarna.

Darian Sanayei is a former factory Kawasaki amateur racer and he also raced for factory Kawasaki at the MXGPs in Europe. Now he's buying his own bikes, investing in himself and working to earn a factory ride in the States.
Dylan Ferrandis ran the #1 in Supercross, but now he's back to #14 for Outdoors. He will also move up to the 450 class in 2021.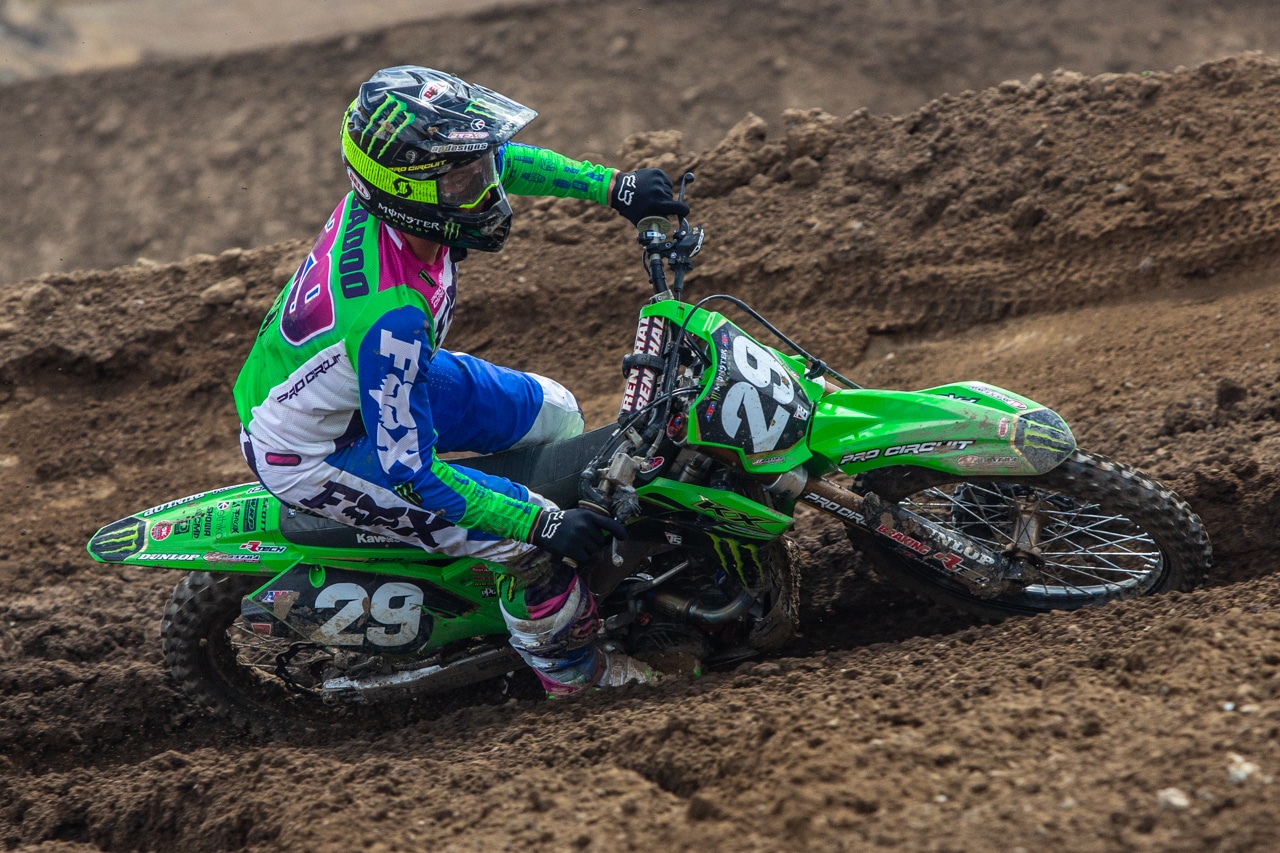 Cameron McAdoo was practicing keeping his feet on the pegs all the way around the turns yesterday. 
RIDE ENGINEERING KTM/HUSQVARANA PERFORMANCE LINKAGE
Improve your KTM/Husky handling with the Ride Engineering  Performance linkage. 
Press Release: Ride Engineering introduces a new KTM/Husqvarna Performance Linkage. Applications include the KTM 2015.5-20.5 250/450 SX-F Factory Edition, 2016-2020 250/350/450 SX-F/XC-F, 125/150 SX, 2017-2020 250SX, and Husqvarna 2016-2020 FC/FX 250/350/450, TC 125, 2017-2020 TC 250 & 2018.5-2020.5 FC450 Rockstar edition.
We manufactured a new center knuckle to work in conjunction with our existing performance arm. The difference was quite noticeable improving comfort on acceleration chop and overall shock action. Handling was also improved particularly from the pressure exerted from the legs and feet. The full Ride Eng. suspension linkage provides a much more linear curve and allows the rider to use up all the travel (you will get tire marks under the rear fender). Most riders will benefit from going up one spring rate from their recommended rate. The recommended sag is 105mm (ride height is 1-2mm lower than stock). Recommended for motocross, Supercross and trails/desert riding or racing. The center knuckle sells for $249.95, the outer for $219.95 but you can save $20 by buying them both as a kit. We kept the center knuckle wall thicknesses very close to stock for added durability while providing a 1 oz weight savings. Also notable the performance link has channels machined in for added flex and twist. Both are made from a very high-end alloy: 2024 aluminum which is used by most of the motorcycle manufacturers on structural parts. MSRP $449.90
For more information about the Ride Engineering Performance Linkage click the link below:
https://www.ride-engineering.com/products.php?d=1&p=l&pn=KT-LKN16-BA&t=ktm
MOTO | TRIVIA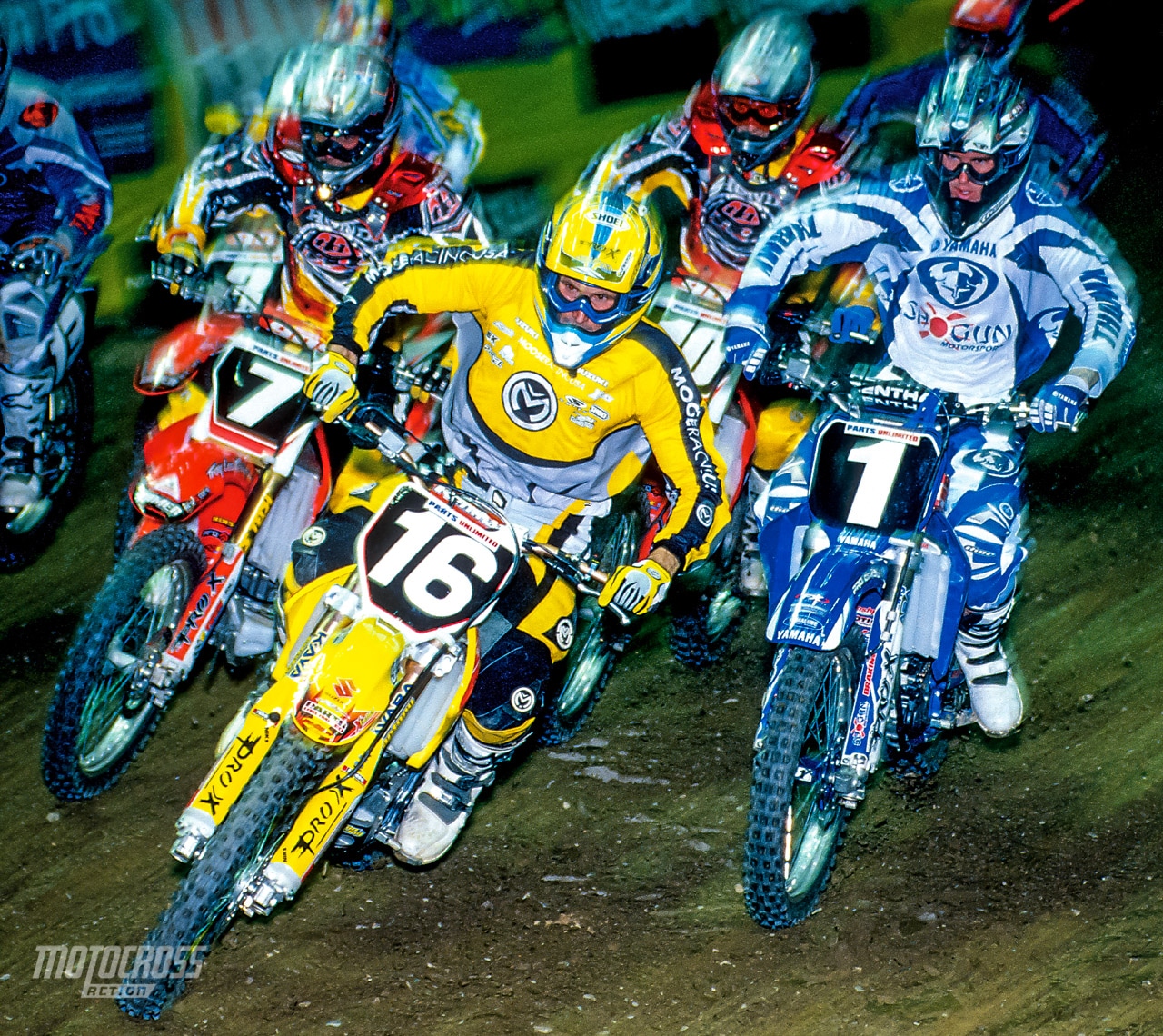 Name the riders with the number 16 and 1. Answer at bottom of page.
THE MXA WRECKING CREW TRIES THEIR HAND AT SUPERMOTO
The 2020 TM SXM 450 FI that Josh Mosiman and Daryl Ecklund got to ride at Adam's Motorsports Park. 
Josh at warp speed down the long back straightaway. 
Daryl trying to touch knee to pavement. He eventually made it happen,  but he ended up on the ground. See below.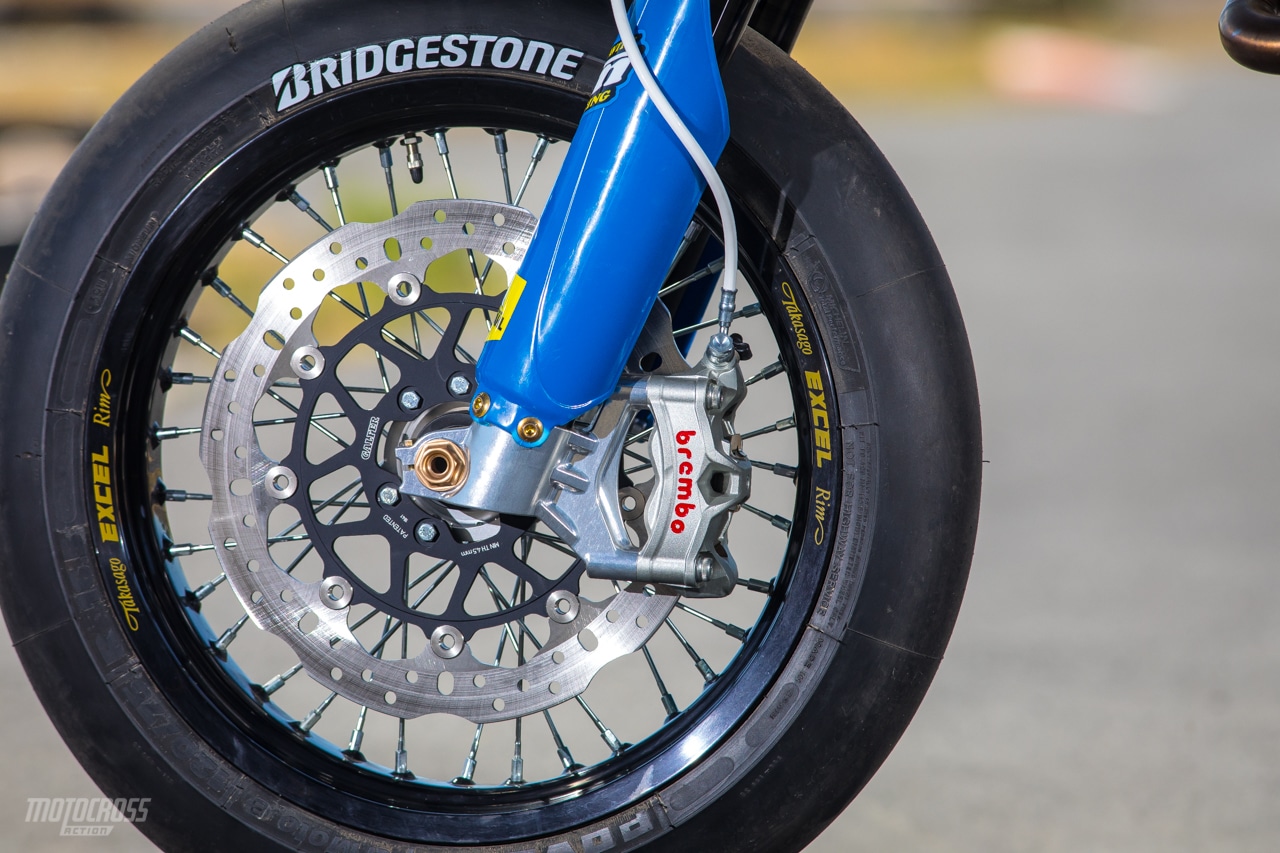 The pucker power is strong with this 305mm wave disc.
This extra chain roller keeps the chain from hitting the extra-wide tire. 
BUD RACING | TRACTOR FLYING THROUGH AIR ON MOTOCROSS TRACK | REAL OR FAKE?
TAKE THE MXA 2020 READER SURVEY & HAVE A CHANCE TO WIN FREE THOR GEAR!

Score free head-to-toe Thor gear now! Complete our reader survey we'll take your input to help improve future web and monthly print content of Motocross Action. One lucky winner will be chosen at random to receive a free gear ensemble from Thor (style and/or color may vary). This year's Thor (www.thormx.com) gear giveaway includes the following: Prime Pro jersey and pants, Sector Split with MIPS helmet, Radial boots, Sniper Pro goggles, and Agile gloves. That's $750 worth of products, so don't miss this opportunity to win all this stylish gear for free! Fill out the entire survey!
LOST BUT NOT FORGOTTEN | 1985 HONDA CR250
MXA TEAM TESTED: POLISPORT PRO OCTANE UTILITY CAN
WHAT IS IT? If you are wondering why they call it the Polisport Pro Octane utility can instead of a gas can, the reason is simple. Several states have very strict laws dictating how gas can be carried under the Federal Children's Gasoline Burn Prevention Act. So, gas can manufacturers call them "utility cans" to leave the impression that they might be full of water. The Polisport utility can does meet Euro gas can standards, though.
WHAT'S IT COST? $58.99.
CONTACT? www.polisport.com or your local dealer.
WHAT STANDS OUT? Here's a list of things that stand out with the Polisport Pro Octane utility can.
(1) Transport. The Polisport gas can holds 5 gallons of fuel. Because of its smaller footprint, the Pro Octane utility can is capable of squeezing into smaller areas than the typical plastic gas can but makes up for it by being much taller.
(2) Unique feature. It has two handles, one on each side of the body, to make it easier to manhandle the 30 pounds of gas in it. The cap has a dial that you can spin to indicate exactly what is in the can. The choices are "no oil" and six different pre-mix ratios. Embossed on one corner of the gas can are gallon marks to let you know how much gas is in the can (and, strangely enough, the same gallon markings are listed on the next corner upside down, so you can tell how much fuel you are pouring if you use the quick-fill spout). The most unique feature is a plastic pre-mix bottle that plugs into a recess in the gas can, allowing you to carry pre-mix oil in a separate 8.5-ounce bottle.
(3) Durability. The most common failure of traditional-style gas cans occurs at the seal around the top of the can, where the cap threads on, or leakage at the spout. The Pro Octane utility can's spout and cap seal are much more durable than on other gas cans. The Pro Octane can comes with a five-year warranty against leaks or cracks.
(4) Performance. A gas can is a simple device. It holds gas, has a spout that transfers the gas from the can to your bike's tank and, well, that's about it. The Polisport's Pro Octane can offers a unique tall-boy shape, which has pluses and minuses when it comes to pouring gas into a bike, finding a place for it in your truck and lifting it up. All that aside, it holds gas, doesn't leak and has two handles, one of which you can run a bungee cord through.
WHAT'S THE SQUAWK?  We had three issues: (1) The plastic pre-mix bottle is labeled in the European percentage system as opposed to 20:1, 40:1 or 60:1. (2) Additionally, the 8.5-ounce pre-mix bottle is too small to mix 5 gallons at a 40:1 ratio, which requires 16 ounces of oil. (3) Since the handle is amidship, it is difficult to balance out the weight of the gas can when carrying it.
MXA RATING: The Polisport Pro Octane gas can is a different take on the conventional dimensions that we have come to accept, but it works flawlessly.
MXA PRODUCT SPOTLIGHT: SIDI ATOJO BOOTS
After the long wait, we were finally able to get our hands on the new Sidi Atojo boots. They are coming into the States at limited quantities with the covid-19 crisis making international shipping a hassle. Check out motonation.com to learn more about the Sidi Atojo boots.
MXA YOUTUBE CHANNEL | HIT THAT SUBSCRIBE BUTTON

The MXA wrecking crew is everything moto related. Check out our MXA YouTube channel for bike reviews, Supercross coverage, rider interviews and much more. And don't forget to hit that subscribe button. 
THE ONLY SET IN STONE ROUNDS FOR THE OUTDOOR NATIONALS ARE THE FIRST TWO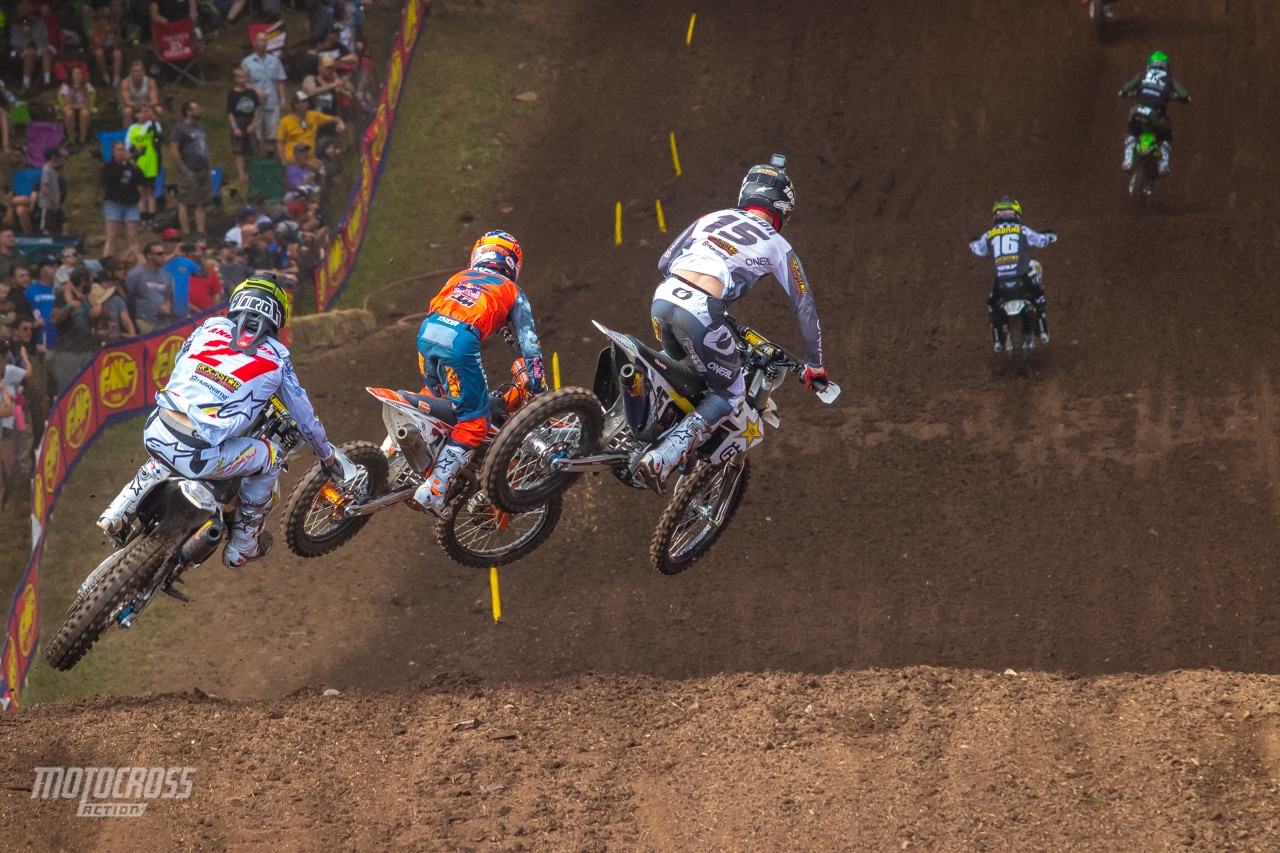 MX Sports is planning on doing a 12 round series. However, accomplishing that is going to tough in the current environment. 
MX Sports Pro Racing has announced the first two rounds of the 2020 series.   Additional rounds will be announced as the states advance through their phase-in recovery plans to allow large gatherings.
All rounds will be held with fans, although the pro pits will be closed to the general public.  Tickets for the first two rounds are available HERE.
July 18th- Ironman, Crawfordsville, Indiana
July 25th- WW Ranch, Jacksonville, Florida
MXA'S $20,000 KTM 300cc TWO-STROKE BUILD
ASK THE MXPERTS: BOUGHT AN AWNING, LOST AN AWNING
The greatest tent stake ever made is the free one in your toolbox.
Dear MXA,
I bought a cheap 10×10 awning at Walmart. It wasn't fancy, but it did provide shade. Unfortunately, it kept trying to take off. It came with tent stakes, but when I tried to drive them into the ground they twisted into a pretzel. Does anyone make high-quality stakes to hold an awning down?
Nowhere is there harder ground than in the pits in Southern California. The ground in SoCal is baked by 330 days of sun a year, compressed by heavy equipment and composed of crushed rock. The MXA wrecking crew used to hammer its fancy awning stakes into the ground, but they used to get stuck, bend when we pulled them out of the ground, or be forgotten at home. Now we use old screwdrivers. They have hardened steel shanks, easy-to-use handles, and are a dime a dozen in toolboxes all around the pits.
TALK MOTO WITH MOTO MINDED PEOPLE. JOIN MXA'S FACEBOOK GROUP CHAT

We love everything moto and want to bring all moto junkies together into one place to share their two cents, ideas, photos, bike fixes, bike problems and much more. To check it out first you must need to or already have a Facebook account. If you don't, it isn't much work and you could even have an alias so nobody knows it is you. To join click HERE. After you request to join we will accept your request shortly after.
HAVE YOU SEEN THE JULY 2020 ISSUE OF MXA? TWO-STROKES FROM MILD TO WILD, BIG TO SMALL, EXOTIC TO STOCK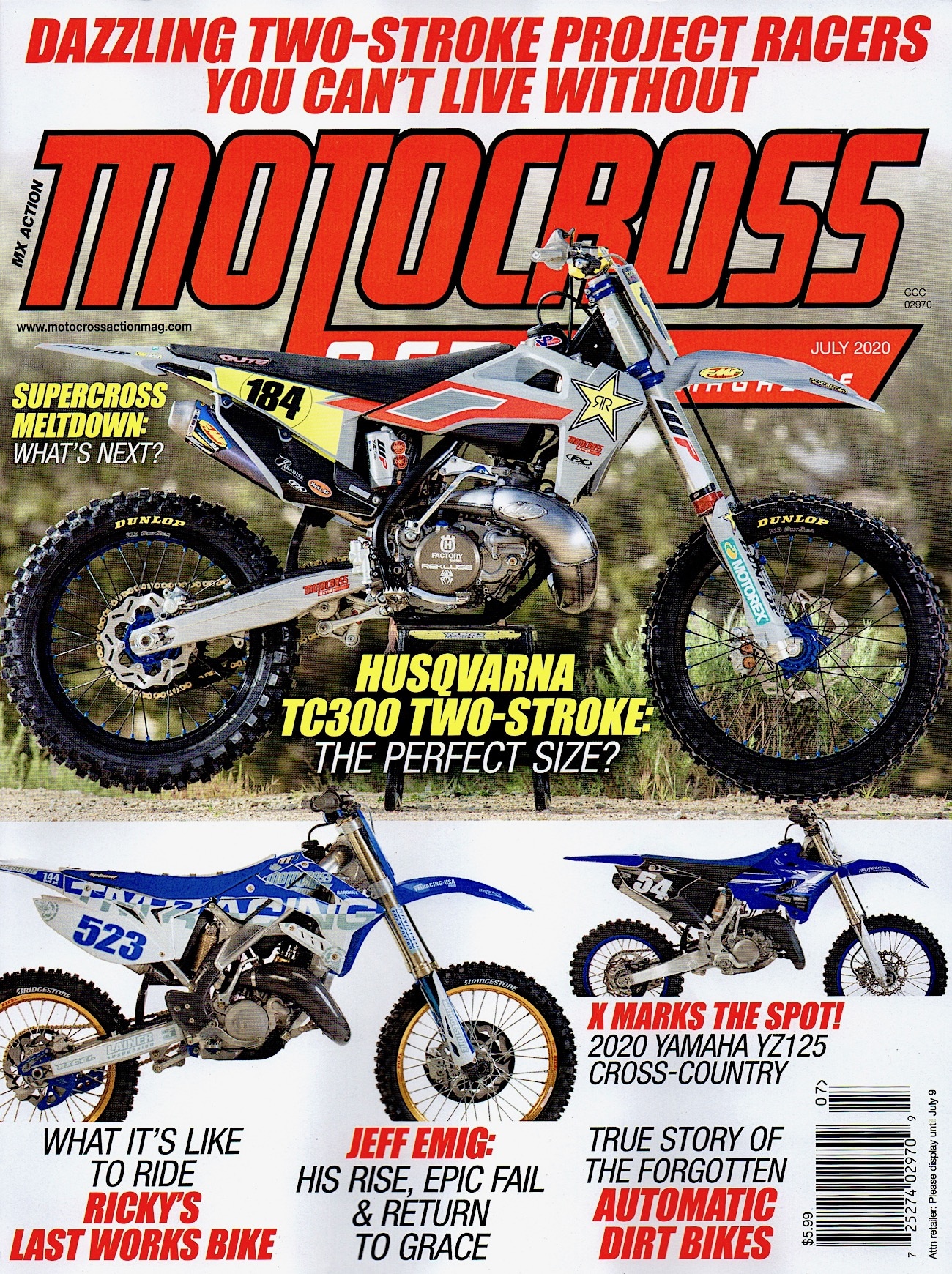 The MXA wrecking crew has been building hot-rod two-strokes at a record pace to have them ready for the 2020 World Two-Stroke Championship on October 3. Not the least of which is our Husqvarna TC300 racer—built with Jason Anderson's factory engine.
HOW TO SUBSCRIBE TO MXA SO THAT YOU NEVER MISS ANOTHER ISSUE
If you subscribe to MXA you can get the mag on your iPhone, iPad, Kindle or Android by going to the Apple Store, Amazon or Google Play or in a digital version. Even better you can subscribe to Motocross Action and get the awesome print edition delivered to your house by a uniformed employee of the U.S. Government. You can call (800) 767-0345 or Click Here (or on the box at the bottom of this page) to subscribe.
CLASSIC PHOTO
Michael Brandes in 1999 racing the Glen Helen National on a Primal Impulse Suzuki RM125.
Moto Trivia answer: This photo is of the start of an Arenacross back in 2004. Number 16 in John Dowd and number 1 is Josh Demuth.