MOTOCROSS ACTION MID-WEEK REPORT BY DARYL ECKLUND

Click on images to enlarge
#WHIPITWEDNESDAY
Rider: James Stewart
Location: 2009 U.S Open in Las Vegas
Lens: 300mm f/2.8
Focal length: 300mm
Exposure: 1/400
F-stop: 4
ISO: 3200
TWO-STROKE SPOTLIGHT: DAMON JONES 2003 HONDA CR250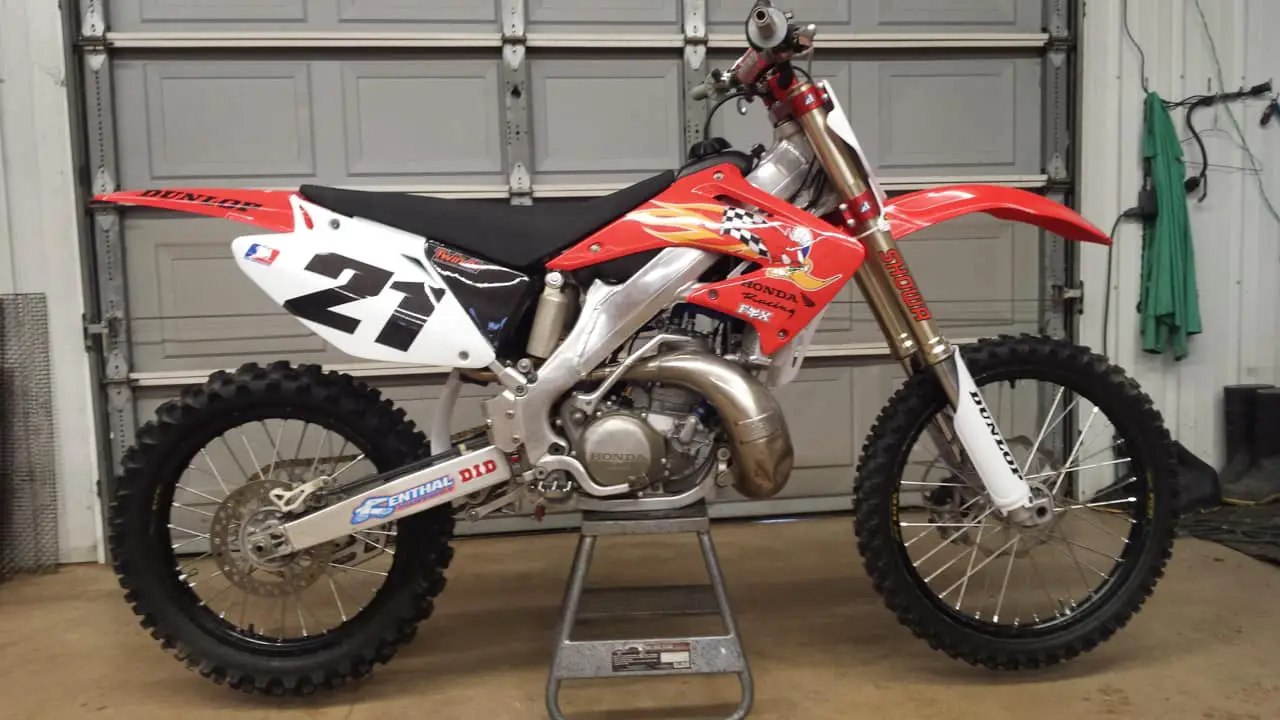 We miss the Honda smokers. And to buy one for $800 and then dump a few grand into it your still saving boat loads of money from buying a new thumper. Heck, you can build yourself three project CR250's for the price of one new KTM SXF model. 
Dear MXA,
I've got a 2003 Honda CR250 that I rescued 4 years ago for $800 and recently decided to bring it up to speed. A rundown of the goods are as follows:
-Keihin 38mm PWK Airstryker carb
–V-Force 3 reeds
–Pro Circuit Platinum pipe and R-304 silencer
–Galfer 270mm front rotor
–Galfer braided front brake line
–Excel takasago rims, Excel spokes
–Michelin starcross tires (getting the new 5s soon)
–Renthal Twinwall bars
–ASV levers
–Hammerhead shifter
–GPI radiators
-All new linkage and head tube bearings
–Applied triple clamps 22mm offset (24 stock)
–IMS Bigfoot footpegs
–Renthal chain and sprockets
–Roost mx supplied graphics
The engine was ported topby Eric Gorr with his "mo-power" package, as well as correcting the squish clearance, while still being able to run pump gas (however some days it does ping so I've been running race/pump gas mix). The piston is a Wiseco. The crank is the rebuilt OEM crank by Millenium Technologies.
We can't help but love the old Road Runner graphics. Reminds us of Carmichael's Honda days. 
The clutch consists of a Wiseco inner and outer hub, as well as their springs and friction plates. I also prefer the OEM clutch cables over aftermarkets. I would like to add when I bought the bike the seat was bent up at a weird angle on the side, turns out the exhaust had bent somewhere along its life and the previous owner had cut and welded the aluminum subframe up on an angle on the exhaust side so the mounts would line up! I ended up getting a like new subframe off ebay for $40! Overall this bike has become a very ergonomic and rider friendly bike that is capable of blistering speed, yet could still be ridden by a first timer confidently.
-Damon.
Editor Note: Please keep those submissions coming. If you would like your bike to be featured in the "Two-Stroke Spotlight," please email me at [email protected]. All I ask is that you give a breakdown of your bike and a detailed description of the build. Please also send a few photos of your steed. By submitting your bike for the "Two-Stroke Spotlight," you agree to release all ownership rights to the images and copy to MXA. Please don't email me spam or try selling me Taylor Swift concert tickets or email me spam. I already celebrate T-Swizzle's entire collective, and there will be "bad blood" if you send me junk mail. See what I did there? Happy submitting your smoker.
NEW! MXA' NEW BIKE SEARCH FEATURE

MXA's new bike search feature allows you to easily find a bike you own or thinking of owning and give you the hard facts about it. We have everything from recommended jetting specs to suspension setup information, what works and doesn't work on the bike and how to improve it. There are also numerous product tests to guide you to making educated decisions on your purchases. Just hover over and click the manufacture you are looking for then narrow the search from there.
When you land of the Bike Tests SearchBike Tests Search page click the Engine Size, Engine Type and Model Year you are looking for to narrow down your search.

THEY SAID IT: SOUTHWICK NATIONAL
Marvin Musquin: "I was really excited for Southwick race. We had a good week training and my knee has healed and improved a lot this week. We knew the key to this race was going to be a good start. In the first moto I wasn't bad off the start but I went down in the third corner with a few others and had to restart from way back. I made a good comeback and by the end of the race I was 4th, so I was happy about that because it proved we had the speed to run up front. In the second moto I got a really good start and got the holeshot, and I felt really good battling with Eli up front for the lead. Eli had gotten by me and I was pushing hard right behind him when I cross rutted and had a big crash. I tried to get going again but the bike was too banged up, and unfortunately I had to pull off. It's such a bummer because I felt like everything was getting back on track and I was back to being up front again. But it is what it is and we will be back to fight up front in Millville."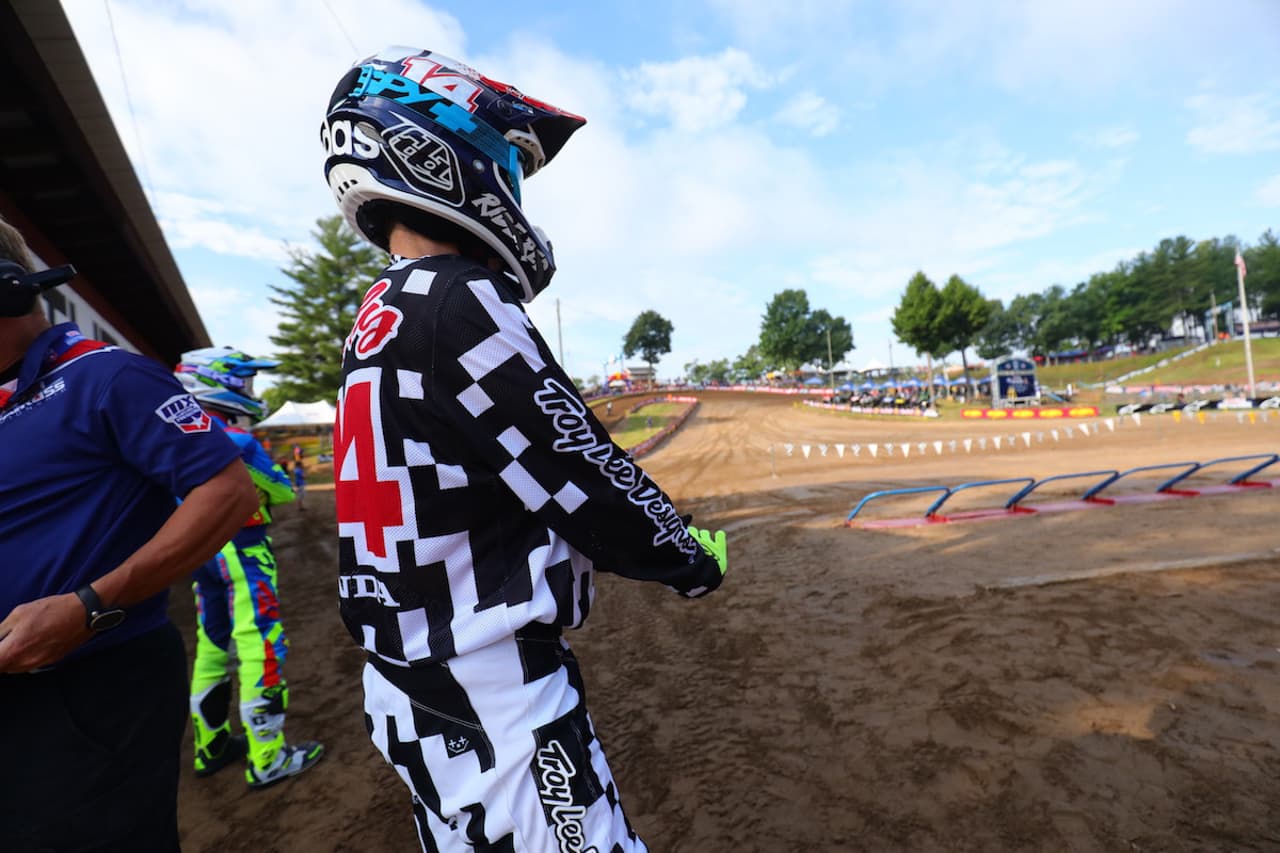 Cole Seely: "It just feels good to have some progress and better results after my move to Florida. I sacrificed a lot to do that so it's good to see it's working out. This is just the start of it though, and I think I'll continue to get better and stronger throughout the end of the summer and especially going into Supercross. I didn't qualify great but I felt like I was riding good and was excited with the changes we made to the bike. I've been struggling with setup on this new chassis during outdoors. It's a learning process of trial and error, so we're trying different things but I was happy with the setting we chose today. I felt solid in both motos and didn't make any changes between races, going 5-5 for sixth. I'm kind of mad I didn't end up fifth overall but I guess that's how it works out. I was really only three points from the podium."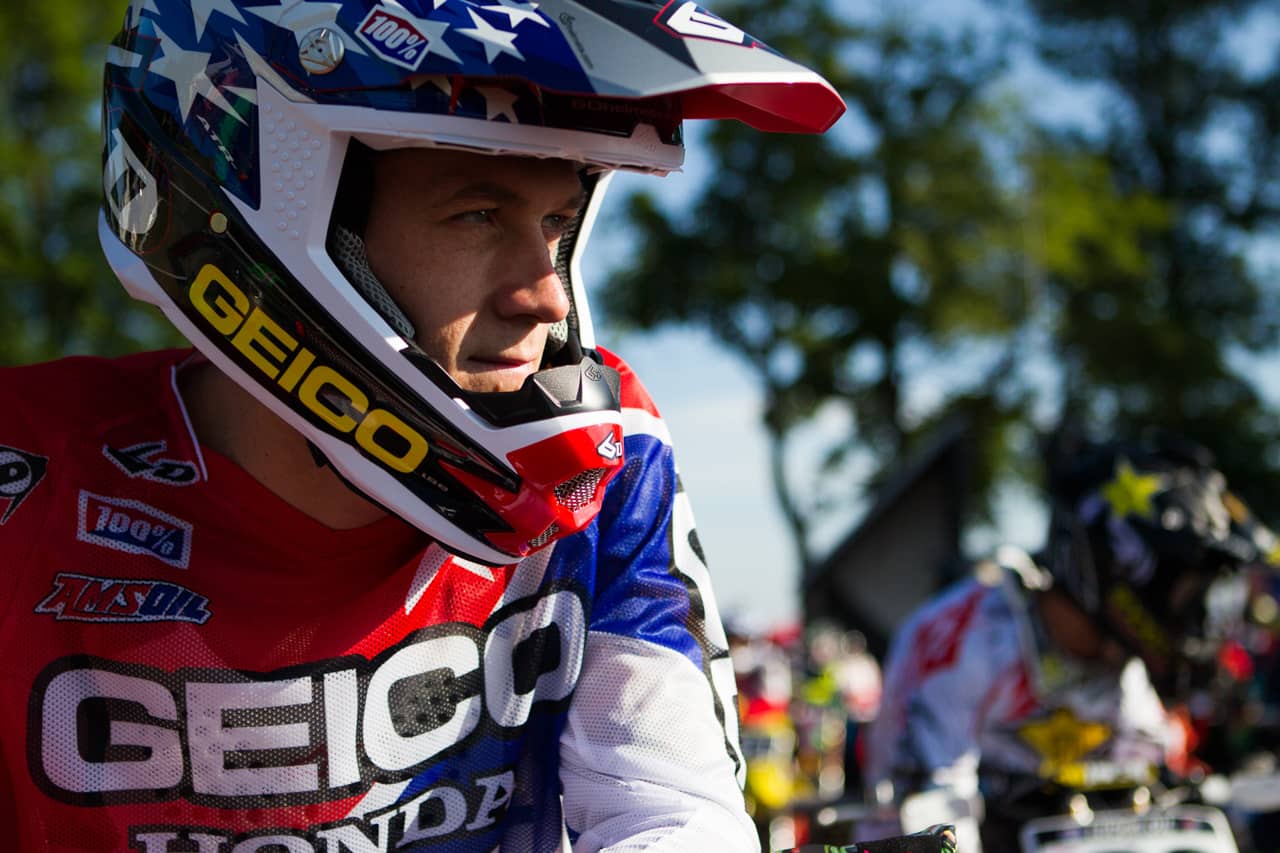 Christian Craig: "Southwick was pretty decent for me. I was able to put in two consistent motos but struggled on the starts. I'm not used to sand starts so I kind of had to change things up and wasn't where I usually am. In the first moto I came around in 31st and was able to work my way up to 10th. I was happy with how I pushed through the pack. In the second moto I started in 12th and worked my way up to 7th. I felt stronger this weekend but still have work to do with strengthening my hand. This next weekend off will be good for my hand, as well as putting in work on and off the track. I'm looking forward to Millville, which is kind of like a home race for me because I lived there for two years. I've spent a lot of time on that track so it will be fun to be back."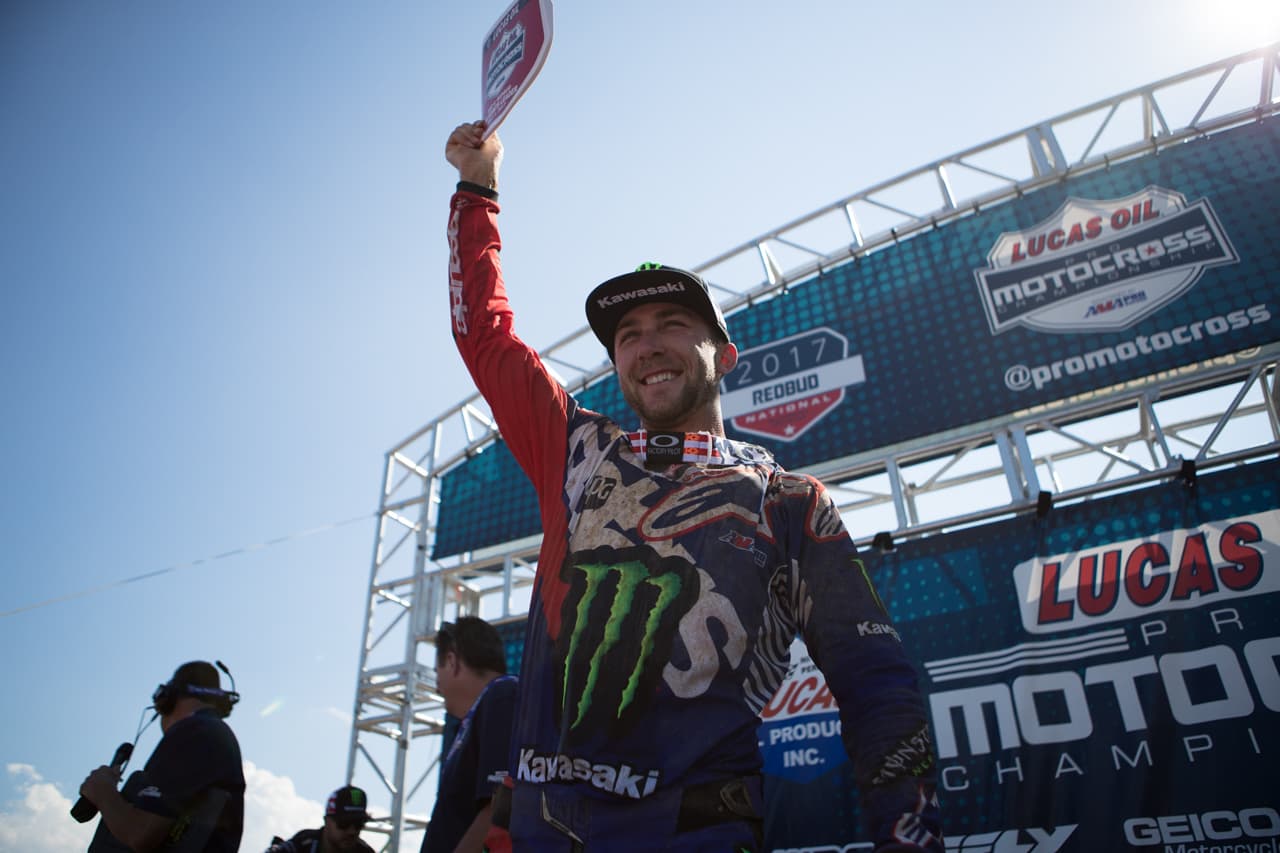 Eli Tomac: "We only have one really good sand track of the year and that is here at Southwick. It seems most guys either love or hate this track, but I'm a big fan of it and enjoy coming here. I think we're in a good spot points wise. We're not really fighting anything on the motorcycle and it's nice to head into the off weekend on a good note."
Blake Baggett: "I rode the best I could today with the injury [thumb] and salvaged points. This isn't my favorite race of the year, so I was just looking forward to getting through it. I'm going to get an MRI on Monday and we will have to see what the results are. Worst case we will have to get a small operation and hope that it heals in time for Millville."
Alex Martin: "I'm generally pretty good in practice, but I just kind of felt like my bike setup was off all day. Despite searching for a comfortable setting, I was able to get off to two great starts and that is really key on a track like this that can sometimes funnel down to just one line. I knew that it was going to be a long and hot day, so I tried to pace myself a little bit, but the rain saved us and helped cool it down in the second moto. I'm excited to go racing at my home track in Millville [Minnesota] after the break."
Zach Osborne: "It was another good day for me and I'm happy to finish on a strong note heading into the break. I caught a little bit of a break having Dylan [Ferrandis] as the guy up there battling with me. If it had been anyone else who is closer in points, I might have felt forced to push the issue a little bit more, especially in the first moto. The track was definitely deeper than last year, I thought it was really good and it got really whooped out today."
MXA PRODUT SPOTLIGHT: WORKS CONNECTION PRO PEGS TITANIUM FOOT PEGS
These are some of the most widely used pegs by Pro riders. It is a product you can count on. 
Combining aerospace grade titanium and the latest in manufacturing techniques to yield the highest standard of construction and the resulting Pro Pegs. Employing precise hand craftsmanship during the welding process to create strong, quality welds that breed confidence. Designed with a bigger platform and greater surface area over the stock foot pegs, Pro Pegs provide the rider with the "ultimate grip" for better control. Available for Honda, Kawasaki, KTM, Husqvarna, Suzuki and Yamaha. Contact your local retailer or visit www.worksconnection.com
PRO PEG SPECS:
Aerospace grade Ti-6AL-4V Titanium
Wide 60 mm / 2.4" platform
Lightweight 350 grams per set
60 "ultimate grip" teeth per set
Incredibly strong and corrosion-resistant
New cotter pins included
FLY RACING'S JERSEY'S OF THE STARS
This is one of the jerseys worn be Andrew Short for the 2010 Motocross des Nations held in Colorado. The USA team consisted of Ryan Dungey, Trey Canard and Andrew. And yes, they won.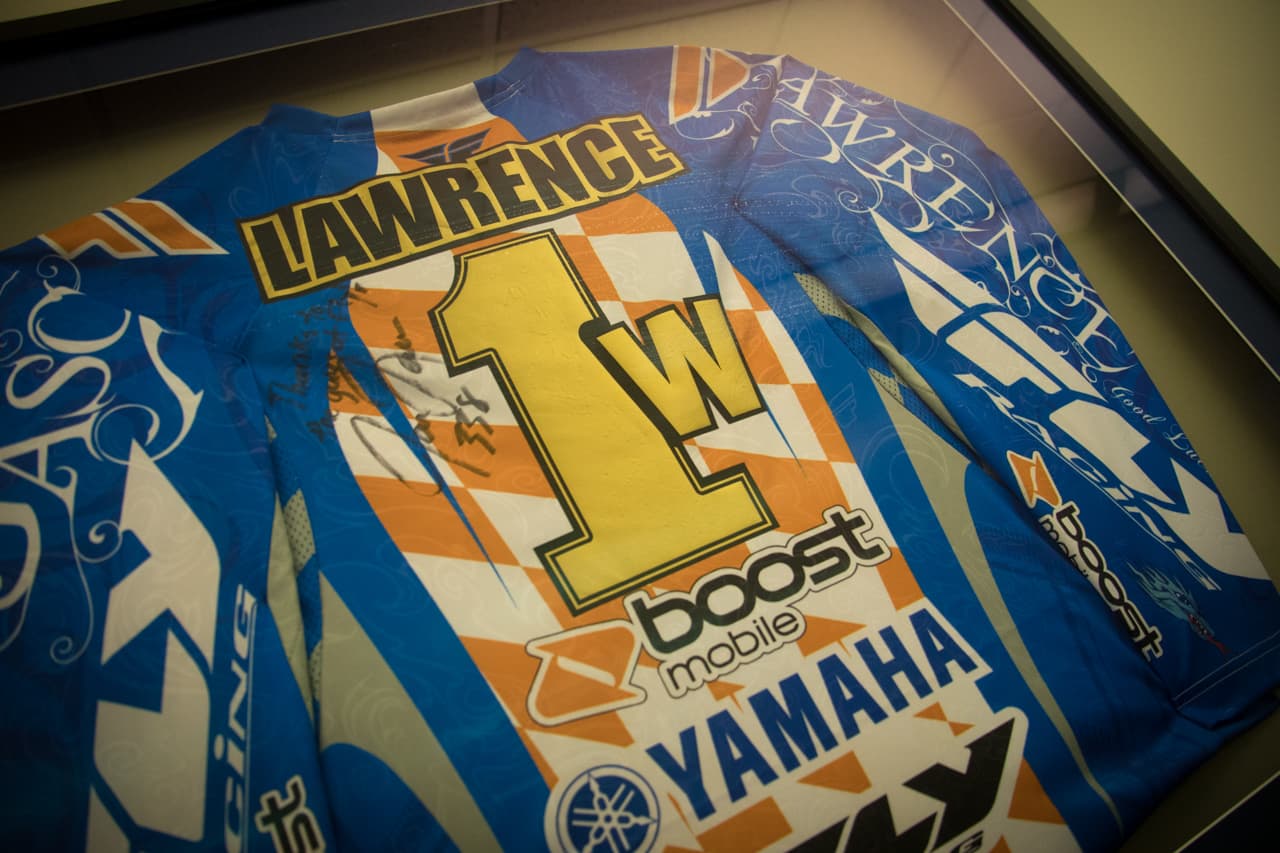 In 2008,  Jason Lawrence won the 250 West Supercross title for Fly Racing. He went on to beat out Ryan Dungey that year by 3 points.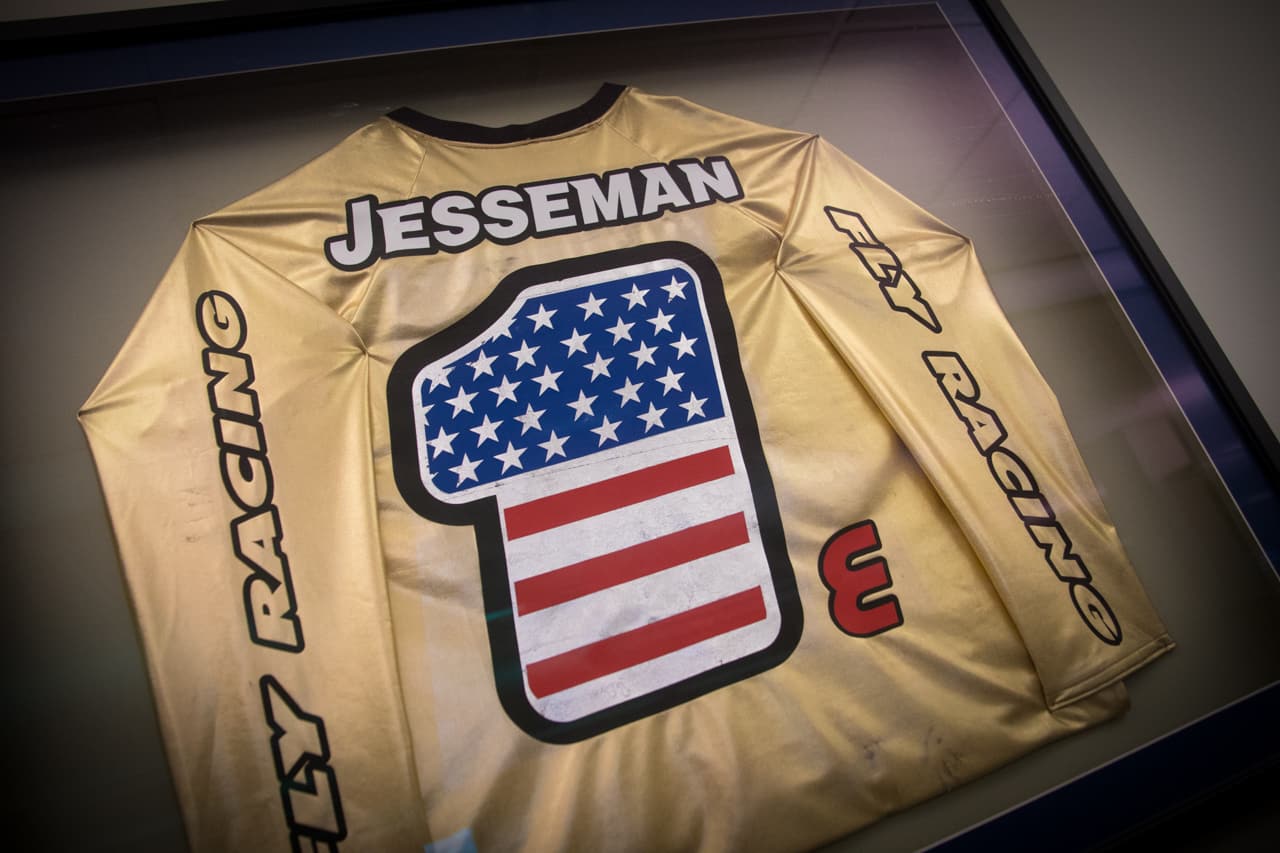 Brandon Jesseman won the 250 East title for Fly Racing in 2003 over Mike Brown.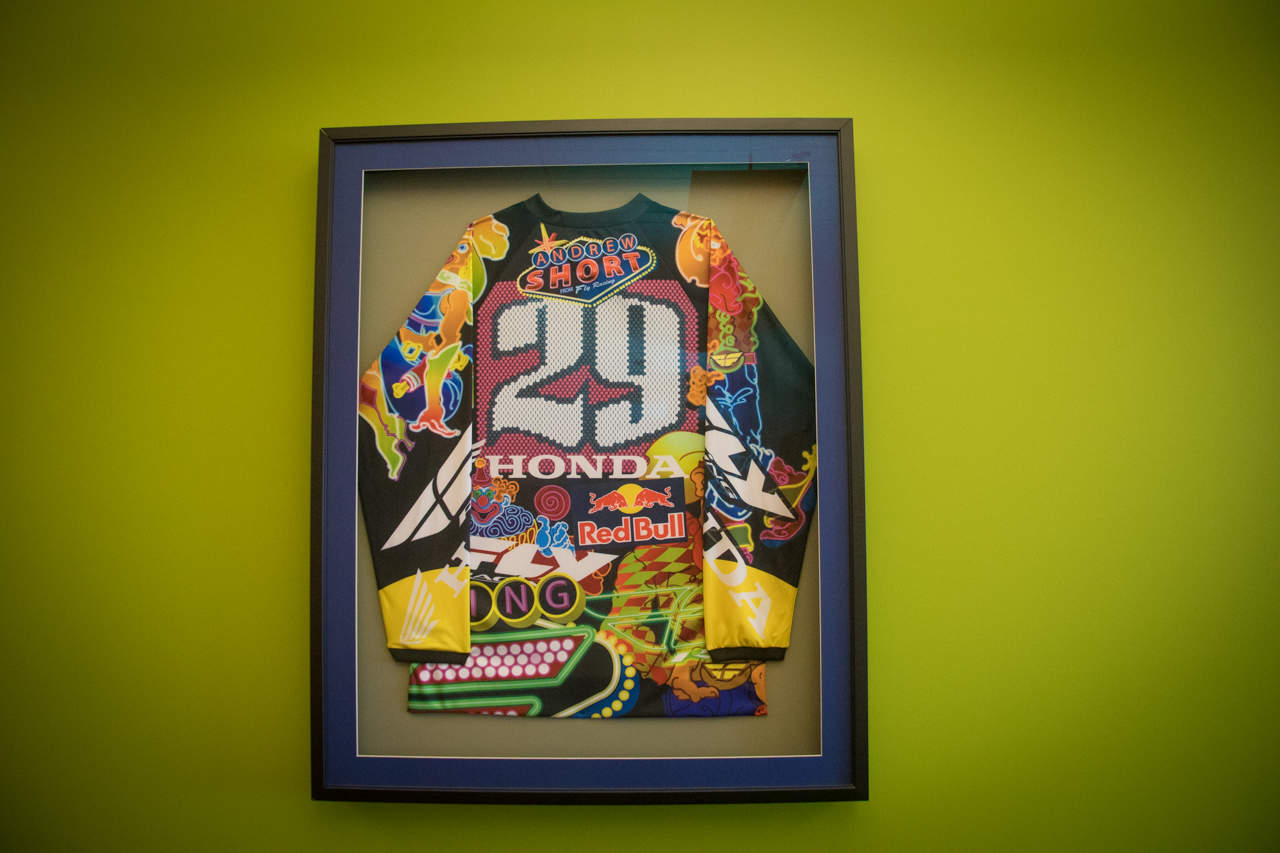 One of Andrew Short's Vegas Supercross jerseys.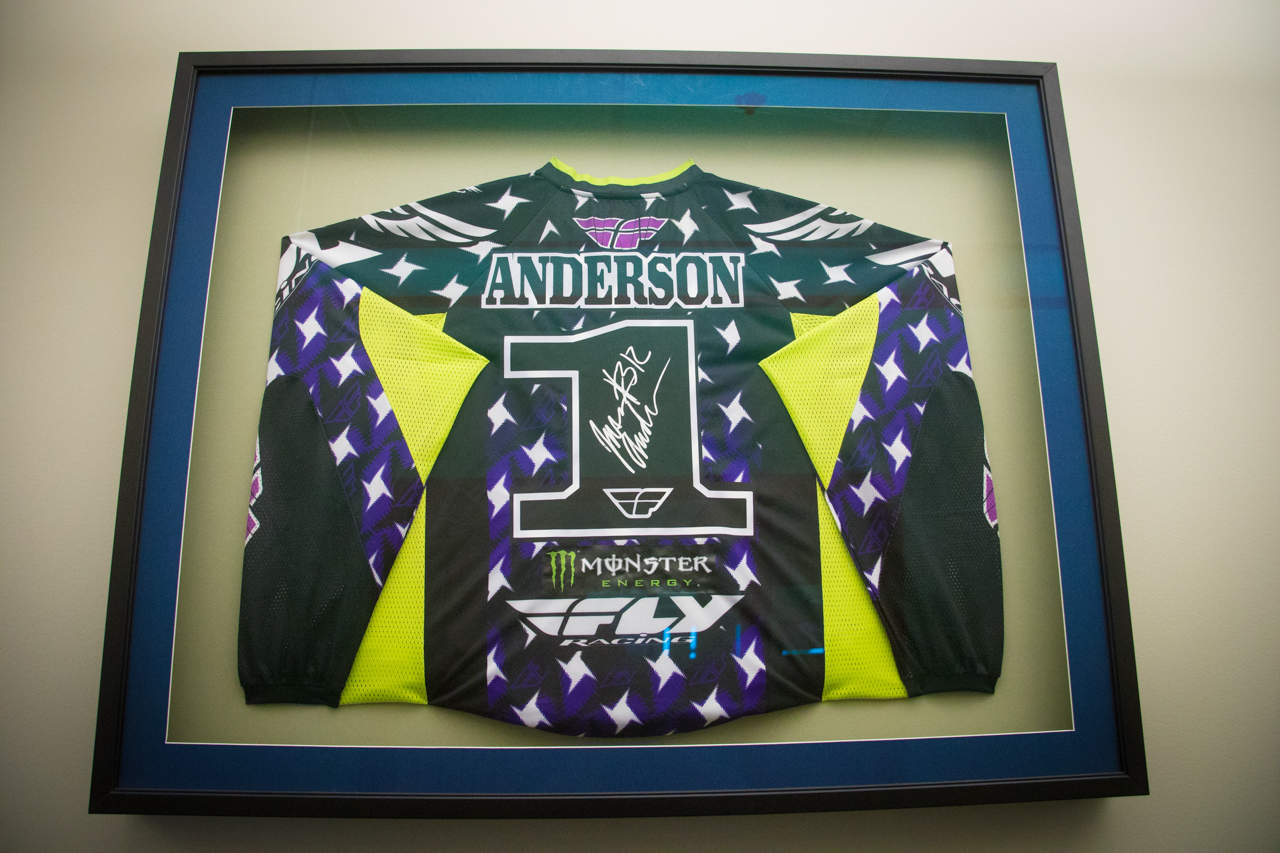 Jason Anderson back in his amateur days.


The freshest championship jersey on Fly Racing's wall is Zach Osborne's 2017 East Supercross jersey.
COOKING IN THE MXA CROCK POT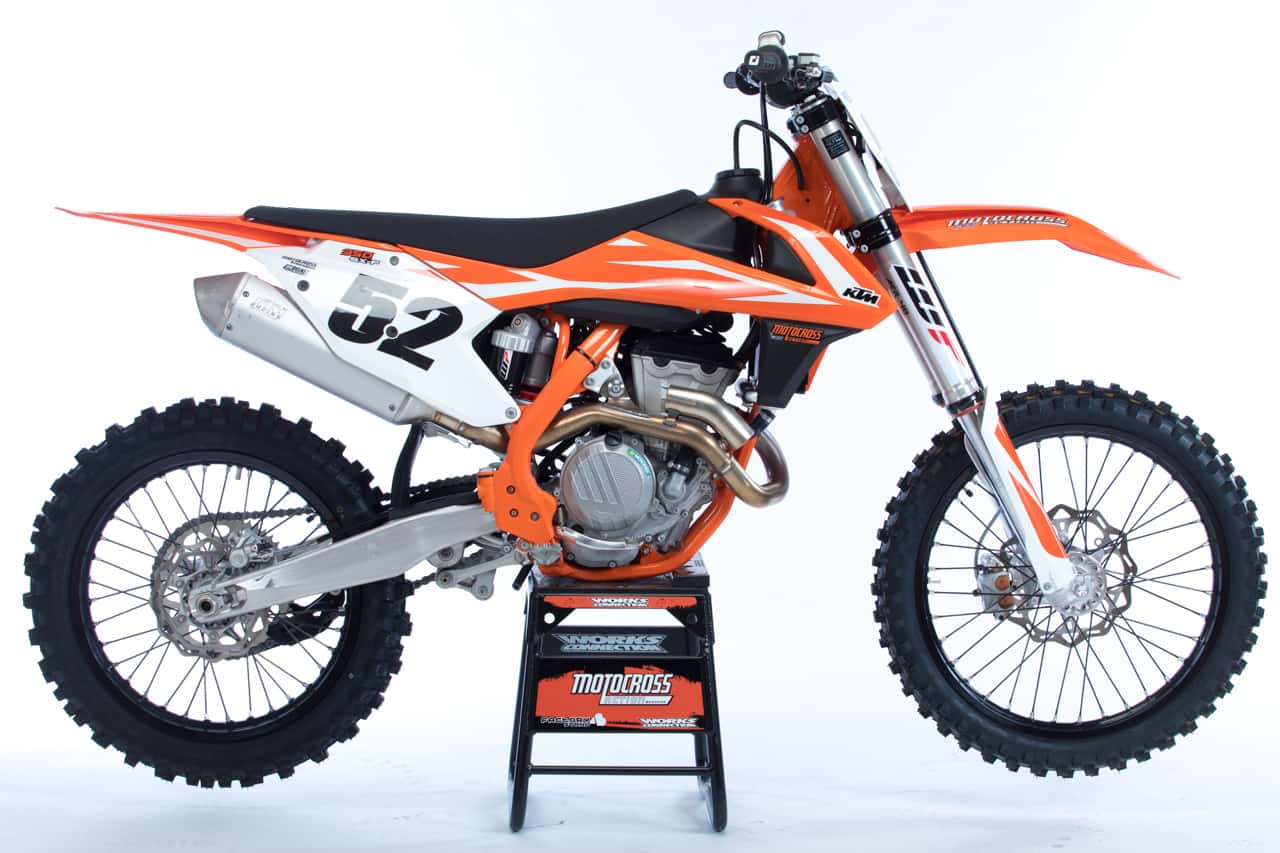 We got our hands on the 2018 KTM 350SXF today and in the studio. We will be at REM this weekend to start the Wrecking Crew initiation.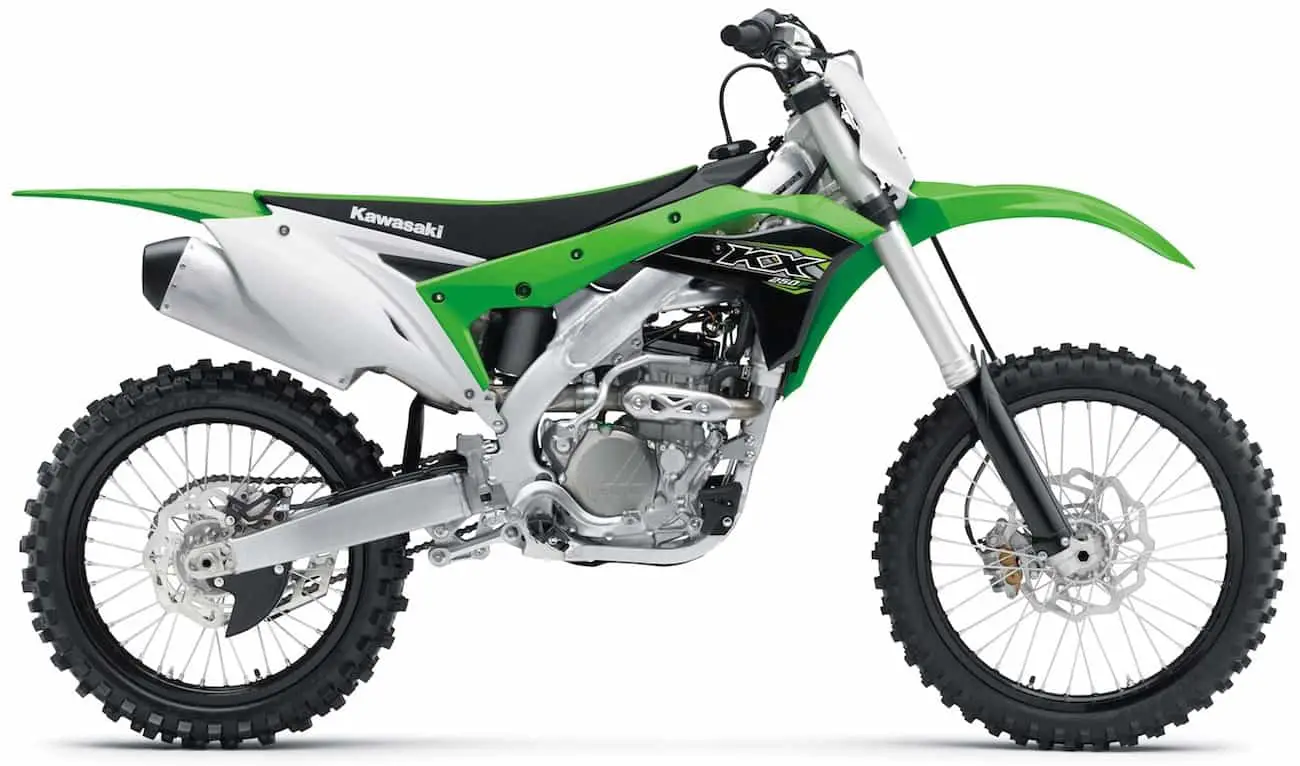 We will be testing the 2018 KX250F Thursday at Cahuilla Creek motocross track. The 2017 Kawasaki KX250F was a love/hate relationship us. We loved the new chassis but hated the new engine. Okay, hate is an exaggeration because we grew to live with it. It was just boring. We want the 2016 engine in the 2018 chassis. We hope we get what we wished for. 
PHOTO OF THE PAST: 2007 RED BUD STEWART VS. CARMICHAEL
The good old Stewart vs. Carmichael battles. I don't think RC was ever worried about Stewart outdoors though. 
2017-18 RACE SCHEDULES: BE THERE OR BE SQUARE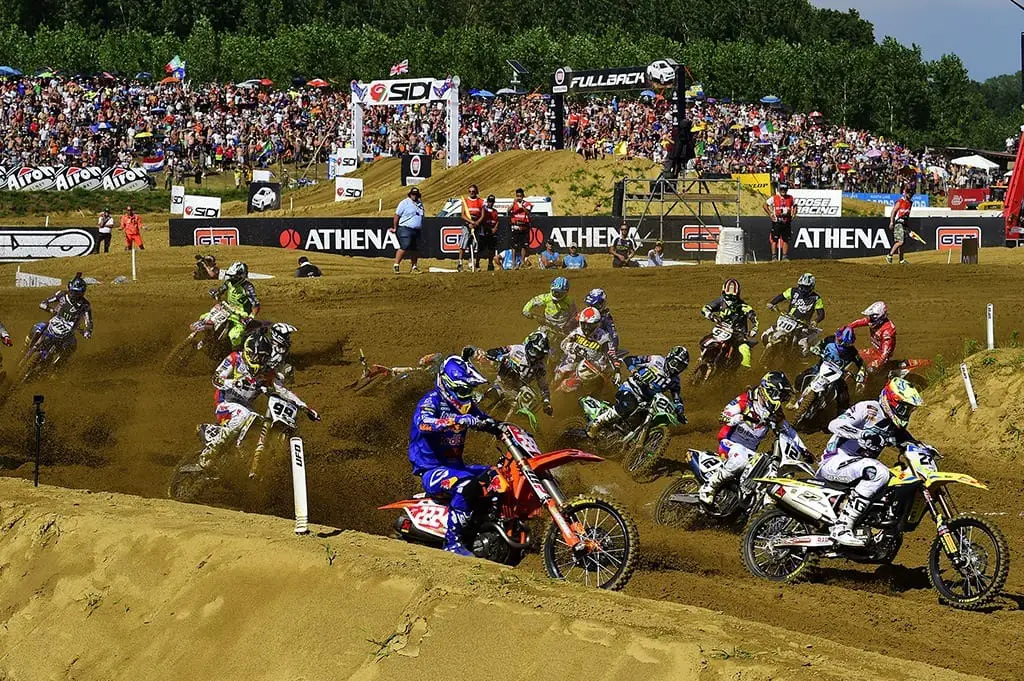 2018 MONSTER ENERGY SUPPERCROSS SCHEDULE
Jan. 6…… Anaheim, CA…… Angel Stadium
Jan. 13…… Houston, TX…… NRG Stadium
Jan. 20…… Anaheim, CA…… Angel Stadium
Jan. 27…… Glendale, AZ…… U. of Phoenix Stadium
Feb. 3…… Oakland, CA…… Oakland Aameda Coliseum
Feb. 10…… San Diego, CA…… Petco Park
Feb. 17…… Arlington, TX…… AT&T Stadium
Feb. 24…… Tampa, FL…… Raymond James Stadium
Mar. 3…… Atlanta, GA…… Mercedes-Benz Stadium
Mar. 10…… Daytona, FL…… Daytona Intl. Speedway
Mar. 17…… St. Louis, MO…… Dome at America's Center
Mar. 24…… Indianapolis, IN…… Lucas Oil Stadium
Apr. 7…… Seattle, WA…… Centurylink Field
Apr. 14…… Minneapolis, MN…… U.S. Bank Stadium
Apr. 21…… Foxborough, MA…… Gillette Stadium
Apr. 28…… Salt Lake City, UT…… Rice-Eccles Stadium
May 5…… Las Vegas, NV…… Sam Boyd Stadium
2017 LUCAS OIL PRO MOTOCROSS CHAMPIONSHIP
May 20…Hangtown…Sacramento, CA
May 27…Glen Helen…San Bernardino, CA
June 3…Thunder Valley…Lakewood, CO
June 17…High Point…Mount Morris, PA
June 24…Muddy Creek…Blountville, TN
July 1…Red Bud…Buchanan, MI
July 8…Southwick…Southwick, MA
July 22…Spring Creek…Millville, MN
July 29…Washougal…Washougal, WA
August 12…Unadilla…New Berlin, NY
August 19…Budds Creek…Mechanicsville, MD
August 26…Ironman…Crawfordsville, IN
* Visit www.promotocross.com/mx/tickets to buy tickets
2017 FIM MOTOCROSS WORLD CHAMPIONSHIP
February 25…Losail…Qatar
March 5…Pangkal Pinang…Indonesia
March 19…Neuquen…Argentina
April 2…Leon…Mexico
April 16…Trentino…Italy
April 23…Valkenswaard…The Netherlands
May 7…Kegums…Latvia
May 21…Teutschenthal…Germany
May 28…Ernee…France
June 11…Orlyonok…Russia
June 25…Ottobiana…Italy
July 2…Agueda…Portugal
July 23…Loket…Czech Republic
August 6…Lommel…Belgium
August 13…Frauenfeld…Switzerland
August 20…Uddevalla…Sweden
September 3…Gainesville…USA
September 10…Assen…The Netherlands
September 17…Villars sous Ecot…France