MOTOCROSS ACTION MID-WEEK REPORT BY DARYL ECKLUND

#WHIPITWEDNESDAY
Rider: Daryl Ecklund
Bike: 2018 Suzuki RM-Z450
Date: August 3, 2017
Location: JGRMX Compound
Photographer: John Basher
Lens: 300mm
Focal length: 300mm
Exposure: 1/1250
F-stop: 4.5
ISO: 400
TWO-STROKE SPOTLIGHT: 1992 YAMAHA WR250 CONVERTED INTO A YZ250
After restoration.
"The bike started out as a 1992 WR250, mainly as we wanted to use a wide-ratio gearbox. The frame was stripped, blasted, reinforced in key areas, and painted in 2 pack (I don't like powder coating as it tends to chip badly on MX bikes). Suspension was rebuilt & revalved in house using Teknik springs, wheels relaced with DID Dirtstar rims with stainless steel spokes, seat foam by Guts racing, new Mikuni carb, Clarke tank, UFO plastics, pink EK chain, Supersprox sprockets, Pro Circuit pipe, DEP silencer, Kenda Millville 2 tyres, Goodrige brake lines, All Balls Bearings. Engine build by Reco MX, engine mods consisted of really smoothing out the power, the engine is super electric, to suit Vet racing."
The before picture.
Pro Circuit pipe mated to a DEP silencer. 
The engine mods consisted of smoothing out the power.
Editors Note: Please keep those submissions coming. If you would like your bike to be featured in the "Two-Stroke Spotlight," please email me at [email protected]. All I ask is that you give a breakdown of your bike and a detailed description of the build. Please also send a few photos of your steed. By submitting your bike for the "Two-Stroke Spotlight," you agree to release all ownership rights to the images and copy to MXA. Please don't email me spam or try selling me Taylor Swift concert tickets or email me spam. I already celebrate T-Swizzle's entire collective, and there will be "bad blood" if you send me junk mail. See what I did there? Happy submitting your smoker.
2017 LORETTA LYNN CHAMPIONS
Open Pro Sport      Justin Cooper              Cold Spring Harbor, NY
250 A                          Justin Cooper              Cold Spring Harbor, NY
250 B Limited        Derek Drake                 San Luis Obispo, CA
250 B                         Garrett Marchbanks   Coalville, UT
250 C Limited        Stockton Stinebaugh  Caddo Mills, TX
250 C Jr.                   Rene Rodriguez           Layton, UT
250 C                         Stockton Stinebaugh  Caddo Mills, TX
450 B Limited       Ezra Hastings               Aurora, IN
450 B                      Brock Papi                     Groveland, FL
450 C                      Wesley Allen                 Fairfax, SC
125 (12-16) B/C    Carter Biese                   Appleton, WI
125 C                       Jeffrey Champers        Punta Gorda, FL
College (18-24)    Tanner Basso                Alpine, CA
Junior 25+           Mike Brown                   Bluff City, TN
Vet 30+                 Taylor Painter               Cleburne, TX
Senior 40+           Mike Brown                   Bluff City, TN
Senior 45+           Jay Wagner                    Warsaw, IN
Masters 50+        John Grewe                    Rockford, MI
51cc (4-6)             Roxyn Rinehart             Anniston, AL
51cc (4-6) SD       Landon Palmer             Hammonton, NJ
51cc (4-6) L          Wyatt Thurman            Temecula, CA
51cc (7-8) L          Drew Adams                  Chattanooga, TN
65cc (7-9) L          Kade Johnson               Hideaway, TX
65cc (10-11) L      Casey Cohran                 Cullodgen, GA
65cc (7-11)            Haiden Deegan              Temecula, CA
85cc (9-11) L        Ryder DiFrancesco       Bakersfield, CA
85cc (9-12)           Jett Reynolds                 Bakersfield, CA
Mini Sr.(12-13)    Matthew LeBlanc          Breaux Bridge, LA
Mini Sr.(12-14)    Kaeden Amerine           Great Bend, KS
Super Mini 1        Ty Masterpool                Paradise, TX
Super Mini 2        Ty Masterpool                Paradise, TX
Schoolboy 1          Mason Gonzales             Fort Walton Beach, FL
Schoolboy 2         Garrett Marchbanks      Coalville, UT
Girls (11-16)         Tayler Allred                   Riverton, UT
Women (12+)      Hannah Hodges             Deland, FL
2017 AMA Specialty Award Winners
-Nicky Hayden AMA Horizon Award       Justin Cooper               Cold Spring Harbor, NY
-AMA Amateur Rider of the Year              Garrett Marchbanks    Coalville, UT
-AMA Youth Rider of the Year                    Ty Masterpool              Paradise, TX
-AMA Vet Rider of the Year                          Mike Brown                  Bluff City, TN
-Chris & Cody Gragg Memorial                  Dylan Kucowski            New Egypt, NJ
2018 SUZUKI'S IN NORTH CAROLINA
The 2018 Suzuki RM-Z450. 
Suzuki invited MXA out to North Carolina to ride the 2018 Suzuki RM-Z450 and RM-Z250. As an added bonus we got to tour JGRMX as well as the JGR NASCAR Cup shop and ride one of JGR's Factory RM-Z250. For the MXA wrecking crew, this wasn't our first time at JGR, or our second, or our third—so, visiting North Carolina is really like spending time at our second home (and we get to hang out with our old MXA teammate John Basher for a few fun-filled few days).
MXA's Daryl Ecklund spent the entire day shaking the new RM-Z450 down so it will be ready for Jody, Dennis and the rest of the MXA wrecking crew when it gets back to California. 
The big story was the 2018 RM-Z450. It is the first totally redesigned RM-Z450 in a decade. How was it? In short, better than the 2008-2017 model years. Everything was better. It had better suspension, more powerful engine and improved looks. But for a ten-year difference between old and new there isn't a huge gap in performance and handling. If you can imagine a Suzuki turning any better than it already does, it does. Too good! We had to lower the sag to 108mm so the bike wouldn't oversteer.

Suzuki had a flock of bikes ready for the media at the JGRMX compound.
The spring forks is head over heals improved over the atrocious Showa TAC forks of the last couple years. The forks do, however, have a harsh spot in the mid-stroke. But once we get more testing in on our home turf, we feel confident that we can resolve the issue. We didn't really think about the new Showa Balance Free Rear Cushion shock absorber when riding. Which is a good thing as it means we had no issues with it. It did everything we wanted it to.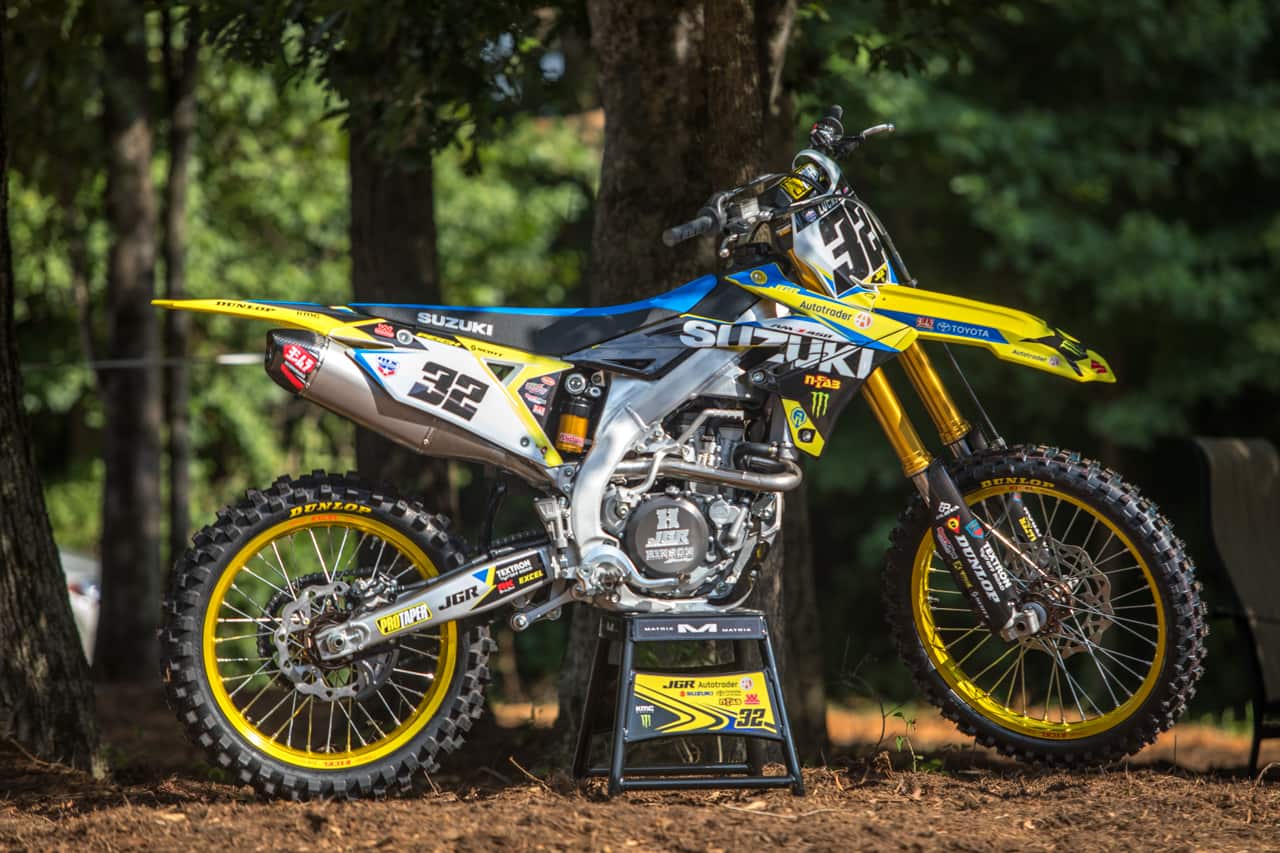 A mock-up of what Weston Peick's factory Suzuki RM-Z450 will look like for the coming Supercross season. 
The engine is basically a hopped-up version of the pervious engine as most of the engine castings remain unchanged. The throttle body is much like a KTM unit, with the injector at the bottom rather than the top. The power was more responsive with added muscle across the entire spread. How much more? It was tough to judge on a track where the only bikes there were other Suzukis, but we would guess a horse or two more on peak power, but probably not topping the 2018 Honda CRF450, Husqvarna FC450 or KTM 450SXF numbers.
Little brother: The 2018 Suzuki RM-Z250 blue stripe and all.
As for the 2018 RM-Z250, it is unchanged from 2017, save for the blue stripe on the seat and BNG. We had Ben Graves be our photo model for the day. All our test riders liked the bike. It turns great, handles well and the engine is easy to ride. But it is hard to ignore that over the past 8 years the RM-Z250 has only gained a half horsepower where the KTM 250SXF has gained 8 horsepower. For 2018 the RM-Z is 7 ponies down from the KTM 250SXF. We would have to spend a hard-earned $5000 to make up the power gap. But remember, if you are not a racer and want an easy to ride bike, it will be right up your alley.
Ben Graves posing for the camera on the RM-Z250. 
We also got to ride one of JGRMX's Factory RM-Z250's. A few months ago MXA tested Phil Nicoletti's RM-Z250 that was very similar to this one. For the full write up click HERE. 
Our videographer, Travis Fant was in attendance to catch all the action.  Check out the 2018 RM-Z450 and RM-Z250 videos he shot and produced below. 

FACEBOOK POST OF THE WEEK:

MXA's RECOMMENDED 2018 KAWASAKI KX250F MAPPING
This is the fuel mapping chart specified by throttle opening and engine speed.  We modified the stock map and left it alone from 40 to 80 percent throttle, but made it richer at 10 percent throttle and leaner at 20-30 percent. 
We have received some emails asking about the 2018 Kawasaki KX250F ignition mapping that we mentioned earlier in the month. Some owners have said that the stock maps have a bad decel pop. We haven't run into this issue, but we aren't a big fan of the stock 2018 maps anyway. The stock map is boring, the aggressive map signs off way too fast and the rich map can't get out of its own way. We worked with Kawasaki to develop a map that we really liked. It creates good power throughout the spread and doesn't sign off as early, so the engine can pull the next gear effectively. Above and below are the Ignition and Fuel maps that we created (labeled "mxa best" in the upper corner of the display). We have to agree that the $700 KX FI calibration tool is pricey (and battery charge alarmingly short). We have learned that all registered Kawasaki dealers should be equipped with this tool. So, if your bike isn't running right or want a map that will make a big difference, take these photos and show your local Kawasaki dealer. They should be able to install the "MXA best" map with no problems.
We advanced the ignition timing from low to mid to get into the meat of the powerband faster. 
PHOTO OF THE PAST: BROC GLOVER'S KTM 250SX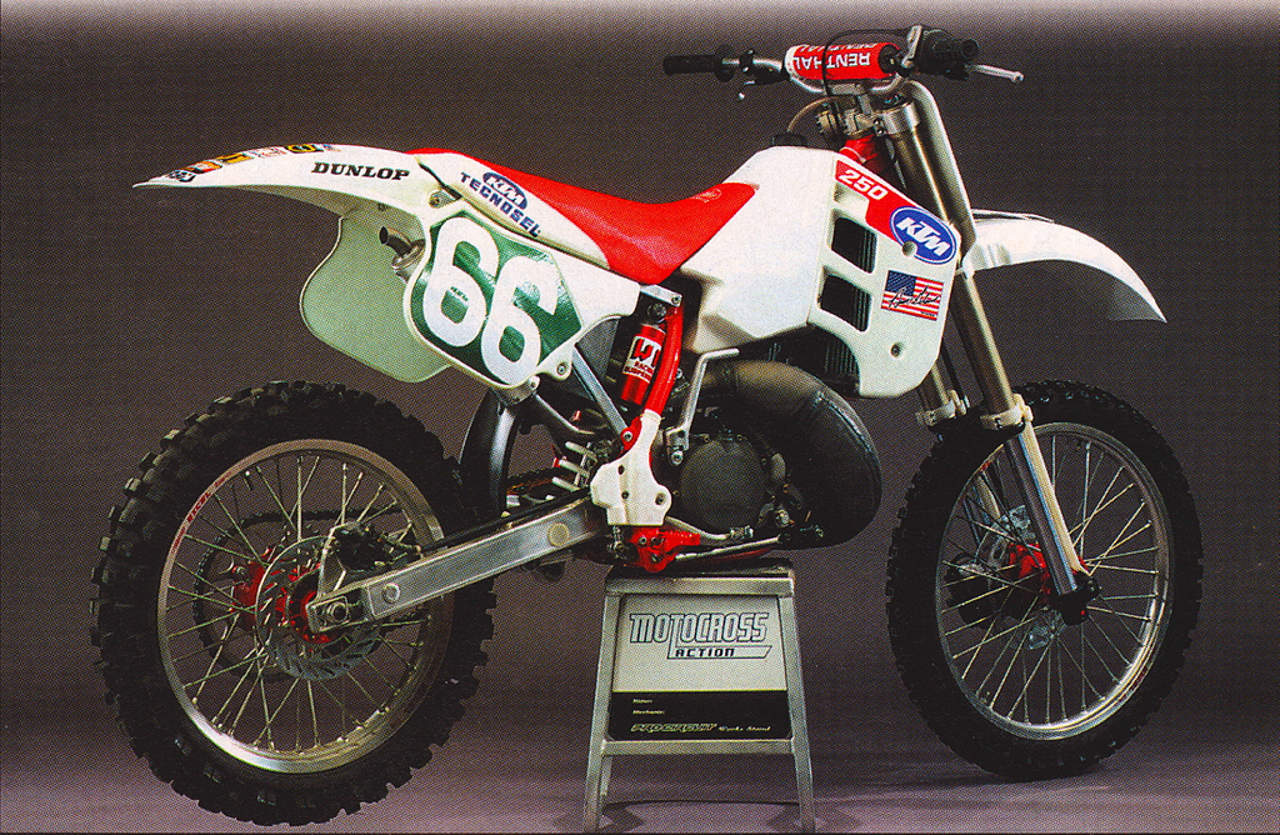 After winning the AMA 125 Nationals three times, Broc moved up to the250  big bikes. Broc never won the AMA 250 National or Supercross Championship, but he took the AMA 500 National title three times. After Broc parted ways with Yamaha, he raced the 1989 250 GPs on this KTM 250SX.
2017-18 RACE SCHEDULES: BE THERE OR BE SQUARE
2018 MONSTER ENERGY SUPERCROSS SCHEDULE
Jan. 6…… Anaheim, CA…… Angel Stadium
Jan. 13…… Houston, TX…… NRG Stadium
Jan. 20…… Anaheim, CA…… Angel Stadium
Jan. 27…… Glendale, AZ…… U. of Phoenix Stadium
Feb. 3…… Oakland, CA…… Oakland Aameda Coliseum
Feb. 10…… San Diego, CA…… Petco Park
Feb. 17…… Arlington, TX…… AT&T Stadium
Feb. 24…… Tampa, FL…… Raymond James Stadium
Mar. 3…… Atlanta, GA…… Mercedes-Benz Stadium
Mar. 10…… Daytona, FL…… Daytona Intl. Speedway
Mar. 17…… St. Louis, MO…… Dome at America's Center
Mar. 24…… Indianapolis, IN…… Lucas Oil Stadium
Apr. 7…… Seattle, WA…… Centurylink Field
Apr. 14…… Minneapolis, MN…… U.S. Bank Stadium
Apr. 21…… Foxborough, MA…… Gillette Stadium
Apr. 28…… Salt Lake City, UT…… Rice-Eccles Stadium
May 5…… Las Vegas, NV…… Sam Boyd Stadium
2017 LUCAS OIL PRO MOTOCROSS CHAMPIONSHIP
May 20…Hangtown…Sacramento, CA
May 27…Glen Helen…San Bernardino, CA
June 3…Thunder Valley…Lakewood, CO
June 17…High Point…Mount Morris, PA
June 24…Muddy Creek…Blountville, TN
July 1…Red Bud…Buchanan, MI
July 8…Southwick…Southwick, MA
July 22…Spring Creek…Millville, MN
July 29…Washougal…Washougal, WA
August 12…Unadilla…New Berlin, NY
August 19…Budds Creek…Mechanicsville, MD
August 26…Ironman…Crawfordsville, IN
2017 FIM MOTOCROSS WORLD CHAMPIONSHIP
February 25…Losail…Qatar
March 5…Pangkal Pinang…Indonesia
March 19…Neuquen…Argentina
April 2…Leon…Mexico
April 16…Trentino…Italy
April 23…Valkenswaard…The Netherlands
May 7…Kegums…Latvia
May 21…Teutschenthal…Germany
May 28…Ernee…France
June 11…Orlyonok…Russia
June 25…Ottobiana…Italy
July 2…Agueda…Portugal
July 23…Loket…Czech Republic
August 6…Lommel…Belgium
August 13…Frauenfeld…Switzerland
August 20…Uddevalla…Sweden
September 3…Gainesville…USA
September 10…Assen…The Netherlands
September 17…Villars sous Ecot…France