MOTOCROSS ACTION MID-WEEK REPORT BY DARYL ECKLUND
TWO-STROKE SPOTLIGHT: MATT WELLER'S 1992 YAMAHA YZ250 DAMON BRADSHAW REPLICA
The bike was bought for $75 and built from the ground up. 
"The bike is a 1992 Yamaha YZ250 Damon Bradshaw replica. I purchased the bike on craigslist for $75 and immediately went to work. The bike was in pretty rough shape when I started, the crankshaft was locked up and most of the plastic was missing.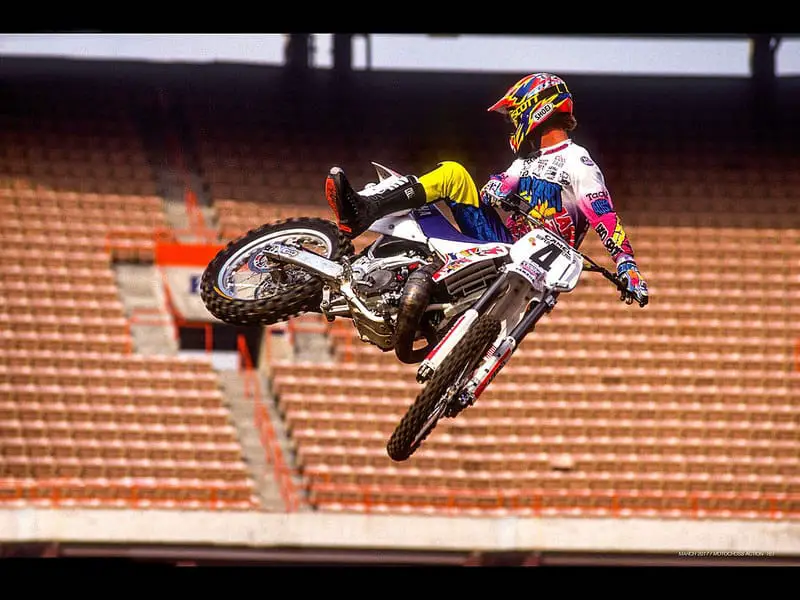 This is Damon Bradshaw in action on his original 1992 Yamaha YZ250.
The crankshaft was rebuilt using a Hot Rods connecting rod kit as well as all of the bearings in the bottom end, and a Vertex piston was used to freshen up the top end. The frame was sent out to be sandblasted and powder coated, and all of the hardware was stripped and zinc plated.
The forks and shock were rebuilt using All Balls seals and bushings, and the rest of the chassis bearings were replaced using All Balls components.
Contributors for the build were:
–Rocky Mountain ATV/MC for the Tusk brakes pads, Tusk Clutch kit, misc OEM parts, tires, tubes, levers
-Pro Circuit Pipe and Silencer
-UFO Plastic
-All Ball Racing Fork Seals/bushings, Cables, all chassis bearing
-Hot Rods Connecting rod, Engine bearings
-Vertex Pistons
-Renthal bars, grips, sprocket
Editors Note: Please keep those submissions coming. If you would like your bike to be featured in the "Two-Stroke Spotlight," please email me at [email protected]. All I ask is that you give a breakdown of your bike and a detailed description of the build. Please also send a few photos of your steed. By submitting your bike for the "Two-Stroke Spotlight," you agree to release all ownership rights to the images and copy to MXA. Please don't email me spam or try selling me Taylor Swift concert tickets or email me spam. I already celebrate T-Swizzle's entire collective, and there will be "bad blood" if you send me junk mail. See what I did there? Happy submitting your smoker.
#WHIPITWEDNESDAY
Rider: Marvin Musquin
Date: August 12, 2017
Location: Unadilla, New York
Photographer: Garth Milan
Lens: 70-200mm
Focal length: 135mm
Exposure: 1/1600
F-stop: 4.5
ISO: 800
FOR SALE $8500: JIM "BONES" BACON'S  1990 HONDA CR125R TEAM TEST BIKE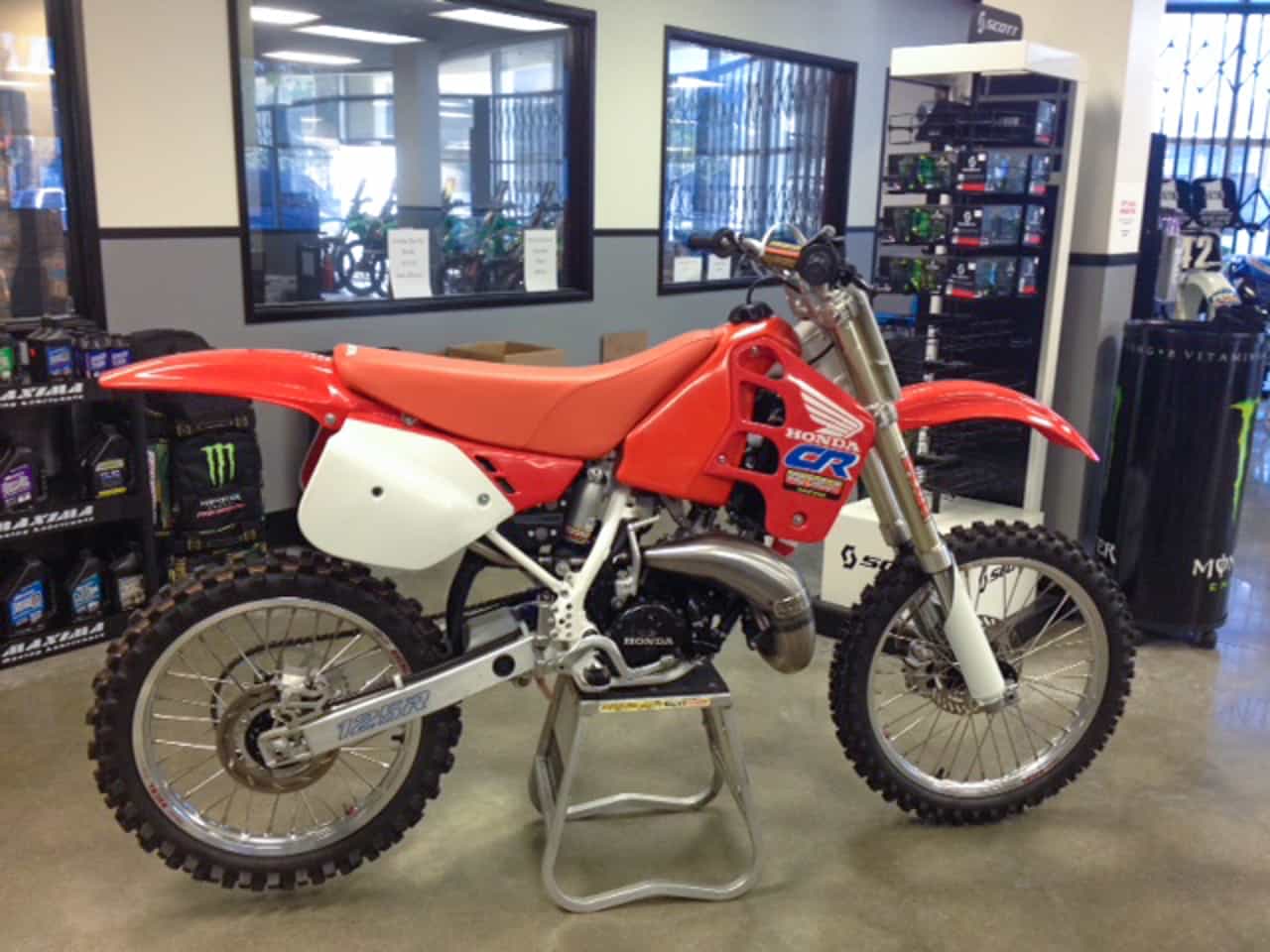 This beauty has an engine that was used by Rick Johnson and Mike Kiedrowski. The forks are factory Honda Showa test forks with KYB internals. 
"In 1990, Mike Kiedrowski used this engine at the Hangtown national and Rick Johnson also used this engine at the Mammoth Mountain Motocross race. This CR125 has a fully built race engine and includes factory Honda test forks (Showa forks with KYB internals), first ever Pro Circuit sprocket magnesium ignition cover, first ever Pro Circuit foot pegs and carbon fiber silencer. An extra set of plastics, extra pipe, extra silencer and an extra seat come complete with the bike"–Bones. (The bike was completely restored by Suzuki's Lee McCollum)
If interested, contact Pro Circuit at (951) 738-8050 and ask for Camilla Consonni
This bike is in showroom quality. Oh wait, it already is displayed on the Pro Circuit showroom floors. 
TWIN AIR HELMET MUD DEFLECTORS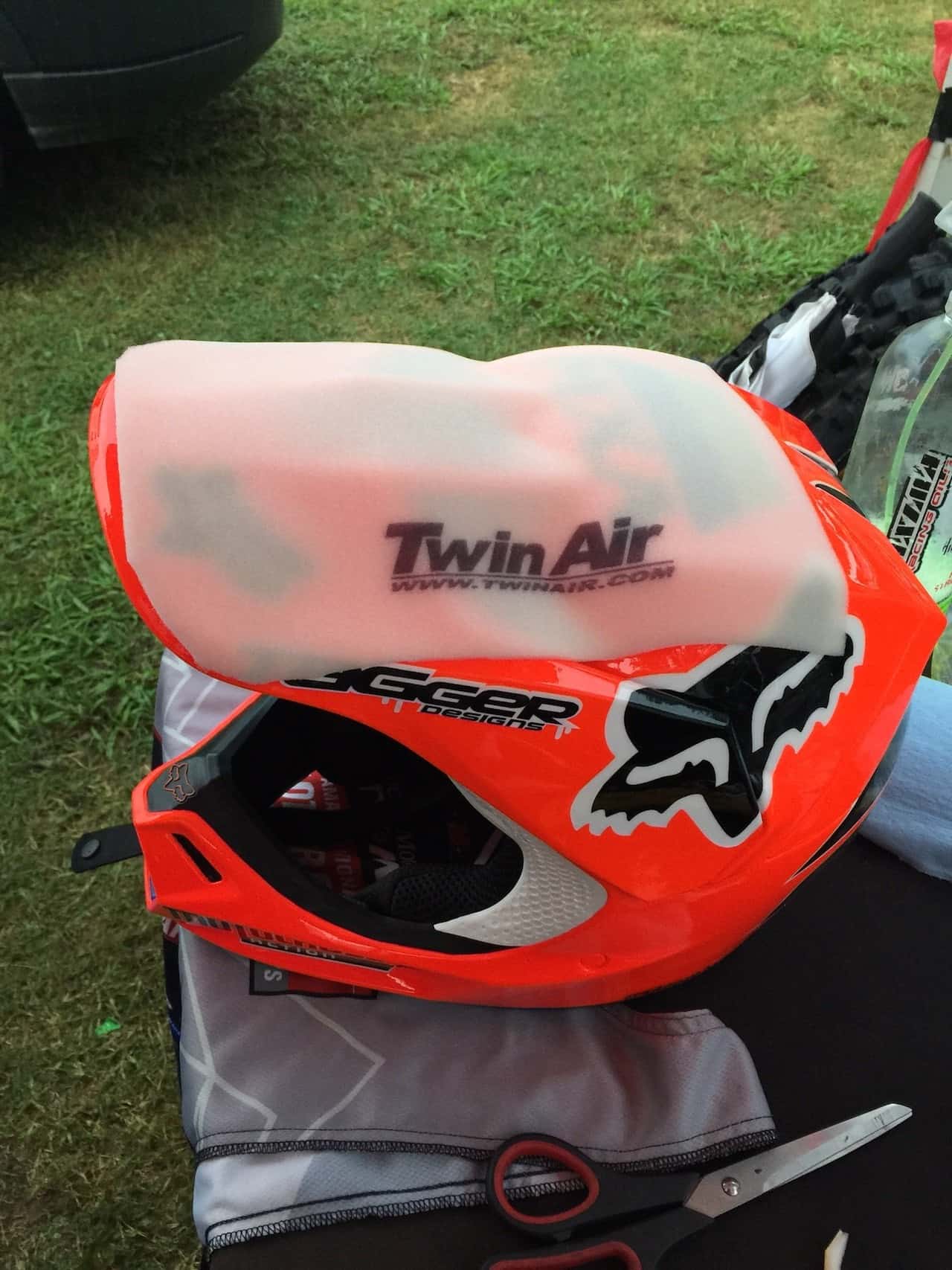 MXA's Dennis Stapleton went to Tennesse and raced the Loretta Lynn's amateur national this year. He knew there would be mud and came preppered with the Twin Air helmet mud deflector. This is the before picture.
This is the after photo. No mud got struck to his visor. This is a must have for mud races. 
THEY SAID IT: UNADILLA NATIONAL MOTOCROSS
Cole Seely: "I'm stoked to be on the podium today. I've seen a lot of progress in myself and my riding this year, so I'm happy that it's finally showing. I was surprised at how smooth the track was during practice. We don't get to ride a lot of tracks where it's just wide open, especially Unadilla since it's notorious for being deep, so it was a lot of fun. My bike felt great all day too, so I was stoked on that. I got off to a good start in the first moto and was running a great pace. Then the rain started to come and it got really hectic toward the end. Guys were going down, goggles were coming off, and the lappers weren't making it any easier. I didn't even know I had finished third until they pulled me to the podium when I was coming off the track. The weather was crazy with the rain and especially the lightning, so I was questioning if they'd even run the second moto and even went to talk to the AMA. It didn't seem safe, but it passed and we lined up about two and a half hours late. It was a mess. The mud was so deep and there was standing water everywhere, so I just tried to get myself in a good position in the first few turns. I had moved into fourth before I had some google issues. Unfortunately, I pulled my roll-off string too hard and it snapped, so with four laps to go I took them off and just tried to avoid getting too much roost or mud to the face. I lost two spots during that and ended up finishing sixth."
Christian Craig: "The day started off pretty good. I went into it open-minded but knew I wanted to get out front early in practice to get in a good lap. Luckily, I was able to do that and scored the fastest lap time of the day, so I was pretty happy. That's the first time I've been able to do that in the 450 class so it gave me a lot of confidence heading into the motos. I got a pretty good start in the first moto and was third but got shuffled back in the beginning and went to fifth. I've been struggling with not holding my position through the first couple laps, so I need to work on that. Cole and I pretty much rode around together in fourth and fifth the whole race. I was happy to get back in the top five though. Then the rain came and it was a big question mark if we were even going to race the second moto. I got a good start in the mud but had to pull my goggles early and tried to ride without them; it just didn't work so I had to pull in and get some new ones. I lost some positions from that, ending up ninth for eighth overall. There are positives to take away from the weekend despite the conditions, so I'm looking forward to Budds Creek."
Martin Davalos: "I've been wanting to ride the big bike for almost four years and it feels so good to be up here on the podium. The 450 Class is totally different than the 250's. The bike requires a lot more strength and I finally feel like I have made enough progress that I can hold on and run with the top guys for a full moto. This sport is about confidence and to run up front, be smart, and learn each weekend is what I'm trying to do. The track was gnarly today and it would have been insane if they didn't cut the races to 20-minutes."
Jeremy Martin: "It was a complete mudder today and fortunately I was at the right place at the right time," said Martin. "I felt pretty good all day today and once the rain started to come down I just tried to go into the second moto with a positive attitude, which I think is key. I was able to tune my bike a little bit better over the last couple of weeks and I think that it definitely helped today."
Zach Osborne: "Today ended up being pure survival and I did my best to salvage points. Starts are super important on a day like today and I just didn't have them. I was able to come through for a podium in the first moto, but the mud made it a lot tougher to make passes in the second moto. Overall I was able to make the most of it and I'm looking forward to the last two."
Joey Savatgy: "Even though I won the last race with a 7-1 in Washington, I still feel like I've found my groove again up front. It would have been interesting if the weather held up and we were able to race in the dry again, but that's racing. We only have four motos left, but I'm ready to be at the front in each race."
Adam Cianciarulo: "We had a great first moto going until I made a small mistake that cost me. It was hard to get going again after that and I was able to keep it in the top five. The second moto was all about survival on the start, which we did, but I was still far enough back to make it hard on myself to work through the pack. It's going to be fun going into Budds Creek knowing that we had some speed to work with in Moto 1 this weekend."

DYNO RUNS OF 2018 MODELS
The 2018 Yamaha YZ250F get torture tested on the dyno.
2018 HUSQVARNA TE250i–47 HP
2018 Husky TE250i fuel injection bike on the dyno.

Posted by Motocross Action on Wednesday, August 9, 2017
Jody Weisel, Jimmy Payton and Mike "Schnike" Tomlin gather around to check out the fitting of the TE250i's silencer.
2018 HUSQVARNA FC450–58 HP
Dyno of the 2018 Husky FC450 here at Pro Circuit.

Posted by Motocross Action on Wednesday, August 9, 2017
Mike "Schnike" Tomlin bangs through the gears on the 2018 KX250F.
2018 KAWASAKI KX250F–40 HP
Dyno runs on the 2018 KX250F.

Posted by Motocross Action on Wednesday, August 9, 2017

PRODUCT SPOTLIGHT: WORKS CONNECTION 2017-18 CRF450 TITAN SKID PLATE
Protect the undercarriage of your CRF450. 
Perfect upgrade from the sometimes frail stock skid plate, the Titan Skid Plate is injection molded in stronger, more durable Bronzed Titanium plastic. The Titan's design incorporates protection for the frame rails, engine cases and full-length center case to ward off impact damage. Includes an oil drain service hole to simplify oil changes and the Titan's mounting system makes use of the stock mount points for quick and easy install/removal as well. Retail $109.95.
Contact your retailer or visit www.worksconnection.com
FACEBOOK

POST OF THE WEEK: CONCEPT KAWASAKI KX300 TWO-STROKE
Check out these 2 stroke future concept bikes. What brand smoker would you want to see revived? https://motocrossactionmag.com/two-stroke-tuesday-concept-bikes-that-will-never-be/

Posted by Motocross Action on Wednesday, August 9, 2017

TESTING: FMF'S 2017-18 HONDA CRF450 SINGLE SIDE EXHAUST
Testing the FMF Racing single side exhaust on our 2018 Honda CRF450.

Posted by Motocross Action on Thursday, August 10, 2017
PHOTO OF THE PAST: COLE SEELY IN 2012
In 2012 Cole Seely finished 4th overall in the AMA Supercross series. That year he finished behind Eli Tomac, Dean Wilson and Marvin Musquin.
2017-18 RACE SCHEDULES: BE THERE OR BE SQUARE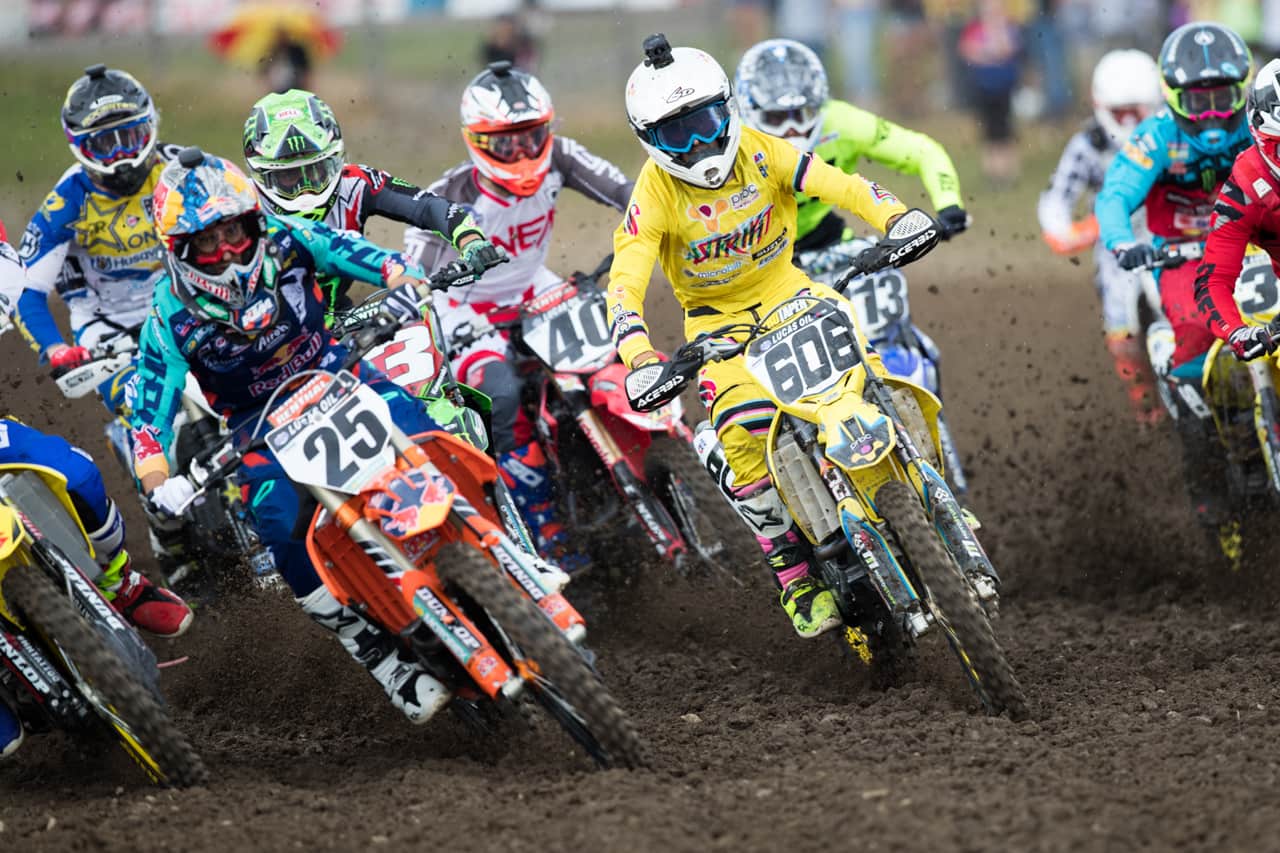 2018 MONSTER ENERGY SUPERCROSS SCHEDULE
Jan. 6…… Anaheim, CA…… Angel Stadium
Jan. 13…… Houston, TX…… NRG Stadium
Jan. 20…… Anaheim, CA…… Angel Stadium
Jan. 27…… Glendale, AZ…… U. of Phoenix Stadium
Feb. 3…… Oakland, CA…… Oakland Aameda Coliseum
Feb. 10…… San Diego, CA…… Petco Park
Feb. 17…… Arlington, TX…… AT&T Stadium
Feb. 24…… Tampa, FL…… Raymond James Stadium
Mar. 3…… Atlanta, GA…… Mercedes-Benz Stadium
Mar. 10…… Daytona, FL…… Daytona Intl. Speedway
Mar. 17…… St. Louis, MO…… Dome at America's Center
Mar. 24…… Indianapolis, IN…… Lucas Oil Stadium
Apr. 7…… Seattle, WA…… Centurylink Field
Apr. 14…… Minneapolis, MN…… U.S. Bank Stadium
Apr. 21…… Foxborough, MA…… Gillette Stadium
Apr. 28…… Salt Lake City, UT…… Rice-Eccles Stadium
May 5…… Las Vegas, NV…… Sam Boyd Stadium
2017 LUCAS OIL PRO MOTOCROSS CHAMPIONSHIP
May 20…Hangtown…Sacramento, CA
May 27…Glen Helen…San Bernardino, CA
June 3…Thunder Valley…Lakewood, CO
June 17…High Point…Mount Morris, PA
June 24…Muddy Creek…Blountville, TN
July 1…Red Bud…Buchanan, MI
July 8…Southwick…Southwick, MA
July 22…Spring Creek…Millville, MN
July 29…Washougal…Washougal, WA
August 12…Unadilla…New Berlin, NY
August 19…Budds Creek…Mechanicsville, MD
August 26…Ironman…Crawfordsville, IN
* Visit www.promotocross.com/mx/tickets to buy tickets
2017 FIM MOTOCROSS WORLD CHAMPIONSHIP
February 25…Losail…Qatar
March 5…Pangkal Pinang…Indonesia
March 19…Neuquen…Argentina
April 2…Leon…Mexico
April 16…Trentino…Italy
April 23…Valkenswaard…The Netherlands
May 7…Kegums…Latvia
May 21…Teutschenthal…Germany
May 28…Ernee…France
June 11…Orlyonok…Russia
June 25…Ottobiana…Italy
July 2…Agueda…Portugal
July 23…Loket…Czech Republic
August 6…Lommel…Belgium
August 13…Frauenfeld…Switzerland
August 20…Uddevalla…Sweden
September 3…Gainesville…USA
September 10…Assen…The Netherlands
September 17…Villars sous Ecot…France
Photos by Scott Mallonee, Dennis Stapleton, MXA Archives, Red Bull Content Pool