MOTOCROSS ACTION MID-WEEK REPORT BY DARYL ECKLUND
TWO-STROKE SPOTLIGHT: JILLIAN GOODART'S 2007 KTM 144SX
The KTM days of the PDS shock. 
"I have a 2007 KTM 144 SX. We completely rebuilt it from the ground up about two years ago. I raced it a handful of times in the WORCS series in Women's C, but then became too involved with nursing school, so now it just sits in the garage looking pretty. I would love to share it so everyone else can enjoy it as much as I do! It has mostly "bling" parts, along with a few essentials for desert racing and a freshly built top end (including updated 2014 cylinder and piston) and new Moto Tassinari Vforce reeds. Here is a small list of what is on the bike: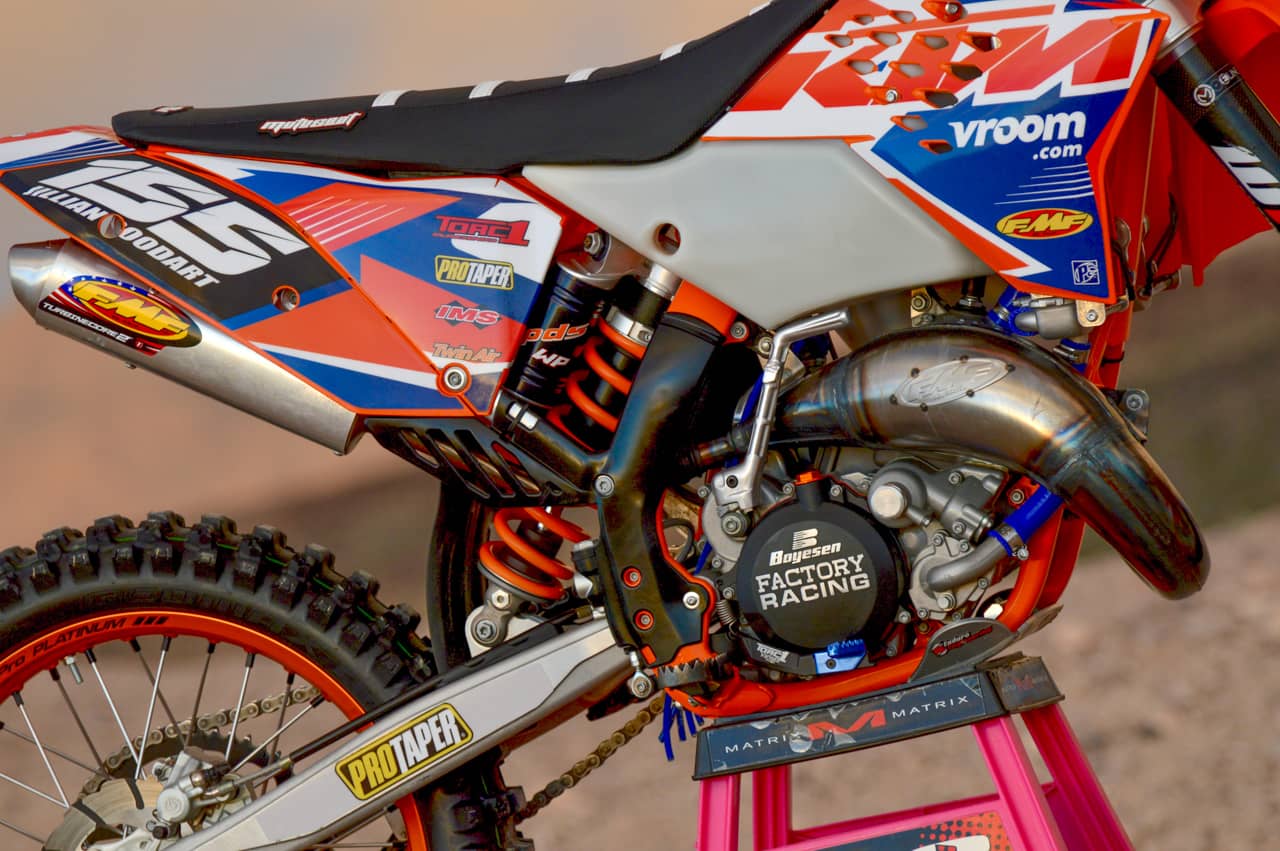 This 2007 KTM 144SX is loaded with an FMF pipe and silencer, Boyesen clutch cover, Torc1 goodies and much more. 
-Powder-coated frame
–Pro Taper bars & Twister throttle tube (bars shaved down to accommodate women rider narrow shoulders)
–FMF Factory Fatty Pipe w/ Turbinecore Silencer
–MSR radiator braces & Upgraded radiator hoses
–IMS Oversized tank
–Motoseat Seat Cover
–MotionPro throttle cable
–Torc1 shifter, brake pedal and pegs
–Boyesen ignition & clutch cover
–Enduro Engineering skid plate
-Upgraded to newer front fender set up
–Scotts stabilizer
–Pro Taper chain and sprockets
–Acerbis hand guards and full plastics set
–Dunlop AT81 tires
–SMPro platinum wheels
-Custom graphics by Pinned Motorsports from Las Vegas
Editors Note: Please keep those submissions coming. If you would like your bike to be featured in the "Two-Stroke Spotlight," please email me at [email protected]. All I ask is that you give a breakdown of your bike and a detailed description of the build. Please also send a few photos of your steed. By submitting your bike for the "Two-Stroke Spotlight," you agree to release all ownership rights to the images and copy to MXA.
KEN ROCZEN BACK ON THE BIKE AND LOOKING GOOD

#WHIPITWEDNESDAY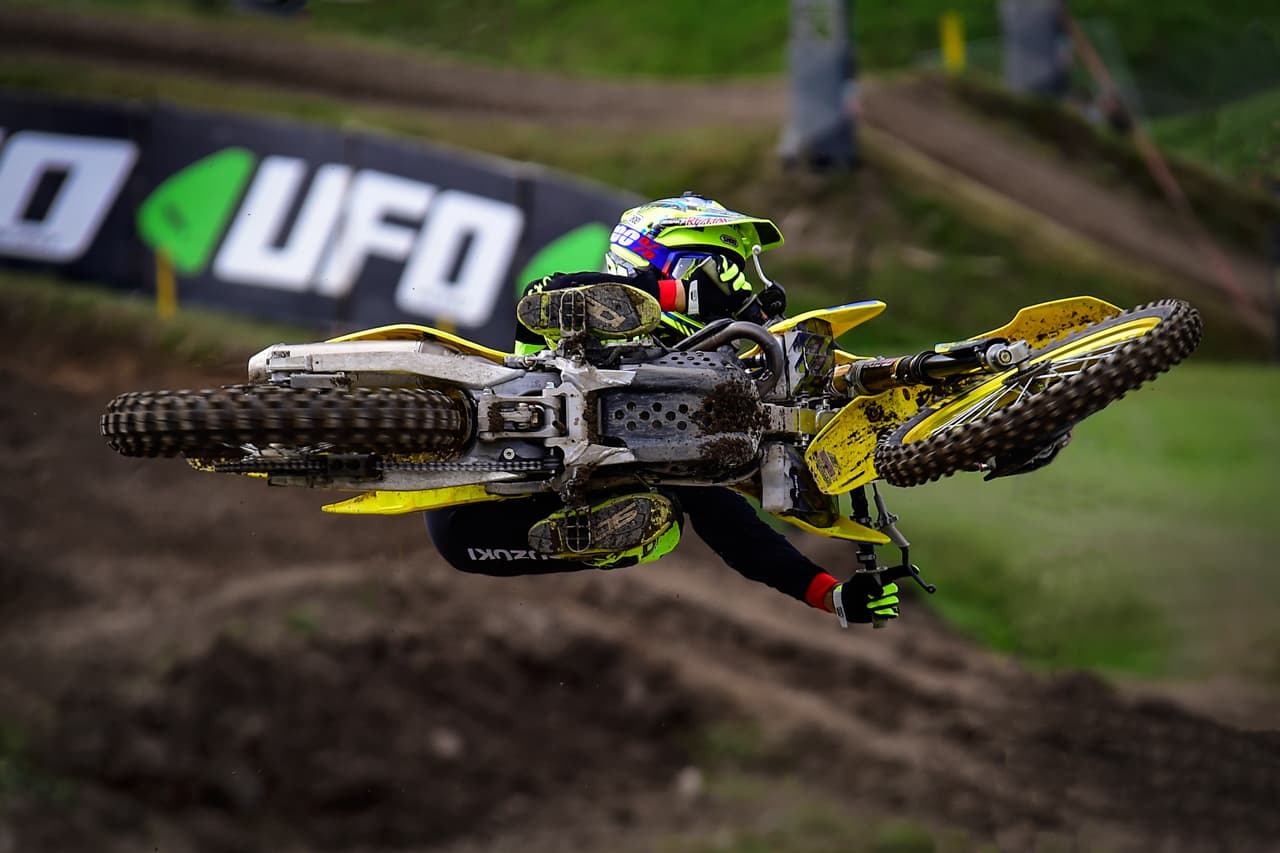 Rider: Jeremy Seewer
Date: August 20, 2017
Location: Uddevalla, Sweden
Photographer: Massimo Zanzani
Lens: 80-400mm
Focal length: 330mm
Exposure: 1/1600th
F-stop: 5.6
ISO: 800
JIM "BONES" BACON'S  1990 HONDA CR125R TEAM TEST BIKE SOLD 
In less than 24 hours of MXA postingthe notice that Bones Bacon was selling his 1990 Honda CR125, Bones bike was on its way to its new home in Texas. Offers came in from as far away as Australia to buy the bike, which was littered with trick parts from Bones many years at Pro Circuit. How much did it sell for? $8500. 

THEY SAID IT: BUDDS CREEK NATIONAL MOTOCROSS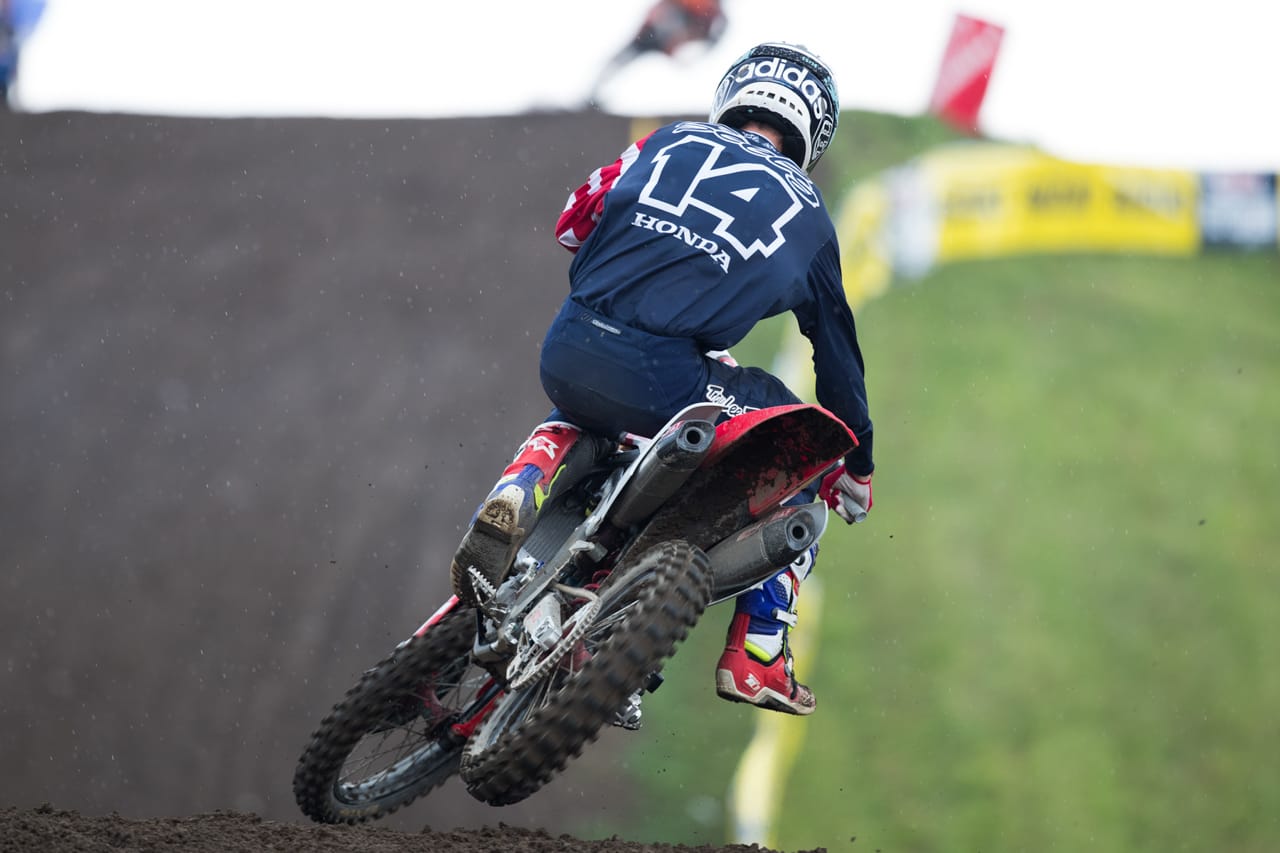 Cole Seely: "I'm happy with fifth overall today. I actually feel lucky to have even gotten that after how my second moto went. I think I've been riding a lot better over the past three weeks and have had much more intensity, so that's a positive. I felt great in the first moto and was closing in on the leaders while in third before going down. I got going real quick but a few laps later Marvin [Musquin] got by me. If I didn't have that one major mistake, I feel like I could've possibly won or at least got second because I felt good. I just struggled in the second moto, which is the only real negative from today. I had a little malfunction with my goggles, so I had a hard time seeing out there but it is what it is."
Christian Craig: "Today was another race where I qualified good [fourth] and couldn't get that result in the motos. My starts haven't been where they were in the beginning of the summer, before I broke my hand. Starting mid-pack makes it hard to make a lot of moves, especially with a stacked class. I'm happy to get another top-10 for the team but based on my speed and qualifying every week, I should be getting better results. There's one round left and one more chance to get into the top five overall."
Marvin Musquin: "My starts just weren't good today, and I put myself in a tough spot to win both motos. I was around 8th in the first moto rounding the first turn. It was tough coming through the pack. I was going through tear offs really fast trying to get by everyone. But, I was able to push hard and come back strong to finish 2nd in that moto, I didn't get the greatest start in the second moto. I was somewhere around 15th and had to push hard to try and make up ground on the guys up front. The top three guys were truly gone by the time I worked my way into fourth-place spot. The gap was too big to catch them in time. I had to settle for 2-4 moto finishes for 2nd overall. Although second overall isn't bad, my goal was to go 1-1 like the last few weekends because I would then earn the maximum 50 points for the weekend. I earned 40 points toward my championship today, so I left 10 points on the table that I would have liked to add to my standings. Hopefully I get my starts dialed back in for the final round next weekend so I can try to finish my season off strong."
Eli Tomac: "I was starting to lose my mind before the second moto today. I had three motos in a row that were really difficult and I found out that going into protective and safe mode is not the way to go. I got bumped around on the start in the first moto today and a seventh was all that I was able to make happen. In the second moto I finally felt like I got myself together and regrouped, which was a relief to put myself back on top. Hopefully we can go get this thing done [clinch the championshio] next weekend."

Justin Bogle: "It was an incredible feeling to get a win," said Bogle. "This is my first career podium in the 450 Class and to make it a win is pretty unreal. My starts were awesome today and that was really important since the track was very difficult to make passes on. I've been putting in a lot of work this summer and its been frustrating when the results aren't there every week. Today the hard work paid off, and I'm looking forward to carrying the momentum into our final round."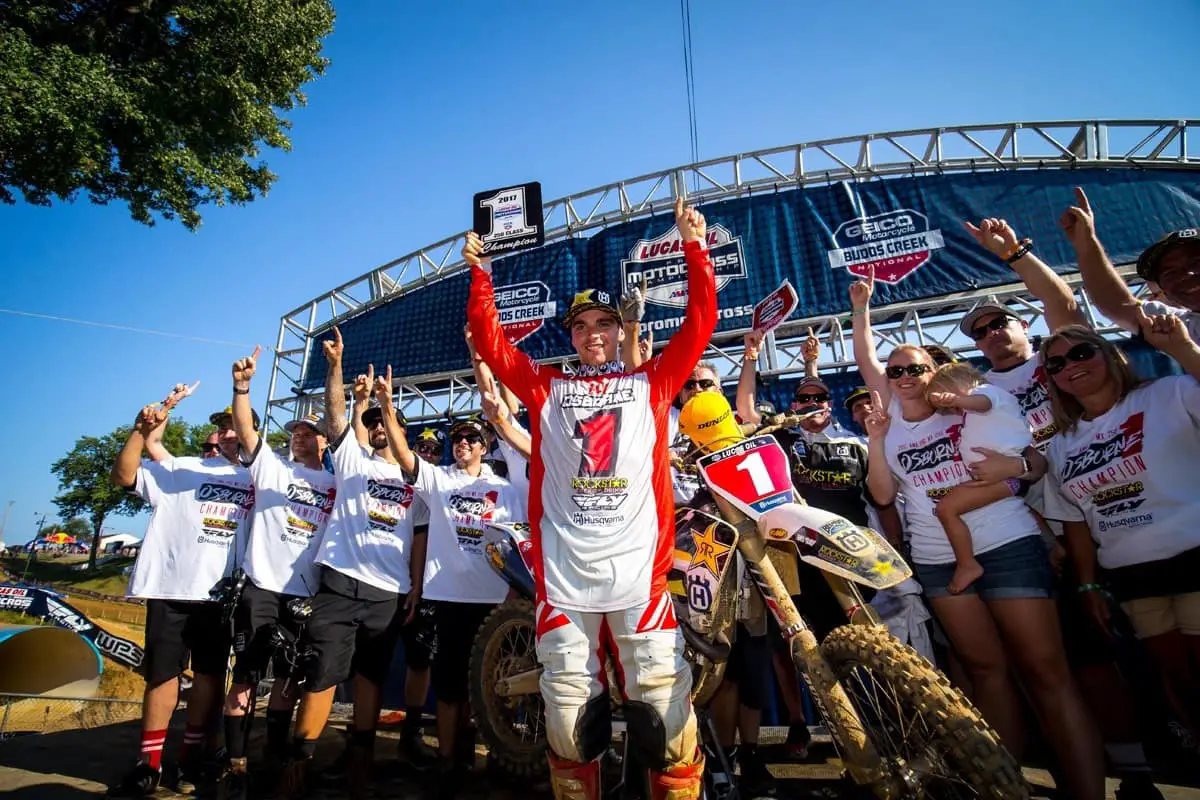 Zach Osborne: "This season has been challenging for a few different reasons, and it gave me cold chills when I passed by the mechanics area on the final lap with the team cheering. The first moto today was tough with going down on the start and I was forced to battle through the field, which seems like it's been a common thing for me this season. I felt good in the second moto and really comfortable once I got into the lead, so I just raced it like it was any other race. It's ironic that I captured my first career win here at Budds Creek last year and now my championship. This is definitely a track that I love."
Adam Cianciarulo: "It was pretty emotional to get that first moto win and then to get the overall was the best feeling. To be so close and not able to even podium has been tough to swallow, but I never gave up. I have an amazing group behind me encouraging me and pushing me to be better. It's great to keep the good results going for the team. We'll see what happens next week, but I think we've found something and will hopefully have a great final round."
JEFFREY HERLINGS' TO RACE THE LAST ROUND OF THE OUTDOORS IN INDIANA?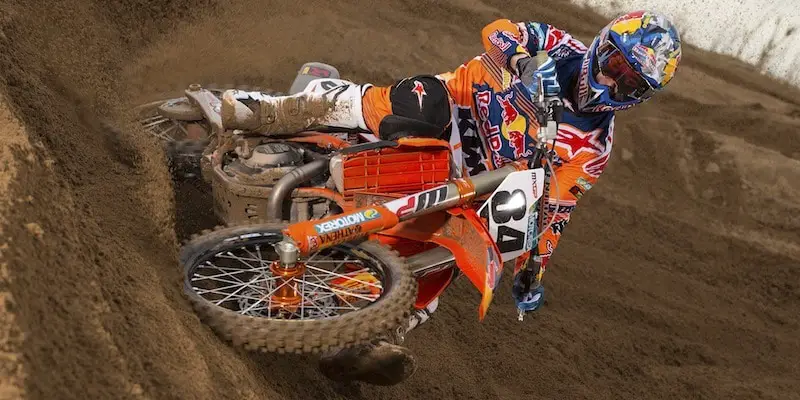 RacerX who is owned by MX Sports has said that Jeffrey Herling has been issued the number 784 to race the Ironman outdoor National this weekend in Indiana. The entry list has not been released yet, but it is no secret Herlings has been wanting to race an AMA National for some time now. We doubt that KTM has an ulterior motive to aid Musquin in getting optimum points over Tomac for the championship, because Tomac is a little too far ahead for that to be reasonable. Herlings is in the States for the USGP in Jacksonville, Florida, on September 4th, so he it would be his best opportunity to kill two birds with one trip. 
2018 FXR MOTO COLLECTION
Press Release: FXR Racing is pleased to announce the arrival of the 2018 MX Collection, launching August 18th, 2017. FXR has a passion for creating a higher standard in high-performance motocross racewear. Through extensive research, development, and testing in actual races and months of working hand in hand with our team riders on every detail, FXR has produced the FXR 2018 MX Collection; the lightest, most comfortable high-performance motocross gear on the market.
REVO Collection.
The Revo line is FXR's premium gear. Putting the rider first, with a focus on ergonomic fit and ultra-light weight performance. The Revo moto pants and jersey will deliver on the finish line.The Revo Pant offers an industry leading fit and performance. The fit is created by our tailored approach and innovative 4-way stretch poly/span lightweight fabric panels. The REVO pant incorporates a pre-shaped leg construction with ultra-lightweight fabrics to offer the ultimate balance of comfort and performance. The Revo Jersey is a slim fit lightweight polyester-spandex mesh for superior air flow and comfort, along with proprietary moisture-wicking yarns that provide quick-dry performance.
MISSION Collection.
The Mission line is FXR's mid-level gear line. With a focus on performance fit and durability the Mission moto pants and jersey will give you what you are looking for. The Mission Pant offers the best balance between fit and durability. The Mission pant incorporates tough 900D fabric construction with light weight 600D fabric to offer the best comfort and mobility. The Mission Jersey combines a lightweight polyester-spandex mesh with polyester knit for the best balance in comfort and air flow with an athletic fit.
CLUTCH Prime Collection.
The Clutch line is FXR's entry-level gear line. With performance and value in mind. The construction and colorways are made to appeal to a wide variety of riders. The Clutch Pant offers great durability and allows you to stand out on the track. With strategically placed stretch panels, giving you maximum mobility. The Clutch Jersey is a high-performance polyester birdseye knit with a classic fit.
PHOTO OF THE PAST: 2001 ANAHEIM 2 PODIUM
In thee first three rounds of the 2001 250SX Supercross series, Ricky Carmichael and Jeremy McGrath swapped wins. On the far left is Ricky Carmichael with Jeremy McGrath and Kevin Windham spraying champagne on the crowd. Ricky Carmichael would end up beating The King for the first time for an overall championship by winning 14 of the 16 rounds of the 2001 season.
2017-18 RACE SCHEDULES: BE THERE OR BE SQUARE
2018 MONSTER ENERGY SUPERCROSS SCHEDULE
Jan. 6…… Anaheim, CA…… Angel Stadium
Jan. 13…… Houston, TX…… NRG Stadium
Jan. 20…… Anaheim, CA…… Angel Stadium
Jan. 27…… Glendale, AZ…… U. of Phoenix Stadium
Feb. 3…… Oakland, CA…… Oakland Aameda Coliseum
Feb. 10…… San Diego, CA…… Petco Park
Feb. 17…… Arlington, TX…… AT&T Stadium
Feb. 24…… Tampa, FL…… Raymond James Stadium
Mar. 3…… Atlanta, GA…… Mercedes-Benz Stadium
Mar. 10…… Daytona, FL…… Daytona Intl. Speedway
Mar. 17…… St. Louis, MO…… Dome at America's Center
Mar. 24…… Indianapolis, IN…… Lucas Oil Stadium
Apr. 7…… Seattle, WA…… Centurylink Field
Apr. 14…… Minneapolis, MN…… U.S. Bank Stadium
Apr. 21…… Foxborough, MA…… Gillette Stadium
Apr. 28…… Salt Lake City, UT…… Rice-Eccles Stadium
May 5…… Las Vegas, NV…… Sam Boyd Stadium
2017 LUCAS OIL PRO MOTOCROSS CHAMPIONSHIP
May 20…Hangtown…Sacramento, CA
May 27…Glen Helen…San Bernardino, CA
June 3…Thunder Valley…Lakewood, CO
June 17…High Point…Mount Morris, PA
June 24…Muddy Creek…Blountville, TN
July 1…Red Bud…Buchanan, MI
July 8…Southwick…Southwick, MA
July 22…Spring Creek…Millville, MN
July 29…Washougal…Washougal, WA
August 12…Unadilla…New Berlin, NY
August 19…Budds Creek…Mechanicsville, MD
August 26…Ironman…Crawfordsville, IN
* Visit www.promotocross.com/mx/tickets to buy tickets
2017 FIM MOTOCROSS WORLD CHAMPIONSHIP
February 25…Losail…Qatar
March 5…Pangkal Pinang…Indonesia
March 19…Neuquen…Argentina
April 2…Leon…Mexico
April 16…Trentino…Italy
April 23…Valkenswaard…The Netherlands
May 7…Kegums…Latvia
May 21…Teutschenthal…Germany
May 28…Ernee…France
June 11…Orlyonok…Russia
June 25…Ottobiana…Italy
July 2…Agueda…Portugal
July 23…Loket…Czech Republic
August 6…Lommel…Belgium
August 13…Frauenfeld…Switzerland
August 20…Uddevalla…Sweden
September 3…Gainesville…USA
September 10…Assen…The Netherlands
September 17…Villars sous Ecot…France
Photos by Scott Mallonee and MXA Archives