MOTOCROSS ACTION MID-WEEK REPORT BY DARYL ECKLUND
MXA

FACEBOOK

PHOTO OF THE WEEK
How many bikes can you count?
JAMES STEWART LOOKS FLAWLESS


TWIN AIR PRE-OILED AIR FILTER SALE

20% OFF. Call today to place your order! Visit www.wmr1.com or call (866) WMR-RACE
#MXA

TALKS

INSTAGRAM

Levi Sherwood gets his new man cave dialed in.
This last weekend Taylor Roberts and a short list of other riders were launching the water pit at the Ontario Endurocross. Imagine coming up short on a log!
We have been out to the new LACR track, and it is pristine! Great jumps, corners and elevation changes. If you haven't been there yet you need to check it out.
JS7 always makes time for his golf game.
Love at first sight.
Jimmy Alberson's new nickname is the "Wolfinator."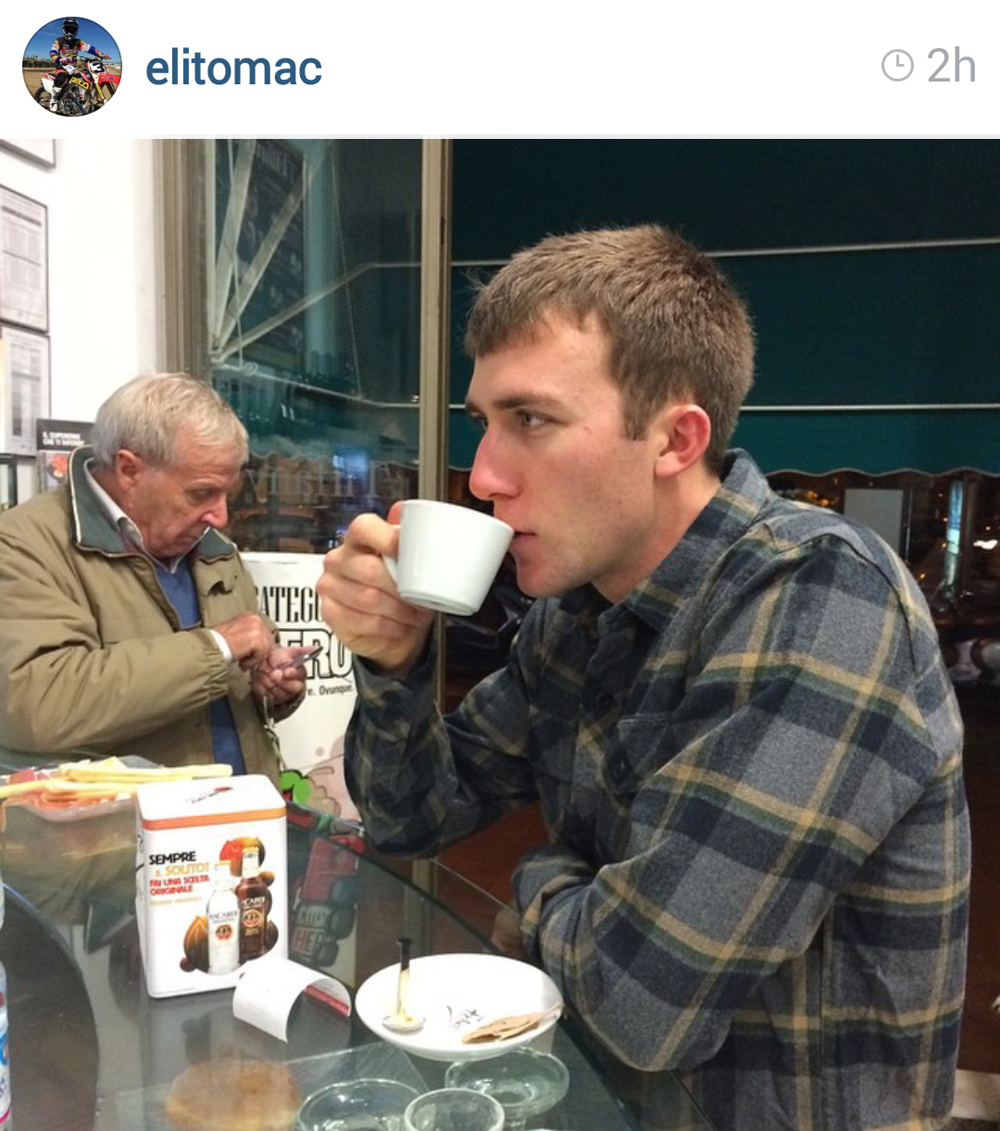 After a few weekends racing in Europe, Eli Tomac relaxes in Italy sipping on a cup of cappuccino.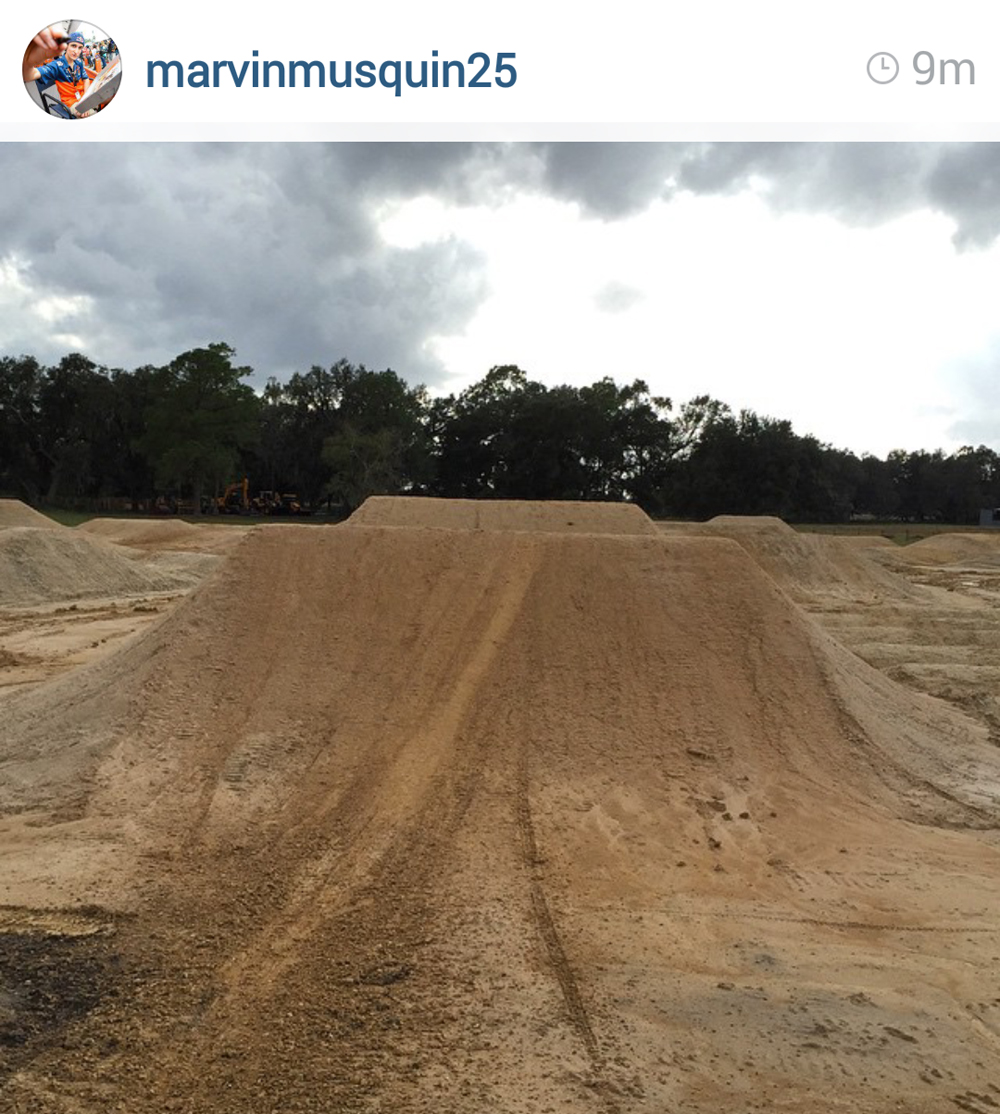 Marvin dubbed this "the scrub line."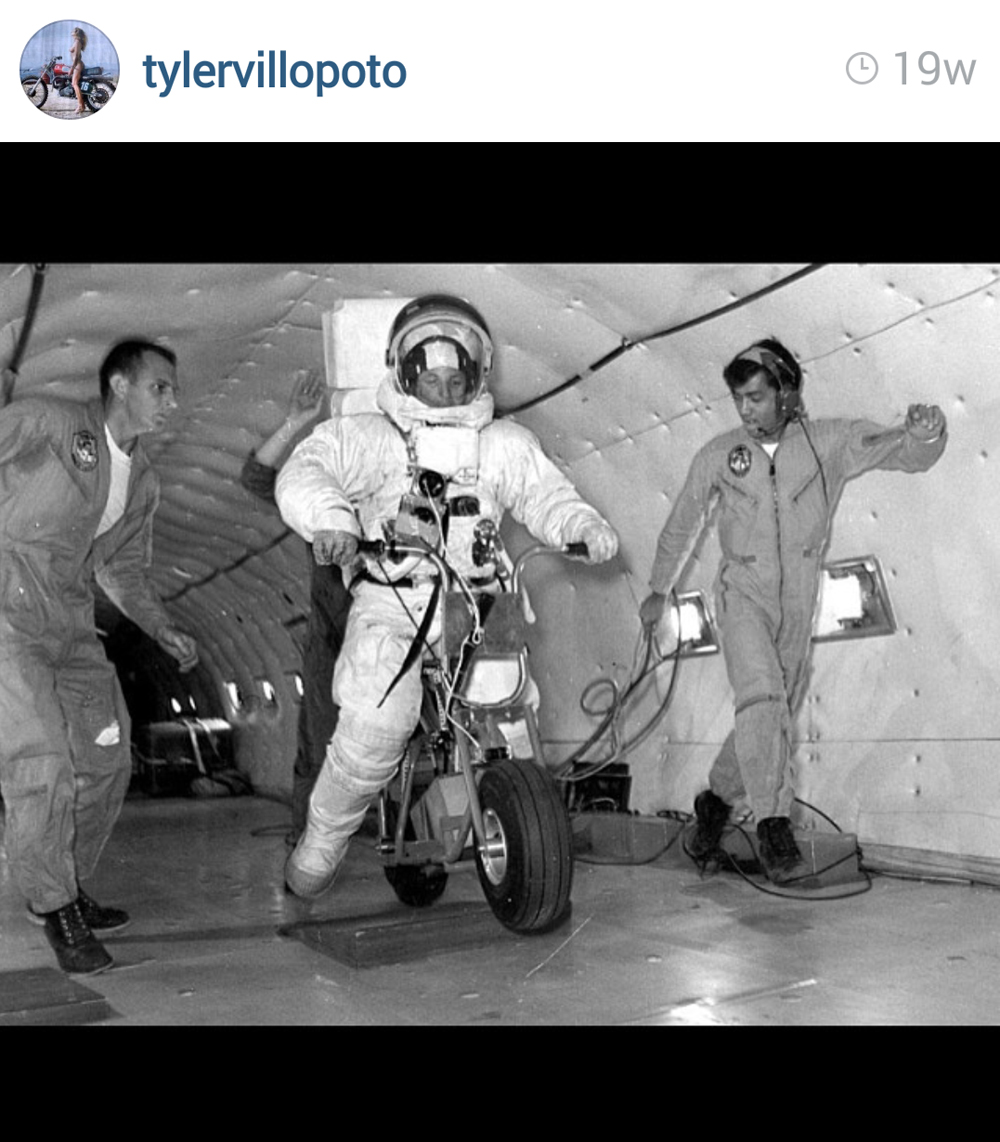 Ever thought what is would feel like to ride a motorcycle while weightless?
CHECK TWICE FOR TRACTORS OR THIS WILL HAPPEN


MXA MINI VIEW: COLE SEELY
Interview and photos by Spencer Rathkamp
MXA: Welcome to the new team! I know it isn't exactly brand new to you, given that you filled in for a few races in years past, but how has the transition been?
Cole: Its been great, a really easy transition. I am really familiar with the whole team and I got to bring my mechanic with me, so that made things even easier. Plus, I get along with Trey very well so its been going very smoothly.
Sounds like you are a good fit, how has the offseason been? Have you been to your hometown a lot?
Yeah, actually on the way up here, we stopped and grabbed some dinner with some buddies of mine. I still have a ton of friends and relatives in Newbury Park and I will always consider that my home no matter where I live. To me, it's the greatest place in the states and a place I'm fortunate to call it home. My offseason has been cool. I went to Hawaii on vacation with my girlfriend and spent some time moving to Laguna. My trainer, Brian Lopes lives there, so I was going back and forth from my previous house in Murrieta and fell in love with the place and eventually decided to move there. Its been nice to relax at the beach between riding and training. I like to unload and not think about riding when I don't have to, so I have really enjoyed it.

This is your second year with your bicycle racer Brian Lopes, what does he have you doing?
He has me on the bicycle a lot, as well as in the gym. Any training off the track he is right by my side. For 2015, I have also hired Jeff Ward as my riding coach. My day consists of riding at the track in the morning with Wardy, then head to the gym and lastly go on a bicycle ride with Lopes in the afternoon. To have those two guys in my corner is a huge confidence booster. I'm definitely taking in all of the knowledge they have to give to me.
Thanksgiving is right around the corner, any big plans?
My grandparents still live in Newbury Park. My parents, brother, and the rest of us are all going to meet up at their house. Plus, my girlfriend is from there too and has family there as well so we will be going back and forth between the two dinners. I'm going to take the pleasure of getting to spend some time back at home.
What's your favorite part of Thanksgiving?
I don't know… I guess the stuffed feeling you have after dinner when you just want to go to bed. I really love to eat and, luckily, I am so active that I can eat a lot and not have negative effects from it. I just love stuffing my face with my grandma's home cooking.
A big tradition for you in the past on Thanksgiving weekend has been to go out and participate in the "Day In The Dirt Grand Prix," are you headed to Glen Helen this year?
Yeah, I'll go out because Troy Lee Design has such a big presence. I have so many friends that are there and help make the event what it is. I enjoy going out to support them. I was going to try to find a vintage Honda to race in the vintage class, but couldn't come across one in time. I'm just going to rent an RV, bring my mountain bike and do some training there while everyone is racing. I really dig the campfire scene, so I'll just do that.
RIDE ENGINEERING PRE-BLACK FRIDAY


2015 MOTOSPORT/GPI/ HONDA RACING TEAM WITH TOMMY HAHN AND FREDRICK NOREN

SNEAK PEEK OF WHAT WE'RE WORKING ON AT MXA
Mike Brown came out to help the MXA gang with some testing at Comp Edge. He even donned the orange helmet to do a photo shoot while riding this ultra-trick Husqvarna FC350. Who's bike is this? It belongs to KTM USA and Husqvarna USA president Jon-Erik Burleson. There is nothing but the best stuff on this bike!
Here is Mike Brown shredding a corner. He was like a kid in a candy store riding this bike. We just about had to rip him off it so we could get on with the task of doing our own laps.
Chaparral? Mazda? Yamaha? Looks familiar, doesn't it. Larry Brooks is back at Chaparral and built the MXA wrecking crew a 2015 Yamaha YZ450F that harks back to Jeremy McGrath's bike from his days on the Chaparral team. Chaparral had a few tricks up their sleeve with this YZ450F and Larry used knowledge learned with Jeremy, Chad Reed and James Stewart to make the best handling YZ450F we've ridden in a long time. We were shocked by how good this YZ450F cornered. You'll wanna read this test when we finish it.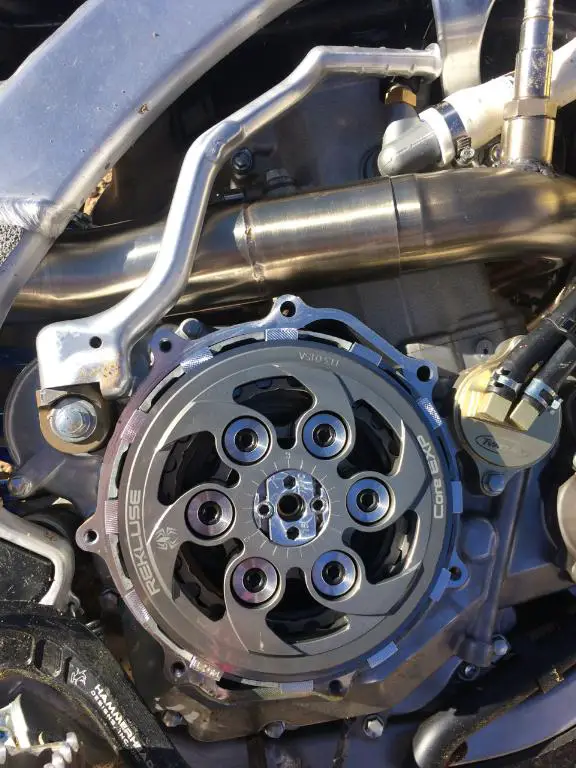 We also spent some time testing the new Rekluse Core EXP automatic clutch. If you've never ridden with a Rekluse, you should. This is a unique device that test riders thought would benefit a large group of offroad riders and racers. We spent some time adjusting it to get the perfect feel. Dennis Stapleton shot this photo with his cell phone between test sessions.
MATRIX CONCEPTS' MILESTONES

Press Release: Matrix Concepts began shipping in the spring of 2010 from a small 700 sq. ft. building in Valencia, California. Though it has not always been during this tough market and economy, we have kept the throttle wide open and want to share some key milestones we have had since the beginning! We are still headquartered in Valencia, California, but have expanded and grown into an 18,000 sq. ft. building in which we are thrilled to celebrate our 20,000th shipment that was shipped last week and also finished out our best 3rd quarter! We also have an additional office/warehouse in Vancouver, Canada and in spring of 2015 we will be opening an office/warehouse in Europe in the UK. We are very pleased to have 50 world-class distributors around the world stocking and selling our brands.
We started with 5 products plastic composite Stands, Ramps, Utility Cans, Tie Downs and Work Mats. We have expanded our product line to include many new garage and track necessities and now offer over 500 part numbers. We launched 1.7 Cleaning Solutions and will be launching a complete line of high-end performance controls called NEXT COMPONENTS this December.
While our brand is used and endorsed by some of the best teams, and most famous riders in the world such as Ryan Villopoto, Chad Reed, and James Stewart to name just a few, we have also won over 50+ amateur and professional championships. In addition, we have legends like Bob Hannah and Jeremy McGrath on our development team!
During this time of celebrating Thanksgiving in the United States, we want to applaud and say thank you to all of our employees, vendors, business partners, distributors, dealers, team riders, media, family, supporters, and customers for their continued support. We can't wait to show you what we have in store for you in 2015 and beyond! Happy Thanksgiving to all!
To Join Team Matrix: We are now accepting 2015 Rider Resumes at www.matrixracingproducts.com/sponsorship  or www.hookit.com/brands/matrixconcepts/
REKLUSE GETS READY FOR SUPERCROSS

WHAT ARE YOU DOING THANKSGIVING WEEKEND? YOU WILL FIND US AT "DAY IN THE DIRT" AT GLEN HELEN

SUPERCROSS: BEHIND THE DREAM

HELMET BLING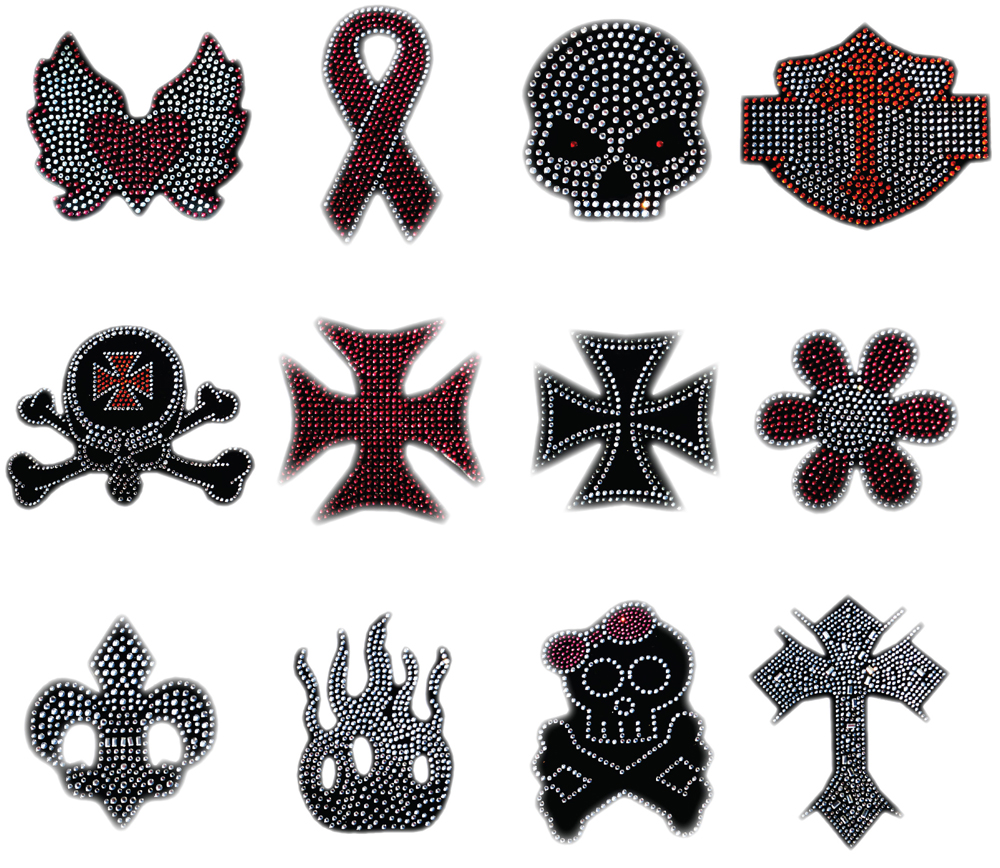 Press Release: Give your Helmet some Attitude! Helmet Bling are rhinestone peel and stick patches for helmets, gas tanks, fenders or anything you want to "bling."  Available in 12 great designs, the rhinestones shine in the sun to give any helmet a sparkling new look.  Suggested Retail price is $14.95. For more information visit www.pcracingusa.com
FROM THE MXA ARCHIVES

Ricky Johnson showing off for the crowd.