MOTOCROSS ACTION MID-WEEK REPORT BY DARYL ECKLUND

#WHIPITWEDNESDAY
Rider: Davi Millsaps
Date: February 11, 2017
Location: Arlington, TX
Event: Supercross
Photographer: Brian Converse
Lens: 70-200mm f/2.8
Focal length: 122mm
Exposure: 1/1000
F-stop: 4
ISO: 2000
TWO-STROKE SPOTLIGHT: KENT WICKS' 1993 DONNIE SCHMIDT CHESTERFIELD YZ250 REPLICA
This is the original 1993 Donnie Schmidt Chesterfield YZ250. Below is the replica. 
I follow up on what's happening on the Motocross Action web page every morning to get my MX fix! I am also a die hard two-stroke fan as I was fortunate enough to grow up racing when two-strokes still ruled the roost. I always preferred to race 125's when I was younger as they were so rewarding when you had them dialled in.
I also enjoy putting old bikes back together that I used to watch on the Grand Prix and AMA circuit from the late 80's and early 90's. Attached you will find one that I have recently completed as a replica of Donnie Schmidt's 1993 Chesterfield YZ250.I know it wasn't a successful year for him as it had been the year before, but I have not seen any decent restorations done of this bike so decided to go for it. Below is a little story about the rebuild and what went into it:
1993 DONNIE SCHMIDT CHESTERFIELD YZ250 REPLICA
This is the replica. Can you tell a difference?

I decide to restore this bike as a Chesterfield Team bike for two reasons. One was because I have only seen lots of replicas of Donnie's 1992 championship winning bike and the other reason was because I was not exactly wild about the look of these bikes when they came out with their wild colors and magenta purple frames in the 90's!
I found the bike on a used goods site similar to eBay for a reasonable price. As it turned out the bike was still in very good condition and the owner had made an attempt to restore it himself. The engine had already been rebuilt which saved a lot of time and money. As for the rest of the bike, it was pulled down completely. The engine was just given a cosmetic overhaul with a fresh coat of paint and some newly plated bolts. A set of Boyesen reeds and a 38mm Keihin Air Striker carb were added. The reason for the carb was because someone had replaced the original with a Mikuni from a much older model.
The frame was sand blasted and re-powder coated black. All the bolts where re-plated and any missing ones were sourced at the local bike wreckers. The plastics was refurbished and reused where possible and if they weren't I replaced them. I had Racestar Graphix, a local company who designed the graphics kit. Evo MX in the UK supplied me with a replica seat cover. I fitted new Excel rims with Buchman stainless steel spokes. My local Yamaha dealer supplied me with any OEM parts that were still available. If I couldn't get parts from them I sourced them myself with the help of eBay and other aftermarket and OEM parts suppliers. Arrow was one of Yamaha's big sponsors back then, however, as far as I know you cannot get any of the old products that they used to make, so alternatives had to be used when it came to the exhaust and handlebars. For the pipe and silencer I used a FMF Gnarly pipe and a Powercore 2 silencer. Bars are Pro Taper SE ¾ inch. DC Plastics was kind enough to handle all the parts that I had sourced in the states and had them shipped to me as I am a supplier of foot pegs to them.
The Arrow pipe was impossible to find. A tried and true FMF pipe was put in its place. 
Once all my parts had arrived I started piecing it back together over the course of a year. It took a lot longer to get it done as I might have liked, but work keeps us from these things! I do a lot of the cleaning and fabrication myself as my father and myself own a laser cutting/fabricating business. This also allows me to re-make a lot of parts that need replacing. I am really impressed how it turned out and have had a lot of people tell me not to ride it and just to display it as it looks too good to ride. So I have been in two minds whether to ride it or not.
PS: I am also in the process now of restoring a 1989 Damon Bradshaw Yamaha YZ125 as close to what it looked like as possible.
Editor's Note: Please keep those submissions coming. If you would like your bike to be featured in the "Two-Stroke Spotlight," please email me at [email protected]. All I ask is that you give a breakdown of your bike and a detailed description of the build. Please also send a few photos of your steed. By submitting your bike for the "Two-Stroke Spotlight," you agree to release all ownership rights to the images and copy to MXA. Please don't email me spam or try selling me Taylor Swift concert tickets or email me spam. I already celebrate T-Swizzle's entire collective, and there will be "bad blood" if you send me junk mail. See what I did there? Happy submitting your smoker.

#EMBARGOLIFE 2018 FLY RACING IDAHO
We can't wait to show you the 2018 Fly Racing gear, but, sadly, we can't until July 28th. So until then, we can only tease you with photoshopped photos that we took at the Fly Racing intro. If you look closely you can see bits and pieces of the new gear. Take our word for it, the 2018 Fly Racing gear is the best looking gear to date. 
The guys over at Fly Racing flew my comrade Dennis Stapleton and myself out to Boise, Idaho to the Fly Racing headquarters (which is based out of the WPS building) for the unveiling of the 2018 Fly Racing gear. The only stipulation they had was the embargo they made us sign to hold any photos or information until July 28th. Do you know how hard that is for us media guys with Instagram and Facebook on the pulse in one hand and a camera in the other?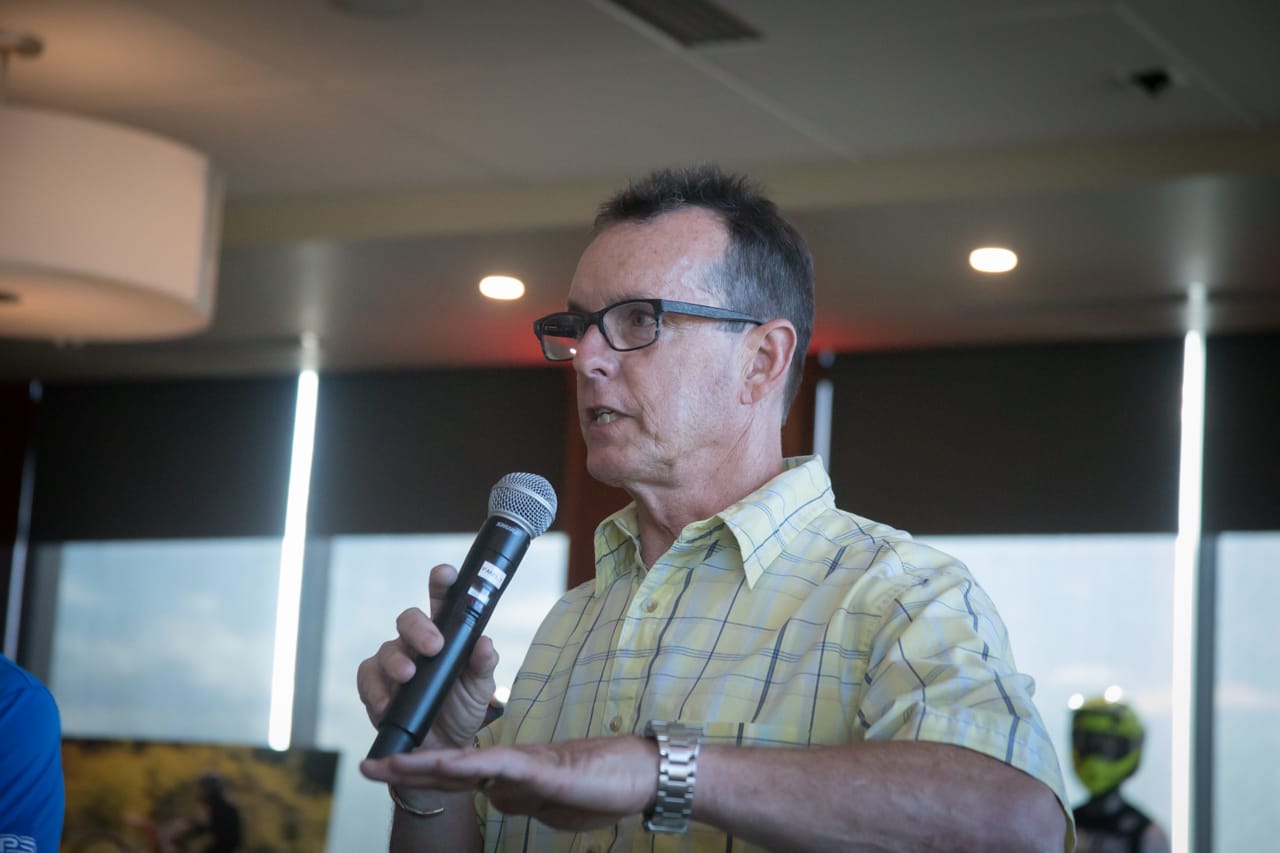 This is Fly Racing's Bob Lowry who gave us the low-down on 2018. 

This was more than just a boring tour visiting cubicles and watching parts get boxed and shipped, this was Summer Camp 2017. There is a lot that my comrade and myself experienced on this adventure, but lets keep it short and to the point by day.
DAY 1: DOG & PONY SHOW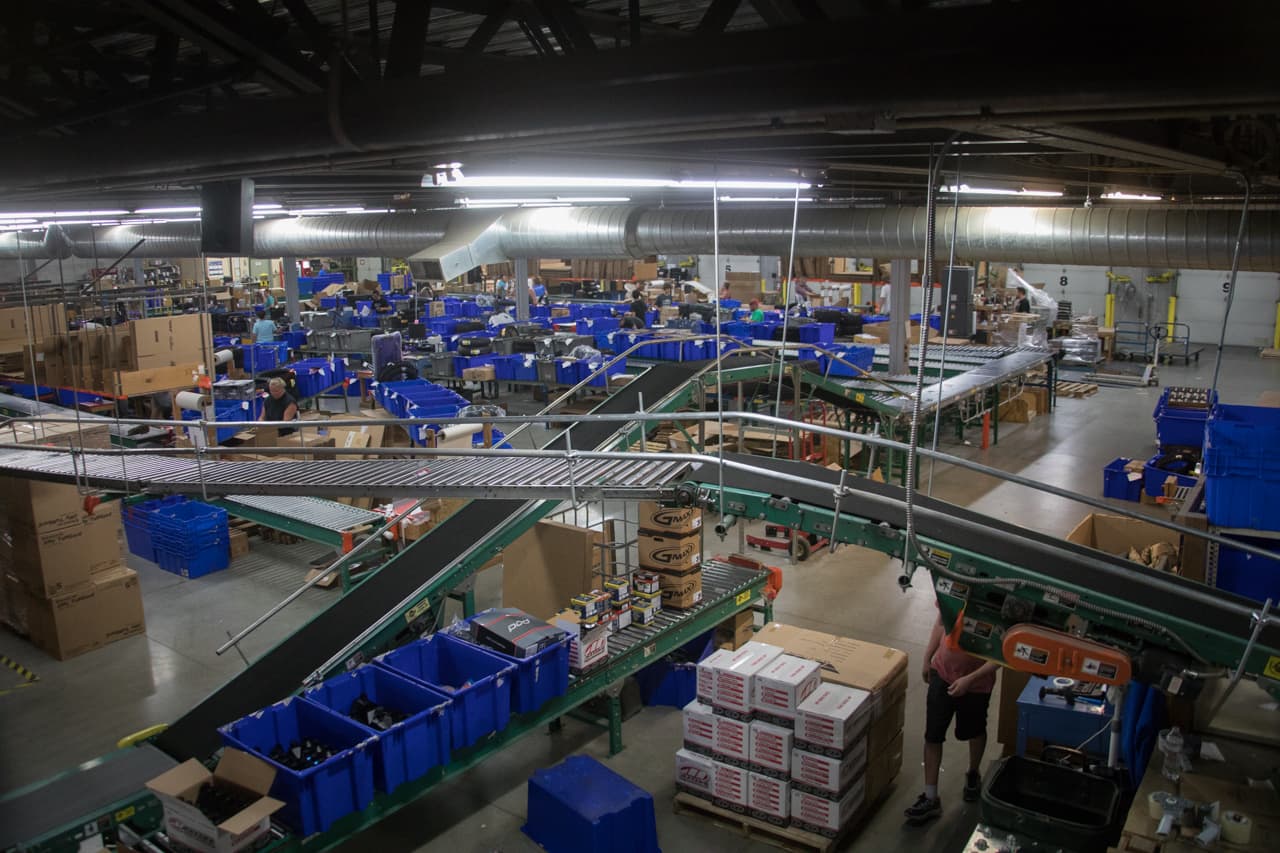 Inside the heart of the Idaho WPS Distribution center. Conveyor belts, bins and parts coming from every which direction. 
The day we flew in we did the standard facility tour. Sounds like a yawn, right. Cubicles, boxes, offices and managers, right?  Wrong. Yes they had all those things, but there was a cool factor to it. The art department, other than the motocross track right outside the building was my favorite part. There was art everywhere. Artist inspiration. We found prototype ideas made of clay and a 3D printing machine putting concepts into raw tangible form.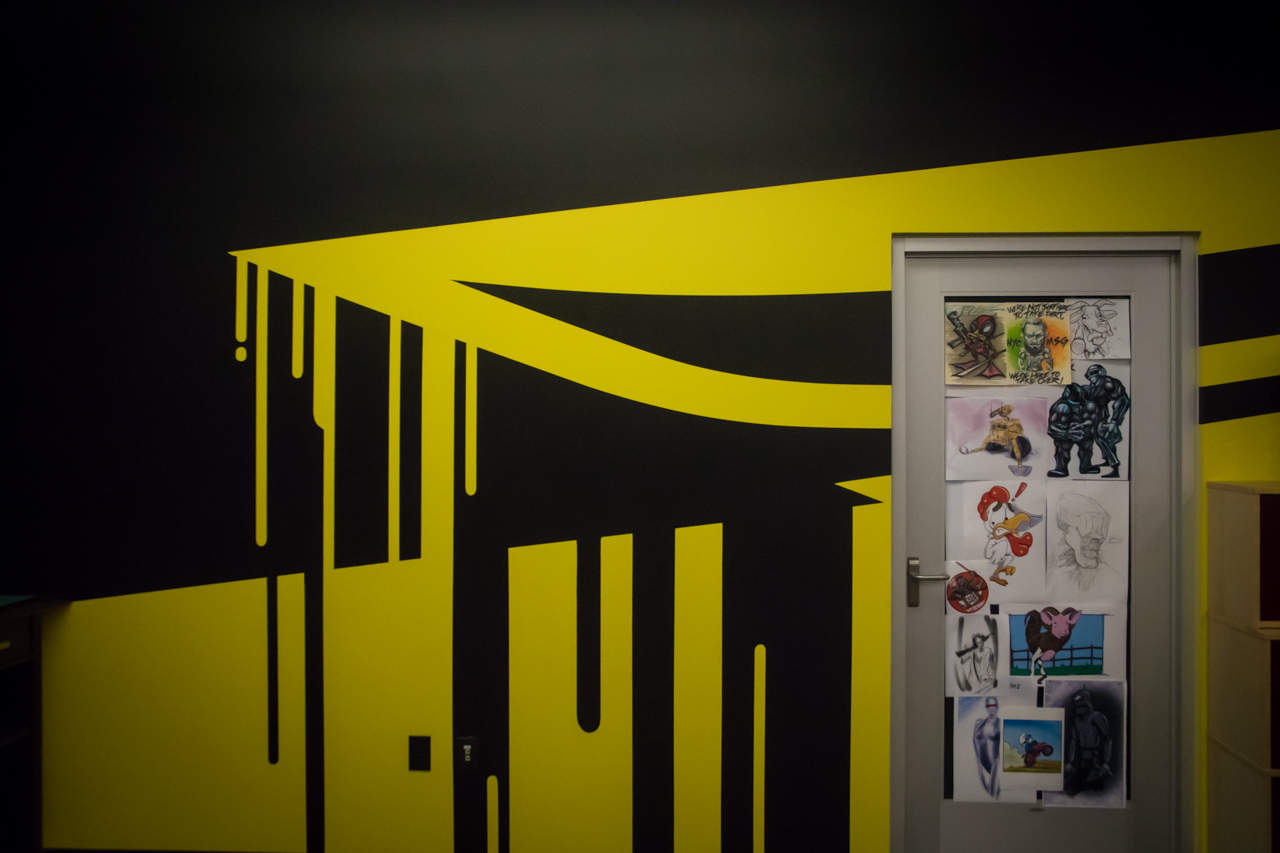 The art department had inspiration everywhere.
2020 Fly helmet? 
From the art department we went to the offices where on the way were some memorable riders jerseys framed on the wall such as Branden Jesseman's Las Vegas number 1 jersey. There's not much to say about cubicles other than running into some awesome people like Mike "Vinyl" Williamson, Jen Steffens and Bob Siebler.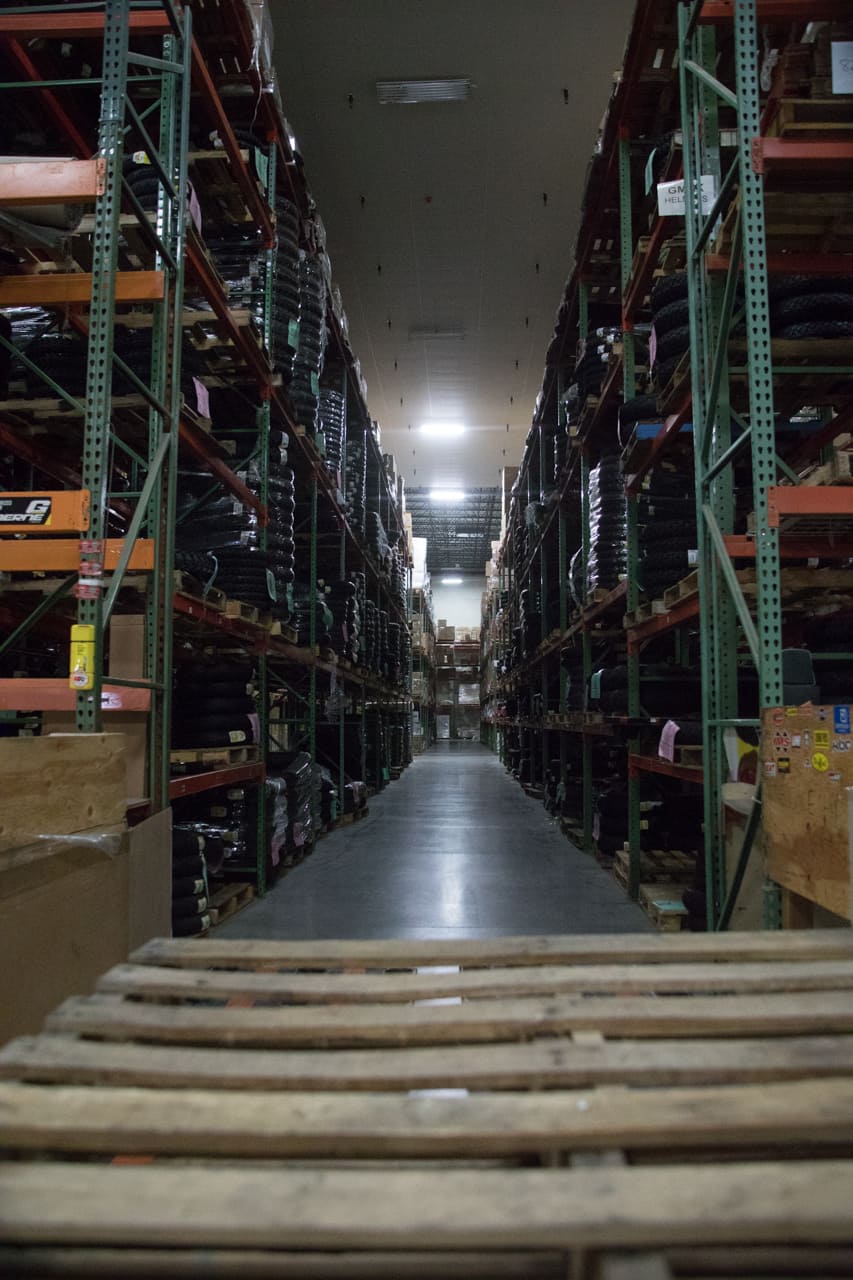 Tires, tires and more tires.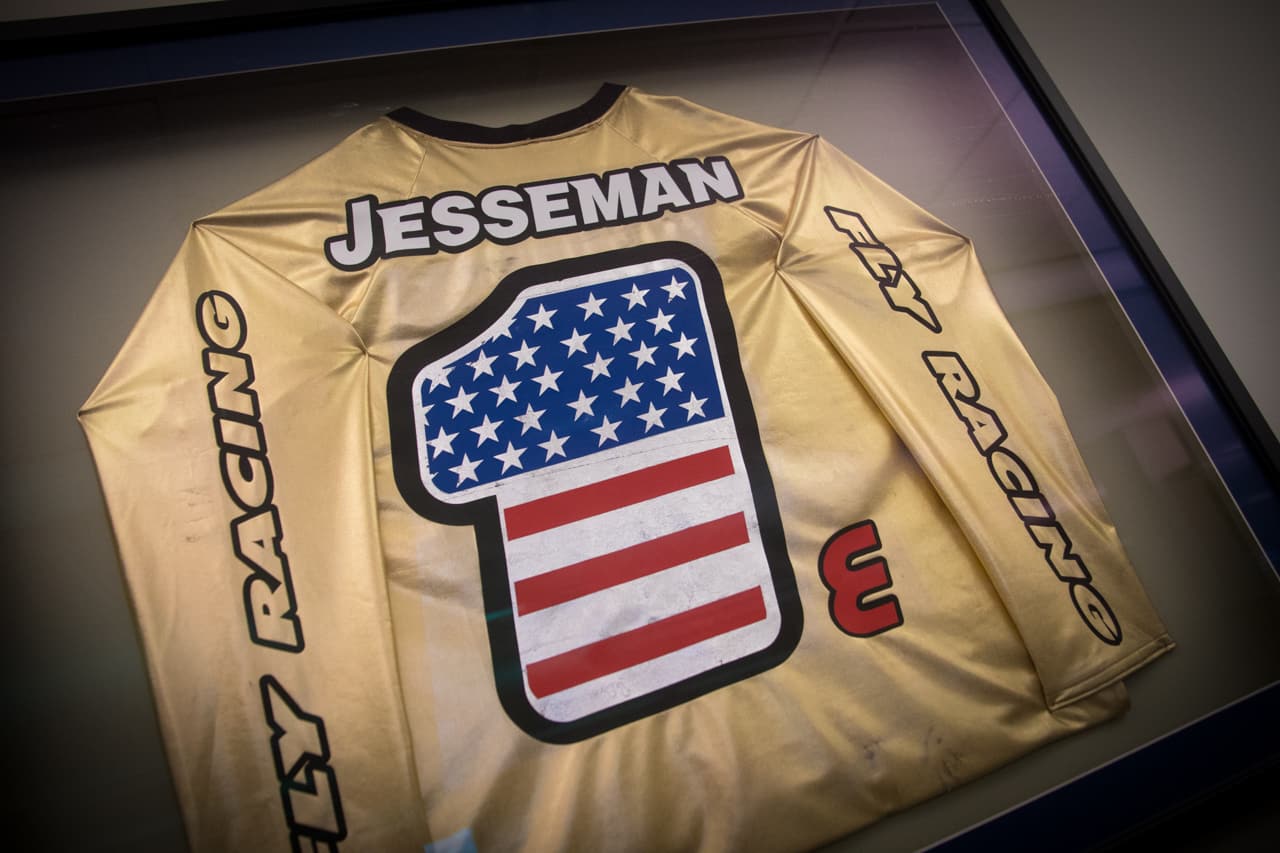 Branden Jesseman's East West shootout jersey from Las Vegas Supercross. 
From the offices we headed down to the distribution area. On the way there we went through the WPS gym, basketball court and game room (yes, this is a place of work). Boxes of parts were above, below and to all sides of us as far as the eye could see. Tires in rows stacked to the ceiling and more parts that you could imagine in one place. A 15 minute shopping spree would be a riders dream.
WPS gym. 
Big is an understatement. 
Dale Spangler, who is Fly Racing's content marketing and media relations manager and was our tour guide for the day. He brought us to a huge trash can of helmets. There were helmets that had been warranted no questions asked. Heck, most of them looked brand new! Fly would warrantee the entire helmet for simple things like a broken visor. Dale said they would rather have a happy customer that might be a returning customer than fret over a few bucks.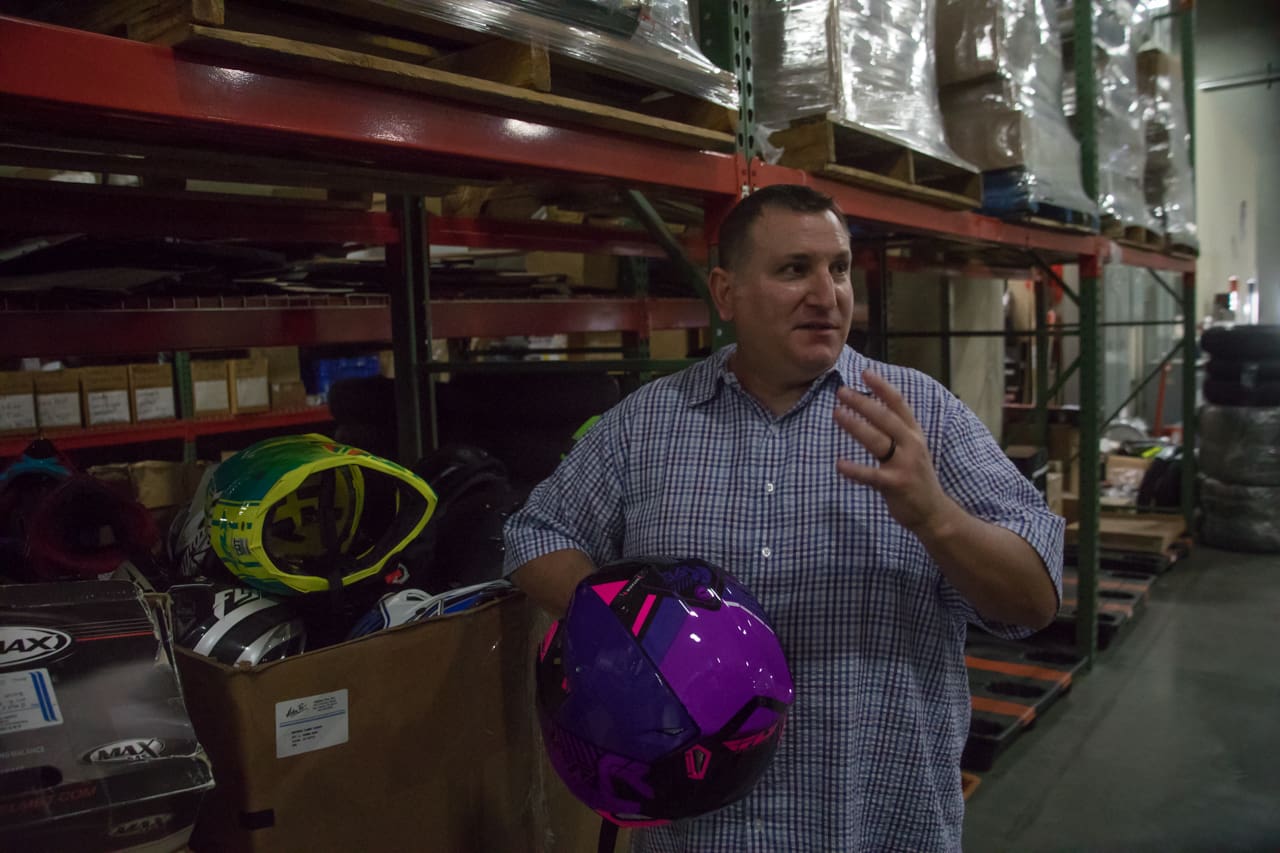 Dale Spangler showing us the box of warranted helmets. 
That night was the introduction to the 2018 Fly Racing gear at some fancy high rise building with an open bar and all the fixings. We got wined and dined and learned everything possible about the new line. But you'll have to wait a few more weeks to check it out for yourselves.
Dennis Stapleton and Daryl Ecklund got their very own table. 
Not a bad view over dinner, right?
DAY 2: MOTO DAY AT THE WPS TRACK
Here is the WPS track with the WPS building in the background. Can you do a few motos during your lunch hour?
The next morning we woke up and ordered room service. Hey! They told us to. When we rolled up to the WPS headquarters, there was a line of bikes sitting in front of the track. They first showed us to our dress area where a new gear bag with all the fixings were stuffed inside. 2018 Fly pants, helmet, gloves, jersey, socks, Alpinestars Tech 10 boots some X Brand goggles and swag for after the ride. When we got dressed they said take a pick at the litter. 15 bikes were lined up prepped and ready to go. I snagged the YZ250 smoker (as I love two-strokes) and Dennis got on a 2017 Honda CRF450.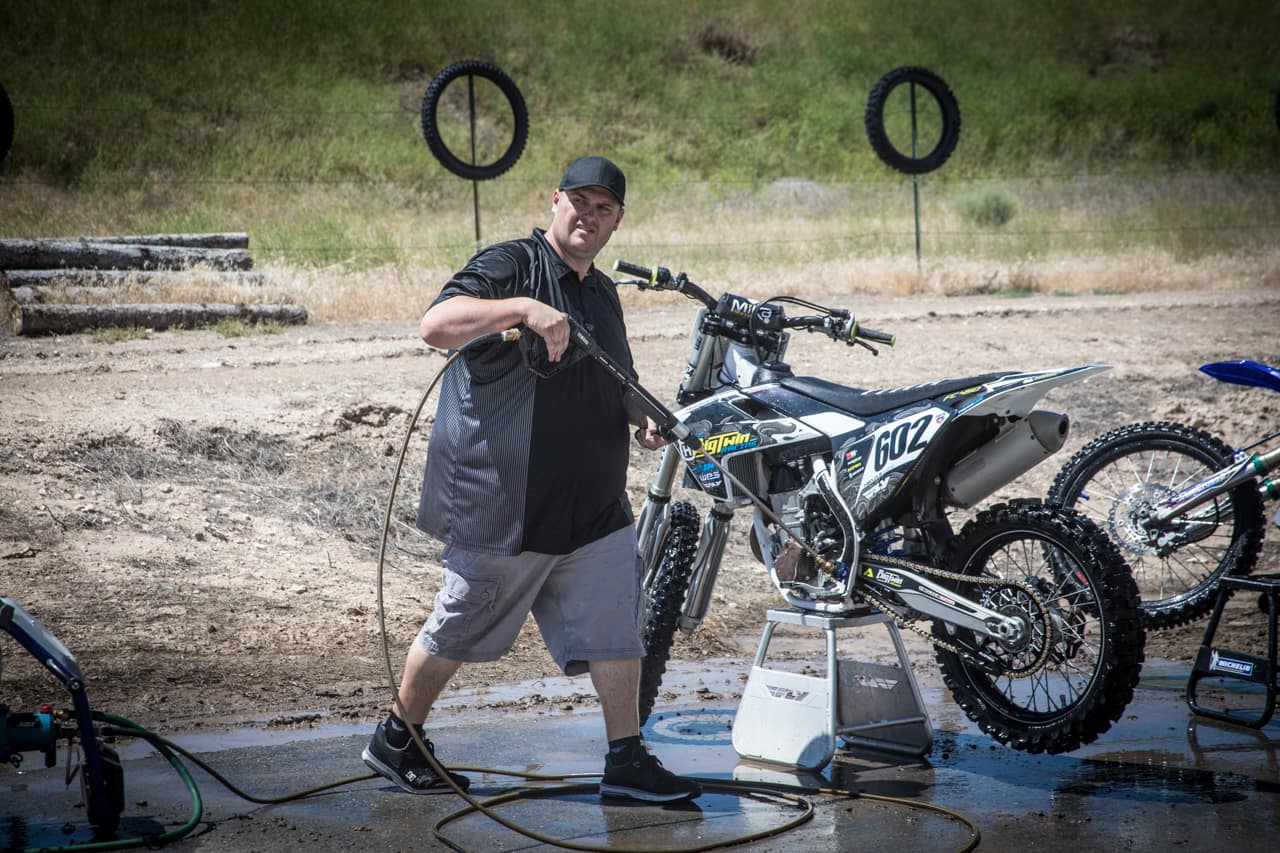 The do-all Fly guy Max Steffens hard at work cleaning bikes after we got them dirty.
We had a blast! The track was a jumpy tight motocross track with some fun sand sections. Workers at Fly could pick up a bike and ride a couple motos during their lunch! Heck, I can't even pull that off. It is safe to say we had a blast.
That afternoon we took a two hour drive north to the Tamarack Ski Resort. We had an option. Either go downhill mountain biking at the resort or go on a trail ride. Of course we picked trail for the next day.
DAY 3: TRAIL RIDE & HOT SPRINGS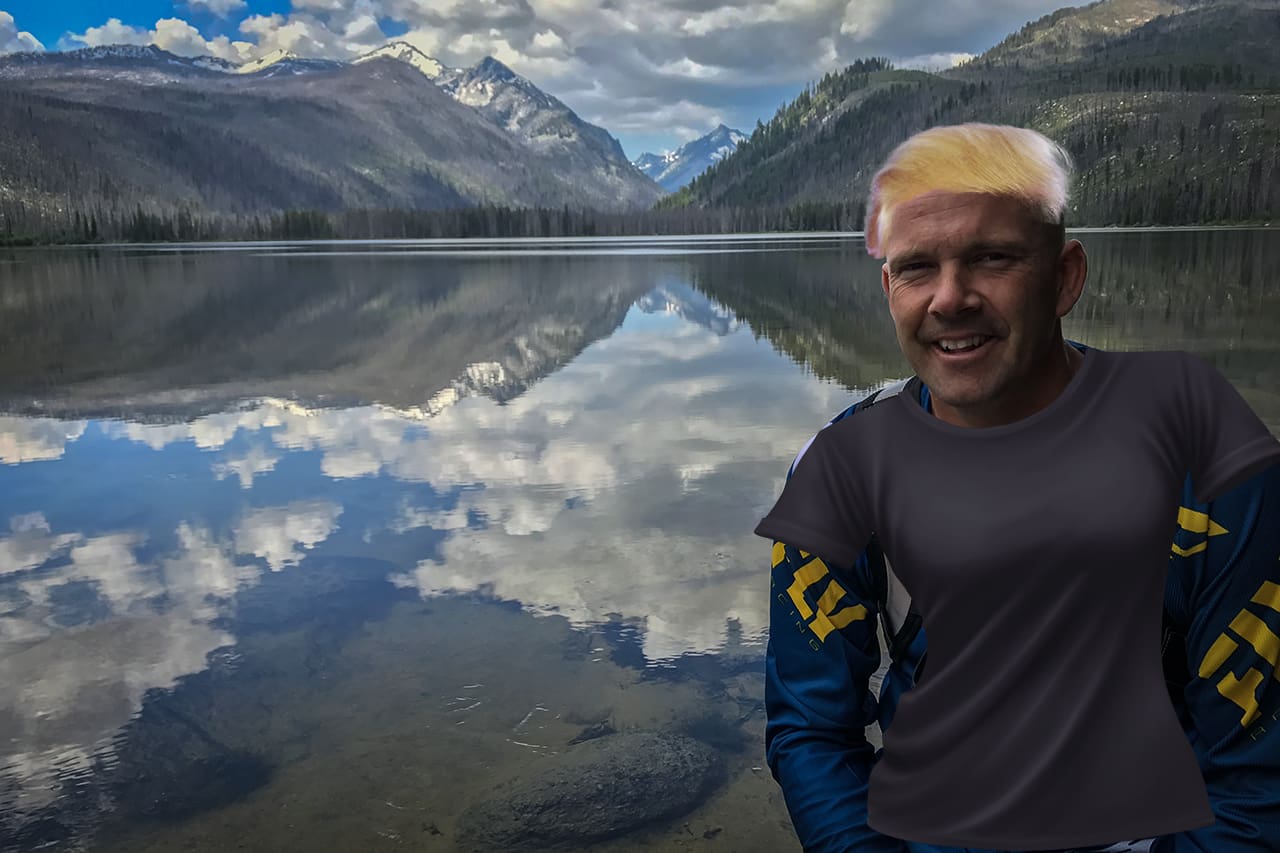 Don't mind Dennis. He got in the way of my shot. This is Loom Lake. We had to hike to the opposite end in our underwear to see the plane wreckage. 
We took another two hour drive north past McCall to somewhere in the middle of nowhere. Andrew Short just happened to be our driver and took a sharp right into the wilderness where those same 15 bikes were lined up to ride. Again, I choose to ride the smoker. We were escorted by some locals riding offroad KTMs who had chainsaws mounted to the front of their bikes.
Would you want to go on a ride with someone who has a chainsaw strapped to the front of his back? We did. 
To be honest, it made me a bit nervous what we were getting into. We went up, down and around mountains crossing rivers and ducking for branches. We single tracked parallel to roaring rapids to what opened up to a lake that looked as it was made of glass. We stopped and took a break. Thee guides said there was a 1940's military place that crashed across the lake, but we would have to walk across the river and hike their.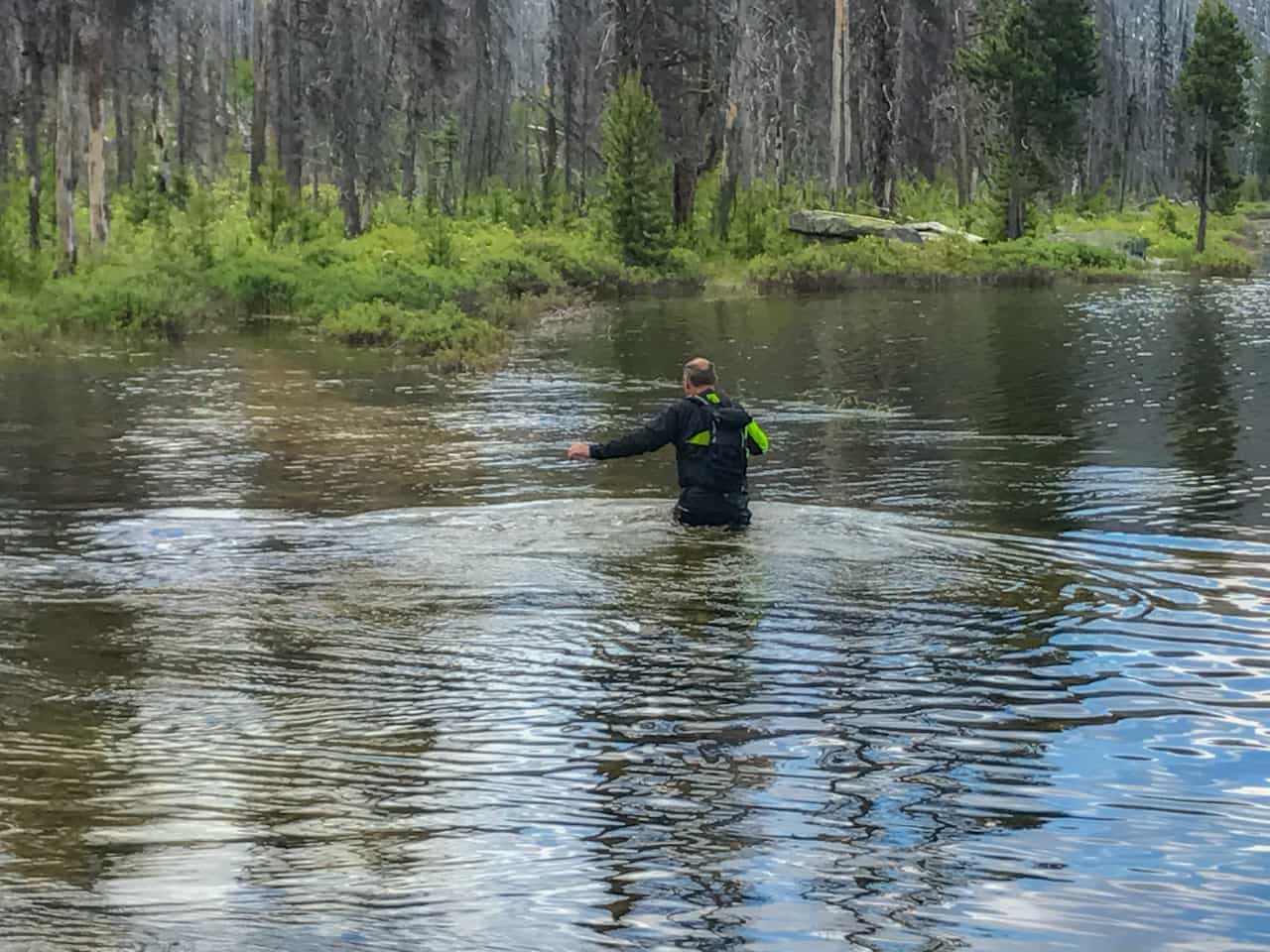 We had to cross this part of the lake to get to the plane. It was freezing!
Andrew Short, myself and a few others got in on skivvies and started to walk into the four foot deep ice cold water. There was no trial. It was 30 minutes of balancing on logs and walking in ankle deep water. But is was all worth it. The 1943 B-23 Bomber had gone down due to heavy icing and crash landed on Loon Lake during the dead of winter. The crew of eight were stranded for 15 days. Somehow all survived living on woodpeckers, a squirrel and a few chocolate rations.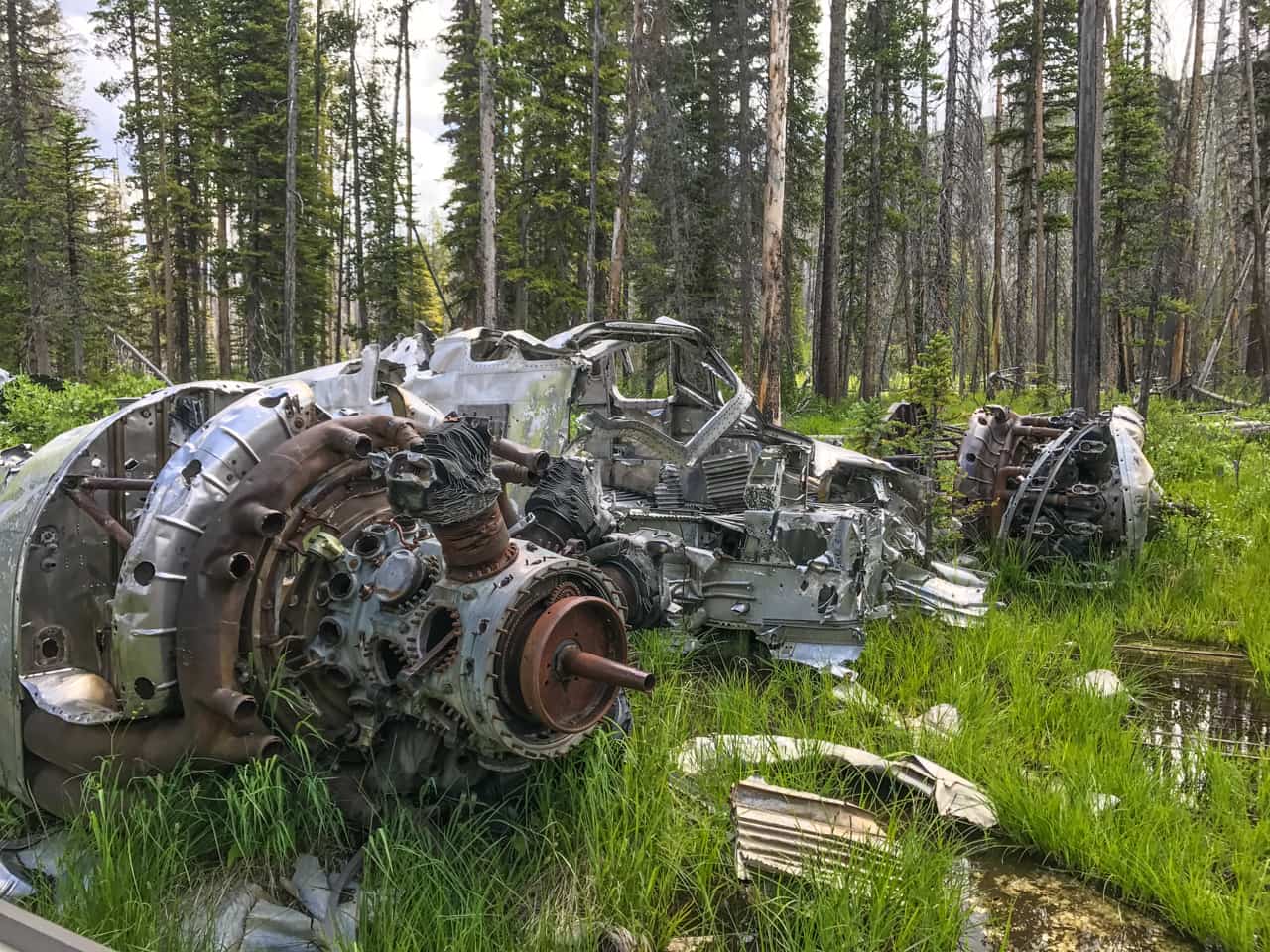 The 1943 B-23 Bomber that crashed down in the dead of winter. Very cool in person if you can survive the trail ride and hike in. 
After the ride we went to Burgdorf hot springs which was established in 1865. Nothing looked as though anything changed since then other than a few repairs. The small resort was like going back in a time machine.
When most people think of Idaho they think of potatoes. After our Fly Racing Summer Camp trip I think of Idaho as an adventure. Cali has nothing on Idaho, well, except the beach. Until next time.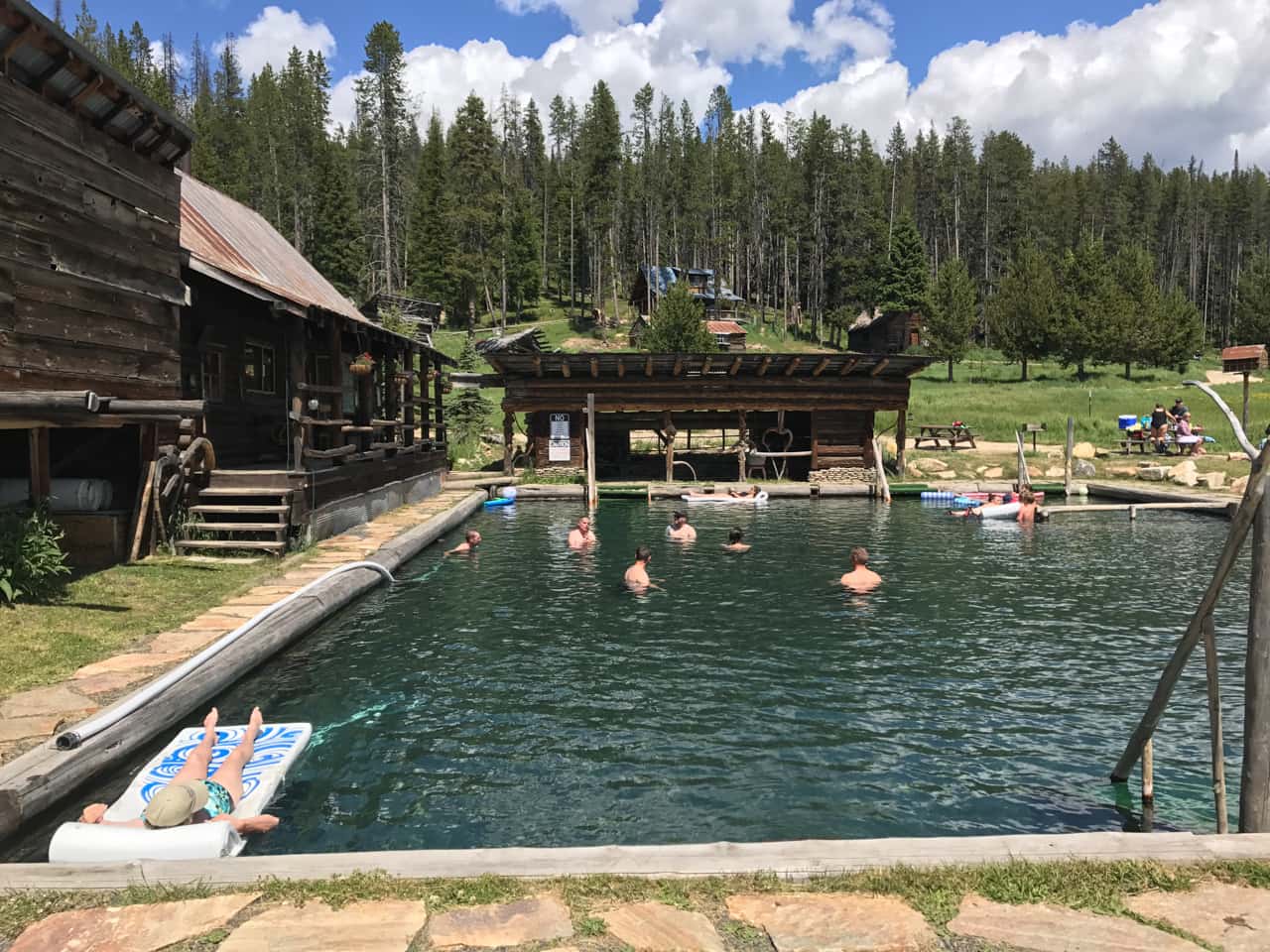 Burgdorf hot springs. Circa 1865.
THEY SAID IT: RED BUD NATIONAL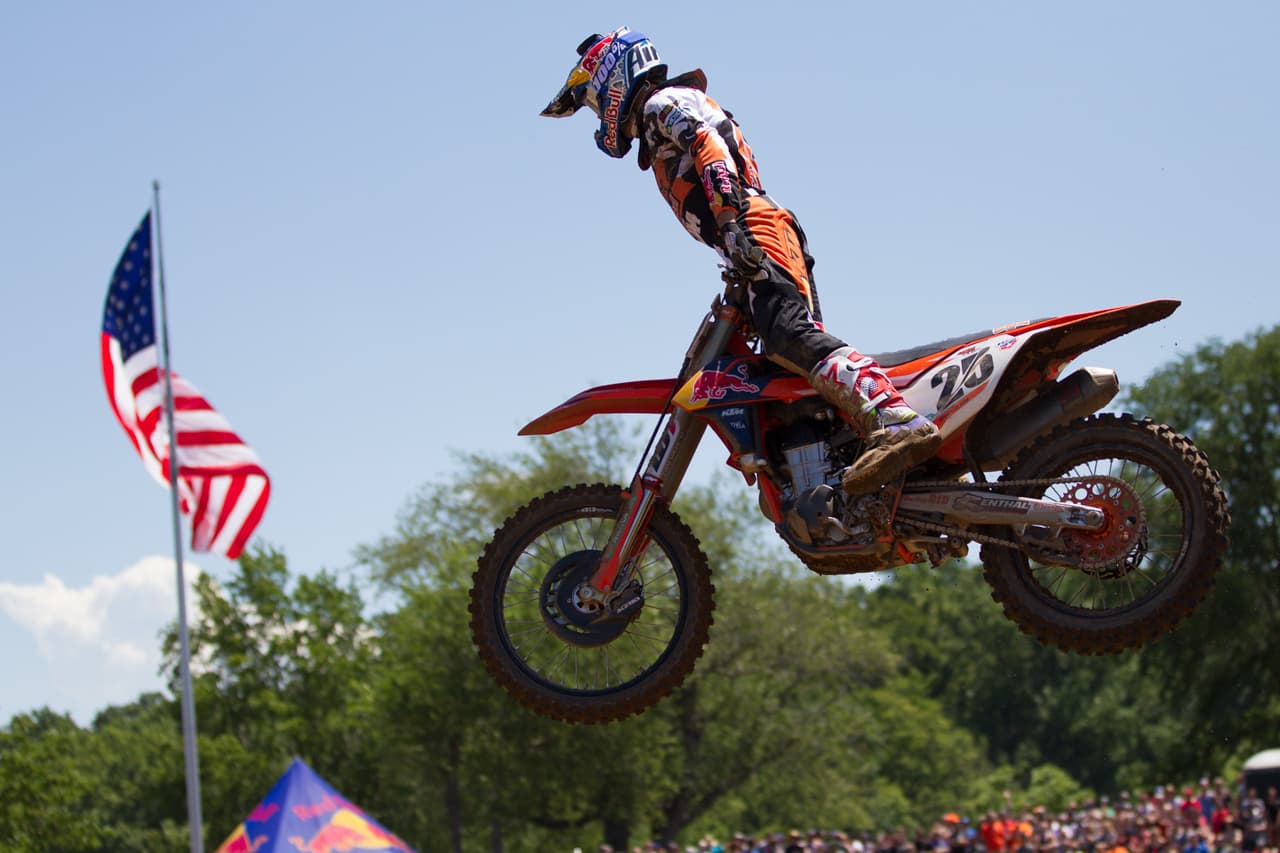 Marvin Musquin: "My speed is getting better and my confidence is back. It was a much better weekend for me. It's crazy how much you can lose with an injury like that, but I'm getting my strength back. It was a difficult time but I feel like I'm getting better. I put in some good laps during practice and was able to turn left again. My stomach was cramping up during the first moto, but it was better during the second moto. I couldn't really get going in the second moto, though. I needed to get around those guys because Eli and Jason were going fast up front. I lost some time there. Overall it was a good day, and getting third is good for my confidence."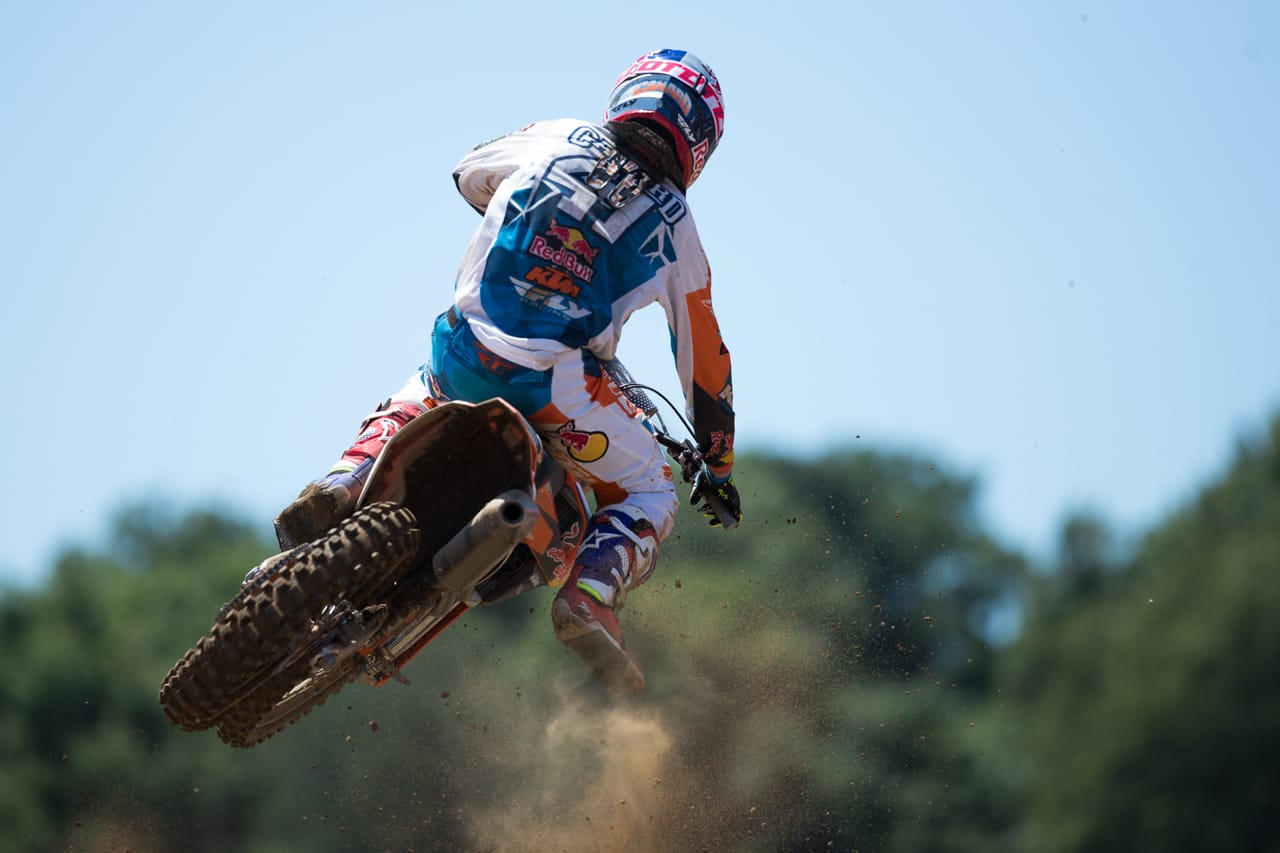 Trey Canard: "I just kind of struggled today. The track was really tough and bumpy. It was pretty warm the second moto, but I think there were some good things to pull from. I had a first turn crash in the first moto and was last. I still made a good charge, so that was good. I hung on as long as I could in the second moto. All-in-all I'm just happy to be back racing and hopefully I can continue to get more comfortable."
Cole Seely: "The first moto was good. I got a decent start and worked my way up to fourth but tipped over. I got back up in eighth and made my way back up to sixth by the end. We made a few more bike changes before the second moto, which I was pretty happy with. I mistimed the gate and got a terrible start and definitely suffered from that. I felt good riding though and think I'm getting stronger, but it's frustrating. I'm making some big changes to my program to do better, but there are some things I'm still struggling with. Like I said, I feel like I'm getting stronger, so with a little more time it should come full-circle."
Christian Craig: "It was a decent day after a couple weeks off with a broken hand, so I'm glad to be back at the races. Qualifying went okay and I tried to go into the motos open-minded. I wanted to come back where I left off at Glen Helen, potentially in a podium position. I got the holeshot, which was awesome; my starts have been on point this whole season. I led some laps but then tightened up and got arm pump around lap five or six. I stayed in fourth most of the race and just focused on clicking off consistent laps but unfortunately, Blake [Baggett] got me toward the end so I finished fifth. I felt good though. In moto two, I flinched at the gate and got a terrible start. I focused on making some quick passes early in the race but once I got into 13th, I was kind of alone most of the time. I made a few more passes toward the end but I just didn't have a lot left in the tank after the first moto. Overall, I'm happy with the first moto, so we'll build on that and work on getting stronger in the second moto."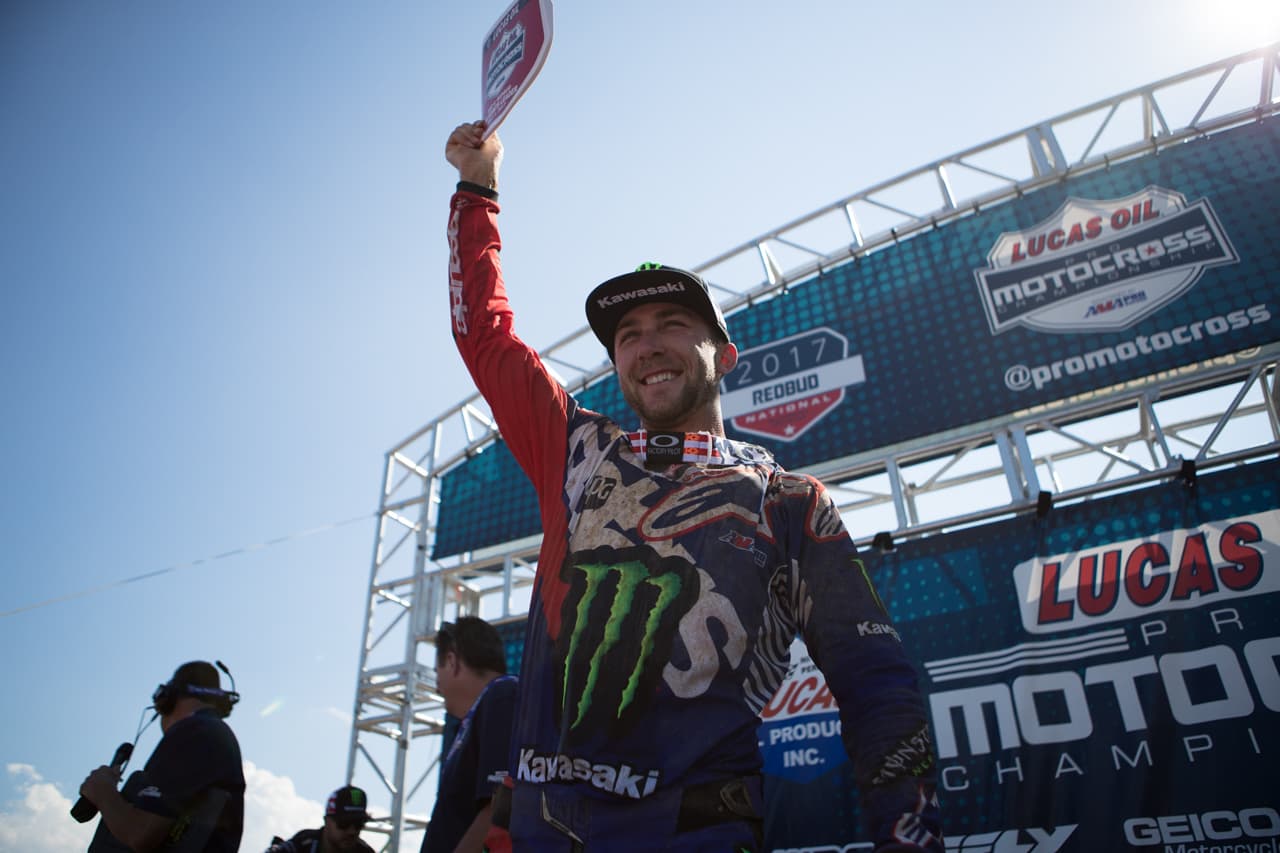 Eli Tomac: "This is so awesome, the day could not have gone any better. I didn't want to rush anything in the second moto as the pace was already pretty fast and gnarly. There was a lot of roost and tear offs being pulled, so I just wanted to do my best to be smart. I took my time and slowly chipped away at the lead and eventually opened up a gap. It feels good to have a clean race and grab another win."
Jason Anderson: "Things have been going good, we're close, and I'm happy overall," said Anderson. "We still need to find a little bit more speed though. The carnage on the start in the first moto caught me and I was forced to come through the pack and deal with some of the slower riders. I was able to come through the pack pretty well and make the most of the situation that we were dealt."
Alex Martin: "I love coming here to RedBud, it's definitely one of my favorite events of the year and I always enjoy racing here. The first moto we were all so close and evenly matched that it made it extremely tough. The second moto was a bit of a bummer as I had the lead when I crashed. I think I had a good chance for the overall win today if I could have limited that one mistake."
Zach Osborne: "The crowd at RedBud is definitely next level. The first moto I started just behind Jeremy [Martin], and we kind of went back and forth the whole moto. It sucked to lose it, but it was nice to at least be on the lead pace. It wasn't a huge deal as we still scored good points. I never jumped LaRocco's Leap all day and felt like I was able to make up for it in other sections of the track."
MXA PRODUT SPOTLIGHT: ZETA PIVOT PERCH INSTALL

PHOTO OF THE PAST: DOUG DUBACH ON A DENALI ELECTRIC DIRT BIKE BACK IN 2001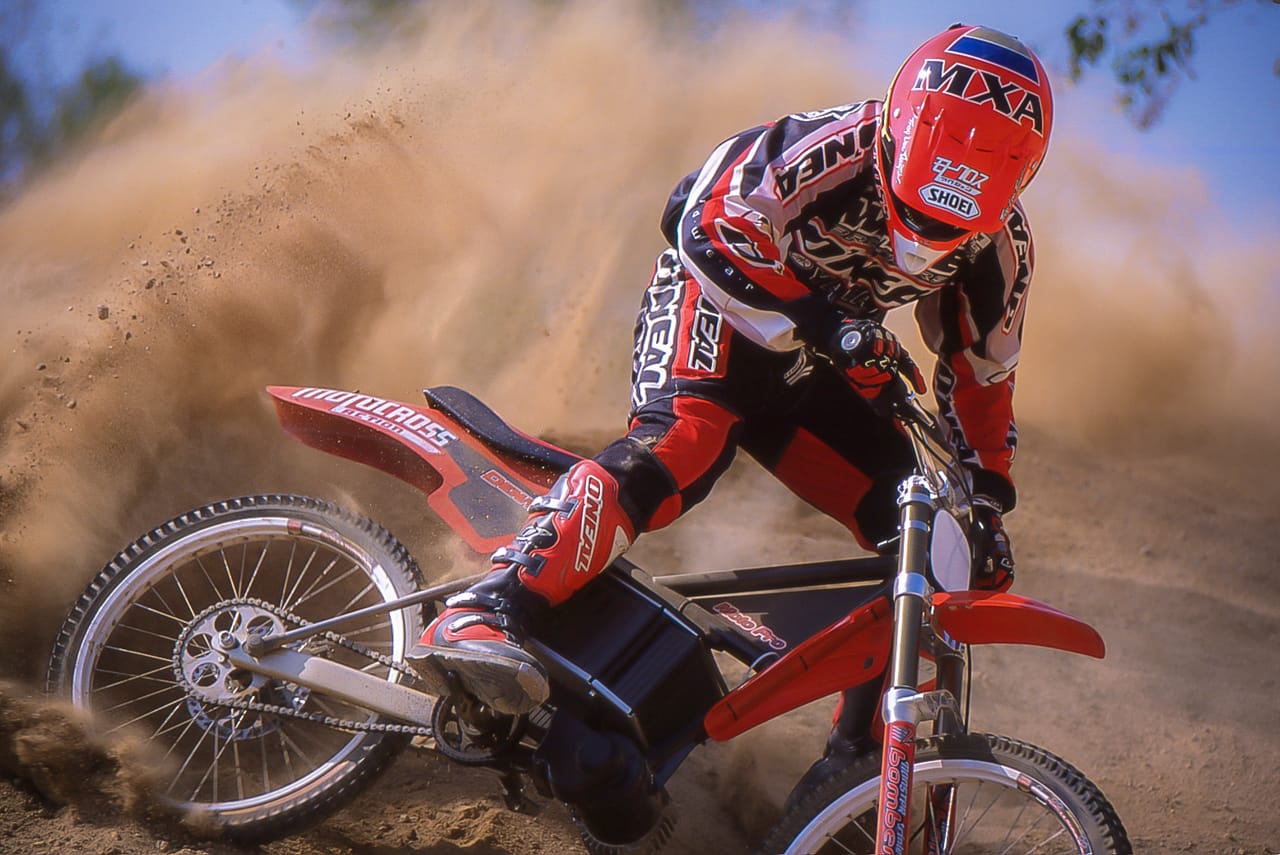 Doug has been an MXA test rider for many years. He has riddin' all kinds of bikes, big and small for the wrecking crew. This Denali has to be one of the first attempts of an electric dirt bike. Doug probably tacoed the puny mountain bike rims and broke the frame in no time. 
2017-18 RACE SCHEDULES: BE THERE OR BE SQUARE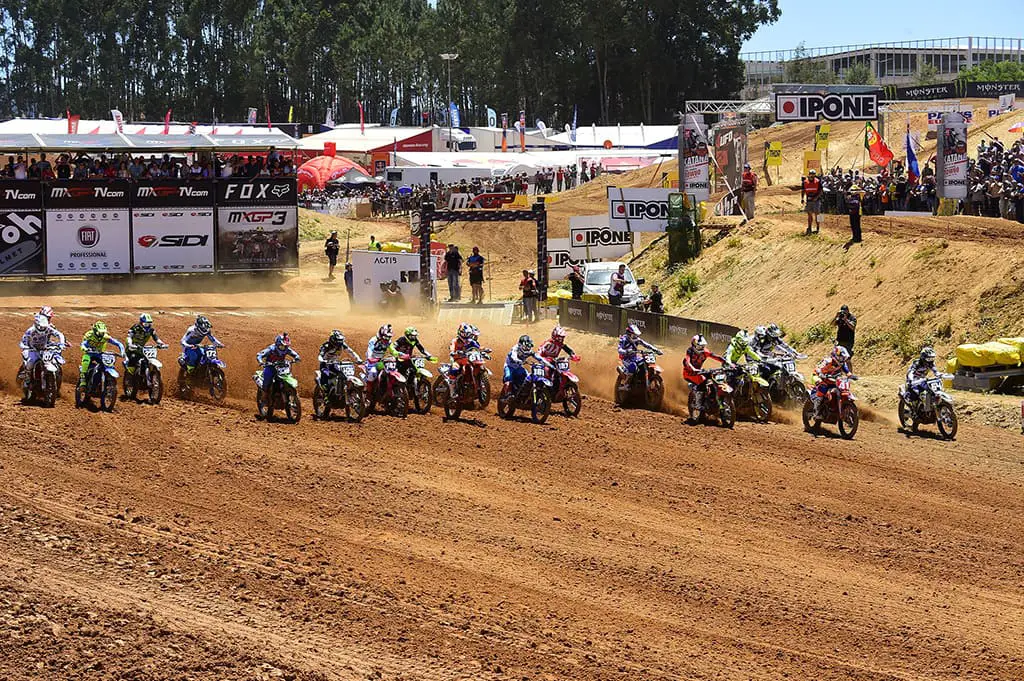 2018 MONSTER ENERGY SUPPERCROSS SCHEDULE
Jan. 6…… Anaheim, CA…… Angel Stadium
Jan. 13…… Houston, TX…… NRG Stadium
Jan. 20…… Anaheim, CA…… Angel Stadium
Jan. 27…… Glendale, AZ…… U. of Phoenix Stadium
Feb. 3…… Oakland, CA…… Oakland Aameda Coliseum
Feb. 10…… San Diego, CA…… Petco Park
Feb. 17…… Arlington, TX…… AT&T Stadium
Feb. 24…… Tampa, FL…… Raymond James Stadium
Mar. 3…… Atlanta, GA…… Mercedes-Benz Stadium
Mar. 10…… Daytona, FL…… Daytona Intl. Speedway
Mar. 17…… St. Louis, MO…… Dome at America's Center
Mar. 24…… Indianapolis, IN…… Lucas Oil Stadium
Apr. 7…… Seattle, WA…… Centurylink Field
Apr. 14…… Minneapolis, MN…… U.S. Bank Stadium
Apr. 21…… Foxborough, MA…… Gillette Stadium
Apr. 28…… Salt Lake City, UT…… Rice-Eccles Stadium
May 5…… Las Vegas, NV…… Sam Boyd Stadium
2017 LUCAS OIL PRO MOTOCROSS CHAMPIONSHIP
May 20…Hangtown…Sacramento, CA
May 27…Glen Helen…San Bernardino, CA
June 3…Thunder Valley…Lakewood, CO
June 17…High Point…Mount Morris, PA
June 24…Muddy Creek…Blountville, TN
July 1…Red Bud…Buchanan, MI
July 8…Southwick…Southwick, MA
July 22…Spring Creek…Millville, MN
July 29…Washougal…Washougal, WA
August 12…Unadilla…New Berlin, NY
August 19…Budds Creek…Mechanicsville, MD
August 26…Ironman…Crawfordsville, IN
* Visit www.promotocross.com/mx/tickets to buy tickets
2017 FIM MOTOCROSS WORLD CHAMPIONSHIP
February 25…Losail…Qatar
March 5…Pangkal Pinang…Indonesia
March 19…Neuquen…Argentina
April 2…Leon…Mexico
April 16…Trentino…Italy
April 23…Valkenswaard…The Netherlands
May 7…Kegums…Latvia
May 21…Teutschenthal…Germany
May 28…Ernee…France
June 11…Orlyonok…Russia
June 25…Ottobiana…Italy
July 2…Agueda…Portugal
July 23…Loket…Czech Republic
August 6…Lommel…Belgium
August 13…Frauenfeld…Switzerland
August 20…Uddevalla…Sweden
September 3…Gainesville…USA
September 10…Assen…The Netherlands
September 17…Villars sous Ecot…France
Photos by Scott Mallonee, Massimo Zanzani, Daryl Ecklund and MXA Archives