MOTOCROSS ACTION MID-WEEK REPORT

#WHIPITWEDNESDAY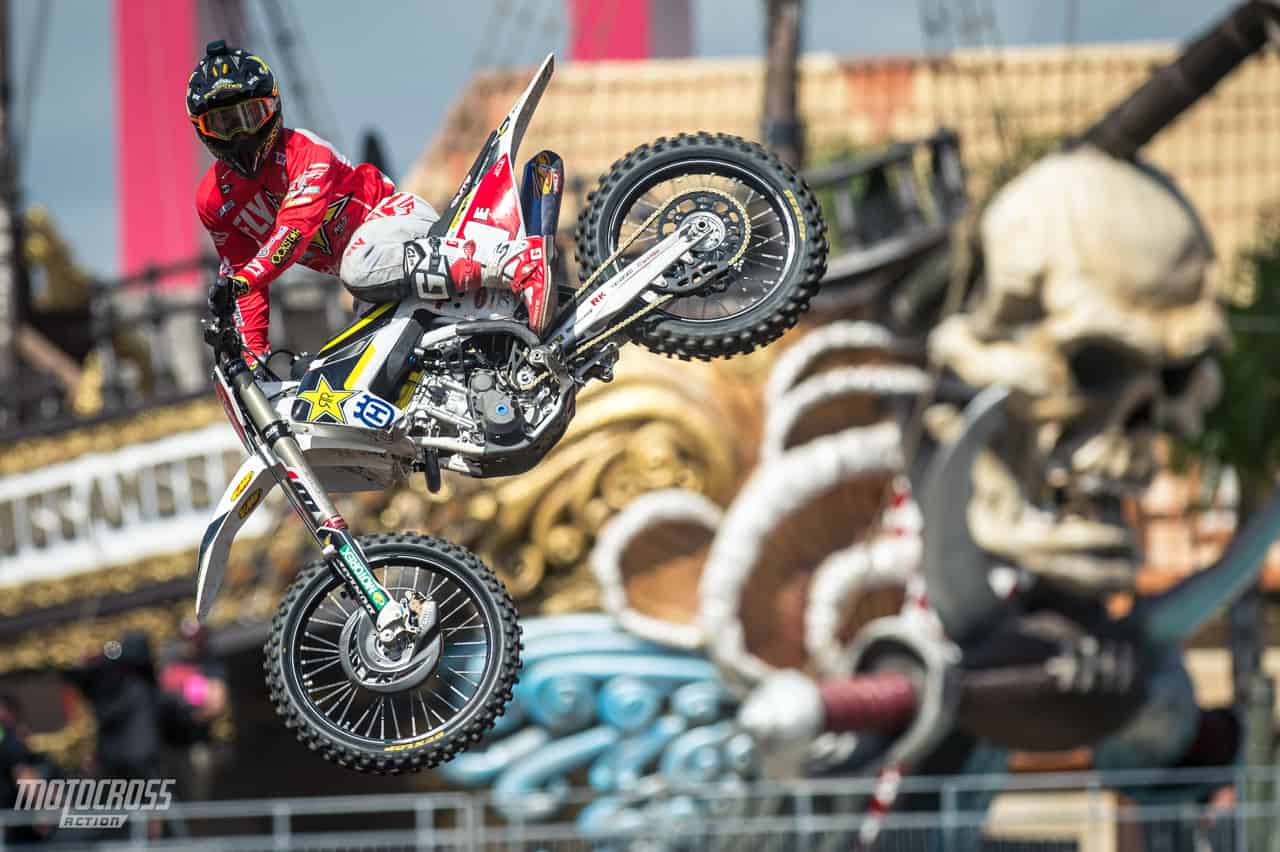 Rider: Zach Osborne
Bike: 2018 Husqvarna FC250
Event: 2018 Tampa Supercross
Lens: 300mm f/2.8
Focal length: 300mm
Exposure: 1/1600sec
F-stop: f/4
ISO: 100
TWO-STROKE SPOTLIGHT: MIKE VERRYT'S 2016 YAMAHA YZ250
"This is my 2016 Yamaha YZ250. I an ex national level racer (1980's top 5 125cc) currently racing 50+ Vet class after a 20 year break from racing, I started racing again last year and wanted a bike that was reliable and easy to ride. I started by adding a 9oz Steahly flywheel weight as I kept stalling it in tight corners, I then added a Boyeson Rad-valve and 1 tooth smaller rear sprocket. The flywheel weight smoothed out the low/mid-range and the rad-valve gave it plenty of mid to top overrev. It came with an FMF pipe and silencer when I bought it, and with these extra mods actually almost felt too fast for me. To make it easier to ride I bolted on an Athena 300cc barrel, which gave it a huge improvement in rideability, loads of torque and broad range of power. I then added a Boyeson power wing which cleaned up the bottom end. Now it is a holeshot weapon, with power to match the 450's and yet still torquey enough to lug around corners a gear higher that before.
My good mate Norm Cobb at Suspension Tech here in New Zealand built up a NOS Ohlins shock (with the 50mm piston, and custom internal top-out spring), and the forks have been revalved to suit my weight. It is super plush and handles big hits without smashing my tired ol' bod! A few other bits and pieces, folding levers, Pirelli mid/soft tyres, FMF pipe and silencer.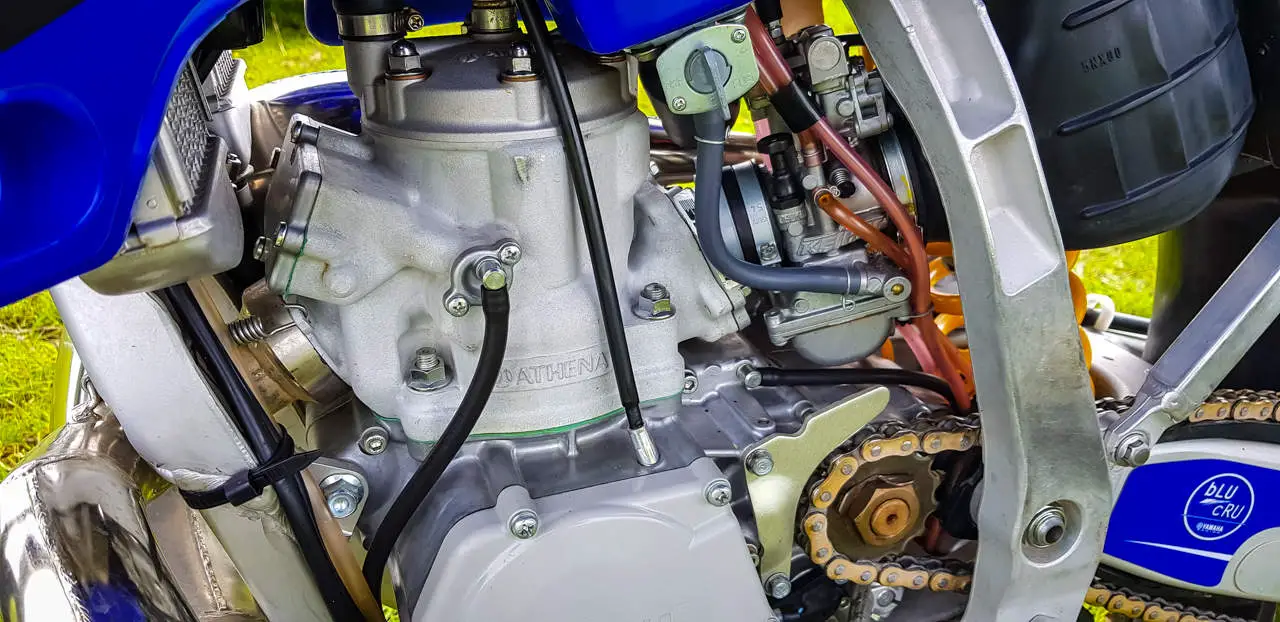 All mods are easy bolt-on that can be done by anyone with a modicum of mechanical experience, and make a huge difference in terms of rideability without compromising reliability. It is an awesome bike to ride, and would be a weapon in the hands of a pro. Cheers." –New Zealand's Mike Verryt.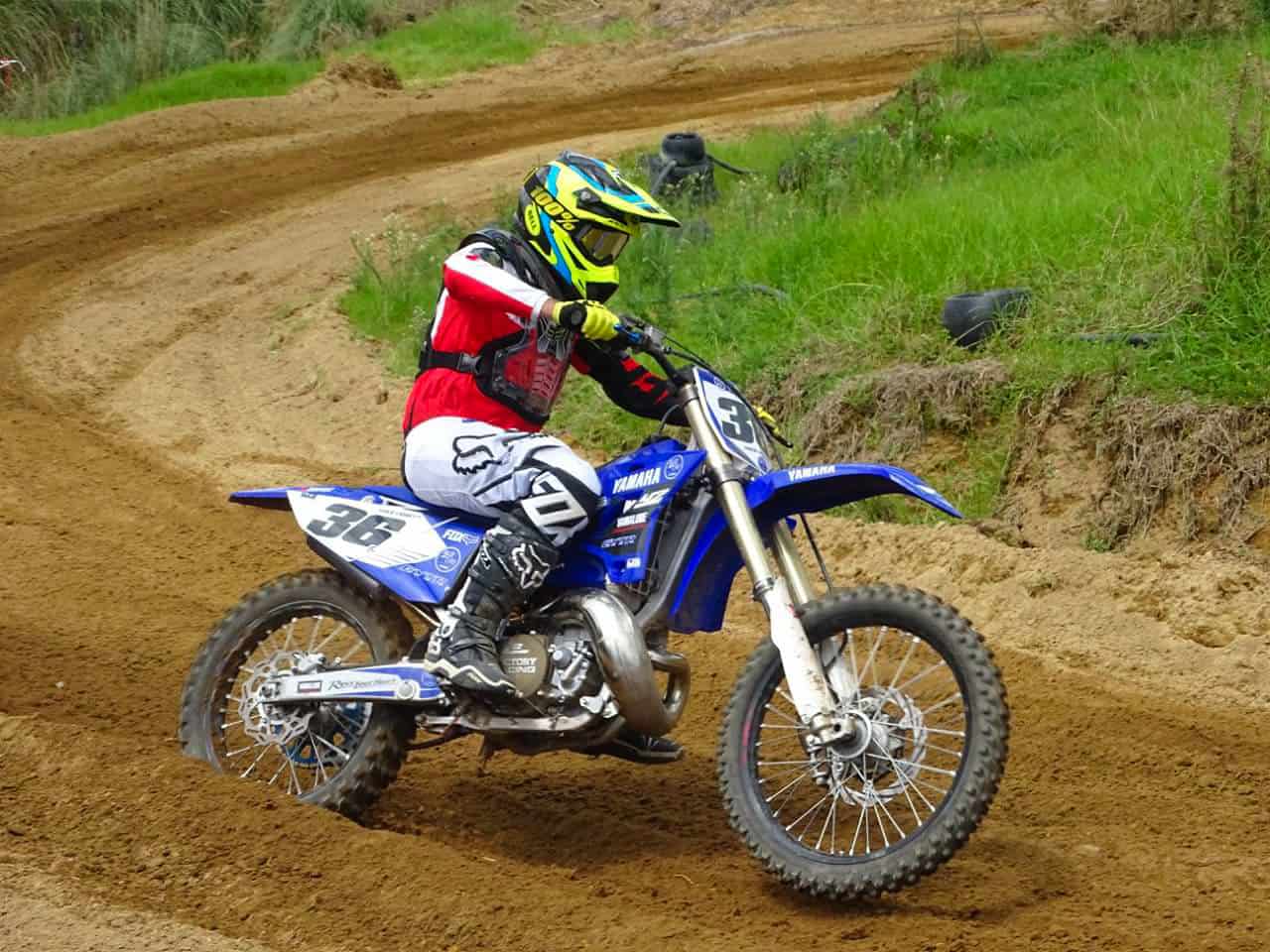 Editors Note: Please keep those submissions coming. If you would like your bike to be featured in the "Two-Stroke Spotlight," please email me at [email protected]. All I ask is that you give a breakdown of your bike and a detailed description of the build. Please also send a few photos of your steed. By submitting your bike for the "Two-Stroke Spotlight," you agree to release all ownership rights to the images and copy to MXA. Please don't email me spam or try selling me Taylor Swift concert tickets or email me spam. Happy submitting your smoker.

DID CHAD REED REALLY BEAT MIKE LAROCCO'S RECORD?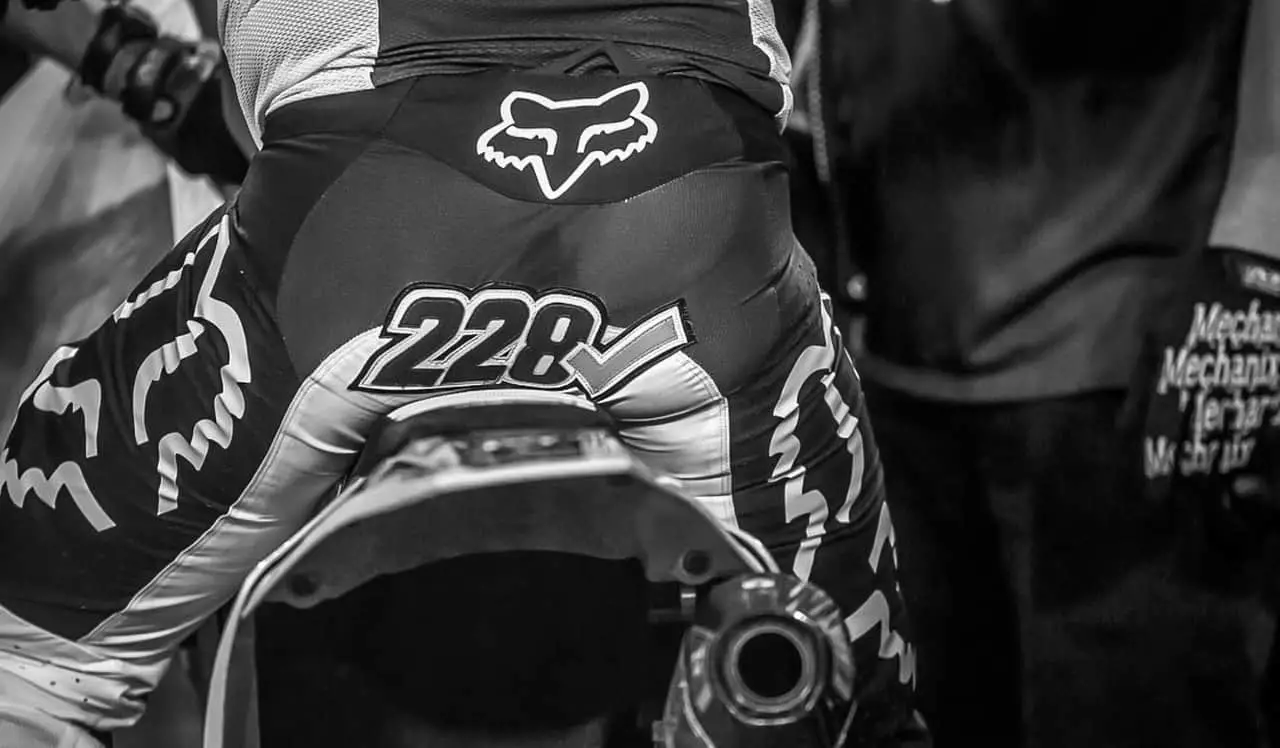 Chad at Tampa Supercross.
We knew Chad Reed was going to beat Mike LaRocco's all-time start record this year (as long as he stayed healthy). The question was, at what race was he going to beat it? Feld confirmed that Reed beat LaRocco's 227 starts last weekend in Tampa, but the MXA record books show a different result. Our go-to record and stats keeper Ben Bridges researched, counted and watched the races, then counted again to confirm that Chad will not break the record until this weekend in Atlanta.
Where is the error? Back in 1990, the Daytona Supercross had a 30-man main event for the premier Supercross main event. The AMA records only show 20 riders in the main event that day. Mike LaRocco finished 3rd in his heat to make the main. He then finished outside the top 20 in the Daytona main, but since the record is for the rider with the most appearances in main events—Mike was in the Daytona main. It's a glitch and lack of racing knowledge by those adding up the main event appearances that has his 1990 main event not counted. Mike LaRocco was in 228 main events—not 227. Chad Reed will most likely break LaRocco's record this week in Atlanta— but he didn't break it last week. He will break it when he makes his 229th main. Below is the video of that very race.
WHERE IN THE WORLD IS MXA'S DENNIS STAPLETON 

Dennis has talked about racing the Enduro Del Verano beach race in Argentina for years now. This year he finally got his chance. 
Hundreds of riders start the race at the same time.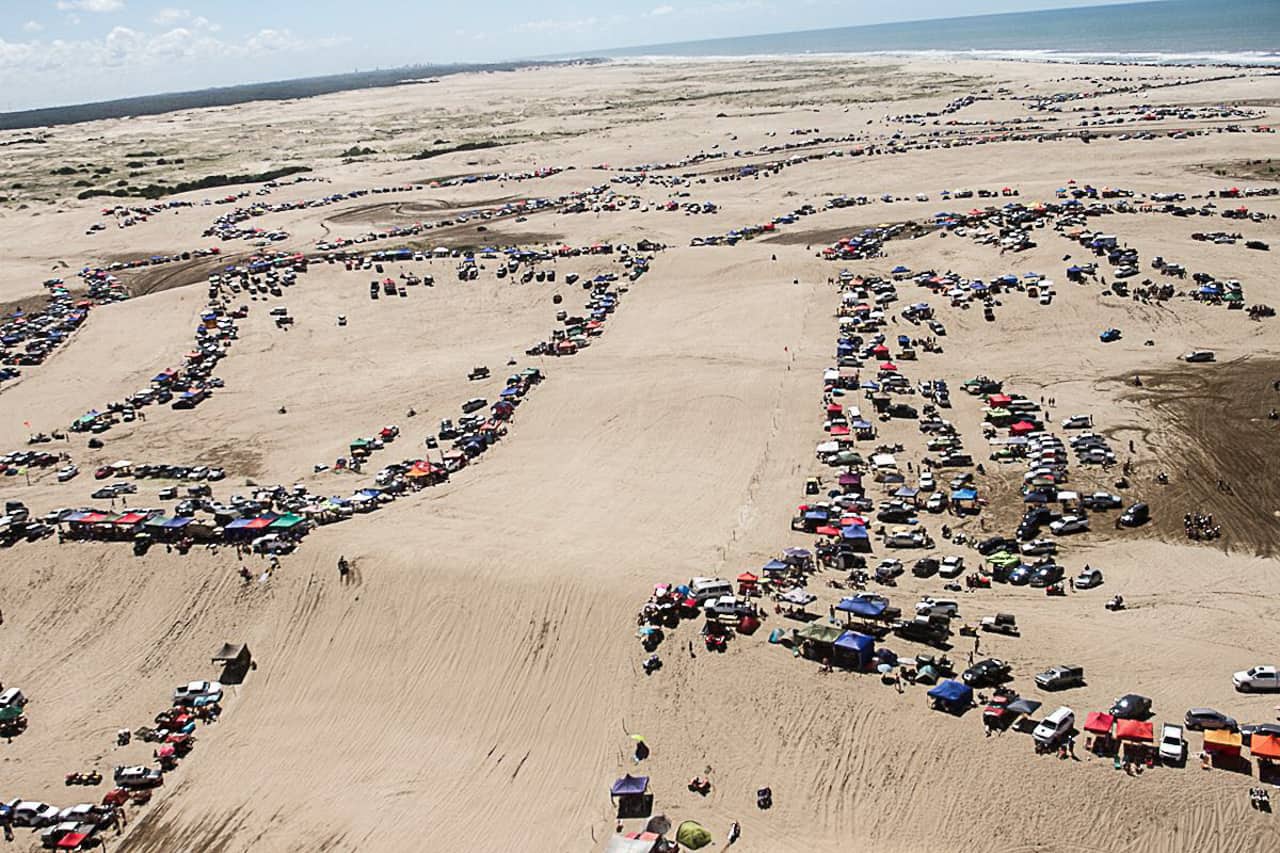 The wide sand course in Argentina. 
Out of the hundreds of riders, Dennis walked away with a 10th overall. 
MOTO | TRIVIA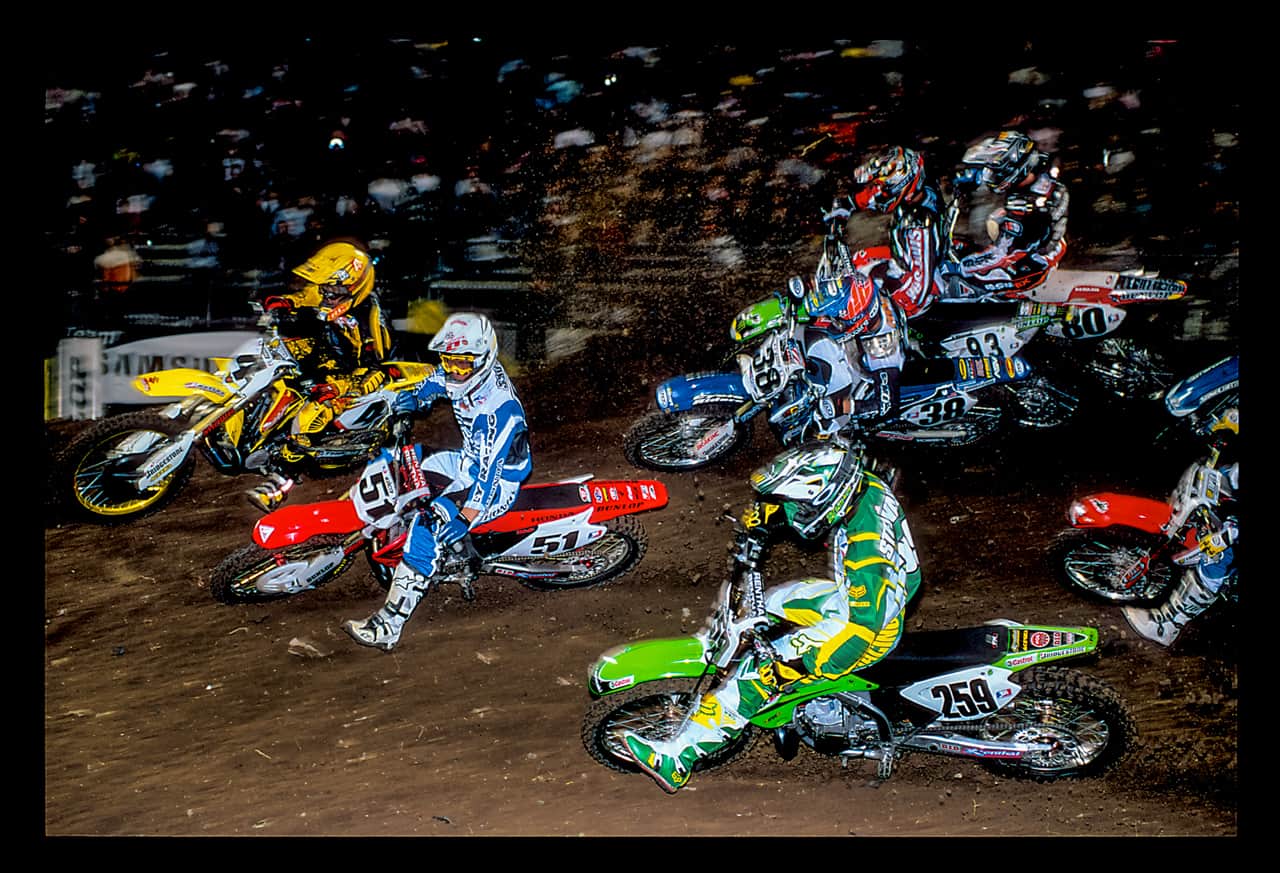 What year and who are all the riders? Answer at bottom of page.
HUSQVARNA MOTORCYCLES' COLLABORATION WITH ROCKSTAR ENERGY EXTENDS FOR ADDITIONAL TWO YEARS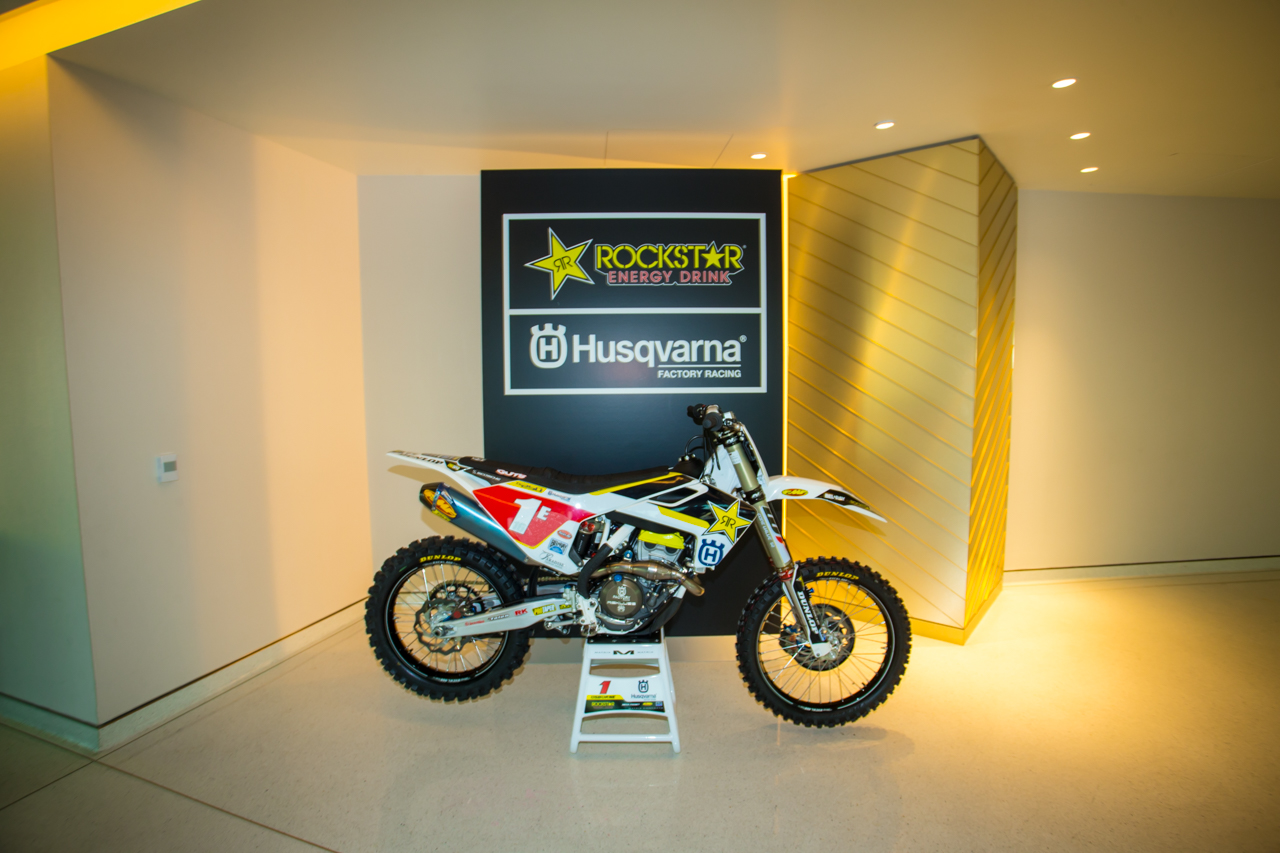 Press Release: Husqvarna Motorcycles is pleased to announce the extension of their strategic global partnership with Rockstar Energy Drink, for an additional two years. Officially lengthening their highly successful collaboration, Rockstar Energy Husqvarna Factory Racing riders will set out to achieve continued success in all major off-road disciplines worldwide through 2018 and 2019.
With the Rockstar Energy Husqvarna Factory Racing team enjoying increasing success, the extension of the agreement with Rockstar Energy comes at a time that team riders Jason Anderson and Zach Osborne respectively lead the 450SX and 250SX East Region categories of the AMA Supercross Championship. In addition, 2018 has also seen Rockstar Energy Husqvarna Factory Racing riders enjoy a wealth of success in indoor enduro, extreme enduro, rally, motocross and supercross events.
Entering into this long term, worldwide partnership with Rockstar Energy Drink in December 2015, Husqvarna Motorcycles started an important and successful chapter in their racing history. Earning a total of four FIM World Championship titles and three AMA titles, the Rockstar Energy Husqvarna FactoryFactory Racing team has established Husqvarna Motorcycles as a leading manufacturer within the global motocross and off-road motorcycle competition sector.
To celebrate their wealthy collaboration with Rockstar Energy, Husqvarna Motorcycles was proud to introduce their very first FC450 Rockstar Edition motorcycle, launched at the end of 2017. With Jason Anderson having to date raced his FC 450 Rockstar Edition machine to three victories in the AMA Supercross series, the Rockstar Energy Husqvarna Factory Racing rider currently holds the championship points lead as the series nears the halfway point.
Looking forward to the thrilling season ahead, Husqvarna Motorcycles is confident that the extension of their partnership with Rockstar Energy Drink will help the brand continue to achieve success at the highest levels of two-wheeled worldwide motorsport.

THEY SAID IT | 2018 TAMPA SUPERCROSS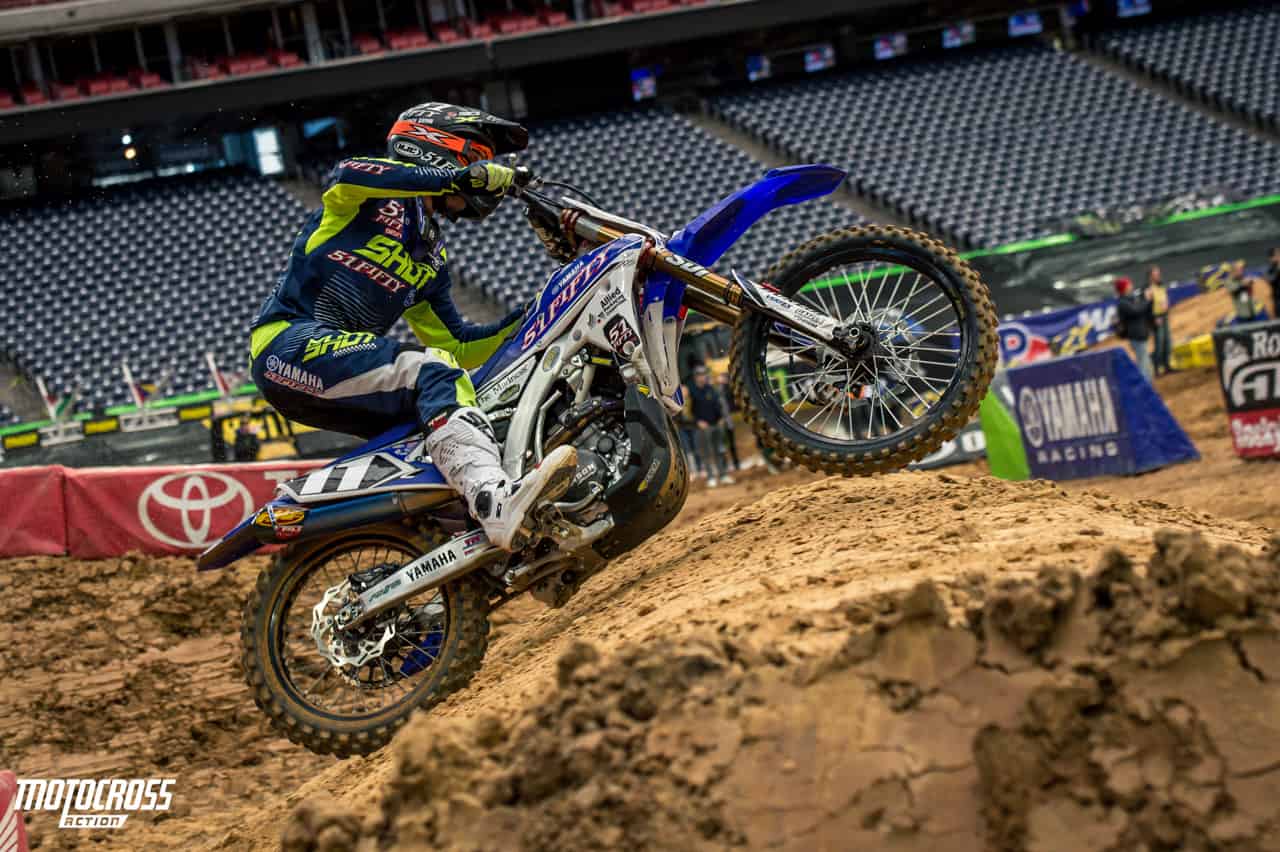 Kyle Chisholm: "Today was great. This is basically my hometown race and we were able to shake all the nerves out last weekend. A bunch of my family and friends were here today so the overall vibe was really fun. The bike worked great all day on the tough track and we were once again able to qualify directly from the Heat race. I'm happy to match my result from last weekend but would love to crack the Top 10 before the East Coast rounds are done."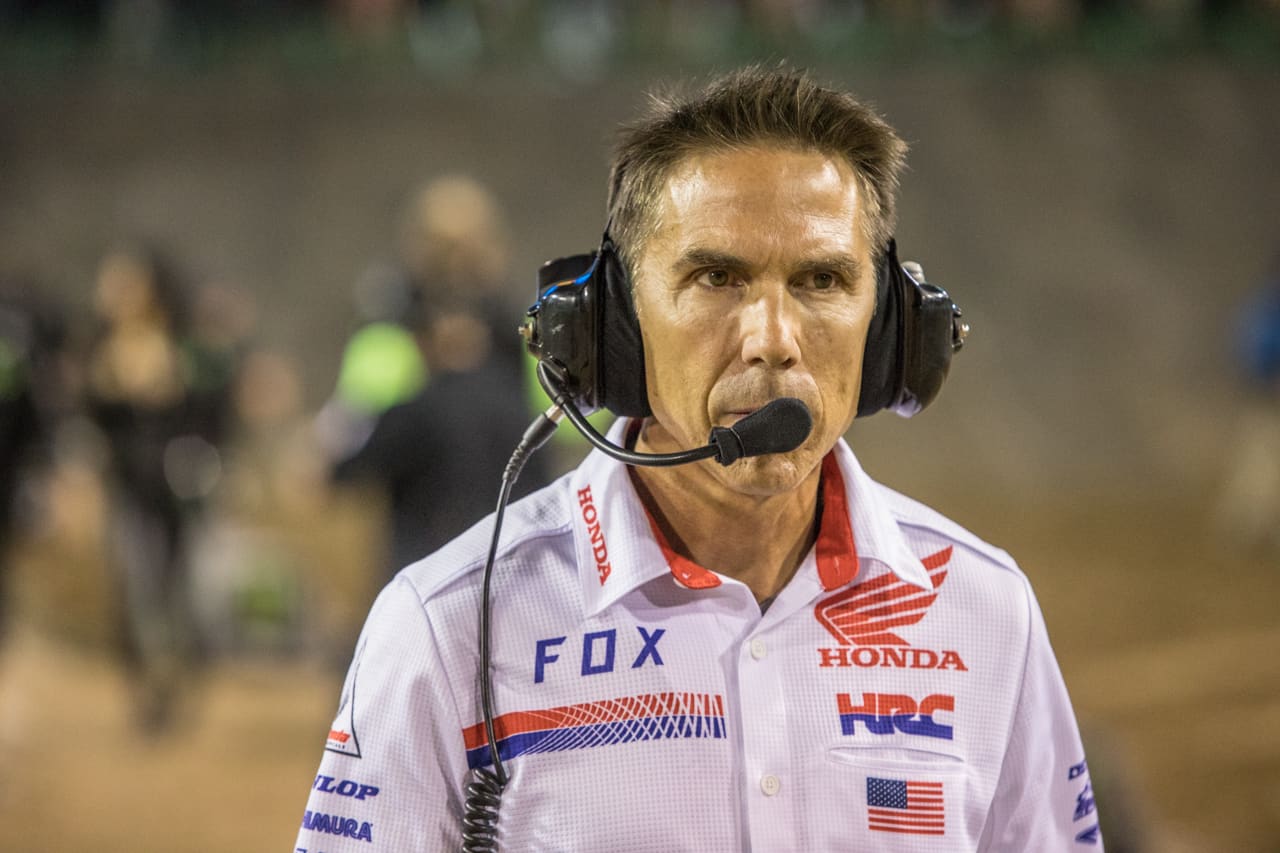 Eric Kehoe: "We're extremely disappointed to see Cole's season come to an end like this. Things were going well up until this weekend. He was second in points and continuing to improve each week, so it was only a matter of time until he would have gotten a win. This is the hardest part of our sport because it never gets easy seeing one of your riders hurt. The entire team and everyone at Honda wishes Cole the best for a speedy recovery."
Austin Forkner: "I am so stoked to get the win," said Forkner. "I felt the pressure coming, but I tried to hit my marks and pull a gap. I thought we were both going down but I just hit the gas and kept it up. I'm so happy for the team and to get this first win under my belt."
Eli Tomac: "That was just a race that required patience," Tomac said on the podium. "At first, I was a little bit off there and got passed by a few guys that were riding better than me early on, but I was able to get in the groove and just had fun riding my dirt bike."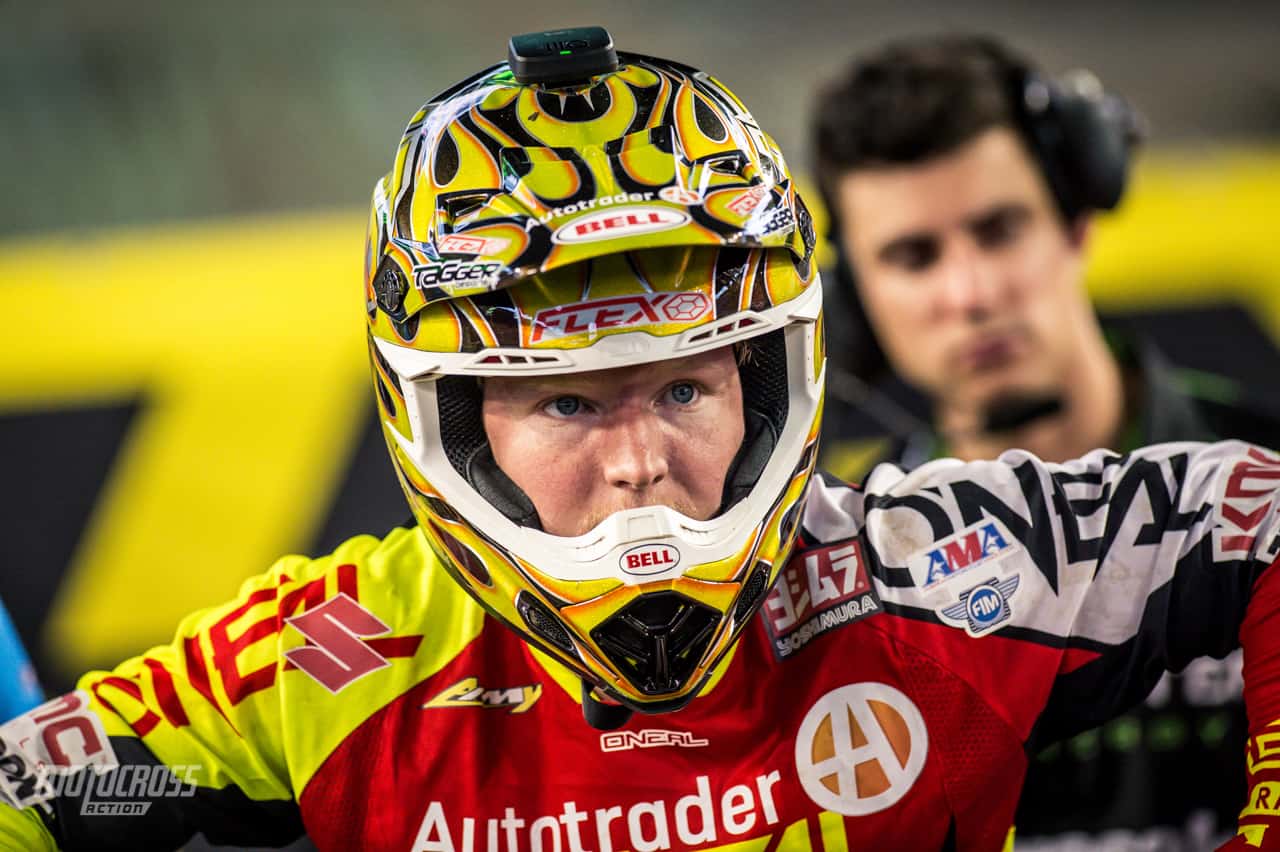 Justin Hill: "I was less than intimidated by the 450 guys. The speed was easier than I thought it would have been. I was comfortable at battling the front runners. The experienced guys seem to do less dumb stuff. Riding with the smart guys seems to work better for me. As I get more involved in the 450 class I feel like I could be the guy, because that type of riding style suits me well."
"The first few laps after I got up following the crash I was trying to regroup. I had a bent front brake lever, and it was hanging pretty far down. Then I started getting the quad jump again. There was no way I was going to do that section without a front brake. I'll have another week on the Suzuki RM-Z450 and head to Atlanta with new goals. I'm looking forward to it."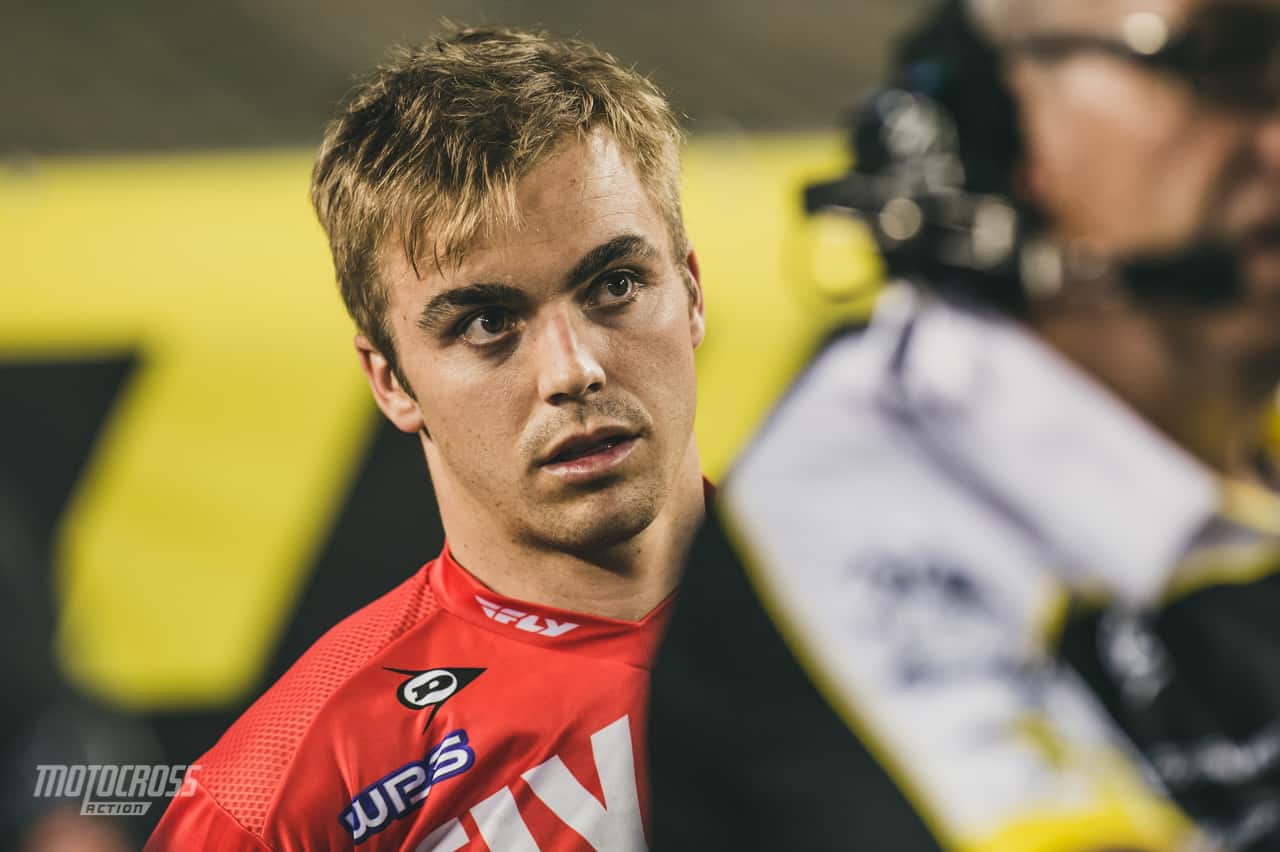 Zach Osborne: "It was decent day here in Tampa. I won my heat race and got off to a really good start in the Main Event but I just didn't quite execute there at the end like I would've liked to. I tried to kind of play it safe in the middle and maybe it got away from me a little bit. I'll work on that this week."
Jason Anderson: "My weekend went pretty average," Anderson said. "I qualified third, got a heat race win and, in the Main Event, came from the back up to third. That's all I had, but I'm looking forward to the next race."
Marvin Musquin: "It's awesome to finish the day on the podium for 2nd place. We fought for the lead so that was nice to have a battle with Eli but I just missed a little bit to fight until the end with him. We showed some good speed overall – I was missing a little bit of time on the big rhythm sections but other than that I felt pretty good on the rest of the track. We corrected my whoops a little bit and my turns were good so I was pretty happy about my riding. And to lead some laps was definitely good and going in the right direction for the future. I know it's 2nd place but I'll take it, it's some good points."
JOIN MXA'S SNAP CHAT FEED
If you are a Snap Chat user then add us to your stories. Get sneak peaks of everything moto. Our Snap Chat name is motocrossaction. Or just take a Snap of the picture above and it will add MXA automatically to your feed.
MEET YOUR FAVORITE RIDERS
TALK MOTO WITH MOTO MINDED PEOPLE. JOIN MXA'S FACEBOOK GROUP CHAT

We love everything moto and want to bring all moto junkies together into one place to share their two cents, ideas, photos, bike fixes, bike problems and much more. To check it out first you must need to or already have a Facebook account. If you don't, it isn't much work and you could even have an alias so nobody knows it is you. To join click HERE. After you request to join we will accept your request shortly after.
CLASSIC PHOTO
Chad Reed 2005 waving to the fans at Anaheim 1.
Moto Trivia answer: The year was 2005. (4) Ricky Carmichael, (259) James Stewart, (51) Andrew Short, (38) Ryan Clark, (80) Doug Dehaan, (93)Gavin Gracyk.