MOTOCROSS ACTION MID-WEEK REPORT BY DARYL ECKLUND

#WHIPITWEDNESDAY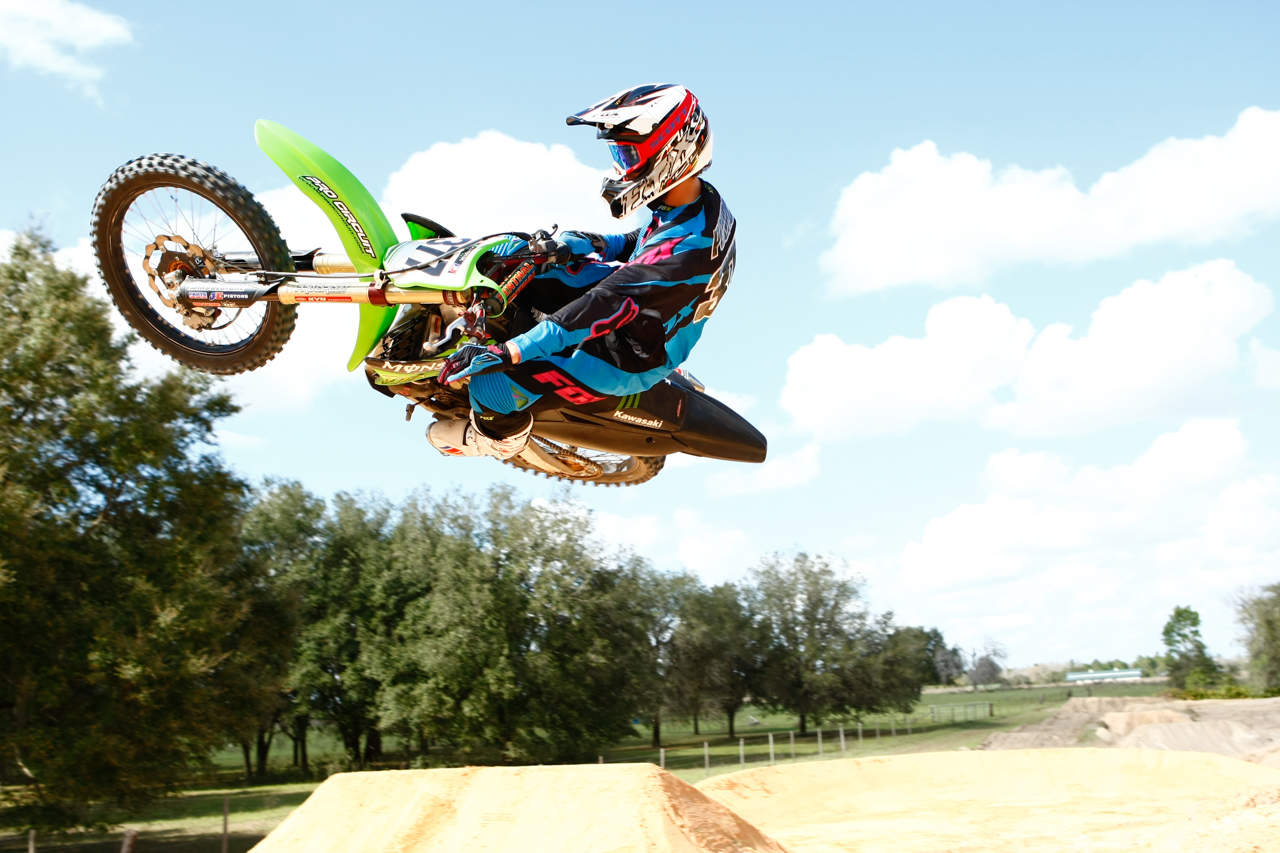 Rider: Christophe Pourcel
Year: 2011
Photographer: MXA Archives
Lens: 24-70mm
Focal length: 30mm
Exposure: 1/1000 sec.
F-stop: 4
ISO: 250
TWO-STROKE SPOTLIGHT: GLENN HARRISON'S 2001 CR500AF
From the plastics it looks like a 2012 Honda chassis, but looking at the frame it is no doubt a 2001 CR frame. 
"Here is my 2001 Honda CR500AF that I just finished rebuilding. I managed to graft 2012 CRF450 plastic on to this beast and I thought that the MXA readers might enjoy seeing it.
I've worked at Bell Helmets (AKA Vista Action Sports) in Scotts Valley, CA for the last 9 years and I am a former local Pro rider. I purchased this bike brand new from Service Honda in 2001 and have kept it all these years since its green sticker legal. Recently I decided to tear it down and do a frame up restoration. I got the idea to try and put the plastic off the 2012 CRF450 after finding some photos of others that have done the same. It was not easy and required a lot of fabrication to the sub frame especially, but in the end I am really happy with how it turned out!
This Honda transformation has a Fox Podium shock and Fox "A" kit replica DLC coated hard anodized 47mm Showa Twin chambers off a 2009 CRF250.
Here's the rundown of what's on it:
Engine:
Ported, balanced, Cryo treated transmission, V force 3 reeds, ceramic coated ProX 4th over piston, thermal coated engine and radiators, Hinson clutch, Pro Circuit pipe and silencer (SA).
Instead of the standard 19 inch rear wheel Glenn mounted a 18 inch.
Chassis:
18 inch rear wheel, Fox Podium shock, Fox "A" kit replica DLC coated hard anodized 47mm Showa Twin chambers off a 09 CRF250 tuned by Click Suspension, CRF Stuff front rotor, Galfer brake line and pads, Pro Taper sprockets and bars, D.I.D X ring chain.
The looks of a new bike, the feel of an old bike and the power of a beast.
Misc:
Custom bar risers, Full Acerbis 2012 CRF450 plastic kit, Gutt's tall seat and cover, MSR clutch perch.
Special thanks to Skip at Dynamic Welding in Mt. View CA, Neezer at Click Suspension in Santa Cruz CA and Rich at Santa Cruz Suspension and Accessories!"
Editor's Note: Please keep those submissions coming. If you would like your bike to be featured in the "Two-Stroke Spotlight," please email me at [email protected]. All I ask is that you give a breakdown of your bike and a detailed description of the build. Please also send a few photos of your steed. By submitting your bike for the "Two-Stroke Spotlight," you agree to release all ownership rights to the images and copy to MXA. Please don't email me spam or try selling me Taylor Swift concert tickets or email me spam. I already celebrate T-Swizzle's entire collective, and there will be "bad blood" if you send me junk mail. See what I did there? Happy submitting your smoker.

MXA EXCLUSIVE VIDEO: DEAN WILSON TEARS UP FLORIDA

THEY SAID IT: DETROIT SUPERCROSS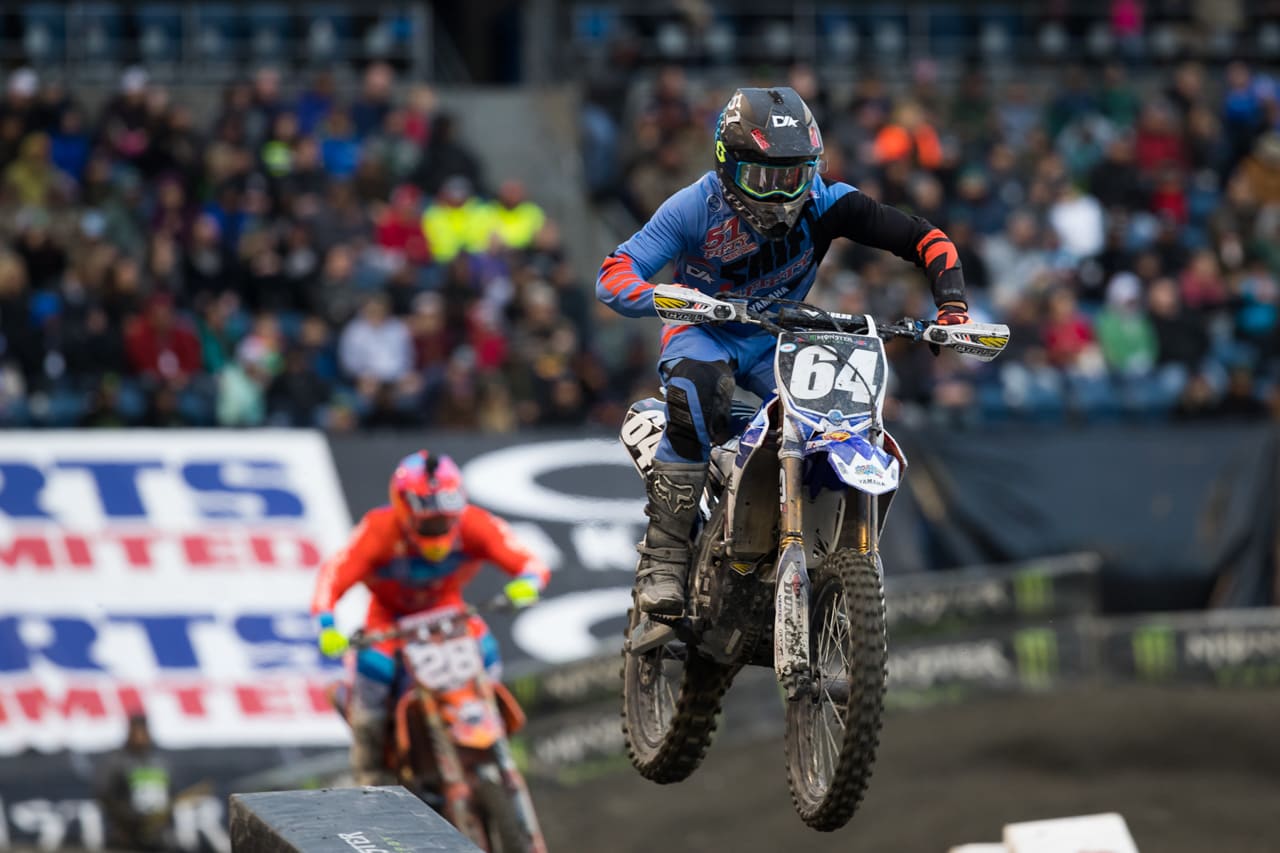 Hayden Mellross: "It's great to have a result like that tonight. The track was tough, but I upped my riding and training during the break and it's really paying off. I'm bummed to see Noah go down and am hoping the best for him while he's recovering."

Cole Seely: "I'm so bummed that I'm not able to race tonight. I first hurt my groin last weekend in St. Louis when I cased the triple in practice and my legs got ripped off the pegs. It was bothering me all week but I actually felt okay in the beginning of practice. Unfortunately, when I came into the left turn after the mechanics area and put my foot down, it ripped to the side again and I heard it pop. After that, it was instant pain. I went to the mobile medical unit and they think that it's the adductor muscle in my groin but we won't know until I get an MRI."
Eli Tomac: "That was some chaos. I didn't get the greatest start, but I ended up finding some rhythm combinations early on that were huge in getting me to the front. Once I got up to about Cooper I hit a wall. Then I ended up making a mistake and went down. Luckily the bike was ok and I ultimately was able to get by Jason [Anderson]. It's not something I expected after everything that happened."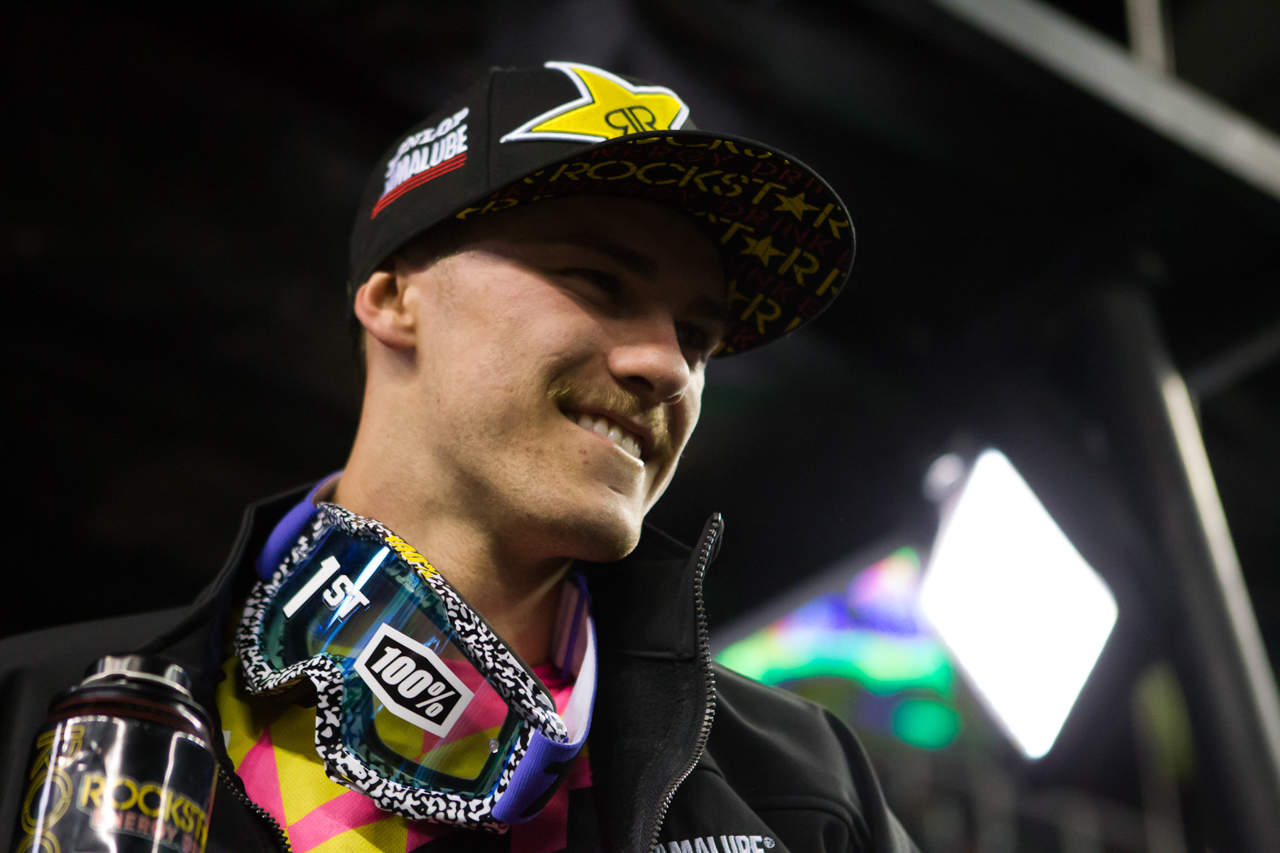 Aaron Plessinger: "I got out front the first time and then they red flagged it. I thought to myself 'I can't catch a break, But I did it again and put my Yamalube/Star Racing Yamaha out front, and it was amazing. I haven't won a race this year and it feels great to finally get back on top of the box."
Justin Hill: "I could have been better. But we had seven weeks off and I have a little rust on me," said Hill. "All things considered, I can't really complain. I still have the points lead and I've been on the podium in every race but one. I think I can learn a lot from this and be better [at the next race]."
Marvin Musquin: "My start wasn't the best, I was really close to going down in the first corner but I was able to get out clean and get into the lead in the first lap, which was awesome. I tried to push as hard as I could but not too much because it was easy to make mistakes – the track was technical and had some rocks. It means a lot to get this [win], my first victory in Dallas I was missing my mechanic Frankie so today I'm really proud and happy."
Ryan Dungey: "Obviously going down in the first turn wasn't ideal but from that point forward we just tried to pick as many riders off as we could and try to gain as many championship points as we could and not make any big mistakes. Overall it was a good night – we salvaged what we could. I felt great, the bike felt awesome and everything was all lined up – we just had a little mishap in the first turn, but that's just the way it goes."
MARVIN MUSQUIN ENDOS AFTER WIN ON VICTORY LAP IN SEATTLE
MXA PRODUCT SPOTLIGHT: POLISPORT FOLDABLE LIFT BIKE STAND
Press Release: Polisport's Foldable Lift Bike Stand was developed to make the user's life easier while performing bike maintenance while minimizing the footprint when in storage or being transported.
The bike stand's foot pedal helps the user elevate the motorcycle easily, with minimal effort. The foldable design makes this a unique product, being the only hybrid bike stand (made of plastic and metal) to bring together the lift feature with a completely foldable design. Additionally, the built-in handle makes the transport of the bike stand easy and comfortable, while the completely foldable design saves a lot of space at home or during transport.
The hybrid structure, makes the bike stand lighter than the metallic competitors, The top of the stand is built in a rubber-like composite that will give the best possible grip to the bike's frame. When performing maintenance, riders can use the handy functional pockets to store tools.
PHOTO OF THE PAST: BOB HANNAH IN HIS SKIVVIES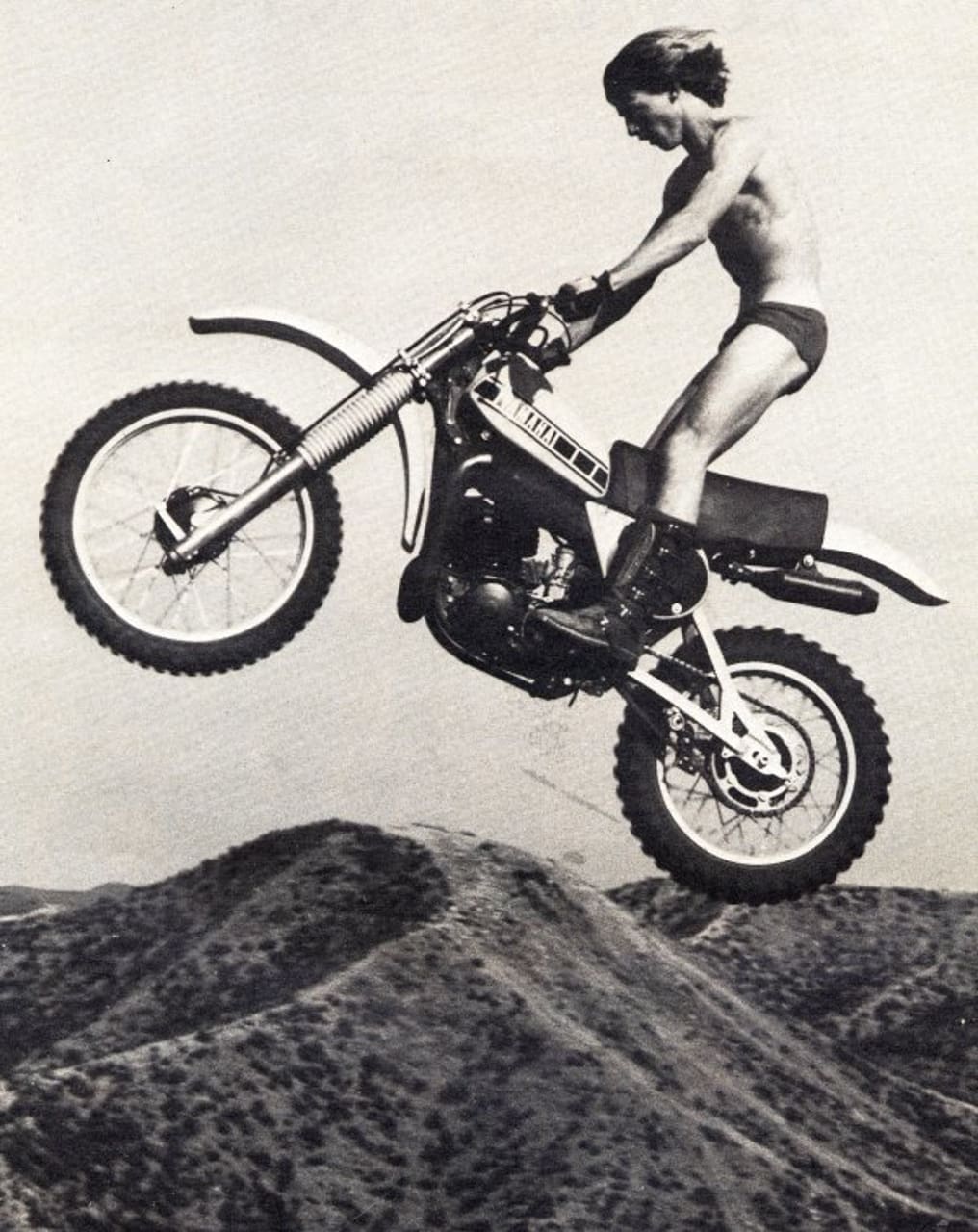 SUPERCROSS KNOWLEDGE: DETROIT SUPERCROSS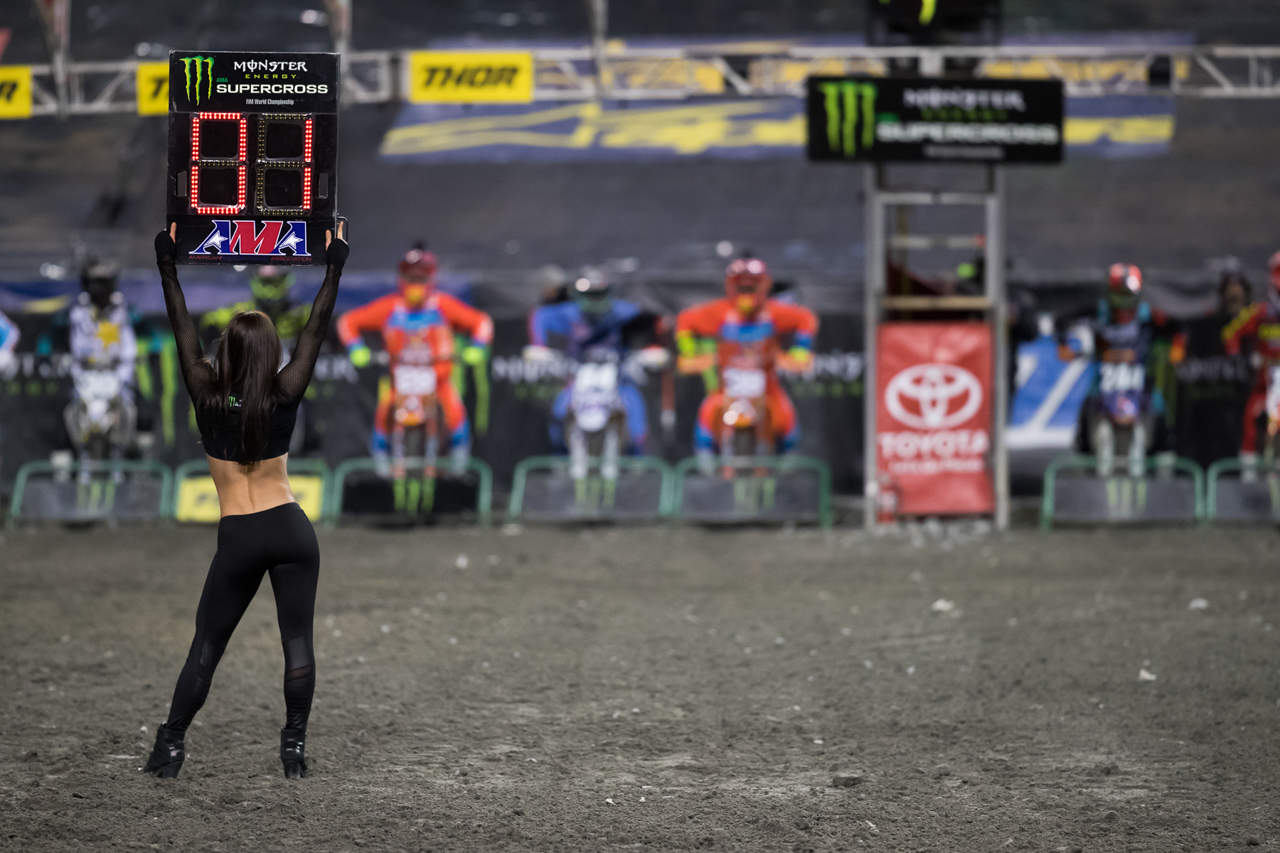 The start of the 250 West main event in Seattle. 
By Broc Bridges
1. Marvin Musquin earned his second career 450SX Class win in Seattle. The victory came on his 35th start.
2. The victory was Musquin's 14th career podium and he has tied his career best four race podium streak that he set from round 8 to round 11 last season. Musquin has finished first, third, second, and second in the past four rounds.
3. The victory was KTM's 30th 450SX Class win all-time. Ryan Dungey has 26 for the brand followed by Ken Roczen and Musquin's two.
Marvin Musquin wins his second race this year. 
4. This is KTM's first win in Seattle in the 450 class.
5. Aaron Plessinger earned his second career 250SX Class win in Seattle. It was Yamaha's first win since St. Louis of 2016.
6. Eli Tomac earned his 28th career podium with a runner-up finish in Seattle. He is on a career best eight round podium streak. His previous high was six straight podiums from rounds 12 through 17 in 2015.
Aaron Plessinger got his first win of the year in Seattle.
7. Jason Anderson rode to his 12th career podium with a third place finish in Seattle. Anderson has 42 top-10 finishes in his 46 career starts and also nabbed his 26th top five.
8. Dungey finished in fourth place in Seattle moving his consecutive top five streak to 49 rounds. He has only finished off of the podium four times in this streak including Seattle.
9. Cooper Webb returned to the top-10 for the first time since Oakland with an eighth place finish. It was his fifth top-10 finish of his rookie season, in which he has missed five races due to injury.
Cooper Webb was on fire in Seattle. A crash dropped him back. 
10. Chad Reed made his 217th career start in Seattle and earned his 197th top-10 finish with a ninth.
11. Dean Wilson earned his 11th career top-10 finish in his 23rd career start in Seattle.
2017 RACE SCHEDULES: BE THERE OR BE SQUARE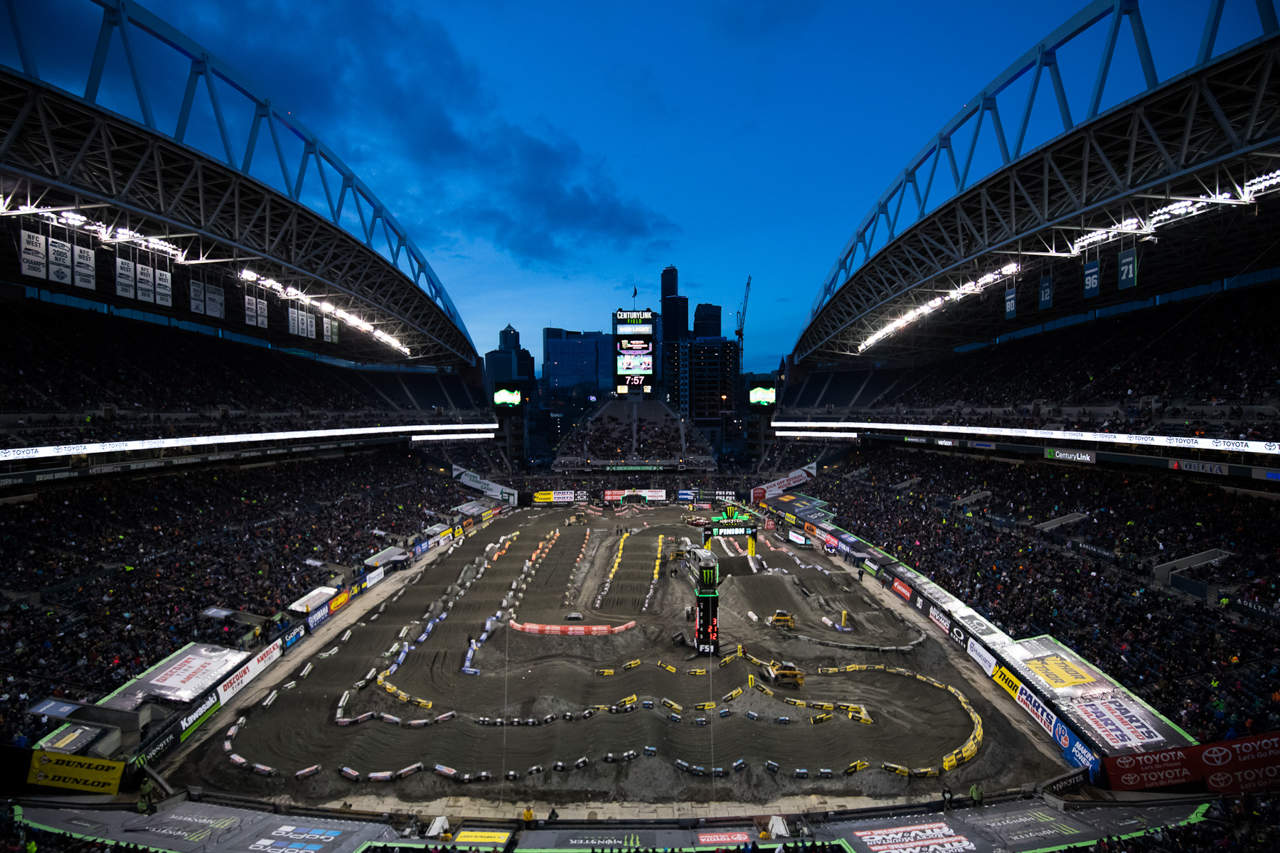 California is the richest race state in the union, with seven major events in 2017. Folks in Michigan should rejoice, as Supercross (Detroit), Arenacross (Grand Rapids) and the Lucas Oil Nationals (Red Bud) visit "The Great Lake State." And those residing in the Pacific Northwest will be happy hosting a bevy of events, from Supercross to the AMA Nationals.
2017 MONSTER ENERGY SUPERCROSS SERIES
January 7…Angel Stadium…Anaheim, CA (West)
January 14…Petco Park…San Diego, CA (West)
January 21…Angel Stadium…Anaheim, CA (West)
January 28…University of Phoenix…Glendale, AZ (West)
February 4…Alameda Coliseum…Oakland, CA (West)
February 11…AT&T Stadium…Arlington, TX (West)
February 18…U.S. Bank Stadium…Minneapolis, MN (East)
February 25…Georgia Dome…Atlanta, GA (East)
March 4…Rogers Centre…Toronto, Canada (East)
March 11…Daytona Speedway…Daytona, FL (East)
March 18…Lucas Oil Stadium…Indianapolis, IN (East)
March 25…Ford Field…Detroit, MI (East)
April 1…America's Center…St. Louis, MO (East)
April 8…CenturyLink Field…Seattle, WA (West)
April 22…Rice-Eccles Stadium…Salt Lake City, UT (West)
April 29…MetLife Stadium…East Rutherford, NJ (East)
May 6…Sam Boyd Stadium…Las Vegas, NV (East/West)
*Visit http://www.supercrosslive.com/ to purchase tickets
2017 AMSOIL ARENACROSS SERIES
January 7-8…U.S. Bank Arena…Cincinnati, OH
January 13-15…Van Andel Arena…Grand Rapids, MI
January 20-22…Royal Farms Arena…Baltimore, MD
January 28-29…Bridgestone Arena…Nashville, TN
February 4-5…Freedom Hall…Louisville, KY
February 18-19…Sprint Center…Kansas City, MO
February 24-26…Georgia Dome…Atlanta, GA
March 3-5…Landers Center…Southaven, MS
March 11-12…Smoothie King Center…New Orleans, LA
March 18-19…Moda Center…Portland, OR
March 24-26…Livestock Events Center…Reno, NV
April 1-2…Golden I Center…Sacramento, CA
April 22-23…Denver Coliseum…Denver, CO
May 5-7…Orleans Arena…Las Vegas, NV
*Visit http://www.supercrosslive.com/ to purchase tickets
2017 LUCAS OIL PRO MOTOCROSS CHAMPIONSHIP
May 20…Hangtown…Sacramento, CA
May 27…Glen Helen…San Bernardino, CA
June 3…Thunder Valley…Lakewood, CO
June 17…High Point…Mount Morris, PA
June 24…Muddy Creek…Blountville, TN
July 1…Red Bud…Buchanan, MI
July 8…Southwick…Southwick, MA
July 22…Spring Creek…Millville, MN
July 29…Washougal…Washougal, WA
August 12…Unadilla…New Berlin, NY
August 19…Budds Creek…Mechanicsville, MD
August 26…Ironman…Crawfordsville, IN
* Visit http://www.promotocross.com/mx/tickets to buy tickets
2017 FIM MOTOCROSS WORLD CHAMPIONSHIP
February 25…Losail…Qatar
March 5…Pangkal Pinang…Indonesia
March 19…Neuquen…Argentina
April 2…Leon…Mexico
April 16…Trentino…Italy
April 23…Valkenswaard…The Netherlands
May 7…Kegums…Latvia
May 21…Teutschenthal…Germany
May 28…Ernee…France
June 11…Orlyonok…Russia
June 25…Maggiora…Italy
July 2…Agueda…Portugal
July 23…Loket…Czech Republic
August 6…Lommel…Belgium
August 13…Frauenfeld…Switzerland
August 20…Uddevalla…Sweden
September 3…Charlotte…USA
September 10…Assen…The Netherlands
September 17…Villars sous Ecot…France
Photos by Scott Mallonee and Brian Converse