MOTOCROSS ACTION MID-WEEK REPORT BY DARYL ECKLUND
HOW TO MAKE YOUR OLD FRAME LOOK FACTORY

#WHIPITWEDNESDAY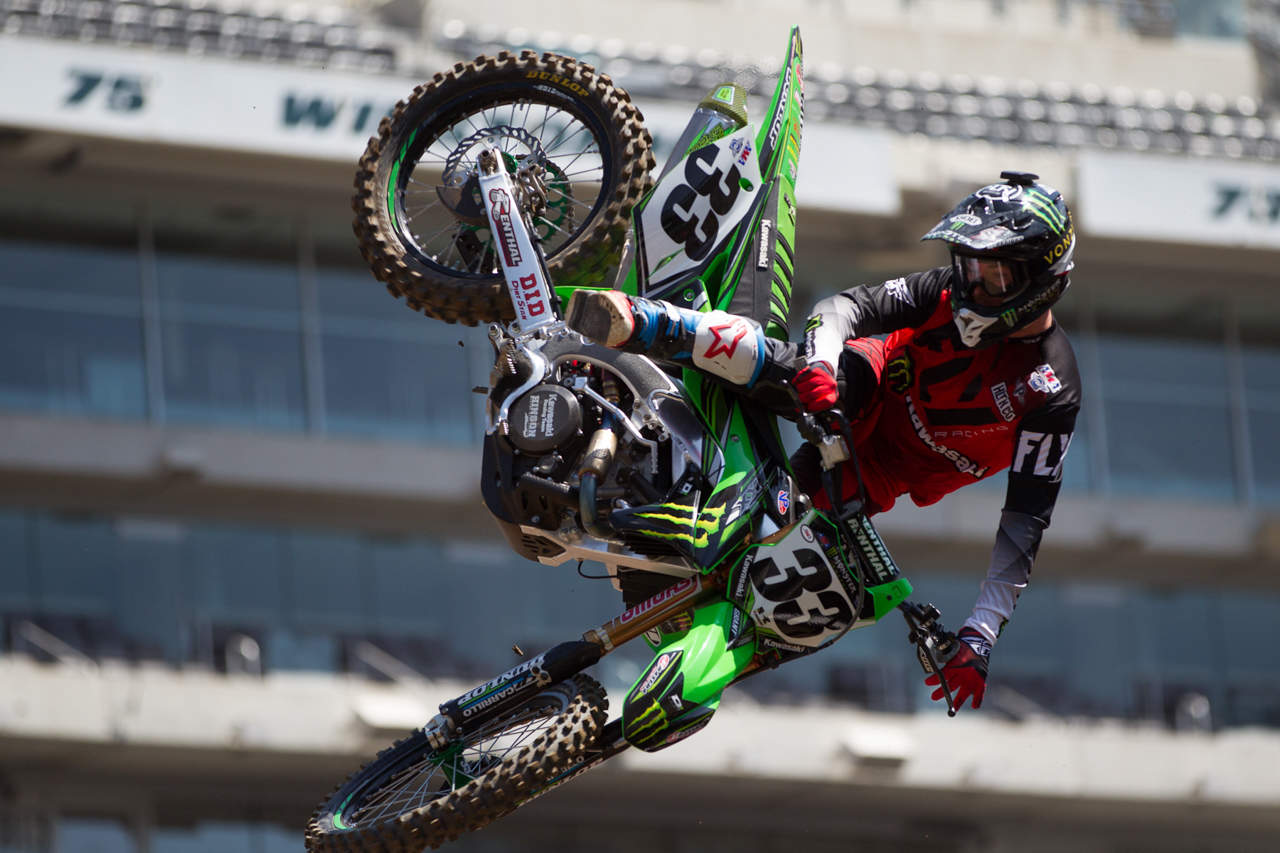 Rider: Josh Grant
Location: MetLife Stadium
Date: April 29, 2017
Photographer: Scott Mallonee
TWO-STROKE SPOTLIGHT: JAMES BENDER 2015 YAMAHA YZ125
Hey Daryl,
This is my 2015 YZ125. I have the same condition as you, a YZ125 addiction. I have a KTM 350SXF as my main race bike, but this thing is for when I want to just hang it out and have fun. I bought her brand new and built it up before I even ridden it. I didn't go over the top and do any engine mods. I just kept it simple and reliable. Here is a list of parts I used for the build:
–Pro Circuit pipe and carbon Shorty combo
-V-Force reed block
-Kite/Talon Wheel set
-Braking Rotors
-Michelin Starcross tyres
-Renthal Kevlar grips
-Custom Topline Seat cover
-Collective Family Graphics
-Hinson Clutch Cover
YZ125 PHOTO BLAST

WHAT'S NEXT FOR THE MXA WRECKING CREW?
We took Dean Wilson's Pro Circuit-built YZ450F engine out of the bike he raced as a privateer at the beginning of the 2017 Supercross season and stuffed it into our MXA YZ450F. Of course that wasn't enough. We called Dean's past sponsors and made the bike as close to a replica as we could—from his Split graphics, to his Kayaba works forks to his Dubya/Kite wheels to his Xtrig triple clamps and a muriad of little parts.
We took MXA test rider Justin Muscutt's beat up 2006 Suzuki RM250 and spit shined her up with new hardware, graphics, plastic and bolt on power. Justin raced this bike at the World Two-Stroke Champion two weeks ago. 
We may have been on a YZ450F kick this month, as we also built a special YZ450F for Jon Ortner using every trick in the book from JGR, Twin Air, Cycra, Tusk, DR.D, Dunlop, SuperSprox, JGRMX, Pro Circuit, Decal Works, TM Designworks, Simi Valley Cycles and TBT Suspension. Take special note of the camelback airbox cover.

MXA EXCLUSIVE VIDEO: CHRISTIAN CRAIG TALKS ABOUT FAMILY AND RACING
MXA PRODUCT SPOTLIGHT: JGRMX SPRING/AIR FORK KIT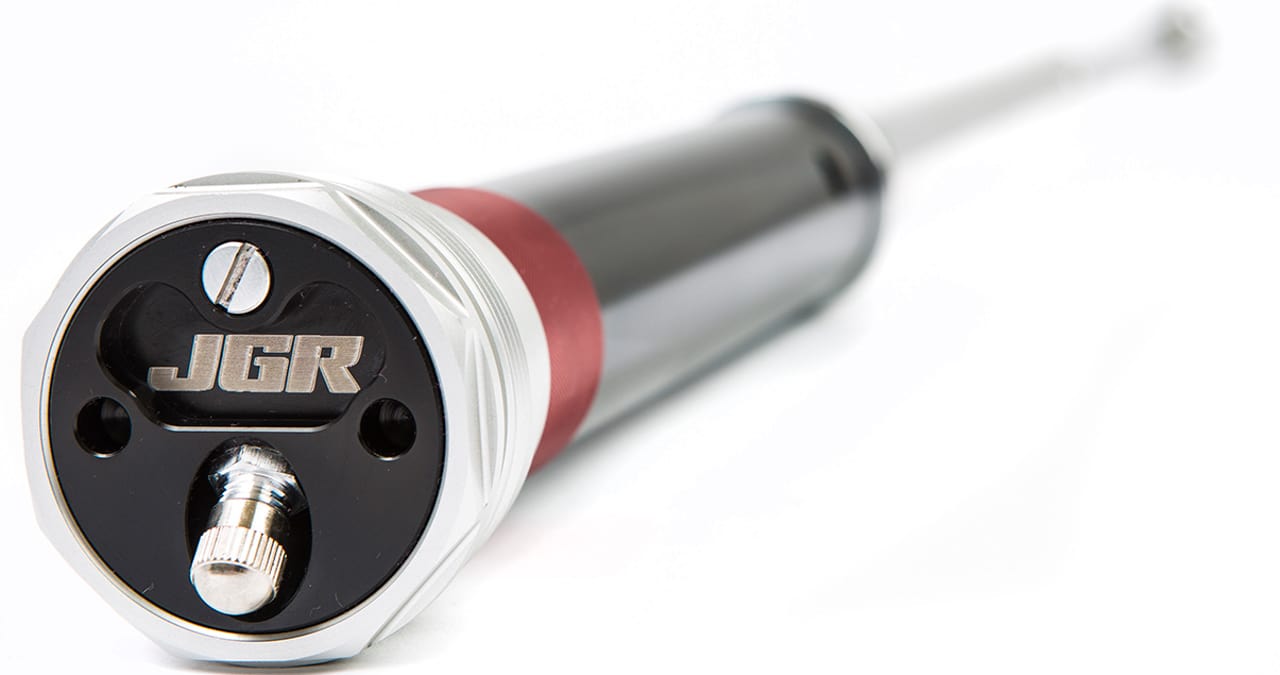 The JGRMX Spring/Air fork kit allows you to run a considerably lighter fork spring, which provides better initial plushness and front-end traction. 

Press Release: Combine the benefits of spring and air suspension with the JGRMX Spring/Air fork kit. This design replaces the stock triple chamber air fork cartridge in Showa SFF TAC and WP AER forks, turning the cartridge into a combination spring/air setup. The kit provides a spring-like feel through the initial part of the stroke, with the outstanding bottoming resistance of an air fork. Air pressure is controlled by a single chamber. The JGRMX Spring/Air fork kit allows you to run a considerably lighter fork spring, which provides better initial plushness and front-end traction. The single, inner air chamber can be adjusted to control the ramp-up effect through the stroke, as well as bottoming resistance.
JGRMX's Spring/Air fork kit replaces the stock air cartridge in the right fork leg and can be used with stock damping, if desired. Inner chamber air pressure can be between as little as zero psi or as much as 25 psi, depending on personal preference. JGRMX will install the kit and revalve the forks for an additional $214.99, plus oil and wear parts (if needed). This price includes a dyno run on the Roehrig Engineering dyno. We recommend a shock revalve after the fork kit has been installed. This cost is $204.99, plus oil and wear parts (if needed).
The JGRMX Spring/Air fork kit includes the cartridge assembly, spring seat, fork spring, and three different preload spacers. Detailed installation instructions are provided. For more information, please contact our suspension department at (704) 274-3432.
Models: 
2015-2017 Honda CRF250
 2015-2017 Suzuki RM-Z450 
2015-2017 Kawasaki KX450F 
All KTM and Husqvarna models with WP AER fork
MSRP: $689.99
vWeb: www.jgrmxstore.com 
Phone: (877) 905-4769.
THEY SAID IT: NEW JERSEY SUPERCROSS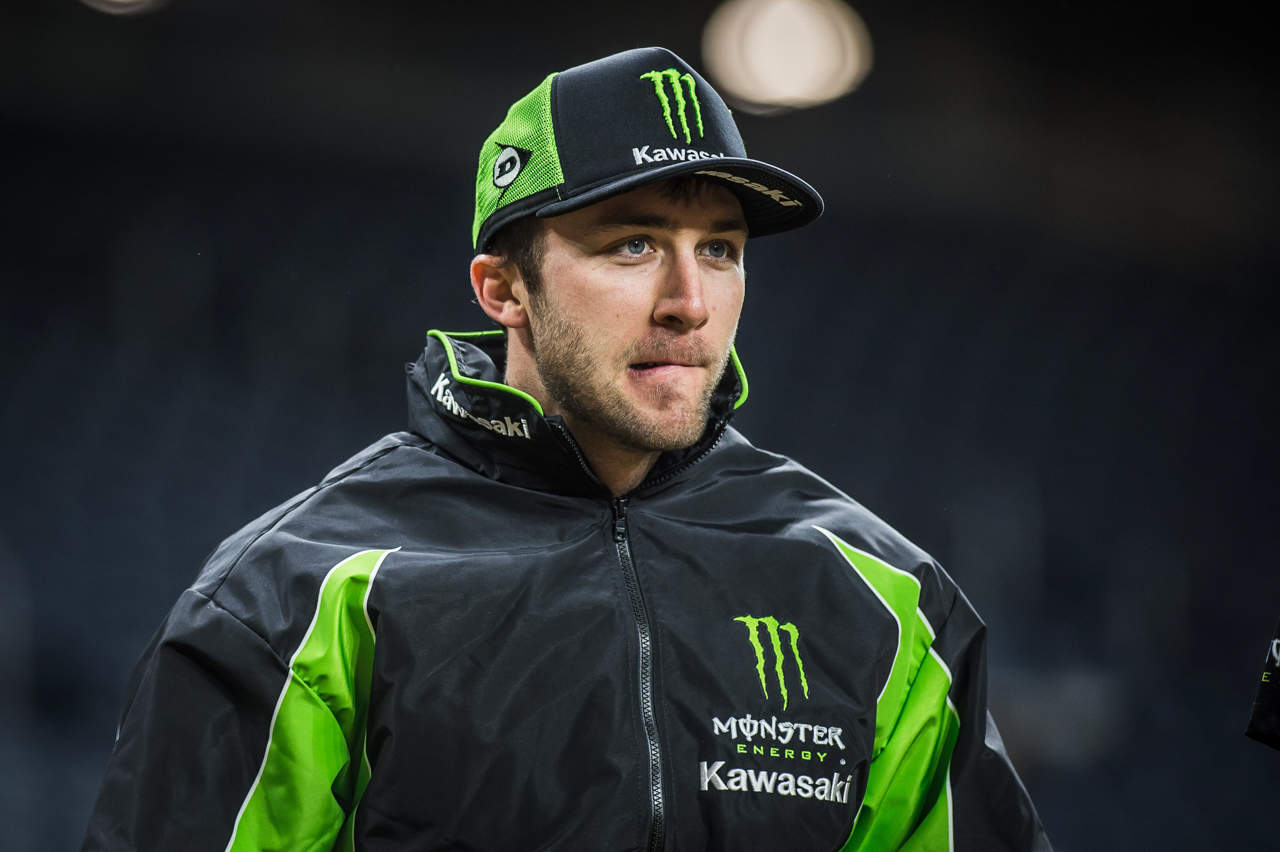 Eli Tomac–"That was a bummer. The only thing to look forward to is there's one race left. The scenarios can flip and the same thing could happen to Ryan. That's all I can hope for. Nine points will be hard to cover and catch up on, but I'll give it my all and look to win. That's all I can do."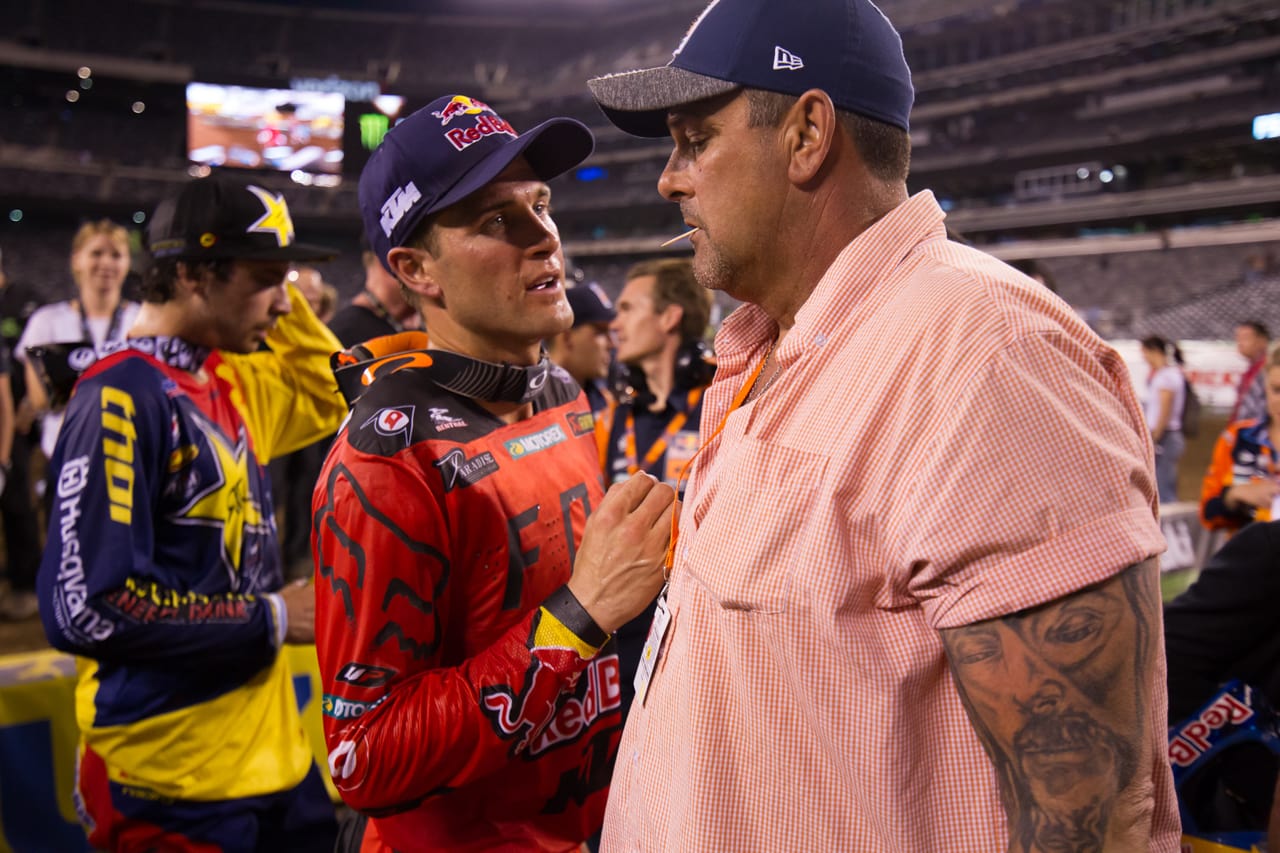 Ryan Dungey–"I just really tried to apply it all [today]. Obviously we had two races to go coming into this round and I knew we needed to be there from the beginning. Practice is a good way to set the tone and I felt comfortable, I was able to hit my marks and it felt effortless in a way. The Main Event wasn't a great start but I snuck in there and was able to come out 3rd. I saw Jason and Eli make mistakes and I thought to myself 'no mistakes', it was kind of a patience track. Marvin's lines were better so I was thinking maybe it's not a bad thing to let him by, I know I'm going to pick up on a few lines and I did. I had my head down and came around the corner to see Marvin on the left and I was able to sweep by and it was good to get a win – it's nice to see all three of us up here on the podium."
Marvin Musquin–"It took me a while to get going, I was a little bit slow at the beginning and was searching for good lines. I finally got a good rhythm – Eli and Jason went down so you could tell the track was really difficult to not make mistakes. Ryan and I were 1st and 2nd so that was really cool and then I was able to get around him, I think I had one or two better lines but I feel like he saw some of the lines and he picked it up – I felt like I was getting away a little bit and then he was coming back on my rear wheel. I tightened up a little bit on the last lap and I got a good run through the whoops but maybe too fast – that sweeper and that rut were really difficult to feel the front end and I made a mistake. In the end, it's a KTM that wins so it's good for us but it's hard, I feel like it was going to be a good race but it's still 2nd place so it's good."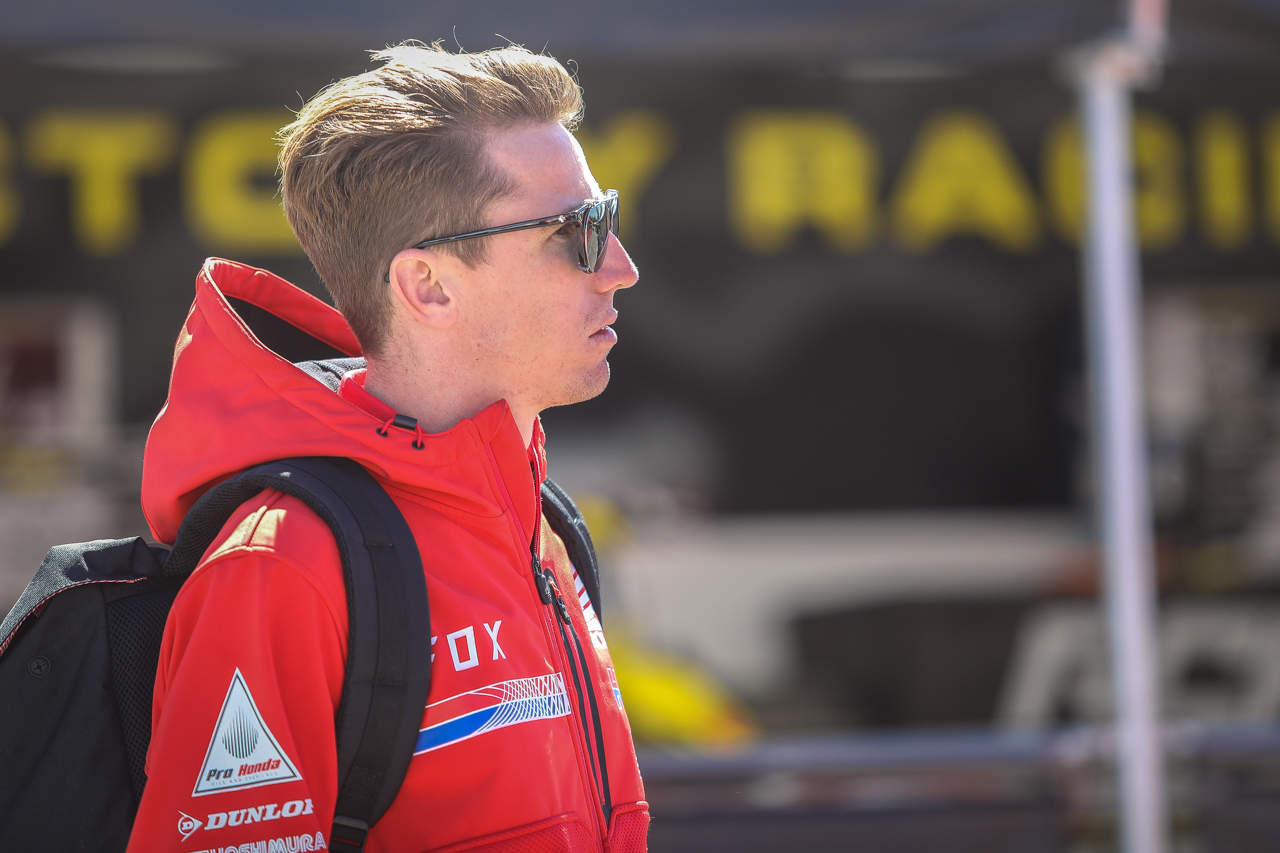 Cole Seely–"I'm frustrated with the way I rode tonight even before the injury, and now to be in the same situation is a huge bummer. I got a terrible start and although I didn't feel like I was riding well, I had worked my way up to sixth. I felt like I needed to find something on the track to go faster so I tried to go three out at the end of a rhythm section and didn't make it. I cased it, which ripped my feet off the pegs and hurt my leg again so I couldn't hold onto the bike. That's basically how I injured it the first time in St. Louis. Luckily, it didn't pop again because that would mean it tore again so hopefully it's not that bad."
Zach Osborne–"It was a tight track tonight. You had to be aggressive. I got a terrible start, like mid pack, and barely made it through first turn. It was a struggle. The first couple laps there I was really nervous, but I was able to make the pass on Joey [Savatgy] and get into the lead and just ride my own race."
Joey Savatgy–"I got to keep working. It's not always going to be easy. If it was, there'd be more of us up here [on the podium]. I've got to keep the ball rolling. I'm not a quitter. We've been knocked down a few times and I came up short last year [for the championship], but I'm not about to let that happen again. We'll come into Las Vegas with an open mindset, have some fun, and do our best."
PHOTO OF THE PAST: 2001 SUPERCROSS 125 START
Riders from left to right: David Pingree (46), Casey Lytle (57), Shae Bentley (1),  Unknown (989), Greg Schnell (30) andErnesto Fonseca (25).
2017 RACE SCHEDULES: BE THERE OR BE SQUARE
California is the richest race state in the union, with seven major events in 2017. Folks in Michigan should rejoice, as Supercross (Detroit), Arenacross (Grand Rapids) and the Lucas Oil Nationals (Red Bud) visit "The Great Lake State." And those residing in the Pacific Northwest will be happy hosting a bevy of events, from Supercross to the AMA Nationals.
2017 MONSTER ENERGY SUPERCROSS SERIES
January 7…Angel Stadium…Anaheim, CA (West)
January 14…Petco Park…San Diego, CA (West)
January 21…Angel Stadium…Anaheim, CA (West)
January 28…University of Phoenix…Glendale, AZ (West)
February 4…Alameda Coliseum…Oakland, CA (West)
February 11…AT&T Stadium…Arlington, TX (West)
February 18…U.S. Bank Stadium…Minneapolis, MN (East)
February 25…Georgia Dome…Atlanta, GA (East)
March 4…Rogers Centre…Toronto, Canada (East)
March 11…Daytona Speedway…Daytona, FL (East)
March 18…Lucas Oil Stadium…Indianapolis, IN (East)
March 25…Ford Field…Detroit, MI (East)
April 1…America's Center…St. Louis, MO (East)
April 8…CenturyLink Field…Seattle, WA (West)
April 22…Rice-Eccles Stadium…Salt Lake City, UT (West)
April 29…MetLife Stadium…East Rutherford, NJ (East)
May 6…Sam Boyd Stadium…Las Vegas, NV (East/West)
*Visit www.supercrosslive.com to purchase tickets
2017 AMSOIL ARENACROSS SERIES
January 7-8…U.S. Bank Arena…Cincinnati, OH
January 13-15…Van Andel Arena…Grand Rapids, MI
January 20-22…Royal Farms Arena…Baltimore, MD
January 28-29…Bridgestone Arena…Nashville, TN
February 4-5…Freedom Hall…Louisville, KY
February 18-19…Sprint Center…Kansas City, MO
February 24-26…Georgia Dome…Atlanta, GA
March 3-5…Landers Center…Southaven, MS
March 11-12…Smoothie King Center…New Orleans, LA
March 18-19…Moda Center…Portland, OR
March 24-26…Livestock Events Center…Reno, NV
April 1-2…Golden I Center…Sacramento, CA
April 22-23…Denver Coliseum…Denver, CO
May 5-7…Orleans Arena…Las Vegas, NV
*Visit www.supercrosslive.comto purchase tickets
2017 LUCAS OIL PRO MOTOCROSS CHAMPIONSHIP
May 20…Hangtown…Sacramento, CA
May 27…Glen Helen…San Bernardino, CA
June 3…Thunder Valley…Lakewood, CO
June 17…High Point…Mount Morris, PA
June 24…Muddy Creek…Blountville, TN
July 1…Red Bud…Buchanan, MI
July 8…Southwick…Southwick, MA
July 22…Spring Creek…Millville, MN
July 29…Washougal…Washougal, WA
August 12…Unadilla…New Berlin, NY
August 19…Budds Creek…Mechanicsville, MD
August 26…Ironman…Crawfordsville, IN
* Visit www.promotocross.com/mx/tickets to buy tickets
2017 FIM MOTOCROSS WORLD CHAMPIONSHIP
February 25…Losail…Qatar
March 5…Pangkal Pinang…Indonesia
March 19…Neuquen…Argentina
April 2…Leon…Mexico
April 16…Trentino…Italy
April 23…Valkenswaard…The Netherlands
May 7…Kegums…Latvia
May 21…Teutschenthal…Germany
May 28…Ernee…France
June 11…Orlyonok…Russia
June 25…Maggiora…Italy
July 2…Agueda…Portugal
July 23…Loket…Czech Republic
August 6…Lommel…Belgium
August 13…Frauenfeld…Switzerland
August 20…Uddevalla…Sweden
September 3…Charlotte…USA
September 10…Assen…The Netherlands
September 17…Villars sous Ecot…France
Photos by Brian Converse, Scott Mallonee, Daryl Ecklund, MXA Archives and JGR MX