MOTOCROSS ACTION MID-WEEK REPORT BY DARYL ECKLUND
#WHIPITWEDNESDAY
Rider: Austin Forkner
Location: Anaheim Stadium
Bike: 2017 Pro Circuit Kawasaki KX250F
Date: January 7th, 2017
Photographer: Daryl Ecklund
Camera: Canon 5D Mark iv
Lens: 70-200mm f/2.8
Focal length: 175mm
Exposure: 1/1000 sec.
F-stop: 4.5
ISO: 3200
MXA VIDEO: FIRST RIDE 2017 YAMAHA YZ250 TWO-STROKE

WE VISIT JOE GIBBS RACING IN NORTH CAROLINA
Joe Gibbs has lived many lives. 
Three-time NFL Super Bowl winner Joe Gibbs, who was the coach of the NFL's Washington Redskins for 12 seasons, switched his focus to four-wheel racing in 1992. He dabbled in NHRA for a bit, but found his stride in NASCAR. Since that time, Joe Gibbs Racing–better known as JGR in the motocross community–has won four Sprint Cup Championships. In 2007, Joe's son, Coy Gibbs, wanted to go motocross racing. The following year the JGRMX race team began racing at the highest level, and a year later they won the Anaheim 1 Supercross opener with Josh Grant.
Inside the JGR cup showroom were Super Bowl rings, countless trophies and memorabilia as well as a few cars. 
We got the chance to not only visit the JGRMX Store and Race shop, but also the inner workings of the Cup shop. With roughly 600 employees, 140 NASCAR wins under their belt and a company valuation of over $200 million, Joe Gibbs has a proven business plan.
This is as far as we got with the camera for the most point. 
That plan has been implemented into its Supercross team. From the race team the next step was the JGRMX Store. Offering everything from engine and suspension modifications for motocross bikes to racing karts and snow bikes, along with apparel and a growing hard parts division, the JGRMX Store is a one-stop shop for all things moto. And like anything, it takes time to learn the ins and outs of a sport. With that said, the JRGMX team has the people and resources to bring home wins and championships just like their NASCAR team has.
We got to take a photo inside the all white Xfinity shop. The Cup shop looks a lot like this, but much better.
Walking through the Cup shop's enormous building was a jaw-dropping experience. Unfortunately, due to secrets behind the curtain, we were unable to take many photos. Take our word, it was like getting to walk through Area 51.
Car storage done right. 
Being so focused on motocross, we think two-wheel racing is an expensive sport. It isn't even a drop in the bucket compared to the money that goes into a NASCAR-winning team. It blew our minds when we found out the pit crew (the six guys that jump over the wall on race day to change tires and make adjustments to the race car) make as much as most top Supercross riders! Kids, it pays to know how to change tires! Who would have thought?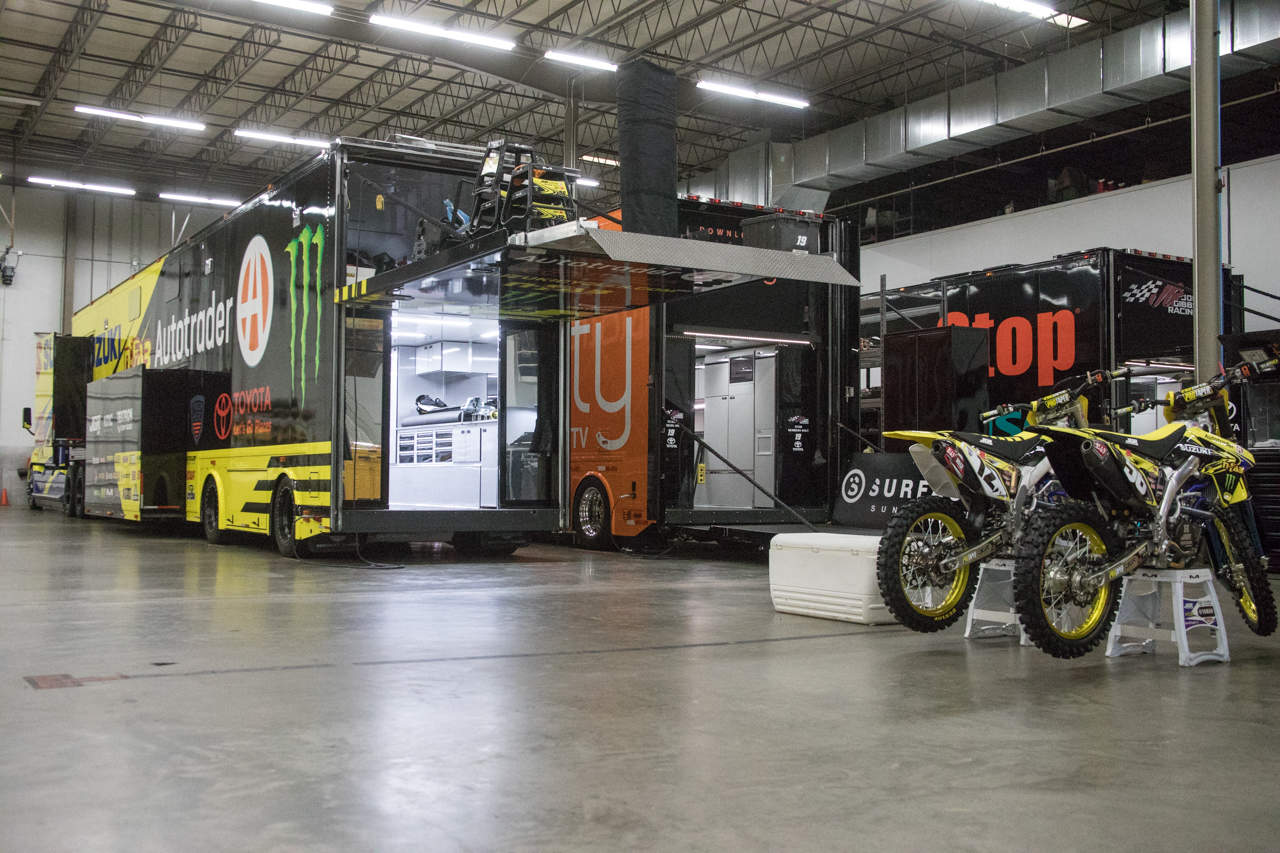 Where the JGR Suzuki semis rests after a trip.

When Coy Gibbs was giving us the tour of the Cup shop we came up on this dyno. Not just any dyno, an altering current engine dyno. We were excited when he accepted our photo request. 
The $1 million dollar dyno machines, 30 in-house engineers and a full machine shop are just a small part of what the Cup shop entails, but these are some of the things the JGRMX team, as well as the JGRMX Store, has access to.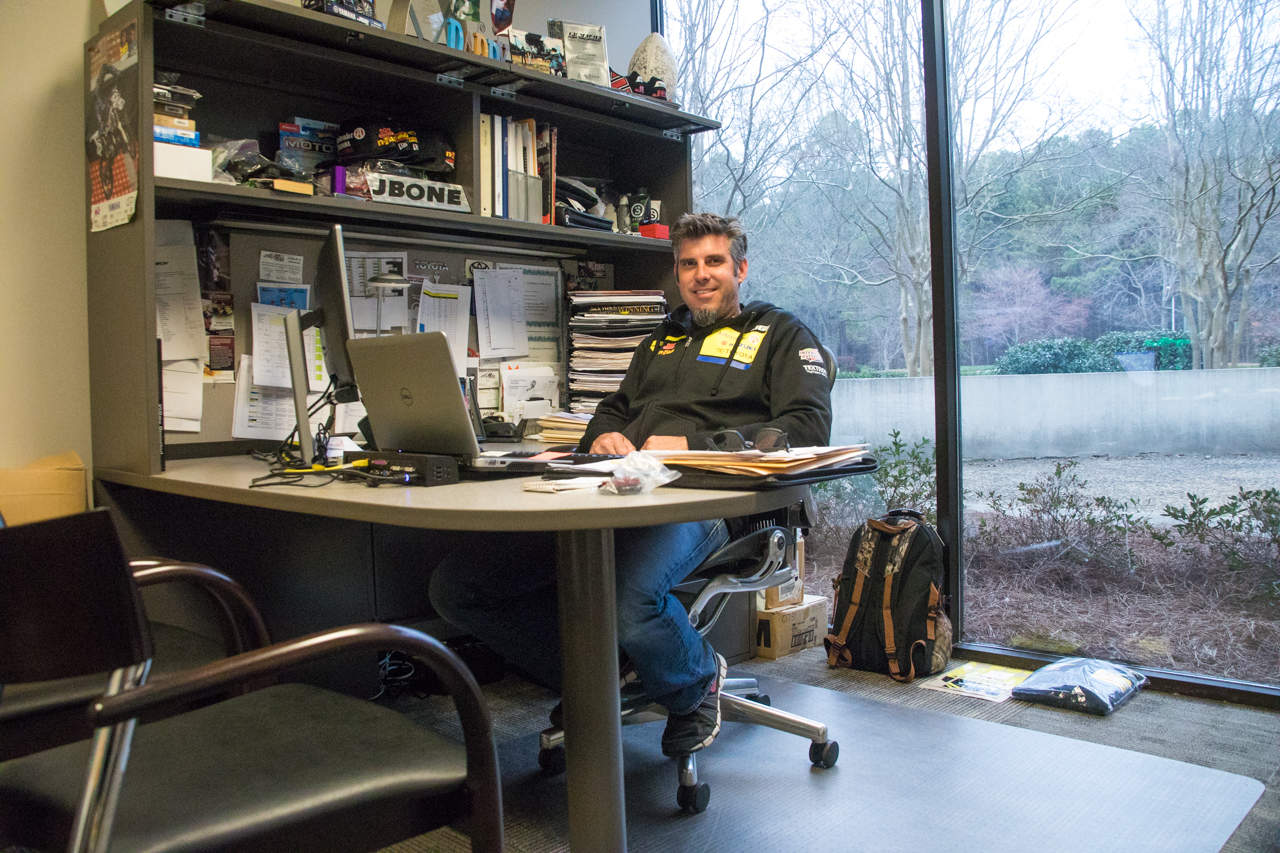 JGR team manager, Jeremy Albrecht in a setting that only a few have seen him in.
The JGRMX Store, which is just down the street from the Cup shop has access to all of the race team secrets. They off many Yamaha and Suzuki parts straight off of their race bikes, but are in the works of expanding their line to KTM, Husky, Honda and Kawasaki. They do, however, do engine work and suspension for all makes and models. For more information about the JGRMX Store, go to www.jgrmxstore.com, or give them a call at (877) 905-4769.
JGRMX suspension guru Joey Bray in his element.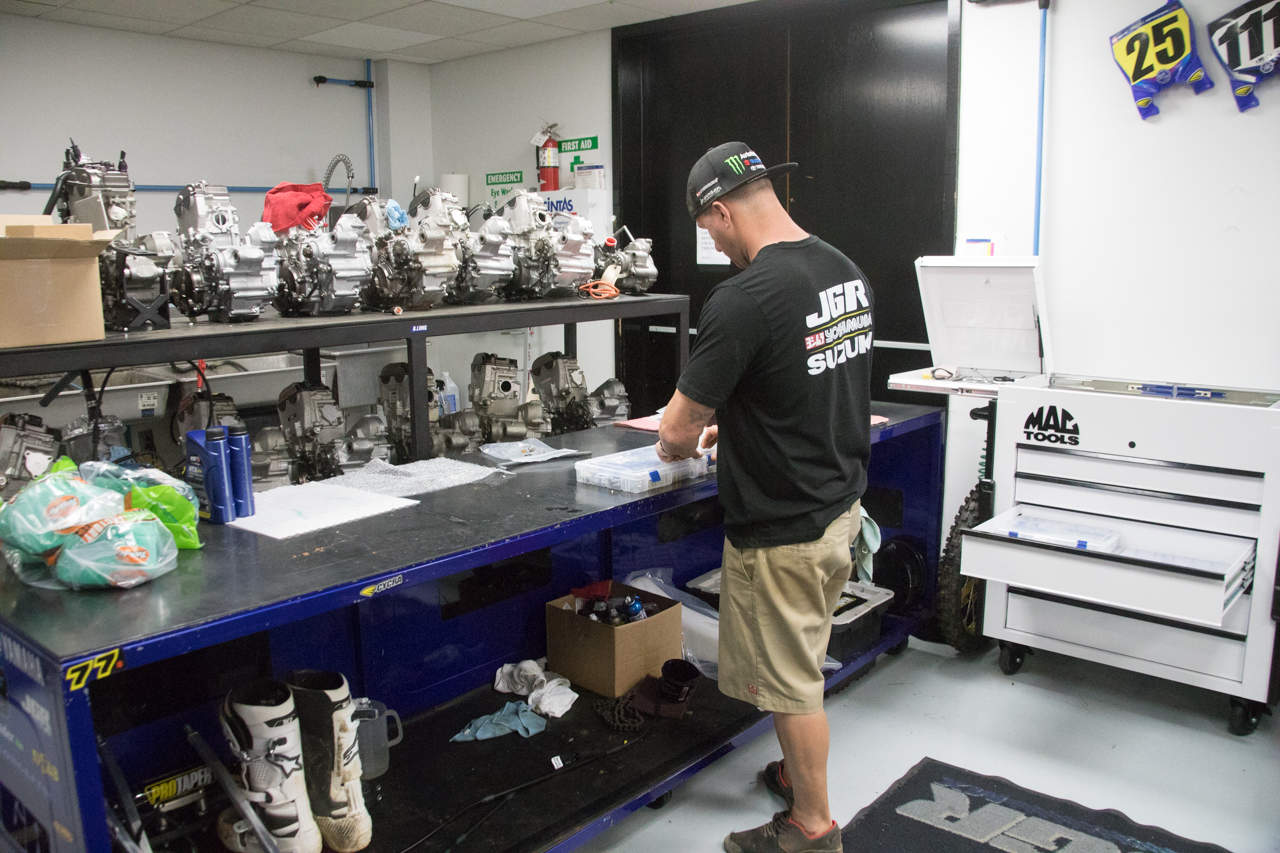 Isaiah Murphy in the engine department of the JGR Store. We found a KX500 kart engine, KTM 85SX engine as well as numerous other two-and-four-stroke engines that JGR maintains and modifies for local racers.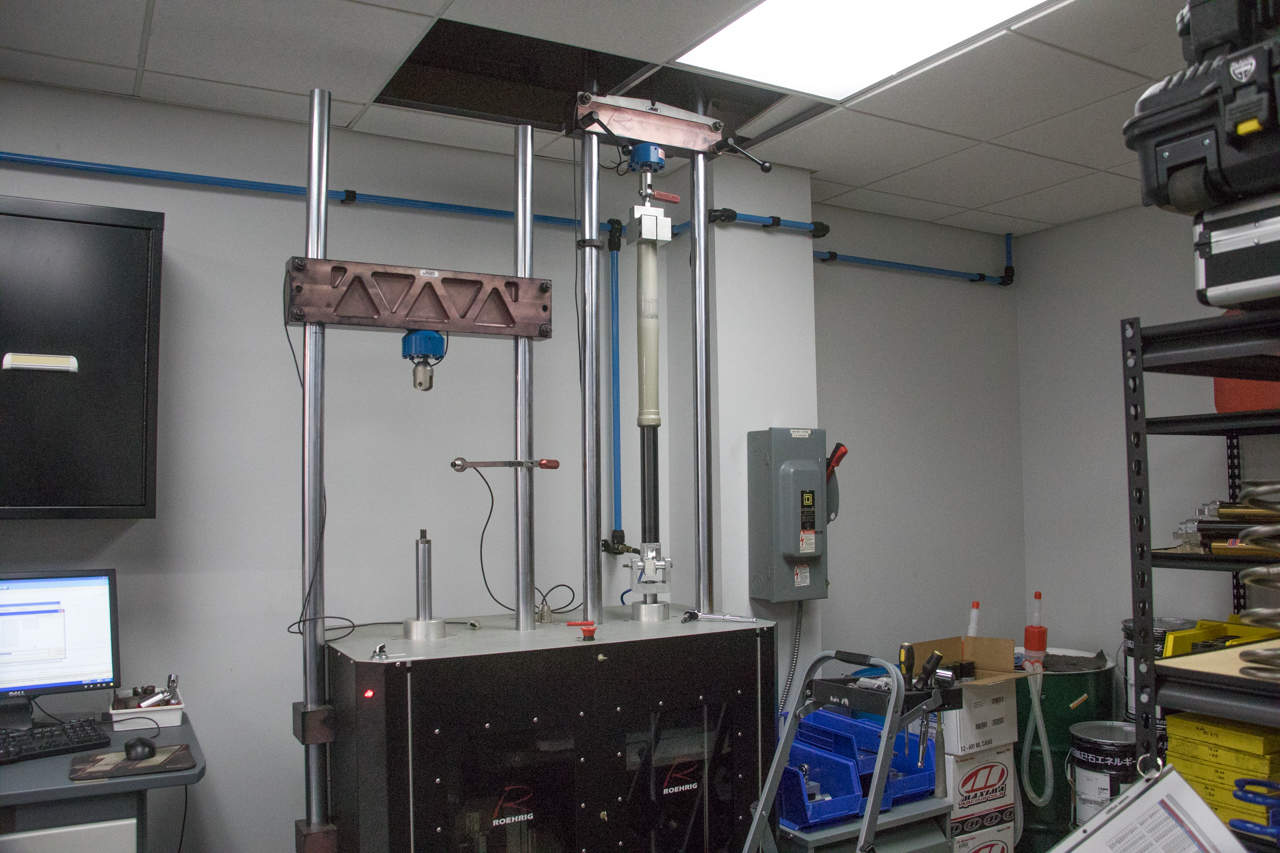 This suspension dyno helps find problems, solutions and ensures consistency.
When we were here, Ben Schiermeyer was putting on the final touches on Justin Barcia's race bike.
In need of a Yamaha YZ450F frame. JGR has an excess of them since the team no longer rides Yamaha. By them new or used HERE. 
The Joe Gibbs Racing gym. We were surprised that most of this stuff is for the pit crew to train on.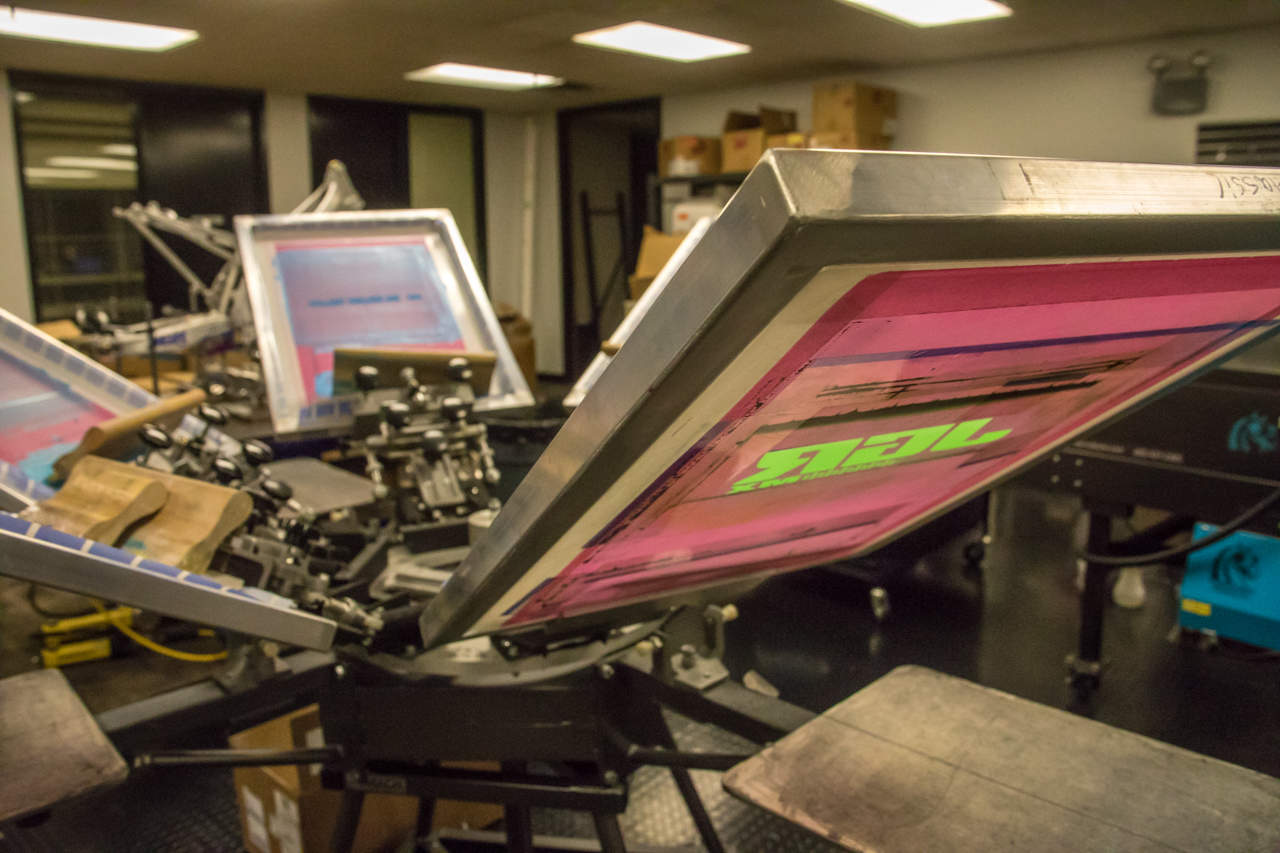 JGR into the T-shirt printing business? They have two screen printing machines in-house.
THEY SAID IT: TORONTO SUPERCROSS
Zach Osborne–"Collectively, it was a great day for us. I was fastest in every session. I didn't get a great start in my heat race. I spun a little bit behind the gate and ended up third. I got off to a good start in the main and was right in the mix, around third or fourth, and just kind of let the race play out in front of me. I took the lead and never looked back. It's pretty unreal."
Jason Anderson–"My night was pretty well. My heat race was good, and I was riding fast. I was in third at the tart of the main, but another rider's foot peg got stuck in my spokes and ripped them all out and bent my rotor. I swapped my front wheel after that, but then I got hit again and it messed my bike up even more. I'm just going to focus on next week's race in Daytona."
Jordan Smith–"It was definitely a crazy main event. Having a bad start didn't help me and really put me in the middle of a lot of chaos. I eventually went down but knew I had to make up as many points as possible. We'll get it back next week. Should be fun in Daytona."
Eli Tomac–"The track was gnarly. It really broke down, so it was important to be consistent and ride smart. The long start let the Kawasaki open up and put us in a good position out of the gate, which was key. We had a good time here [in Toronto] and we'll see what we can do [moving forward in the championship]. We have eight rounds left with a lot of good tracks ahead. I'll just keep hammering."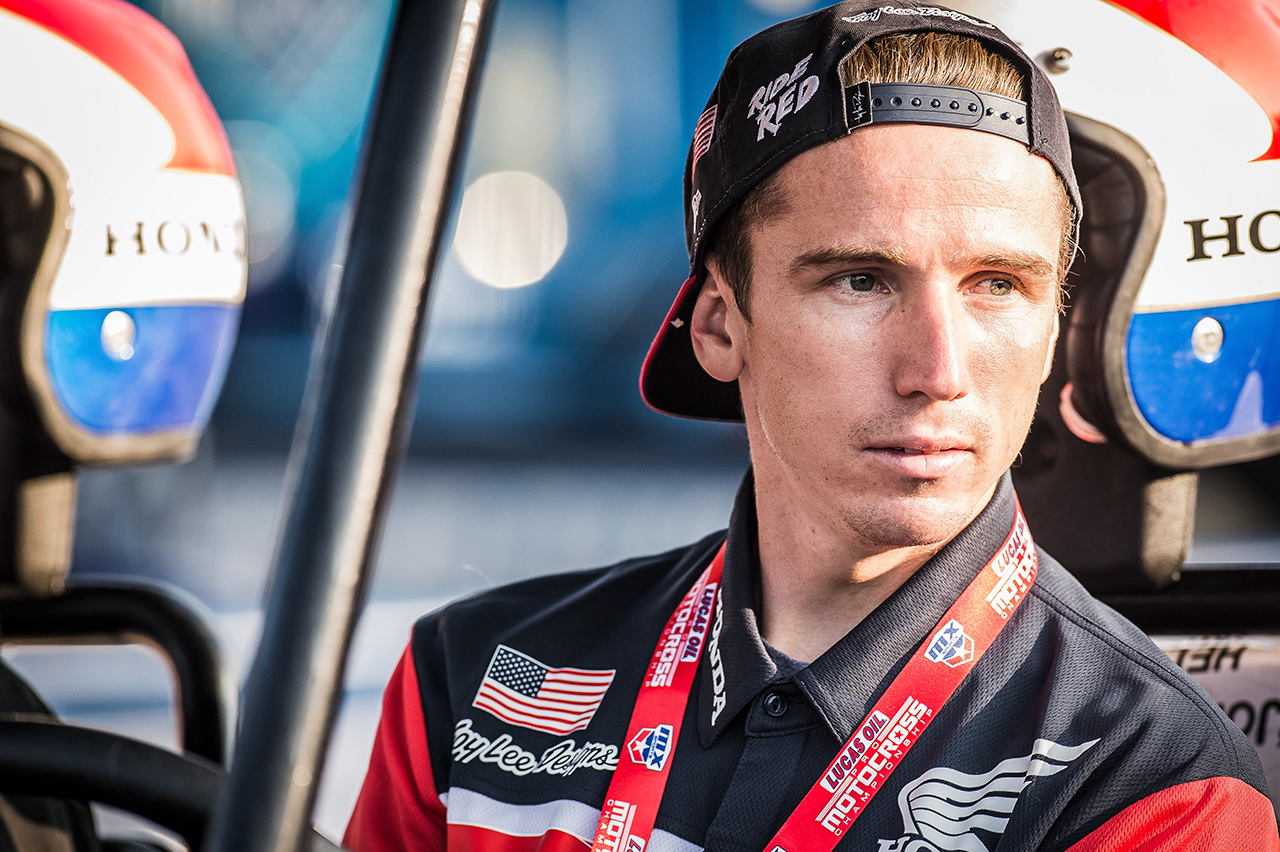 Cole Seely–I'm not happy with tonight but I'm also not completely unhappy. I had a bad gate pick after the semi so didn't get the start that I wanted in the main event and was about 10th into the first turn. I rode well in the beginning of the race but made some mistakes. Coming out of the short set of whoops I got a little squirrely, lost control coming into the turn and totally drilled [Ryan] Dungey in the next turn. After that I just settled into a pace and tried to stay consistent. The track broke down a lot and got pretty gnarly. When Baggett went down at the end, I tried really hard to get to him to make up one more position, but ran out of time.
PRODUCT SPOTLIGHT: BOYESEN KTM AND HUSQVARNA CARBON TECH REED

Press Release: In response to an increasingly high level of demand by riders for an affordable, yet powerful intake system upgrade for their modern KTMs, Husqvarnas, and select Husaberg models Boyesen is happy to release our new CarbonTech reed system. Boyesen's CarbonTech Reeds are the best performing, most cost-effective upgrade option for KTM/Husqvarna/Husaberg intake systems and have been specifically designed to offer improved durability while helping to overcome the sealing and power loss issues experienced by the latest generation of the KTM and Husqvarna stock reed petals.
Boyesen CarbonTech Reeds bolt directly to your stock reed cage without having to modify anything else on your intake system. With CarbonTech your machine will have a greatly improved feel as your engine transitions through the RPM spectrum. www.boyesen.com
SUPERCROSS KNOWLEDGE: TORONTO


By Broc Bridges
1. Eli Tomac rode to his eighth career victory and fourth of the season in Toronto. He is now tied for 21st on the all-time win list with Ron Lechein and Jimmy Ellis. He also ties Mike Kiedrowski on Kawasaki's win list for seventh with five wins on the brand.
2. Zach Osborne earned his second career win in as many races in Toronto. It was only the second time in Supercross history that a Husqvarna won the 250SX class and a Kawasaki won the 450SX class. The other time was 2001 when Travis Preston won the 250SX class on a Husqvarna and Ricky Carmichael won the 450SX class on a Kawasaki in Houston.
3. Only 12 times in Dungey's professional career has he finished outside of the top five. He is currently on a 44 race top five streak dating back to East Rutherford in 2014 when he finished sixth.
Ryan Dungey is on a 44 race top 5 streak.
4. Broc Tickle, making his 74th career start, was able to earn his first career podium with a third. It was his fifth career top five finish and 41st career top-10.
5. Chad Reed nabbed his 158th top five, which is an all-time record. He is 16 starts away from tying Mike LaRocco for first on the all-time starts list.
6. Yamaha hasn't won a 450SX class race since Rd. 10 of 2012 when James Stewart won in Daytona. Can Reed break this streak?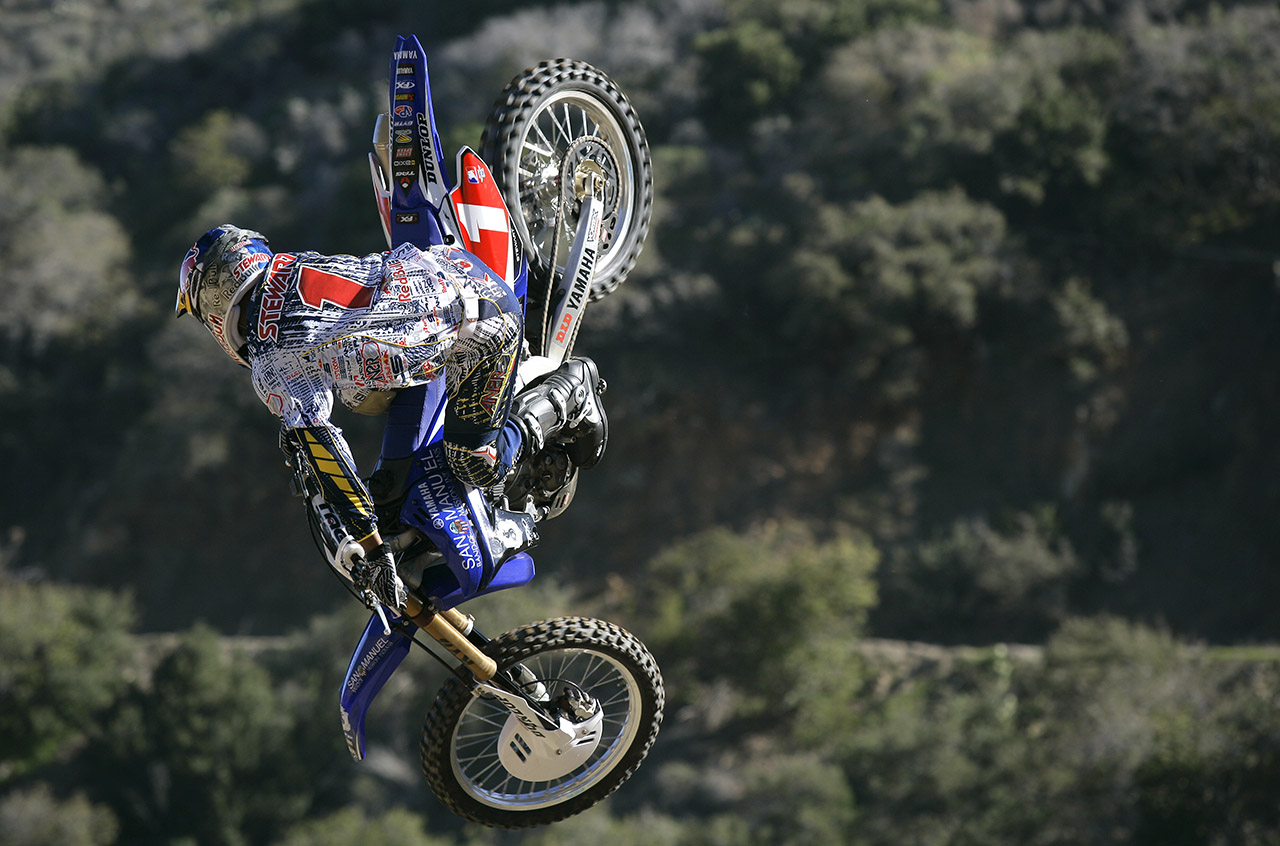 James Stewart was the last Yamaha rider to win a 450 Supercross main.
7. Cole Seely earned his 11th consecutive top-10 finish with a sixth. He has an impressive 41 top-10's in 51 starts.
8. Justin Barcia, making his third start of the season, earned his first top-10 finish of the season with a ninth.
9. Marvin Musquin finished 13th in Toronto in his 30th career start. It was the first time all season he finished outside of the top-10 and only the sixth time in his career.
10. Jason Anderson finished 19th in Toronto for his second worst career finish and only the third time he has finished outside of the top-10.
TWO-STROKE SPOTLIGHT: JON MAYER'S HONDA CR250 COLLECTION
2006 Honda CR250. New top end and Pro Circuit ported the cylinder and head for pump gas. It only has the YZ250 carb conversion.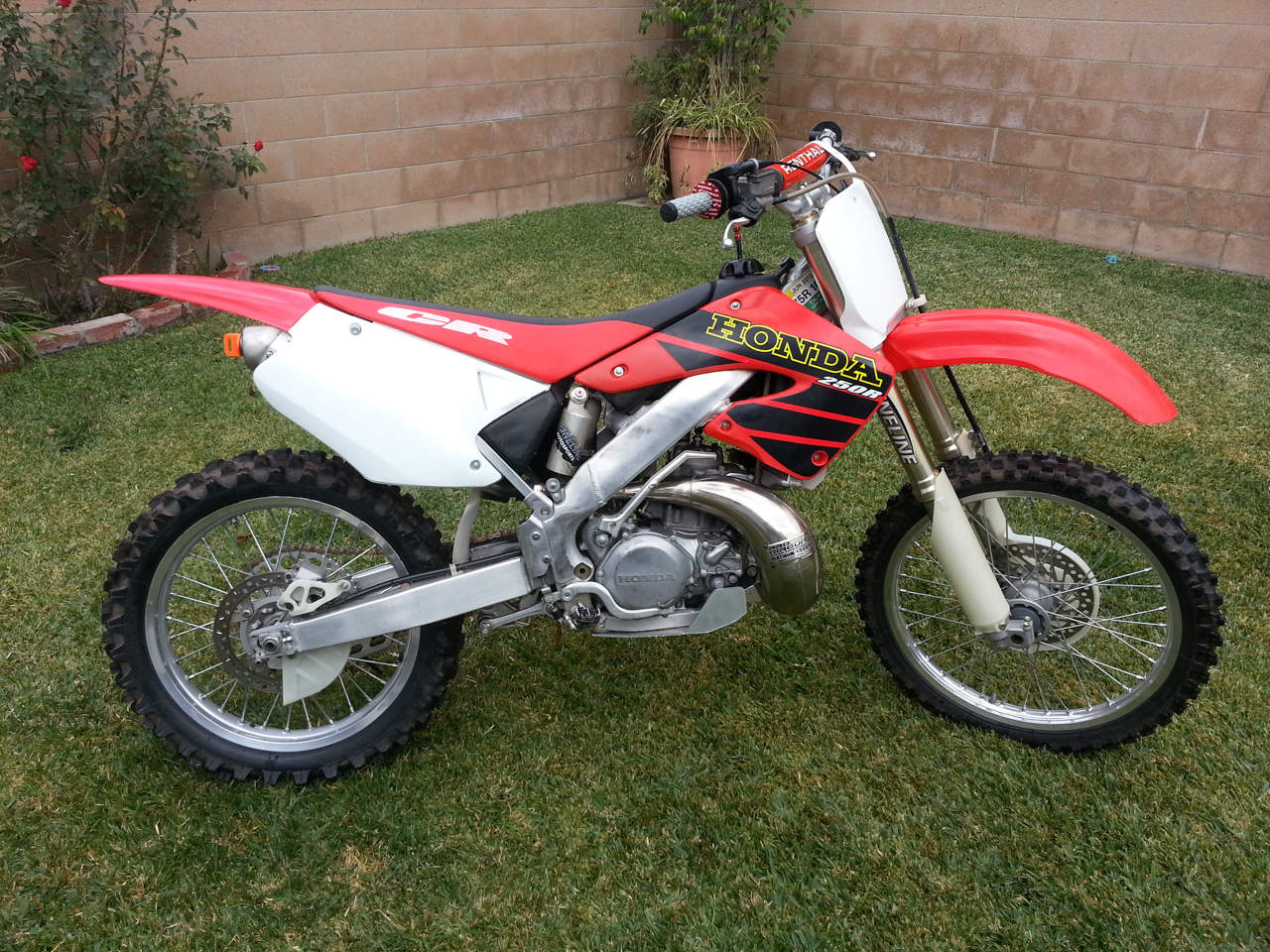 2001 Honda CR250 bought from a friend for $1800. Still on original top end and a Pro Circuit pipe.
1996 Honda CR250. Recent 250F forks mods, YZ450F titanium shock spring and a 1997 CR250 oversize rear brake disc.
Editors note: Please keep those submissions coming. If you would like your bike to be featured in the "Two-Stroke Spotlight," please email me at [email protected] All I ask is that you give a breakdown of your bike and a detailed description of the build. Please also send a few photos of your steed. By submitting your bike for the "Two-Stroke Spotlight," you agree to release all ownership rights to the images and copy to MXA. Please don't email me spam or try selling me Taylor Swift concert tickets or email me spam. I already celebrate T-Swizzle's entire collective, and there will be "bad blood" if you send me junk mail. See what I did there? Happy submitting your smoker.
2017 RACE SCHEDULES: BE THERE OR BE SQUARE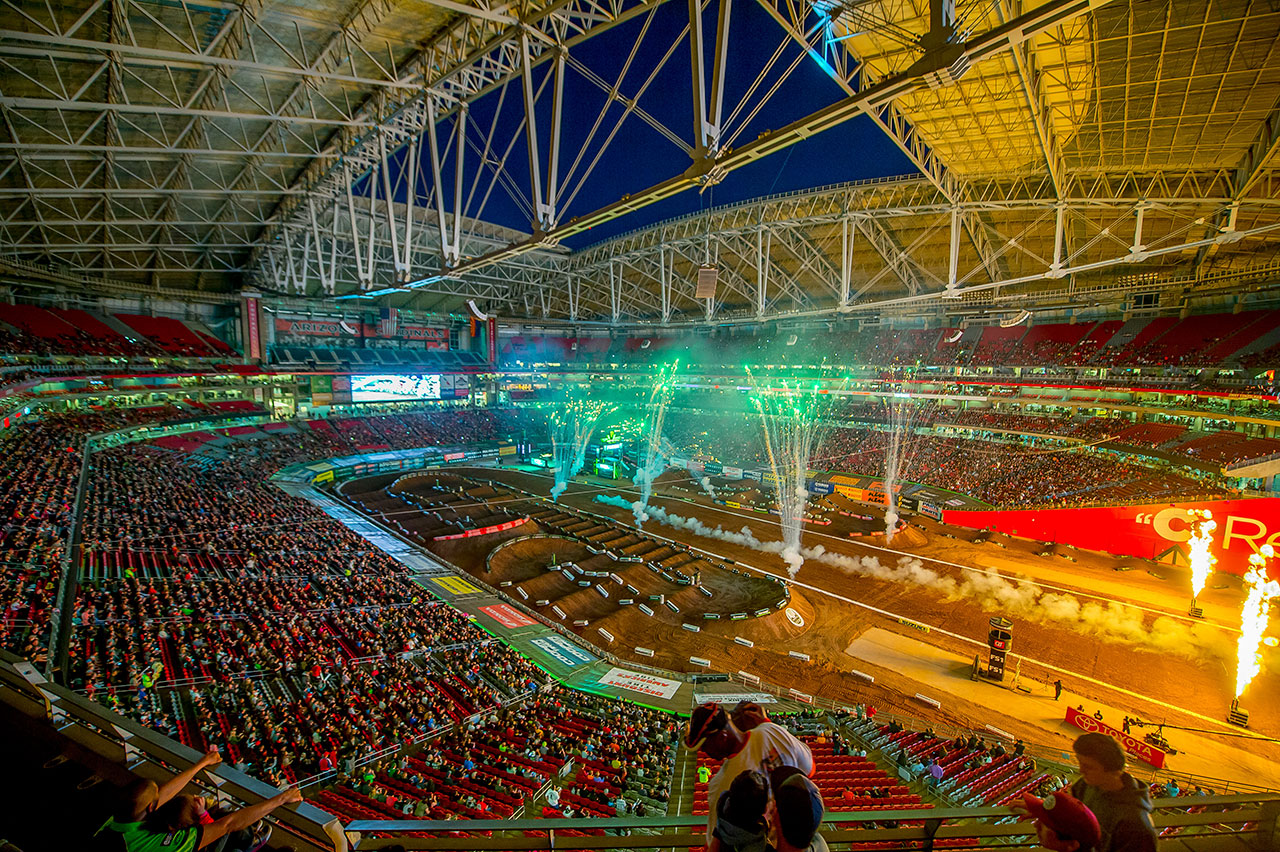 California is the richest race state in the union, with seven major events in 2017. Folks in Michigan should rejoice, as Supercross (Detroit), Arenacross (Grand Rapids) and the Lucas Oil Nationals (Red Bud) visit "The Great Lake State." And those residing in the Pacific Northwest will be happy hosting a bevy of events, from Supercross to the AMA Nationals.
2017 MONSTER ENERGY SUPERCROSS SERIES
January 7…Angel Stadium…Anaheim, CA (West)
January 14…Petco Park…San Diego, CA (West)
January 21…Angel Stadium…Anaheim, CA (West)
January 28…University of Phoenix…Glendale, AZ (West)
February 4…Alameda Coliseum…Oakland, CA (West)
February 11…AT&T Stadium…Arlington, TX (West)
February 18…U.S. Bank Stadium…Minneapolis, MN (East)
February 25…Georgia Dome…Atlanta, GA (East)
March 4…Rogers Centre…Toronto, Canada (East)
March 11…Daytona Speedway…Daytona, FL (East)
March 18…Lucas Oil Stadium…Indianapolis, IN (East)
March 25…Ford Field…Detroit, MI (East)
April 1…America's Center…St. Louis, MO (East)
April 8…CenturyLink Field…Seattle, WA (West)
April 22…Rice-Eccles Stadium…Salt Lake City, UT (West)
April 29…MetLife Stadium…East Rutherford, NJ (East)
May 6…Sam Boyd Stadium…Las Vegas, NV (East/West)
*Visit http://www.supercrosslive.com/ to purchase tickets
2017 AMSOIL ARENACROSS
January 7-8…U.S. Bank Arena…Cincinnati, OH
January 13-15…Van Andel Arena…Grand Rapids, MI
January 20-22…Royal Farms Arena…Baltimore, MD
January 28-29…Bridgestone Arena…Nashville, TN
February 4-5…Freedom Hall…Louisville, KY
February 18-19…Sprint Center…Kansas City, MO
February 24-26…Georgia Dome…Atlanta, GA
March 3-5…Landers Center…Southaven, MS
March 11-12…Smoothie King Center…New Orleans, LA
March 18-19…Moda Center…Portland, OR
March 24-26…Livestock Events Center…Reno, NV
April 1-2…Golden I Center…Sacramento, CA
April 22-23…Denver Coliseum…Denver, CO
May 5-7…Orleans Arena…Las Vegas, NV
*Visit http://www.supercrosslive.com/ to purchase tickets
2017 LUCAS OIL PRO MOTOCROSS CHAMPIONSHIP
May 20…Hangtown…Sacramento, CA
May 27…Glen Helen…San Bernardino, CA
June 3…Thunder Valley…Lakewood, CO
June 17…High Point…Mount Morris, PA
June 24…Muddy Creek…Blountville, TN
July 1…Red Bud…Buchanan, MI
July 8…Southwick…Southwick, MA
July 22…Spring Creek…Millville, MN
July 29…Washougal…Washougal, WA
August 12…Unadilla…New Berlin, NY
August 19…Budds Creek…Mechanicsville, MD
August 26…Ironman…Crawfordsville, IN
* Visit http://www.promotocross.com/mx/tickets to buy tickets
2017 FIM MOTOCROSS WORLD CHAMPIONSHIP
February 25…Losail…Qatar
March 5…Pangkal Pinang…Indonesia
March 19…Neuquen…Argentina
April 2…Leon…Mexico
April 16…Trentino…Italy
April 23…Valkenswaard…Holland
May 7…Kegums…Latvia
May 21…Teutschenthal…Germany
May 28…Ernee…France
June 11…Orlyonok…Russia
June 25…Maggiora…Italy
July 2…Agueda…Portugal
July 23…Loket…Czech Republic
August 6…Lommel…Belgium
August 13…Frauenfeld…Switzerland
August 20…Uddevalla…Sweden
September 3…Charlotte…USA (canceled)
September 10…Assen…Holland
September 17…Villars sous Ecot…France