MOTOCROSS ACTION MID-WEEK REPORT
#WHIPITWEDNESDAY
Rider: Daryl Ecklund
Bike: 2014 Yamaha YZ250F
Track: Glen Helen
Photographer: John Basher
TWO-STROKE SPOTLIGHT: 1995 HONDA CR125 
Before. 
"I'm way to big for this 1995 Honda CR125.I am 6 foot 2 inches 200 pounds and 62 years old, but these sure are fun to race in the vintage MX races. Below is a list of what I did to restore it."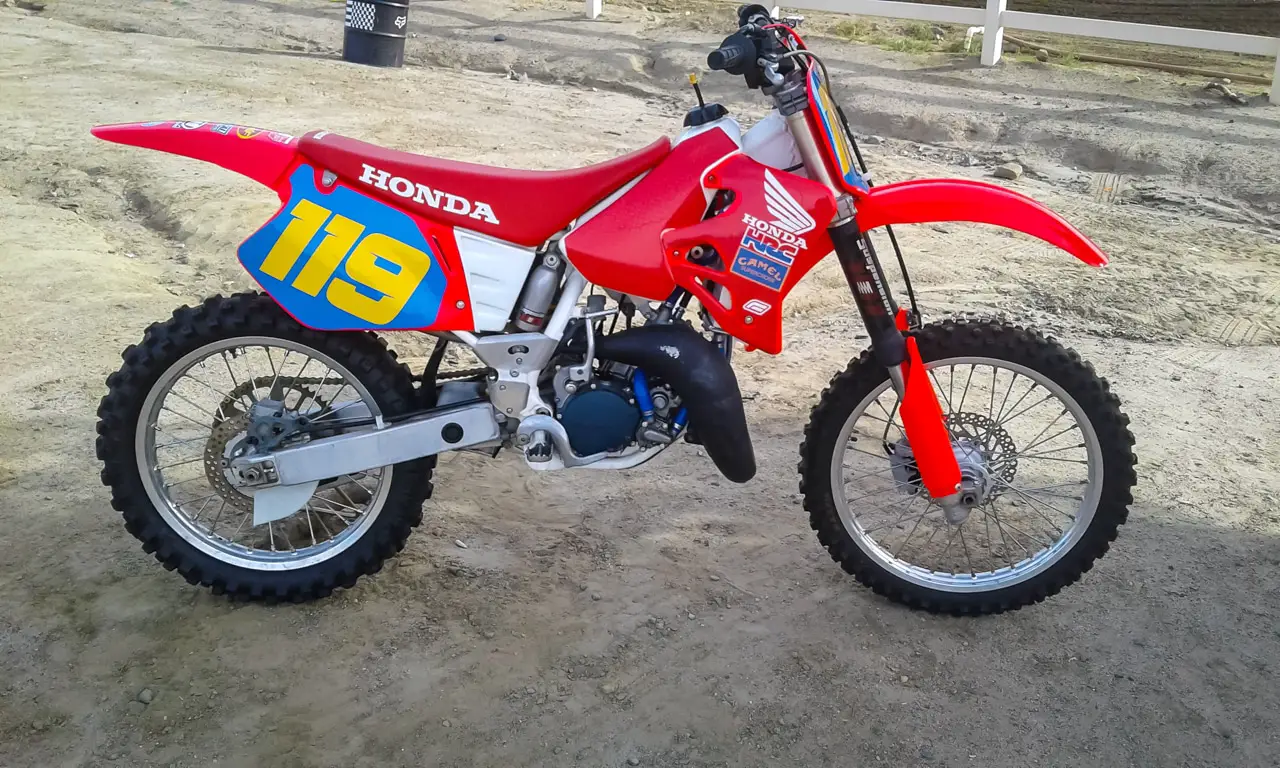 After the restoration.
Frame: The frame was powdercoated by San Diego powder coating,
Suspension: Suspension 101 in Alpine Ca.
Plastic: Maier for the gas tank, UFO for the plastic in the correct nuclear red.
Graphics: Fastlane MX and DeCal MX.
Seat cover: EBAY, installed, Jims upholstery in San Diego.
Engine: Piston, Namura, Reed block, Vforce. Barnett clutch plates and springs.
Bearings and gaskets: All Balls and Athena.
Cylinder re plated: Millenium Technologies.
Pipe: FMF Fatty w PC 304 shorty silencer.
Drivetrain: Vortex chain and sprockets.
Braided steel brake lines: Clairemont cycle.
Hardware: Specbolt or replated
Wheels: Stock wheels and hubs with new bearings.
Misc: Pro taper bars, MSR controls, Honda cables and Tusk pegs.
Oils: Maxima
Thanks,
Mike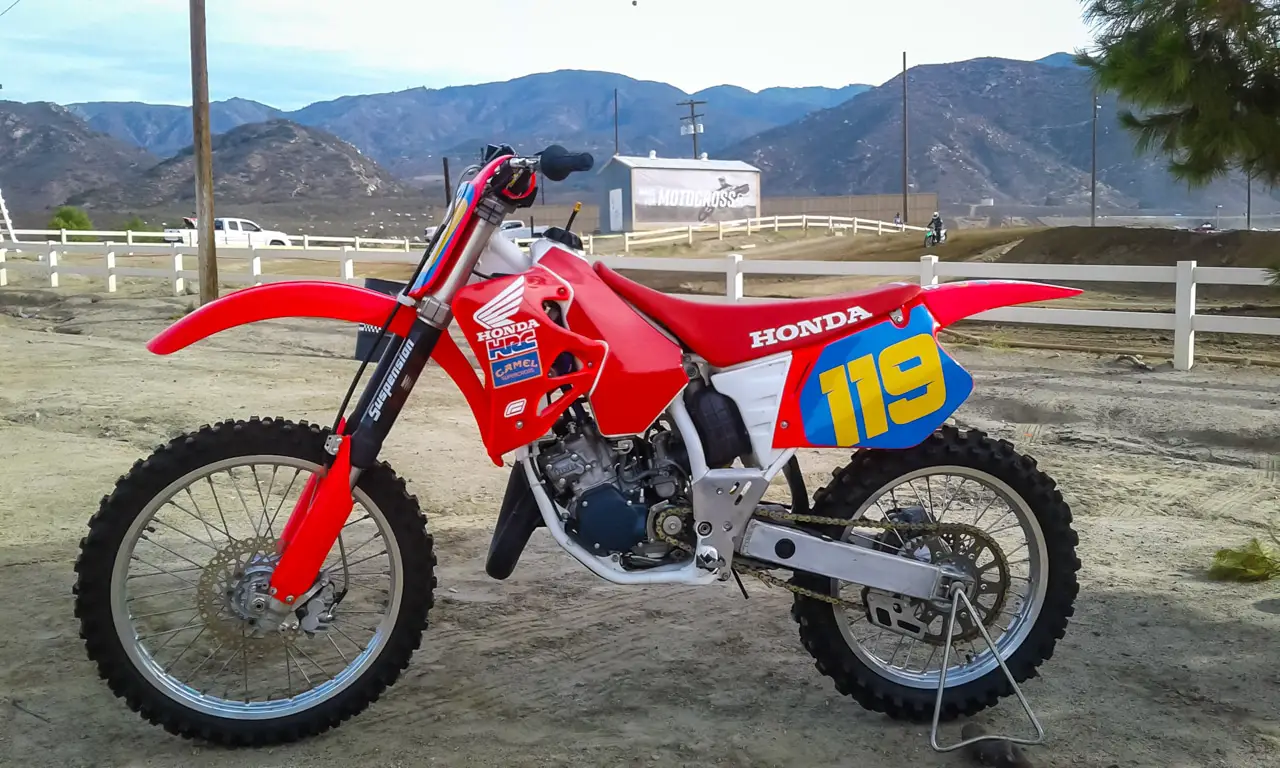 EDITORS NOTE: Please keep those submissions coming. If you would like your bike to be featured in the "Two-Stroke Spotlight," please email me at [email protected]. All I ask is that you give a breakdown of your bike and a detailed description of the build. Please also send a few photos of your steed. By submitting your bike for the "Two-Stroke Spotlight," you agree to release all ownership rights to the images and copy to MXA. 
EXTREME CUSTOM BUILT KTX500E TWO-STROKE
JORDON SMITH TALKS ABOUT HIS SEASON THUS FAR WITH MXA 
FCP RACING ENGINE MOUNTS WIN AT VALKENSWAARD MXGP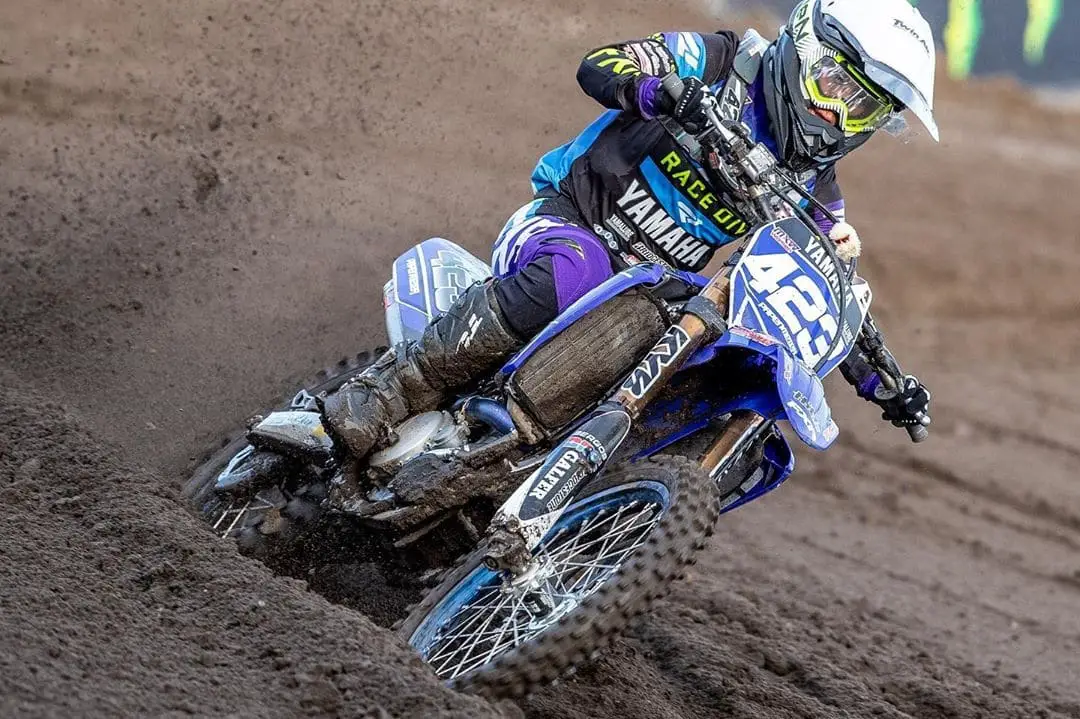 FCP Racing's engine mounts have gone international and their sponsored rider Larissa Papenmeier won the Women's class at the MXGP of Valkenswaard. She fought through the pack and battled until the leader, Kiara Fontanesi shoved her off the track in the final moments of the in the first Moto. This caused her to end up third in the first race. Then, for Moto two, Larissa got out front and pulled away to win the race by 21-seconds ahead of the next rider. 
125 TIDDLER PHOTO BLAST OFF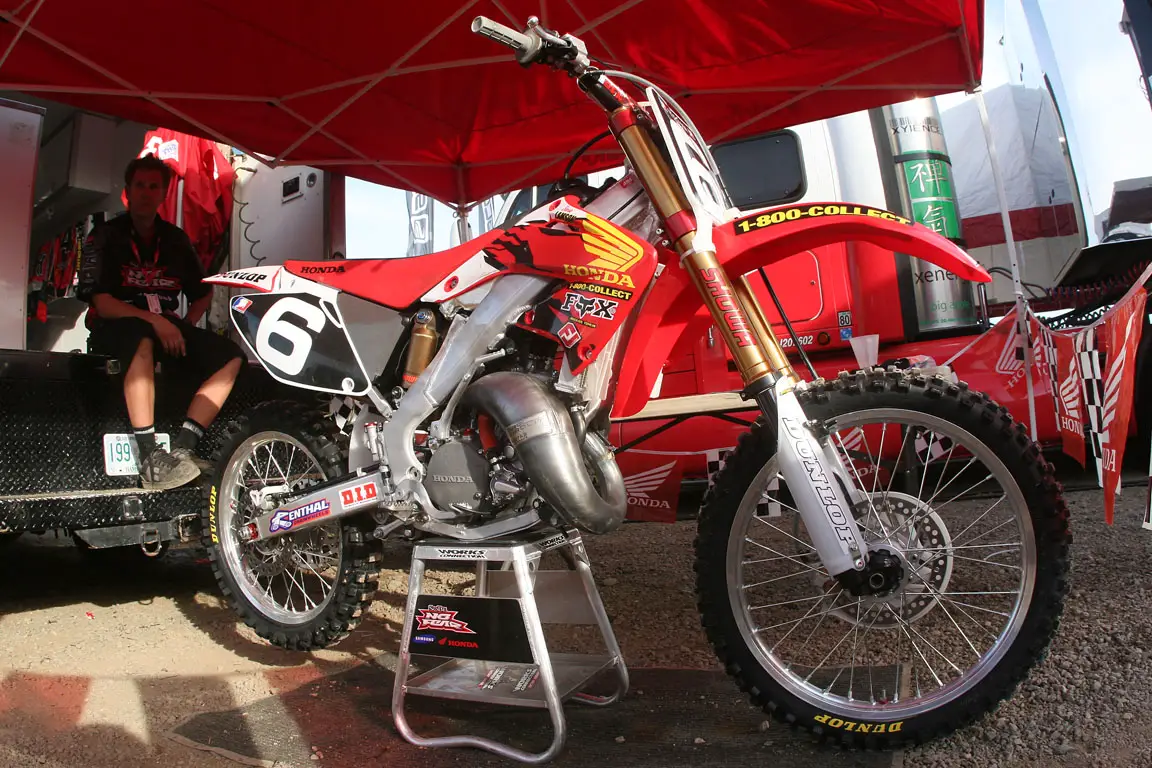 Steve Lamson's CR125.
1966 Suzuki  RA125.
2020 TM 125MX.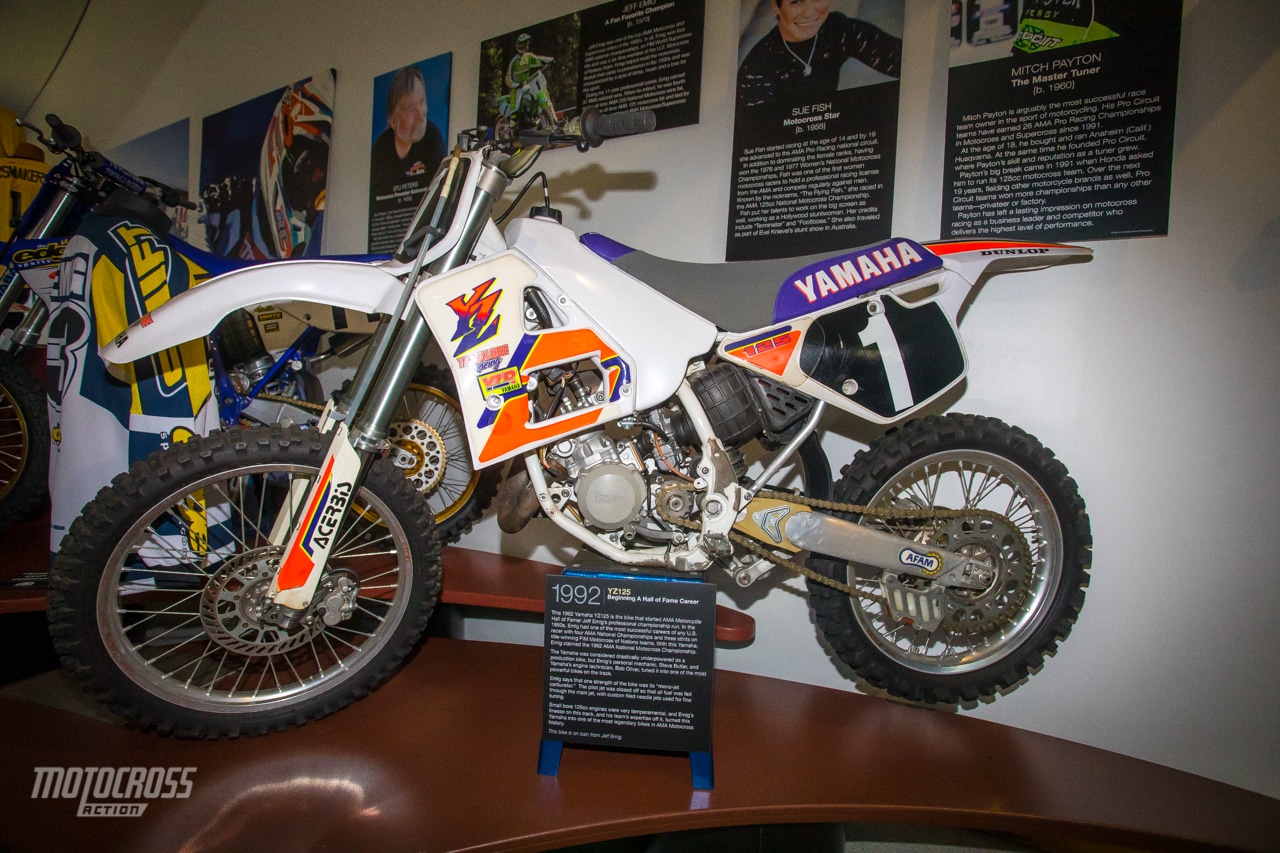 Jeff Emig 1992 Yamaha YZ125.
2003 Twisted Development Honda CR125. 
2020 Fantic 125.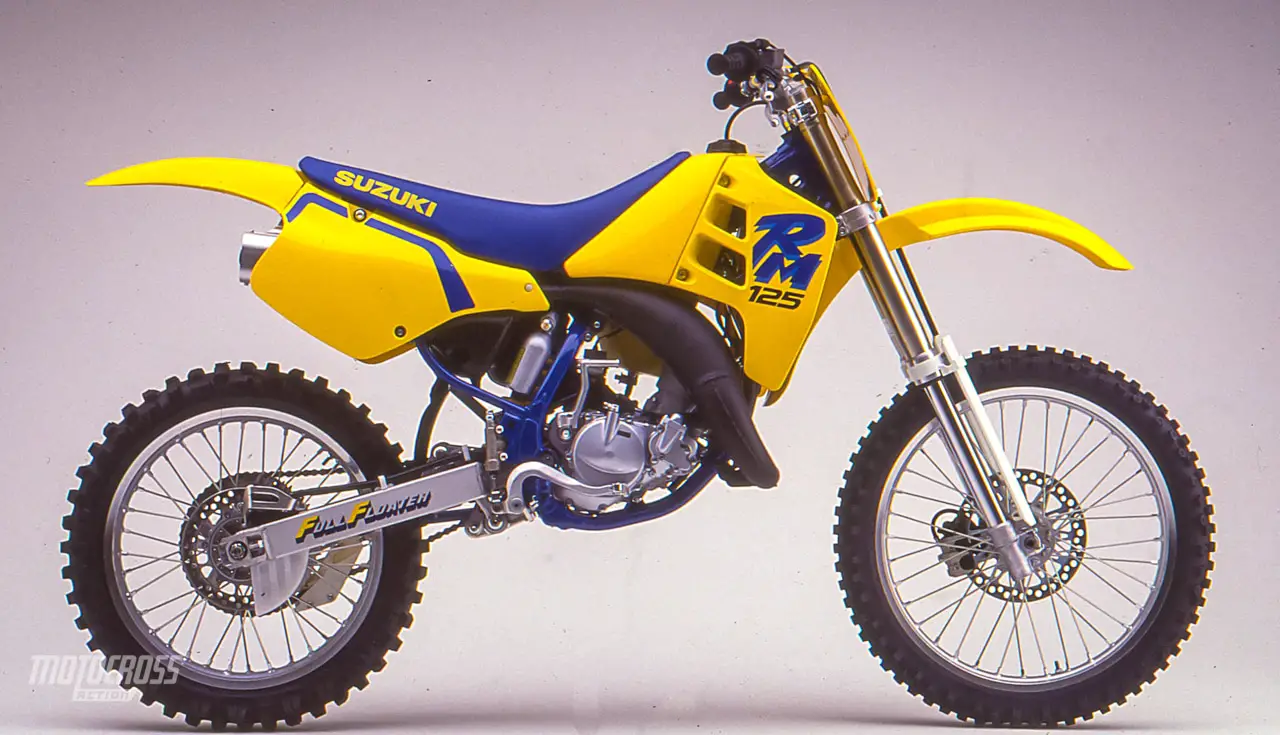 1990 Suzuki RM125.
2020 KTM 125SX.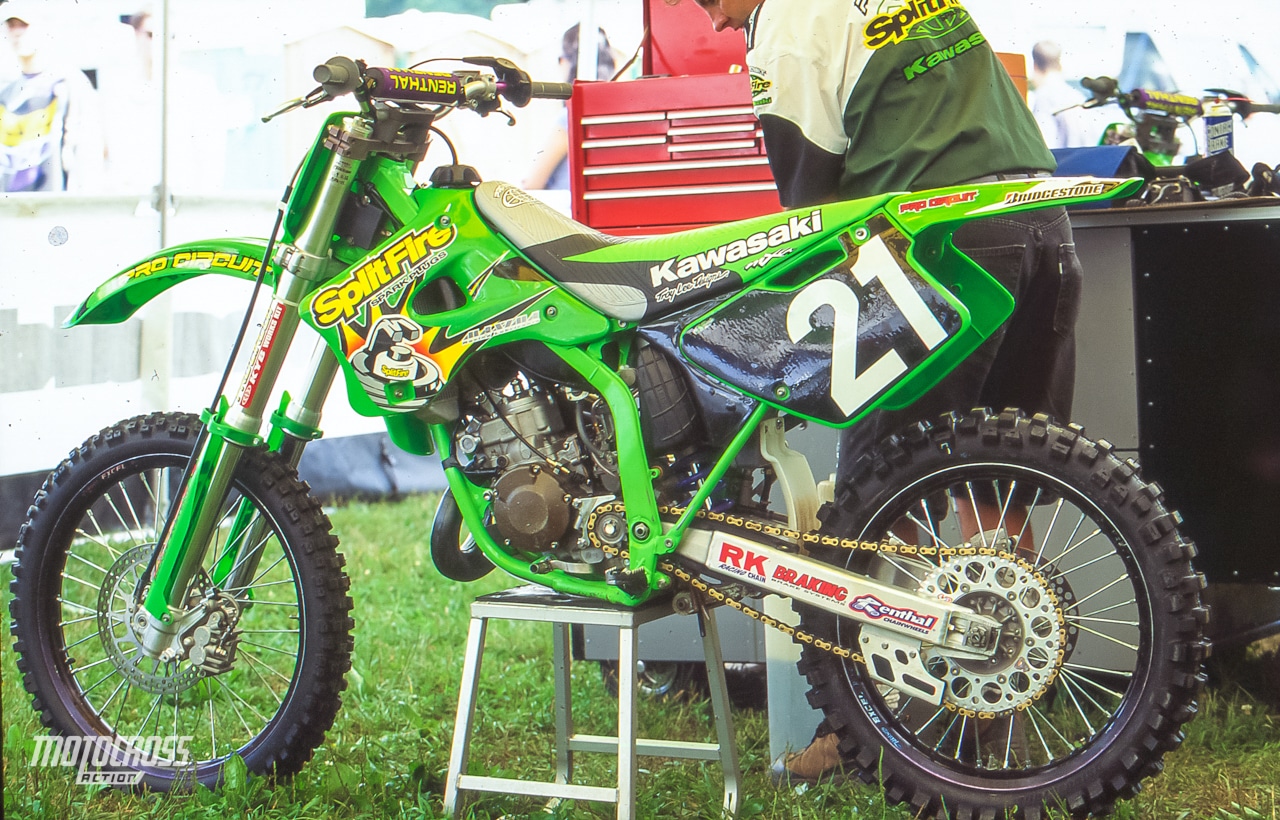 Chad Peterson's 1996 Pro Circuit KX125.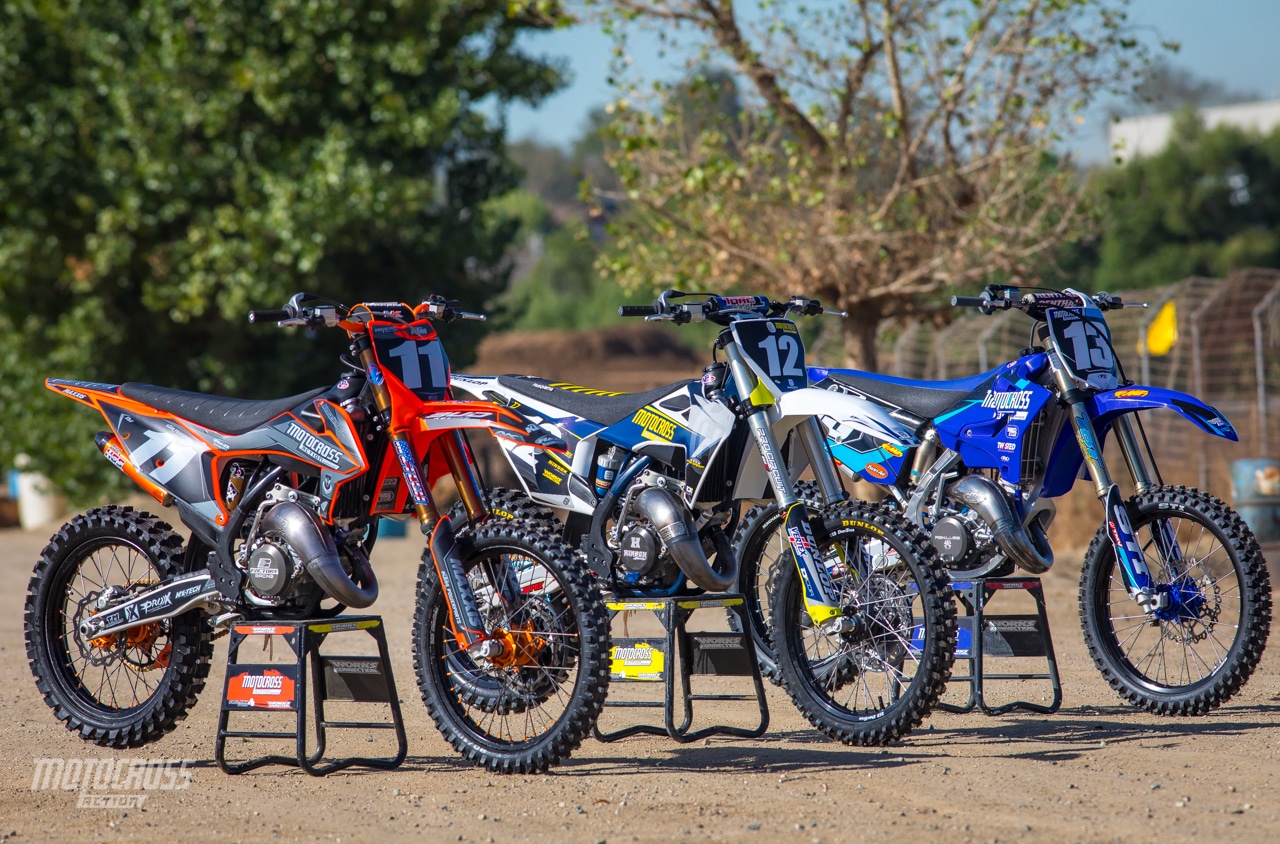 Fleet of 2020 MXA mod 125cc machines. 
1998 Husqvarna CR125.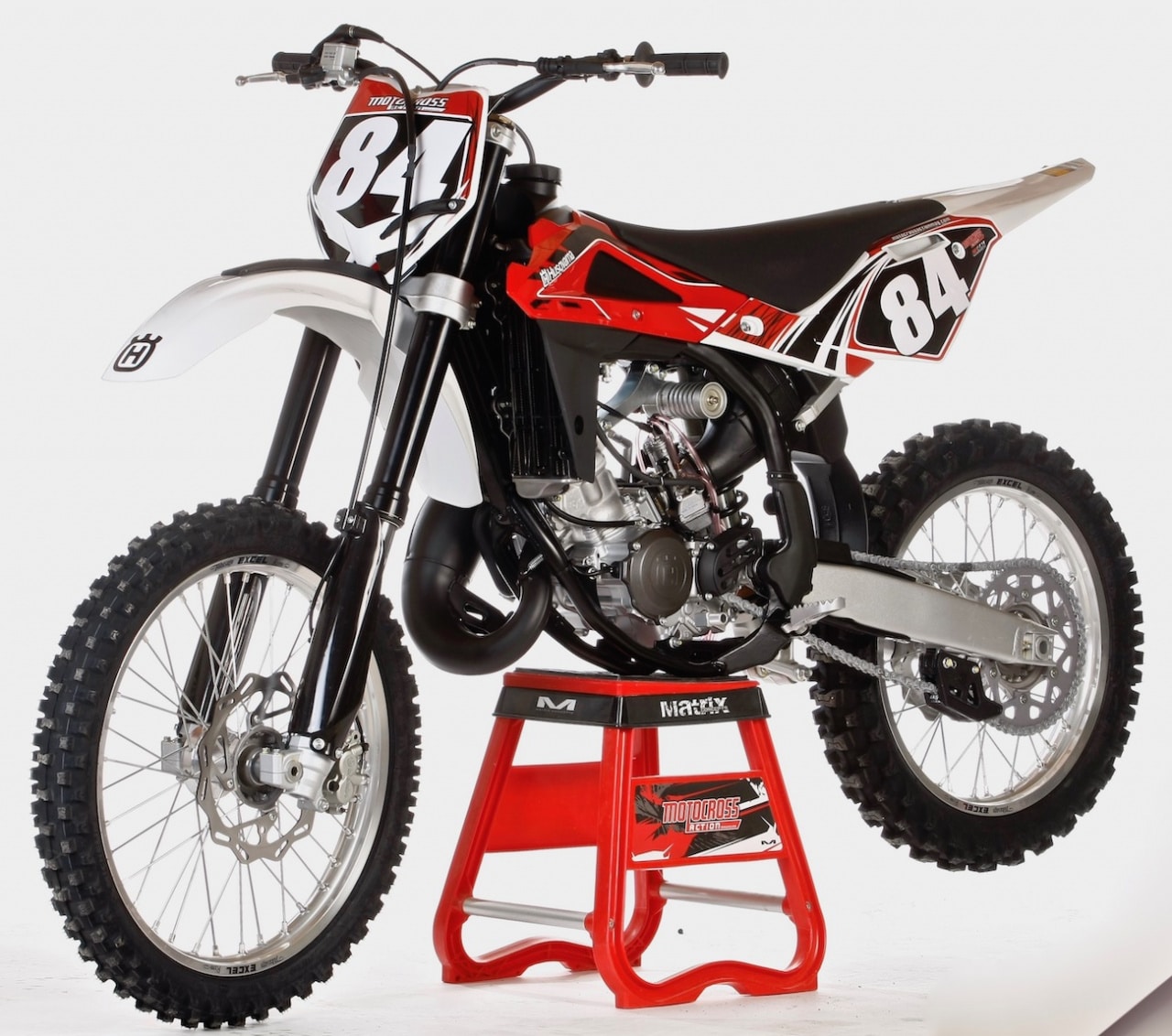 2013 Husqvarna CR125.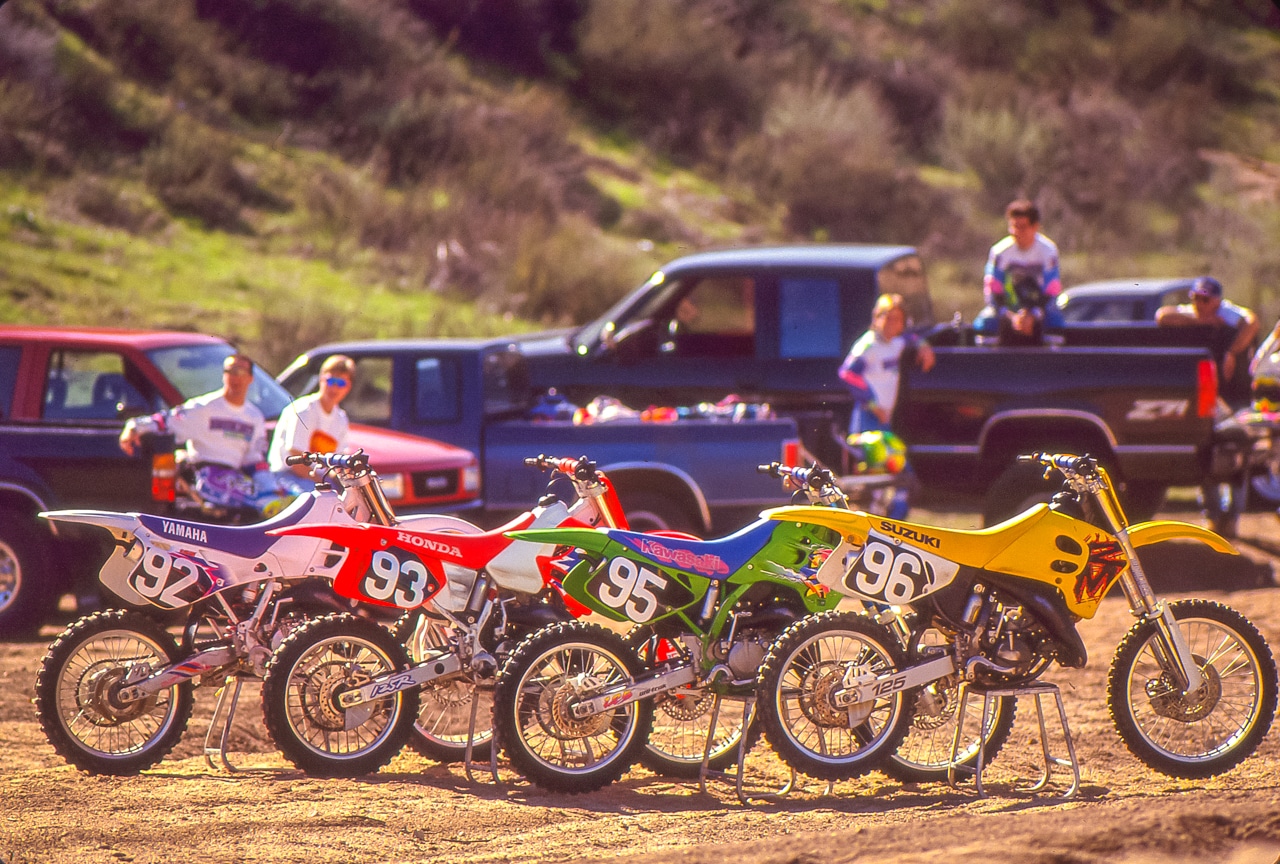 MXA's fleet of 1993 125s.
1998 CR125.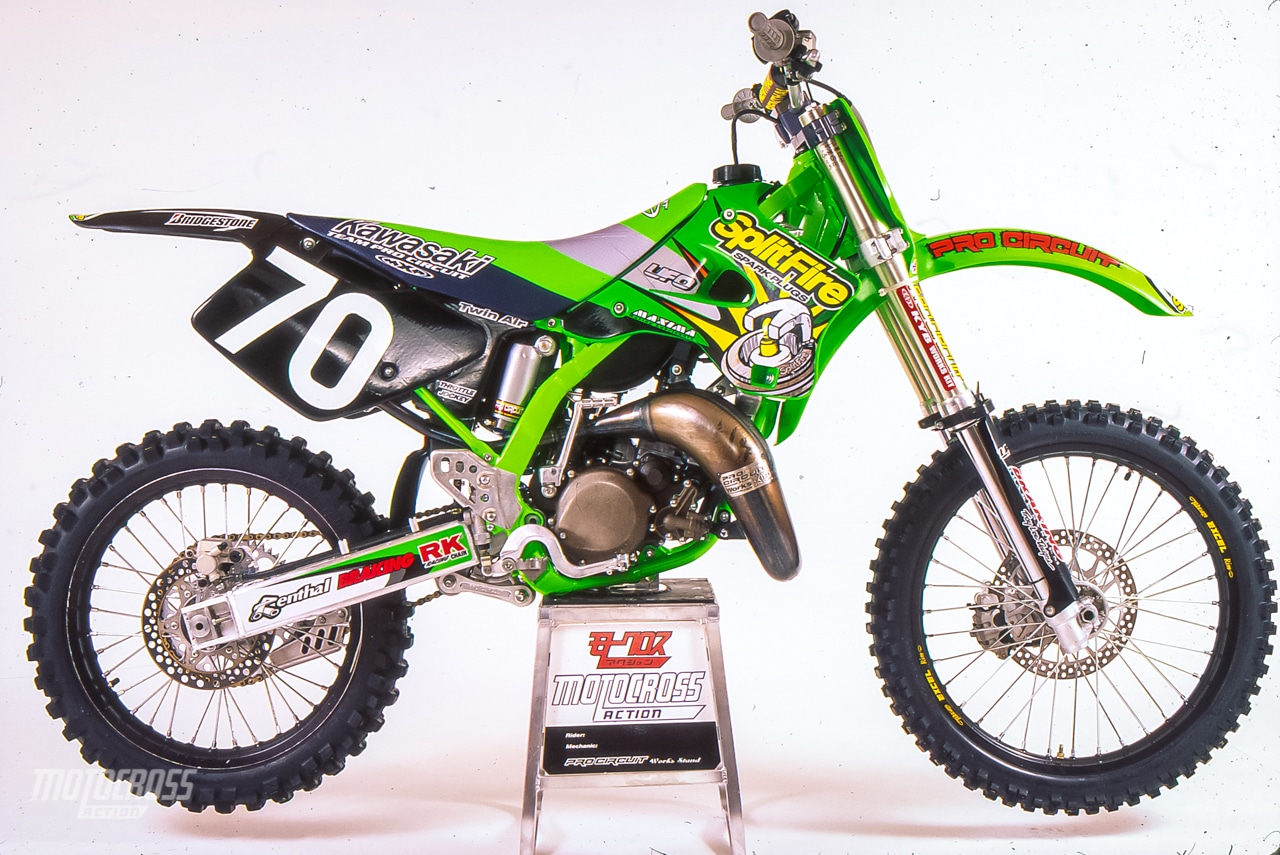 Ricky Carmichael's 1997 KX125.
1976 Yamaha YZ125. 
Jeff Ward's 1984 125 National Motocross title-winning Kawasaki SR125.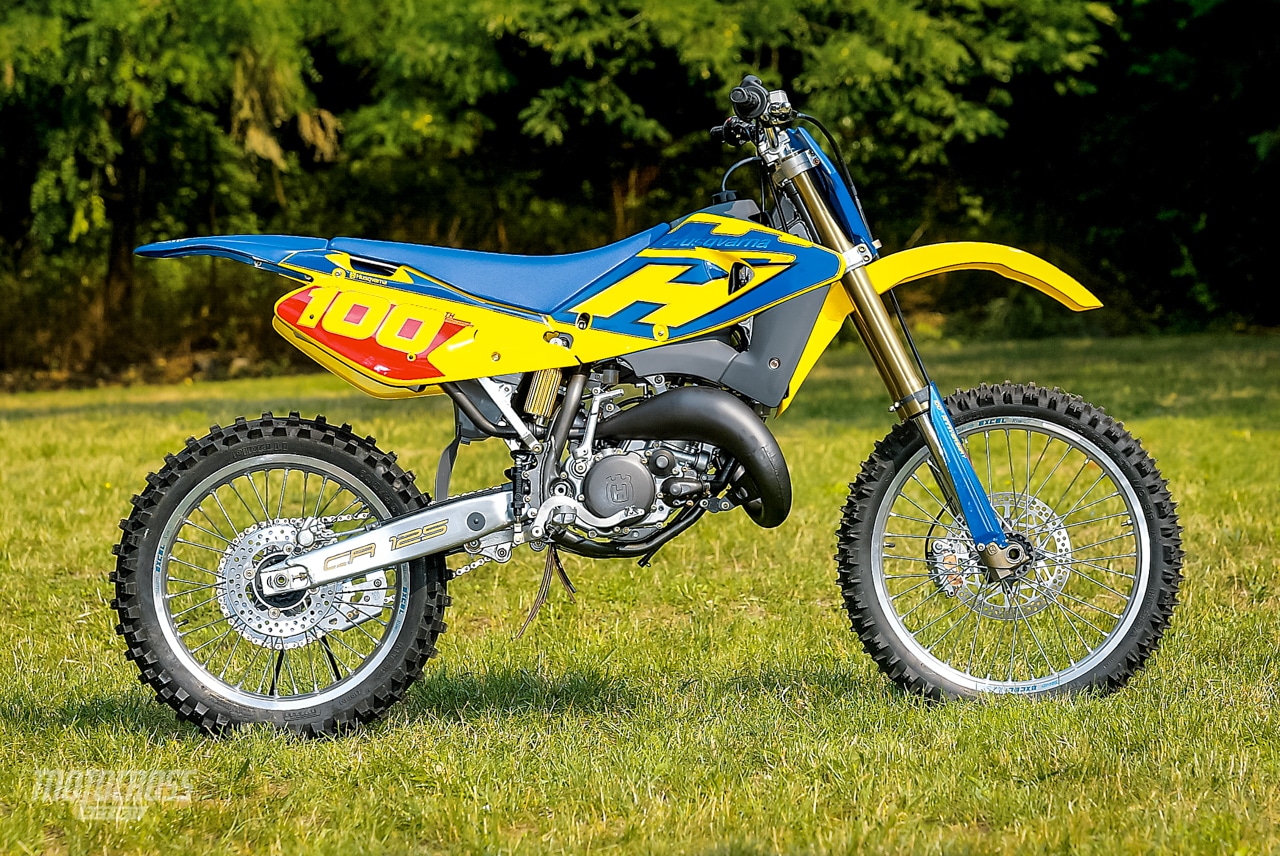 2004 Husqvarna CR125.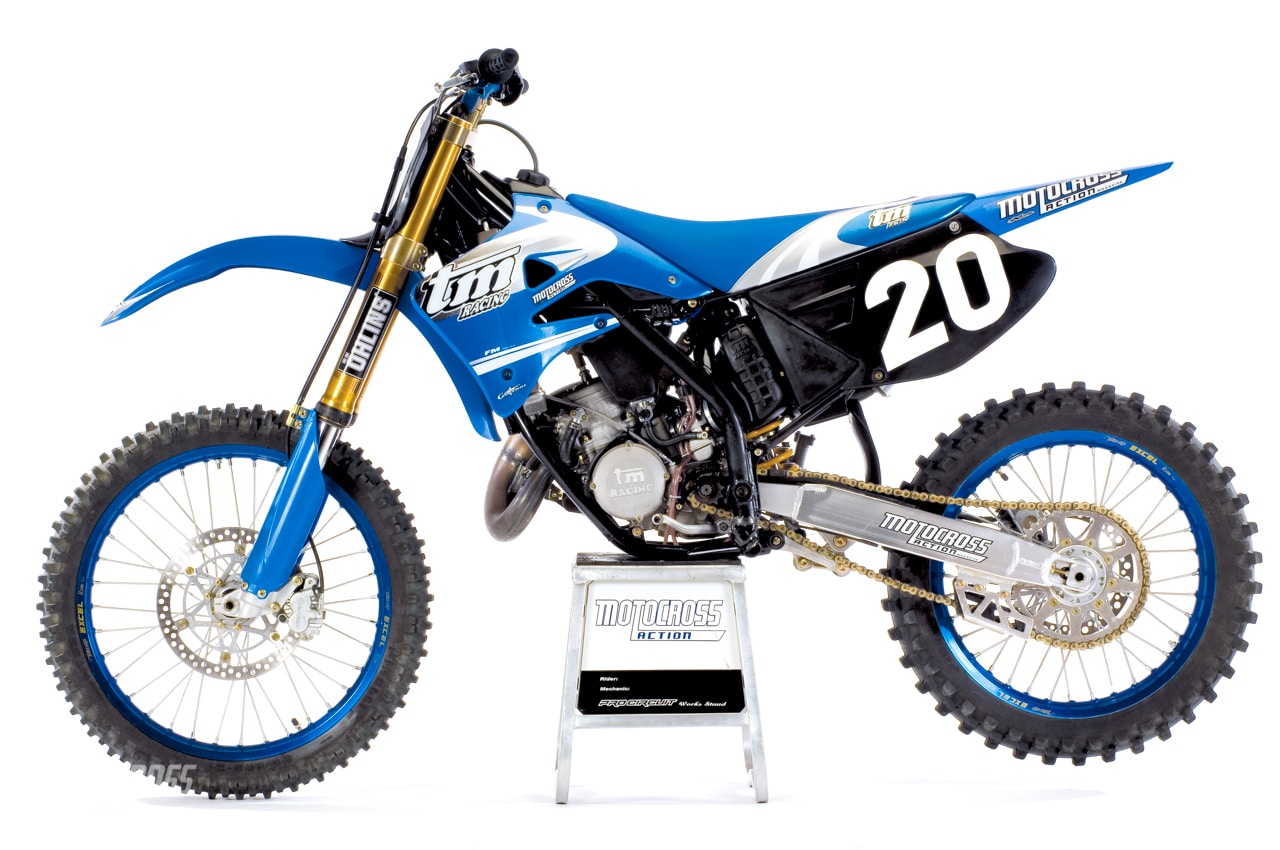 2006 TM 125MX.
2005 Honda CR125. 
2001 KTM 125SX.
2001 Kawasaki KX125.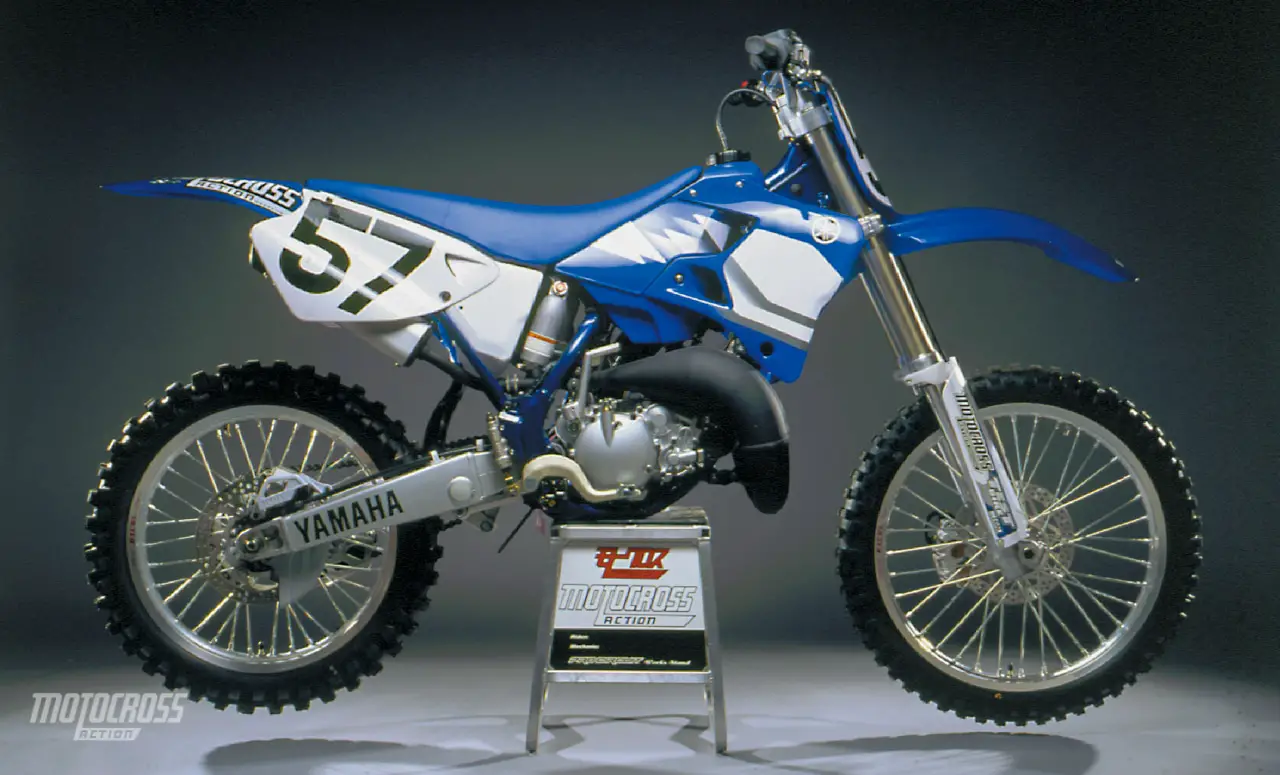 2000 Yamaha YZ125.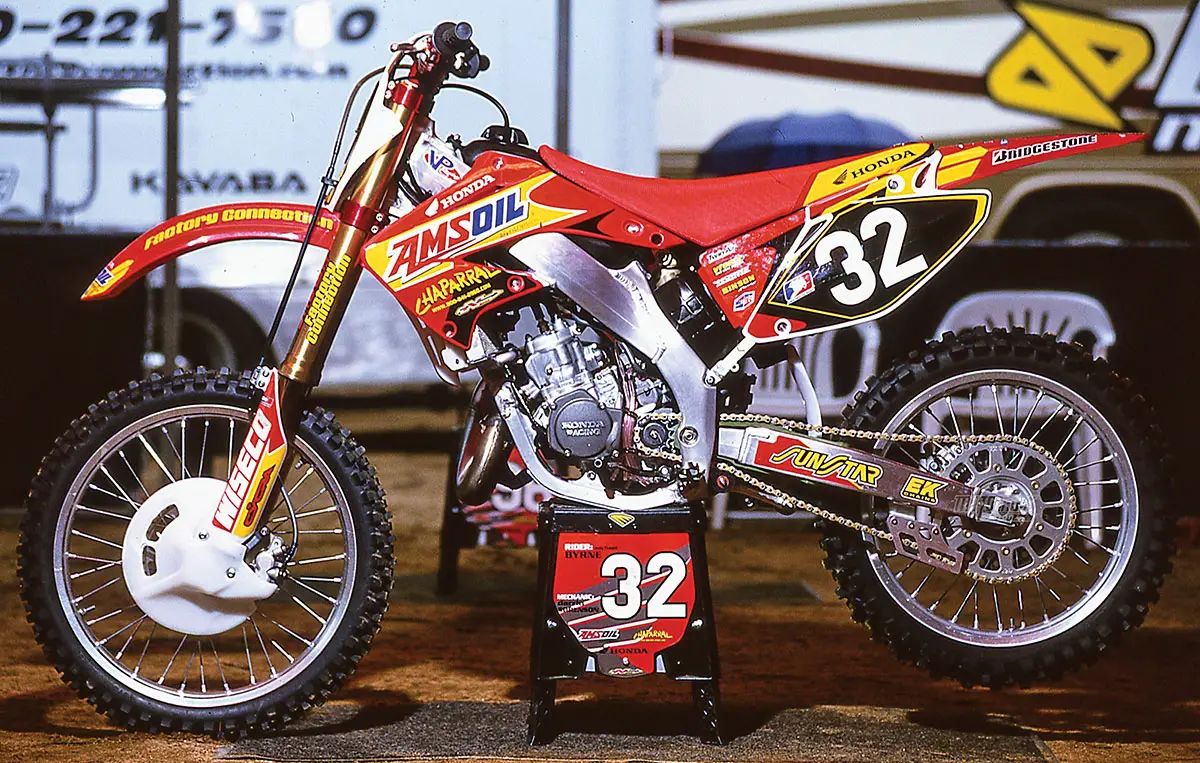 Michael Byrne's 2003 CR125.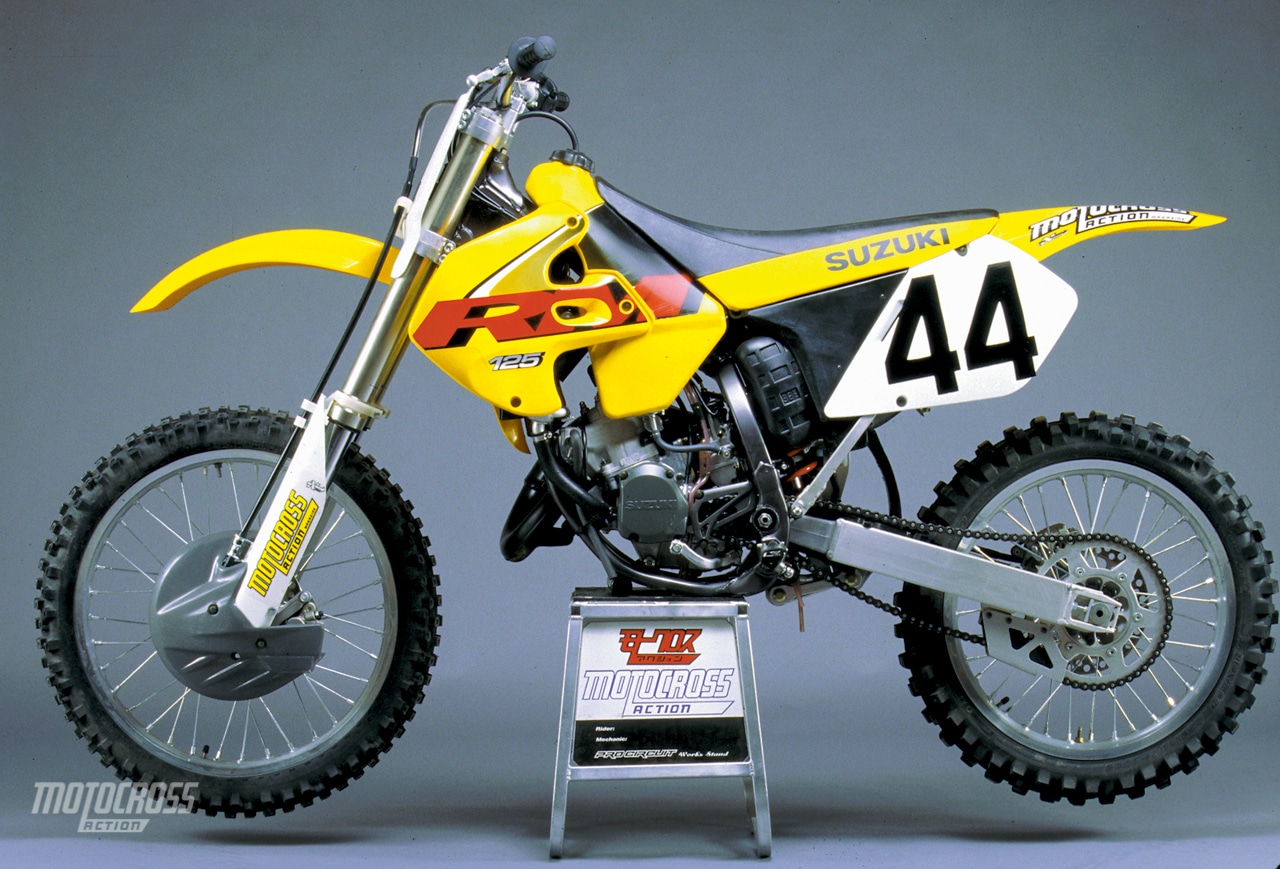 1999 Suzuki RM125.
FIND MXA ON TIK TOK | DON'T MISS OUT ON ALL THE ACTION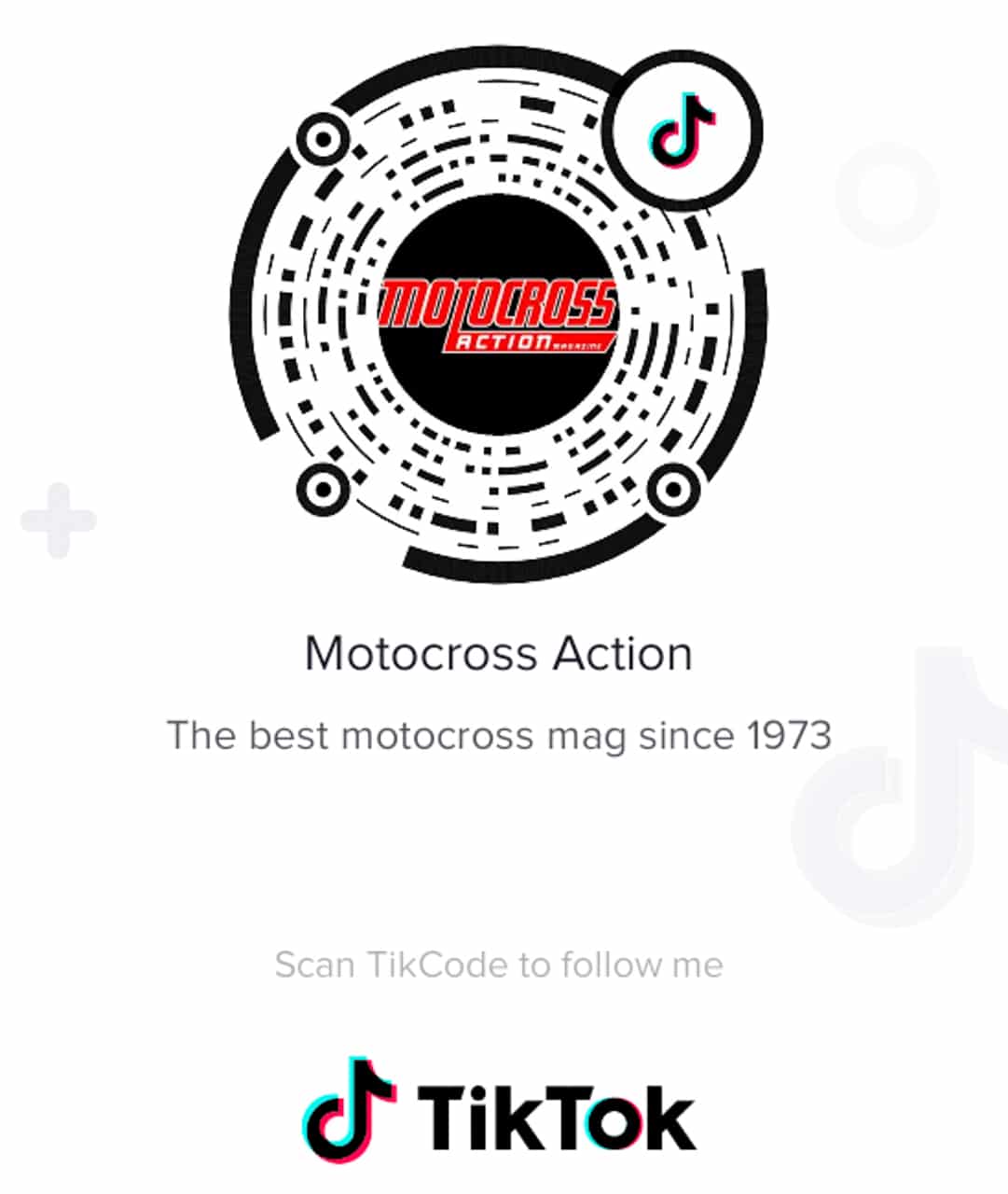 2020 HUSKY TC250 RAW VIDEO
THE APRIL 2020 ISSUE IS JAM-PACKED FULL OF BIKE TEST & TECH ARTICLES

If you haven't seen the latest issue of MXA then you are missing a thrill ride of motocross facts, figures, information, racing, tech and the stuff that never makes it to your phone.

If you subscribe to MXA you can get the mag on your iPhone, iPad, Kindle or Android by going to the Apple Store, Amazon or Google Play or in a digital version. Even better you can subscribe to Motocross Action and get the awesome print edition delivered to your house by a uniformed employee of the U.S. Government. You can call (800) 767-0345 or Click Here (or on the box at the bottom of this page) to subscribe.
NIHILO CONCEPTS STACYC ELECTRIC BIKE FOOTPEGS
Electric bikes are fast becoming one of the most popular electric balance bikes in the world. The bikes are awesome and fun but can use a few upgrades. The engineers at Nihilo have started working on some pretty awesome upgrades for these popular bikes.
One of the first things we made for the Stacyc's was a set of Billet Foot Pegs that simply bolt right on to the frame with the OEM bolts. They provide a much better grippy platform than the plastic foot rest that comes stock and they will give you bike that factory look. Available in Blue, Black and Orange to match any color scheme.
LOST BUT NOT FORGOTTEN | 1991 KAWASAKI KX125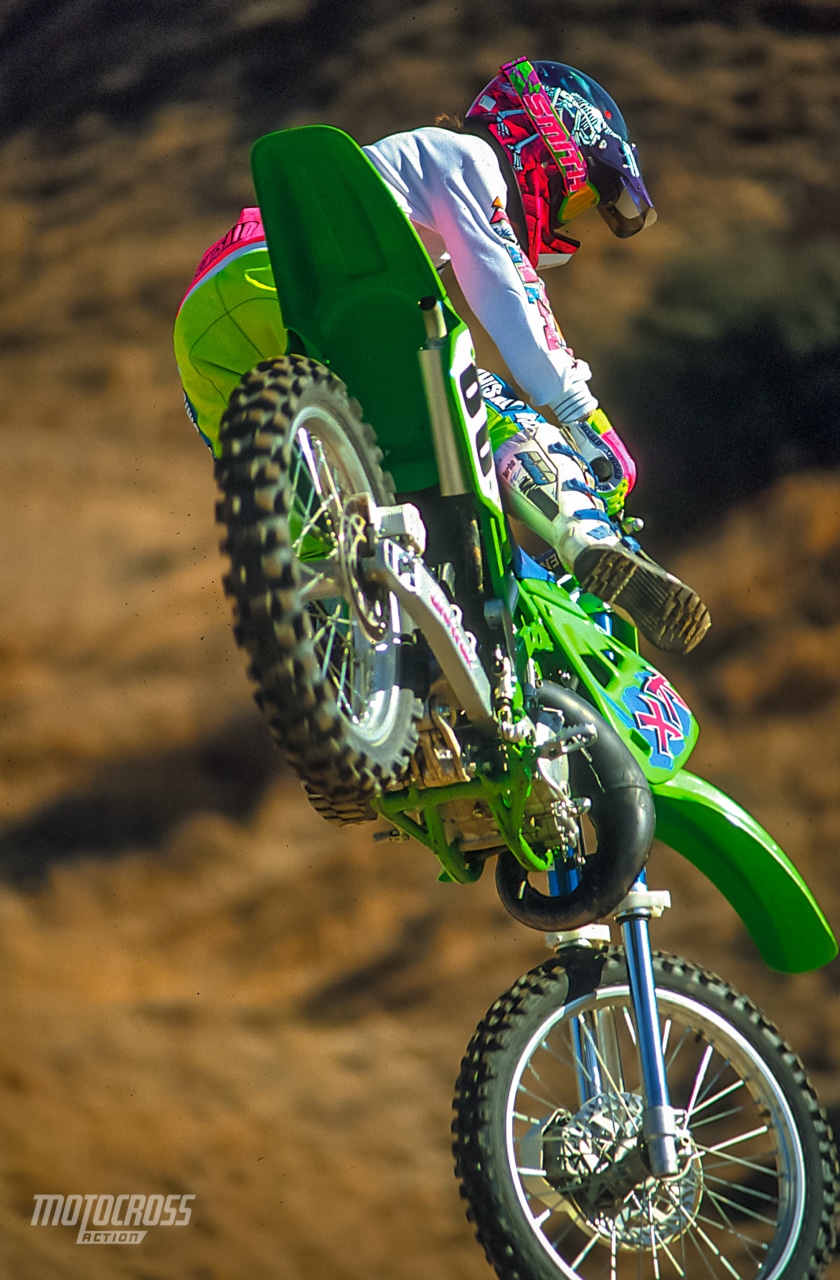 WANNA RACE IN SOCAL? NEED TO RENT A BIKE? FIND A PLACE TO STAY? NEED MOTOCROSS INSTRUCTION: JUST CALL STAPO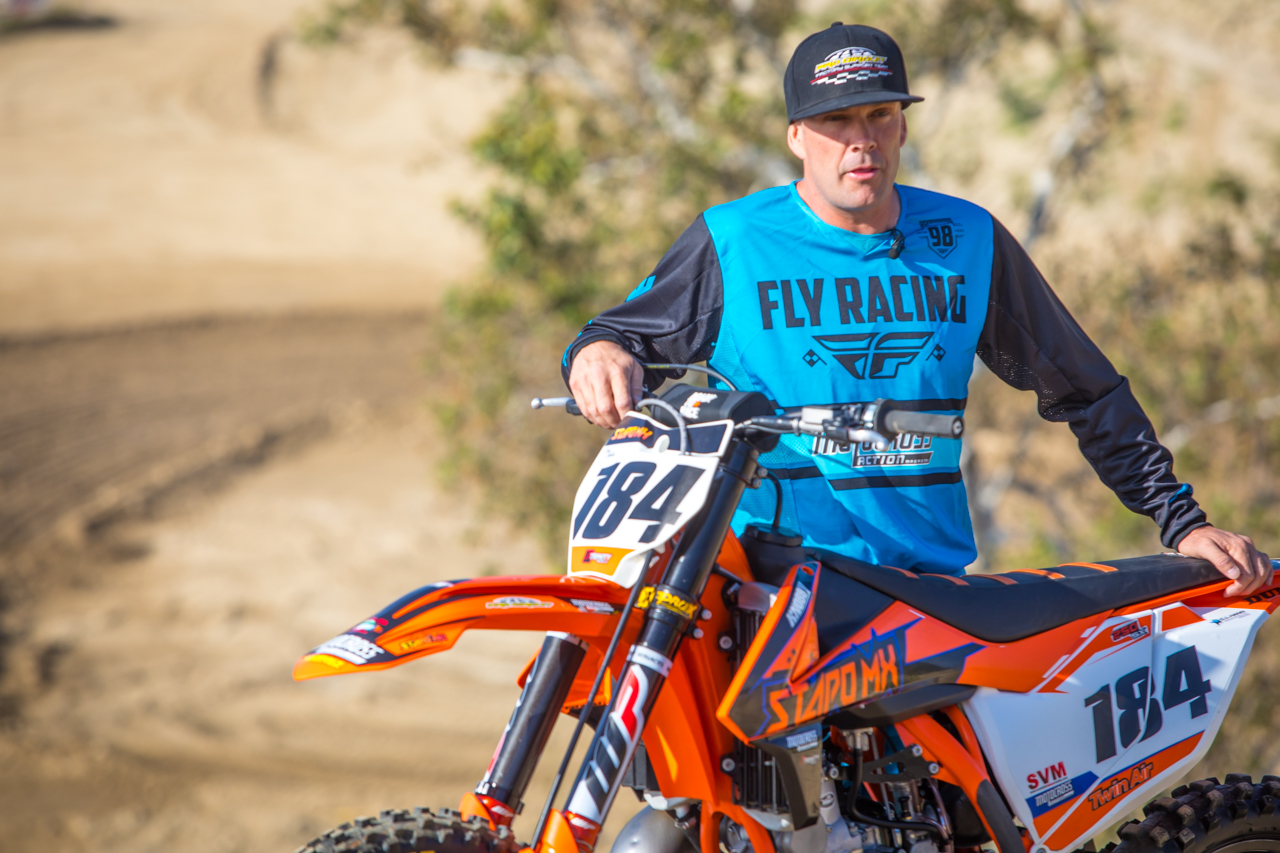 Dennis Stapleton doing what he does every day of the week — let him make your dreams come true.
In his spare time, when he's not testing with MXA, racing in a foreign country, going to Japan or helping many of his motocross buddies, MXA test rider Dennis Stapleton opens up his house, garage, bikes and mechanics to help riders who would like to come to SoCal on a motocross vacation. He offers full service to all of the Southern California tracks for racers or for play riders. Whether you want to rent a bike, move in for a week, race at Glen Helen or take motocross lessons—this is one-stop shopping. Just send them an email ([email protected]). If you'd like to live the SoCal lifestyle for a day, a weekend, a week, a month or three months, visit Dennis Stapleton's' website at www.knobbyshopsouth.org for more details!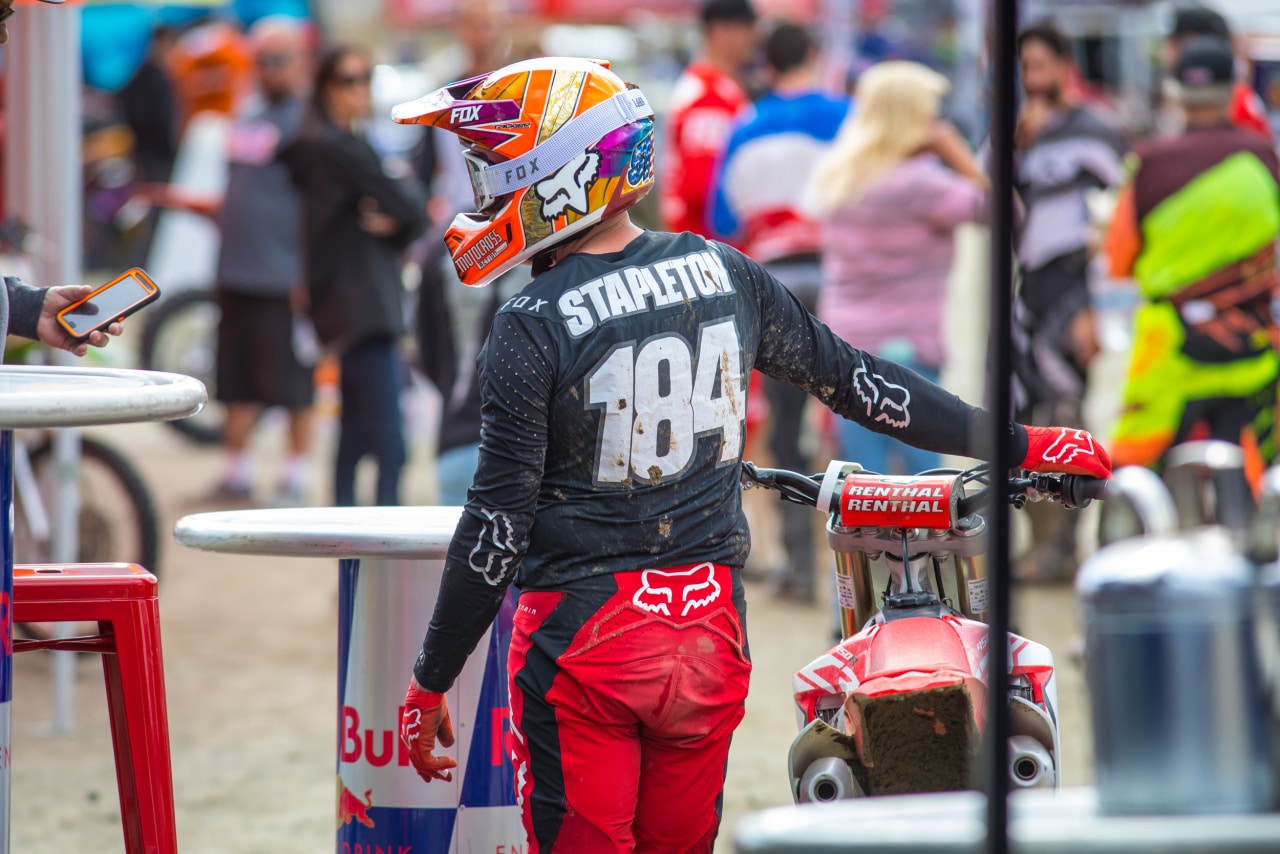 THEY SAID IT | DAYTONA SUPERCROSS 
Garrett Marchbanks: "I'm on cloud nine right now. I've thought about this for a long time – what it would be like to win – and it's better than I could have imagined. It's especially cool to get a win at Daytona. It's such a historic race. I'm thankful that the team has been so supportive and knew I had what it takes. I finally got a great start and can't believe we went wire-to-wire."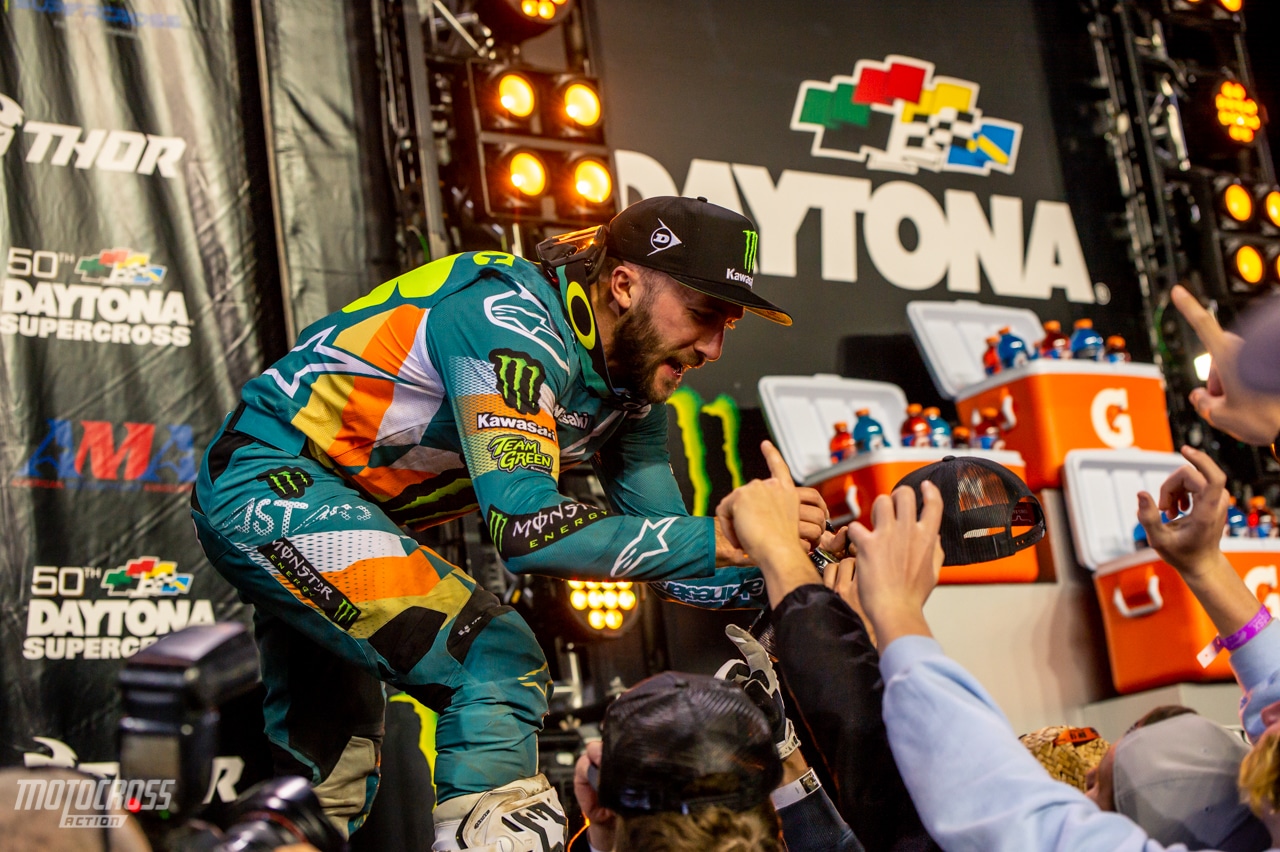 Eli Tomac: "Tonight it was just a little bit of patience in the beginning because the pace was hard early on. Somewhere about halfway I realized I had to get going and make the moves and the passes. It was tough to make up the time. Gosh, that was close. Big night. We're in a really good spot in the points, a spot we haven't been in. So, we'll just keep trucking along."
Charles Lefrancois:"I felt comfortable on the bike from the start of timed practice, I managed to get the 19th fastest time in the first timed session and qualified 22nd overall after the second session. I knew a direct transfer into the main was possible for me with a good start, and usually starts are my strength, but not tonight. I worked hard to make passes, but it was not enough in my heat or the LCQ to transfer to the main. Despite my bad result I really liked the bike, and also the track, and will work hard this week to get better results in Indy."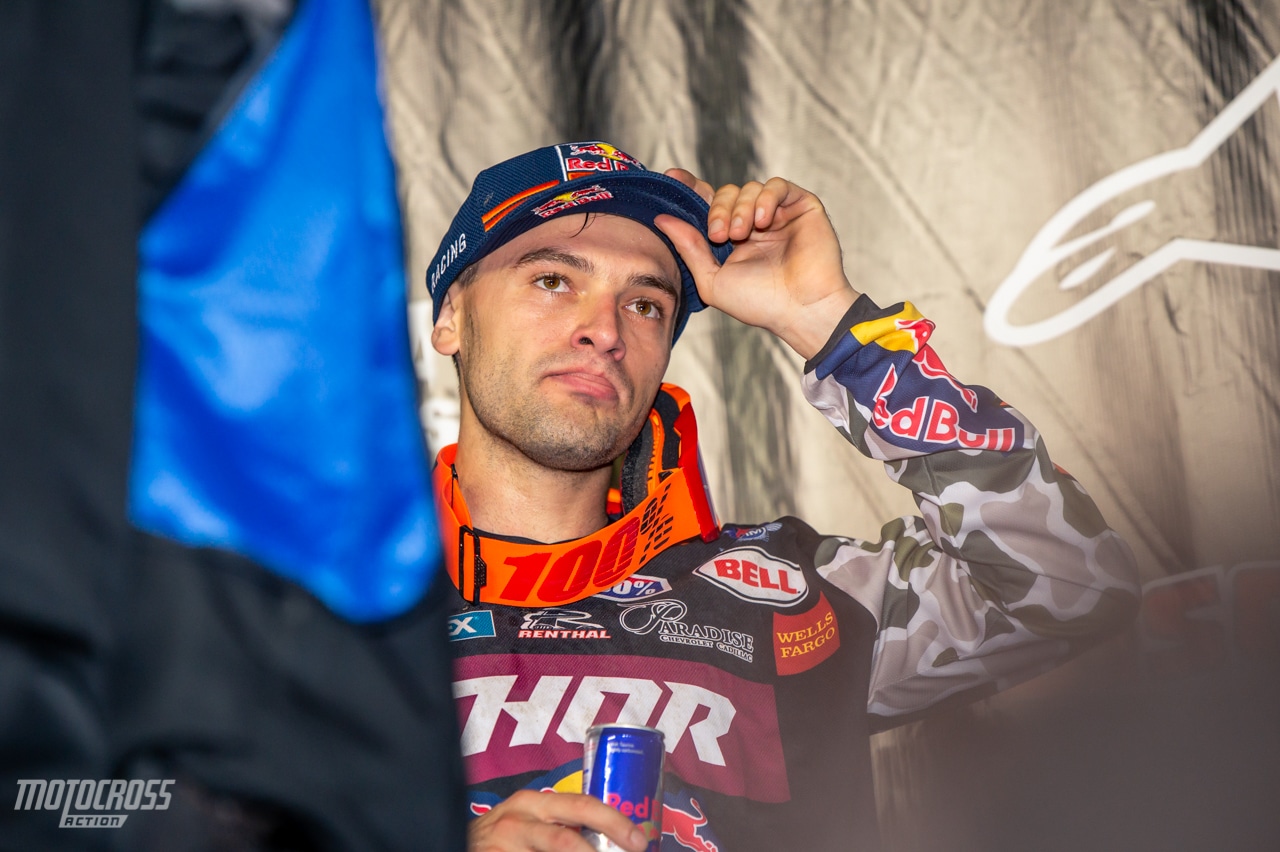 Cooper Webb: "I felt like I put myself in a good position – I was in second and a little way back and Eli [Tomac] was able to get me. I started making a lot of mistakes and let him get away. It's good to be on the podium, so I'm stoked on that but I'm going to work this week. I think I'm at a point where I've finally healed up good enough to try to contend, so I'll take the podium but I really want to get another win."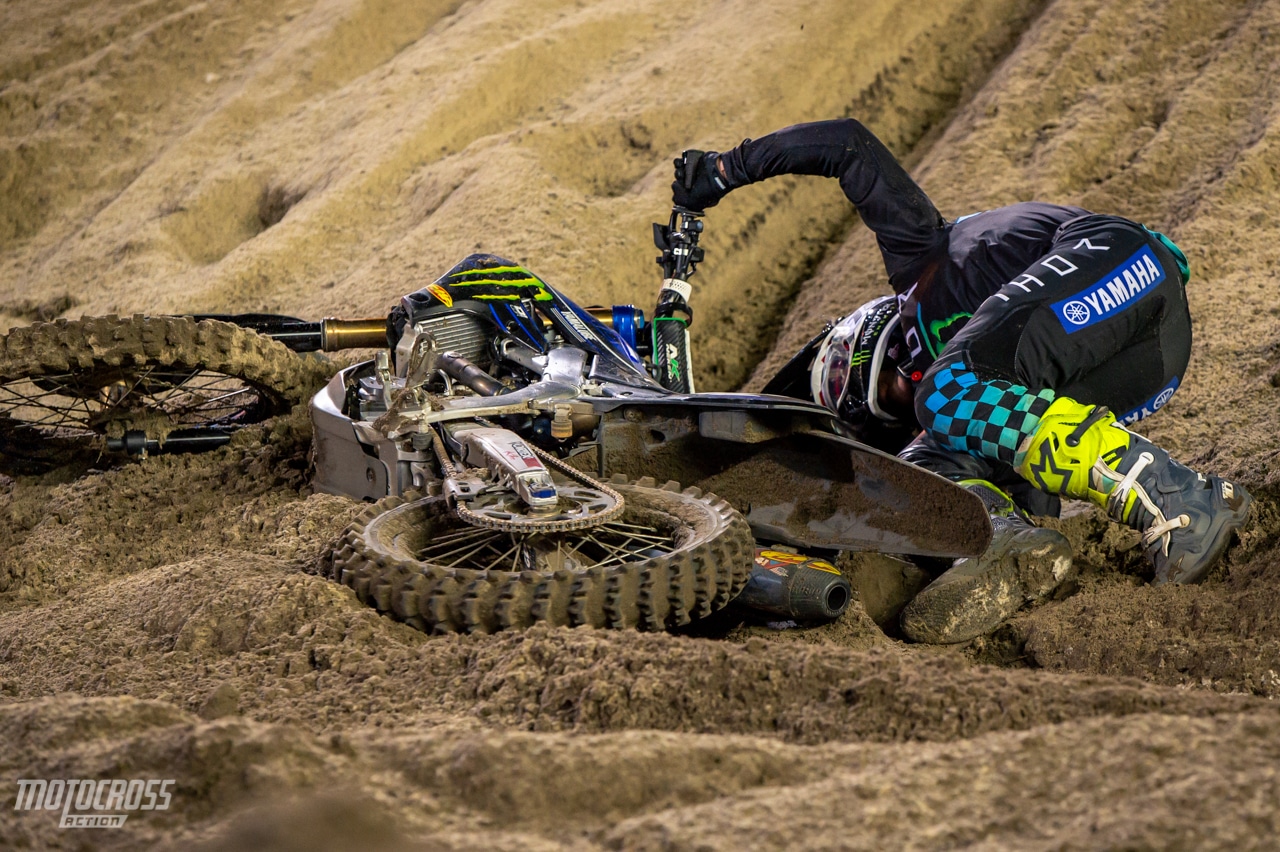 Shane McElrath: "I felt great all day and had a great night going! I got together with another rider early on and we both ended up going down. I was pushing hard to come back and catch the lead group and then I ended up going down again. I'm happy with my riding, just sometimes things don't go your way. We will be back!"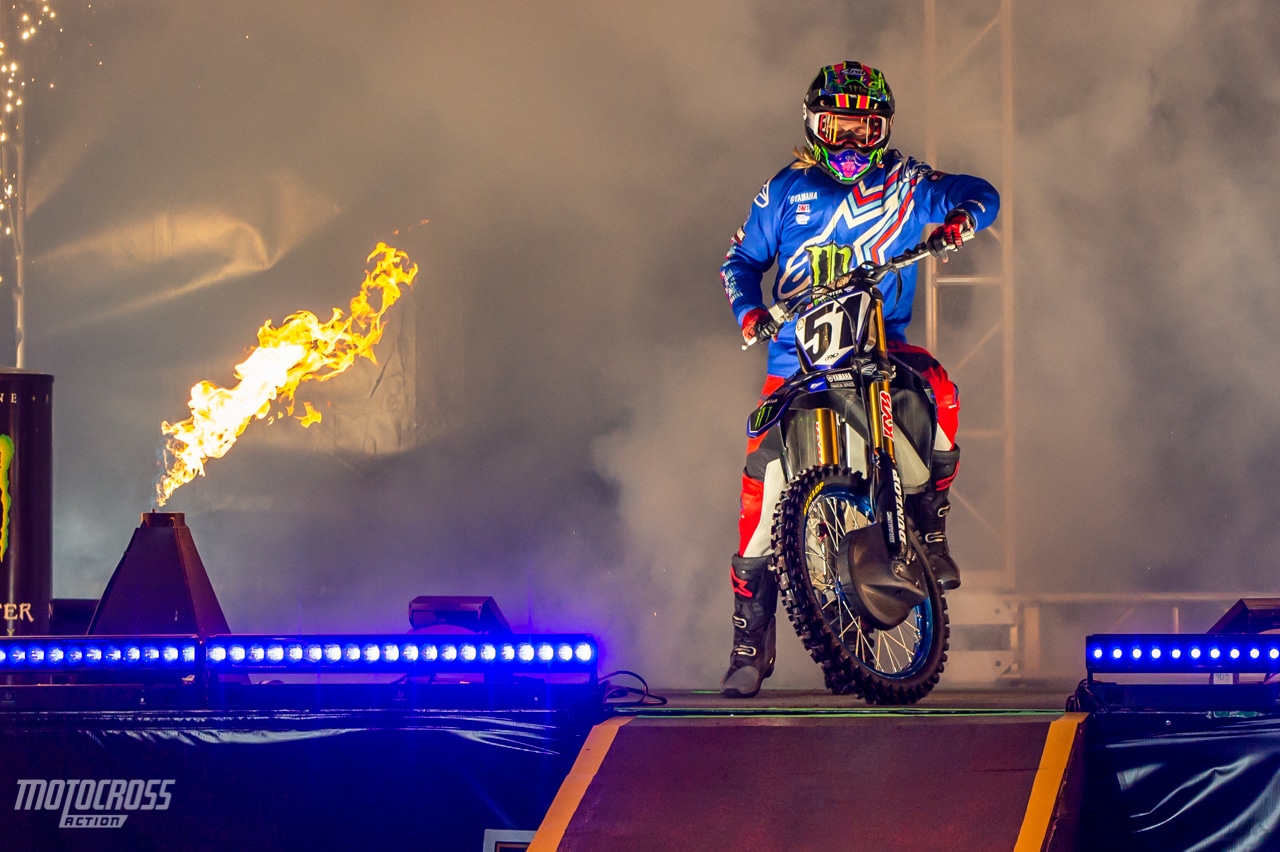 Justin Barcia: "I felt like I should have had a stronger result, but there were some positives to take from tonight. My starts were much better, so that was a good thing. We just struggled with setup all day. We were trying to adapt to the track and find that happy place, I just never found it. I rode well in my Heat race. The track was pretty smooth, but in the Main Event the track roughened up and I was just a little bit uncomfortable. Aaron and I battled for a while. It was a fun race, but I expected a lot more of myself. I felt like I should have had a better result, but we have to take the positives. I had good starts and qualified pretty well today, which was something that has hurt us. So we're going to take the positives moving into next weekend at Indy and get back on top."
Aaron Plessinger: "The night was great. I got off to a really great start in the Heat race. I held Kenny (Roczen) off for a couple laps, but he got by me. Then Barcia and I were going at it for a little bit but I was able to hold him off and finish second. I got off to another great start in the Main, but then a few guys got by me. I held the pace for a little bit, but it was gnarly out there! It was rough, rutted, and sandy. I almost fell down a couple times and got head shake a couple times as well. It definitely holds up to its name of being the toughest supercross race. Barcia got me with a few laps to go and I finished sixth. We're making strides towards the front. I finished up eighth two weeks ago, seventh last weekend, and now sixth. I'm just plugging away. The bike's coming together really nice. I think before we know it we'll be up on the podium."
Ken Roczen: "Tonight went well and I'm happy to come away with a second. My starts have been really good lately, and that continued today in both the heat and the main. When I got out front, I knew I needed to try and lay down some good laps to get a cushion. In the middle of the race I kind of switched up my lines a little, and it didn't work too well. Eli was coming quick and closed in on me. I made a mistake and tipped over in a turn, which cost me the lead. Even after that happened, it was important for me not to give up and stay right behind him. We were putting down a good pace at the end there, and I think if I had another lap, I could've tried to battle back for the lead. I tried my hardest though, and in the end, it wasn't good enough for a win. I'm really happy with the consistency that we're bringing every weekend, and with my starts and overall riding. We're still in a good position for the rest of the season."
Justin Brayton: "I'm pretty disappointed; it doesn't seem like I can catch a break, honestly. I got an okay start but was shuffled around on the first lap and came around in about 10th. I wasn't able to make the moves I needed to and was back in the chaos. On the final lap, I was completely taken down by Vince [Friese]." 
ENZO-DRC OUTERTUBE CLAMP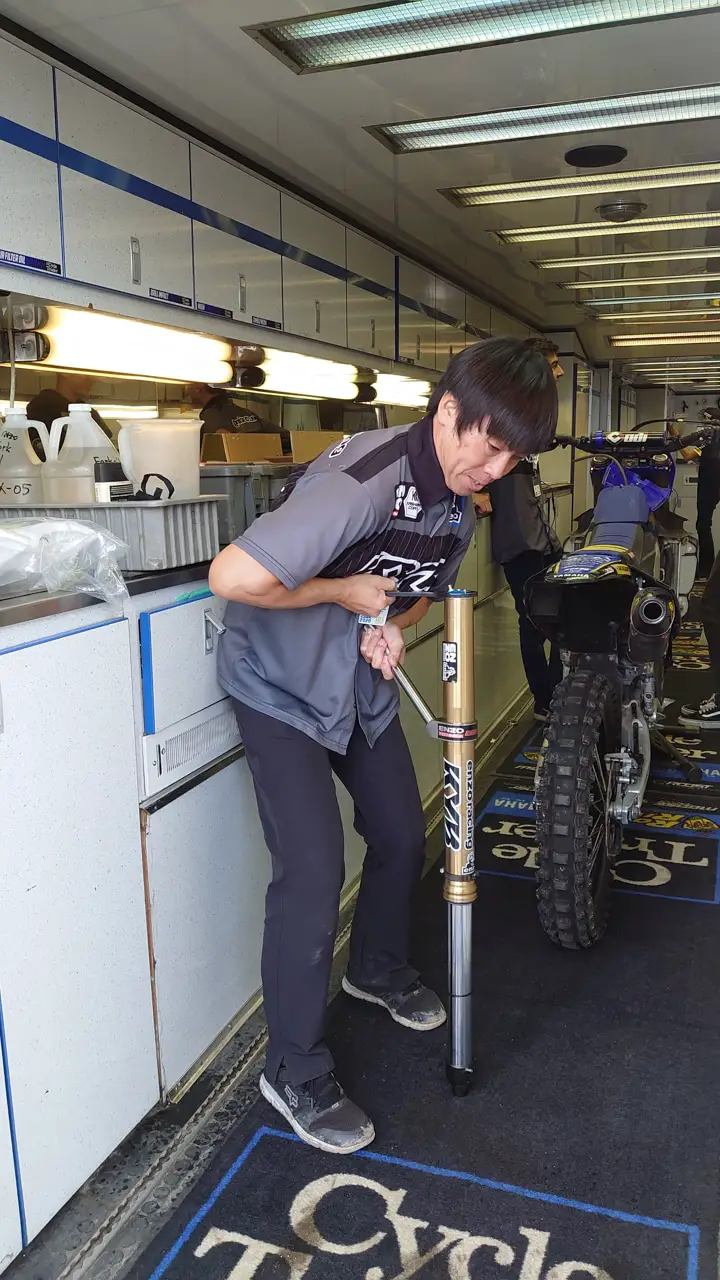 – ENZO DRC co-developed product.
– Grab a front fork perfectly.
– Convenient to open the tightly closed top cap.
– Provides three ways capability.
– MSRP $127.95
MXA YOUTUBE CHANNEL | HIT THAT SUBSCRIBE BUTTON

The MXA wrecking crew is everything moto related. Check out our MXA YouTube channel for bike reviews, Supercross coverage, rider interviews and much more. And don't forgot to hit that subscribe button.
TALK MOTO WITH ON MXA'S FACEBOOK GROUP CHAT


We love everything moto and want to bring all moto junkies together into one place to share their two cents, ideas, photos, bike fixes, bike problems and much more. To check it out first you must need to or already have a Facebook account. If you don't, it isn't much work and you could even have an alias so nobody knows it is you. To join click HERE. After you request to join we will accept your request shortly after.
CLASSIC PHOTO
Kevin Windham ripping up a factory Honda CR250 two-stroke.
---
Moto Trivia answer: Nathan Ramsey from 2000.