MOTOCROSS ACTION MID-WEEK REPORT PRESENTED BY MX-TECH
#WHIPITWEDNESDAY
Rider: Justin Hill
Bike: 2019 JGR Suzuki RM-Z450
Location: Angel Stadium
Event: Round 3 of the 2019 Supercross series in Anaheim, CA
Lens: 300mm
Focal length: 300mm
Exposure: 1/1250sec
F-stop: f/6.3
ISO: 1600
Photographer: Daryl Ecklund
TWO-STROKE SPOTLIGHT: STANLEY WEAVER
"My dad introduced me to motorcycles at the age of 6. My two brothers and I would spend every day riding dirt bikes in our fields not knowing there could be so much more. That's when I discovered motocross through the articles in MXA. I've been a loyal reader of MXA since the summer of 1976. I didn't realize it at the time but the day I stumbled upon a copy of MXA on the magazine rack at the local gas station my life was changed forever. Eventually we each had our brand favorites. I chose Yamaha as my bike of choice and the YZ125 as my favorite. When my Dad passed away I used the money he left me to buy this bike. That's been a dozen or so years ago and my trusty steed has served me well.
A few months ago I became inspired by the MXA October 2017 article "YZ134 vs YZ144. "I started researching parts, prices and mechanics and throwing caution to the wind as well as my check book I stripped my bike down to the frame and the adventure began. Being a fan of the internet and convenience I chose Rocky Mountain ATV/MC and Motosport as my sources for parts. I also reached out to Tom Morgan Racing for the engine mod's. From my first communication with Tom until I fired up the engine, TMR made me feel at ease with what I wanted to accomplish. Thanks MXA for the TMR reference in your October 2017 article. Hope you enjoy my project as much as I do." – Stanley Weaver.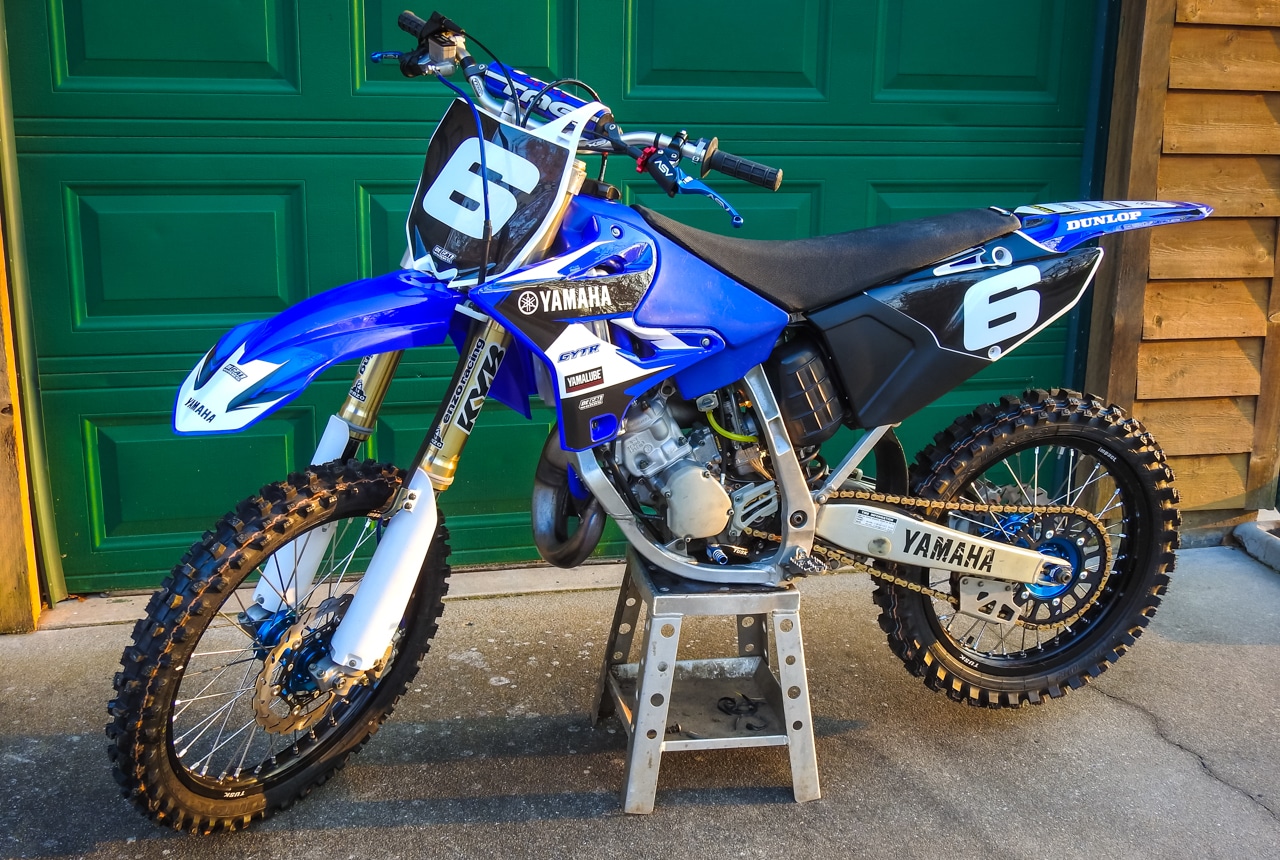 My list of parts for the 2005 YZ125 Project:
Dunlop MX33 tires front and rear
Tusk Impact front and rear wheel kits
Kenda HD tubes front and rear
Tusk rim locks
Tusk typhoon oversize front rotor
Tusk typhoon rear rotor
TMR complete engine rebuild with 134cc kit with porting mods for pump gas
Pro Circuit factory Pipe and Silencer
V-Force reeds
All Balls carburetor kit
Motion pro throttle cable and clutch cable
Tusk braided steel front and rear brake lines
Pivot works steering stem bearing kit
Sunstar front sprocket (13)
Sunstar rear sprocket (49)
DID gold chain
Tag Handle bars
Tag Grips
Ride Engineering triple clamps
EDITORS NOTE: Please keep those submissions coming. If you would like your bike to be featured in the "Two-Stroke or Four-Stroke Spotlight," please email me at [email protected]. All I ask is that you give a breakdown of your bike and a detailed description of the build. Please also send a few photos of your steed. By submitting your bike, you agree to release all ownership rights to the images and copy to MXA. Please don't email me spam or try selling me Taylor Swift concert tickets or email me spam. I already celebrate T-Swizzle's entire collective, and there will be "bad blood" if you send me junk mail. See what I did there? Happy submitting your smoker.
MXA EXCLUSIVE VIDEO | 2019 YAMAHA YZ125
JASON ANDERSON BREAKS ARM AND A RIB
Jason Anderson. 
During a routine practice day following Round 3 of the AMA Supercross Championship series, Rockstar Energy Husqvarna Factory Racing's Jason Anderson sustained an injury to his left arm. Anderson broke his arm in two places, as well as suffering a fractured rib. The broken arm has been operated on.  Expected recovery time of at least eight weeks. His return to racing is to be determined and further recovery updates will follow. Jason Anderson currently sits in seventh place in the points standings for the AMA Supercross World Championship series.
Husqvarna lost Zach Osborne to injury before he could make his 450 Supercross debut. Dean Wilson is the top-ranked Husqvarna rideri n sixth place in the 450 class. Will Rockstar Husqvarna hire a fill-in rider?
Jason Anderson said, "I am really bummed to have to say that I am out for an injury. I was struggling to find my groove, but had high hopes of pushing forward to the podium in all of the upcoming rounds. I will be back stronger. Thank you for the support."
MXA PRODUCT SPOTLIGHT: MOOSE RACING UNIVERSAL METRIC AND SAE 270 PIECE O-RING ASSORTMENT  
Press Release: Unable to finish your bike rebuild because of a missing O-ring? That would not be the case if you had a Moose Racing Universal Metric and SAE 270 Piece O-ring assortment. Perfect for your home garage or professional service shop, the Universal Metric and SAE O-ring assortment features 270 of the most common sizes of O-rings used to seal oil lines, fuel system components, and coolant passages on motorcycles, ATV, UTV, PWC, and snowmobiles. Each O-ring is oil, gas, coolant, and chemical resistant to 700 degrees Fahrenheit. Suggested retail $21.95. Visit Mooseracing.com for more information.
ANAHEIM 2 CRASHES CAUGHT ON CAMERA
Justin Hill lands on tuff block.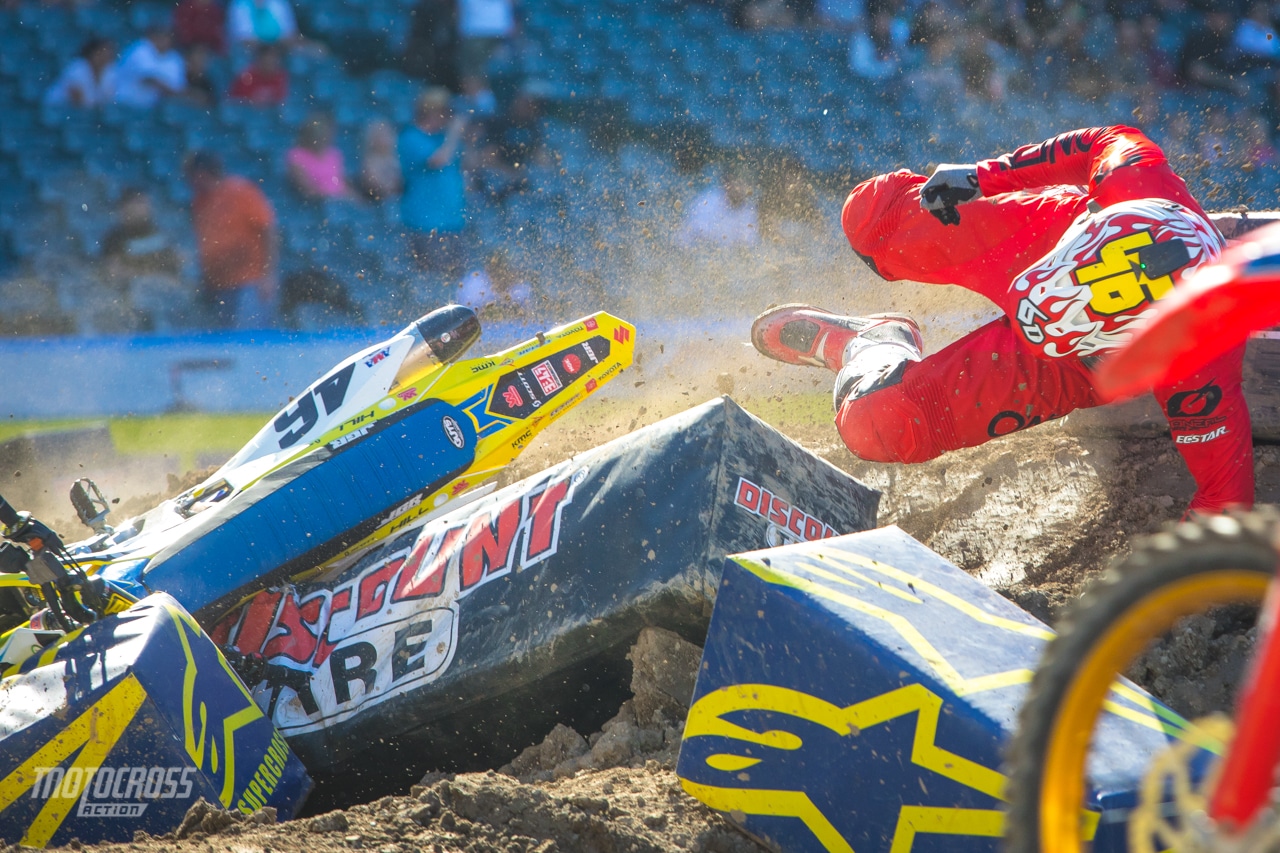 Tuff block wins.
Carson Brown cases the triple on the first lap. Look at his ankle!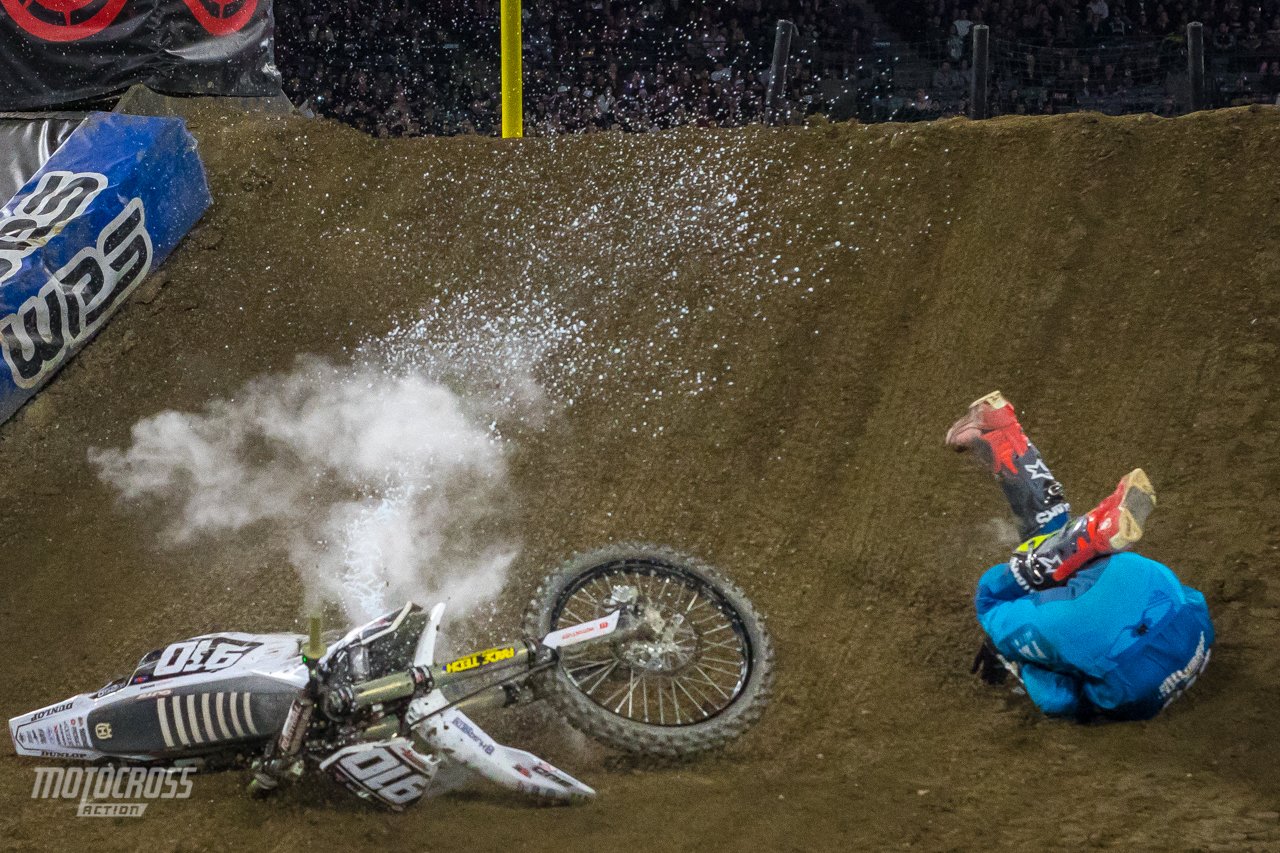 In the same race on the last lap Carson lawn darts into the finish line. It was a rough night for Carson. 
Number 8 gets a little whiskey throttle off the start. 
Adam Cianciarulo after battle. 
Garrett Marchbanks lands on the same tuff block as Justin Hill. 
Justin Barcia getting carted away by the Alpinestars medical unit. 
MXA | MOTO | TRIVIA
Who is this rider?
DUCATI SCRAMBLER CONCEPT DESERT SLED
THE SCRAMBLER PRODUCTION MODEL
SUBSCRIBE TO MXA & GET A $25 CHAPARRAL GIFT CARD—YOU MAKE A PROFIT BY READING MXA

If you subscribed to Motocross Action, the February 2019 issue of MXA would be in your mailbox, computer or iPhone now.
It is jam-packed with bike tests, product reviews and moto-info. Not only do we have the 2019 MXA 250 Four-Stroke Shootout in this issue, but 2019 Husqvarna FC350 test , 2019 Yamaha YZ250 two-stroke test,  a retro-test of Chad Reed's 2002 L&M Yamaha YZ450F and a 2019 Honda CRF250 test. Plus, a test of Carson Brown's Straight Rhythm winning Husky TC125 two-stroke and Austin Forkner's 2019 AMA 250 East Supercross KX250 four-stroke. Not to mention giant coverage of the World Vet Championship.
Do you subscribe to MXA? You should. We know that you think that print magazines are dead and that the internet will fill the void, but most of the stuff in the current issue of MXA won't appear on the web for several months, if at all. Luckily, you can get all of MXA on your iPhone, iPad, Kindle or Android by going to the Apple Store, Amazon or Google Play or in a digital version. Even better you can subscribe to Motocross Action and get a $25 Chaparral gift card to spend on whatever motorcycle parts or products you need. You can call (800) 767-0345 or go to www.hi-torque.com/product/motocross-action-holiday or click on the box at the bottom of this page.
THEY SAID IT | 2019 ANAHEIM 2 SUPERCROSS
Adam Cianciarulo: "It was a rollercoaster night to go from being out front to falling to finishing on the podium," said Cianciarulo. "I really want to put the mistakes behind me and I think with three races, I was able to show that I could still be up front even on an off night. We are still in the hunt and will be working hard to make sure we get back on top."
Garrett Marchbanks: "It was a tough day after seeing some progress in practice," said Marchbanks. "I felt good after getting into a rhythm in the first race, but after going down it was tough to get going again. I felt pretty banged up and we decided to sit out the final race. After a day like that, it makes you look forward to bouncing back so I'm looking forward to getting back to the normal format next week."
Eli Tomac: "[Race] one and two, I was just kind of riding around, is what I felt like. I wasn't attacking. I wasn't getting my flow. And then the third one there just obviously got the holeshot, was in clean air really…"
Justin Hill: "As frustrated as I am with the main event finish, I can take a couple positives out of the day. I was fastest overall in the daytime qualifying sessions, and I had a really good start in the main. Unfortunately, I crashed soon after that and was in last place. Fixing those little mistakes will be the difference for me."
Shane Mcelrath: "It's just learning throughout the season. We had a really good off-season, but you can't really do a bike setup without going to the races. So, that's really what we've been struggling with, and just my comfort. That's really what we've been searching for."
Dylan Ferrandis: "I rode bad. I didn't deserve to win tonight. Shane [McElrath] rode really good and he won, so congrats to him. I'm really frustrated by myself. It's not the place I want to be. We'll see next weekend. We'll try to rebound. I'm really unhappy about myself and really disappointed, so we'll see."
Colt Nichols: "I mean that's always great, to hold onto the red plate. That's kind of the goal. I kind of came out on fire that first one then was leading the second one and had a dumb little tip-over. Just my own mistake. Just a little brain fart if you will and just kind of tipped over. The third one I got the holeshot, started right where I needed to and just was a little flat."
Ken Roczen: "Overall, it was a good night of racing. We showed a lot of speed and are happy with this Triple Crown race. We got off to a great start in the first race, getting the holeshot and leading the whole race until I made a mistake in the one of the last rhythm sections, which unfortunately cost me the win. We still came in second, which was great. I didn't get the best start in the second race but weaseled my way through and felt like I was going really fast. I found myself in third and was catching the guys up front but I made a mistake and went down in the whoops and had about five guys go by me. I didn't let that distract me, rode strong and worked my way back up to fifth. We were just trying to get through the third race, where I finished fourth and unfortunately, just missed the podium. It was a bummer not to be on the overall podium, but we still have the points lead and red plate so that's awesome."
Cole Seely: "Once again, there are a lot of positives to take away from tonight. My starts were much better in two out of the three races, and I was able to run more toward the front of the pack. Being up there and feeling the pace of the front group was huge. The Triple Crown format is definitely a challenge because the turnaround time is really short and you're basically doing three sprint races, so you have to be on it. I'm getting back into the flow and am excited to go racing each weekend, so seventh is another step in the right direction."
Justin Hill: "So far this series I have blown the races on the very first lap. If I harden up and get aggressive right from the gate drop, then I believe I can go straight to the podium. I'm going to work on that intensity this week back at JGRMX in North Carolina."
Chad Reed: "It was a good night of racing. I felt race ready, even though my qualifying times were not where I would have liked them to be. I was a little too kind about making my way forward in the first main. Unfortunately, we had a technical issue in the second race. In race three I felt like I needed to pull one of my customary Suzuki starts out of the old bag. From there I really felt like I rode my best all weekend. Moving forward I want to focus on believing in myself more and getting great starts more often."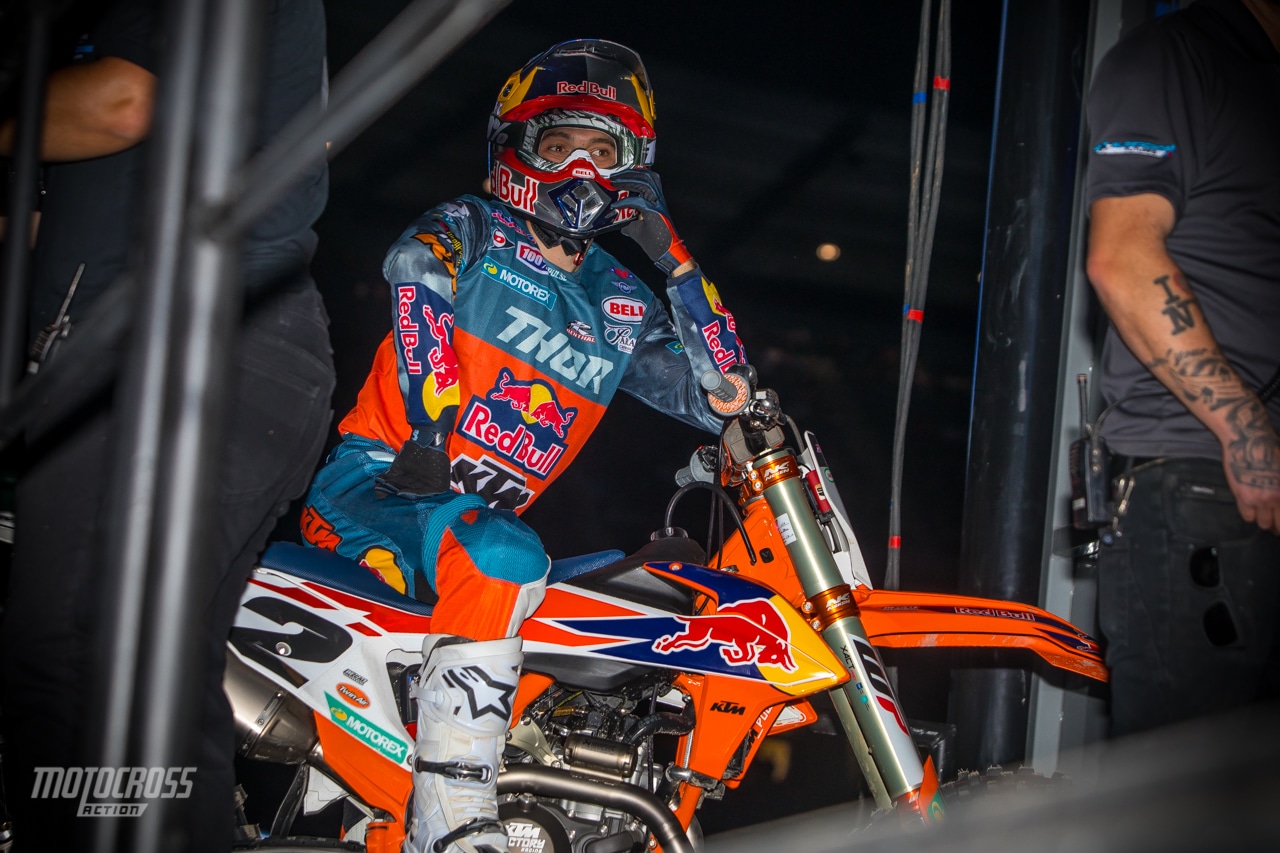 Cooper Webb: "Last weekend I was tenth and that wasn't what I wanted, so I had some redemption this week. But to win is insane – to win two races and be on the podium in the last one is incredible! I really have got to give it up to the group at KTM, they took me under and they changed everything for me. It's been a struggle the last two years, so those guys just constantly pushing me to get back to where I was and reminding me that I still got it. I can't believe it and I'll never forget this day. I hope to keep it going, this is an incredible feeling. Man, I'm speechless."
Marvin Musquin: "It's not always been my strongest point on the start but I've been very consistent today. This week I only rode a little bit on Monday. I stayed in California and we got a lot of rain, but obviously it helped on the knee. I tried to work on it the whole week and I felt good getting on the bike compared to last weekend, so it was important and that's what I need – to feel good and not have any pain. It was great racing tonight, I didn't win any motos but I got second overall, I was consistent and I was able to battle for the lead and for the podium."
LOST BUT NOT FORGOTTEN | 2006 KTM 250SX
DON'T MAKE ANY PLANS TO WATCH THE OAKLAND SUPERCROSS ON SATURDAY NIGHT: IT'S TAPE DELAYED UNTIL SUNDAY

The 2019 Oakland Supercross will be shown taped delayed on NBC Sports at 3:00 p.m. Eastern time on the Sunday after the race. Check your local schedules to be sure. 
TALK MOTO WITH ON MXA'S FACEBOOK GROUP CHAT

We love everything moto and want to bring all moto junkies together into one place to share their two cents, ideas, photos, bike fixes, bike problems and much more. To check it out first you must need to or already have a Facebook account. If you don't, it isn't much work and you could even have an alias so nobody knows it is you. To join click HERE. After you request to join we will accept your request shortly after.
MXA'S SNAP CHAT FEED
If you are a Snap Chat user then add us to your stories. Get sneak peaks of everything moto. Our Snap Chat name is motocrossaction. Or just take a Snap of the picture above and it will add MXA automatically to your feed.
CLASSIC PHOTO
Chad Reed and Doug Henry back in 2005 racing Supermoto bikes.
---
Moto Trivia answer: Kelly Smith.