MOTOCROSS ACTION MID-WEEK REPORT PRESENTED BY MX-TECH

#WHIPITWEDNESDAY
Rider: Chad Reed
Bike: 2019 Suzuki RM-Z450
Location: State Farm Stadium
Event: Round 2 of the 2019 Supercross series in Glendale, Arizona
Lens: 70-200mm
Focal length: 200mm
Exposure: 1/1250sec
F-stop: f/4
ISO: 3200
Photographer: Brian Converse
TWO-STROKE SPOTLIGHT: JASON STEFFINS 2001 YAMAHA YZ125
The Craiglist photo. 
"These things are all over. Definitely a fun bike to ride and build. I took this one from the brink of death, back to almost new. Stripped it down to nothing. Repainted the frame original YZ Blue. My son Langston helped on this build which made it pretty special. Engine was stripped, new bearings, seals and gaskets. Cylinder was shot, so we sent it over to USA Chrome to make it new. Fresh suspension by 4th Dimension Suspension, and lots of polishing and cleaning. The Doma pipe looked dead, but we got it back to almost new! Miscellaneous Tusk parts scattered around to give it a fresh look. Bike sounds beautiful now. Once the snow and cold clears, it will be my sons." –Jason Steffins.
Breaking the bike down.
Really broke down. 
The finished product. 
EDITORS NOTE: Please keep those submissions coming. If you would like your bike to be featured in the "Two-Stroke or Four-Stroke Spotlight," please email me at [email protected]. All I ask is that you give a breakdown of your bike and a detailed description of the build. Please also send a few photos of your steed. By submitting your bike, you agree to release all ownership rights to the images and copy to MXA. Please don't email me spam or try selling me Taylor Swift concert tickets or email me spam. I already celebrate T-Swizzle's entire collective, and there will be "bad blood" if you send me junk mail. See what I did there? Happy submitting your smoker.
2019 PANIC REV CAMP
Josh Mosiman was working with the riders while he was on a 2019 KTM 125SX. 
Panic Rev is a Christian Motocross ministry that goes by the slogan "faith, family, moto." Our assistant editor, Josh Mosiman spent three days with the Panic Rev team as a trainer for Panic Rev's Winter Camp at Glen Helen. The camp went on  over the course of three days for riders of all ages and skill levels. The campers get hours and hours of riding time and training sessions with coaches throughout the three days as well as a Christian message preached on both nights of the camp. Panic Rev brought out a  group of four different Pro level riders to train the campers so they could get the opportunity to learn from different people. The trainers at the Winter Camp were Zac Commans (former Supercross racer), Zach Peddie (former Pro and current mx coach), Michael Del Fante (current Pro off-road racer) and our own Josh Mosiman (former motocross and Supercross racer). Trey Canard also came out on Monday night to speak at chapel after dinner and on Tuesday to work with the campers on a corner track.
Michael Del Fante was also one of the Pro trainers. He was part of MXA's 250 four-stroke shootout this year and he recently started his own off-road team called DelFante Motorsports. Bubba Brandel #928 (pictured here) is on the team alongside Michael. 
"The Panic Rev Motocross Camps are a fun and great way to learn more about the Christian faith and become a stronger and faster rider on the track. I look forward to training at these camps all year long! I enjoying making new friends and helping other people become better riders by sharing with them all the different things that I've learned throughout my racing life as an amateur and Pro. Winter Camp was a blast as always and I already can't wait for Summer Camp!" –Josh Mosiman
Eric Burdell was one of the riders at the camp. He has also been an MXA test rider in the past. 
Check out www.panicrev.org for more information about Panic Rev and their camps.
MXA EXCLUSIVE VIDEO | 2019 KTM 125SX
TM DESIGNWORKS 2019 YAMAHA FACTORY EDITION SX SLIDE-N-GUIDE KIT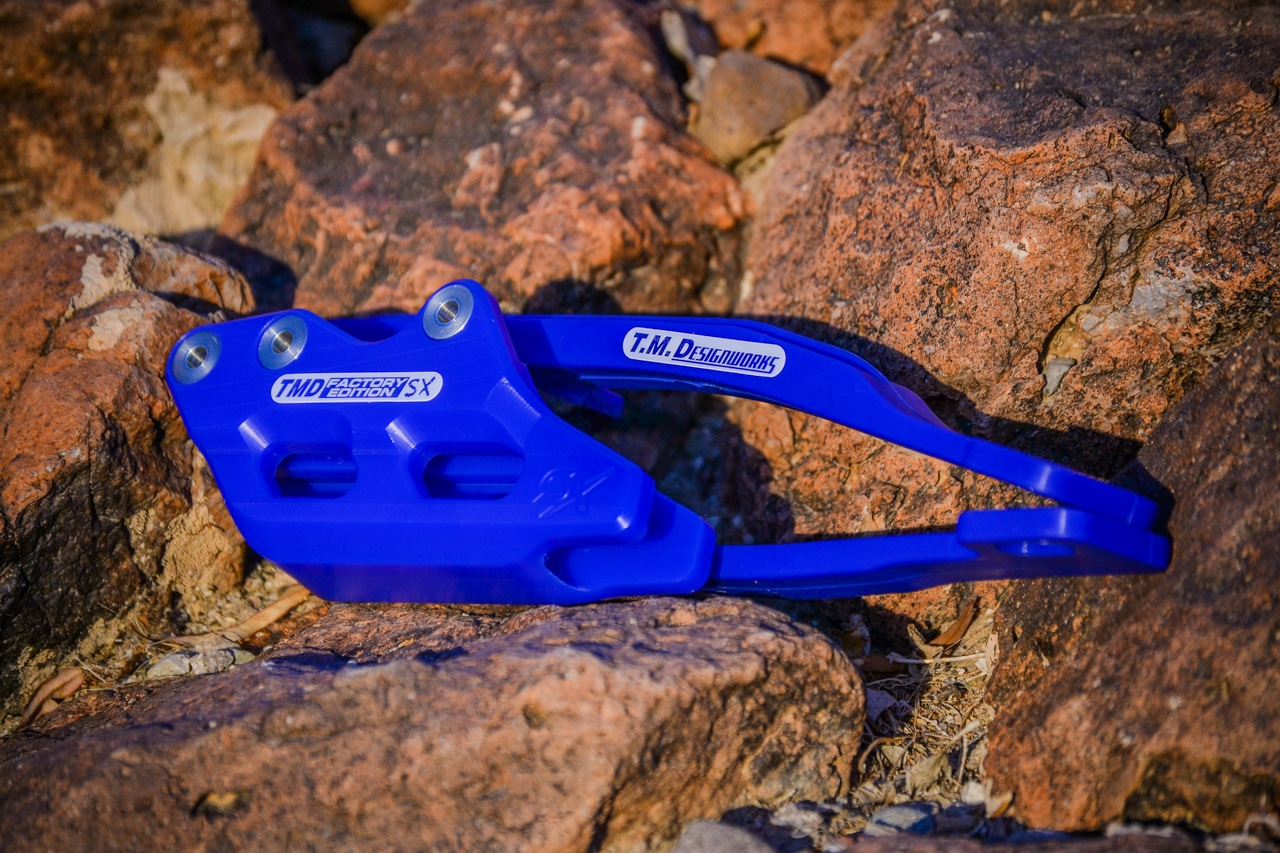 Press Release: TM Designworks is propelling Yamaha riders to success with their innovative Slide-N-Guide technology. The Factory Edition SX Slide-N-Guide Kit provides an affordable upgrade from OEM equipment elevating durability, performance, and appearance all in one package. The compact Chain Guide retains TMD's patented return memory impact system plastic formula along with a matching front Chain Slider tested and proven in every condition from the deserts of Baja to the stadiums of Supercross. The front slider offers precise guidance and unobstructed flow for minimal drag and wear on the critical chain. The Factory Edition SX kit is available in Black, Blue, and Red for a custom look and the kit retails for $119.95. To order, see your local dealer, visit us online at tmdesignworks.com, or call us at (541) 772-4161.
MXA | MOTO | TRIVIA
Who is this rider?
THEY SAID IT | 2019 GLENDALE SUPERCROSS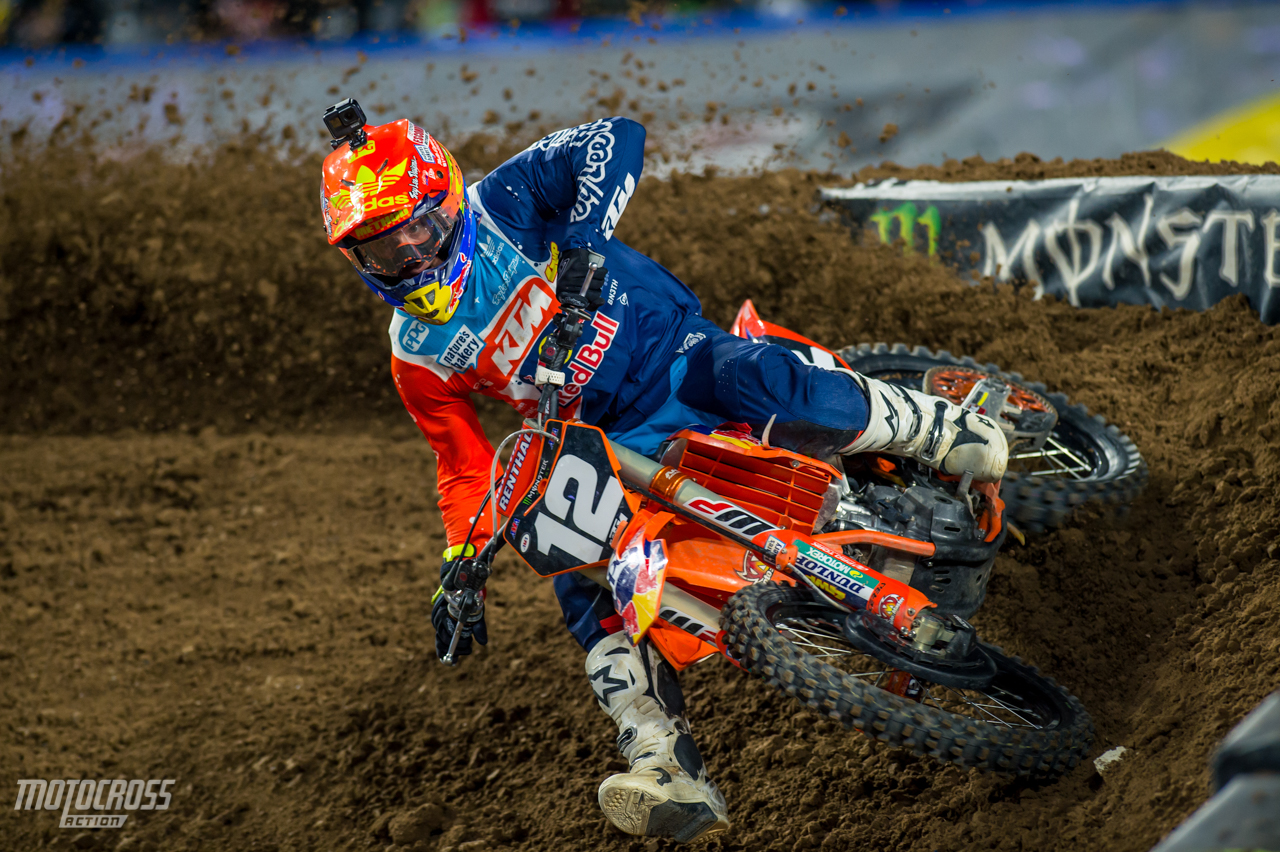 Shane McElrath: "I think we are in a good position Championship wise, and I am looking forward to the Triple Crown Format next weekend in Anaheim."
Sean Cantrell: "I am happy with my progress from last weekend in Anaheim. We are learning each week and my goal moving forward is Top 5. I know I can do it I just need to show everyone that I can do it."
Jimmy Decotis: "There were good improvements at Glendale. My Suzuki RM-Z250 was working really well all day long. I felt like I had the starts dialed in. I'm really comfortable on my bike right now and feeling fast. I'm ready to head back to Anaheim and drop the gate on the three main events for the Triple Crown. I want to give a big shout-out to my whole team for all of the work this weekend. We are having fun, and I'm confident better results will come!"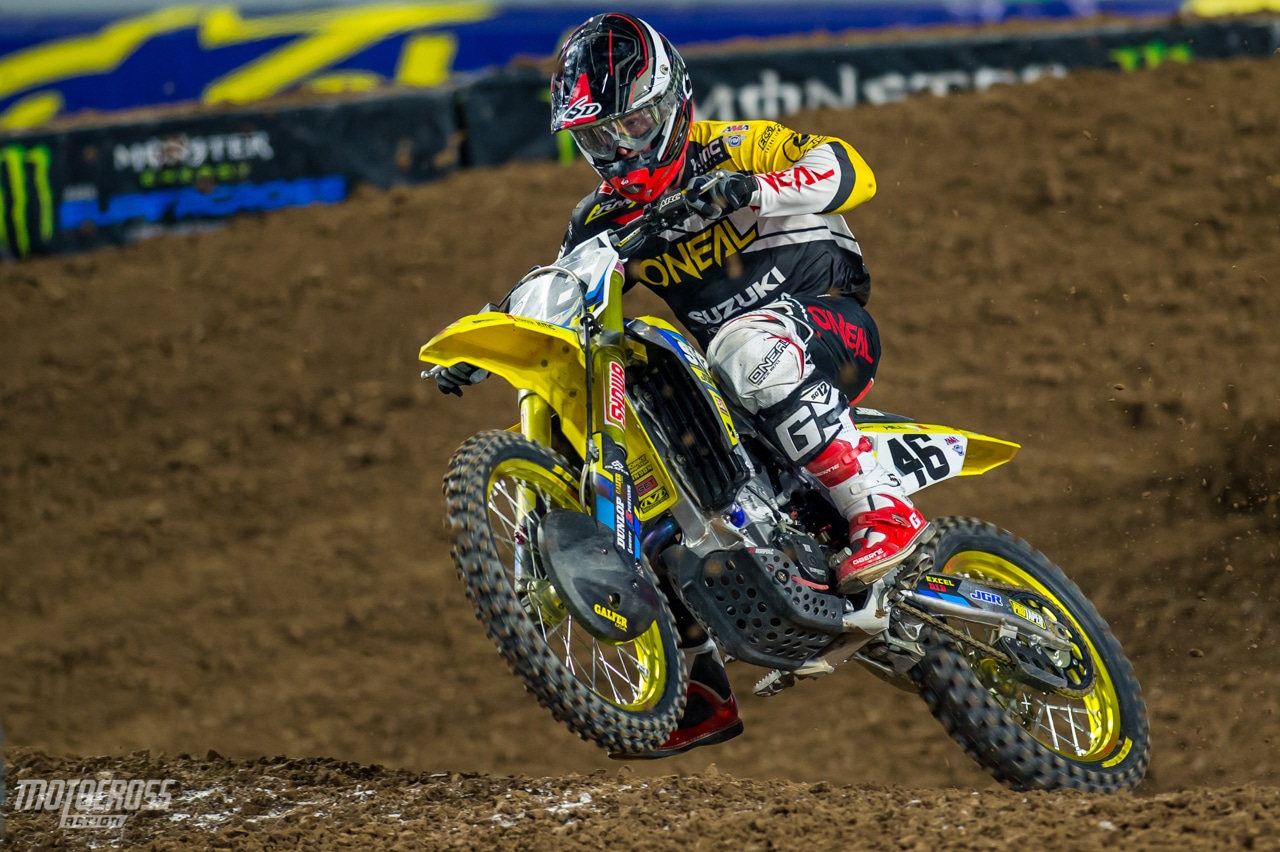 Justin Hill: "As frustrated as I am with the main event finish, I can take a couple positives out of the day. I was fastest overall in the daytime qualifying sessions, and I had a really good start in the main. Unfortunately, I crashed soon after that and was in last place. Fixing those little mistakes will be the difference for me."
Chad Reed: "Glendale was a really positive day, and the heat race was special. The team did a great job of helping me find a feeling that I've been chasing. This helped massively throughout the whole weekend. The main was disappointing, but I'm focused on the feeling we found, and I'm looking forward to a solid week ahead. Video replay shows what I'm doing wrong on my starts, so I'll look to correct that before Anaheim 2."
Enzo Lopes: "The heat race was going okay. I wasn't flowing very well, because I was trying too hard. There was a bike issue, but the guys got things turned around quickly. I didn't get the best start in the last chance qualifier, but I won the race and got experience leading a professional Supercross. My gate pick was really far outside for the main and the rut in front of the gate was not optimal, but I had a good jump. I was running around tenth, but I crashed after the whoops. Then I crashed again a few laps later and messed up my clutch lever, which caused me to call it an early night. I'm learning a lot. The speed is there. Now I just need to put it all together."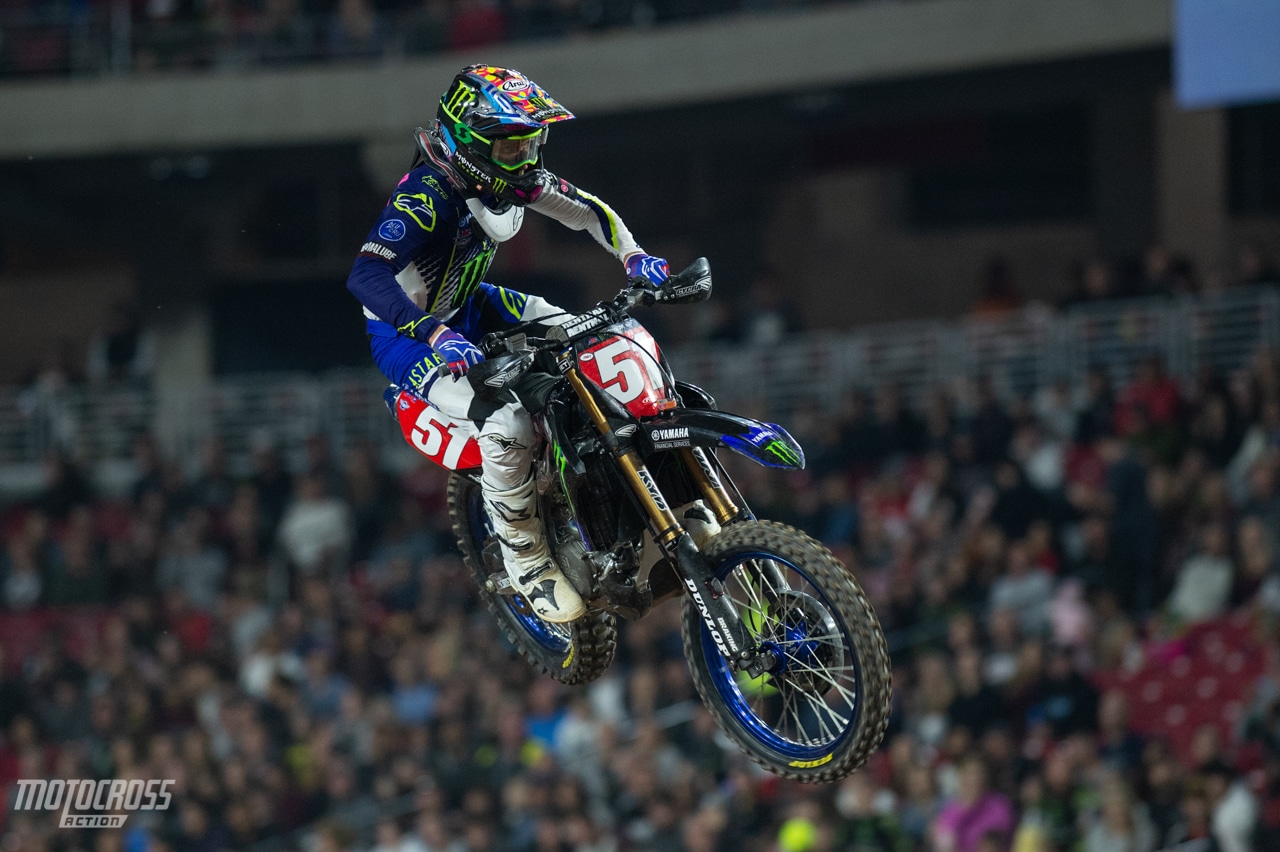 Justin Barcia: "It was a really difficult day for me. The track was really high speed. It had some really technical rhythm sections. For some reason, I could never get a good flow on it. It was a little bit frustrating I would say, but I felt like every time I went on the track I kind of got better and better and made some really good bike changes. I wish I could have gotten more comfortable right off the bat. I just never felt comfortable today."
Aaron Plessinger: "Phoenix Supercross was a little rough for me. I was struggling with the bike all day. I had a big crash in practice and then changed a lot on the bike for the heat race. The track was really, really getting slick in the heat race. I got a pretty good start in the heat race but just made a couple little mistakes and it cost me third and ended up fifth."
Blake Baggett: "I've had weekends when I could run with those guys, and with Kenny [Roczen] as well, and then some weekends they just leave me in the dust," "So, it feels good to finally get my whole program together and be able to run with those guys… I've just got to keep these rolling. It hasn't hit me yet that I finally got a 450 win…"
Jason Anderson: "Honestly, I don't think that's how you race," Anderson said. "I was a little overly aggressive, and I was kind of embarrassed after the whole incident happened, and I just want to apologize. But hopefully the next race I'll be able to not do something like that, and race straight-up; I just feel really bad… We're going to come out and we're going to have clean battles the rest of the year."
Ken Roczen: "Before the restart, I got a great start; I pulled the holeshot and I was just really focused and pulling away a little bit," Roczen said. "Then we got the staggered start, and they put all of us kind of close together again, and Jason [Anderson] drove there to the inside and took me down. I'm not too happy about it, but I bounced back at least and came back to the podium-to third place-so that was super-good."
Colt Nichols: "The bike was great. It felt really, really good all day. We made a few changes to the suspension before the night program and that helped a lot. The track was just so dry and you had to be really, really patient. I was trying not to rush everything, but sometimes I kind of rushed it and made a few little mistakes. That's all right though. I still salvaged a second, so I'm really happy to leave with the points lead and will get ready for next weekend."
Dylan Ferrandis: "The track was slippery but it was a good layout. The bike was awesome. I felt I had the speed for a good result, but I crashed hard in the race. I worked hard to regain some points in the championship, but it was a disappointing night. I'm not happy with sixth."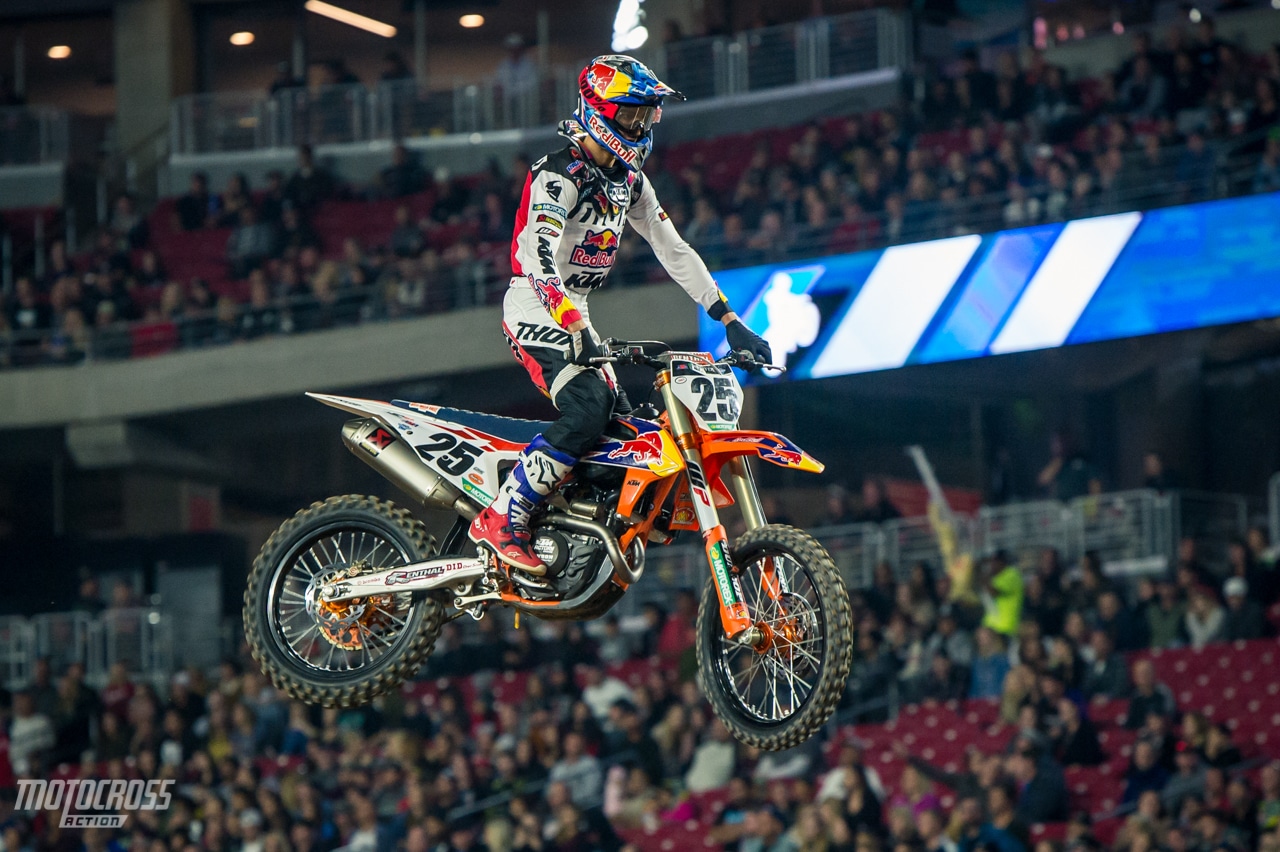 Marvin Musquin: "Glendale is always a big, big track and it's always been a really tough race track for me, so I'm happy because this year was a lot better. I got a great start in the heat race and I got the win, so that felt really good to get back to the top even though it was just the heat race. I wanted to do the same thing in the main and I got a great start again and was leading at the beginning but then I got passed for third. I was behind [Jason] Anderson and I was pretty happy about my riding until they red-flagged it, unfortunately, for Malcolm Stewart that went down. Hopefully he is okay, that was a bummer to see. We restarted in our spots we were in, which was good because I thought we were going to have to restart the whole race. Unfortunately, I had too many mistakes in the first two laps and it cost me two spots and I lost too much ground on the other guys. Fifth place is not too bad considering all that happened in the main. It's an improvement for me with the riding and the bike, everything was working good."
Cooper Webb: "The weekend was a bit up and down for me. The day started off good, I was able to qualify second overall, which was awesome and my speed was there. In the heat race, I didn't get the best of starts and made a few passes to get into fifth. In the Main Event, we didn't get a good start again, made a few passes and then the red flag came out. It was kind of wild – it kind of flusters you and you're not sure what to do. So, I got going again and unfortunately made a few mistakes, got shuffled back, passed a few guys and I just didn't ride all that well tonight. It was a little tough but we'll regroup this week and try to make some improvements with myself and be back at A2 next week to take on the Triple Crown and hopefully get back in the top five."
Adam Cianciarulo: "My team has put in so much hard work to help me get to this point," said Cianciarulo. "It's amazing to be able to repay them with a win. I was thankful to get an okay finish last week in the rain because it put me in good position moving forward. Now we are just five points out of the championship lead."
Garrett Marchbanks: "That was a much different start compared to the first race which is something I'll be learning this year," said Marchbanks. "Starts are very important with how quick the guys out front can get away in the first few laps. We'll be working on starts and continue to build so we can keep racing inside the top 10."
6D HELMETS ANNOUNCES PARTNERSHIP WITH SUPERCROSS FUTURES
Press Release: 6D Helmets is pleased to announce its partnership with the Supercross Futures AMA National Championship program. The series provides an exclusive opportunity for amateur competition on a full-size, Supercross track. 6D Helmets will be offering awards to every SX Futures racer finishing in the top 10 in his or her respective class. For 2019 6D's awards are valued at over $163,000.
"The SX Futures program allows us to connect with the next generation of our sport in a way that would not have been previously possible" said Bob Weber, 6D's CEO and cofounder. "Feld is working hard to grow the sport and better prepare riders for Supercross, ultimately improving rider safety. As a brand that is one hundred percent focused on safety, it made a lot of sense for us to partner with them."
The SX Futures series is designed to produce a higher-quality, more competitive stadium racing landscape with an advanced path to Monster Energy Supercross. Supercross Futures is comprised of 8 events leading to an AMA National Championship with approximately 6100 amateurs competing in 26 classes—beginning with 4 year-olds in the 51CC Limited class…through the elite 250SX Futures class. For more information regarding the series visit https://www.supercrosslive.com/supercross-futures
MXA GEAR GUIDE
The MXA gear guide is here to suit your needs from head to toe.  This month we feature O'Neal gear.
Helmet: O'Neal 5 Series Hexx–$139.99
Goggles: Blur B-10–$29.99
Jersey: O'Neal Mayhem-Lite Hexx–$49.99
Pant: O'Neal Mayhem-Lite Hexx––$119.99
Boot: O'Neal RDX 2.2–$399.99
Find everything O'neal at www.oneal.com.
LOST BUT NOT FORGOTTEN | 2000 YAMAHA YZ400F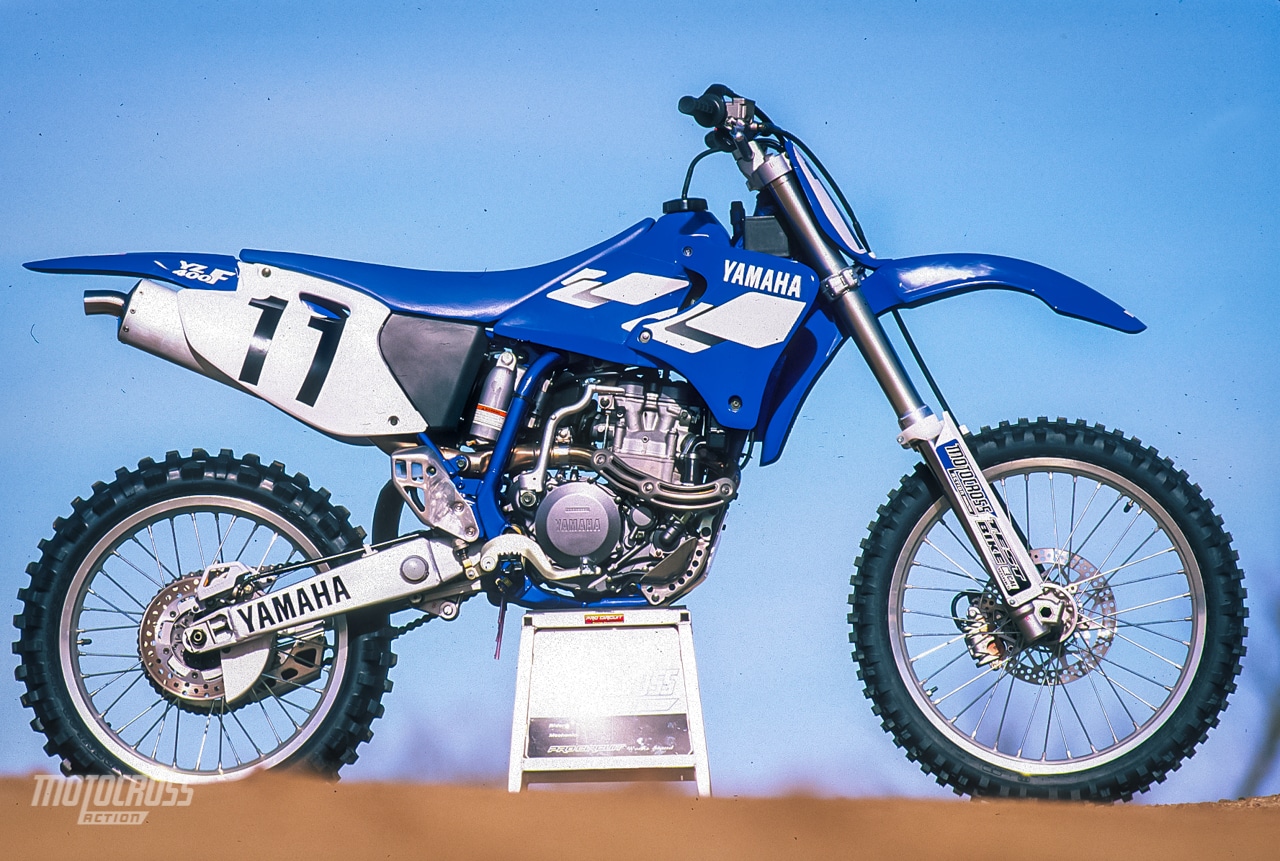 JOIN MXA'S SNAP CHAT FEED
If you are a Snap Chat user then add us to your stories. Get sneak peaks of everything moto. Our Snap Chat name is motocrossaction. Or just take a Snap of the picture above and it will add MXA automatically to your feed.
MXA EXCLUSIVE VIDEO | 2019 TM 300MX RAW
DON'T MISS OUT | 2019 SUPERCROSS SCHEDULE
The 2019 Supercross series schedule will go to Nashville for the first time in the sport's 45-year history and from Nashville, it will go to Denver's Broncos Stadium for the first time since 1996. Returning cities include Detroit and East Rutherford, N.J., which were both last on the schedule in 2017. There will be three Triple Crown events and two East-West Showdowns—although the cities have not be announced. The only city to get two races is Anaheim on January 5 and January 19.
There will be eight Sunday National Amateur Supercross races, called Supercross Futures, with round two in Arizona kicking off the amateur festivities. Amateurs will earn Road to Supercross points toward their professional AMA Supercross license. The Amateur ChampionshIp finale will be held at the Monster Cup on October 19 in Las Vegas.
2019 AMA SUPERCROSS SERIES
Jan. 5…………………………….Anaheim, CA
Jan. 12………………………….Glendale, AZ
Jan. 19………………………….Anaheim, CA
Jan. 26………………………….Oakland, CA
Feb. 2……………………………San Diego, CA
Feb. 9…………………………..Minneapolis, MN
Feb. 16………………………….Arlington, TX
Feb. 23………………………….Detroit, MI
Mar. 2……………………………Atlanta, GA
Mar. 9……………………………Daytona Beach, FL
Mar. 16………………………….Indianapolis, IN
Mar. 23………………………….Seattle, WA
Mar. 30………………………….Houston, TX
Apr. 6……………………………Nashville, TN
Apr. 13………………………….Denver, CO
Apr. 27………………………….East Rutherford, NJ
May 4……………………………Las Vegas, NV
CLASSIC PHOTO
The flawless style of Ricky Johnson. 
---
Moto Trivia answer: Nathan Woods.