MOTOCROSS ACTION MID-WEEK REPORT
#WHIPITWEDNESDAY
Rider: Davi Millsaps
Bike: 2008 Factory Honda CRF450
TWO-STROKE SPOTLIGHT: STRATTON GRAVES 2002 YZ125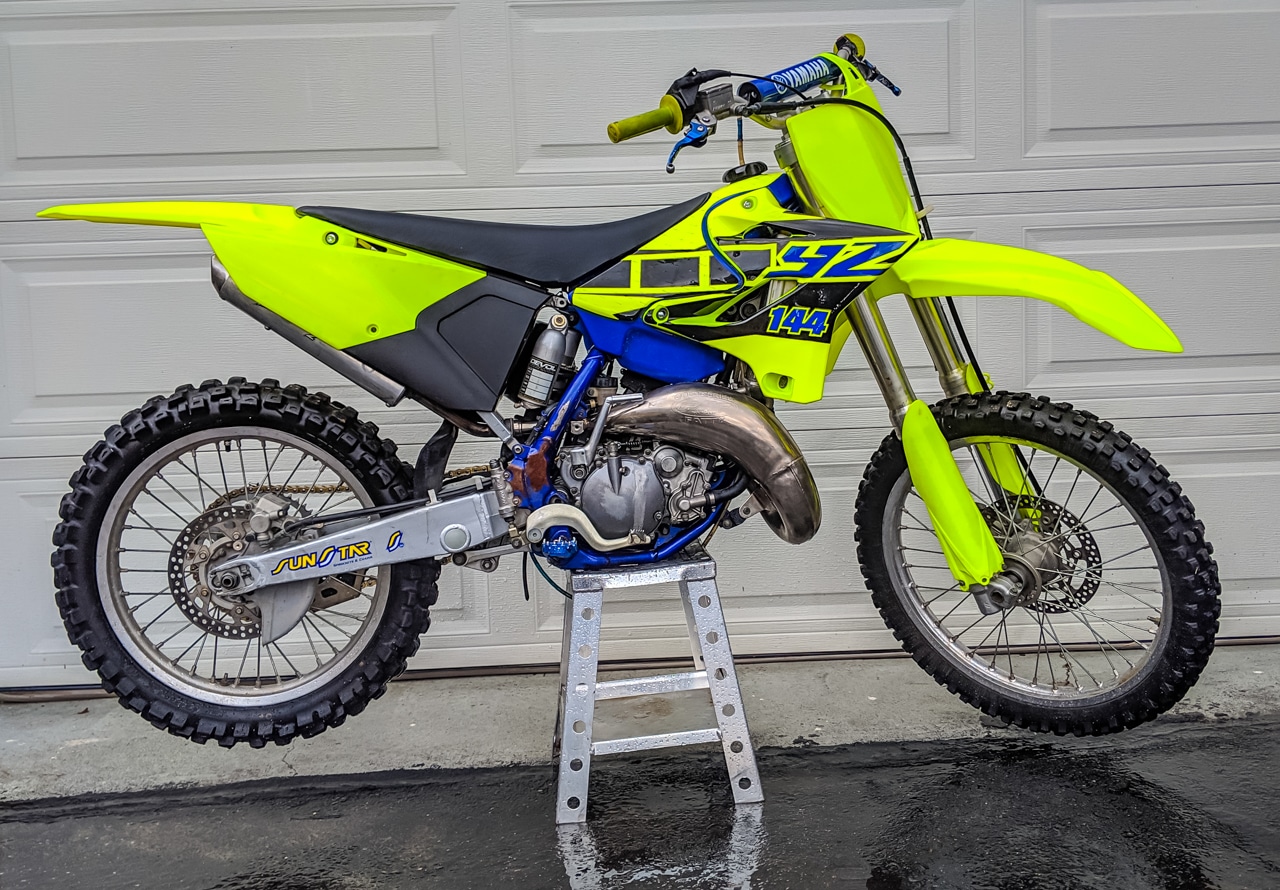 Hi MXA,
Stratton Graves here. I thought I'd share my build with you guys! I just finished my YZ144 budget dream bike I "Edited" to my idea of a perfect small cc ripper.
I started with a totally clapped out 2002 YZ125 off of Facebook Marketplace, zero compression when I bought it–this worked to my advantage because when I opened it up and found an absolutely ruined cylinder and piston I "had to" buy an Athena complete 144cc kit! The bottom end got a Wiseco crank for piece of mind. I swapped a new 2015+ Yamaha airbox so I could change the plastics to the day-glow-bright Polisport Flo yellow kit. Flo pegs replaced the cracked stockers. DeVol handled the suspension revalve. I popped all the dents out of the FMF Fatty exhaust with my blow out kit from England and repacked the FMF Turbine Core II silencer so I'd be OHV legal. A gripper seat cover in black fixed the stock cracked garbage and Local Hero MX did the custom "YZ144" graphics in perfect matched flo yellow in the iconic "Hurricane style" graphic. Renthal bars and ASV3 levers in blue- top off the build.
It was a little challenge to jet it perfect [it actually took a leaner main jet (I'm told because the increase bore pulls more vacuum)] , once I got it dialed though it has great bottom compared to a stock YZ125 and with the right squish and some mild porting it screams in the powerband–with nice overrev up top too.
All my friends love riding it! So much so that my 268lb 50+ year old buddy stole it for half the day and wouldn't give it back while we were marking course for the NHHA Off-road race in Jericho, Utah last weekend!
I hope you like it. The color melts your eyeballs in real life!
-Warmest regards
Editors Note: Please keep those submissions coming. If you would like your bike to be featured in the "Two-Stroke Spotlight," please email me at [email protected]. All I ask is that you give a breakdown of your bike and a detailed description of the build. Please also send a few photos of your steed. By submitting your bike for the "Two-Stroke Spotlight," you agree to release all ownership rights to the images and copy to MXA. Please don't email me spam or try selling me Taylor Swift concert tickets or email me spam. Happy submitting your smoker.
6D HELMETS ANNOUNCES THEIR SPRING 2020 COLLECTION
Press Release: From the world-wide leader in helmet technology and the company that brought Omni-Directional Suspension (ODS) to helmets in 2013, 6D Helmets is excited to announce its 2020 Spring Collection. Each 6D helmet incorporates proprietary game changing advanced ODS technology which improves rider safety.
6D Helmets is proud to debut 3 exciting new designs in its class-leading ATR-2 off-road helmet. These cutting edge graphic designs (Core, Helo, and Recon) offer multiple colorways with something pleasing for every rider. "With current gear trends our customers will now have even more options to choose from while knowing that he or she has selected a helmet designed to mitigate energy over the broadest range of energy demands possible." stated Bob Weber
"We love breaking down barriers with our brand, but the heart and soul of our helmets really lies within our exceptional energy management ODS technology." said Bob Weber, 6D's CEO and Cofounder.

130-LB PERSPECTIVE: 2020 HUSQVARNA FX350 | BY BRIAN MEDEIROS
Photos by Matt Dowsey
In this edition of 130lb perspective, we dive into the 2020 Husqvarna FX350. This bike is Husqvarna's off-road version of the FC350 motocross bike. It shares a lot of the same technology as the FC model—like optional map switch, traction control,and engine. In order to tailor this bike for off-road type riding and racing, this bike features a 2.25-gallon fuel tank, 18-inch rear wheel, six-speed transmission, kickstand, handguards, as well as Magura brakes over the Brembo system that comes on the FC models. The suspension settings are also softer than the motocross version.
Forks. The stock air pressure recommended is 9.8 bar (142 psi). Compression and rebound both come set at 12 clicks out. On the motocross track, the overall action of the fork felt good, but I needed a more hold up on the bigger jumps. By raising the air pressure to 145 psi, I was able to get the holdup that I was looking for while still having the initial plushness I wanted on small choppy bumps on the entrance of corners. On more off-road type of terrain, I went down to 138 psi, 14 clicks out on compression, and 16 clicks out on rebound. This gave me comfort in my hands over longer moto's and rougher terrain. By opening the rebound to 16 clicks out, I felt that the front tire followed the ground better as well as absorbing square edge bumps better at high-speed sections.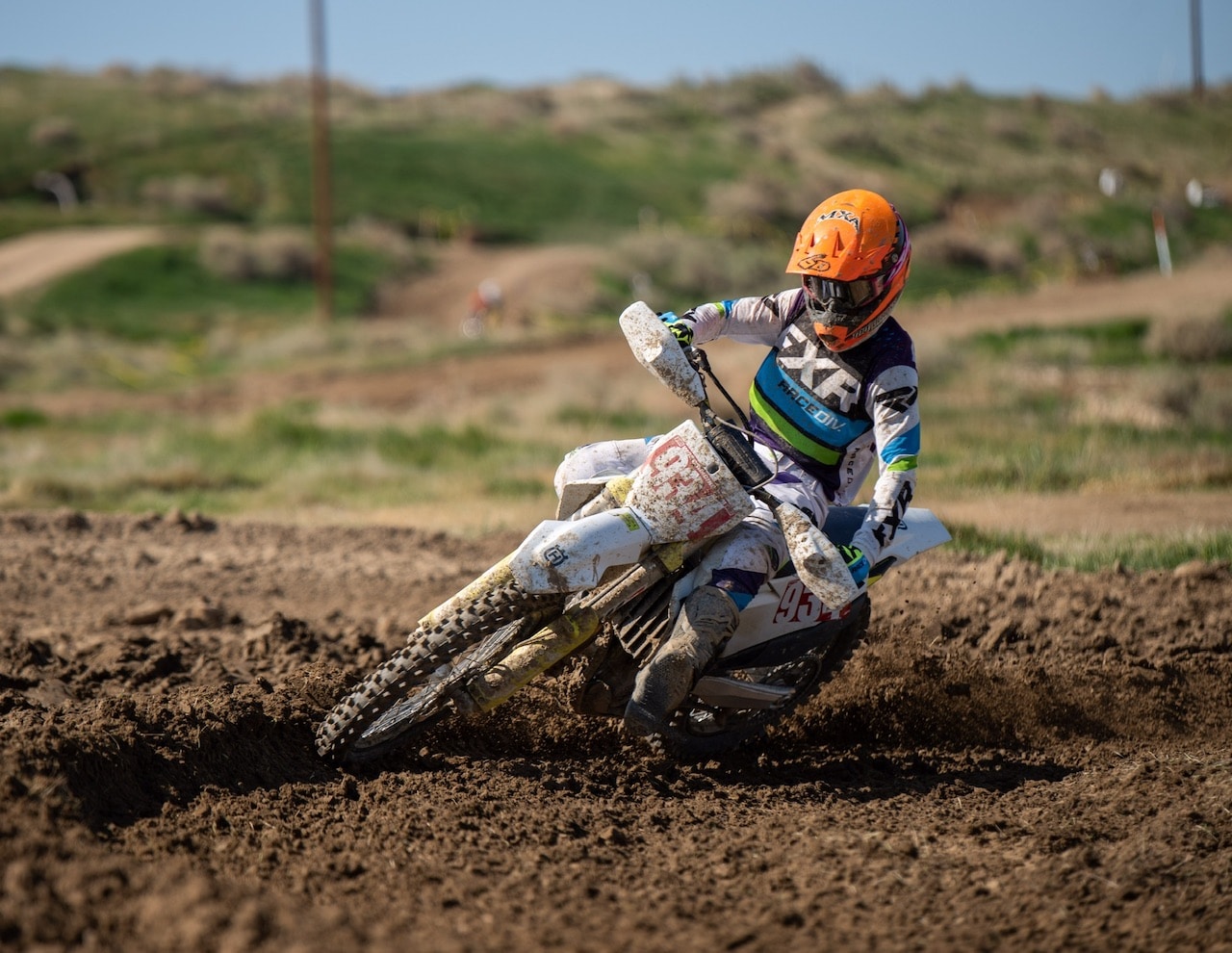 Shock. Like the FC350, the FX350 comes standard with a 4.2 N/mm shock spring. With the softer setting it was easy for me to get my sag to 105mm with the stock shock spring. Low-speed compression comes set at 12 clicks out, high-speed compression is set at 1.5 turns out, and rebound is set at 12 clicks out. Like the forks, these standard settings worked fine for me on the motocross track. For off-road, these settings were close, but not as good as I would like. On high speed, I went to 1.75 turns out to get more initial plushness without blowing through the stroke on high-speed whooped-out sections. 14 clicks out on low-speed compression was my sweet spot for longer rougher rides that helped me ride at a high level over a longer period without fighting the bike. I also opened the rebound to 16 clicks out. By doing this, it helped to keep the bike tracking straight through whoops and got rid of the side to side action I was getting when the rebound was set at 12 clicks out.
Overall, the FX350 is a very versatile bike that has the potential to be good for all types of riding. If you are between 130-140 pounds, use these settings as a baseline and fine-tune it to what you are looking for. As far as valving changes go, I personally think it is not needed on this bike if you are a lighter rider. The soft shock spring and the versatility of the XACT air fork can be tuned to your liking with a little bit of time. As always stay tuned to motocrossactionmag.com for all up to date information on all things moto.
FORGOTTEN BIKES: JEFF WARD'S 1984 125 NATIONAL MOTOCROSS TITLE WINNING KAWASAKI SR125
MXA YOUTUBE CHANNEL | HIT THAT SUBSCRIBE BUTTON

The MXA wrecking crew is everything moto related. Check out our MXA YouTube channel for bike reviews, Supercross coverage, rider interviews and much more. And don't forgot to hit that subscribe button.
FOLLOW THOR'S INSTAGRAM ACCOUNT AS THEIR RIDERS TAKE OVER

Press Release: As self-quarantine is in full effect and Covid-19 taking a toll on our industry THOR and its employees are trying to increase the connection we have with our social media followers and our riders. Tune into the THOR IG Story and check out "Checkin' In" today to see what Shane McElrath is up to today. Twice a week two of our riders will takeover the THOR IG account and show viewers how they are maneuvering through this odd time in our sport. If you miss our story check out the content in our highlights. Thor MX Instagram handle: @thormxoffical
MOTO | TRIVIA


Who is this rider? Answer at the bottom of the page.
WANNA RACE IN SOCAL? NEED TO RENT A BIKE? FIND A PLACE TO STAY? NEED MOTOCROSS INSTRUCTION: JUST CALL STAPO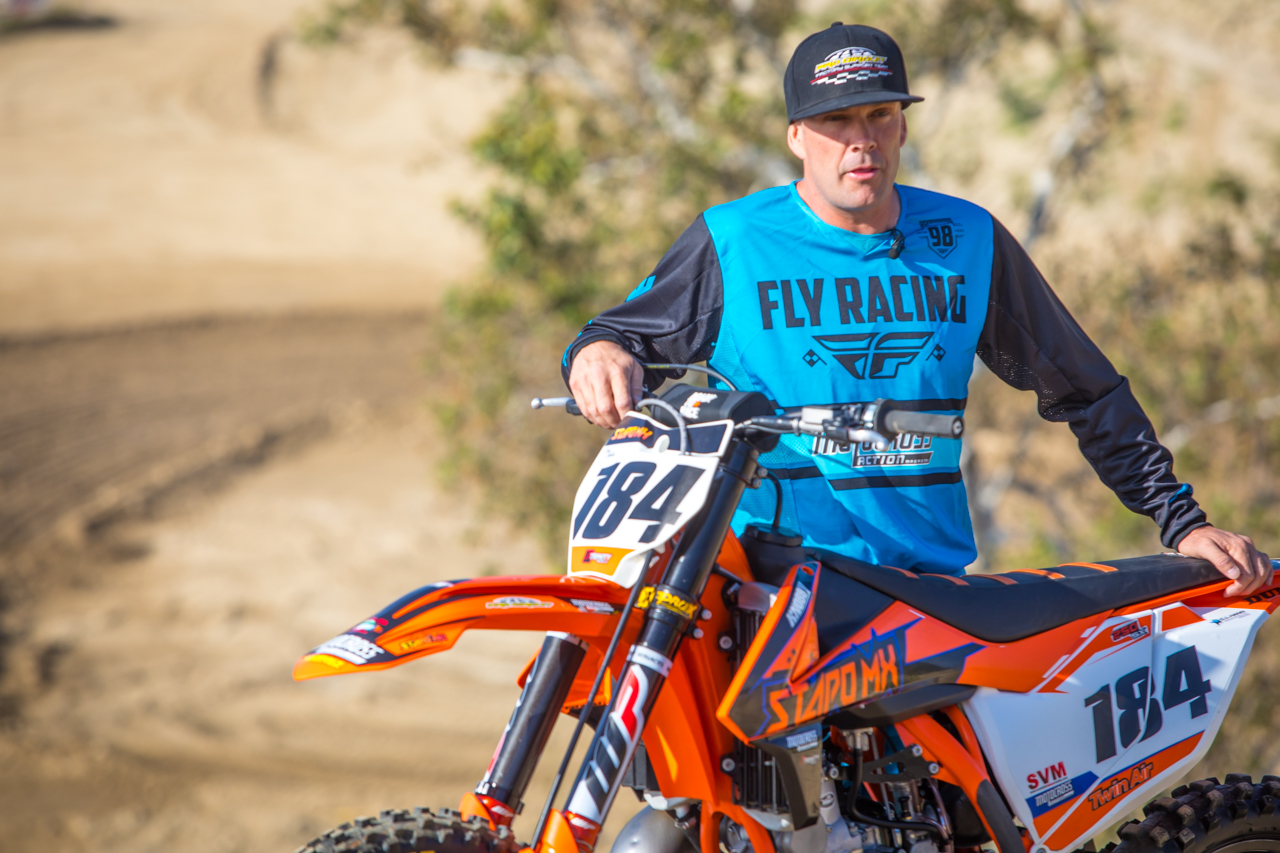 Dennis Stapleton doing what he does every day of the week — let him make your dreams come true.
In his spare time, when he's not testing with MXA, racing in a foreign country, going to Japan or helping many of his motocross buddies, MXA test rider Dennis Stapleton opens up his house, garage, bikes and mechanics to help riders who would like to come to SoCal on a motocross vacation. He offers full service to all of the Southern California tracks for racers or for play riders. Whether you want to rent a bike, move in for a week, race at Glen Helen or take motocross lessons—this is one-stop shopping. Just send them an email ([email protected]). If you'd like to live the SoCal lifestyle for a day, a weekend, a week, a month or three months, visit Dennis Stapleton's' website at www.knobbyshopsouth.org for more details!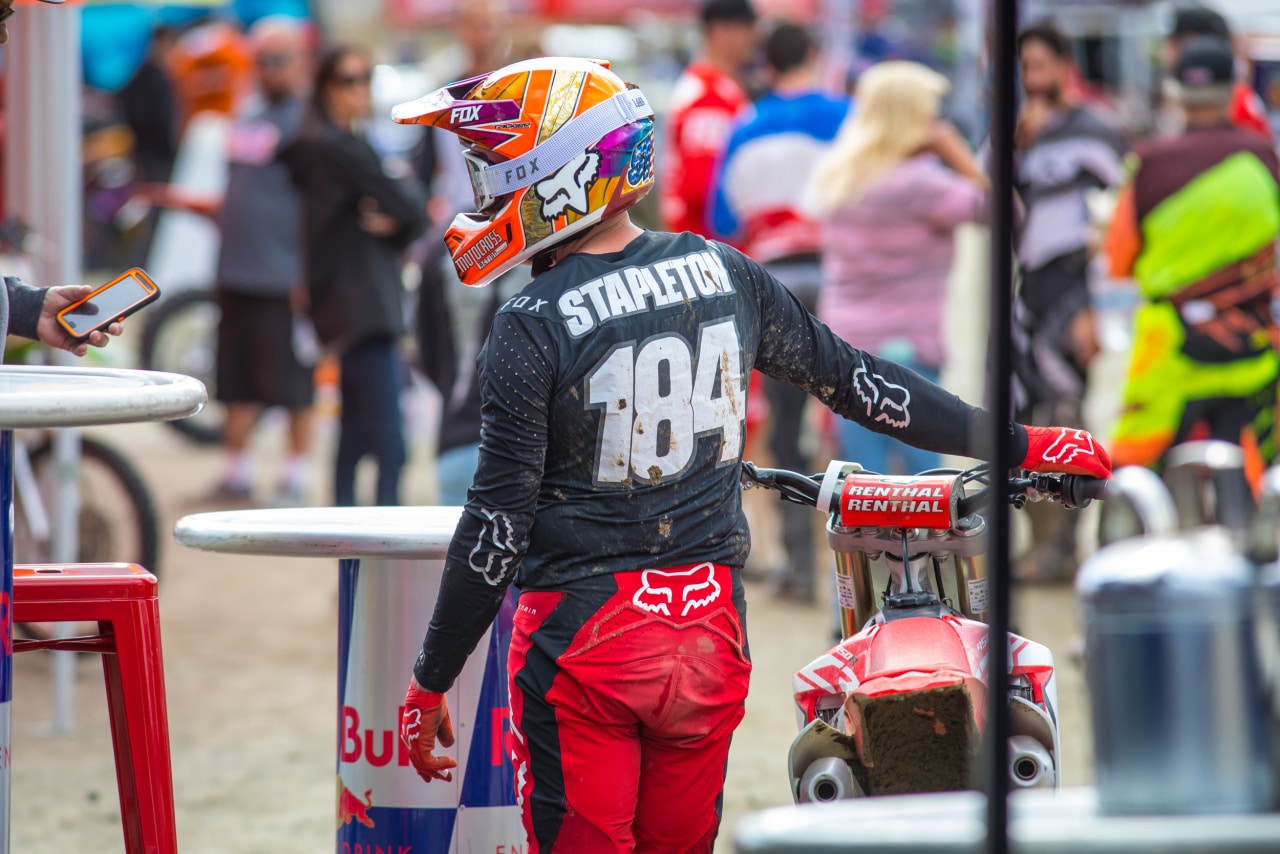 FINAL ROUNDS OF SUPERCROSS CANCELED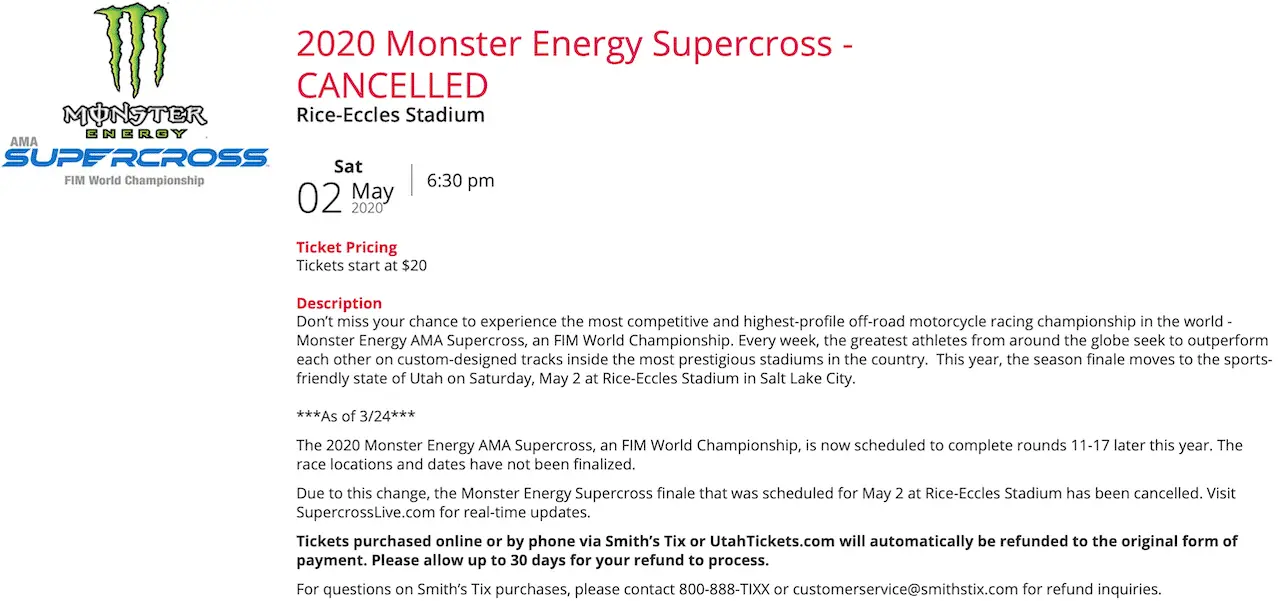 Both Las Vegas and the final round in Salt Lake City, Utah are now canceled. Does that make the current points leaders the 2002 Supercross champs? More info here. 
JUSTIN BARCIA | SELF-QUARANTINE
FIND MXA ON TIKTOK: ALL THE KIDS ARE DOING IT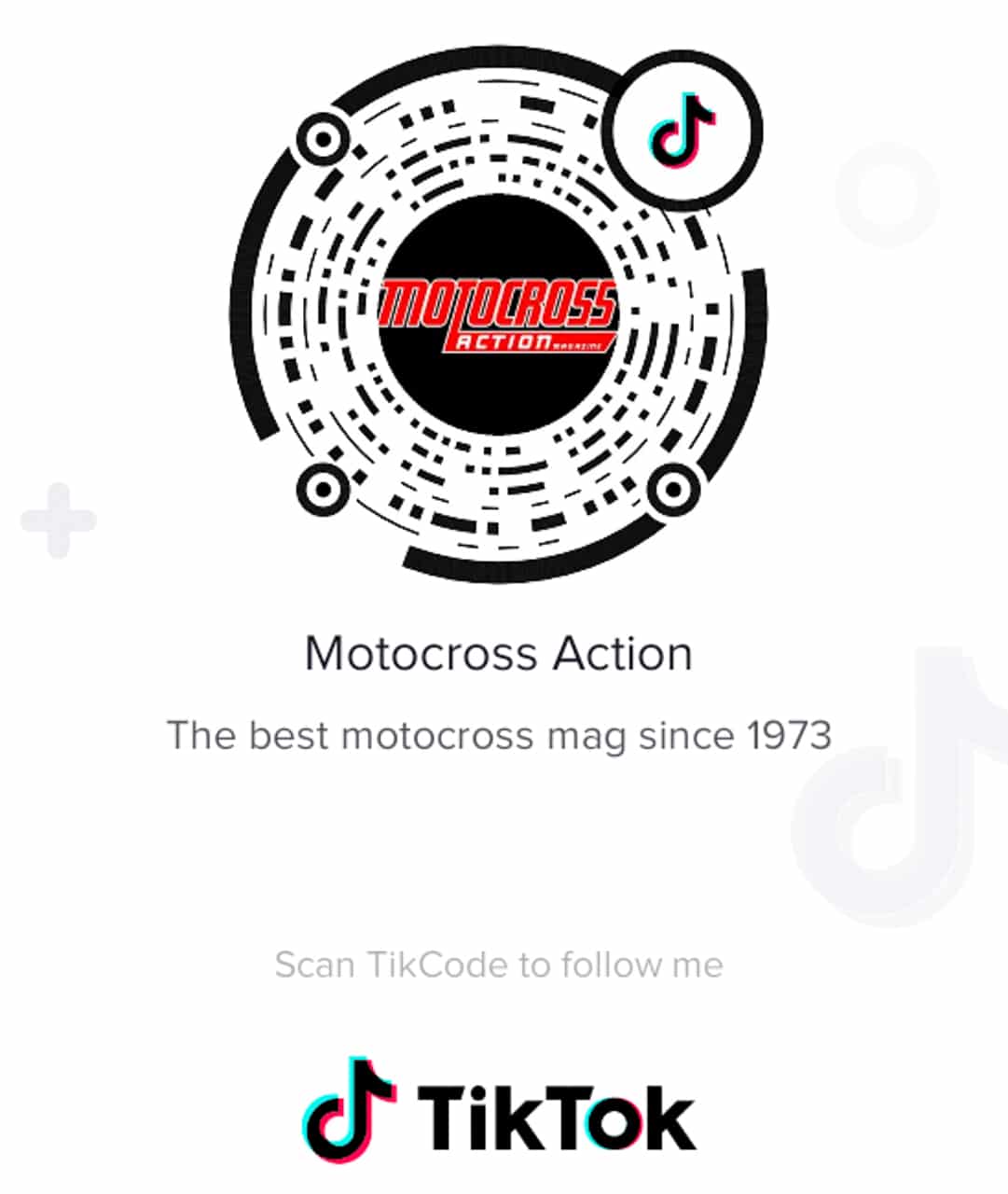 THE APRIL 2020 ISSUE IS JAM-PACKED FULL OF BIKE TEST & TECH ARTICLES

If you haven't seen the latest issue of MXA then you are missing a thrill ride of motocross facts, figures, information, racing, tech and the stuff that never makes it to your phone.
The 2020 Husqvarna TC250 two-stroke still has a carb, which makes it a hot-rod for now—fuel-injection is coming though. This test tells you more about the TC250 that you'll find anywhere else.
See this Penton 125 Six-Days? Cool looking, isn't it? But the story of how John Penton got KTM to make it for him is equally cool.
If you'd like to get back to the fun days of pit bike riding, you need to take a look at the YCF Bigy 190MX. It may be made in China, but we didn't break it and, if we had, all the parts are available in the USA.
Way before Wuhan was in the news, the MXA wrecking crew went to an FIM test race for a potential Chinese MXGP in the resort town of Gudou Hot Springs—where MXA's Dennis Stapleton took Ryan Surratt on a journey he'll never forget.
Back in 2008, the MXA wrecking crew threw a leg over James Stewart's "Perfect Season" Kawasaki KX450F. Journey back in time with us to learn what Bubba's bike actually felt like. In a word—Stiff.
If you subscribe to MXA you can get the mag on your iPhone, iPad, Kindle or Android by going to the Apple Store, Amazon or Google Play or in a digital version. Even better you can subscribe to Motocross Action and get the awesome print edition delivered to your house by a uniformed employee of the U.S. Government. You can call (800) 767-0345 or Click Here (or on the box at the bottom of this page) to subscribe.
CLASSIC PHOTO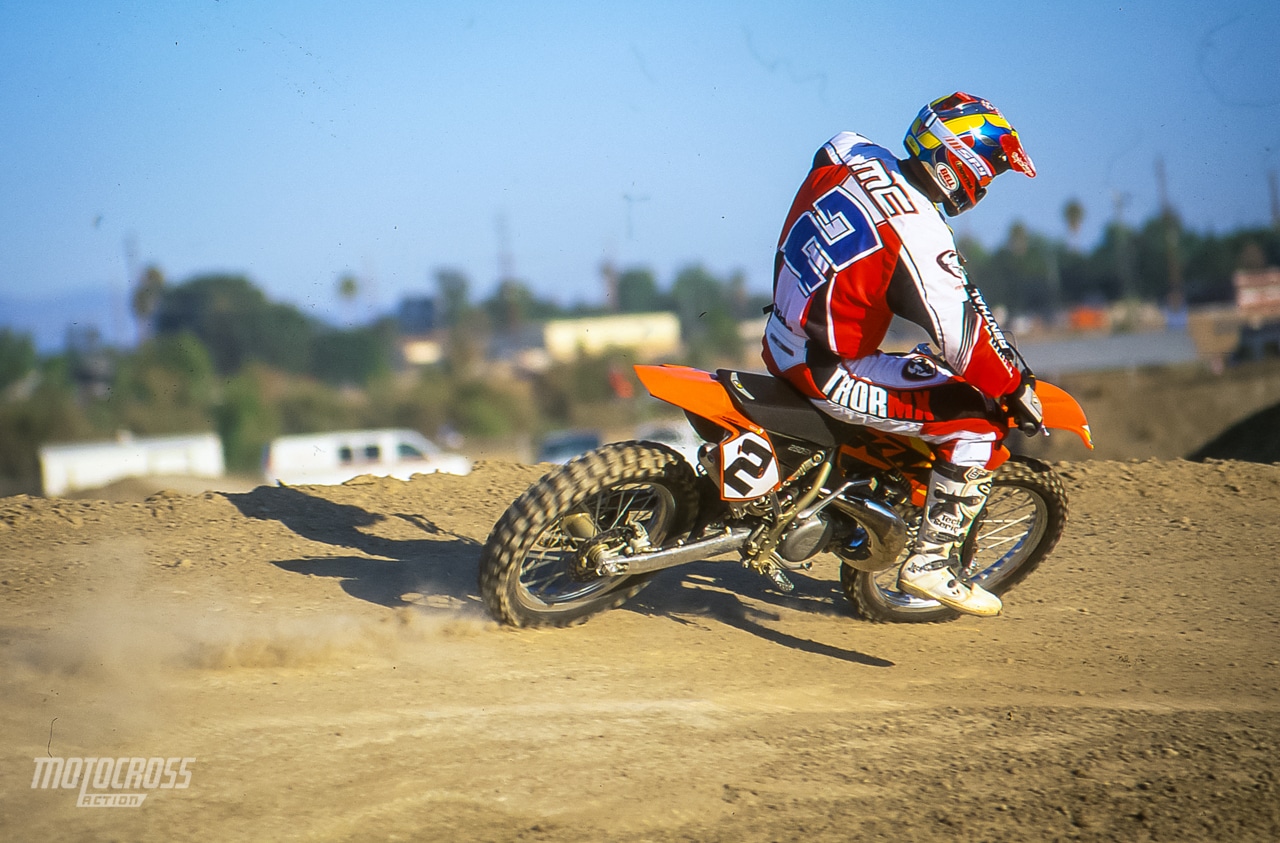 Jeremy McGrath back in 2003 on his short lived KTM adventure.

---
Moto Trivia answer: Jean-Michel Bayle.