MOTOCROSS ACTION MIDWEEK REPORT BY DARYL ECKLUND (3/5/14)
FACEBOOK HIT OF THE WEEK
CR250 two-stroke engine stuffed into a 2014 CRF250 chassis.
CATCH THE EXCITING RACING OF THE INDIANAPOLIS SUPERCROSS HERE
INDY 450 MAIN EVENT
INDY 250 EAST MAIN EVENT
UP NEXT, THE PRESTIGIOUS DAYTONA SUPERCROSS
It has been raining off and on all week in Daytona. By Thursday afternoon there should be nothing but clear skies. Although there is sunny weather gleaming down on the track, there will still be some serious moisture when the riders break the surface of the terrafirma. Expect some nasty ruts and great racing. This track has an Outdoor feel and we will see a glimpse of who will stand out for the upcoming outdoor Nationals. Daytona Supercross TV coverage will be Live March 8th at 7:30 p.m. (Eastern) and 4:30 p.m. (Pacific) on Fox Sports 1!
TRAVIS PASTRANA BACK ON THE BIKE!
RIDE ENGINEERING USES CR AXLE IN CONJUNCTION WITH NEW AXLE BLOCK DESIGN FOR KTM MOTORCYCLES
On current model KTMs it is very difficult to align the chain by sight, something we take for granted with the Japanese models. To this end, Ride Engineering has designed a new axle block kit for KTMs with a tab on the end that has markings that can be easily seen and measured off the end of the swingarm. To address the issue of the OEM press fit, we are using a CRF450 axle instead. Now both blocks simply slip onto the axle. The whole kit sells for $99.95 and is available directly from Ride Engineering. Customers can also purchase the Honda axle (42301-KRN-A30), nut (90305-KZ4-J20) and washer (90401-KZ4-J20) from any Honda dealer. The Ride Engineering KTM axle blocks are made from aircraft quality aluminium and available in black and orange. www.ridengineering.com
MXA FITNESS TIP: IMPORTANCE OF A WARM-UP
TRAINING TIP: A warm-up is the act of preparing for a workout by exercising or practicing for a short time beforehand. Warming up helps reduce your risk of injury and the aches and pains that come with exercise. The physiological reason to warm up is to assist your circulatory system in pumping oxygen-rich blood to your working muscles. The idea is to increase circulation throughout the body in a gradual manner. A proper warm up safely prepares the body for the increased demands of exercise. Cold muscles do not absorb shock or impact as well, and are more susceptible to injury. Allot at least 10 minutes for an easy to medium intensity while using a cardio machine (such as bicycle or elliptical) or dynamic warm-up. When you start your workout you will have noticeable results. 

JOSH HANSON BACK ON A SUPERCROSS TRACK
#MXATALKSINSTAGRAM
Ken Roczen captures what happens when Aldon Baker's riders get out of line. Here, Adam Ciancurulo gets the beat down by Aldon for being the class clown.
Ivan Tedesco had flashbacks when he saw the Mike Alessi incident with Broc Tickle in Atlanta. Mike Alessi (800) takes out Ivan Tedesco (102) in a desperate attempt to win the 2005 Outdoor Championship at the last round.
IVAN TEDESCO'S LEGS GET CAUGHT IN REAR WHEEL
FLY MESH GEAR
FLY Racing's Spring Release Mesh Racewear is designed to beat the summer heat by incorporating mesh ventilation panels throughout the jersey and pant while still being able to withstand the rigors of track and trail. Stay cool in more ways than one with Kinetic Mesh Racewear.Summer is coming. Be prepared. Visit your local FLY Racing dealer to order yours. On the web: www.flyracing.com.
CHECK OUT THE FLY MESH GEAR FOR YOURSELF
DENNIS STAPLETON'S PIX OF THE MXGP IN QATAR
 Thomas Covington using all his suspension aboard his Factory Kawi.
Jeffrey Herlings (84) buried in the pack.
1st lap going through a rhythm section of the MX2 class.
HELP A GOOD CAUSE
http://www.youcaring.com/medical-fundraiser/brooke-beaubier-fund/143904
MXA MINI-VIEW: ELI TOMAC
By Jim Kimball
Certainly Geico Honda's Eli Tomac did not have the start to his
450-rookie season that he was looking for. Crashing and injuring his
shoulder at Anaheim 1 caused the 21 year old to miss several races, and
return to racing less than 100%. But now with his first 450 podium at
the Indianapolis Supercross, Tomac is back on track, and looking for
that first 450 win.
MXA: Eli talk about your first podium in the 450 class.
Eli: You know from the start of the season it's just been a big downhill slide. From crashing at the series opener and getting hurt, to slowly working my way back up. My shoulder was pretty weak when I came back at Anaheim 3, and even at San Diego – it really caused me to ride tight. But now I have changed a lot on my bike to get more comfortable. I guess though its been typical 450 rookie stuff; nothing can go to perfect. Its all been a big learning curve for me, but right now it feels pretty awesome to get a second. 
That had to be frustrating with having that crash at the first round.
Oh yeah, it really was. But it's racing, and there is nothing that you can do about it. It really can happen to anyone at anytime.
Switching back to tonight, what was the key to getting on the podium?
Good starts, and just nailing the track. This was a track that could come up at anytime and bite you. You saw Mike Alessi go down; that's the way that the ruts were – they could take you over the bars at any point.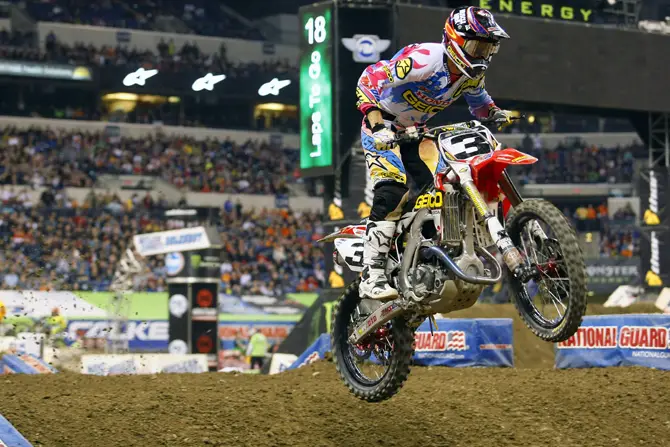 I was talking to one of the other 450 rookies, and they were saying that it's a big change moving up from a 250.
Oh that is true; the track really broke down during the 450 race. Generally the track breaks down a lot after the 250 class. Then during the race you realize that there are another five laps to go – than the fifteen in the 250 class!
I would imagine that your race at Indianapolis was a pretty good confidence boost?
Oh it is for sure. Thinking back a bit I believe I could have done a lot better early on in the main. I was trying to make some moves early on Alessi but I just couldn't get around him. That made me tight, because I was stuck behind him. I think that if I could have gotten around him, that there could have been a little bit more to the story.
What's your mindset now for the rest of the series?
Well, I always go to a race wanting to win, and that's what I am shooting for. Winning is probably one of the most addicting things on earth. 
MXA MINI-VIEW: COLE SEELY
 By Jim Kimball
Just over a week until he turns 24, Cole Seely had reason to
celebrate early with his strong third place finish in the 450 class at
Indianapolis. With a break in the 250 West Coast Supercross series,
Seely answered the call to ride as a fill in for Team Honda's Muscle
Milk ailing team. And in spite of being in contention for the 250 West
Coast SX championship, Cole put any injury worries aside, and plans to
look toward the future on the bigger red machine. We caught up with Cole
shortly after his impressive finish.
MXA: Cole, way to go at Indy with your third place!
Cole:Yeah thanks. I had a good feeling about this race; that was why I agreed to do it. I really only had two days on the bike. I rode it Tuesday and Wednesday, and after that I felt ready for the weekend. We pulled the trigger, and came out here. I was watching the race last Saturday and I saw Barcia crash, and knew that I was going to get a call the next day. It didn't actually come the next day on Sunday, but on Monday as I was just hanging out, my manager knew I was going to Indy to watch and asked if I wanted to race. Anytime you get to jump on a factory bike and race I think you gain lot of experience, along with a lot to gain. 
Obviously the Honda 450 is a bigger bike than your 250, but overall is a lot different?
The chassis, along with a lot of the basic parts, are the same. I really, really like the new chassis, and I liked it a lot last year when I rode the CRF450 for fun in the hills or at local tracks. I was really excited then to have the new chassis come to the 250's. I just like the way that it is set up. But to answer your question; it is definitely a bigger bike with a lot more power. You really have to respect the power, and not ride it like a 250. But I don't try to do that anyways; I like to lug a bike more, and I feel the 450 really lets me do that – and suits my style better.
Lets hear about the start of tonight's main; it was pretty wild.
It was wild for sure. At first I almost thought that I kind of started it. Stewart seemed to hit me; then bounced off and went into Josh Hill. I knew that at that point that I was in fifth or sixth, and just put my head down. Then I made some passes, while Justin Brayton and I were riding together. I actually ride a lot with Justin and do some training together with him, so that helped me and eased me up a little bit. I then got around Justin, and set my sights on Alessi and Tomac. Alessi made a mistake and went down. It's funny because at that same time I made a mistake and almost went down with a Tuff Block. But I made the pass into third, and got on the podium. I knew that Ryan Villopoto was behind me, and just tried to manage that gap.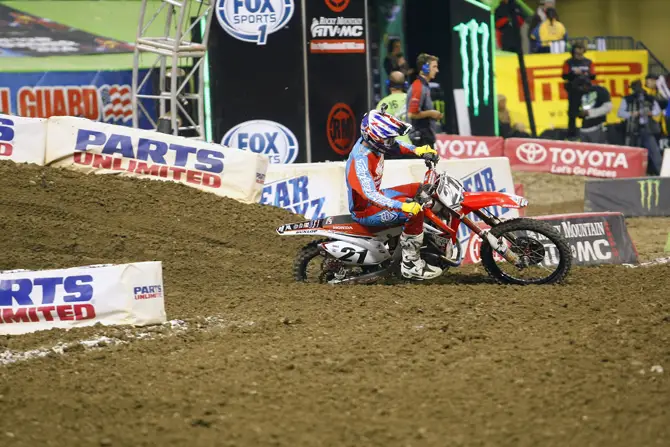 Many people may think "Why is Seely racing the 450 class while he is in contention for the 250 West Coast Supercross Championship?" How do you respond to that?
That is a question that I get asked a lot, and I am sure that a lot of people are thinking that. Really I'm thinking about the future. This is my last year on a 250 and I want to open up some eyes. I think that there may be already a lot of people that think I am fast on a 450, but I need to prove that, and set myself up for a ride next year. Now I hope that I will have some ground to stand on when I sign a 450 contract. 
You raced the Factory Honda 450 a few years ago right?
Yes I did; I had my best race here at this stadium and took a fifth – so I upped that by two places this time. Back then I had a pretty successful little four-race streak going back in 2012. I didn't get to ride a 450 last year, but I am really excited to have the opportunity this year. 
How many 450 races are you doing this go around?
We didn't really set any specific time period; it's just race-by-race. I'll need a little time to get back adjusted to the 250 before Houston, so as I said it will be just race-by-race. When Dan Bentley (Honda Muscle Milk Team Manager) called me he said, "let's just have fun", so that took any pressure off. Of course I put a lot of pressure on myself to show people that I can ride a 450, but it's been a very easygoing atmosphere over at Honda. 
There has been some speculation that Justin Barcia may not like the bike, and that it's not very good. What do you say about that?
I have heard that, but I say that it's all just rider preference. He rides a bike much different then I do. I try to stay in the lower rpm ranges and lug a bike, and use the power. I think the bike suits my style a lot, and I love the bike. The suspension and chassis guys at Honda Muscle Milk are top notch, and it doesn't get any better hear. It also helps me that I am a good tester and I know the settings that I want. 
EKS BRAND GRIPS ARE HERE!!!
Press release: Well,
since EKS BRAND prides themselves on being experts in the field of
urethane and rubber, it was only a matter of time before they released
an incredibly advanced motorcycle grip. 
The new EKS BRAND grips have a half waffle designed with an overall diameter and pattern created and tested by some of the fastest racers in the world. Although this fact alone should have you sprinting to your dealer to buy a set, wait, there's more!With
help from the award winning physicist that developed the unique blend,
polyurethane used in the EKS BRAND, GOX goggle frame, a new rubber
blend has been developed and proven and is ready to take over the grip
world!
"Softidium," ever heard of it? No I didn't think so…That's because this is the brand new unique rubber compound our world famous physicist developed exclusively for EKS BRAND. This rubber has the feel of a soft compound grip that your hands will love you for, with the durability of a medium compound grip that your wallet will be super stoked about. But I digress! The "softidium" line of EKS BRAND grips come in five insane colors that should cut, on average, about 5 seconds a lap, give or take. MSRP $10.95. Check out all of the amazing products that EKS BRAND has to offer at: www.eksbrand.com